(-)-Parthenolide
製品コードS2341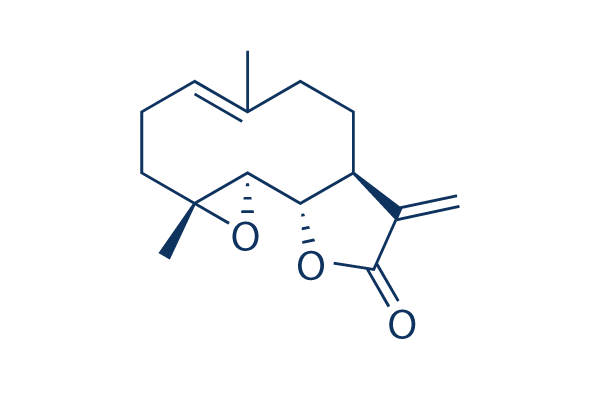 分子量(MW):248.32
(-)-Parthenolide, an inhibitor of the Nuclear Factor-κB Pathway, specifically depletes HDAC1 protein without affecting other class I/II HDACs; Also promotes the ubiquitination of MDM2 and activates p53 cellular functions.
カスタマーフィードバック(2)
G. To evaluate effects of IKBKE/TBK1 inhibition on NF-κB signaling in Ewing, TC32 cells were incubated with CYT387 for six hours prior to stimulation with TNF-α (30 ng/mL). IκBα degradation was measured by harvesting TC32 cells thirty minutes after stimulation with TNF-α. TNF-α stimulation resulted in degradation of IκBα, and this effect was attenuated with CYT387 treatment. Parthenolide, an inhibitor of IκBα phosphorylation was used as a positive control. Similar effects of CYT387 activity were seen in HEK-293T cells which also express IKBKΕ. Nuclear extracts were prepared from TC32 cells harvested following forty-five minutes of TNF-α stimulation. Treatment with CYT387 resulted in decreased nuclear localization of NF-κB family proteins RelA/p65 and c-Rel. There was a modest impairment of p50 nuclear localization as compared to parthenolide and DMSO controls and no change in p52 nuclear localization. RelB (not shown) is not expressed in TC32 cells

Harvard University, 2014.. (-)-Parthenolide purchased from Selleck.

PAR inhibited the production of TNF-α and IL-17 in vitro in a dose dependent manner. Lymph node MNCs harvested from EAN rats on day 8 p.i. were cultured in the presence of BPM and a series of concentrations of PAR. 72 h later, culture supernatants were collected and the levels of TNF-α and IL-17 were detected by ELISA. The results are expressed as mean ± SD (*p < 0.05, **p < 0.01). Data represented three experiments.

J Neuroimmunol, 2017, 305:154-161. (-)-Parthenolide purchased from Selleck.
生物活性
| | |
| --- | --- |
| 製品説明 | (-)-Parthenolide, an inhibitor of the Nuclear Factor-κB Pathway, specifically depletes HDAC1 protein without affecting other class I/II HDACs; Also promotes the ubiquitination of MDM2 and activates p53 cellular functions. |
| ターゲット | |
溶解度 (25°C)
体外
DMSO
49 mg/mL (197.32 mM)
Ethanol
49 mg/mL warmed (197.32 mM)
Water
Insoluble
体内
左から(NMPから)右の順に溶剤を製品に加えます(文献ではなく、Selleckの実験によるデータ):
2% DMSO+corn oil
混合させたのち直ちに使用することを推奨します。
10mg/mL
* 溶解度測定はSelleck技術部門によって行われており、その他文献に示されている溶解度と差異がある可能性がありますが、同一ロットの生産工程で起きる正常な現象ですからご安心ください。
化学情報
分子量
248.32
化学式

C15H20O3

CAS No.
20554-84-1
保管
粉
in solvent
別名
N/A
便利ツール
モル濃度計算器
モル濃度計算器
求めたい質量、体積または濃度を計算してください。
質量 (g) = 濃度 (mol/L) x 体積 (L) x 分子量 (g/mol)
モル濃度計算器方程式
*貯蔵液を準備するとき、常に、オンであるとわかる製品のバッチに特有の分子量を使って、を通してラベルとMSDS/COA(製品ページで利用可能な)。
希釈計算器
希釈計算器
貯蔵液を準備するために必要な希釈率を計算してください。Selleck希釈計算器は、以下の方程式に基づきます:
開始濃度 x 開始体積 = 最終濃度 x 最終体積
希釈の計算式
この方程式は、一般に略語を使われます:C1V1 = C2V2 ( 入力 出力 )
常に貯蔵液を準備するとき、小びんラベルとMSDS/COA(オンラインで利用できる)で見つかる製品のバッチに特有の分子量を使ってください。
分子量計算器
分子量计算器
そのモル質量と元素組成を計算するために、合成物の化学式を入力してください:
チップス: 化学式は大文字と小文字の区別ができます。C10H16N2O2 c10h16n2o2
モル濃度計算器
技術サポート
ストックの作り方、阻害剤の保管方法、細胞実験や動物実験の際に注意すべき点など、製品を取扱う時に問い合わせが多かった質問に対しては取扱説明書でお答えしています。
他に質問がある場合は、お気軽にお問い合わせください。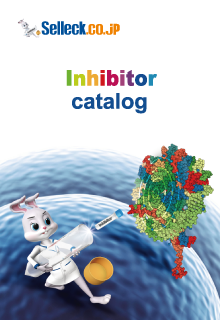 相関HDAC製品