GSK650394
For research use only. Not for use in humans.
製品コードS7209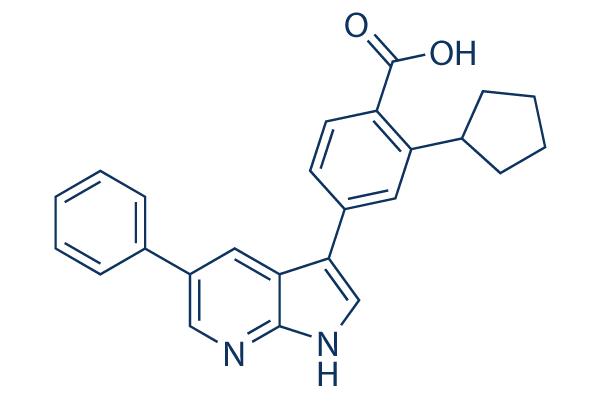 分子量(MW):382.45
GSK650394 is a serum- and glucocorticoid-regulated kinase-1 inhibitor with IC50 of 62 nM and 103 nM for SGK1 and SGK2, respectively.
カスタマーフィードバック(2)
BV-2 cells were incubated in the absence or presence of gsk650394 (1 μM) for 30 min, followed by LPS (500 ng/ml) administration for 30 min, and then fixed. NF-κB p65 protein was visualized by indirect immunofluorescence staining using an antibody for NF-κB p65. For nuclear staining, the cells were stained with DAPI. Bar = 20 μm.

Biochem Biophys Res Commun, 2016, 478(1):53-59. GSK650394 purchased from Selleck.

GSK650394 treatment reduces steady state levels of BoHV-1 proteins. Cells were grown prior to infection. Three hours prior to infection 25 nM of GSK650394 was added to the designated cultures. CRIB cells were infected withBoHV-1 (moi=2) and then stripped FBS added. At the designated times after infection (hours), whole cell lysate (50 ug protein) was prepared and Western Blots performedusing the designated antibodies directed against a viral protein. Arrows denote the position of bICP0 (97 kD), bICP4 (178 kD), bICP22 (45 kD), VP16 (65 kD), and the bracketdenotes various gE forms. Tubulin was used as a loading control. The lane marked M are molecular weight markers: numbers to left are the approximate size of the respectivebands. These results are representative of 4 independent experiments. The relative levels of the respective BoHV-1 proteins were estimated by comparing the intensity ofthe bands to tubulin using a BioRad ChemiDoc MP and PMI System. The value of the respective viral protein that was first detected after infection was set at 10 and the othervalues normalized to this value. ND refers to those lanes in which the viral protein was not detected. These results are representative of three independent experiments.

Virus Res, 2016, 222:106-112.. GSK650394 purchased from Selleck.
Serine/threonin kinase阻害剤の選択性比較
生物活性
製品説明
GSK650394 is a serum- and glucocorticoid-regulated kinase-1 inhibitor with IC50 of 62 nM and 103 nM for SGK1 and SGK2, respectively.
ターゲット

SGK1 [1]
(Cell-free assay)
SGK2 [1]
(Cell-free assay)
62 nM
103 nM

体外試験

GSK650394 inhibits SGK1-mediated epithelial transport with an IC50 of 0.6 μM in the SCC assay. In LNCaP cells, GSK650394 inhibits the androgen-mediated enhancement of Nedd4-2 phosphorylation and androgen-mediated cell growth. [2] GSK650394 counteracts the Cortisol-induced decrease in neurogenesis, changes in Hedgehog signaling, and GR nuclear translocation. [2] GSK 650394 inhibits replication of influenza virus by impairing the export of influenza vRNPs into the cytoplasm of A549 cells. [3]

細胞データ

| Cell Lines | Assay Type | Concentration | Incubation Time | Formulation | Activity Description | PMID |
| --- | --- | --- | --- | --- | --- | --- |
| human M-1 cells | MXfGeY5kfGmxbjDhd5NigQ>? | | | | NIPaO2dKdmirYnn0bY9vKG:oIGPHT|EudWWmaXH0[YQh\XCrdHjlcIlidCC|b3TpeY0h[2ijbn7lcEBi[3Srdnn0fUBqdiCqdX3hckBONTFiY3XscJMh[XO|ZYPz[YQh[XNic3jvdpQh[2m{Y4XpeEBkfXK{ZX70JIJ6KHeqb3zlJINmdGxiZXzlZ5Rzd3CqeYPpc4xw\2mlYXygeJJidnOncHn0bIVtcWGuIHX4dIVzcW2nboSsJGlEPTB;MD61PEDPxE1? | NXzq[2poOTl2OUe3OFU> |
| human MV-4-11 cell | MYHHdo94fGhiaX7obYJqfGmxbjDhd5NigQ>? | | | | M2q4bWlvcGmkaYTpc44hd2ZiaIXtZY4hVVZvND2xNUBk\WyuIHfyc5d1cCCrbjDhJINmdGxidnnhZoltcXS7IHHzd4F6NCCLQ{WwQVAvOTZ2OTFOwG0> | MX\TRW5ITVJ? |
| human Daoy cell | NHP2T5hIem:5dHigbY5pcWKrdHnvckBie3OjeR?= | | | | MW\Jcohq[mm2aX;uJI9nKGi3bXHuJGRid3liY3XscEBoem:5dHigbY4h[SClZXzsJJZq[WKrbHn0fUBie3OjeTygTWM2OD1yLkWxOVMzKM7:TR?= | MoO1V2FPT0WU |
| human BFTC-905 cell | NH3pPHVIem:5dHigbY5pcWKrdHnvckBie3OjeR?= | | | | M1W0XWlvcGmkaYTpc44hd2ZiaIXtZY4hSk[WQz25NFUh[2WubDDndo94fGhiaX6gZUBk\WyuII\pZYJqdGm2eTDhd5NigSxiSVO1NF0xNjd6NEW1JO69VQ>? | NFz3NHJUSU6JRWK= |
| human KM12 cell | M1nIe2dzd3e2aDDpcohq[mm2aX;uJIF{e2G7 | | | | NVy2U3htUW6qaXLpeIlwdiCxZjDoeY1idiCNTUGyJINmdGxiZ4Lve5RpKGmwIHGgZ4VtdCC4aXHibYxqfHliYYPzZZktKEmFNUC9NE45PTB4OTFOwG0> | MX7TRW5ITVJ? |
| human GDM-1 cell | MnfDS5Jwf3SqIHnubIljcXSrb36gZZN{[Xl? | | | | NWrBR2oxUW6qaXLpeIlwdiCxZjDoeY1idiCJRF2tNUBk\WyuIHfyc5d1cCCrbjDhJINmdGxidnnhZoltcXS7IHHzd4F6NCCLQ{WwQVAvQDd7M{eg{txO | M3\oNHNCVkeHUh?= |
| human RT-112 cell | NXrINWc6T3Kxd4ToJIlvcGmkaYTpc44h[XO|YYm= | | | | NVzhXmE5UW6qaXLpeIlwdiCxZjDoeY1idiCUVD2xNVIh[2WubDDndo94fGhiaX6gZUBk\WyuII\pZYJqdGm2eTDhd5NigSxiSVO1NF0yNjB{N{iyJO69VQ>? | MWjTRW5ITVJ? |
| human MONO-MAC-6 cell | M13vTGdzd3e2aDDpcohq[mm2aX;uJIF{e2G7 | | | | NVPoRnFpUW6qaXLpeIlwdiCxZjDoeY1idiCPT17PMW1CSy14IHPlcIwh\3Kxd4ToJIlvKGFiY3XscEB3cWGkaXzpeJkh[XO|YYmsJGlEPTB;MT6xPFA6PyEQvF2= | NFLRbnFUSU6JRWK= |
| human HUTU-80 cell | MmTQS5Jwf3SqIHnubIljcXSrb36gZZN{[Xl? | | | | M{Xwc2lvcGmkaYTpc44hd2ZiaIXtZY4hUFWWVT24NEBk\WyuIHfyc5d1cCCrbjDhJINmdGxidnnhZoltcXS7IHHzd4F6NCCLQ{WwQVEvOzBzN{Kg{txO | M{fsfnNCVkeHUh?= |
| human HGC-27 cell | MVLHdo94fGhiaX7obYJqfGmxbjDhd5NigQ>? | | | | MnjvTY5pcWKrdHnvckBw\iCqdX3hckBJT0NvMkegZ4VtdCCpcn;3eIghcW5iYTDj[YxtKH[rYXLpcIl1gSCjc4PhfUwhUUN3ME2xMlMxQDJzIN88US=> | M{frV3NCVkeHUh?= |
| human LCLC-97TM1 cell | MVLHdo94fGhiaX7obYJqfGmxbjDhd5NigQ>? | | | | MmC1TY5pcWKrdHnvckBw\iCqdX3hckBNS0yFLUm3WG0yKGOnbHyg[5Jwf3SqIHnuJIEh[2WubDD2bYFjcWyrdImgZZN{[XluIFnDOVA:OS5|Nke2PEDPxE1? | MkHjV2FPT0WU |
| human LXF-289 cell | MmjES5Jwf3SqIHnubIljcXSrb36gZZN{[Xl? | | | | MWTJcohq[mm2aX;uJI9nKGi3bXHuJGxZTi1{OEmgZ4VtdCCpcn;3eIghcW5iYTDj[YxtKH[rYXLpcIl1gSCjc4PhfUwhUUN3ME2xMlQxOTV{IN88US=> | NEfveZlUSU6JRWK= |
| human HLE cell | M3L5[Wdzd3e2aDDpcohq[mm2aX;uJIF{e2G7 | | | | NX\nOZhVUW6qaXLpeIlwdiCxZjDoeY1idiCKTFWgZ4VtdCCpcn;3eIghcW5iYTDj[YxtKH[rYXLpcIl1gSCjc4PhfUwhUUN3ME2xMlQzPjh|IN88US=> | NEe1XWhUSU6JRWK= |
| human RKO cell | NYnyTnR6T3Kxd4ToJIlvcGmkaYTpc44h[XO|YYm= | | | | MWDJcohq[mm2aX;uJI9nKGi3bXHuJHJMVyClZXzsJIdzd3e2aDDpckBiKGOnbHygeoli[mmuaYT5JIF{e2G7LDDJR|UxRTFwNUe4Olkh|ryP | NGiwenZUSU6JRWK= |
| human SNG-M cell | NXvHbnRIT3Kxd4ToJIlvcGmkaYTpc44h[XO|YYm= | | | | MkH1TY5pcWKrdHnvckBw\iCqdX3hckBUVkdvTTDj[YxtKGe{b4f0bEBqdiCjIHPlcIwhfmmjYnnsbZR6KGG|c3H5MEBKSzVyPUGuO|k5PTNizszN | MWXTRW5ITVJ? |
| human MCF7 cell | M4fWcWdzd3e2aDDpcohq[mm2aX;uJIF{e2G7 | | | | MoPLTY5pcWKrdHnvckBw\iCqdX3hckBOS0Z5IHPlcIwh\3Kxd4ToJIlvKGFiY3XscEB3cWGkaXzpeJkh[XO|YYmsJGlEPTB;MT64NVc5KM7:TR?= | MljWV2FPT0WU |
| human A431 cell | NIfURWhIem:5dHigbY5pcWKrdHnvckBie3OjeR?= | | | | NUjRfoJuUW6qaXLpeIlwdiCxZjDoeY1idiCDNEOxJINmdGxiZ4Lve5RpKGmwIHGgZ4VtdCC4aXHibYxqfHliYYPzZZktKEmFNUC9NU45PTlyMjFOwG0> | NGLFeVdUSU6JRWK= |
| human BC-3 cell | MYXHdo94fGhiaX7obYJqfGmxbjDhd5NigQ>? | | | | MmHVTY5pcWKrdHnvckBw\iCqdX3hckBDSy1|IHPlcIwh\3Kxd4ToJIlvKGFiY3XscEB3cWGkaXzpeJkh[XO|YYmsJGlEPTB;MT64O|A6PCEQvF2= | MWTTRW5ITVJ? |
| human A427 cell | MoDMS5Jwf3SqIHnubIljcXSrb36gZZN{[Xl? | | | | NFfzUYhKdmirYnn0bY9vKG:oIHj1cYFvKEF2MkegZ4VtdCCpcn;3eIghcW5iYTDj[YxtKH[rYXLpcIl1gSCjc4PhfUwhUUN3ME2xMlg4PjFzIN88US=> | Mki0V2FPT0WU |
| human SW620 cell | MYLHdo94fGhiaX7obYJqfGmxbjDhd5NigQ>? | | | | MmrzTY5pcWKrdHnvckBw\iCqdX3hckBUXzZ{MDDj[YxtKGe{b4f0bEBqdiCjIHPlcIwhfmmjYnnsbZR6KGG|c3H5MEBKSzVyPUGuPVI5OTZizszN | NYPESHJZW0GQR1XS |
| human HOS cell | M3HmUWdzd3e2aDDpcohq[mm2aX;uJIF{e2G7 | | | | M13uT2lvcGmkaYTpc44hd2ZiaIXtZY4hUE:VIHPlcIwh\3Kxd4ToJIlvKGFiY3XscEB3cWGkaXzpeJkh[XO|YYmsJGlEPTB;MT65O|MyOiEQvF2= | NGr5elRUSU6JRWK= |
| human MFH-ino cell | NGHtRlRIem:5dHigbY5pcWKrdHnvckBie3OjeR?= | | | | NU\ldIczUW6qaXLpeIlwdiCxZjDoeY1idiCPRlitbY5wKGOnbHyg[5Jwf3SqIHnuJIEh[2WubDD2bYFjcWyrdImgZZN{[XluIFnDOVA:OS57OE[1PEDPxE1? | NYXrTIlmW0GQR1XS |
| human TE-12 cell | NUWzUHRwT3Kxd4ToJIlvcGmkaYTpc44h[XO|YYm= | | | | MnG1TY5pcWKrdHnvckBw\iCqdX3hckBVTS1zMjDj[YxtKGe{b4f0bEBqdiCjIHPlcIwhfmmjYnnsbZR6KGG|c3H5MEBKSzVyPUGuPVkyOjhizszN | M3v4[3NCVkeHUh?= |
| human KU812 cell | NEnRUWJIem:5dHigbY5pcWKrdHnvckBie3OjeR?= | | | | MkHsTY5pcWKrdHnvckBw\iCqdX3hckBMXThzMjDj[YxtKGe{b4f0bEBqdiCjIHPlcIwhfmmjYnnsbZR6KGG|c3H5MEBKSzVyPUKuNVg4OSEQvF2= | NVnCNYJnW0GQR1XS |
| human NCI-H2342 cell | MUfHdo94fGhiaX7obYJqfGmxbjDhd5NigQ>? | | | | Mn7xTY5pcWKrdHnvckBw\iCqdX3hckBPS0lvSEKzOFIh[2WubDDndo94fGhiaX6gZUBk\WyuII\pZYJqdGm2eTDhd5NigSxiSVO1NF0zNjF7MEWzJO69VQ>? | MmjqV2FPT0WU |
| human BC-1 cell | MWPHdo94fGhiaX7obYJqfGmxbjDhd5NigQ>? | | | | NHXTU5dKdmirYnn0bY9vKG:oIHj1cYFvKEKFLUGgZ4VtdCCpcn;3eIghcW5iYTDj[YxtKH[rYXLpcIl1gSCjc4PhfUwhUUN3ME2yMlUyPjVzIN88US=> | NYfRbYRHW0GQR1XS |
| human TE-15 cell | NFzxXFhIem:5dHigbY5pcWKrdHnvckBie3OjeR?= | | | | NXHGWHViUW6qaXLpeIlwdiCxZjDoeY1idiCWRT2xOUBk\WyuIHfyc5d1cCCrbjDhJINmdGxidnnhZoltcXS7IHHzd4F6NCCLQ{WwQVIvPTlzOEGg{txO | Mm\tV2FPT0WU |
| human T84 cell | MVrHdo94fGhiaX7obYJqfGmxbjDhd5NigQ>? | | | | NHPoXVdKdmirYnn0bY9vKG:oIHj1cYFvKFR6NDDj[YxtKGe{b4f0bEBqdiCjIHPlcIwhfmmjYnnsbZR6KGG|c3H5MEBKSzVyPUKuOlA1PDZizszN | MVzTRW5ITVJ? |
| human SW1710 cell | M3zIVWdzd3e2aDDpcohq[mm2aX;uJIF{e2G7 | | | | MofBTY5pcWKrdHnvckBw\iCqdX3hckBUXzF5MUCgZ4VtdCCpcn;3eIghcW5iYTDj[YxtKH[rYXLpcIl1gSCjc4PhfUwhUUN3ME2yMlcxODh{IN88US=> | M1XofnNCVkeHUh?= |
| human CAL-12T cell | M1nvNGdzd3e2aDDpcohq[mm2aX;uJIF{e2G7 | | | | MV\Jcohq[mm2aX;uJI9nKGi3bXHuJGNCVC1zMmSgZ4VtdCCpcn;3eIghcW5iYTDj[YxtKH[rYXLpcIl1gSCjc4PhfUwhUUN3ME2yMlcyOTV6IN88US=> | NYC2bnJnW0GQR1XS |
| human NKM-1 cell | MojSS5Jwf3SqIHnubIljcXSrb36gZZN{[Xl? | | | | NY\nR3BZUW6qaXLpeIlwdiCxZjDoeY1idiCQS12tNUBk\WyuIHfyc5d1cCCrbjDhJINmdGxidnnhZoltcXS7IHHzd4F6NCCLQ{WwQVIvPzZ5M{Gg{txO | NFLne4hUSU6JRWK= |
| human OCUB-M cell | MoPzS5Jwf3SqIHnubIljcXSrb36gZZN{[Xl? | | | | M1zvbGlvcGmkaYTpc44hd2ZiaIXtZY4hV0OXQj3NJINmdGxiZ4Lve5RpKGmwIHGgZ4VtdCC4aXHibYxqfHliYYPzZZktKEmFNUC9Nk44QDh4MTFOwG0> | MoTaV2FPT0WU |
| human 786-0 cell | NYrWV|ZQT3Kxd4ToJIlvcGmkaYTpc44h[XO|YYm= | | | | MmOzTY5pcWKrdHnvckBw\iCqdX3hckA4QDZvMDDj[YxtKGe{b4f0bEBqdiCjIHPlcIwhfmmjYnnsbZR6KGG|c3H5MEBKSzVyPUKuPVQ5OjVizszN | NFH1UIxUSU6JRWK= |
| human EW-13 cell | MUfHdo94fGhiaX7obYJqfGmxbjDhd5NigQ>? | | | | MYrJcohq[mm2aX;uJI9nKGi3bXHuJGVYNTF|IHPlcIwh\3Kxd4ToJIlvKGFiY3XscEB3cWGkaXzpeJkh[XO|YYmsJGlEPTB;Mz6wNVU2QCEQvF2= | Mmf1V2FPT0WU |
| human 5637 cell | NGf0fJNIem:5dHigbY5pcWKrdHnvckBie3OjeR?= | | | | MVvJcohq[mm2aX;uJI9nKGi3bXHuJFU3OzdiY3XscEBoem:5dHigbY4h[SClZXzsJJZq[WKrbHn0fUBie3OjeTygTWM2OD1|LkKwOlY6KM7:TR?= | MWDTRW5ITVJ? |
| human PA-1 cell | M2DpcWdzd3e2aDDpcohq[mm2aX;uJIF{e2G7 | | | | MVHJcohq[mm2aX;uJI9nKGi3bXHuJHBCNTFiY3XscEBoem:5dHigbY4h[SClZXzsJJZq[WKrbHn0fUBie3OjeTygTWM2OD1|LkOzNFg{KM7:TR?= | M33mPXNCVkeHUh?= |
| human NCI-H2122 cell | MUXHdo94fGhiaX7obYJqfGmxbjDhd5NigQ>? | | | | NV;kPZRKUW6qaXLpeIlwdiCxZjDoeY1idiCQQ1mtTFIyOjJiY3XscEBoem:5dHigbY4h[SClZXzsJJZq[WKrbHn0fUBie3OjeTygTWM2OD1|LkOzN{DPxE1? | NIfu[olUSU6JRWK= |
| human NCI-H460 cell | NEnleHZIem:5dHigbY5pcWKrdHnvckBie3OjeR?= | | | | MkHhTY5pcWKrdHnvckBw\iCqdX3hckBPS0lvSES2NEBk\WyuIHfyc5d1cCCrbjDhJINmdGxidnnhZoltcXS7IHHzd4F6NCCLQ{WwQVMvPDB2MTFOwG0> | NI\ZVIlUSU6JRWK= |
| human CHL-1 cell | MlHyS5Jwf3SqIHnubIljcXSrb36gZZN{[Xl? | | | | MXTJcohq[mm2aX;uJI9nKGi3bXHuJGNJVC1zIHPlcIwh\3Kxd4ToJIlvKGFiY3XscEB3cWGkaXzpeJkh[XO|YYmsJGlEPTB;Mz60PVY3PSEQvF2= | Mm\KV2FPT0WU |
| human MOLT-16 cell | NFnJS3NIem:5dHigbY5pcWKrdHnvckBie3OjeR?= | | | | NVfkTmUyUW6qaXLpeIlwdiCxZjDoeY1idiCPT1zUMVE3KGOnbHyg[5Jwf3SqIHnuJIEh[2WubDD2bYFjcWyrdImgZZN{[XluIFnDOVA:Oy53MUW1OUDPxE1? | M1rGbHNCVkeHUh?= |
| human HCT-15 cell | MlrKS5Jwf3SqIHnubIljcXSrb36gZZN{[Xl? | | | | MXnJcohq[mm2aX;uJI9nKGi3bXHuJGhEXC1zNTDj[YxtKGe{b4f0bEBqdiCjIHPlcIwhfmmjYnnsbZR6KGG|c3H5MEBKSzVyPUOuOlI5PDJizszN | MoDEV2FPT0WU |
| human G-361 cell | MUDHdo94fGhiaX7obYJqfGmxbjDhd5NigQ>? | | | | M3zoOWlvcGmkaYTpc44hd2ZiaIXtZY4hTy1|NkGgZ4VtdCCpcn;3eIghcW5iYTDj[YxtKH[rYXLpcIl1gSCjc4PhfUwhUUN3ME2zMlcyPzR3IN88US=> | NIjDbXVUSU6JRWK= |
| human SK-LU-1 cell | NH;pc3lIem:5dHigbY5pcWKrdHnvckBie3OjeR?= | | | | M2HNOGlvcGmkaYTpc44hd2ZiaIXtZY4hW0tvTGWtNUBk\WyuIHfyc5d1cCCrbjDhJINmdGxidnnhZoltcXS7IHHzd4F6NCCLQ{WwQVMvQTdyMUSg{txO | MYjTRW5ITVJ? |
| human ES4 cell | NXzVTWg6T3Kxd4ToJIlvcGmkaYTpc44h[XO|YYm= | | | | MoXPTY5pcWKrdHnvckBw\iCqdX3hckBGWzRiY3XscEBoem:5dHigbY4h[SClZXzsJJZq[WKrbHn0fUBie3OjeTygTWM2OD12LkC2NFY6KM7:TR?= | MonKV2FPT0WU |
| human TE-8 cell | M2\IcWdzd3e2aDDpcohq[mm2aX;uJIF{e2G7 | | | | NYj6dmQyUW6qaXLpeIlwdiCxZjDoeY1idiCWRT24JINmdGxiZ4Lve5RpKGmwIHGgZ4VtdCC4aXHibYxqfHliYYPzZZktKEmFNUC9OE4yOTV6MjFOwG0> | NFHSc5NUSU6JRWK= |
| human IGR-1 cell | NUGwRppRT3Kxd4ToJIlvcGmkaYTpc44h[XO|YYm= | | | | NH\JXmhKdmirYnn0bY9vKG:oIHj1cYFvKEmJUj2xJINmdGxiZ4Lve5RpKGmwIHGgZ4VtdCC4aXHibYxqfHliYYPzZZktKEmFNUC9OE4zOzNizszN | NWjkeJJoW0GQR1XS |
| human SW954 cell | M1fnTmdzd3e2aDDpcohq[mm2aX;uJIF{e2G7 | | | | NFjzNGZKdmirYnn0bY9vKG:oIHj1cYFvKFOZOUW0JINmdGxiZ4Lve5RpKGmwIHGgZ4VtdCC4aXHibYxqfHliYYPzZZktKEmFNUC9OE41PjF{NDFOwG0> | MV3TRW5ITVJ? |
| human A375 cell | MljkS5Jwf3SqIHnubIljcXSrb36gZZN{[Xl? | | | | MkDwTY5pcWKrdHnvckBw\iCqdX3hckBCOzd3IHPlcIwh\3Kxd4ToJIlvKGFiY3XscEB3cWGkaXzpeJkh[XO|YYmsJGlEPTB;NT6yOVQ6OiEQvF2= | Mn7OV2FPT0WU |
| human CAL-27 cell | MUDHdo94fGhiaX7obYJqfGmxbjDhd5NigQ>? | | | | Mn7hTY5pcWKrdHnvckBw\iCqdX3hckBESUxvMkegZ4VtdCCpcn;3eIghcW5iYTDj[YxtKH[rYXLpcIl1gSCjc4PhfUwhUUN3ME21MlM{OjJzIN88US=> | NHHyUFJUSU6JRWK= |
| human CAL-51 cell | MYHHdo94fGhiaX7obYJqfGmxbjDhd5NigQ>? | | | | M3HVbWlvcGmkaYTpc44hd2ZiaIXtZY4hS0GOLUWxJINmdGxiZ4Lve5RpKGmwIHGgZ4VtdCC4aXHibYxqfHliYYPzZZktKEmFNUC9OU4{PTV6MzFOwG0> | MV\TRW5ITVJ? |
| human SK-LMS-1 cell | MYfHdo94fGhiaX7obYJqfGmxbjDhd5NigQ>? | | | | NHLFfmpKdmirYnn0bY9vKG:oIHj1cYFvKFONLVzNV{0yKGOnbHyg[5Jwf3SqIHnuJIEh[2WubDD2bYFjcWyrdImgZZN{[XluIFnDOVA:PS5|OEK1OUDPxE1? | MWTTRW5ITVJ? |
| human HT-1080 cell | M1rCT2dzd3e2aDDpcohq[mm2aX;uJIF{e2G7 | | | | NEm3UppKdmirYnn0bY9vKG:oIHj1cYFvKEiWLUGwPFAh[2WubDDndo94fGhiaX6gZUBk\WyuII\pZYJqdGm2eTDhd5NigSxiSVO1NF02NjR7M{S3JO69VQ>? | MWrTRW5ITVJ? |
| human NCI-H1299 cell | MWnHdo94fGhiaX7obYJqfGmxbjDhd5NigQ>? | | | | MYPJcohq[mm2aX;uJI9nKGi3bXHuJG5EUS2KMUK5PUBk\WyuIHfyc5d1cCCrbjDhJINmdGxidnnhZoltcXS7IHHzd4F6NCCLQ{WwQVUvQTh3NUeg{txO | MWHTRW5ITVJ? |
| human HT-29 cell | NF7Ob4FIem:5dHigbY5pcWKrdHnvckBie3OjeR?= | | | | M2THfWlvcGmkaYTpc44hd2ZiaIXtZY4hUFRvMkmgZ4VtdCCpcn;3eIghcW5iYTDj[YxtKH[rYXLpcIl1gSCjc4PhfUwhUUN3ME23MlI3QDR|IN88US=> | M1XJc3NCVkeHUh?= |
| human A388 cell | Mn;MS5Jwf3SqIHnubIljcXSrb36gZZN{[Xl? | | | | MVHJcohq[mm2aX;uJI9nKGi3bXHuJGE{QDhiY3XscEBoem:5dHigbY4h[SClZXzsJJZq[WKrbHn0fUBie3OjeTygTWM2OD15LkW5PVY2KM7:TR?= | M2TMenNCVkeHUh?= |
| human SK-MEL-30 cell | MX;Hdo94fGhiaX7obYJqfGmxbjDhd5NigQ>? | | | | MXzJcohq[mm2aX;uJI9nKGi3bXHuJHNMNU2HTD2zNEBk\WyuIHfyc5d1cCCrbjDhJINmdGxidnnhZoltcXS7IHHzd4F6NCCLQ{WwQVcvQTd{MUWg{txO | NFXvb3VUSU6JRWK= |
| human CMK cell | M4H4dGdzd3e2aDDpcohq[mm2aX;uJIF{e2G7 | | | | NIPv[lZKdmirYnn0bY9vKG:oIHj1cYFvKEOPSzDj[YxtKGe{b4f0bEBqdiCjIHPlcIwhfmmjYnnsbZR6KGG|c3H5MEBKSzVyPUiuNlU{PzdizszN | NVjTfmhIW0GQR1XS |
| human HuP-T4 cell | NHTMfHdIem:5dHigbY5pcWKrdHnvckBie3OjeR?= | | | | NIPlZ3dKdmirYnn0bY9vKG:oIHj1cYFvKEi3UD3UOEBk\WyuIHfyc5d1cCCrbjDhJINmdGxidnnhZoltcXS7IHHzd4F6NCCLQ{WwQVgvPTB{M{Sg{txO | MlPCV2FPT0WU |
| human SF126 cell | NIfBS5NIem:5dHigbY5pcWKrdHnvckBie3OjeR?= | | | | MVXJcohq[mm2aX;uJI9nKGi3bXHuJHNHOTJ4IHPlcIwh\3Kxd4ToJIlvKGFiY3XscEB3cWGkaXzpeJkh[XO|YYmsJGlEPTB;OD64NFIxQCEQvF2= | NInyVJZUSU6JRWK= |
| human MKN1 cell | NXvPe5pCT3Kxd4ToJIlvcGmkaYTpc44h[XO|YYm= | | | | NUnxRnpuUW6qaXLpeIlwdiCxZjDoeY1idiCPS16xJINmdGxiZ4Lve5RpKGmwIHGgZ4VtdCC4aXHibYxqfHliYYPzZZktKEmFNUC9PU4yQDV4NTFOwG0> | NF\mXXJUSU6JRWK= |
| human LoVo cell | M4\6T2dzd3e2aDDpcohq[mm2aX;uJIF{e2G7 | | | | M3TJTWlvcGmkaYTpc44hd2ZiaIXtZY4hVG:YbzDj[YxtKGe{b4f0bEBqdiCjIHPlcIwhfmmjYnnsbZR6KGG|c3H5MEBKSzVyPUmuPVEzQTJizszN | NIfQemFUSU6JRWK= |
| human HEL cell | MYPHdo94fGhiaX7obYJqfGmxbjDhd5NigQ>? | | | | NEHET|BKdmirYnn0bY9vKG:oIHj1cYFvKEiHTDDj[YxtKGe{b4f0bEBqdiCjIHPlcIwhfmmjYnnsbZR6KGG|c3H5MEBKSzVyPUGwMlY5KM7:TR?= | MWLTRW5ITVJ? |
| human SW872 cell | M{Lrfmdzd3e2aDDpcohq[mm2aX;uJIF{e2G7 | | | | MUnJcohq[mm2aX;uJI9nKGi3bXHuJHNYQDd{IHPlcIwh\3Kxd4ToJIlvKGFiY3XscEB3cWGkaXzpeJkh[XO|YYmsJGlEPTB;MUOuOlg6PiEQvF2= | MkfFV2FPT0WU |
| human SW982 cell | NF;WboJIem:5dHigbY5pcWKrdHnvckBie3OjeR?= | | | | NHzvb3FKdmirYnn0bY9vKG:oIHj1cYFvKFOZOUiyJINmdGxiZ4Lve5RpKGmwIHGgZ4VtdCC4aXHibYxqfHliYYPzZZktKEmFNUC9NVMvPzlzNjFOwG0> | NWXRfYpbW0GQR1XS |
| human HuH-7 cell | Mkf3S5Jwf3SqIHnubIljcXSrb36gZZN{[Xl? | | | | NX7WW5E{UW6qaXLpeIlwdiCxZjDoeY1idiCKdVitO{Bk\WyuIHfyc5d1cCCrbjDhJINmdGxidnnhZoltcXS7IHHzd4F6NCCLQ{WwQVE5NjJ5OEOg{txO | NU\5NGY4W0GQR1XS |
| human DU-145 cell | Mn;rS5Jwf3SqIHnubIljcXSrb36gZZN{[Xl? | | | | M1np[mlvcGmkaYTpc44hd2ZiaIXtZY4hTFVvMUS1JINmdGxiZ4Lve5RpKGmwIHGgZ4VtdCC4aXHibYxqfHliYYPzZZktKEmFNUC9NlAvPDl3NTFOwG0> | MlnSV2FPT0WU |
| human MC116 cell | MYTHdo94fGhiaX7obYJqfGmxbjDhd5NigQ>? | | | | M1;JU2lvcGmkaYTpc44hd2ZiaIXtZY4hVUNzMU[gZ4VtdCCpcn;3eIghcW5iYTDj[YxtKH[rYXLpcIl1gSCjc4PhfUwhUUN3ME2yNU4zPjd4IN88US=> | MmjuV2FPT0WU |
| human H4 cell | MlPYS5Jwf3SqIHnubIljcXSrb36gZZN{[Xl? | | | | NXjGN44xUW6qaXLpeIlwdiCxZjDoeY1idiCKNDDj[YxtKGe{b4f0bEBqdiCjIHPlcIwhfmmjYnnsbZR6KGG|c3H5MEBKSzVyPUKxMlQzPDRizszN | MV3TRW5ITVJ? |
| human SK-MEL-3 cell | MXHHdo94fGhiaX7obYJqfGmxbjDhd5NigQ>? | | | | MlLOTY5pcWKrdHnvckBw\iCqdX3hckBUUy2PRVytN{Bk\WyuIHfyc5d1cCCrbjDhJINmdGxidnnhZoltcXS7IHHzd4F6NCCLQ{WwQVMxNjB{Mkig{txO | MX3TRW5ITVJ? |

アッセイ

Methods
Test Index
PMID
Western blot
29017179 31136958 30873046 26392083
Immunofluorescence

LC3;


Immunofluorescence staining for LC3 puncta.

29017179
Growth inhibition assay

Cell viability;


Cell viability analysis using a CCK8 assay of prostate cancer cell lines after treatment with various concentrations of GSK650394 or vehicle alone for the indicated time periods. Data are the means of triplicate experiments. The results are expressed as the percentage of viable control cells treated with DMSO alone (vehicle).

29017179
お薦めの試験操作(参考用のみ)
キナーゼ試験:[1]

- 合併

Scintillation proximity assay (SPA):

SGK1 S422D (60–431 aa; 0.275 μg/mL final concentration) or SGK2 (0.875 μg/mL final concentration) are activated by PDK1 (1.1 μg/mL final concentration) in a buffer consisting of 50 mM Tris (pH 7.5), 0.1 mM EGTA, 0.1 mM EDTA, 10 mM MgCl

2

, 0.1% β-mercaptoethanol, 1 mg/mL BSA, and ATP (final concentration of 0.15 mM) and incubated for 30 min at 30°C. SGK2 is prepared exactly as described for SGK1, except it corresponded to the full-length protein. A solution containing biotinylated CROSStide peptide at a final concentration of 75 μM and γ

32

P-ATP corresponding to 2×10

6

cpm is prepared in the reaction buffer. In a 96-well plate, 5 μL of GSK650394 is added to 25 μL of the activated enzyme mixture. To this, 20 μL of the CROSStide mixture is added and incubated for 1 h at room temperature. Next, 50 μL of a 25 mg/mL slurry of streptavidin-coated SPA beads in PBS with 0.1 M EDTA, pH 8.0 is added. The plate is then sealed and centrifuged for 8 min at 2000 rpm, and the signal is detected by measuring for 30 sec/well in a Packard TopCount NXT Scintillation Counter. The IC50 values of the inhibition of SGK1 and SGK2 activities by GSK650394 are calculated from these data using GraphPad Prism 3 Software.

細胞試験: [1]

- 合併

細胞株: LNCaP cells
濃度: ~10 μM
反応時間: 7 days
実験の流れ: LNCaP cells are plated at a density of 5,000 cells per well in 96-well plates in 100 μL PRF-RPMI 1640, supplemented with 8% CS-FBS, 0.1 mM NEAA, and 1 mM NaPyr. At day three, cells are treated with hormone with or without GSK650394 by removing 50 μL of the media and replacing this with 50 μL of PRF-RPMI 1640 with 8% CS-FBS, NEAA, NaPyr containing a 2X concentration of the appropriate hormone/inhibitor treatment. At days 5 and 7, the treatment is repeated. On the tenth day, the media is removed and the relative cell number is measured using the FluoReporter Blue assay according to the manufacturer's instructions.


(参考用のみ)
溶解度 (25°C)
体外
DMSO
76 mg/mL (198.71 mM)
Water
Insoluble
Ethanol
Insoluble
* 溶解度測定はSelleck技術部門によって行われており、その他文献に示されている溶解度と差異がある可能性がありますが、同一ロットの生産工程で起きる正常な現象ですからご安心ください。
化学情報
分子量
382.45
化学式

C25H22N2O2

CAS No.
890842-28-1
保管
粉
in solvent
別名
N/A
Smiles
OC(=O)C1=C(C=C(C=C1)C2=C[NH]C3=NC=C(C=C23)C4=CC=CC=C4)C5CCCC5
投与溶媒組成計算器(クリア溶液)
ステップ1:実験データを入力してください。(余分な消耗を考慮し動物一匹分の量を用意することをお勧めします。)
投与量
mg/kg
動物平均体重
g
投与体積(動物毎)
ul
動物数
匹
ステップ2:投与溶媒の組成を入力してください。(ロットごとに組成が異なるため、セレックから完全に溶解できる組成をお求めください。)
% DMSO % % Tween 80 % ddH2O
計算リセット
計算結果:
希釈標準溶液: mg/ml;
DMSOストック溶液調製方法: mg 試薬を μL DMSO溶液に溶解する(濃度 mg/mL,
投与溶媒調製方法:μL DMSOストック溶液に μL PEG300,を加え、完全溶解後μL Tween 80,を加えて完全溶解させた後 μL ddH2O,を加え完全に溶解させます。
1.ストック溶液に沈殿、混濁などがないことをご確認ください;
2.順番通りに溶剤を加えてください。次のステップに進む前に溶液に沈殿、混濁などがないことを確認してから加えてください。ボルテックス、ソニケーション、水浴加熱など物理的な方法で溶解を早めることは可能です。

便利ツール
モル濃度計算器
モル濃度計算器
求めたい質量、体積または濃度を計算してください。
質量 (mg) = 濃度 (mM) x 体積 (mL) x 分子量 (g/mol)
モル濃度計算器方程式
*貯蔵液を準備するとき、常に、オンであるとわかる製品のバッチに特有の分子量を使って、を通してラベルとMSDS/COA(製品ページで利用可能な)。
希釈計算器
希釈計算器
貯蔵液を準備するために必要な希釈率を計算してください。Selleck希釈計算器は、以下の方程式に基づきます:
開始濃度 x 開始体積 = 最終濃度 x 最終体積
希釈の計算式
この方程式は、一般に略語を使われます:C1V1 = C2V2 ( 入力 出力 )
常に貯蔵液を準備するとき、小びんラベルとMSDS/COA(オンラインで利用できる)で見つかる製品のバッチに特有の分子量を使ってください。
分子量計算器
分子量计算器
そのモル質量と元素組成を計算するために、合成物の化学式を入力してください:
チップス: 化学式は大文字と小文字の区別ができます。C10H16N2O2 c10h16n2o2
モル濃度計算器
技術サポート
ストックの作り方、阻害剤の保管方法、細胞実験や動物実験の際に注意すべき点など、製品を取扱う時に問い合わせが多かった質問に対しては取扱説明書でお答えしています。
他に質問がある場合は、お気軽にお問い合わせください。