PEG300
For research use only. Not for use in humans.
製品コードS6704 別名:Polyethylene glycol 300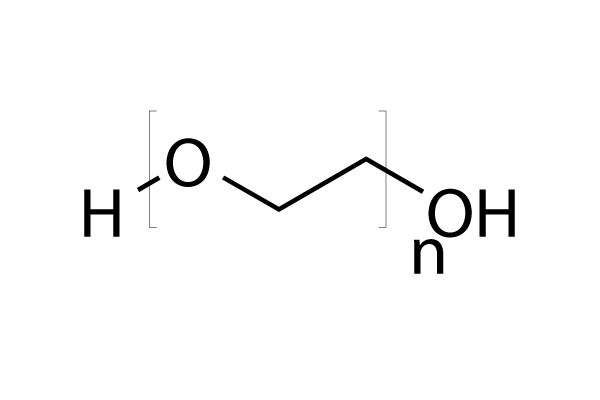 CAS No. 25322-68-3
PEG300 (Polyethylene glycol 300) is a water-miscible polyether widely used in biochemistry, structural biology, and medicine in addition to pharmaceutical and chemical industries. It serves as a kind of solubilizer, excipient, lubricant, and chemical reagent.
Hydrotropic Agents阻害剤の選択性比較
生物活性
製品説明
PEG300 (Polyethylene glycol 300) is a water-miscible polyether widely used in biochemistry, structural biology, and medicine in addition to pharmaceutical and chemical industries. It serves as a kind of solubilizer, excipient, lubricant, and chemical reagent.
アッセイ

| Methods | Test Index | PMID |
| --- | --- | --- |
| Western blot | | 23343422 |
化学情報
| | |
| --- | --- |
| 分子量 | |
| 化学式 | (C2H4O)nH2O |
| CAS No. | 25322-68-3 |
| Storage | 2 years 4°C liquid |
| 別名 | Polyethylene glycol 300 |
投与溶媒組成計算器(クリア溶液)
ステップ1:実験データを入力してください。(実験操作によるロスを考慮し、動物数を1匹分多くして計算・調製することを推奨します)
投与量
mg/kg
動物平均体重
g
投与体積(動物毎)
ul
動物数
匹
ステップ2:投与溶媒の組成を入力してください。(ロット毎に適した溶解組成が異なる場合があります。詳細については弊社までお問い合わせください)
% DMSO % % Tween 80 % ddH2O
計算リセット
計算結果:
投与溶媒濃度: mg/ml;
DMSOストック溶液調製方法: mg 試薬を μL DMSOに溶解する(濃度 mg/mL,
投与溶媒調製方法:μL DMSOストック溶液に μL PEG300,を加え、完全溶解後μL Tween 80,を加えて完全溶解させた後 μL ddH2O,を加え完全に溶解させます。
1.ストック溶液に沈殿、混濁などがないことをご確認ください;
2.順番通りに溶剤を加えてください。次のステップに進む前に溶液に沈殿、混濁などがないことを確認してから加えてください。ボルテックス、ソニケーション、水浴加熱など物理的な方法で溶解を早めることは可能です。

技術サポート
ストックの作り方、阻害剤の保管方法、細胞実験や動物実験の際に注意すべき点など、製品を取扱う時に問い合わせが多かった質問に対しては取扱説明書でお答えしています。
他に質問がある場合は、お気軽にお問い合わせください。