Darunavir Ethanolate
For research use only. Not for use in humans.
製品コードS1620 別名:TMC-114, UIC 94017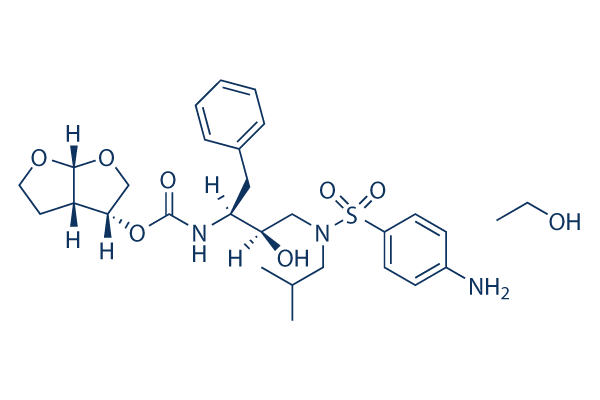 CAS No. 635728-49-3
Darunavir Ethanolate (TMC-114, UIC 94017) is a nonpeptidic HIV protease inhibitor, used to treat HIV infection.
カスタマーフィードバック(1)
HIV PIs variably alter intracellular HIV epitope stability. (A) HLA-A02–restricted SL9 epitope (SLYNTVATL, aa 77–85 in HIV-1 Gag p17) was degraded in PBMC extracts pretreated with DMSO (control, circles), 5 µM of Nelfinavir (triangles) or 5 µM of Saquinavir (squares). Remaining peptide was quantified by RP-HPLC analysis after 0, 10, 30 and 60 minutes. 100% represents the amount of peptide at time 0 calculated as the surface under the peptide peak detected by RP-HPLC (815.986, 821.569, and 813.118 for DMSO, Saquinavir, and Nelfinavir, respectively). Times at which 50% of the SL9 peptide remained correspond to peptide half-lives (37 min, 52 min and 24 min for Control, Saquinavir and Nelfinavir respectively). (B–F) HLA-A02–SL9, HLA-B57-KF11, HLAB57-ISW9, HLA-B57-TW10 and HLA-A11-ATK9 epitopes (from B to F respectively) were degraded in PBMC extracts pretreated with DMSO, 2 µM or 5 µM PI (Saquinavir, Ritonavir, Nelfinavir, Atazanavir or Darunavir). The cytosolic half-lives in control condition were 33.87, 25.66, 14.83, 119.4 and 37.21 minutes for SL9, KF11, ISW9, TW10 and ATK9 respectively. Fold differences of each epitope half-life upon treatment compared to control are presented in each panel. All data represent the average of 4 different experiments using 4 different PBMC extracts. *P < 0.05, **P < 0.01, ***P < 0.001, 1-way ANOVA with Dunnett's post-test.


Drug Metab Dispos, 2016, 44(3):398-408.. Darunavir Ethanolate purchased from Selleck.
生物活性
| | |
| --- | --- |
| 製品説明 | Darunavir Ethanolate (TMC-114, UIC 94017) is a nonpeptidic HIV protease inhibitor, used to treat HIV infection. |
| ターゲット | |
| 体外試験 | Darunavir displays potent activity against HIV strains resistant to other available protease inhibitor. Darunavir inhibits P-glycoprotein-mediated efflux of calcein-acetoxymethyl ester in L-MDR1 cells with the inhibitory potency of 121 mM. [1] Darunavir is a protein inhibits that mimics the phenylalanine sequences at positions 167 and 168 of the gag-pol polypeptide and binds to the active sites of the HIV protease, thereby inhibiting its activity. Darunavir blocks the infectivity and replication of each of the HIV-1 variants at concentrations up to 5 μM. Darunavir shows strong ARV activity against a selected panel of 19 recombinant clinical isolates carrying multiple protease mutations conferring resistance to an average of five other protien inhibitors. Darunavir inhibits 75% of 1501 PI-resistant viruses tested with a half maximal effective concentration (EC50) of < 10 nM. [2] |
溶解度 (25°C)
体外
DMSO
100 mg/mL (168.42 mM)
Water
Insoluble
Ethanol
Insoluble
* 溶解度測定はSelleck技術部門によって行われており、その他文献に示されている溶解度と差異がある可能性がありますが、同一ロットの生産工程で起きる正常な現象ですからご安心ください。
化学情報
分子量
593.73
化学式

C27H37N3O7S.C2H5OH

CAS No.
635728-49-3
Storage
powder
in solvent
別名
TMC-114, UIC 94017
Smiles
CCO.CC(C)CN(CC(C(CC1=CC=CC=C1)NC(=O)OC2COC3C2CCO3)O)S(=O)(=O)C4=CC=C(C=C4)N
投与溶媒組成計算器(クリア溶液)
ステップ1:実験データを入力してください。(実験操作によるロスを考慮し、動物数を1匹分多くして計算・調製することを推奨します)
投与量
mg/kg
動物平均体重
g
投与体積(動物毎)
ul
動物数
匹
ステップ2:投与溶媒の組成を入力してください。(ロット毎に適した溶解組成が異なる場合があります。詳細については弊社までお問い合わせください)
% DMSO % % Tween 80 % ddH2O
計算リセット
計算結果:
投与溶媒濃度: mg/ml;
DMSOストック溶液調製方法: mg 試薬を μL DMSOに溶解する(濃度 mg/mL,
投与溶媒調製方法:μL DMSOストック溶液に μL PEG300,を加え、完全溶解後μL Tween 80,を加えて完全溶解させた後 μL ddH2O,を加え完全に溶解させます。
1.ストック溶液に沈殿、混濁などがないことをご確認ください;
2.順番通りに溶剤を加えてください。次のステップに進む前に溶液に沈殿、混濁などがないことを確認してから加えてください。ボルテックス、ソニケーション、水浴加熱など物理的な方法で溶解を早めることは可能です。

便利ツール
モル濃度計算器
モル濃度計算器
求めたい質量、体積または濃度を計算してください。
質量 (mg) = 濃度 (mM) x 体積 (mL) x 分子量 (g/mol)
モル濃度計算器方程式
*貯蔵液を準備するとき、常に、オンであるとわかる製品のバッチに特有の分子量を使って、を通してラベルとSDS/COA(製品ページで利用可能な)。
希釈計算器
希釈計算器
貯蔵液を準備するために必要な希釈率を計算してください。Selleck希釈計算器は、以下の方程式に基づきます:
開始濃度 x 開始体積 = 最終濃度 x 最終体積
希釈の計算式
この方程式は、一般に略語を使われます:C1V1 = C2V2 ( 入力 出力 )
常に貯蔵液を準備するとき、小びんラベルとSDS/COA(オンラインで利用できる)で見つかる製品のバッチに特有の分子量を使ってください。
分子量計算器
分子量计算器
そのモル質量と元素組成を計算するために、合成物の化学式を入力してください:
チップス: 化学式は大文字と小文字の区別ができます。C10H16N2O2 c10h16n2o2
モル濃度計算器
臨床試験
| NCT Number | Recruitment | interventions | Conditions | Sponsor/Collaborators | Start Date | Phases |
| --- | --- | --- | --- | --- | --- | --- |
| NCT04194021 | Recruiting | -- | HIV/AIDS | Elizabeth Glaser Pediatric AIDS Foundation|Janssen LP | January 1 2019 | -- |
技術サポート
ストックの作り方、阻害剤の保管方法、細胞実験や動物実験の際に注意すべき点など、製品を取扱う時に問い合わせが多かった質問に対しては取扱説明書でお答えしています。
他に質問がある場合は、お気軽にお問い合わせください。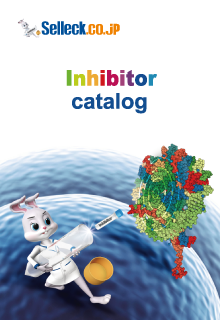 相関HIV Protease製品