Tenofovir Disoproxil Fumarate
製品コードS1400 別名:GS-1278 Disoproxil Fumarate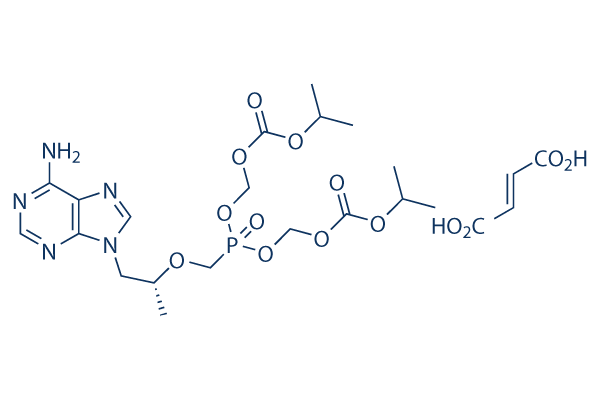 分子量(MW):635.51
Tenofovir Disoproxil Fumarate belongs to a class of antiretroviral drugs, it inhibits the activity of HIV reverse transcriptase by competing with the natural substrate deoxyadenosine 5'-triphosphate and, after incorporation into DNA, by DNA chain termination.
カスタマーフィードバック(1)
Human PBMCs containing indicated concentrations of Tenofovir disoproxil fumarate were inoculated with 5 ng mock-exposed or semen-exposed R5-HIV-luciferase, or 50 ng R5-HIV-luciferase as infectivity matched control. Infection rates were determined 3 days post inoculation.

Sci Transl Med, 2014, 6(262): 262ra157 . Tenofovir Disoproxil Fumarate purchased from Selleck.
Reverse Transcriptase阻害剤の選択性比較
生物活性
製品説明
Tenofovir Disoproxil Fumarate belongs to a class of antiretroviral drugs, it inhibits the activity of HIV reverse transcriptase by competing with the natural substrate deoxyadenosine 5'-triphosphate and, after incorporation into DNA, by DNA chain termination.
ターゲット

HIV reverse transcriptase [1]
(Cell-free assay)

体外試験

Tenofovir is eliminated from systemic circulation renally through a combination of glomerular filtration and active tubular secretion. Tenofovir is not a substrate for human organic cation transporter type 1 (hOCT1) or hOCT2. Tenofovir accumulates to fivefold lower levels in MRP4-overexpressing cells, and its accumulation could be increased by an MRP inhibitor. [1] Tenofovir produces no significant changes in mitochondrial DNA (mtDNA) levels in human hepatoblastoma (HepG2) cells, skeletal muscle cells (SkMCs), or renal proximal tubule epithelial cells. Tenofovir elevates lactate production by less than 20% in HepG2 cells or SkMCs. [2] Tenofovir is efficiently phosphorylated to tenofovir diphosphate (TFV-DP) in both HepG2 cells and primary human hepatocytes. Tenofovir has a 50% effective concentration of 1.1 mM against HBV in cell-based assays, and potency is improved > 50-fold by the addition of bis-isoproxil progroups. Tenofovir has previously demonstrated full activity against lamivudine-resistant HBV in vitro and clinically. [3] Tenofovir inhibits the proliferation of liver-derived HepG2 cells and normal skeletal muscle cells with CC(50) values of 398 mM and 870 mM, respectively. Tenofovir shows substantially weaker effects on proliferation and viability of renal proximal tubule epithelial cells than cidofovir, a related nucleotide analog with the potential to induce renal tubular dysfunction. [4]

細胞データ

| Cell Lines | Assay Type | Concentration | Incubation Time | Formulation | Activity Description | PMID |
| --- | --- | --- | --- | --- | --- | --- |
| MT2 cells | M4jvZWZ2dmO2aX;uJIF{e2G7 | | MYC1JIRigXN? | | Mn3PTY5pcWKrdHnvckBw\iC4aYL1d{1qdmS3Y3XkJIN6fG:yYYTobYMh\W[oZXP0JIlvKHerbHSgeJlx\SCKSW[gN4EhcW6oZXP0[YQhVVR{IHPlcIx{KGGodHXyJFUh\GG7czygSWM2OD1yLkCxOUDPxE1? | MYSxO|U3OjN4Nh?= |
| MT2 cells | MYLGeY5kfGmxbjDhd5NigQ>? | | | | NYi3NG03SW62aY\pdoFtKGGldHn2bZR6KGGpYXnud5QhUEmYMTDpcoZm[3SnZDDpckBpfW2jbjDNWFIh[2WubIOgZZN{\XO|ZXSgZZMhcW6qaXLpeIlwdiCxZjD2bZJidCC{ZYDsbYNifGmxbjygTWM2OD1yLkW0JO69VQ>? | NY\nUWtzOTl3OU[4PFU> |
| human bone marrow cells | NF;jVG9EgXSxdH;4bYPDqGG|c3H5 | | NGX5eHQzPCCq | | NYS1UZB1S3m2b4TvfIlkcXS7IHHnZYlve3RiaIXtZY4h[m:wZTDtZZJzd3diY3XscJMh[W[2ZYKgNlQhcHK|IHL5JGJHXS2HIHHzd4F6NCCFQ{WwQVAvQSEQvF2= | MXmyNFQ{QTZyOR?= |
| human HepG2 cells | M{PhXmN6fG:2b4jpZ:Kh[XO|YYm= | | NXTyfHRMQSCmYYnz | | NHvKNGVEgXSxdH;4bYNqfHliYXfhbY5{fCCqdX3hckBJ\XCJMjDj[YxteyCjZoTldkA6KGSjeYOgZpkhVVSWIHHzd4F6NCCLQ{WwQVIvOzFizszN | MWexO|g5QDZ4Mh?= |
| human HeLa P4/R5 cells | M4i1cGZ2dmO2aX;uJIF{e2G7 | | | | NXzFV4ZUSW62aY\pdoFtKGGldHn2bZR6KGGpYXnud5QhUEmYMTDpcoZm[3SnZDDpckBpfW2jbjDI[WxiKFB2L2K1JINmdGy|IHHzd4V{e2WmIHHzJIlvcGmkaYTpc44hd2ZidnnyZYwhemWybHnjZZRqd25uIFnDOVA:PC55IN88US=> | NVKxWGh7OTl3OU[4PFU> |
| human HeLa P4/R5 cells | NHPzdFZHfW6ldHnvckBie3OjeR?= | | | | MX3BcpRqfmm{YXygZYN1cX[rdImgZYdicW6|dDDITXYyKGijcnLvdolv\yC{ZY\ldpNmKHS{YX7zZ5JqeHSjc3WgT|Y2WiCvdYThcpQhcW6oZXP0[YQhcW5iaIXtZY4hUGWOYTDQOE9TPSClZXzsd{Bie3Onc4Pl[EBieyCrbnjpZol1cW:wIH;mJJZqemGuIILldIxq[2G2aX;uMEBKSzVyPUGxMlQh|ryP | NIf5TmwyQTV7Nki4OS=> |
| human HeLaT4 cells | NGDVfohEgXSxdH;4bYPDqGG|c3H5 | | | | M3jzSWN6fG:2b4jpZ4l1gSCjZ3HpcpN1KGi3bXHuJGhmVGGWNDDj[YxteyCkeTDXV3QuOSCjc4PhfUwhS0N3ME2zOEDPxE1? | MnLONlExPjBzMEi= |
お薦めの試験操作(参考用のみ)
細胞試験:

+ 展開

細胞株: VK2 cells
濃度: 450 μM or 1,350 μM
反応時間: 15 min to 12 h
実験の流れ:

VK2 cells were exposed to TDF (90 μM or 450 μM) and TFV (450 μM or 1,350 μM) in serum-free RPMI 1640 at 37°C for 15 min to 12 h. At different times postexposure, cells were washed with ice-cold PBS and metabolites were extracted overnight in 70% (vol/vol) methanol, followed by centrifugation at 18,000 × g for 10 min at 4°C.




(参考用のみ)

動物試験:

+ 展開

動物モデル: BALB/c mice
製剤: 50 mM trisodium citrate dihydrate
投薬量: 50, 500, or 1000 mg/kg
投与方法: oral administration


(参考用のみ)
溶解度 (25°C)
体外
DMSO
100 mg/mL (157.35 mM)
Ethanol
44 mg/mL (69.23 mM)
Water
Insoluble
* 溶解度測定はSelleck技術部門によって行われており、その他文献に示されている溶解度と差異がある可能性がありますが、同一ロットの生産工程で起きる正常な現象ですからご安心ください。
化学情報
分子量
635.51
化学式

C19H30N5O10P.C4H4O4

CAS No.
202138-50-9
保管
粉
in solvent
別名
GS-1278 Disoproxil Fumarate
便利ツール
モル濃度計算器
モル濃度計算器
求めたい質量、体積または濃度を計算してください。
質量 (g) = 濃度 (mol/L) x 体積 (L) x 分子量 (g/mol)
モル濃度計算器方程式
*貯蔵液を準備するとき、常に、オンであるとわかる製品のバッチに特有の分子量を使って、を通してラベルとMSDS/COA(製品ページで利用可能な)。
希釈計算器
希釈計算器
貯蔵液を準備するために必要な希釈率を計算してください。Selleck希釈計算器は、以下の方程式に基づきます:
開始濃度 x 開始体積 = 最終濃度 x 最終体積
希釈の計算式
この方程式は、一般に略語を使われます:C1V1 = C2V2 ( 入力 出力 )
常に貯蔵液を準備するとき、小びんラベルとMSDS/COA(オンラインで利用できる)で見つかる製品のバッチに特有の分子量を使ってください。
分子量計算器
分子量计算器
そのモル質量と元素組成を計算するために、合成物の化学式を入力してください:
チップス: 化学式は大文字と小文字の区別ができます。C10H16N2O2 c10h16n2o2
モル濃度計算器
臨床試験
| NCT Number | Recruitment | Conditions | Sponsor/Collaborators | Start Date | Phases |
| --- | --- | --- | --- | --- | --- |
| NCT03255915 | Recruiting | HIV Prevention | Oak Crest Institute of Science|The Miriam Hospital|Johns Hopkins University|University of California Los Angeles|University of California San Diego|Vanderbilt University|The University of Texas Medical Branch Galveston|National Institutes of Health (NIH)|National Institute of Allergy and Infectious Diseases (NIAID) | October 9 2018 | Early Phase 1 |
| NCT03566030 | Not yet recruiting | Hepatitis B|Antiviral Drug Adverse Reaction | Yonsei University | September 1 2018 | -- |
| NCT03567382 | Recruiting | Hepatitis B|Vertical Transmission of Infectious Disease | University of North Carolina Chapel Hill|Kinshasa School of Public Health|Ohio State University | September 24 2018 | Phase 4 |
| NCT03563742 | Recruiting | Human Immunodeficiency Virus Infections | Johnson & Johnson Pte Ltd | September 18 2018 | Phase 3 |
| NCT03386578 | Recruiting | HIV Infections | National Institute of Allergy and Infectious Diseases (NIAID) | July 3 2018 | Phase 2 |
| NCT02995005 | Recruiting | Hepatitis B | Johns Hopkins Bloomberg School of Public Health|Thrasher Research Fund|Shoklo Malaria Research Unit|Chiang Mai University|University of Oxford | May 24 2018 | Phase 1|Phase 2 |
技術サポート
ストックの作り方、阻害剤の保管方法、細胞実験や動物実験の際に注意すべき点など、製品を取扱う時に問い合わせが多かった質問に対しては取扱説明書でお答えしています。
他に質問がある場合は、お気軽にお問い合わせください。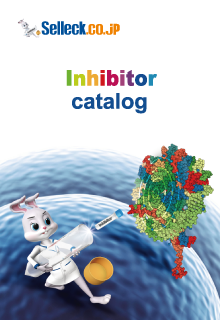 相関Reverse Transcriptase製品