Dolutegravir (GSK1349572)
For research use only. Not for use in humans.
製品コードS2667 別名:S/GSK1349572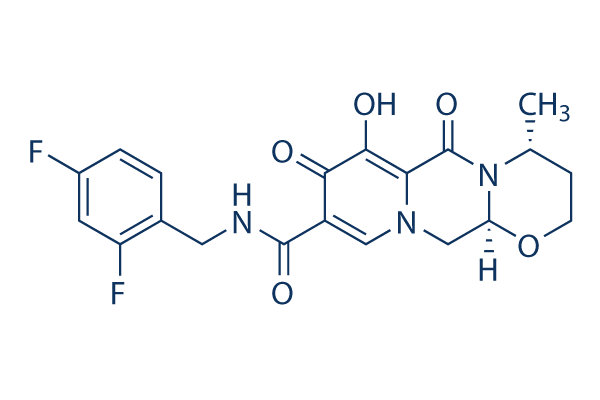 CAS No. 1051375-16-6
Dolutegravir (GSK1349572, S/GSK1349572) is a two-metal-binding HIV integrase inhibitor with IC50 of 2.7 nM in a cell-free assay, modest activity against raltegravir-resistant signature mutants Y143R, Q148K, N155H, and G140S/Q148H.
カスタマーフィードバック(3)
Strand transfer was carried out with RSV IN(1-269) (4 uM) and GU320R(2 uM)in the presence of 50mM NDSB201. Increasing concentrations of STIs were added as indicated at the top; DTG(Dolutegravir) in lanes 3-5, MK-2048 in lanes 6-8, and RAL in lanes 9-11. No STI was present in lane 2, and lane 1 contains the molecular weight markers. Strand transfer products and ODN substrate are identified on the right. CHS, circular half-site; OC target and SC target, open circular and supercoiled target DNA, respectively.

J Biol Chem 2014 289(28), 19648-58. Dolutegravir (GSK1349572) purchased from Selleck.

qPCR kinetics of 2-LTRc and integrated DNA forms during a single round of HIV replication in the presence of inhibitors. MT4cells were infected with HIV-1 in the absence (DMSO) or in the presence of 100 nM EFV, 500 nM RAL, 500 nM DTG, 10 μM RDS1611, 10 μM RDS1644, 10 μM RDS1823 added at the time of infection (black bar) or 16 h p.i. (grey bar). Samples were analyzed for (A) total viral DNA at 24 h and (B) 2-LTRc and (C) integrated viral DNA at 48 h. The graph represents the average and standard deviation of three independent experiments. Significant at: p value < 0.05 (*); p value < 0.01 (**); p value < 0.001 (***); p value < 0.0001 (****).

Antiviral Res, 2016, 134:236-243. Dolutegravir (GSK1349572) purchased from Selleck.

Comparison of the activity of dolutegravir (DTG), raltegravir (RAL), and elvitegravir (EVG) against wild-type HIV-2ROD9. The number of independent determinations (n) for each strain is shown below the x-axis. No cytotoxic effects were observed in dolutegravir-treated MAGIC-5A cultures at concentrations as high as 10,000 nM.

Retrovirology, 2015, 10.1186/s12977-015-0146-8. Dolutegravir (GSK1349572) purchased from Selleck.
生物活性
製品説明
Dolutegravir (GSK1349572, S/GSK1349572) is a two-metal-binding HIV integrase inhibitor with IC50 of 2.7 nM in a cell-free assay, modest activity against raltegravir-resistant signature mutants Y143R, Q148K, N155H, and G140S/Q148H.
特性
A next-generation and two-metal-binding HIV integrase strand transfer inhibitor.
ターゲット

HIV integrase [2]
(Cell-free assay)
2.7 nM

体外試験

S/GSK1349572 shows the potent inhibitory effect on nine clinical isolates from integrase inhibitor-naive HIV-2-infected patients with EC50 ranging from 0.2 nM -1.4 nM. [1] In vitro, S/GSK1349572 inhibits recombinant HIV-1 integrase-catalyzed strand transfer with IC50 of 2.7 nM. Furthermore, S/GSK1349572 potently inhibits HIV replication in cells such as peripheral blood mononuclear cells (PBMCs), MT-4 cells and CIP4 cells infected with a self-inactivating PHIV lentiviral vector with EC50 of 0,51 nM, 0.71 nM and 2.2 nM, respectively. [2] In vitro, S/GSK1349572 exhibits potent activity against five different nonnucleoside reverse transcription inhibitor--resistant or nucleoside reverse transcription inhibitor--resistant viruses with EC50 ranging from 1.3 nM -2.1 nM. Similarly to that against wild-type virus, S/GSK1349572 shows equivalent activity against two protease inhibitor-resistant viruses with EC50 of 0.36 nM and 0.37 nM, respectively. [2]

細胞データ

| Cell Lines | Assay Type | Concentration | Incubation Time | Formulation | Activity Description | PMID |
| --- | --- | --- | --- | --- | --- | --- |
| MDCK2 cells | MVLGeY5kfGmxbjDhd5NigQ>? | | | | NH\mU|BKdmirYnn0bY9vKG:oIHj1cYFvKE:FVEKg[ZhxemW|c3XkJIlvKE2GQ1uyJINmdGy|IIXzbY5oKFtzNFPdcYV1\m:{bXnuJIF{KHO3YoP0doF1\SCkeTDsbZF2cWRic3PpcpRqdGyjdHnvckBkd3WwdHnu[{BidmGueYPpdy=> | NU\Z[|VPRGFidHHy[4V1RSehYnzhcosoKGi{ZX[9K4h1fHC|Oj:vdJVjdWWmLn7jZokvdmyvLn7pbE5od3ZxMkOxN|I{OzRpPkKzNVMzOzN2PD;hQi=> |
| HOS | MonMRY51cX[rcnHsJIF{e2G7 | | M{DuUFMhcHK| | | MWHBcpRqfmm{YXygZYN1cX[rdImgZYdicW6|dDDITXYuOSCqYYLic5Jqdmdid3ns[EB1gXCnIHnueIVoemG|ZTDpcoZm[3SnZDDpckBpfW2jbjDIU3Mh[2WubIOgdJJmfHKnYYTl[EB4cXSqIHPvcZBwfW6mIH\vdkA{KGi{czDifUB{cW6pbHWtdo92dmRiSFnWMVEhcW6oZXP0bZZqfHliYYPzZZktKEWFNUCgQUAxNjByMU[g{txONg>? | M4nuNVxiKHSjcnfleF0oZ2KuYX7rK{BpemWoPTfoeJRxezpxL4D1Zo1m\C6wY3LpMo5tdS6waXiu[493NzJ2OUCxOlY4Lz5{NEmwNVY3PzxxYU6= |
| HEK293T | MXnBcpRqfmm{YXygZZN{[Xl? | | M4XJUFIh\GG7cx?= | | NX;KeXNUSW62aY\pdoFtKGGldHn2bZR6KGGpYXnud5QheHOndXTvJGh2dWGwIHntcZVvd2SnZnnjbYVv[3lidnnyeZMhcW6oZXP0[YQhcW5iSFXLNlk{XCClZXzsd{Bi\nSncjCyJIRigXNuIFnDOVAhRSByLkCwNVch|ryPLh?= | M3XmPFxiKHSjcnfleF0oZ2KuYX7rK{BpemWoPTfoeJRxezpxL4D1Zo1m\C6wY3LpMo5tdS6waXiu[493NzJ|OES1NVgxLz5{M{i0OVE5ODxxYU6= |
| MT4 | MUnBcpRqfmm{YXygZZN{[Xl? | | MWq0JJRwKDViZHH5dy=> | | MnzURY51cX[rcnHsJIFkfGm4aYT5JIFo[Wmwc4SgTJVu[W5iaX3teY5w\GWoaXPp[Y5kgSC4aYL1d{AyKDOEIHnu[oVkfGWmIHnuJIh2dWGwIF3UOEBk\WyuczDh[pRmeiB2IITvJFUh\GG7czDifUBjcW:udX3pcoV{[2WwY3WgZZN{[XluIFnDOVAhRSByLkCwNkDPxE1w | NIfKSJo9[SC2YYLn[ZQ:L1:kbHHub{chcHKnZk2nbJR1eHN8Lz;weYJu\WRwbnPibU5vdG1wbnnoModwfi9{M{i0OVE5OCd-MkO4OFUyQDB:L3G+ |
| HOS | MlXGRY51cX[rcnHsJIF{e2G7 | | NIrTSIM{KGi{cx?= | | M{jEWWFvfGm4aYLhcEBi[3Srdnn0fUBi\2GrboP0JJJidHSnZ4LheolzNXKnc3nzeIFvfCCKSW[tNUBp[XKkb4LpcochcW62ZXfyZZNmKE5zNUXIJI12fGGwdDDpcoZm[3SnZDDpckBpfW2jbjDIU3Mh[2WubIOgdJJmfHKnYYTl[EB4cXSqIHPvcZBwfW6mIH\vdkA{KGi{czDifUB{cW6pbHWtdo92dmRiSFnWMVEhcW6oZXP0bZZqfHliYYPzZZktKEWFNUCgQUAxNjByM{[g{txONg>? | NWHuS4pmRGFidHHy[4V1RSehYnzhcosoKGi{ZX[9K4h1fHC|Oj:vdJVjdWWmLn7jZokvdmyvLn7pbE5od3ZxMkS5NFE3PjdpPkK0PVAyPjZ5PD;hQi=> |
| HOS | M{frRmFvfGm4aYLhcEBie3OjeR?= | | MnntN{BpenN? | | MVvBcpRqfmm{YXygZYN1cX[rdImgZYdicW6|dDDyZYx1\We{YY\pdk1z\XOrc4ThcpQhUEmYLUGgbIFz[m:{aX7nJIlvfGWpcnHz[UB[OTR|UjDteZRidnRiaX7m[YN1\WRiaX6gbJVu[W5iSF;TJINmdGy|IIDy[ZRz\WG2ZXSge4l1cCClb33wc5Vv\CCob4KgN{BpenNiYomgd4lv\2ynLYLveY5lKEiLVj2xJIlv\mWldHn2bZR6KGG|c3H5MEBGSzVyIE2gNE4xODR|IN88UU4> | M2jE[|xiKHSjcnfleF0oZ2KuYX7rK{BpemWoPTfoeJRxezpxL4D1Zo1m\C6wY3LpMo5tdS6waXiu[493NzJ2OUCxOlY4Lz5{NEmwNVY3PzxxYU6= |
| HOS | NXe2ZY5GSW62aY\pdoFtKGG|c3H5 | | NHH0eoc{KGi{cx?= | | MlnuRY51cX[rcnHsJIFkfGm4aYT5JIFo[Wmwc4SgdoFtfGWpcnH2bZIuemW|aYP0ZY51KEiLVj2xJIhiemKxcnnu[{BqdnSnZ4Lhd4UhTzF2MGOvVVE1QEhiZH;1ZoxmKG23dHHueEBqdm[nY4Tl[EBqdiCqdX3hckBJV1NiY3XscJMheHKndILlZZRm\CC5aYToJINwdXCxdX7kJIZweiB|IHjyd{BjgSC|aX7ncIUuem:3bnSgTGlXNTFiaX7m[YN1cX[rdImgZZN{[XluIFXDOVAhRSByLkCwOVgh|ryPLh?= | NXm3RYtrRGFidHHy[4V1RSehYnzhcosoKGi{ZX[9K4h1fHC|Oj:vdJVjdWWmLn7jZokvdmyvLn7pbE5od3ZxMkS5NFE3PjdpPkK0PVAyPjZ5PD;hQi=> |
| HOS | MoP3RY51cX[rcnHsJIF{e2G7 | | M1rKNlMhcHK| | | M4fSfGFvfGm4aYLhcEBi[3Srdnn0fUBi\2GrboP0JGlPW1SLLYLld4l{fGGwdDDITXYuOSCqYYLic5JqdmdiaX70[Ydz[XOnIGKyOlNMKG23dHHueEBqdm[nY4Tl[EBqdiCqdX3hckBJV1NiY3XscJMheHKndILlZZRm\CC5aYToJINwdXCxdX7kJIZweiB|IHjyd{BjgSC|aX7ncIUuem:3bnSgTGlXNTFiaX7m[YN1cX[rdImgZZN{[XluIFXDOVAhRSByLkCxNUDPxE1w | NG[2d449[SC2YYLn[ZQ:L1:kbHHub{chcHKnZk2nbJR1eHN8Lz;weYJu\WRwbnPibU5vdG1wbnnoModwfi9{NEmwNVY3Pyd-MkS5NFE3Pjd:L3G+ |
| HOS | M{naR2FvfGm4aYLhcEBie3OjeR?= | | MnfRN{BpenN? | | M1fl[2FvfGm4aYLhcEBi[3Srdnn0fUBi\2GrboP0JGlPW1SLLYLld4l{fGGwdDDITXYuOSCqYYLic5JqdmdiaX70[Ydz[XOnIFexNVhTKG23dHHueEBqdm[nY4Tl[EBqdiCqdX3hckBJV1NiY3XscJMheHKndILlZZRm\CC5aYToJINwdXCxdX7kJIZweiB|IHjyd{BjgSC|aX7ncIUuem:3bnSgTGlXNTFiaX7m[YN1cX[rdImgZZN{[XluIFXDOVAhRSByLkCxN{DPxE1w | NXTHO2JYRGFidHHy[4V1RSehYnzhcosoKGi{ZX[9K4h1fHC|Oj:vdJVjdWWmLn7jZokvdmyvLn7pbE5od3ZxMkS5NFE3PjdpPkK0PVAyPjZ5PD;hQi=> |
| P4R5 MAGI | M4nlbmFvfGm4aYLhcEBie3OjeR?= | | MXmyOEBpenN? | | MVrBcpRqfmm{YXygZYN1cX[rdImgZYdicW6|dDDITXYyKGmwZnXjeIVlKGmwIFPEOE9EYEOUND;DR3I2KGW6cILld5NqdmdiaIXtZY4hWDSUNTDNRWdKKGOnbHzzJJBz\WmwY4XiZZRm\CC5aYToJINmdGy|IH\vdkAzPCCqcoOg[o9tdG:5ZXSgZpkhfmm{YXygbY5n\WO2aX;uJI1m[XO3cnXkJIFnfGW{IES4JIhzeyCkeTDi[ZRiNWejbHHjeI9{cWSjc3WgdoVxd3K2ZYKg[4Vv\SCjc4PhfUwhTUN3MDC9JFAvODJizszNMi=> | M4m1T|xiKHSjcnfleF0oZ2KuYX7rK{BpemWoPTfoeJRxezpxL4D1Zo1m\C6wY3LpMo5tdS6waXiu[493NzNyMEOxPVc3Lz5|MECzNVk4PjxxYU6= |
| P4R5 | M1vBeWFvfGm4aYLhcEBie3OjeR?= | | M2PrZVI1KGi{cx?= | | Mn71RY51cX[rcnHsJIFkfGm4aYT5JIFo[Wmwc4SgTGlXOSCrbn\lZ5Rm\CCrbjDDSFQwS1iFUkSvR2NTPSCneIDy[ZN{cW6pIHj1cYFvKFB2UkWgZ4VtdHNiYYPz[ZN{\WRiYYOgbY5pcWKrdHnvckBw\iC4aYLhcEBz\XCuaXPheIlwdiCycnXpcoN2[mG2ZXSge4l1cCClZXzsd{Bnd3JiMkSgbJJ{KG[xbHzve4VlKGK7II\pdoFtKGmwZnXjeIlwdiCvZXHzeZJm\CCjZoTldkA1QCCqcoOgZpkh[mW2YT3nZYxi[3Sxc3nkZZNmKHKncH;yeIVzKGenbnWgZZN{NCCHQ{WwJF0hOC5yMjFOwG0v | MWe8ZUB1[XKpZYS9K39jdGGwazegbJJm\j1paIT0dJM7Ny:ydXLt[YQvdmOkaT7ucI0vdmmqLnfvek8zQDV{NUK3PUc,Ojh3MkWyO|k9N2F- |
| HEK293T | NVnQc2VQSW62aY\pdoFtKGG|c3H5 | | MXiyJIRigXN? | | MXLBcpRqfmm{YXygZYN1cX[rdImgZYdicW6|dDDwd4V2\G9iSIXtZY4hcW2vdX7v[IVncWOrZX7jfUB3cXK3czDpcoZm[3SnZDDpckBJTUt{OUPUJINmdGy|IHHmeIVzKDJiZHH5d{BqdiCycnXz[Y5k\SCxZjDoeY1idiC|ZYL1cUBidGK3bXnuMEBKSzVyIE2gNE4xOjJizszNMi=> | NGSwPZI9[SC2YYLn[ZQ:L1:kbHHub{chcHKnZk2nbJR1eHN8Lz;weYJu\WRwbnPibU5vdG1wbnnoModwfi9{M{i0OVE5OCd-MkO4OFUyQDB:L3G+ |
| MDCK2 | NGTOZo1HfW6ldHnvckBie3OjeR?= | | | | NFvMdFlKdmirYnn0bY9vKG:oIHj1cYFvKE:FVEKg[ZhxemW|c3XkJIlvKE2GQ1uyJINmdGy|IIXzbY5oKFtzNFPdcYV1\m:{bXnuJIF{KHO3YoP0doF1\SCkeTDsbZF2cWRic3PpcpRqdGyjdHnvckBkd3WwdHnu[{BidmGueYPpd{whUUN3MDC9JFEvQSEQvF2u | MWC8ZUB1[XKpZYS9K39jdGGwazegbJJm\j1paIT0dJM7Ny:ydXLt[YQvdmOkaT7ucI0vdmmqLnfvek8zOzF|MkOzOEc,OjNzM{KzN|Q9N2F- |
| Vero E6 | NYexSHUzSW62aY\pdoFtKGG|c3H5 | | M4LvfVIh\GG7cx?= | | NWDrfZpGSW62aY\pdoFtKGWoZnnjZYN6KGGpYXnud5QhW0GUUz3Dc3YuOiBqc4TyZYlvKEKjdmDheFEqKGmwIG\ldo8hTTZiY3XscJMh[XO|ZYPz[YQh[nliaX7obYJqfGmxbjDv[kB3cXKjbDDSUmEhemWybHnjZZRqd25ibXXhd5Vz\WRiYomgVnQuWEOUIHHmeIVzKDJiZHH5d{whTUN3MDC9JFIzNjB2IN88UU4> | NYnqU4FVRGFidHHy[4V1RSehYnzhcosoKGi{ZX[9K4h1fHC|Oj:ve5d4NmWkaT7hZ{52cy:laHXtZoww[2:vcH;1coRgemWyb4L0Y4NiemRxQ1jFUWJNOTJ{OUKxNU8oRkOqRV3CUFww[T5? |
| Vero E6 | NFe0flNCdnSrdnnyZYwh[XO|YYm= | | NWrKXoo5OiCmYYnz | | MULBcpRqfmm{YXyg[YZncWOjY4mgZYdicW6|dDDTRXJUNUOxVj2yJEh{fHKjaX6gRoF3WGG2MTmgbY4hXmW{bzDFOkBk\WyuczDhd5Nme3OnZDDifUBqdmirYnn0bY9vKG:oII\pdoFtKFKQQTDy[ZBtcWOjdHnvckBu\WG|dYLl[EBjgSCUVD3QR3Ih[W[2ZYKgNkBl[Xm|LDDFR|kxKD1iNEKuPFEh|ryPLh?= | M2PDcFxiKHSjcnfleF0oZ2KuYX7rK{BpemWoPTfoeJRxezpxL4f3e{5m[mlwYXOueYsw[2inbXLsM4NwdXCxdX7kY5JmeG:{dG;jZZJlN0OKRV3CUFEzOjl{MUGvK|5EcEWPQly8M4E, |
お薦めの試験操作(参考用のみ)
キナーゼ試験:

- 合併

In vitro strand transfer assay:

The inhibitory potencies of S/GSK1349572 and other INIs are measured in a strand transfer assay using recombinant HIV integrase. A complex of integrase and biotinylated preprocessed donor DNA-streptavidin-coated Acintillation proximity assay (SPA) beads is formed by incubating 2 μM purified recombinant integrase with 0.66 μM biotinylated donor DNA-4 mg/mL streptavidin-coated SPA beads in 25 mM sodium morpholinepropanesulfonic acid (MOPS) (pH 7.2), 23 mM NaCl, and 10 mM MgCl

2

for 5 minutes at 37 °C. These beads are spun down and preincubated with diluted INIs for 60 minutes at 37 °C. Then a

3

H-labeled target DNA substrate is added to give a final concentration of 7 nM substrate, and the strand transfer reaction mixture is incubated at 37 °C for 25 to 45 minutes, which allows for a linear increase in the strand transfer of donor DNA to radiolabeled target DNA. The signal is read using a Wallac MicroBeta scintillation plate reader.

細胞試験:

- 合併

細胞株: MT-4
濃度: 0 to 10 μM
反応時間: 4 days or 5 days
実験の流れ:

MT-4 cells growing exponentially at a density of 500000 or 600000 /mL are infected with HIV-1 strain IIIB at a viral multiplicity of infection of 0.001 or a 50% tissue culture infective dose of 4 to 10. The cells are then aliquoted to 96-well plates in the presence of varying concentrations of S/GSK1349572. After incubation for 4 or 5 days, antiviral activity is determined by a cell viability assay that either measured bioluminescence with a CellTiter-Glo luminescent reagent or measured absorbance at 560 and 690 nm using the yellow tetrazolium MTT reagent [3-(4,5-dimethyl-2-thiazolyl)-2,5-diphenyltetrazolium bromide].




(参考用のみ)
溶解度 (25°C)
体外
DMSO
83 mg/mL (197.91 mM) warming
Water
Insoluble
Ethanol
Insoluble
* 溶解度測定はSelleck技術部門によって行われており、その他文献に示されている溶解度と差異がある可能性がありますが、同一ロットの生産工程で起きる正常な現象ですからご安心ください。
化学情報
分子量
419.38
化学式

C20H19F2N3O5

CAS No.
1051375-16-6
Storage
powder
in solvent
別名
S/GSK1349572
Smiles
CC1CCOC2N1C(=O)C3=C(C(=O)C(=CN3C2)C(=O)NCC4=C(C=C(C=C4)F)F)O
投与溶媒組成計算器(クリア溶液)
ステップ1:実験データを入力してください。(実験操作によるロスを考慮し、動物数を1匹分多くして計算・調製することを推奨します)
投与量
mg/kg
動物平均体重
g
投与体積(動物毎)
ul
動物数
匹
ステップ2:投与溶媒の組成を入力してください。(ロット毎に適した溶解組成が異なる場合があります。詳細については弊社までお問い合わせください)
% DMSO % % Tween 80 % ddH2O
計算リセット
計算結果:
投与溶媒濃度: mg/ml;
DMSOストック溶液調製方法: mg 試薬を μL DMSOに溶解する(濃度 mg/mL,
投与溶媒調製方法:μL DMSOストック溶液に μL PEG300,を加え、完全溶解後μL Tween 80,を加えて完全溶解させた後 μL ddH2O,を加え完全に溶解させます。
1.ストック溶液に沈殿、混濁などがないことをご確認ください;
2.順番通りに溶剤を加えてください。次のステップに進む前に溶液に沈殿、混濁などがないことを確認してから加えてください。ボルテックス、ソニケーション、水浴加熱など物理的な方法で溶解を早めることは可能です。

便利ツール
モル濃度計算器
モル濃度計算器
求めたい質量、体積または濃度を計算してください。
質量 (mg) = 濃度 (mM) x 体積 (mL) x 分子量 (g/mol)
モル濃度計算器方程式
*貯蔵液を準備するとき、常に、オンであるとわかる製品のバッチに特有の分子量を使って、を通してラベルとMSDS/COA(製品ページで利用可能な)。
希釈計算器
希釈計算器
貯蔵液を準備するために必要な希釈率を計算してください。Selleck希釈計算器は、以下の方程式に基づきます:
開始濃度 x 開始体積 = 最終濃度 x 最終体積
希釈の計算式
この方程式は、一般に略語を使われます:C1V1 = C2V2 ( 入力 出力 )
常に貯蔵液を準備するとき、小びんラベルとMSDS/COA(オンラインで利用できる)で見つかる製品のバッチに特有の分子量を使ってください。
分子量計算器
分子量计算器
そのモル質量と元素組成を計算するために、合成物の化学式を入力してください:
チップス: 化学式は大文字と小文字の区別ができます。C10H16N2O2 c10h16n2o2
モル濃度計算器
臨床試験
| NCT Number | Recruitment | interventions | Conditions | Sponsor/Collaborators | Start Date | Phases |
| --- | --- | --- | --- | --- | --- | --- |
| NCT04166474 | Not yet recruiting | Drug: Dolutegravir | Hiv|Tuberculosis | Helen Reynolds|Infectious Disease Institute Kampala Uganda|Desmond Tutu HIV Centre|University of Liverpool | April 2021 | Phase 4 |
| NCT04133012 | Recruiting | Other: Samplings | HIV-1 Infection | French National Institute for Health and Medical Research-French National Agency for Research on AIDS and Viral Hepatitis (Inserm-ANRS)|ViiV Healthcare | February 10 2020 | Not Applicable |
| NCT03851588 | Recruiting | Other: Placebo|Drug: Dolutegravir 50 mg | HIV Infections|Tuberculosis | University of Cape Town|Wellcome Trust|Medecins Sans Frontieres Netherlands | December 19 2019 | Phase 2 |
技術サポート
ストックの作り方、阻害剤の保管方法、細胞実験や動物実験の際に注意すべき点など、製品を取扱う時に問い合わせが多かった質問に対しては取扱説明書でお答えしています。
他に質問がある場合は、お気軽にお問い合わせください。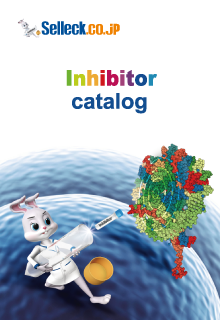 相関Integrase製品