Lamivudine
製品コードS1706 別名:GR109714X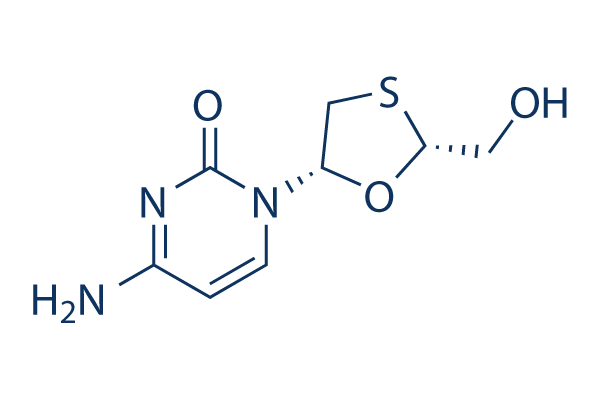 分子量(MW):229.26
Lamivudine is a potent nucleoside analog reverse transcriptase inhibitor, used for treatment of chronic HBV and HIV/AIDS. It works by blocking the HIV reverse transcriptase and hepatitis B virus polymerase.
カスタマーフィードバック(1)
The indicated liver cancer cell lines—Hep-3B, Huh-7 and PLC were treated with or without 5 types anti-hepatitis B virus drugs (C) with the concentration of 100 μM, and M1 virus (MOI = 10) for 72 hours. Following 72 hours, cell viabilities were determined by MTT assay (mean ± SD). N.S. Not significant.

Oncotarget, 2017, 8(15):24694-24705. Lamivudine purchased from Selleck.
Reverse Transcriptase阻害剤の選択性比較
生物活性
製品説明
Lamivudine is a potent nucleoside analog reverse transcriptase inhibitor, used for treatment of chronic HBV and HIV/AIDS. It works by blocking the HIV reverse transcriptase and hepatitis B virus polymerase.
ターゲット

Reverse transcriptase [1]

体外試験

Lamivudine's anti- HBV activity, like its anti-HIV activity, has been shown to depend on the ability of LMV-TP to serve as both substrate and inhibitor of the DNA- and RNA-dependent polymerase activities of the HBV P gene product. Lamivudine owes its activity to the remarkably broad substrate specificity of deoxycytidine kinase and the unusual substrate preference of the HBV polymerases for dNTPs with the unnatural L-conformation, whereas the anti-HBV activity of PCV appears to depend on several factors including optimal phosphorylation (sufficient for antiviral activity but not cytotoxicity) by key cellular enzymes, the long intracellular half-life of PCV-TP and the ability of PCV-TP to inhibit the HBV RT priming reaction as well as RT and DNA polymerase activity. [1] Lamivudine and Penciclovir inhibits duck hepatitis B virus (DHBV) replication to a comparable extent when used alone, and in combination, the two nucleoside analogs acts synergistically over a wide range of clinically relevant concentrations. Lamivudine combined with Penciclovir is more effective in reducing the normally recalcitrant viral covalently closed circular (CCC) DNA form of DHBV than either drug alone. [2] Lamivudine inhibits p24 antigen production by HIV-I in PBMC, with ED50s ranging from 0.07 μM to 0.2 μM. [3]

細胞データ

| Cell Lines | Assay Type | Concentration | Incubation Time | Formulation | Activity Description | PMID |
| --- | --- | --- | --- | --- | --- | --- |
| 2.2.15 cells | NELiOlJHfW6ldHnvckBie3OjeR?= | | | | NHHlS49CdnSrdnnyZYwh[WO2aY\peJkh[WejaX7zeEBJ\XCjdHn0bZMhSiC4aYL1d{ApUEKYKTDpckAzNjJwMUWgZ4VtdHNuIFXDOVA:OC5yMEig{txO | NVHxeFdDOTFyNUK3PVU> |
| PBMC cells | M1fuemZ2dmO2aX;uJIF{e2G7 | | | | Mn[wSYZn\WO2aY\lJINwdmOnboTyZZRqd25idH:gbY5pcWKrdDDITXYuOSCOQVmgZ5l1d3CjdHjpZ4l1gSCrbjDQRm1EKGOnbHzzJJdieyCmZYTldo1qdmWmIHnuJJZqfHKxLDDFR|UxRTBwMEGxOkDPxE1? | M4LkdVE1QTdzOEm4 |
| human MT2 cells | M{fpXWZ2dmO2aX;uJIF{e2G7 | | M1q3XVUh\GG7cx?= | | NVrRUZh6SW62aY\pdoFtKGGldHn2bZR6KGGpYXnud5QhOC5yMEWgUW9KKHerbHSgeJlx\SCKSW[xJG5NPC1|IHnu[oVkfGWmIHnuJIh2dWGwIF3UNkBk\WyuczDt[YF{fXKnZDDh[pRmeiB3IHThfZMh[nliUmSgV3BCNCCHQ{WwQVAvODRizszN | Mn\LNVg{OTZ3MkG= |
| human H9 cells | NY\vc41sTnWwY4Tpc44h[XO|YYm= | | | | NG\RPGZCdnSrdnnyZYwh[WO2aY\peJkh[WejaX7zeEBJUVZzIEPCJIlvKGi3bXHuJGg6KGOnbHzzJIF{e2W|c3XkJIF{KGmwaHnibZRqd25ib3[geolzfXNvaX7keYNm\CCleYTvdIF1cGmlIHXm[oVkfCCkeTDmc5Ju[Xqjbj3iZZNm\CClb372[Y51cW:wYXygZ49td3KrbXX0dolkKHSnY3jubZF2\SxiRVO1NF0xNjB4IN88US=> | MWGxNVQ{ODBzOR?= |
| human HuH7 cells | NID2e5hEgXSxdH;4bYNqfHliYYPzZZk> | | NGWyNXY1KGSjeYO= | | MlLoR5l1d3SxeHnjbZR6KGGpYXnud5QhcHWvYX6gTJVJPyClZXzsd{Bi\nSncjC0JIRigXNiYomgcoV2fHKjbDDy[YQh\HmnIIXweIFs\SCjc4PhfUwhS0N3ME2wMlEh|ryP | MUmyNVM{OzV|NR?= |
| MT-4 cell | M1LzTmZ2dmO2aX;uJIF{e2G7 | | | | M{HtRmNwdmOnboTyZZRqd25icnXxeYlz\WRidH:gbY5pcWKrdDDzfY51cWOjIH\vdo1ifGmxbjDifUA2OCViaX6gTGlXNTFiaX7m[YN1\WRiTWStOEBk\WyuczygTWM2OD1yLkGg{txO | MWm4NFM2PDJ7 |
| HepG2.2.15 cells | M3ThZ2Z2dmO2aX;uJIF{e2G7 | | | | M3fTbmVn\mWldHn2[UBkd26lZX70doF1cW:wIITvJIlvcGmkaYSgbIVx[XSrdHnzJGIhfmm{dYOgZ5l1d3CjdHjpZ4l1gSCrbjDI[ZBIOi5{LkG1JINmdGy|IIfhd{Bl\XSncn3pcoVlKGmwII\peJJwNCCHQ{WwQVAvOiEQvF2= | M{PBNFE1QTdzOEm4 |
| CEM-SS cells | NXPIdoZQTnWwY4Tpc44h[XO|YYm= | | | | NXr2WItxSW62aY\pdoFtKGGldHn2bZR6KGGpYXnud5QhUEmYLUGgd5VjfHmyZTCzRkBqdm[nY4Tl[EBqdiCFRV2tV3Mh[2WubIOgZZN{\XO|ZXSgZZMhcW6qaXLpeIlwdiCxZjD2bZJidCC{ZYDsbYNifGmxbjDh[pRmeiB4IHThfZMh[nliWGTUJIF{e2G7LDDFR|UxRTBwMjFOwG0> | MYGyNlg2QDB7Nx?= |
| human HeLa P4/R5 cells | NFXhSXlHfW6ldHnvckBie3OjeR?= | | | | M2HzcGFvfGm4aYLhcEBi[3Srdnn0fUBi\2GrboP0JGhKXjFiaX7m[YN1\WRiaX6gbJVu[W5iSHXMZUBRPC:UNTDj[YxteyCjc4Pld5Nm\CCjczDpcohq[mm2aX;uJI9nKH[rcnHsJJJmeGyrY3H0bY9vNCCLQ{WwQVAvPzhizszN | Ml[xNVk2QTZ6OEW= |
| HEK293 cells | MnqxSpVv[3Srb36gZZN{[Xl? | | NIrpOIc4OiCq | | NHHKTJRCdnSrdnnyZYwh[WO2aY\peJkh[WejaX7zeEBJUVZzIIP1ZpR6eGViRDDpd49t[XSnIEigbY5n\WO2ZXSgbY4hUEWNMkmzJINmdGy|IHHzd4V{e2WmIHHzJIlvcGmkaYTpc44hd2ZidnnyeZMhemWybHnjZZRqd25iYX\0[ZIhPzJiaILzMEBGSzVyPUOuNlUh|ryP | MUCyNFMxQDN5Nx?= |
| MDCK2 cells | NIfZVHVHfW6ldHnvckBie3OjeR?= | MXqxNEDPxE1? | | | MYfJcohq[mm2aX;uJI9nKGi3bXHuJG1TWDNiZYjwdoV{e2WmIHnuJG1FS0t{IHPlcIx{KGG|c3Xzd4VlKGG|IHnuZ5Jm[XOnIHnuJIlvfHKjY3XscJVt[XJiQ13GJIZtfW:{ZYPj[Y5k\SCjdDCxNEB2VSCkeTDDUWZFSSCjc4PhfS=> | M2TzNVE4OTd{M{Gx |
溶解度 (25°C)
体外
DMSO
46 mg/mL (200.64 mM)
Water
46 mg/mL (200.64 mM)
Ethanol
Insoluble
* 溶解度測定はSelleck技術部門によって行われており、その他文献に示されている溶解度と差異がある可能性がありますが、同一ロットの生産工程で起きる正常な現象ですからご安心ください。
化学情報
分子量
229.26
化学式

C8H11N3O3S

CAS No.
134678-17-4
保管
粉
in solvent
別名
GR109714X
便利ツール
モル濃度計算器
モル濃度計算器
求めたい質量、体積または濃度を計算してください。
質量 (g) = 濃度 (mol/L) x 体積 (L) x 分子量 (g/mol)
モル濃度計算器方程式
*貯蔵液を準備するとき、常に、オンであるとわかる製品のバッチに特有の分子量を使って、を通してラベルとMSDS/COA(製品ページで利用可能な)。
希釈計算器
希釈計算器
貯蔵液を準備するために必要な希釈率を計算してください。Selleck希釈計算器は、以下の方程式に基づきます:
開始濃度 x 開始体積 = 最終濃度 x 最終体積
希釈の計算式
この方程式は、一般に略語を使われます:C1V1 = C2V2 ( 入力 出力 )
常に貯蔵液を準備するとき、小びんラベルとMSDS/COA(オンラインで利用できる)で見つかる製品のバッチに特有の分子量を使ってください。
分子量計算器
分子量计算器
そのモル質量と元素組成を計算するために、合成物の化学式を入力してください:
チップス: 化学式は大文字と小文字の区別ができます。C10H16N2O2 c10h16n2o2
モル濃度計算器
臨床試験
| NCT Number | Recruitment | Conditions | Sponsor/Collaborators | Start Date | Phases |
| --- | --- | --- | --- | --- | --- |
| NCT03528941 | Not yet recruiting | Chronic Lymphoid Leukemia | Gruppo Italiano Malattie EMatologiche dell''Adulto | December 2018 | -- |
| NCT03549689 | Not yet recruiting | HIV/AIDS|HIV-1-infection|Osteopenia | Philip Grant|Stanford University | September 1 2018 | Phase 2 |
| NCT03563742 | Recruiting | Human Immunodeficiency Virus Infections | Johnson & Johnson Pte Ltd | September 18 2018 | Phase 3 |
| NCT03394196 | Recruiting | HIV-2 Infection | University of Washington|Clinique des Maladies Infectieuses CHNU de Fann Dakar Senegal|Centre de Sante de Ziguinchor Casamance Senegal|Janssen Pharmaceutica|Merck Sharp & Dohme Corp.|National Institute of Allergy and Infectious Diseases (NIAID) | July 4 2018 | Not Applicable |
| NCT03311945 | Recruiting | HIV Infections|HIV-1-infection|HIV Seropositivity | David Garcia Cinca|Fundacion Clinic per a la Recerca Biomédica|Hospital Clinic of Barcelona | May 3 2018 | Phase 3 |
| NCT03333083 | Recruiting | HIV Seropositivity|HIV Infections|HIV-1-infection | David Garcia Cinca|Fundacion Clinic per a la Recerca Biomédica|Hospital Clinic of Barcelona | May 3 2018 | Phase 3 |
技術サポート
ストックの作り方、阻害剤の保管方法、細胞実験や動物実験の際に注意すべき点など、製品を取扱う時に問い合わせが多かった質問に対しては取扱説明書でお答えしています。
他に質問がある場合は、お気軽にお問い合わせください。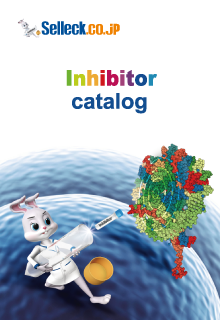 相関Reverse Transcriptase製品