NVP-BEP800
製品コードS1498 別名:VER82576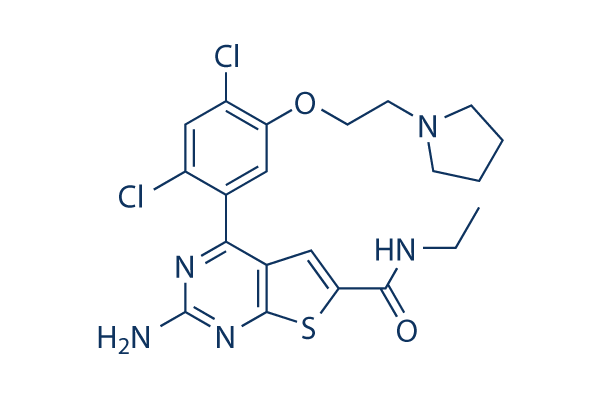 分子量(MW):480.41
NVP-BEP800 is a novel, fully synthetic HSP90β inhibitor with IC50 of 58 nM, exhibits>70-fold selectivity against Hsp90 family members Grp94 and Trap-1.
当該製品は品切れ状态で、ごメールアドレスを教えていただければ、在庫があると、メールで顧客様に伝えます。
您「在庫のお知らせ」をクリックして、ごメールアドレスを入力していただくと、10%の割引を取得することができます。
在庫のお知らせ
カスタマーフィードバック(4)
Growth curves of the MPNST cell line S462 treated with two different HSP90 inhibitors (500nM IPI-504 and 500nM BEP800).

Cancer Cell 2012 20(3), 400-13. NVP-BEP800 purchased from Selleck.

U937 cells were treated with AT13387 (2 μM), NVP-BEP800 (1 μM) or 17-AAG (500 nM) over a 24-h time course, then cell lysates analysed with western blotting using the indicated antibodies.

Cell Death Dis, 2016, 7:e2051. NVP-BEP800 purchased from Selleck.

Western blots show the molecular signature of HSP90 inhibition by NVP-BEP800 (ie, induction of HSP72 and depletion of client proteins such as ERBB2, CRAF and CDK4) in BT474 breast cancer cell line. GAPDH was used as loading control.

Dr. Swee Sharp and Professor Paul Workman from Cancer Research UK. NVP-BEP800 purchased from Selleck.
HSP (e.g. HSP90)阻害剤の選択性比較
生物活性
| | |
| --- | --- |
| 製品説明 | NVP-BEP800 is a novel, fully synthetic HSP90β inhibitor with IC50 of 58 nM, exhibits>70-fold selectivity against Hsp90 family members Grp94 and Trap-1. |
| ターゲット | |
| 体外試験 | NVP-BEP800 is an ATP-competitive inhibitor of Hsp90β with an IC50 of 58 nM, exhibiting >70-fold selectivity against Hsp90 family members Grp94 and Trap-1 with IC50 values of 4.1 μM and 5.5 μM, respectively. NVP-BEP800 displays no inhibitory activity against the closely related GHKL ATPase, topoisomerase II, and the structurally unrelated ATPase, Hsp70 at the concentration of 10 μM. NVP-BEP800 potently inhibits the proliferation of various tumor cell lines with GI50 values ranging from 38 nM in A375 to 1.05 μM in PC3, and primary human tumors with the mean IC50 of 0.75 μM and IC70 of 1.8 μM. NVP-BEP800 treatment at the concentration of five times the GI50 increases the percentage of G2-M phase in A2058 and A549 cells and sub-G1 phase in BT-474, HCT116, A2058 and A549 cells by 29.5%, 33.6%, 42.7%, 12.1%, 5.9% and 7.1%, respectively. NVP-BEP800 treatment causes Akt and ErbB2 dephosphorylation, ErbB2 degradation, and Hsp70 induction in a concentration-dependent manner in BT-474 cells with IC50 values of 218 nM, 39.5 nM, 137 nM and 207 nM, respectively. [1] |
| 体内試験 | Oral administration of NVP-BEP800 at 15 or 30 mg/kg/day for 15 days causes a dose-dependent reduction in B-Raf and Akt phosphorylation levels, and displays significant dose-dependent antitumor efficacy in the A375 melanoma xenograft model with the T/C values of 53% and 6% at the dose of 15 and 30 mg/kg/day, respectively, suggesting almost complete tumor inhibition at 30 mg/kg/day. Administration of NVP-BEP800 induces dose-dependent increase of Hsp90-p23 complex dissociation and reductions in the levels of steady-state ErbB2, phospho-Akt and phospho-S6, in BT-474 breast cancer xenografts, and exhibits significant antitumor activity with 38% tumor regression at dose of 30 mg/kg/day and a T/C of 36% at dose of 15 mg/kg/day. [1] |
お薦めの試験操作(参考用のみ)
キナーゼ試験:[1]

+ 展開

Competitive binding fluorescent polarization assay:

Recombinant Hsp90β, TAMRA-radicicol, or various concentrations of NVP-BEP800 is added in assay buffer (50 mM TRIS pH 7.4, 5 mM MgCl

2

, 150 mM KCl, and 0.1% CHAPS), mixed, and incubated at room temperature for 30 to 45 minutes prior to reading. The 2D-FIDA-based HTS assay based on confocal technologies monitors the decreased fluorescence polarization on displacement of the high affinity ligand TAMRA-radicicol from Hsp90β by NVP-BEP800. The concentration of NVP-BEP800 which inhibits Hsp90β by 50% is determined from the competition curve.

細胞試験: [1]

+ 展開

細胞株: A375, PC3, A2058, A549, HCT116, BT-474, SKBr3, MCF-7, MDAMB-157, MDA-MB-231, MDA-MB-468, and BT20
濃度: Dissolved in DMSO as a 10 mM stock solution, final concentrations ~1 mM
反応時間: 24 hours
実験の流れ: Cells are exposed to NVP-BEP800 for 24 hours. Cell proliferation is determined using either sulforhodamine B for adherent cells or MTS assay for suspension cells or those showing low adherence. Cell death is determined using a ToxiLight nondestructive cytotoxicity bioassay kit. Cell cycle progression is determined by RNase A/propidium iodide staining following fixation in 70% ethanol. Caspase-3/7 activity is determined using a homogeneous caspase activity kit.


(参考用のみ)

動物試験:[1]

+ 展開

動物モデル: Female Harlan HsdNpa: Athymic Nude-nu mice injected s.c. with BT-474 or A375 cells
製剤: Formulated as a suspension in 0.5% methyl cellulose
投薬量: ~50 mg/kg/day
投与方法: Orally


(参考用のみ)
溶解度 (25°C)
体外
Ethanol
15 mg/mL (31.22 mM)
DMSO
Insoluble
Water
Insoluble
体内
左から(NMPから)右の順に溶剤を製品に加えます(文献ではなく、Selleckの実験によるデータ):
0.5% methylcellulose
混合させたのち直ちに使用することを推奨します。
5 mg/mL
* 溶解度測定はSelleck技術部門によって行われており、その他文献に示されている溶解度と差異がある可能性がありますが、同一ロットの生産工程で起きる正常な現象ですからご安心ください。
化学情報
分子量
480.41
化学式

C21H23Cl2N5O2S

CAS No.
847559-80-2
保管
粉
in solvent
別名
VER82576
便利ツール
モル濃度計算器
モル濃度計算器
求めたい質量、体積または濃度を計算してください。
質量 (g) = 濃度 (mol/L) x 体積 (L) x 分子量 (g/mol)
モル濃度計算器方程式
*貯蔵液を準備するとき、常に、オンであるとわかる製品のバッチに特有の分子量を使って、を通してラベルとMSDS/COA(製品ページで利用可能な)。
希釈計算器
希釈計算器
貯蔵液を準備するために必要な希釈率を計算してください。Selleck希釈計算器は、以下の方程式に基づきます:
開始濃度 x 開始体積 = 最終濃度 x 最終体積
希釈の計算式
この方程式は、一般に略語を使われます:C1V1 = C2V2 ( 入力 出力 )
常に貯蔵液を準備するとき、小びんラベルとMSDS/COA(オンラインで利用できる)で見つかる製品のバッチに特有の分子量を使ってください。
分子量計算器
分子量计算器
そのモル質量と元素組成を計算するために、合成物の化学式を入力してください:
チップス: 化学式は大文字と小文字の区別ができます。C10H16N2O2 c10h16n2o2
モル濃度計算器
技術サポート
ストックの作り方、阻害剤の保管方法、細胞実験や動物実験の際に注意すべき点など、製品を取扱う時に問い合わせが多かった質問に対しては取扱説明書でお答えしています。
他に質問がある場合は、お気軽にお問い合わせください。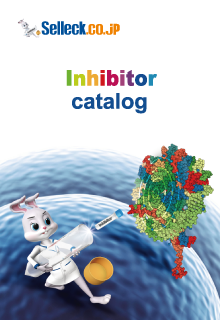 HSP (e.g. HSP90) Inhibitors with Unique Features
相関HSP (e.g. HSP90)製品