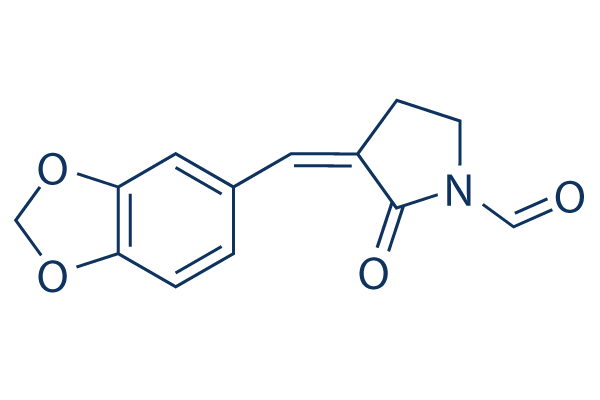 分子量(MW):245.23
KNK437 is a pan-HSP inhibitor, which inhibits the synthesis of inducible HSPs, including HSP105, HSP72, and HSP40.
カスタマーフィードバック(2)
Western blots of lysates from BaF3 JAK2 V617F cells.

Br J Haematol, 2013, 161(5):667-76. KNK437 purchased from Selleck.

Secreted AMF levels measured with ELISA under hyperthermia with or without HSP inhibitors. AMF secretion was inhibited by hyperthermia and recovered to the level of the control by the addition of HSP27. Data are presented as the mean ± SD of 6 different experiments. a, control; b, hyperthermia; c, hyperthermia + 17-AAG; d, hyperthermia + KNK437; e, hyperthermia + KRIBB-III.

ONCOLOGY REPORTS, 2012, 28:1953-1958.. KNK437 purchased from Selleck.
HSP (e.g. HSP90)阻害剤の選択性比較
生物活性
| | |
| --- | --- |
| 製品説明 | KNK437 is a pan-HSP inhibitor, which inhibits the synthesis of inducible HSPs, including HSP105, HSP72, and HSP40. |
| ターゲット | |
| 体外試験 | KNK437 dose-dependently inhibits the acquisition of thermotolerance and the induction of various HSPs including HSP105, HSP70, and HSP40 in COLO 320DM (human colon carcinoma) cells.[1] KNK437 and quercetin inhibits thermotolerance in a dose-dependent manner in PC-3 cells. KNK437 decreases heat-induced accumulation of Hsp70 mRNA and protein in PC-3 and LNCaP cells.[2] |
| 体内試験 | KNK437 (200 mg/kg, i.p.) shows no antitumor effects and does not increase the thermosensitivity of nontolerant tumors. The same dose of KNK437 enhances the antitumor effects of fractionated heat treatment in a synergistic manner.[3] |
お薦めの試験操作(参考用のみ)
キナーゼ試験:[1]

+ 展開

Metabolic Labeling and Gel Electrophoresis:

COLO 320DM cells (200,000) are injected into each well of 12-well plastic plates 2 days before incubation in the presence of KNK437 for 1 h before heat shock. The cells are then heat-shocked at 42°C for 90 min or kept at 37°C for the same length of time and incubated at 37°C for 2 h. For metabolic labeling, cells are washed with PBS without Ca2+ or Mg2+ and incubated for 1 h with 1.22 MBq of [

35

S]methionine in 250 μL of methionine-free DMEM supplemented with 10% dialyzed fetal bovine serum. After metabolic labeling, cells are washed twice with PBS and lysed in a buffer containing 1% NP40, 0.15 M NaCl, 50 mM Tris-HCl (pH 8.0), 5 mM EDTA, and protease inhibitors [0.2 mM 4-(2-aminoethyl)benzenesulfonyl fluoride hydrochloride, 2 mM N-ethylmaleimide, 1 μg/mL pepstatin, and 1 μg/mL leupeptin]. After centrifugation at 12,000×g for 20 min, cell extracts containing equal amounts of trichloroacetic acid-insoluble radioactivity are analyzed by two-dimensional gel electrophoresis (the one-dimensional gel electrophoresis is a nonequilibrium pH gradient gel electrophoresis, and the two-dimensional gel electrophoresis is 10% SDS-PAGE).

細胞試験: [1]

+ 展開

細胞株: COLO 320DM cells
濃度: 100 μM
反応時間: 1 h
実験の流れ: Thermotolerance is induced by incubating cells with 300 μM sodium arsenite for 90 min. Cells are preincubated with or without 100 μM KNK437 for 1 h before the sodium arsenite treatment. After treatment of the cells with sodium arsenite, cells are washed once with PBS and incubated at 37℃ for 5 h with or without KNK437. The effects of KNK437 on acquired thermotolerance are tested by heating the cells at 45°C for the indicated time. The surviving fraction is calculated as the plating efficiency of the treated cells divided by the plating efficiency of untreated control cells.


(参考用のみ)

動物試験:[3]

+ 展開

動物モデル: C3H/He mice
製剤: Olive oil
投薬量: 200 mg/kg
投与方法: i.p.


(参考用のみ)
溶解度 (25°C)
体外
DMSO
15 mg/mL (61.16 mM) warming
Water
Insoluble
Ethanol
Insoluble
体内
左から(NMPから)右の順に溶剤を製品に加えます(文献ではなく、Selleckの実験によるデータ):
5% DMSO+corn oil
混合させたのち直ちに使用することを推奨します。
2mg/mL
* 溶解度測定はSelleck技術部門によって行われており、その他文献に示されている溶解度と差異がある可能性がありますが、同一ロットの生産工程で起きる正常な現象ですからご安心ください。
化学情報
分子量
245.23
化学式

C13H11NO4

CAS No.
218924-25-5
保管
粉
in solvent
別名
N/A
便利ツール
モル濃度計算器
モル濃度計算器
求めたい質量、体積または濃度を計算してください。
質量 (g) = 濃度 (mol/L) x 体積 (L) x 分子量 (g/mol)
モル濃度計算器方程式
*貯蔵液を準備するとき、常に、オンであるとわかる製品のバッチに特有の分子量を使って、を通してラベルとMSDS/COA(製品ページで利用可能な)。
希釈計算器
希釈計算器
貯蔵液を準備するために必要な希釈率を計算してください。Selleck希釈計算器は、以下の方程式に基づきます:
開始濃度 x 開始体積 = 最終濃度 x 最終体積
希釈の計算式
この方程式は、一般に略語を使われます:C1V1 = C2V2 ( 入力 出力 )
常に貯蔵液を準備するとき、小びんラベルとMSDS/COA(オンラインで利用できる)で見つかる製品のバッチに特有の分子量を使ってください。
分子量計算器
分子量计算器
そのモル質量と元素組成を計算するために、合成物の化学式を入力してください:
チップス: 化学式は大文字と小文字の区別ができます。C10H16N2O2 c10h16n2o2
モル濃度計算器
技術サポート
ストックの作り方、阻害剤の保管方法、細胞実験や動物実験の際に注意すべき点など、製品を取扱う時に問い合わせが多かった質問に対しては取扱説明書でお答えしています。
他に質問がある場合は、お気軽にお問い合わせください。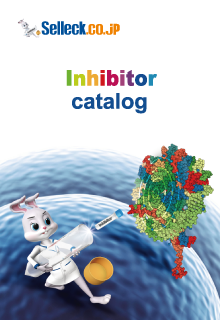 相関HSP (e.g. HSP90)製品