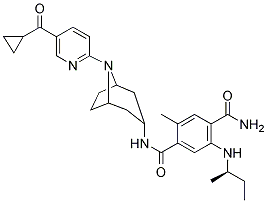 分子量(MW):503.64
XL888 is an ATP-competitive inhibitor of HSP90 with IC50 of 24 nM. Phase 1.
カスタマーフィードバック(1)
B, XL888 (1 mmol/L, 144 hours) is effective at blocking the growth and survival of vemurafenib-resistant melanoma cell lines grown as 3D collagen-implanted spheroids. Staining shows cell viability, in which green corresponds to live cells and red: dead cells. Magnification×4.

Clin Cancer Res, 2012, 18(9):2502-2514.. XL888 purchased from Selleck.
HSP (e.g. HSP90)阻害剤の選択性比較
生物活性
製品説明
XL888 is an ATP-competitive inhibitor of HSP90 with IC50 of 24 nM. Phase 1.
ターゲット

HSP90 [1]
(Cell-free assay)
24 nM

体外試験

XL888 induces HER2 degradation in NCI-N87 cells with IC50 of 56 nM. XL888 inhibits the proliferation of HER2 over-expressed NCI-N87, HER2 over-expressed BT-474, HER2 over-expressed MDA-MB-453, MET mutated MKN45, B-Raf mutated Colo-205, B-Raf mutated SK-MEL-28, EGFR mutated HN5, EGFR mutated NCI-H1975, PI3K mutated MCF7, and K-Ras mutated A549 with IC50 of 21.8, 0.1, 16.0, 45.5, 11.6, 0.3, 5.5, 0.7, 4.1 and 4.3 nM. [1] XL888 leads to dose-dependent decreases in the growth of vemurafenib-naive and vemurafenib-resistant melanoma cell lines and melanoma cell lines with intrinsic resistance with IC50 of all around 0.1 μM. The growth inhibitory effects of XL888 are associated with induction of either a G1-phase cell-cycle arrest (WM164, M229, M229R, M249, M249R, 1205Lu, and WM39 cell lines) or a G2-M phase cell-cycle arrest (WM164R, 1205LuR, and RPMI 7951 cell lines). XL888 (300 nmol) induces high levels ( > 66%) of apoptosis, and loss of mitochondrial membrane potential (TMRM) in these cell lines. The cytotoxic effects of XL888 are durable with no signs of colony formation observed in any of the cell lines even cultured up to 4 weeks. XL888 treatment (300 nM, 48 hours) leads to the degradation of IGF1R, PDGFRβ, ARAF, CRAF, and cyclin D1 and the inhibition of AKT, ERK, and S6 signaling in all of the cell lines with acquired BRAF inhibitor resistance. treatment of cell lines that are naive, intrinsically resistant, and with acquired vemurafenib resistance. Treatment with XL888 (300 nM) leads to robust time-dependent increases in the expression of HSP70 isoform 1. XL888 (48 hours, 300 nM) treatment increases the expression of BIM-EL, BIM-L, and BIM-S expression in the M229R, 1205LuR, RPMI7951, and WM39 cell lines, induces expression of BIM-L and BIM-S in the WM164R cell line, and BIM-EL in the M249R cell line. [2]

体内試験
XL888 (100 mg/kg) significantly induces the regression of, or growth inhibition (50%) of established M229R and 1205LuR xenografts in SCID mice. 15 days of XL888 treatment showes a robust (8.6-fold) increase in intratumoral HSP70 expression compared with controls. XL888 treatment is noted to be proapoptotic in vivo and leads to increased TUNEL staining in M229R xenografts associated with increased expression of BIM and decreased expression of Mcl-1. [2]
お薦めの試験操作(参考用のみ)
細胞試験: [2]

+ 展開

細胞株: 1205Lu melanoma cells lines
濃度: ~10 μM
反応時間: 3 days
実験の流れ: Cells are plated at a density of 2?05 per mL and left to grow overnight before being treated with increasing concentrations of XL888. After incubation with XL888 for 3 days, Methylthiazolyldiphenyl-tetrazolium bromide (MTT) assays are performed.


(参考用のみ)

動物試験:[2]

+ 展開

動物モデル: Melanoma carcinoma xenografts 1205Lu
製剤: 10 mM HCl
投薬量: 100 mg/kg
投与方法: 3 times per week by oral gavage


(参考用のみ)
溶解度 (25°C)
体外
DMSO
100 mg/mL (198.55 mM)
Water
Insoluble
Ethanol
Insoluble
体内
左から(NMPから)右の順に溶剤を製品に加えます(文献ではなく、Selleckの実験によるデータ):
30% PEG400+0.5% Tween80+5% propylene glycol
混合させたのち直ちに使用することを推奨します。
30 mg/mL
* 溶解度測定はSelleck技術部門によって行われており、その他文献に示されている溶解度と差異がある可能性がありますが、同一ロットの生産工程で起きる正常な現象ですからご安心ください。
化学情報
分子量
503.64
化学式

C29H37N5O3

CAS No.
1149705-71-4
保管
粉
in solvent
別名
N/A
便利ツール
モル濃度計算器
モル濃度計算器
求めたい質量、体積または濃度を計算してください。
質量 (g) = 濃度 (mol/L) x 体積 (L) x 分子量 (g/mol)
モル濃度計算器方程式
*貯蔵液を準備するとき、常に、オンであるとわかる製品のバッチに特有の分子量を使って、を通してラベルとMSDS/COA(製品ページで利用可能な)。
希釈計算器
希釈計算器
貯蔵液を準備するために必要な希釈率を計算してください。Selleck希釈計算器は、以下の方程式に基づきます:
開始濃度 x 開始体積 = 最終濃度 x 最終体積
希釈の計算式
この方程式は、一般に略語を使われます:C1V1 = C2V2 ( 入力 出力 )
常に貯蔵液を準備するとき、小びんラベルとMSDS/COA(オンラインで利用できる)で見つかる製品のバッチに特有の分子量を使ってください。
分子量計算器
分子量计算器
そのモル質量と元素組成を計算するために、合成物の化学式を入力してください:
チップス: 化学式は大文字と小文字の区別ができます。C10H16N2O2 c10h16n2o2
モル濃度計算器
臨床試験
| NCT Number | Recruitment | Conditions | Sponsor/Collaborators | Start Date | Phases |
| --- | --- | --- | --- | --- | --- |
| NCT03095781 | Recruiting | Adenocarcinoma of the Gastroesophageal Junction|Colorectal Adenocarcinoma|Metastatic Pancreatic Adenocarcinoma|Non-Resectable Cholangiocarcinoma|Non-Resectable Hepatocellular Carcinoma|Recurrent Cholangiocarcinoma|Recurrent Colorectal Carcinoma|Recurrent Gastric Carcinoma|Recurrent Hepatocellular Carcinoma|Recurrent Pancreatic Carcinoma|Recurrent Small Intestinal Carcinoma|Small Intestinal Adenocarcinoma|Stage III Colorectal Cancer|Stage III Gastric Cancer|Stage III Hepatocellular Carcinoma|Stage III Pancreatic Cancer|Stage III Small Intestinal Cancer|Stage IIIA Colorectal Cancer|Stage IIIA Gastric Cancer|Stage IIIA Hepatocellular Carcinoma|Stage IIIA Small Intestinal Cancer|Stage IIIB Colorectal Cancer|Stage IIIB Gastric Cancer|Stage IIIB Hepatocellular Carcinoma|Stage IIIB Small Intestinal Cancer|Stage IIIC Gastric Cancer|Stage IV Colorectal Cancer|Stage IV Gastric Cancer|Stage IV Hepatocellular Carcinoma|Stage IV Pancreatic Cancer|Stage IV Small Intestinal Cancer|Stage IVA Colorectal Cancer|Stage IVA Hepatocellular Carcinoma|Stage IVA Pancreatic Cancer|Stage IVB Colorectal Cancer|Stage IVB Hepatocellular Carcinoma|Stage IVB Pancreatic Cancer|Unresectable Pancreatic Carcinoma|Unresectable Small Intestinal Carcinoma | Emory University|Merck Sharp & Dohme Corp.|Exelixis | June 28 2017 | Phase 1 |
| NCT03095781 | Recruiting | Adenocarcinoma of the Gastroesophageal Junction|Colorectal Adenocarcinoma|Metastatic Pancreatic Adenocarcinoma|Non-Resectable Cholangiocarcinoma|Non-Resectable Hepatocellular Carcinoma|Recurrent Cholangiocarcinoma|Recurrent Colorectal Carcinoma|Recurrent Gastric Carcinoma|Recurrent Hepatocellular Carcinoma|Recurrent Pancreatic Carcinoma|Recurrent Small Intestinal Carcinoma|Small Intestinal Adenocarcinoma|Stage III Colorectal Cancer|Stage III Gastric Cancer|Stage III Hepatocellular Carcinoma|Stage III Pancreatic Cancer|Stage III Small Intestinal Cancer|Stage IIIA Colorectal Cancer|Stage IIIA Gastric Cancer|Stage IIIA Hepatocellular Carcinoma|Stage IIIA Small Intestinal Cancer|Stage IIIB Colorectal Cancer|Stage IIIB Gastric Cancer|Stage IIIB Hepatocellular Carcinoma|Stage IIIB Small Intestinal Cancer|Stage IIIC Gastric Cancer|Stage IV Colorectal Cancer|Stage IV Gastric Cancer|Stage IV Hepatocellular Carcinoma|Stage IV Pancreatic Cancer|Stage IV Small Intestinal Cancer|Stage IVA Colorectal Cancer|Stage IVA Hepatocellular Carcinoma|Stage IVA Pancreatic Cancer|Stage IVB Colorectal Cancer|Stage IVB Hepatocellular Carcinoma|Stage IVB Pancreatic Cancer|Unresectable Pancreatic Carcinoma|Unresectable Small Intestinal Carcinoma | Emory University|Merck Sharp & Dohme Corp.|Exelixis | June 28 2017 | Phase 1 |
| NCT02721459 | Active not recruiting | Melanoma|Skin Cancer | H. Lee Moffitt Cancer Center and Research Institute|Exelixis|Genentech Inc. | August 11 2016 | Phase 1 |
| NCT02721459 | Active not recruiting | Melanoma|Skin Cancer | H. Lee Moffitt Cancer Center and Research Institute|Exelixis|Genentech Inc. | August 11 2016 | Phase 1 |
| NCT01657591 | Active not recruiting | Melanoma | H. Lee Moffitt Cancer Center and Research Institute|Exelixis | July 27 2012 | Phase 1 |
| NCT01657591 | Active not recruiting | Melanoma | H. Lee Moffitt Cancer Center and Research Institute|Exelixis | July 27 2012 | Phase 1 |
技術サポート
ストックの作り方、阻害剤の保管方法、細胞実験や動物実験の際に注意すべき点など、製品を取扱う時に問い合わせが多かった質問に対しては取扱説明書でお答えしています。
他に質問がある場合は、お気軽にお問い合わせください。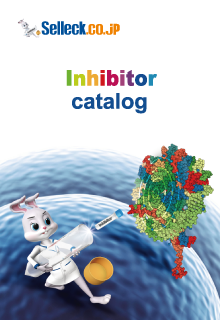 相関HSP (e.g. HSP90)製品