Colforsin (Forskolin)
For research use only. Not for use in humans.
製品コードS2449 別名:Coleonol, Colforsin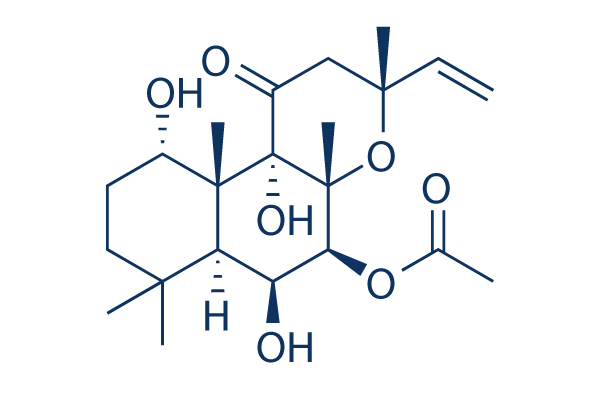 CAS No. 66575-29-9
Colforsin (Forskolin, Coleonol, Colforsin) is a ubiquitous activator of eukaryotic adenylyl cyclase (AC) in a wide variety of cell types, commonly used to raise levels of cAMP in the study and research of cell physiology. Forskolin also activates PXR and FXR activity. Forskolin stimulates autophagy.
生物活性
製品説明
Colforsin (Forskolin, Coleonol, Colforsin) is a ubiquitous activator of eukaryotic adenylyl cyclase (AC) in a wide variety of cell types, commonly used to raise levels of cAMP in the study and research of cell physiology. Forskolin also activates PXR and FXR activity. Forskolin stimulates autophagy.
ターゲット

Adenylyl cyclase (AC) [1]
(A wide variety of cell types)

体外試験

Forskolin increases cAMP levels in preparations of membranes, cells, or tissues. Forskolin not only activates AC but also interacts with certain other proteins, including glucose transporters and ion channels. Forskolin is able to promote activation of nine different transmembrane iso-forms of AC, albeit with somewhat less efficacy for AC9, which could be used to provides a means to identify and quantify high-affinity binding sites, i.e., G-proteins (Gs)–AC complexes. Activation of s by GPCRs contributes to Forskolin-stimulated cAMP generation in cells because of s-Forskolin potentiation of AC activity. [1] Forskolin stimulates adenylate cyclase activity without interacting with cell surface receptors. Forskolin's potentiation of cAMP in turn inhibits basophil and mast cell degranulation and histamine release, lowers blood pressure and intraocular pressure, inhibits platelet aggregation, promotes vasodilation, bronchodilation, and thyroid hormone secretion, and stimulates lipolysis in fat cells. Forskolin inhibits the binding of platelet-activating factor (PAF), independently of cAMP formation, which may be a result of Forskolin's direct effect on PAF or via interference with PAF binding to receptor sites. Forskolin also appears to have an effect on several membrane transport proteins, and inhibits glucose transport in erythrocytes, adipocytes, platelets, and other cells. Forskolin is used to treat with glaucoma. [2]

細胞データ

| Cell Lines | Assay Type | Concentration | Incubation Time | Formulation | Activity Description | PMID |
| --- | --- | --- | --- | --- | --- | --- |
| HT-29 | MYTBdI9xfG:|aYOgRZN{[Xl? | NULlbIhJPDEEoN88US=> | M{iyTFQ5yqCq | M{\RcWROW09? | MYXpcoR2[2W|IHPoZY5o\XNiaX6geIhmKHCqb4PwbI9zgWyjdHnvckB{fGG2dYOgc4YhWFB{QTD0ZZJo\XS| | Mn:zQIEhfGG{Z3X0QUdg[myjbnunJIhz\WZ;J3j0eJB{Qi9xcIXicYVlNm6lYnmucoxuNm6raD7nc5YwOjR7OUe0OVEoRjJ2OUm3OFUyRC:jPh?= |
| SW480 | MXzBdI9xfG:|aYOgRZN{[Xl? | NEjjOnc1OMLizszN | Ml\2OFjDqGh? | M{TsWGROW09? | MXXpcoR2[2W|IHPoZY5o\XNiaX6geIhmKHCqb4PwbI9zgWyjdHnvckB{fGG2dYOgc4YhWFB{QTD0ZZJo\XS| | NYK1RVUxRGFidHHy[4V1RSehYnzhcosoKGi{ZX[9K4h1fHC|Oj:vdJVjdWWmLn7jZokvdmyvLn7pbE5od3ZxMkS5PVc1PTFpPkK0PVk4PDVzPD;hQi=> |
| HT-29 | M{PFXmFxd3C2b4Ppd{BCe3OjeR?= | NH\6[4U1OMLizszN | Mn7zOFjDqGh? | MWrEUXNQ | NY[0OVlycW6mdXPld{BidiCjY4TpeoF1cW:wIH;mJINie3Cjc3WgN{84 | MlHsQIEhfGG{Z3X0QUdg[myjbnunJIhz\WZ;J3j0eJB{Qi9xcIXicYVlNm6lYnmucoxuNm6raD7nc5YwOjR7OUe0OVEoRjJ2OUm3OFUyRC:jPh?= |
| SW480 | MULBdI9xfG:|aYOgRZN{[Xl? | MWq0NOKh|ryP | NIHsV3Y1QMLiaB?= | Mmn0SG1UVw>? | Mn\MbY5lfWOnczDhckBi[3SrdnH0bY9vKG:oIHPhd5Bie2ViMz:3 | NYHONopSRGFidHHy[4V1RSehYnzhcosoKGi{ZX[9K4h1fHC|Oj:vdJVjdWWmLn7jZokvdmyvLn7pbE5od3ZxMkS5PVc1PTFpPkK0PVk4PDVzPD;hQi=> |
| HT-29 | NWf5UIhXTnWwY4Tpc44hSXO|YYm= | MnL5OFDDqM7:TR?= | MkTkO{Bl | MWPEUXNQ | MWTy[YR2[2W|IHPvcI9vd3OyaHXy[UBnd3KvYYTpc44h[2GyYXLpcIl1gcLi | MXW8ZUB1[XKpZYS9K39jdGGwazegbJJm\j1paIT0dJM7Ny:ydXLt[YQvdmOkaT7ucI0vdmmqLnfvek8zPDl7N{S1NUc,OjR7OUe0OVE9N2F- |
| SW480 | M1XWfGZ2dmO2aX;uJGF{e2G7 | NVnKVVBpPDEEoN88US=> | MXu3JIQ> | NXSyR5IxTE2VTx?= | MXPy[YR2[2W|IHPvcI9vd3OyaHXy[UBnd3KvYYTpc44h[2GyYXLpcIl1gcLi | NHvTbW49[SC2YYLn[ZQ:L1:kbHHub{chcHKnZk2nbJR1eHN8Lz;weYJu\WRwbnPibU5vdG1wbnnoModwfi9{NEm5O|Q2OSd-MkS5PVc1PTF:L3G+ |
| HT-29 | Mmi1S5Jwf3SqIFnubIljcXSrb36gRZN{[Xl? | MojkOFDDqM7:TR?= | MUOwMVczKGh? | M3XFR2ROW09? | NWXSbFBvcW6qaXLpeJMh[2WubDDndo94fGhidHnt[UBl\XCnbnTlcpRtgQ>? | NUPnNVNNRGFidHHy[4V1RSehYnzhcosoKGi{ZX[9K4h1fHC|Oj:vdJVjdWWmLn7jZokvdmyvLn7pbE5od3ZxMkS5PVc1PTFpPkK0PVk4PDVzPD;hQi=> |
| SW480 | MkLRS5Jwf3SqIFnubIljcXSrb36gRZN{[Xl? | M{LPZVQxyqEQvF2= | MVWwMVczKGh? | M1jV[2ROW09? | M4XJeYlvcGmkaYTzJINmdGxiZ4Lve5RpKHSrbXWg[IVx\W6mZX70cJk> | NVG4cGdoRGFidHHy[4V1RSehYnzhcosoKGi{ZX[9K4h1fHC|Oj:vdJVjdWWmLn7jZokvdmyvLn7pbE5od3ZxMkS5PVc1PTFpPkK0PVk4PDVzPD;hQi=> |
| HT-29 | NIDVVnFHfW6ldHnvckBCe3OjeR?= | NEPvdGw1OMLizszN | NFnRcpc1QMLiaB?= | NHSzNolFVVOR | NYG0dllU[WO2aY\heIV{KFCSMlG= | MoDrQIEhfGG{Z3X0QUdg[myjbnunJIhz\WZ;J3j0eJB{Qi9xcIXicYVlNm6lYnmucoxuNm6raD7nc5YwOjR7OUe0OVEoRjJ2OUm3OFUyRC:jPh?= |
| SW480 | M{PGVWZ2dmO2aX;uJGF{e2G7 | Mm\5OFDDqM7:TR?= | MlTqOFjDqGh? | MXjEUXNQ | MnT2ZYN1cX[jdHXzJHBROkF? | M3PLVVxiKHSjcnfleF0oZ2KuYX7rK{BpemWoPTfoeJRxezpxL4D1Zo1m\C6wY3LpMo5tdS6waXiu[493NzJ2OUm3OFUyLz5{NEm5O|Q2OTxxYU6= |
| C6 | MYnGeY5kfGmxbjDBd5NigQ>? | NI[2Z3gyOCEQvF5CpC=> | NHXDTo8zOCCvaX6= | | M4rZXIlv[3KnYYPld{BkSU2SIHHjZ5VufWyjdHnvci=> | MnX3QIEhfGG{Z3X0QUdg[myjbnunJIhz\WZ;J3j0eJB{Qi9xcIXicYVlNm6lYnmucoxuNm6raD7nc5YwOjVyNkm0NVcoRjJ3ME[5OFE4RC:jPh?= |
| Huh-7 | M{LHTWZ2dmO2aX;uJGF{e2G7 | M{H0T|AuOjBizszN | MXyyJIjDqA>? | | NGX5bHFz\XO3bITzJIlvKGFiZH;z[U1l\XCnbnTlcpQhcW6lcnXhd4UhcW5iYz3NfYMh\XiycnXzd4lwdiCjdDD0bIUheHKxdHXpckBidmRibWLORUBt\X[nbIO= | NHn5eWE9[SC2YYLn[ZQ:L1:kbHHub{chcHKnZk2nbJR1eHN8Lz;weYJu\WRwbnPibU5vdG1wbnnoModwfi9{NUGwPVg{PCd-MkWxNFk5OzR:L3G+ |
| THP-1 | MmfySpVv[3Srb36gRZN{[Xl? | M{K5VVEwOTBizszN | M1LwNVLDqGh? | M3;VbGROW00EoB?= | MWHzeZBxemW|c3XzJG1EWC1zIIDyc4R2[3Srb39CpC=> | MYm8ZUB1[XKpZYS9K39jdGGwazegbJJm\j1paIT0dJM7Ny:ydXLt[YQvdmOkaT7ucI0vdmmqLnfvek8zPTF3NEi4Nkc,OjVzNUS4PFI9N2F- |
| BeWo | NFLzO3pHfW6ldHnvckBCe3OjeR?= | MVOyNEDDvU1? | NIH1WW81QCCq | Mm\oSG1UV8Li | M1XaT4lv\HWlZYOgZ4VtdCCodYPpc44> | NWXlV4NORGFidHHy[4V1RSehYnzhcosoKGi{ZX[9K4h1fHC|Oj:vdJVjdWWmLn7jZokvdmyvLn7pbE5od3ZxMkWxPFQ1PzdpPkK1NVg1PDd5PD;hQi=> |
| ventricular cardiomyocytes | NHHxbFBHfW6ldHnvckBCe3OjeR?= | NXK5OJRFOC5yMT2xNEDPxE1? | | | M1X1doV3d2unczDhckBqdm:2cn;wbYMhemW|cH;ud4UhOTJywsGxOUUh[WKxdnWgZoF{[Wxid3n0bEBidiCHQ{WwxsBw\iB{LkKgxtVO | MmXoQIEhfGG{Z3X0QUdg[myjbnunJIhz\WZ;J3j0eJB{Qi9xcIXicYVlNm6lYnmucoxuNm6raD7nc5YwOjV{MEOxNVMoRjJ3MkCzNVE{RC:jPh?= |
| ventricular cardiomyocytes | NXyyZlc4TnWwY4Tpc44hSXO|YYm= | M1;X[VAvODFvMUCg{txO | | | M{ThV4lv[3KnYYPld{Ah[0GPUDDhZ4N2dXWuYYTpc44> | NYrYWYFoRGFidHHy[4V1RSehYnzhcosoKGi{ZX[9K4h1fHC|Oj:vdJVjdWWmLn7jZokvdmyvLn7pbE5od3ZxMkWyNFMyOTNpPkK1NlA{OTF|PD;hQi=> |
| MIN6 | NXfSRmtvTnWwY4Tpc44hSXO|YYm= | MojHNVAh|ryPwrC= | NUnTWnpLOyCq | | MnLrbY5kemWjc3XzJGQ{KG2UTlGg[ZhxemW|c3nvci=> | M3z6RVxiKHSjcnfleF0oZ2KuYX7rK{BpemWoPTfoeJRxezpxL4D1Zo1m\C6wY3LpMo5tdS6waXiu[493NzJ3MkSxNVI1Lz5{NUK0NVEzPDxxYU6= |
| L6 | NE\Ee2dHfW6ldHnvckBCe3OjeR?= | MkDKOFAhyrWP | NFTG[|AzPCCq | | MkfubY5pcWKrdIOgSG1JOS2rbnT1Z4VlKEGtdDDhZ5RqfmG2aX;u | NUjnbmtVRGFidHHy[4V1RSehYnzhcosoKGi{ZX[9K4h1fHC|Oj:vdJVjdWWmLn7jZokvdmyvLn7pbE5od3ZxMkWyOFc2PTBpPkK1NlQ4PTVyPD;hQi=> |
| HEK‐CFTR | MnLlSpVv[3Srb36gRZN{[Xl? | MUey5qCUPTEEoN88US=> | NHfESHcxNTF{IH3pci=> | Mny4SG1UV8Li | MV7pcoR2[2W|IHGg[I9{\eLCkHTldIVv\GWwdDDpc4Rq\GViZX\mcJV5yqB? | NGfkSFM9[SC2YYLn[ZQ:L1:kbHHub{chcHKnZk2nbJR1eHN8Lz;weYJu\WRwbnPibU5vdG1wbnnoModwfi9{NUK2N|IxPyd-MkWyOlMzODd:L3G+ |
| SK-N-SH | NI[1PZFE\WyuIG\pZYJqdGm2eTDBd5NigQ>? | NH;KRW4yOCEQvF5CpC=> | M3vMNlQ5KGh? | | MoS0[Y5p[W6lZYOgV2suVi2VSDDu[ZVzd2KuYYP0c41iKGOnbHygeoli[mmuaYT5 | NIHseGs9[SC2YYLn[ZQ:L1:kbHHub{chcHKnZk2nbJR1eHN8Lz;weYJu\WRwbnPibU5vdG1wbnnoModwfi9{NUK2OlA3Oyd-MkWyOlYxPjN:L3G+ |
| SK-N-AS | M3\xN2Z2dmO2aX;uJGF{e2G7 | NX\FSFUzOTBizszNxsA> | NHq3SooyOC9|MD:2NEBucW5? | | NGfsWmVqdmO{ZXHz[ZMhdGW4ZXzzJI9nKHBvzsKtZ4F1\W6rbjCod4VzPjd3KTDhcoQhcW6mdXPld{Bi[2O3bYXsZZRqd25ib3[gdE3Pui2lYYTlcolvKCi|ZYK2O|UqKGmwIDjw[ZJqMW63Y3zlZZIhemWpaX;udy=> | M4DoflxiKHSjcnfleF0oZ2KuYX7rK{BpemWoPTfoeJRxezpxL4D1Zo1m\C6wY3LpMo5tdS6waXiu[493NzJ3Mk[2NFY{Lz5{NUK2OlA3OzxxYU6= |
| SK-N-AS | M4\nRmZ2dmO2aX;uJGF{e2G7 | NVi3ZmRrOTBizszNxsA> | NITWOWE{OCCvaX6= | | NEXPTFlqdmS3Y3XzJJBpd3OyaH;yfYxifGmxbjDv[kDPui2lYYTlcolvKCi|ZYK2O|UqNCCyLVfTT|PPuiBqc3XyPUkh[W6mIHPvcoNwdWm2YX70JIhq\2incjDs[ZZmdHNib3[gZYN1cX[nLDD1cpBpd3OyaH;yfYxifGWmLDFOtk1k[XSnbnnu | NEjDWHc9[SC2YYLn[ZQ:L1:kbHHub{chcHKnZk2nbJR1eHN8Lz;weYJu\WRwbnPibU5vdG1wbnnoModwfi9{NUK2OlA3Oyd-MkWyOlYxPjN:L3G+ |
| SK-N-AS | NXfZOlI{TnWwY4Tpc44hSXO|YYm= | MVixNEDPxE4EoB?= | MWKyOEBp | | MoTHbY5kemWjc3XzJJRp\SCneIDy[ZN{cW:wIH;mJIN6[2yrbjDENS=> | MX:8ZUB1[XKpZYS9K39jdGGwazegbJJm\j1paIT0dJM7Ny:ydXLt[YQvdmOkaT7ucI0vdmmqLnfvek8zPTJ4NkC2N{c,OjV{Nk[wOlM9N2F- |
| SK-N-AS | NVTON2ZyTnWwY4Tpc44hSXO|YYm= | NIr2WIYyOCEQvF5CpC=> | NYTiXFNVOjRiaB?= | | MoHvbY5kemWjc3XzJJRp\SClQV3QJIxmfmWuc9Mg | MofBQIEhfGG{Z3X0QUdg[myjbnunJIhz\WZ;J3j0eJB{Qi9xcIXicYVlNm6lYnmucoxuNm6raD7nc5YwOjV{Nk[wOlMoRjJ3Mk[2NFY{RC:jPh?= |
| SK-N-AS | NInGN3hE\WyuIG\pZYJqdGm2eTDBd5NigQ>? | NX7TVpJoOTBizszNxsA> | MYWyOE81QCCq | | M{PIcoVvcGGwY3XzJJRqdWVvZHXw[Y5l\W62bImgZ4VtdHWuYYKgeoli[mmuaYT5xsA> | NUXKcYFwRGFidHHy[4V1RSehYnzhcosoKGi{ZX[9K4h1fHC|Oj:vdJVjdWWmLn7jZokvdmyvLn7pbE5od3ZxMkWyOlYxPjNpPkK1NlY3ODZ|PD;hQi=> |
| granulosa cells | Moj6SpVv[3Srb36gRZN{[Xl? | NVrVcId7OTBizszN | NX\EVIJ6OjRiaB?= | | NYXWflh1cW6lcnXhd4V{KHSqZTDs[ZZmdHNib3[gVmdUOiCycn;tc5RmeiCjY4Tpeol1gQ>? | MlPlQIEhfGG{Z3X0QUdg[myjbnunJIhz\WZ;J3j0eJB{Qi9xcIXicYVlNm6lYnmucoxuNm6raD7nc5YwOjV|M{mxNFUoRjJ3M{O5NVA2RC:jPh?= |
| granulosa cells | M1\HeWZ2dmO2aX;uJGF{e2G7 | NEPGWZcyOCEQvF2= | M1niN|I1KGh? | | Mnr2bY5kemWjc3XzJJRp\SCrboTlcpNqfHlib3[gSG5CN3C{b4TlbY4h[2:vcHzlfC=> | MV:8ZUB1[XKpZYS9K39jdGGwazegbJJm\j1paIT0dJM7Ny:ydXLt[YQvdmOkaT7ucI0vdmmqLnfvek8zPTN|OUGwOUc,OjV|M{mxNFU9N2F- |
| granulosa cells | Mn\oSpVv[3Srb36gRZN{[Xl? | NXvQT2tQOTBizszN | NGqxemwyOi9{NDDo | | Mnm2bY5kemWjc3XzJJRp\SCuZY\lcJMhd2ZicnXwc5J1\XJiYXP0bZZqfHliZn;yJJRp\SCub37n[ZN1KG[{YXft[Y51KCkkiKK4OVQwMzF6UlfTNk5NXUNr | MXS8ZUB1[XKpZYS9K39jdGGwazegbJJm\j1paIT0dJM7Ny:ydXLt[YQvdmOkaT7ucI0vdmmqLnfvek8zPTN|OUGwOUc,OjV|M{mxNFU9N2F- |
| granulosa cells | NH;jSlZHfW6ldHnvckBCe3OjeR?= | M3PsO|ExKM7:TR?= | M{nJcVEzNzJ2IHi= | | M{nNV4lv[3KnYYPld{B1cGVibHX2[Yx{KG:owrDSS3MzyqCvUl7B | M3\VXFxiKHSjcnfleF0oZ2KuYX7rK{BpemWoPTfoeJRxezpxL4D1Zo1m\C6wY3LpMo5tdS6waXiu[493NzJ3M{O5NVA2Lz5{NUOzPVExPTxxYU6= |
| BeWo | MUjGeY5kfGmxbjDBd5NigQ>? | MYeyNOKhyrWP | NXzWcFFIPDkEoHlCpC=> | NHSyRVRFVVORwrC= | NIfBUIFld3ewcnXneYxifGW|IITo[UBt\X[nbDDv[kBIS01vMR?= | MWm8ZUB1[XKpZYS9K39jdGGwazegbJJm\j1paIT0dJM7Ny:ydXLt[YQvdmOkaT7ucI0vdmmqLnfvek8zPTN4MkK2NEc,OjV|NkKyOlA9N2F- |
| BeWo | MYHGeY5kfGmxbjDBd5NigQ>? | NVjZOVc{OjEEoNM1US=> | Ml\QOFjDqGkEoB?= | M1jrXWROW00EoB?= | MXrkc5dvemWpdXzheIV{KHSqZTDs[ZZmdCCxZjDUUWVOTjF4 | MlnoQIEhfGG{Z3X0QUdg[myjbnunJIhz\WZ;J3j0eJB{Qi9xcIXicYVlNm6lYnmucoxuNm6raD7nc5YwOjV|NkKyOlAoRjJ3M{[yNlYxRC:jPh?= |
| BeWo | NU\QSnVKTnWwY4Tpc44hSXO|YYm= | NIL2TGQzOMLiwsXN | MYm0POKhcMLi | MoraSG1UV8Li | NUfEU45CcW6lcnXhd4V{KHSqZTDi[ZRiNWiFRzDy[Yxm[XOn | NYDteFNmRGFidHHy[4V1RSehYnzhcosoKGi{ZX[9K4h1fHC|Oj:vdJVjdWWmLn7jZokvdmyvLn7pbE5od3ZxMkWzOlIzPjBpPkK1N|YzOjZyPD;hQi=> |
| EM1 | NVvrUZA3TnWwY4Tpc44hSXO|YYm= | MWSxOgKBks7:TR?= | MmHHOFghcA>? | | NYqz[214emWmdXPld{B1cGViZYjwdoV{e2mxbjDv[uKhVEmIwrDvduKhWFSJU{NCpIlvyqCFQVzSMUBwesLiRWDBR|Iue2muZX7j[YQhTU1zIHPlcIx{yqB? | MkjHQIEhfGG{Z3X0QUdg[myjbnunJIhz\WZ;J3j0eJB{Qi9xcIXicYVlNm6lYnmucoxuNm6raD7nc5YwOjV|N{i2OlEoRjJ3M{e4OlYyRC:jPh?= |
| Primary bovine chondrocytes | NU\sOmdST3Kxd4ToJGlvcGmkaYTpc44hSXO|YYm= | MnjKOe69VQ>? | NWnIclZKPDhiaB?= | | MV3y[ZZmenOnczD0bIUhcW6qaXLpeI9zgSCnZn\lZ5Qhd2ZiY3Xs[YNwgGmkIH;uJJBzd2yrZnXyZZRqd25iaX6g[5Jwf3SqIIDsZZRmKGOqb37kdo9kgXSncx?= | M1HudlxiKHSjcnfleF0oZ2KuYX7rK{BpemWoPTfoeJRxezpxL4D1Zo1m\C6wY3LpMo5tdS6waXiu[493NzJ3NEC2NFE3Lz5{NUSwOlAyPjxxYU6= |
| RBMECs | Mnz4SpVv[3Srb36gRZN{[Xl? | M4G1NVXDqM7:TR?= | M1HDeVEhcA>? | | NH;xNHljdG:la4OgeIhmKGGldHnuJIN6fG:|a3Xs[ZRwdiC{ZXHydoFv\2WvZX70JJNm\W5id3n0bEBGVUGSLVnJJJRz\WG2bXXueOKh | M1S3S|xiKHSjcnfleF0oZ2KuYX7rK{BpemWoPTfoeJRxezpxL4D1Zo1m\C6wY3LpMo5tdS6waXiu[493NzJ3NEG2OlUyLz5{NUSxOlY2OTxxYU6= |
| RBMECs | MX3GeY5kfGmxbjDBd5NigQ>? | NUnYSphkPcLizszN | NIW4VlgyKGh? | | NV3MXndx[myxY3vzJJRp\SCHTVHQMWlKNWmwZIXj[YQh[2ijbnflJIlvKE2OQzDwbI9{eGixconsZZRqd25? | Ml\HQIEhfGG{Z3X0QUdg[myjbnunJIhz\WZ;J3j0eJB{Qi9xcIXicYVlNm6lYnmucoxuNm6raD7nc5YwOjV2MU[2OVEoRjJ3NEG2OlUyRC:jPh?= |
| RBMECs | M1TremZ2dmO2aX;uJGF{e2G7 | NGe2SFg2yqEQvF2= | MWexJIg> | | M1O5NJJmfmW{c3XzJJRp\SClaHHu[4V{KGmwIGrPMVEh\Gm|dILpZpV1cW:wIIPl[Y4hf2m2aDDFUWFRNUmLIITy[YF1dWWwdB?= | NV;ic25FRGFidHHy[4V1RSehYnzhcosoKGi{ZX[9K4h1fHC|Oj:vdJVjdWWmLn7jZokvdmyvLn7pbE5od3ZxMkW0NVY3PTFpPkK1OFE3PjVzPD;hQi=> |
| RBMECs | NXTqe4NPTnWwY4Tpc44hSXO|YYm= | MmO3OeKh|ryP | NFzGVW0yKGh? | | M2nyWIlvcGmkaYTzJJRp\SCmZXPy[YF{\WRib3[gZY1wfW62IH;mJHpQNTFiaX6gUWZ{KGmwZIXj[YQh[nliRV3BVE1KUQ>? | MXu8ZUB1[XKpZYS9K39jdGGwazegbJJm\j1paIT0dJM7Ny:ydXLt[YQvdmOkaT7ucI0vdmmqLnfvek8zPTRzNk[1NUc,OjV2MU[2OVE9N2F- |
| RBMECs | M1zOb2Z2dmO2aX;uJGF{e2G7 | MVm1xsDPxE1? | NUCxfIxzOSCq | | MV3wdoV3\W62czD0bIUhcW6lcnXhd4UhcW5iSGLQJIZtfXhiYXPyc5N{KHSqZTDCWGIhcW6mdXPl[EBjgSBiRV3BVE1KUQ>? | MXi8ZUB1[XKpZYS9K39jdGGwazegbJJm\j1paIT0dJM7Ny:ydXLt[YQvdmOkaT7ucI0vdmmqLnfvek8zPTRzNk[1NUc,OjV2MU[2OVE9N2F- |
| RBMECs | NG\4NlBHfW6ldHnvckBCe3OjeR?= | M2DKeVXDqM7:TR?= | MlzHNUBp | | M{[2cJBz\X[nboTzJJRp\SCHTVHQMWlKNWmwZIXj[YQhXEWHUjD2ZYx2\SCmZXPy[YF{\Q>? | Mn\yQIEhfGG{Z3X0QUdg[myjbnunJIhz\WZ;J3j0eJB{Qi9xcIXicYVlNm6lYnmucoxuNm6raD7nc5YwOjV2MU[2OVEoRjJ3NEG2OlUyRC:jPh?= |
| RBMECs | NV;kPIhwTnWwY4Tpc44hSXO|YYm= | MVe1xsDPxE1? | M3joelEhcA>? | | NGPidlFjdG:la4OgeIhmKGGldHn2ZZRqd25ib3[gVohwSS:UT1PLJIlv\HWlZXSgZpkhTU2DUD3JTS=> | NHvNN2o9[SC2YYLn[ZQ:L1:kbHHub{chcHKnZk2nbJR1eHN8Lz;weYJu\WRwbnPibU5vdG1wbnnoModwfi9{NUSxOlY2OSd-MkW0NVY3PTF:L3G+ |
| RBMECs | NHnKSGxHfW6ldHnvckBCe3OjeR?= | MYqwMlA2NzBwNT:1JO69VQ>? | Mo\XNE4zPSCq | | M1LhXolv[3KnYYPld{BkSU2SIHPvcoNmdnS{YYTpc44> | NVnHXot3RGFidHHy[4V1RSehYnzhcosoKGi{ZX[9K4h1fHC|Oj:vdJVjdWWmLn7jZokvdmyvLn7pbE5od3ZxMkW0NVY3PTFpPkK1OFE3PjVzPD;hQi=> |
| ThGCs | NFrNfWtHfW6ldHnvckBCe3OjeR?= | M175XFEx6oDMzszN | MljVN{Bp | | M1jTSIlvcGmkaYTzJJRp\SCnZn\lZ5Qhd2ZiSELPNkBwdiCHRF6yJI1TVkF? | NY\rbYhpRGFidHHy[4V1RSehYnzhcosoKGi{ZX[9K4h1fHC|Oj:vdJVjdWWmLn7jZokvdmyvLn7pbE5od3ZxMkW0N|MxOjdpPkK1OFM{ODJ5PD;hQi=> |
| ThGCs | M3Tp[GZ2dmO2aX;uJGF{e2G7 | MXexNQKBks7:TR?= | NHTsS3I16oDMaB?= | | NXvGZ3JzcW6lcnXhd4V{KEOxQ3yyMYlv\HWlZXSgSWRPOsLiZ3Xu[UBmgHC{ZYPzbY9v | NWi1UYdWRGFidHHy[4V1RSehYnzhcosoKGi{ZX[9K4h1fHC|Oj:vdJVjdWWmLn7jZokvdmyvLn7pbE5od3ZxMkW0N|MxOjdpPkK1OFM{ODJ5PD;hQi=> |
| ThGCs | Mlz1SpVv[3Srb36gRZN{[Xl? | NXLS[|ZQOTEkgJtOwG0> | MmGyOQKBkmh? | | Mn7SZZVodWWwdIOgTGlHOUFibHX2[Yx{KHSqYYSge4Vz\SC|dHnteYxifGWmIHL5JGNwS2x{ | Mny4QIEhfGG{Z3X0QUdg[myjbnunJIhz\WZ;J3j0eJB{Qi9xcIXicYVlNm6lYnmucoxuNm6raD7nc5YwOjV2M{OwNlcoRjJ3NEOzNFI4RC:jPh?= |
| LNCaP | NXK1WHhpTnWwY4Tpc44hSXO|YYm= | NX\ZdZE1OTEEoN88US=> | NE\KN5cyOiCqwrC= | MlPzSG1UVw>? | MX\pcoR2[2W|IHGg[JJidWG2aXOgbY5kemWjc3Wgc4YhS1KHQkGgZYN1cX[rdIm= | NHvkbog9[SC2YYLn[ZQ:L1:kbHHub{chcHKnZk2nbJR1eHN8Lz;weYJu\WRwbnPibU5vdG1wbnnoModwfi9{NUW0PFA6QSd-MkW1OFgxQTl:L3G+ |
| BeWo | M1nwPWZ2dmO2aX;uJGF{e2G7 | MnXXNlDDqML3TR?= | M4XMSFQ5yqCq | MVnEUXNQ | NGO0TGpqdmO{ZXHz[ZMhfGinIHHkbIV{cW:wIH;mJHRJWC1zIH3vco9kgXSncx?= | NFrsXog9[SC2YYLn[ZQ:L1:kbHHub{chcHKnZk2nbJR1eHN8Lz;weYJu\WRwbnPibU5vdG1wbnnoModwfi9{NUW2Olc1OCd-MkW1OlY4PDB:L3G+ |
| BeWo | NFzldotHfW6ldHnvckBCe3OjeR?= | M{HnOlIxyqEEtV2= | MUO0POKhcA>? | M17TZmROW09? | NHX2U4xqdmO{ZXHz[ZMhfGinIHTp[oZmemWwdHnheIlwdiCxZjDC[XdwKGOnbHzz | NILqbm09[SC2YYLn[ZQ:L1:kbHHub{chcHKnZk2nbJR1eHN8Lz;weYJu\WRwbnPibU5vdG1wbnnoModwfi9{NUW2Olc1OCd-MkW1OlY4PDB:L3G+ |
| OCI-Ly18 | Ml\jSpVv[3Srb36gRZN{[Xl? | NWjCfGxrPDEEoN88US=> | NV33d4FoOcLiaNMg | M1XFXWROW09? | NGHJOItqdmS3Y3XzJJRp\SCrbnPy[Y1mdnRib3[gZ2FOWCClb37j[Y51emG2aX;udy=> | M2fCSFxiKHSjcnfleF0oZ2KuYX7rK{BpemWoPTfoeJRxezpxL4D1Zo1m\C6wY3LpMo5tdS6waXiu[493NzJ3NUe2NlIxLz5{NUW3OlIzODxxYU6= |
| OCI-Ly1 | MmTWSpVv[3Srb36gRZN{[Xl? | MnrjOFDDqM7:TR?= | NFLoe3kyyqCqwrC= | MVfEUXNQ | M1PMW4lv\HWlZYOgeIhmKGmwY4LlcYVvfCCxZjDjRW1RKGOxbnPlcpRz[XSrb37z | NIHpWJA9[SC2YYLn[ZQ:L1:kbHHub{chcHKnZk2nbJR1eHN8Lz;weYJu\WRwbnPibU5vdG1wbnnoModwfi9{NUW3OlIzOCd-MkW1O|YzOjB:L3G+ |
| 3T3-L1 | NH\BTY9HfW6ldHnvckBCe3OjeR?= | MnzTNk42NzVizszN | MXSyOEBpyqB? | | Mljjd4lodmmoaXPhcpRtgSCmZXPy[YF{\XNiQWTHUEBxem:2ZXnuJIV5eHKnc4Ppc44h[XRiYXzsJIRwe2W|IITld5Rm\A>? | MXG8ZUB1[XKpZYS9K39jdGGwazegbJJm\j1paIT0dJM7Ny:ydXLt[YQvdmOkaT7ucI0vdmmqLnfvek8zPTV7MEW5O{c,OjV3OUC1PVc9N2F- |
| HEK293 | NVPOR49mTnWwY4Tpc44hSXO|YYm= | NIjaO4Q26oDLwsXN | NUXyTGFSOzBibXnu | | M3HrO4lv[3KnYYPld{BkSU2SIHzleoVtew>? | NHvqcY09[SC2YYLn[ZQ:L1:kbHHub{chcHKnZk2nbJR1eHN8Lz;weYJu\WRwbnPibU5vdG1wbnnoModwfi9{NUW5NVkxQCd-MkW1PVE6ODh:L3G+ |
| hADSCs | NULKTW41TnWwY4Tpc44hSXO|YYm= | M4m0XVXjiIoEtV2= | Ml7HN|AhdWmw | | M1TjRolv[3KnYYPld{BkSU2SIHzleoVtew>? | Mlf0QIEhfGG{Z3X0QUdg[myjbnunJIhz\WZ;J3j0eJB{Qi9xcIXicYVlNm6lYnmucoxuNm6raD7nc5YwOjV3OUG5NFgoRjJ3NUmxPVA5RC:jPh?= |
| SH-SY5Y | NH:5dHBHfW6ldHnvckBCe3OjeR?= | MkixNVDDqM7:TR?= | M4S1elHDqGkEoB?= | | MkD0bY5kemWjc3XzJGFISzFibWLORUBt\X[nbB?= | M2XvUVxiKHSjcnfleF0oZ2KuYX7rK{BpemWoPTfoeJRxezpxL4D1Zo1m\C6wY3LpMo5tdS6waXiu[493NzJ3NUm3OFM{Lz5{NUW5O|Q{OzxxYU6= |
| SH-SY5Y | NGLa[JJHfW6ldHnvckBCe3OjeR?= | Mon1NVDDqM7:TR?= | NV\WUVBtOcLiaNMg | | MnOwbY5kemWjc3XzJGxWSyCjY4Tpeol1gQ>? | MmT2QIEhfGG{Z3X0QUdg[myjbnunJIhz\WZ;J3j0eJB{Qi9xcIXicYVlNm6lYnmucoxuNm6raD7nc5YwOjV3OUe0N|MoRjJ3NUm3OFM{RC:jPh?= |
| UACC-647 | M3izO2Z2dmO2aX;uJGF{e2G7 | M4fERVExyqEQvF2= | NVfKOo52OTVibXnu | NG\Zc|dFVVOR | NVjVb4xUcW6lcnXhd4V{KGWHRkKgdIhwe3Cqb4L5cIF1cW:wIHzleoVte8Li | MXi8ZUB1[XKpZYS9K39jdGGwazegbJJm\j1paIT0dJM7Ny:ydXLt[YQvdmOkaT7ucI0vdmmqLnfvek8zPTdyM{CyOUc,OjV5MEOwNlU9N2F- |
| UACC-647 | NYfZSpdjTnWwY4Tpc44hSXO|YYm= | NXm0WZdUOTEEoN88US=> | NXS5UYZLOTVibXnu | M3TUSmROW09? | NFTsN21qdmirYnn0d{BGWkticHjvd5Bpd3K7bHH0bY9v | NH3ZWmQ9[SC2YYLn[ZQ:L1:kbHHub{chcHKnZk2nbJR1eHN8Lz;weYJu\WRwbnPibU5vdG1wbnnoModwfi9{NUewN|AzPSd-MkW3NFMxOjV:L3G+ |
| UACC-647 | NFPpWo1HfW6ldHnvckBCe3OjeR?= | | | MWTEUXNQ | NH\qSZRt\WGmczD0c{BiKHKrc3WgbY4h[0GPUDDs[ZZmdHNiKFXDOVDDqD4EoEKwMlM6yqEQvF2p | NUXJSoQxRGFidHHy[4V1RSehYnzhcosoKGi{ZX[9K4h1fHC|Oj:vdJVjdWWmLn7jZokvdmyvLn7pbE5od3ZxMkW3NFMxOjVpPkK1O|A{ODJ3PD;hQi=> |
| SC | NWW3UYlOTnWwY4Tpc44hSXO|YYm= | M4rr[FAvPSEQvF2= | MX63NkBp | | Mm\TbY5kemWjc3XzJIJwfGhiS4LvfE0zOCCjbnSgU|Eh\XiycnXzd4lwdiCrbjDhfI9vNXKnbHH0[YQhW0O|IHL1eEBwdmy7IFvyc5guOjEEoB?= | MknGQIEhfGG{Z3X0QUdg[myjbnunJIhz\WZ;J3j0eJB{Qi9xcIXicYVlNm6lYnmucoxuNm6raD7nc5YwOjV5MEW4O|QoRjJ3N{C1PFc1RC:jPh?= |
| SC | NWfQV|BiTnWwY4Tpc44hSXO|YYm= | MUewMlUh|ryP | NH;lUmszPCCq | | NFLRV3NucW2rY3vzJJRp\SCnZn\lZ5Qhd2ZiY1HNVEBidmGub3fzJI9vKE9zIHHu[EBOSlBiZYjwdoV{e2mxbh?= | MVq8ZUB1[XKpZYS9K39jdGGwazegbJJm\j1paIT0dJM7Ny:ydXLt[YQvdmOkaT7ucI0vdmmqLnfvek8zPTdyNUi3OEc,OjV5MEW4O|Q9N2F- |
| oocytes | MVnGeY5kfGmxbjDBd5NigQ>? | MojWOUDPxE1? | MV6yOEBp | | MkXCZZR1\W63YYTld{BzcC2rboP1cIlvKGGldHnvckBwdiCxb3P5eIUhT1[ERDDzbYdvcW[rY3HueIx6yqB? | MlHaQIEhfGG{Z3X0QUdg[myjbnunJIhz\WZ;J3j0eJB{Qi9xcIXicYVlNm6lYnmucoxuNm6raD7nc5YwOjV5MEe4OVQoRjJ3N{C3PFU1RC:jPh?= |
| BeWo | MVXGeY5kfGmxbjDBd5NigQ>? | NYDYfVBYOTEkgJtOwG3DqA>? | NYPrb4RwPzJiaB?= | M{LweWROW09? | NH35WZhu\WSrYYTld{BD\VexIHPlcIwh\GmoZnXy[Y51cWG2aX;u | MVm8ZUB1[XKpZYS9K39jdGGwazegbJJm\j1paIT0dJM7Ny:ydXLt[YQvdmOkaT7ucI0vdmmqLnfvek8zPTdzM{SyOUc,OjV5MUO0NlU9N2F- |
| GH3 | Ml7SSpVv[3Srb36gRZN{[Xl? | M33jS|HDqM7:TR?= | MofNOk1p | | M{[zOYlv\HWlZYOgVHJNKGGwZDDCcYFtOSxiYoX0JI5wfCCFbH;jb{whdVKQQTDlfJBz\XO|aX;u | MXu8ZUB1[XKpZYS9K39jdGGwazegbJJm\j1paIT0dJM7Ny:ydXLt[YQvdmOkaT7ucI0vdmmqLnfvek8zPTd{N{CxPEc,OjV5MkewNVg9N2F- |
| GH3 | MVnGeY5kfGmxbjDBd5NigQ>? | M1ztOVHDqM7:TR?= | MWG2MYg> | | NFP6S2ZifHSnboXheIV{KHSqZTDjc5Jz\WyjdHnvckBj\XS5ZXXuJHBTVCCjbnSgRo1idDFiZYjwdoV{e2mxbh?= | MV:8ZUB1[XKpZYS9K39jdGGwazegbJJm\j1paIT0dJM7Ny:ydXLt[YQvdmOkaT7ucI0vdmmqLnfvek8zPTd{N{CxPEc,OjV5MkewNVg9N2F- |
| PC12 | NVrCfIF{TnWwY4Tpc44hSXO|YYm= | MkGwNlXDqM7:TR?= | NX[yXnA{PDhiaB?= | | NI\yUXNi[3SrdnH0[ZMh[0GPUB?= | MVi8ZUB1[XKpZYS9K39jdGGwazegbJJm\j1paIT0dJM7Ny:ydXLt[YQvdmOkaT7ucI0vdmmqLnfvek8zPTd4OUOwOUc,OjV5NkmzNFU9N2F- |
| BAECs | MVvGeY5kfGmxbjDBd5NigQ>? | NFq0S|czPSEQvF2= | M4O1R|I1KGh? | | NE\ifIRmdmijbnPld{B1cGViYXP0bZZifGmxbjDv[kBRWEGUzsGgZpkhPSEQvF2gdoV{fmW{YYTyc4wtKFR2SGOsJI9zKDRvUFHQ | MmnYQIEhfGG{Z3X0QUdg[myjbnunJIhz\WZ;J3j0eJB{Qi9xcIXicYVlNm6lYnmucoxuNm6raD7nc5YwOjV5OUi4NlYoRjJ3N{m4PFI3RC:jPh?= |
| GLUTag | M3TzVmZ2dmO2aX;uJGF{e2G7 | MlL4NVDjiIoEtV2= | NH;OT|g1KGh? | | NEjDV2dqdmO{ZXHz[ZMhfGinIIDDVmVDKGyndnXsd{B4cXSqIITo[UBKSk2[ | M{LHdFxiKHSjcnfleF0oZ2KuYX7rK{BpemWoPTfoeJRxezpxL4D1Zo1m\C6wY3LpMo5tdS6waXiu[493NzJ3OEOyOlMyLz5{NUizNlY{OTxxYU6= |
| GLUTag | M3nzOGZ2dmO2aX;uJGF{e2G7 | NVrmO5M5OTEkgJpCuW0> | MWqwM|IwPCCq | | M1vJZpN1cW23bHH0[ZMhT0ySLUGgd4VkemW2aX;uJINwfHKnYYTl[EB4cXSqIFnCUXg> | M2nTWlxiKHSjcnfleF0oZ2KuYX7rK{BpemWoPTfoeJRxezpxL4D1Zo1m\C6wY3LpMo5tdS6waXiu[493NzJ3OEOyOlMyLz5{NUizNlY{OTxxYU6= |
| PBMC | M4DScWZ2dmO2aX;uJGF{e2G7 | MY[1NOKh|ryP | MWiyOOKhcMLi | | NXrPPWpocW6qaXLpeJMhfGinIHnuZ5Jm[XOnZDDz[YNz\XSrb36gc4YhXE6IIHnu[JVk\WRiYomgeIhmKESSRR?= | MYq8ZUB1[XKpZYS9K39jdGGwazegbJJm\j1paIT0dJM7Ny:ydXLt[YQvdmOkaT7ucI0vdmmqLnfvek8zPTh4NkC3PUc,OjV6Nk[wO|k9N2F- |
| H295R | NUi0fmk2TnWwY4Tpc44hSXO|YYm= | MXWxNOKh|ryP | MoXSOFjDqGh? | | NX\PWmxscW6lcnXhd4V{KHO2ZYLvbYQhdWW2YXLvcIl1\XNiaX6geIhmKGGwZILv[4VvNCCvaX7ldoFtdy1iYX7kJIdtfWOxY3;yeIlkd2mmIIDheIh4[Xm| | MUG8ZUB1[XKpZYS9K39jdGGwazegbJJm\j1paIT0dJM7Ny:ydXLt[YQvdmOkaT7ucI0vdmmqLnfvek8zPTh4OUW1Okc,OjV6Nkm1OVY9N2F- |
| 3T3-L1 preadipocytes | MUPGeY5kfGmxbjDBd5NigQ>? | MVWxNEDPxE4EoB?= | M2LlPVEzKGh? | | NHf0RVdqdmS3Y3XzJGNTTUJicHjvd5Bpd3K7bHH0bY9vKGGwZDDDM2VDWM7{IHX4dJJme3Orb36= | MnHxQIEhfGG{Z3X0QUdg[myjbnunJIhz\WZ;J3j0eJB{Qi9xcIXicYVlNm6lYnmucoxuNm6raD7nc5YwOjV7MkiwOVgoRjJ3OUK4NFU5RC:jPh?= |
| PCCL3 | NEDsVZRHfW6ldHnvckBCe3OjeR?= | MUexNEDDvU1? | MUiyOEBp | | MWPlcohidmOnczDEeW95OiCycn;tc5RmeiC2cnHud4NzcXC2aX;uJIFkfGm4aYT5xsDjiIt? | M{juS|xiKHSjcnfleF0oZ2KuYX7rK{BpemWoPTfoeJRxezpxL4D1Zo1m\C6wY3LpMo5tdS6waXiu[493NzJ3OU[wPVU3Lz5{NUm2NFk2PjxxYU6= |
| SCG | M4rzXmZ2dmO2aX;uJGF{e2G7 | NXPYZm12OTByIN88UeKh | | MnnTSG1UVw>? | MUny[YR2[2W|IITo[UBmgGOrdHHibYxqfHlib3[gV2NIKG6ndYLvcpM> | M{[1TFxiKHSjcnfleF0oZ2KuYX7rK{BpemWoPTfoeJRxezpxL4D1Zo1m\C6wY3LpMo5tdS6waXiu[493NzJ3OU[yNVMzLz5{NUm2NlE{OjxxYU6= |
| HEK-293 | MV7GeY5kfGmxbjDBd5NigQ>? | MlHGN|Uh|ryPwrC= | | MY\EUXNQ | MWLpcoR2[2W|IHGgZ49ve3CrY4XveZMh6oDeaX7hZ5RqfmG2aX;u5qCeKG:oIITo[UBMfjJwMTDjeZJz\W62 | MmrKQIEhfGG{Z3X0QUdg[myjbnunJIhz\WZ;J3j0eJB{Qi9xcIXicYVlNm6lYnmucoxuNm6raD7nc5YwOjV7NkKxN|IoRjJ3OU[yNVMzRC:jPh?= |
| SCG | MVjGeY5kfGmxbjDBd5NigQ>? | MVWyNEDPxE4EoB?= | | MorJSG1UVw>? | M33nWpJmfmW{c3nicJkhe3WycILld5NmeyCLS2[ge4l1cCCjIFnDOVAhd2ZiMkSuOEDPxE1? | Ml\ZQIEhfGG{Z3X0QUdg[myjbnunJIhz\WZ;J3j0eJB{Qi9xcIXicYVlNm6lYnmucoxuNm6raD7nc5YwOjV7NkKxN|IoRjJ3OU[yNVMzRC:jPh?= |
| PC-3 | NEnWNo1E\WyuIG\pZYJqdGm2eTDBd5NigQ>? | Ml;3OFAhyrWP | NX3uSHI4OjRxNEivO|IhcA>? | Mlm0SG1UVw>? | NEXwVpBl\WO{ZXHz[ZMh[2WubDD2bYFjcWyrdImgeIlu\SCmZYDlcoRmdnSueR?= | NF3qZpY9[SC2YYLn[ZQ:L1:kbHHub{chcHKnZk2nbJR1eHN8Lz;weYJu\WRwbnPibU5vdG1wbnnoModwfi9{NkCyN|g{Pid-Mk[wNlM5OzZ:L3G+ |
| PC-3 | NW\VZVNYTnWwY4Tpc44hSXO|YYm= | M1;rfVQxKML3TR?= | M4PYXlIhcA>? | MW\EUXNQ | MnrjcIVi\HNidH:gVHAzSSCjY4TpeoF1cW:w | MXO8ZUB1[XKpZYS9K39jdGGwazegbJJm\j1paIT0dJM7Ny:ydXLt[YQvdmOkaT7ucI0vdmmqLnfvek8zPjB{M{izOkc,OjZyMkO4N|Y9N2F- |
| SH-SY5Y | NUTBdZJTTnWwY4Tpc44hSXO|YYm= | M4Ltd|MxKM7:TR?= | NXq2UJVbOzBibXnu | MkPSSG1UVw>? | NXjsS5Bne2mpbnnmbYNidnSueTDpcoNz\WG|ZYOgeIhmKGGldHn2ZZRqd25ib3[gVGtC | NWLwcnlORGFidHHy[4V1RSehYnzhcosoKGi{ZX[9K4h1fHC|Oj:vdJVjdWWmLn7jZokvdmyvLn7pbE5od3ZxMk[wNlUyOzdpPkK2NFI2OTN5PD;hQi=> |
| EndoC-βH1 | NYLHXIIzTnWwY4Tpc44hSXO|YYm= | MlTyOeKh|ryP | Mn6wNUBp | | MXjs[YFleyC2bzDhJJN1em:wZzDjRW1RKGmwY4LlZZNm | M1frZVxiKHSjcnfleF0oZ2KuYX7rK{BpemWoPTfoeJRxezpxL4D1Zo1m\C6wY3LpMo5tdS6waXiu[493NzJ4MEK4OVYzLz5{NkCyPFU3OjxxYU6= |
| EndoC-βH1 | NG\CbJdHfW6ldHnvckBCe3OjeR?= | Mk\ROeKh|ryP | NXf5XlRIOSCq | | MlnWdI91\W62aXH0[ZMh\2y3Y3;z[U1qdmS3Y3XkJIlve3WuaX6gd4VkemW2aX;uJIlvKHSqZTDwdoV{\W6lZTDv[kBodHWlb4Pl | MVu8ZUB1[XKpZYS9K39jdGGwazegbJJm\j1paIT0dJM7Ny:ydXLt[YQvdmOkaT7ucI0vdmmqLnfvek8zPjB{OEW2Nkc,OjZyMki1OlI9N2F- |
| RBMECs | NXnWXGM{TnWwY4Tpc44hSXO|YYm= | Mn7jOeKh|ryP | M4DWcFEhcA>? | | NXm4SG9wcW6qaXLpeJMhTU2DUD3JTU1qdmS3Y3XkJIlv[WO2aY\heIlwdiCxZjDSZZAyyqB? | NEWwfVc9[SC2YYLn[ZQ:L1:kbHHub{chcHKnZk2nbJR1eHN8Lz;weYJu\WRwbnPibU5vdG1wbnnoModwfi9{NkC0OFY3Oyd-Mk[wOFQ3PjN:L3G+ |
| AML-12 | MW\GeY5kfGmxbjDBd5NigQ>? | MWqyNEDPxE1? | NYnyNXZsOyCq | | Ml6xbY5lfWOnczD0bIUh\GWyaH;zdIhwenmuYYTpc44hd2ZiQ2LUR|LDqA>? | NFzXSJI9[SC2YYLn[ZQ:L1:kbHHub{chcHKnZk2nbJR1eHN8Lz;weYJu\WRwbnPibU5vdG1wbnnoModwfi9{NkC0PFk5PSd-Mk[wOFg6QDV:L3G+ |
| AML-12 | MmHnSpVv[3Srb36gRZN{[Xl? | MojXNlAh|ryP | MX6zJIg> | | MUn1dE1z\We3bHH0[ZPDqFCpY{HhMOKhWGWyY3usJIFv\MLiR{\wZ:KhdVKQQTDs[ZZmdHN? | NHrIcJI9[SC2YYLn[ZQ:L1:kbHHub{chcHKnZk2nbJR1eHN8Lz;weYJu\WRwbnPibU5vdG1wbnnoModwfi9{NkC0PFk5PSd-Mk[wOFg6QDV:L3G+ |
| AML-12 | NYHoVGZrTnWwY4Tpc44hSXO|YYm= | MUmyNEDPxE1? | M4r3OlEuQCCq | | NEXKTnNqdmO{ZXHz[ZMh\2y3Y3;z[UBxem:mdXP0bY9v | M1\JRVxiKHSjcnfleF0oZ2KuYX7rK{BpemWoPTfoeJRxezpxL4D1Zo1m\C6wY3LpMo5tdS6waXiu[493NzJ4MES4PVg2Lz5{NkC0PFk5PTxxYU6= |
| AML-12 | NEfNWGlHfW6ldHnvckBCe3OjeR?= | M1KydFIxKM7:TR?= | NXK4SYR2OyCq | | NWjoS3FkfXC{ZXf1cIF1\XNidHjlJJBpd3OyaH;yfYxifGmxbjDs[ZZmdHNiYYSgWIhzNTRzMTDhcoQhW2W{LUS5Ny=> | MUG8ZUB1[XKpZYS9K39jdGGwazegbJJm\j1paIT0dJM7Ny:ydXLt[YQvdmOkaT7ucI0vdmmqLnfvek8zPjB2OEm4OUc,OjZyNEi5PFU9N2F- |
| Caco-2 | NXXVW25ZTnWwY4Tpc44hSXO|YYm= | MlTrNE4yNzFxMUCg{txO | NFjCfJAzPCCq | | MV7pcoNz\WG|ZYOgUXJROiCycn;0[YlvKGyndnXs | NUTNeYNrRGFidHHy[4V1RSehYnzhcosoKGi{ZX[9K4h1fHC|Oj:vdJVjdWWmLn7jZokvdmyvLn7pbE5od3ZxMk[wOFkyODJpPkK2NFQ6OTB{PD;hQi=> |
| Caco-2 | NVXqVYw5TnWwY4Tpc44hSXO|YYm= | NWDQ[3FxOC5zL{GvNVAh|ryP | MUOyNOKhdWmw | | MlnubY5lfWOnczDhJIRwe2VvZHXw[Y5l\W62IHnuZ5Jm[XOnIHnuJIlvfHKjY3XscJVt[XJiY1HNVEBt\X[nbIO= | NW[0SlA{RGFidHHy[4V1RSehYnzhcosoKGi{ZX[9K4h1fHC|Oj:vdJVjdWWmLn7jZokvdmyvLn7pbE5od3ZxMk[wOFkyODJpPkK2NFQ6OTB{PD;hQi=> |
| bovine oocytes | M3LMSmZ2dmO2aX;uJGF{e2G7 | NX\vVpM5OTBywrFOwG0> | MmTjNVLDqGh? | | MULpcohq[mm2czD0bIUh\W[oZXP0JI9nKE6SUFGgZY5lN2:{IF7QVGMhfG9ic4TpcZVt[XSnIILld5VueHSrb36gc4YhdWWrb4Ppdy=> | MkXYQIEhfGG{Z3X0QUdg[myjbnunJIhz\WZ;J3j0eJB{Qi9xcIXicYVlNm6lYnmucoxuNm6raD7nc5YwOjZyNUG2NVEoRjJ4MEWxOlEyRC:jPh?= |
| BeWo | MWPGeY5kfGmxbjDBd5NigQ>? | M1i2dVI26oDLzszN | Mo\LNlQwPDhxN{KgbC=> | | MoX5cIVi\HNidH:gZY4hcW6lcnXhd4UhcW5idHjlJIV5eHKnc4Ppc44hd2Zib4To[ZIh\nW|aX;uJI1iemuncoO= | NEjzR5c9[SC2YYLn[ZQ:L1:kbHHub{chcHKnZk2nbJR1eHN8Lz;weYJu\WRwbnPibU5vdG1wbnnoModwfi9{NkC1N|U1QSd-Mk[wOVM2PDl:L3G+ |
| Spinal cords | MnTFSpVv[3Srb36gRZN{[Xl? | MWqxxsDPxE1? | NX7afZdGOzBibXnu | | M3\jb5N1cW23bHH0[ZMh[0GPUDDs[ZZmdHN? | NE\WdVE9[SC2YYLn[ZQ:L1:kbHHub{chcHKnZk2nbJR1eHN8Lz;weYJu\WRwbnPibU5vdG1wbnnoModwfi9{NkGyOlkzPid-Mk[xNlY6OjZ:L3G+ |
| MDCK | NVLuSZVjTnWwY4Tpc44hSXO|YYm= | MU[xNEDDvU1? | MkDWNlQhcA>? | NVj4ZYVJTE2VTx?= | NIDNWIZqdmirYnn0d{B1cGViaX7jdoVie2WmIHX4dJJme3Orb36gc4YhTk5iY3H1d4VlKGK7IGTHSk3PujF? | MnTVQIEhfGG{Z3X0QUdg[myjbnunJIhz\WZ;J3j0eJB{Qi9xcIXicYVlNm6lYnmucoxuNm6raD7nc5YwOjZ{MEKzOVIoRjJ4MkCyN|UzRC:jPh?= |
| MDCK | MoroSpVv[3Srb36gRZN{[Xl? | M3LzNFExKML3TR?= | NFnXcoIzPCCq | MVXEUXNQ | MVr1dJJm\3WuYYTld{B1cGViZYjwdoV{e2mxbjDv[kBVT0ZvzsKxJIFv\CCFVFfGxsA> | MlG0QIEhfGG{Z3X0QUdg[myjbnunJIhz\WZ;J3j0eJB{Qi9xcIXicYVlNm6lYnmucoxuNm6raD7nc5YwOjZ{MEKzOVIoRjJ4MkCyN|UzRC:jPh?= |
| RPMI 8226 | NVLkZVFQS2WubDDWbYFjcWyrdImgRZN{[Xl? | M2j4SFAuOTByIN88US=> | NH\Hcnc4OuLCiXi= | | MYfpcoR2[2W|IHPlcIwh\GWjdHig[I9{\SCmZYDlcoRmdnSueR?= | MonVQIEhfGG{Z3X0QUdg[myjbnunJIhz\WZ;J3j0eJB{Qi9xcIXicYVlNm6lYnmucoxuNm6raD7nc5YwOjZ|ME[2NlQoRjJ4M{C2OlI1RC:jPh?= |
| H929 | M1j5NWNmdGxiVnnhZoltcXS7IFHzd4F6 | MlnWNE0yODBizszN | MVK3NwKBkWh? | | M2TxPIlv\HWlZYOgZ4VtdCCmZXH0bEBld3OnIHTldIVv\GWwdHz5 | Mn[4QIEhfGG{Z3X0QUdg[myjbnunJIhz\WZ;J3j0eJB{Qi9xcIXicYVlNm6lYnmucoxuNm6raD7nc5YwOjZ|ME[2NlQoRjJ4M{C2OlI1RC:jPh?= |
| U266 | NXPjW4hzS2WubDDWbYFjcWyrdImgRZN{[Xl? | MX2wMVExOCEQvF2= | M1LrUVcz6oDLaB?= | | M1HZOYlv\HWlZYOgZ4VtdCCmZXH0bEBld3OnIHTldIVv\GWwdHz5 | MWi8ZUB1[XKpZYS9K39jdGGwazegbJJm\j1paIT0dJM7Ny:ydXLt[YQvdmOkaT7ucI0vdmmqLnfvek8zPjNyNk[yOEc,OjZ|ME[2NlQ9N2F- |
| OPM-2 | M{PaTmNmdGxiVnnhZoltcXS7IFHzd4F6 | MlrBNE0yODBizszN | NUOzWWptPzMkgJno | | Ml\kbY5lfWOnczDj[YxtKGSnYYToJIRwe2ViZHXw[Y5l\W62bIm= | MXO8ZUB1[XKpZYS9K39jdGGwazegbJJm\j1paIT0dJM7Ny:ydXLt[YQvdmOkaT7ucI0vdmmqLnfvek8zPjNyNk[yOEc,OjZ|ME[2NlQ9N2F- |
| INA-6 | MoXtR4VtdCCYaXHibYxqfHliQYPzZZk> | MYewMVExOCEQvF2= | MXe3NwKBkWh? | | MnzxbY5lfWOnczDj[YxtKGSnYYToJIRwe2ViZHXw[Y5l\W62bIm= | NETEelY9[SC2YYLn[ZQ:L1:kbHHub{chcHKnZk2nbJR1eHN8Lz;weYJu\WRwbnPibU5vdG1wbnnoModwfi9{NkOwOlYzPCd-Mk[zNFY3OjR:L3G+ |
| RBMECs | NXXkOJlnTnWwY4Tpc44hSXO|YYm= | M3eySlXDqM7:TR?= | NULRb3VPOcLiaB?= | | NVjSbpFR[myxY3vzJJRp\SCUYXOxJIlv[WO2aY\heIlwdiCrbnT1Z4VlKGK7IFXNRXAuUUl? | NYnvb|JQRGFidHHy[4V1RSehYnzhcosoKGi{ZX[9K4h1fHC|Oj:vdJVjdWWmLn7jZokvdmyvLn7pbE5od3ZxMk[zOVgxOzlpPkK2N|U5ODN7PD;hQi=> |
| Mo-DCs | NVTjc5NCTnWwY4Tpc44hSXO|YYm= | Mlu4OVAh|ryP | M1XDdFI16oDLaB?= | | MlfkdJJwdW:2ZYOgTWwuOjNicILv[JVkfGmxbjDpckB1cGVic4Xw[ZJv[XSjboSgc4Yhgnmvb4PhckB{fGmvdXzheIVlKE2xLVTDd:Kh | Mli0QIEhfGG{Z3X0QUdg[myjbnunJIhz\WZ;J3j0eJB{Qi9xcIXicYVlNm6lYnmucoxuNm6raD7nc5YwOjZ2MUK5OFgoRjJ4NEGyPVQ5RC:jPh?= |
| HEK293 | MlTPSpVv[3Srb36gRZN{[Xl? | M4rCclExKM7:TR?= | MY[2JIg> | | NIK2coZqdmO{ZXHz[ZMheGixc4Doc5J6dGG2aX;uJI9nKG:4ZYLlfJBz\XO|ZXSgT2xJVDNiYYSgV|Q{Ow>? | NHmzUGM9[SC2YYLn[ZQ:L1:kbHHub{chcHKnZk2nbJR1eHN8Lz;weYJu\WRwbnPibU5vdG1wbnnoModwfi9{NkSzOVQ6QCd-Mk[0N|U1QTh:L3G+ |
| ASK | NEDvU2hHfW6ldHnvckBie3OjeR?= | | MXyxJIhz | | | MV68ZUB1[XKpZYS9K39jdGGwazegbJJm\j1paIT0dJM7Ny:ydXLt[YQvdmOkaT7ucI0vdmmqLnfvek8zQDR7NkSxK|4zQDR7NkSxQE9iRg>? |
| Vero E6 | M4r4[mFvfGm4aYLhcEBie3OjeR?= | | | | | MYO8ZUB1[XKpZYS9K39jdGGwazegbJJm\j1paIT0dJM7Ny:ydXLt[YQvdmOkaT7ucI0vdmmqLnfvek8yPzZ4M{WzPUc,OTd4NkO1N|k9N2F- |
| epithelial cells | MofaSpVv[3Srb36gZZN{[Xl? | NFzoNpoyKHWP | MmXLOEwhPixiYX7kJFgh\GG7cx?= | | | NHvqUlA9[SC2YYLn[ZQ:L1:kbHHub{chcHKnZk2nbJR1eHN8Lz;weYJu\WRwbnPibU5vdG1wbnnoModwfi9zOUm2Olc5QSd-MUm5OlY4QDl:L3G+ |
| HepG2 (DPX-2) | MWTGeY5kfGmxbjDhd5NigQ>? | | MkPZNlQhcHK| | | | Ml3TQIEhfGG{Z3X0QUdg[myjbnunJIhz\WZ;J3j0eJB{Qi9xcIXicYVlNm6lYnmucoxuNm6raD7nc5YwOjB7Nk[wOFMoRjJyOU[2NFQ{RC:jPh?= |
| HepG2 | NGP5eo1HfW6ldHnvckBie3OjeR?= | | MmDhNlQhcHK| | | | M1LJ[VxiKHSjcnfleF0oZ2KuYX7rK{BpemWoPTfoeJRxezpxL4D1Zo1m\C6wY3LpMo5tdS6waXiu[493NzJyOU[2NFQ{Lz5{MEm2OlA1OzxxYU6= |
| HepG2 (DPX-2) | M1m3OGZ2dmO2aX;uJIF{e2G7 | | NUTafowyOjRiaILz | | | MnvIQIEhfGG{Z3X0QUdg[myjbnunJIhz\WZ;J3j0eJB{Qi9xcIXicYVlNm6lYnmucoxuNm6raD7nc5YwOjB7Nk[wOFMoRjJyOU[2NFQ{RC:jPh?= |
| HEK293T | MV3GeY5kfGmxbjDhd5NigQ>? | NWTPRY9VOTBidV2= | | | | M1zqOVxiKHSjcnfleF0oZ2KuYX7rK{BpemWoPTfoeJRxezpxL4D1Zo1m\C6wY3LpMo5tdS6waXiu[493NzJ2M{i3N|I2Lz5{NEO4O|MzPTxxYU6= |
| HEK293 | MnLlSpVv[3Srb36gZZN{[Xl? | NHHhXmIyOCC3TR?= | M{DwWVE3KGi{cx?= | | | M1m0VVxiKHSjcnfleF0oZ2KuYX7rK{BpemWoPTfoeJRxezpxL4D1Zo1m\C6wY3LpMo5tdS6waXiu[493NzJ4NEO1OVEzLz5{NkSzOVUyOjxxYU6= |
| MCF7 | MofWR5l1d3SxeHnjbZR6KGG|c3H5 | | NIT1cno1QCCqcoO= | | | MnS2QIEhfGG{Z3X0QUdg[myjbnunJIhz\WZ;J3j0eJB{Qi9xcIXicYVlNm6lYnmucoxuNm6raD7nc5YwOjh6M{i2PVIoRjJ6OEO4OlkzRC:jPh?= |
| HEK293 | MUTGeY5kfGmxbjDhd5NigQ>? | | M4fXWlMxKG2rboO= | | | NW\3[ng5RGFidHHy[4V1RSehYnzhcosoKGi{ZX[9K4h1fHC|Oj:vdJVjdWWmLn7jZokvdmyvLn7pbE5od3ZxM{CwNFYyPzZpPkOwNFA3OTd4PD;hQi=> |

アッセイ

Methods
Test Index
PMID
Western blot
30863177 31112131 20070884
Immunofluorescence

5hmC;


Schwann cells were treated with forskolin (10 μM) for 3 hr followed by washout. 5hmC induction was detected at of 0, 3, and 24 hr time points following treatment. Cells continuously treated with forskolin (5, 10 μM) for 24 hr showed comparable 5hmC levels. Scale bar = 20 μm.

Fe(II);


AMP (100 mM) treatment for 4 hr did not induce labile Fe(II) while AC activators (forskolin (100 mM), bicarbonate (50 mM)) and PDE inhibitors (caffeine (100 mM), IBMX (100 mM)) increased labile Fe(II) detected by Trx-Puro probes.

CYP17A1 / CYP21A2;


H295R cells were treated with 8-Br-cAMP or forskolin for 48 h under growth conditions, and fixed with 4% paraformaldehyde. (A) Immunostaining for CYP17A1. Red staining shows the anti-CYP17A1 antibody and blue staining shows DAPI (cell nuclei). (B) Immunostaining for CYP21A2. Red staining shows the anti-CYP21A2 antibody and blue staining shows DAPI (cell nuclei). Scale bars represent 100 µm.

29239726 25334044
Growth inhibition assay

Cell viability;


(C) MTT assay was conducted to test the cell growth after Toledo cells were administered 0, 20, 40, 80, or 160 μM of forskolin for 1, 2, 3, 4, 5, or 6 days. (D) Toledo cells were administered 0, 20, 40, 80, or 160 μM of forskolin for 48 hours, then MTT assay was used to evaluate the IC50 of forskolin. (F) MTT assay was conducted to test the cell growth after NK-92 cells were administered 0, 20, 40, 80, or 160 μM of forskolin for 1, 2, 3, 4, 5, or 6 days. (G) NK-92 cells were administered 0, 20, 40, 80, or 160 μM of forskolin for 48 hours, then MTT assay was used to evaluate the IC50of forskolin.

30863177
溶解度 (25°C)
体外
DMSO
82 mg/mL (199.75 mM)
Water
Insoluble
Ethanol
'37 mg/mL '37
* 溶解度測定はSelleck技術部門によって行われており、その他文献に示されている溶解度と差異がある可能性がありますが、同一ロットの生産工程で起きる正常な現象ですからご安心ください。
化学情報
分子量
410.5
化学式

C22H34O7

CAS No.
66575-29-9
Storage
powder
in solvent
別名
Coleonol, Colforsin
Smiles
CC(=O)OC1C(C2C(CCC(C2(C3(C1(OC(CC3=O)(C)C=C)C)O)C)O)(C)C)O
投与溶媒組成計算器(クリア溶液)
ステップ1:実験データを入力してください。(実験操作によるロスを考慮し、動物数を1匹分多くして計算・調製することを推奨します)
投与量
mg/kg
動物平均体重
g
投与体積(動物毎)
ul
動物数
匹
ステップ2:投与溶媒の組成を入力してください。(ロット毎に適した溶解組成が異なる場合があります。詳細については弊社までお問い合わせください)
% DMSO % % Tween 80 % ddH2O
計算リセット
計算結果:
投与溶媒濃度: mg/ml;
DMSOストック溶液調製方法: mg 試薬を μL DMSOに溶解する(濃度 mg/mL,
投与溶媒調製方法:μL DMSOストック溶液に μL PEG300,を加え、完全溶解後μL Tween 80,を加えて完全溶解させた後 μL ddH2O,を加え完全に溶解させます。
1.ストック溶液に沈殿、混濁などがないことをご確認ください;
2.順番通りに溶剤を加えてください。次のステップに進む前に溶液に沈殿、混濁などがないことを確認してから加えてください。ボルテックス、ソニケーション、水浴加熱など物理的な方法で溶解を早めることは可能です。

便利ツール
モル濃度計算器
モル濃度計算器
求めたい質量、体積または濃度を計算してください。
質量 (mg) = 濃度 (mM) x 体積 (mL) x 分子量 (g/mol)
モル濃度計算器方程式
*貯蔵液を準備するとき、常に、オンであるとわかる製品のバッチに特有の分子量を使って、を通してラベルとMSDS/COA(製品ページで利用可能な)。
希釈計算器
希釈計算器
貯蔵液を準備するために必要な希釈率を計算してください。Selleck希釈計算器は、以下の方程式に基づきます:
開始濃度 x 開始体積 = 最終濃度 x 最終体積
希釈の計算式
この方程式は、一般に略語を使われます:C1V1 = C2V2 ( 入力 出力 )
常に貯蔵液を準備するとき、小びんラベルとMSDS/COA(オンラインで利用できる)で見つかる製品のバッチに特有の分子量を使ってください。
分子量計算器
分子量计算器
そのモル質量と元素組成を計算するために、合成物の化学式を入力してください:
チップス: 化学式は大文字と小文字の区別ができます。C10H16N2O2 c10h16n2o2
モル濃度計算器
技術サポート
ストックの作り方、阻害剤の保管方法、細胞実験や動物実験の際に注意すべき点など、製品を取扱う時に問い合わせが多かった質問に対しては取扱説明書でお答えしています。
他に質問がある場合は、お気軽にお問い合わせください。