Galunisertib (LY2157299)
For research use only. Not for use in humans.
製品コードS2230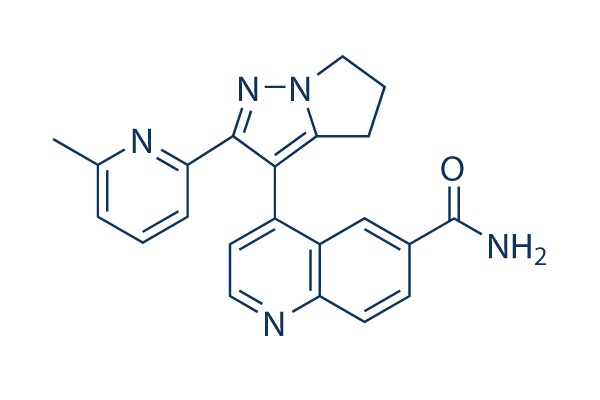 分子量(MW):369.42
Galunisertib (LY2157299) is a potent TGFβ receptor I (TβRI) inhibitor with IC50 of 56 nM in a cell-free assay. Phase 2/3.
生物活性
製品説明
Galunisertib (LY2157299) is a potent TGFβ receptor I (TβRI) inhibitor with IC50 of 56 nM in a cell-free assay. Phase 2/3.
ターゲット

TβRI [1]
(Cell-free assay)
56 nM

体外試験

LY2157299 potently inhibits the TGFβ receptor signaling. LY2157299 abolishes the TGFβ induced Smad2 phosphorylation in HUVEC cells. LY2157299 also shows dose dependent potentiation of VEGF or bFGF induced cell proliferation in HUVEC. LY2157299 also promotes VEGF induced HUVEC cell migration. LY2157299 potentiates angiogenesis in the in vitro VEGF-stimulated cord formation assay. [2] LY2157299 inhibits TGF-β-mediated SMAD2 activation and hematopoietic suppression in primary hematopoietic stem cells in a dose-dependent manner. LY2157199 treatment stimulates hematopoiesis from primary MDS bone marrow specimens. [3] In human glioblastoma (GBM) cells, LY2157299 treatment blocks signaling through the heteromeric TGFβ receptor complex to reduce levels of active, phosphorylated SMAD. [4]

細胞データ

| Cell Lines | Assay Type | Concentration | Incubation Time | Formulation | Activity Description | PMID |
| --- | --- | --- | --- | --- | --- | --- |
| Panc-1 | MWDGeY5kfGmxbjDBd5NigQ>? | MmO1NVAh|ryP | MVm0PEBp | MYjEUXNQ | NULsb2xOe3SrbYXsZZRmeyC2aHWgZ4VtdCCrbo\hd4lwdiCrboTvJJRp\SClb3zsZYdmdiCpZXygZY5lKHSqZTDNZZRzcWenbD3jc4F1\WRiY3;scIFo\W5iZ3Xs | NWi0NJlyOjR5OEC4NlE> |

アッセイ

Methods
Test Index
PMID
Western blot

Periostin / Fibronectin / Snail / Twist / pSmad2 / pERK / pAkt / pFAK;


U-87 MG cells were serum-starved for 24 h, then incubated in serum-free medium containing (or lacking) 10 μM Galunisertib (LY2157299) and 10 ng/mL of TGF-β for 48 h. Cells were lysed and expression levels of EMT markers periostin, fibronectin, Snail and twist, or the phosphorylation status of Smad2, Erk, Akt and Fak proteins were monitored by immunoblotting.

TGF-βR1 / p-ERK;


Western blot was performed to analyze the expression level of TGF-βR1, p-smad2 and p-ERK1/2. VECTOR, cells transduced with VECTOR lentivirus; VECTOR+ LY2157299, cells transduced with VECTOR lentivirus and treated with LY2157299; USP4, cells transduced with USP4 lentivirus; USP4+ LY2157299, cells transduced with USP4 lentivirus and treated with LY2157299.

29774119 30881035
Growth inhibition assay

Cell viability;


Primary cell cultures were treated with LY2157299. MTS was performed at 72 hrs. TGF-ΒR1 inhibition by LY2157299 did not influence cell viability in any type of primary cell culture.

28873435
Immunofluorescence

E-cadherin;


KPC-M09 cells were treated with control, TGFβ or TGFβ plus galunisertib (2 μM or 10 μM). Bright field images are shown in the top panel and were imaged at 20X. The bottom panel shows fluorescent IHC using anti-E-cadherin (red) as well as DAPI (blue) as a counter stain. Cells were imaged at 40X.

29467918

体内試験
Although anti-tumor activity has been observed in several pre-clinical models, LY2157299 fails to show significant in vivo angiogenic effects in the 4T1, Colo205, or A549 xenograft models. [2] Administration of LY2157299 ameliorates anemia in a TGF-β overexpressing transgenic mouse model of bone marrow failure. [3] Oral administration of LY2157299 at 75 mg/kg/day displays significant antitumor activity against both Calu6 and MX1 xenografts in mice. [5] In vivo, LY2157299 induces angiogenesis and enhances VEGF and basic-fibroblast-growth-factor-induced angiogenesis in a Matrigel-plug assay, whereas adding an alpha5-integrin-neutralizing antibody to the Matrigel selectively inhibits this enhanced response. [6]
お薦めの試験操作(参考用のみ)
動物試験:[5]

- 合併

動物モデル: Nude mice implanted subcutaneously with Calu6 or MX1 cells
投薬量: 75 mg/kg/day
投与方法: Orally


(参考用のみ)
溶解度 (25°C)
体外
DMSO
74 mg/mL (200.31 mM)
Water
Insoluble
Ethanol
Insoluble
体内
左から(NMPから)右の順に溶剤を製品に加えます(文献ではなく、Selleckの実験によるデータ):
1%CMC-Na
混合させたのち直ちに使用することを推奨します。
30mg/mlmg/mL
* 溶解度測定はSelleck技術部門によって行われており、その他文献に示されている溶解度と差異がある可能性がありますが、同一ロットの生産工程で起きる正常な現象ですからご安心ください。
化学情報
分子量
369.42
化学式

C22H19N5O

CAS No.
700874-72-2
Storage
powder
in solvent
別名
N/A
Smiles
CC1=CC=CC(=N1)C2=N[N]3CCCC3=C2C4=CC=NC5=C4C=C(C=C5)C(N)=O
投与溶媒組成計算器(クリア溶液)
ステップ1:実験データを入力してください。(実験操作によるロスを考慮し、動物数を1匹分多くして計算・調製することを推奨します)
投与量
mg/kg
動物平均体重
g
投与体積(動物毎)
ul
動物数
匹
ステップ2:投与溶媒の組成を入力してください。(ロット毎に適した溶解組成が異なる場合があります。詳細については弊社までお問い合わせください)
% DMSO % % Tween 80 % ddH2O
計算リセット
計算結果:
投与溶媒濃度: mg/ml;
DMSOストック溶液調製方法: mg 試薬を μL DMSOに溶解する(濃度 mg/mL,
投与溶媒調製方法:μL DMSOストック溶液に μL PEG300,を加え、完全溶解後μL Tween 80,を加えて完全溶解させた後 μL ddH2O,を加え完全に溶解させます。
1.ストック溶液に沈殿、混濁などがないことをご確認ください;
2.順番通りに溶剤を加えてください。次のステップに進む前に溶液に沈殿、混濁などがないことを確認してから加えてください。ボルテックス、ソニケーション、水浴加熱など物理的な方法で溶解を早めることは可能です。

便利ツール
モル濃度計算器
モル濃度計算器
求めたい質量、体積または濃度を計算してください。
質量 (mg) = 濃度 (mM) x 体積 (mL) x 分子量 (g/mol)
モル濃度計算器方程式
*貯蔵液を準備するとき、常に、オンであるとわかる製品のバッチに特有の分子量を使って、を通してラベルとMSDS/COA(製品ページで利用可能な)。
希釈計算器
希釈計算器
貯蔵液を準備するために必要な希釈率を計算してください。Selleck希釈計算器は、以下の方程式に基づきます:
開始濃度 x 開始体積 = 最終濃度 x 最終体積
希釈の計算式
この方程式は、一般に略語を使われます:C1V1 = C2V2 ( 入力 出力 )
常に貯蔵液を準備するとき、小びんラベルとMSDS/COA(オンラインで利用できる)で見つかる製品のバッチに特有の分子量を使ってください。
分子量計算器
分子量计算器
そのモル質量と元素組成を計算するために、合成物の化学式を入力してください:
チップス: 化学式は大文字と小文字の区別ができます。C10H16N2O2 c10h16n2o2
モル濃度計算器
臨床試験
| NCT Number | Recruitment | interventions | Conditions | Sponsor/Collaborators | Start Date | Phases |
| --- | --- | --- | --- | --- | --- | --- |
| NCT04031872 | Not yet recruiting | Drug: LY3200882 | Colorectal Cancer Metastatic | The Netherlands Cancer Institute|Vall d''Hebron Institute of Oncology|Agendia|European Organisation for Research and Treatment of Cancer - EORTC|Azienda Ospedaliera Niguarda Cà Granda|Fundación para la Investigación del Hospital Clínico de Valencia|University of Campania Luigi Vanvitelli|University of Turin Italy|Eli Lilly and Company|Catalan Institute of Health|Universitaire Ziekenhuizen Leuven | February 2020 | Phase 1|Phase 2 |
| NCT03470350 | Withdrawn | Drug: Galunisertib | Colorectal Cancer Metastatic | The Netherlands Cancer Institute|Vall d''Hebron Institute of Oncology|Agendia|European Organisation for Research and Treatment of Cancer - EORTC|Azienda Ospedaliera Niguarda Cà Granda|Fundación para la Investigación del Hospital Clínico de Valencia|University of Campania Luigi Vanvitelli|University of Turin Italy|Eli Lilly and Company|Catalan Institute of Health|Universitaire Ziekenhuizen Leuven | August 24 2018 | Phase 1|Phase 2 |
| NCT02734160 | Completed | Drug: Galunisertib|Drug: Durvalumab | Metastatic Pancreatic Cancer | Eli Lilly and Company|AstraZeneca | June 15 2016 | Phase 1 |
| NCT02452008 | Recruiting | Drug: Enzalutamide|Drug: LY2157299 | Prostate Cancer | Sidney Kimmel Comprehensive Cancer Center at Johns Hopkins|Eli Lilly and Company | May 3 2016 | Phase 2 |
| NCT02752919 | Completed | Drug: Galunisertib | Healthy | Eli Lilly and Company | April 2016 | Phase 1 |
技術サポート
ストックの作り方、阻害剤の保管方法、細胞実験や動物実験の際に注意すべき点など、製品を取扱う時に問い合わせが多かった質問に対しては取扱説明書でお答えしています。
他に質問がある場合は、お気軽にお問い合わせください。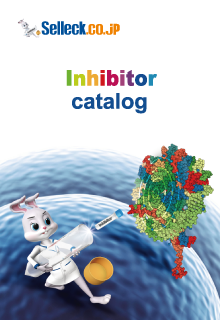 TGF-beta/Smad Inhibitors with Unique Features
相関TGF-beta/Smad製品