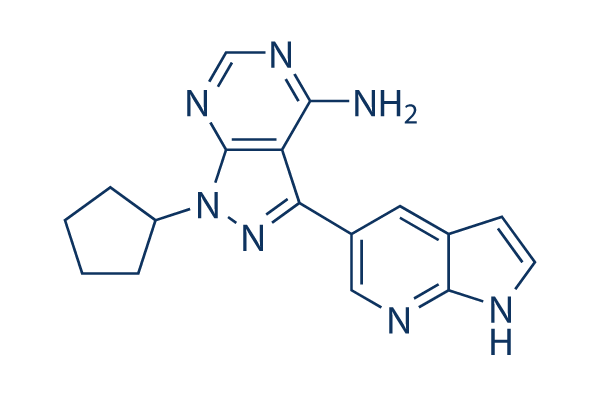 分子量(MW):319.36
PP-121 is a multi-targeted inhibitor of PDGFR, Hck, mTOR, VEGFR2, Src and Abl with IC50 of 2 nM, 8 nM, 10 nM, 12 nM, 14 nM and 18 nM, also inhibits DNA-PK with IC50 of 60 nM.
カスタマーフィードバック(2)
After starved in serum-free medium for 24 h,A549 cells incubated with the indicated concentrations of PP-121 for 3 h,followed by 20-minute stimolation of 100ng/ml EGF.

Dr. Zhang of Tianjin Medical University. PP121 purchased from Selleck.

PP121 induces apoptosis in ATC cells. CAL62 cells were treated with PP121 at the indicated concentrations for 48 h, followed by PI staining. The nuclei were stained with Hoechst and analyzed using a fluorescent microscope. The representative images are shown.

Tumour Biol 2014 35(9), 8659-64. PP121 purchased from Selleck.
生物活性
| | |
| --- | --- |
| 製品説明 | PP-121 is a multi-targeted inhibitor of PDGFR, Hck, mTOR, VEGFR2, Src and Abl with IC50 of 2 nM, 8 nM, 10 nM, 12 nM, 14 nM and 18 nM, also inhibits DNA-PK with IC50 of 60 nM. |
| ターゲット | |
| 体外試験 | PP-121 selectivity interacts within a hydrophobic pocket that is conserved between both tyrosine kinases and PI3Ks, not serine-threonine kinases. PP-121 makes a hydrogen bond to Glu310 in Src, effectively substituting for the structural role of the catalytic lysine and resulting in the ordering of helix C and stabilization of an active conformation. PP-121 also inhibits other PI3Ks including p110α and DNA-PK with IC50 of 52 nM and 60 nM, respectively. PP-121 potently and dose-dependently blocks the phosphorylation of Akt, p70S6K and S6 in two glioblastoma cell lines, U87 and LN229. PP-121 potently inhibits the proliferation of a subset of the tumor cell lines by direct inhibition of PI3Ks and mTOR. PP-121 induces a G0/G1 arrest in LN220, U87 and Seg1 cells. PP-121 also blocks tyrosine phosphorylation induced by v-Src in NIH3T3 cells transformed with v-Src(Thr338). PP-121 could restore actin stress fiber staining in NIH3T3 cells transformed with v-Src(Thr338). PP-121 at a low concentration of 40 nM inhibits Ret autophosphorylation in TT thyroid carcinoma cells that express the C634W oncogenic Ret mutant35. PP-121 inhibits cell proliferation with IC50 of 50 nM in TT thyroid carcinoma cells. PP-121 inhibits cell proliferating stimulated only with VEGF with IC50 of 41 nM in human umbilical vein endothelial cells (HUVECs). PP-121 directly inhibits Bcr-Abl induced tyrosine phosphorylation, resulting in drug-induced apoptosis in K562 cells and a combination of apoptosis and cell cycle arrest in Bcr-Abl expressing BaF3 cells. [1] |
お薦めの試験操作(参考用のみ)
キナーゼ試験:[1]

+ 展開

Kinase assays:

Purified kinase domains are incubated with PP-121 at 2- or 4-fold dilutions over a concentration range of 1nM-50 µM or with vehicle (0.1% DMSO) in the presence of 10 µM ATP, 2.5 µCi of γ-

32

P-ATP and substrate. Reactions are terminated by spotting onto nitrocellulose or phosphocellulose membranes, depending on the substrate; this membrane is then washed 5–6 times to remove unbound radioactivity and dried. Transferred radioactivity is quantitated by phosphorimaging and IC50 values are calculated by fitting the data to a sigmoidal doseresponse using Prism software.

細胞試験: [1]

+ 展開

細胞株: U87, LN229, NIH3T3, HUVECs, BaF3 and TT thyroid carcinoma cells
濃度: 0.04-20 μM
反応時間: 24-72 hours
実験の流れ: For western blot analysis, cells are grown in 12-well plates and treated with PP-121 at the indicated concentrations or vehicle (0.1% DMSO). Treated cells are lysed, lysates are resolved by SDS-PAGE, transferred to nitrocellulose and blotted. For cell proliferation assays,cells are grown in 96-well plates are treated with PP-121 at 4-fold dilutions (10 µM - 0.040 μM) or vehicle (0.1% DMSO). After 72 hours cells are exposed to Resazurin sodium salt (22 µM) and fluorescence is quantified. IC50 values are calculated using Prism software. For proliferation assays involving single cell counting, non-adherent cells are plated at low density (3–5% confluence) and treated with PP-121 (2.5 µM) or vehicle (0.1% DMSO). Cells are diluted into trypan blue daily and viable cells counted using a hemocytometer. For apoptosis and cell cycle analysis, cells are treated with the indicated concentration of PP-121 or vehicle (0.1% DMSO) for 24–72 hours. Cells are either stained live with AnnexinV-FITC or fixed with ethanol and stained with propidium iodide. Cell populations are separated using a FacsCalibur flow cytometer; data is collected using CellQuest Pro software and analyzed with either ModFit or FlowJo Software.


(参考用のみ)
溶解度 (25°C)
体外
DMSO
64 mg/mL (200.4 mM)
Ethanol
2 mg/mL (6.26 mM)
Water
Insoluble
* 溶解度測定はSelleck技術部門によって行われており、その他文献に示されている溶解度と差異がある可能性がありますが、同一ロットの生産工程で起きる正常な現象ですからご安心ください。
化学情報
分子量
319.36
化学式

C17H17N7

CAS No.
1092788-83-4
保管
粉
in solvent
別名
N/A
便利ツール
モル濃度計算器
モル濃度計算器
求めたい質量、体積または濃度を計算してください。
質量 (g) = 濃度 (mol/L) x 体積 (L) x 分子量 (g/mol)
モル濃度計算器方程式
*貯蔵液を準備するとき、常に、オンであるとわかる製品のバッチに特有の分子量を使って、を通してラベルとMSDS/COA(製品ページで利用可能な)。
希釈計算器
希釈計算器
貯蔵液を準備するために必要な希釈率を計算してください。Selleck希釈計算器は、以下の方程式に基づきます:
開始濃度 x 開始体積 = 最終濃度 x 最終体積
希釈の計算式
この方程式は、一般に略語を使われます:C1V1 = C2V2 ( 入力 出力 )
常に貯蔵液を準備するとき、小びんラベルとMSDS/COA(オンラインで利用できる)で見つかる製品のバッチに特有の分子量を使ってください。
分子量計算器
分子量计算器
そのモル質量と元素組成を計算するために、合成物の化学式を入力してください:
チップス: 化学式は大文字と小文字の区別ができます。C10H16N2O2 c10h16n2o2
モル濃度計算器
技術サポート
ストックの作り方、阻害剤の保管方法、細胞実験や動物実験の際に注意すべき点など、製品を取扱う時に問い合わせが多かった質問に対しては取扱説明書でお答えしています。
他に質問がある場合は、お気軽にお問い合わせください。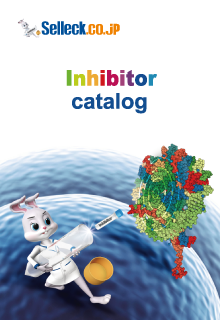 相関PDGFR製品