GDC-0623
製品コードS7553 別名:G-868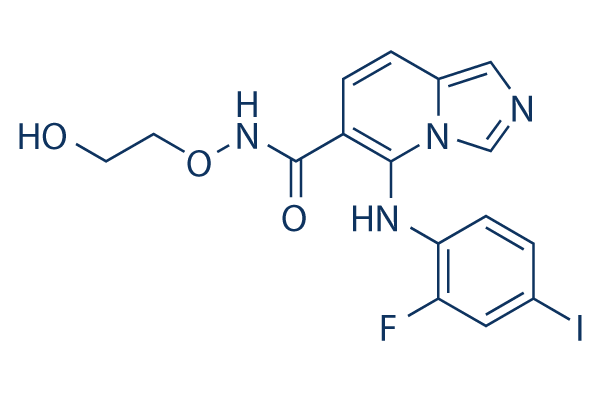 分子量(MW):456.21
GDC-0623 is a potent and ATP-uncompetitive MEK1 inhibitor with Ki of 0.13 nM. Phase 1.
カスタマーフィードバック(1)
Three types of selective inhibitors of MAPK signaling produce expected differential kinase inhibition and activation responses in HCT116 colorectal cancer cells. HCT116 cells were treated with 250nM of GDC-0973, GDC-0623, SCH772984 or DMSO for 1, 4, or 24 hours. In the washout samples, cells were drug treated for 24 hours, then changed into fresh media and harvested after 0.5 or 2 hours. Lysates were used for western blots of total and phosphorylated MEK, ERK and RSK; blotting for COX IV was used as the loading control.

Mol Cell Proteomics, 2017, 16(2):265-277. GDC-0623 purchased from Selleck.
生物活性
| | |
| --- | --- |
| 製品説明 | GDC-0623 is a potent and ATP-uncompetitive MEK1 inhibitor with Ki of 0.13 nM. Phase 1. |
| ターゲット | |
| 体外試験 | In a panel of mutant cancer cell lines, GDC-0623 inhibits cellular proliferation with EC50 of 4 nM, 53 nM, 11 nM, 18 nM and 94 nM for A375 (BRAFV600E), HCT116 (KRASG13D), COLO 205 (V600E), HT-29 (V600E), and HCT116 (G13D) cells, respectively. [1] In isogenic KRAS HCT116 and mutant KRAS SW620 colon cells, GDC-0623 upregulates BIM via its loss of phosphorylation at Ser69. GDC-0623 plus ABT-263 induces a synergistic cell apoptosis. [2] |
| 体内試験 | In vivo, GDC-0623 (40 mg/kg, p.o.) causes potent tumor growth inhibition (TGI) in mouse MiaPaCa-2 (120%), A375 (102%) and HCT116 (115%) xenografts. [1] |
お薦めの試験操作(参考用のみ)
キナーゼ試験:[1]

+ 展開

In vitro Kinase assays:

0.14 μM of purified inactive recombinant MEK-1 (Upstate) protein is preincubated with inhibitors in 15 μL of kinase buffer including (20 mM MOPS pH7.2, 25 mM beta glycerol phosphate, 5 mM EGTA, 1 mM sodium orthovanadate, 1 mM DTT, 100 μM ATP, 15 mM MgCl

2

). After incubating 10 minutes at 30°C, 1 ng of BRAF, CRAF or BRAF V600E combined with 0.5 μg of inactive recombinant ERK2 is added to the reaction in total volume of 20 μL. After incubating 30 minutes at 30°C the reaction is stopped by adding Laemmle sample buffer. Enzyme activity is measured by determining level of phosphor-MEK by SDS-PAGE. Immunoreactive proteins are visualized with SuperSignal West Pico Chemiluminescent Substrate.

動物試験:[1]

+ 展開

動物モデル: Mice bearing MiaPaCa-2, A375 and HCT116 xenografts
製剤: Methylcellulose 0.1% tween 80 0.1% (MCT)
投薬量: 40 mg/kg daily
投与方法: p.o.


(参考用のみ)
溶解度 (25°C)
体外
DMSO
91 mg/mL (199.46 mM) warming
Ethanol
5 mg/mL warmed (10.95 mM)
Water
Insoluble
体内
左から(NMPから)右の順に溶剤を製品に加えます(文献ではなく、Selleckの実験によるデータ):
5% DMSO+45% PEG 300+ddH2O
混合させたのち直ちに使用することを推奨します。
20mg/mL
* 溶解度測定はSelleck技術部門によって行われており、その他文献に示されている溶解度と差異がある可能性がありますが、同一ロットの生産工程で起きる正常な現象ですからご安心ください。
化学情報
分子量
456.21
化学式

C16H14FIN4O3

CAS No.
1168091-68-6
保管
粉
in solvent
別名
G-868
便利ツール
モル濃度計算器
モル濃度計算器
求めたい質量、体積または濃度を計算してください。
質量 (g) = 濃度 (mol/L) x 体積 (L) x 分子量 (g/mol)
モル濃度計算器方程式
*貯蔵液を準備するとき、常に、オンであるとわかる製品のバッチに特有の分子量を使って、を通してラベルとMSDS/COA(製品ページで利用可能な)。
希釈計算器
希釈計算器
貯蔵液を準備するために必要な希釈率を計算してください。Selleck希釈計算器は、以下の方程式に基づきます:
開始濃度 x 開始体積 = 最終濃度 x 最終体積
希釈の計算式
この方程式は、一般に略語を使われます:C1V1 = C2V2 ( 入力 出力 )
常に貯蔵液を準備するとき、小びんラベルとMSDS/COA(オンラインで利用できる)で見つかる製品のバッチに特有の分子量を使ってください。
分子量計算器
分子量计算器
そのモル質量と元素組成を計算するために、合成物の化学式を入力してください:
チップス: 化学式は大文字と小文字の区別ができます。C10H16N2O2 c10h16n2o2
モル濃度計算器
臨床試験
| NCT Number | Recruitment | Conditions | Sponsor/Collaborators | Start Date | Phases |
| --- | --- | --- | --- | --- | --- |
| NCT01106599 | Completed | Solid Cancers | Genentech Inc. | April 2010 | Phase 1 |
技術サポート
ストックの作り方、阻害剤の保管方法、細胞実験や動物実験の際に注意すべき点など、製品を取扱う時に問い合わせが多かった質問に対しては取扱説明書でお答えしています。
他に質問がある場合は、お気軽にお問い合わせください。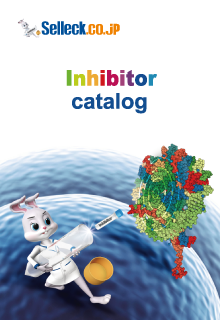 相関MEK製品