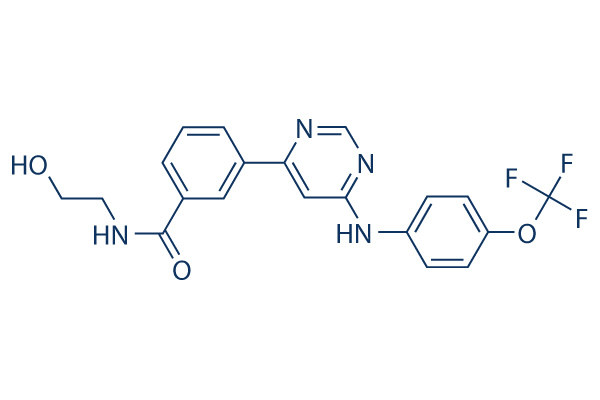 分子量(MW):418.37
GNF-5 is a selective and allosteric Bcr-Abl inhibitor with IC50 of 220 nM.
カスタマーフィードバック(2)
IC50 values for GNF-5-treated Ba/F3 cells expressing BCR-ABL1 or ABL1 1b mutants (a) described to confer ABL001 resistance in BCR-ABL1, (b) identified by mutagenesis screen. after 48 hours. Error bars represent SD of triplicates from three independent experiments. Significance levels in comparison with BCR-ABL1 are indicated (NS, not significant; *P<0.05, **P<0.01, ***P<0.001, two-tailed unpaired t-test).

Leukemia, 2017, 31(5):1096-1107. GNF-5 purchased from Selleck.

Cell viability of K562/IR cells and their parental cell lines after exposure to different concentrations of (I) GNF-5 for 72 h. These results are representative of 5 independent experiments. *p < 0.01 vs. untreated K562 cells as assessed with Dunnett's test.

Oncotarget, 2017, 8(24):38717-38730. GNF-5 purchased from Selleck.
生物活性
| | |
| --- | --- |
| 製品説明 | GNF-5 is a selective and allosteric Bcr-Abl inhibitor with IC50 of 220 nM. |
| ターゲット | |
| 体外試験 | GNF-5, when used in combination with imatinib or nilotinib, suppresses the emergence of resistance mutations in vitro, and displays additive inhibitory activity in biochemical and cellular assays against Bcr-Abl T315I mutant. [1] GNF-5 shows potent antiproliferative activity with EC50 of 430 nM and 580 nM against wt-Bcr-Abl and E255K mutant Bcr-Abl transformed cells, respectively. [2] |
| 体内試験 | GNF-5 (100 mg/kg ) displays efficacy on wild-type and T315I Bcr-Abl dependent proliferation in xenograft and bone marrow transplantation models. Moreover, a combination of GNF-5 (75 mg/kg) with nilotinib (50 mg/kg) results in improved overall survival in a T315I Bcr-Abl BMT model. [1] |
お薦めの試験操作(参考用のみ)
キナーゼ試験:[1]

+ 展開

Kinetic characterization of Abl inhibition:

The ATP/NADH-coupled assay system in a 96-well format is used to determine the initial velocity of Abl tyrosine kinase catalyzed peptide phosphorylation. The reaction mixture contained 20 mM Tris-HCl, (pH 8.0), 50 mM NaCl, 10 mM MgCl

2

, 2 mM PEP [2-(Phosphonooxy)- 2-propenoic acid) and 20 μg Abl peptide substrate (EAIYAAPFAKKK), fixed or varied (to determine inhibitor kinetic parameters) concentration of inhibitor applied, 1/50 of the final reaction mixture volume of PK/LDH enzyme (pyruvate kinase/lactic dehydrogenase enzymes from rabbit muscle), 160 μM NADH, 0.16 μM Abl, and ATP added last to start the reaction. Absorbance data are collected every 20s at 340 nm using a SpectraMax M5 Microplate Reader.

細胞試験: [2]

+ 展開

細胞株: Ba/F3.p210 cells
濃度: ~10 μM
反応時間: 48 hours
実験の流れ: Ba/F3.p210 cells are obtained by transfecting the IL-3-dependent murine hematopoietic Ba/F3 cell line with a pEYK vector containing p210BCR-ABL and Bcr-Abl mutations. All cell lines are cultured with 5% CO2 at 37 °C in RPMI 1640 with 10% fetal bovine serum (FBS) and supplemented with 1% l-glutamine. Parental Ba/F3 cells are similarly cultured with 10% WEHI-conditioned medium as a source of IL-3. Transfected cell lines are cultured in media supplemented with 25 μg/mL zeocin. The 48 h cell proliferation studies are obtained using the CellTiter-Glo assay.


(参考用のみ)

動物試験:[1]

+ 展開

動物モデル: Ba/F3.p210 xenograft mouse model
製剤: PEG400/saline, 1:1
投薬量: ~100 mg/kg bid
投与方法: p.o.


(参考用のみ)
溶解度 (25°C)
体外
DMSO
83 mg/mL (198.38 mM)
Ethanol
20 mg/mL warmed (47.8 mM)
Water
Insoluble
* 溶解度測定はSelleck技術部門によって行われており、その他文献に示されている溶解度と差異がある可能性がありますが、同一ロットの生産工程で起きる正常な現象ですからご安心ください。
化学情報
分子量
418.37
化学式

C20H17F3N4O3

CAS No.
778277-15-9
保管
粉
in solvent
別名
N/A
便利ツール
モル濃度計算器
モル濃度計算器
求めたい質量、体積または濃度を計算してください。
質量 (g) = 濃度 (mol/L) x 体積 (L) x 分子量 (g/mol)
モル濃度計算器方程式
*貯蔵液を準備するとき、常に、オンであるとわかる製品のバッチに特有の分子量を使って、を通してラベルとMSDS/COA(製品ページで利用可能な)。
希釈計算器
希釈計算器
貯蔵液を準備するために必要な希釈率を計算してください。Selleck希釈計算器は、以下の方程式に基づきます:
開始濃度 x 開始体積 = 最終濃度 x 最終体積
希釈の計算式
この方程式は、一般に略語を使われます:C1V1 = C2V2 ( 入力 出力 )
常に貯蔵液を準備するとき、小びんラベルとMSDS/COA(オンラインで利用できる)で見つかる製品のバッチに特有の分子量を使ってください。
分子量計算器
分子量计算器
そのモル質量と元素組成を計算するために、合成物の化学式を入力してください:
チップス: 化学式は大文字と小文字の区別ができます。C10H16N2O2 c10h16n2o2
モル濃度計算器
技術サポート
ストックの作り方、阻害剤の保管方法、細胞実験や動物実験の際に注意すべき点など、製品を取扱う時に問い合わせが多かった質問に対しては取扱説明書でお答えしています。
他に質問がある場合は、お気軽にお問い合わせください。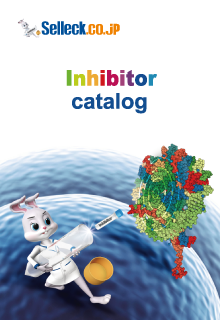 相関Bcr-Abl製品