(-)-Epigallocatechin Gallate
製品コードS2250 別名:EGCG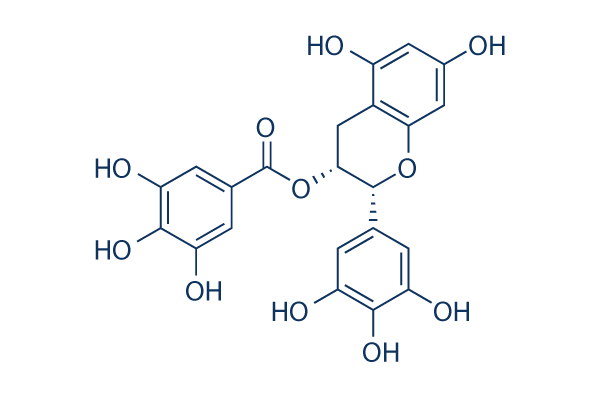 分子量(MW):458.37
(-)-Epigallocatechin Gallate(EGCG) is the main catechin extraction of green tea that inhibits telomerase and DNA methyltransferase. EGCG blocks the activation of EGF receptors and HER-2 receptors. ECGG inhibits fatty acid synthase and glutamate dehydrogenase activity.
カスタマーフィードバック(4)
(a) Huh7 cells were incubated with HCVcc of JFH-1 for 2 h before overlaying with 1% agarose dissolved in culture medium or with AR3A anti-E2 neutralizing antibodies, in the presence of 20 μg/ml SZA. EGCG (50 μM) was introduced as a positive control. At 48 h post-infection, infected cells were quantified by IF. Nuclei were stained with DAPI. (b) Numbers of cells per positive colony were determined in 15 foci.

Sci Rep, 2016, 6:27268.. (-)-Epigallocatechin Gallate purchased from Selleck.

EGCG treatment increases cTnI protein levels in ageing hearts. (A) Western blotting analysis using cTnI and cTnT antibodies. b-Actin was used as protein loading control. (B) A summary of Western blotting results of cTnI. Values are expressed as mean S.D. from four separate experiments. Statistical significance was determined by ANOVA followed by least significant difference (LSD) tests. *P < 0.05 as compared with the 18M + EGCG and 3M groups. EGCG: epigallocatechin-3-gallate

J Cell Mol Med, 2017, 21(10):2481-2490. (-)-Epigallocatechin Gallate purchased from Selleck.
生物活性
製品説明
(-)-Epigallocatechin Gallate(EGCG) is the main catechin extraction of green tea that inhibits telomerase and DNA methyltransferase. EGCG blocks the activation of EGF receptors and HER-2 receptors. ECGG inhibits fatty acid synthase and glutamate dehydrogenase activity.
体外試験

(-)-Epigallocatechin gallate functions as a powerful antioxidant, preventing oxidative damage in healthy cells, but also as an antiangiogenic and antitumor agent and as a modulator of tumor cell response to chemotherapy. (-)-Epigallocatechin gallate shows multiple anticancer effects, such as anti-proliferation, anti-angiogenesis, transformation prevention of various cancer cells, cancer cell cycle arrest and inhibition of tumor metastasis. (-)-Epigallocatechin gallate exerts multi-anticancer effects through regulating several cancer-related cell signal pathways (regulated the function or the expression of key signal proteins, such as nuclear factor-κB, MAPKs and activator protein-1, EGFR, IGF, COX-2 signaling pathway, and so on.), effecting methylation of cancer genes and combination of ligand with membrane receptors. [1] (-)-Epigallocatechin gallate also shows an immunomodulating effects. Several types of immune cells in both the innate and adaptive immune systems are known to be affected in varying degrees by (-)-Epigallocatechin gallate. Among them, the dramatic effect on T cell functions has been repeatedly demonstrated, including T cell activation, proliferation, differentiation, and production of cytokines. Studies using animal models of autoimmune diseases have reported disease improvement in animals treated with green tea/EGCG. [2] (-)-Epigallocatechin gallate displays anti-infective properties. Antiviral activities of (-)-Epigallocatechin gallate with different modes of action have been demonstrated on diverse families of viruses, such as Retroviridae, Orthomyxoviridae and Flaviviridae and include important human pathogens like human immunodeficiency virus, influenza A virus and the hepatitis C virus. [3]

細胞データ

| Cell Lines | Assay Type | Concentration | Incubation Time | Formulation | Activity Description | PMID |
| --- | --- | --- | --- | --- | --- | --- |
| SH-SY5Y cells | NIjkT3BHfW6ldHnvckBie3OjeR?= | | | | M2W0OW5mfXKxcILveIVkfGmxbjDh[4FqdnO2IHLleIEu[W27bH;p[EBx\XC2aXTlJFEuPDJvaX7keYNm\CC2b4jpZ4l1gSCrbjDoeY1idiCVSD3TXVV[KGOnbHzzJIF{e2W|c3XkJIF{KGyjY4TheIUh\GWqeXTyc4dmdmG|ZTDy[Yxm[XOnLDDFR|UxRTBwMEO5PFch|ryP | MkO5NVkyOzh6NUm= |
| human MDA435/LCC6MDR cells | Mn:xSpVv[3Srb36gZZN{[Xl? | MXexNEDPxE1? | NHL5ZZk2KGSjeYO= | | MVXNc4R2dGG2aX;uJI9nKFBvZ4CgLJVvc26xd36gc5Jq\2mwKTD0doFve2[nY4Tl[EBqdiCqdX3hckBOTEF2M{WvUGNEPk2GUjDj[YxteyCjc4Pld5Nm\CCjczDy[ZZmenOrYnzlJI9nKHCjY3zpeIF5\WxicnXzbZN1[W6lZTDt[YF{fXKnZDDhd{BKSzVyIH\vdkBx[WOuaYThfIVtKGG2IEGwJJVOKGGodHXyJFUh\GG7czDifUBE\WyuVHn0[ZIhQTZiQYH1[Y92eyCjc4PhfUwhUUN3ME2wMlEzOjZizszN | M{G2flI2QTh3MUm1 |
| Sf9 cells | MkfqSpVv[3Srb36gZZN{[Xl? | | | | NGnvSHdKdmirYnn0bY9vKG:oIFjpd|YufGGpZ3XkJIh2dWGwIILlZ49u[mmwYX70JGRPVVRzIHX4dJJme3OnZDDpckBqdnOnY4SgV4Y6KGOnbHzzJIF{e2W|c3XkJIF{KHKnZIXjeIlwdiCrbjDEUmEhdWW2aInseJJidnOoZYLhd4Uh[WO2aY\peJkhfXOrbnegOUcu[mmxdHnufYxifGWmIES1MYJxKHWwbXX0bJlt[XSnZDDvdkBp\W2rbXX0bJlt[XSnZDDvcIlod263Y3zlc5Rq\GVic4Xid5Rz[XSnczDhcoQhYzOKXT3B[I9O\XRiYomgcIlyfWmmIIPjbY51cWyuYYTpc44h[2:3boTpcochdWW2aH;kMEBKSzVyPUCuOUDPxE1? | MVeyOVQxPjl2NB?= |
| human U937 cells | M3zQVGZ2dmO2aX;uJIF{e2G7 | | | | M4fmeWlvcGmkaYTpc44hd2ZidHXsc41memG|ZTDpckBpfW2jbjDVPVM4KGOnbHzzMEBKSzVyPUGg{txO | NF3lenQzOjRzM{i0OS=> |
| human HeLa cells | NIL6WJpHfW6ldHnvckBie3OjeR?= | | | | M3LIWGlvcGmkaYTpc44hd2ZidHXsc41memG|ZTDpckBpfW2jbjDI[WxiKGOnbHzzJJV{cW6pIEWnMWFCXCCFQ1egWGNIKEGJQzDBS2EhT1SWLUOnJIF{KHO3YoP0doF1\SCrbnP1ZoF1\WRiZn;yJFE2KG2rboOgdJJqd3JidH:g[Zh1\W6|aX;uJJJm[WO2aX;uJIZwdGyxd3XkJIJ6KGOxbYDveY5lKHejc3jveZQh[nlic4Dpck11\WyxbXXybYMhemWyZXH0JIFueGyrZnnjZZRqd25icILveI9kd2xuIFnDOVA:OS5yODFOwG0> | M1z6TFIzPDF|OES1 |
| CHO cells | NVi2dGc5S3m2b4TvfIlkyqCjc4PhfS=> | | NGnudGw1QCCq | | NXT3b2kzS3m2b4TvfIlkcXS7IHHnZYlve3RiQ1jPJINmdGy|IHX4dJJme3OrbnegU2FVWDGEMzDoZZBtd3S7cHWgNUBi\nSncjC0PEBpenNiYomg[ox2d3Knc3PlcoNmKGKjc3XkJGNmdGyWaYTldk1IdG9iYYPzZZktKEmFNUC9N{4zKM7:TR?= | NU\EXmt3OjN|Mke4O|c> |
| MDCK cells | MlTESpVv[3Srb36gZZN{[Xl? | | MXW0JIRigXN? | | MX3BcpRqfmm{YXygZYN1cX[rdImgZYdicW6|dDDpcoZtfWWwenGgRUB3cXK3czCoRU9{f2mwZT;PTE82OTF2NEWvNlAxPyiKMV6xLUkhV2h5IHnu[oVkfGWmIHnuJG1FS0tiY3XscJMh[XO|ZYPz[YQh[XNiaX7obYJqfGmxbjDv[kB3cXKjbDDy[ZBtcWOjdHnvckBi\nSncjC0JIRigXNiYomgdZVidnSrdHH0bZZmKFKWLWDDVkwhTUR3ME24MlMh|ryP | Mk[xNlIyOTV3OUG= |
| human HL60 cells | M4SyR3Bzd2yrZnXyZZRqd25iYYPzZZk> | | MVmzJIRigXN? | | MnLWRY51cXC{b3zp[oVz[XSrdnWgZYN1cX[rdImgZYdicW6|dDDoeY1idiCKTE[wJINmdGy|IHHmeIVzKDNiZHH5d{whUUN3ME25MlQh|ryP | NGizVVIyQDZ7M{CyNC=> |
| HSC-T6 cells | MlLlSpVv[3Srb36gZZN{[Xl? | | NFP2Zng1QCCq | | MmDhRY51cW[rYoLveIlkKGGldHn2bZR6KGGpYXnud5QhemG2IFjTR{1VPiClZXzsd{Bie3Onc4Pl[EBieyCrbnjpZol1cW:wIH;mJJBzd2yrZnXyZZRqd25iYX\0[ZIhPDhiaILzJIJ6KEK{ZGWgbY5kd3Kyb4LheIlwdiCjc4PhfUwhUUN3ME25Mlkh|ryP | MlPvNlE2ODR6NEi= |
| mouse 3T3-L1 cells | NYDNXlZ2TnWwY4Tpc44h[XO|YYm= | | | | NHnITo9KdmirYnn0bY9vKG:oIFe2VGQudWWmaXH0[YQhVkGGUFigdJJw\HWldHnvckBqdiCvb4Xz[UA{XDNvTEGgZ4VtdHNuIFnDOVA:OjVizszN | M1HhN|E5OzF|M{C4 |
| mouse RAW264.7 cells | NV70bVVJTnWwY4Tpc44h[XO|YYm= | | M4X3UlUh\GG7cx?= | | MYfJcohq[mm2aX;uJI9nKFKDTlvMMYlv\HWlZXSgc5N1\W:lbHHzeI9o\W6nc3nzJIlvKG2xdYPlJHJCXzJ4ND63JINmdGy|IHHzd4V{e2WmIHHzJIRm[3KnYYPlJIlvKFSUQWCtdI9{cXSrdnWgcZVtfGlvboXjcIVifGWmIHPlcIx{KGGodHXyJFUh\GG7czygTWM2OD1{OT64JO69VQ>? | NWTY[W9mOjF2NU[1NlE> |
| HSC-T6 cells | MlS4VJJwdGmoZYLheIlwdiCjc4PhfS=> | | | | M{Hyc2FvfGmycn;sbYZmemG2aY\lJIFkfGm4aYT5JIFo[Wmwc4SgdoF1KEiVQz3UOkBk\WyuczDhd5Nme3OnZDDhd{Bz\WS3Y4Tpc44hcW5iY3XscEB3cWGkaXzpeJktKEmFNUC9NlkvQCEQvF2= | NIHib4ozPTN{MkS1OS=> |
| human A431 cells | Mlf5VJJwdGmoZYLheIlwdiCjc4PhfS=> | | NGK5eWs1QCCq | | MX\BcpRqeHKxbHnm[ZJifGm4ZTDhZ5Rqfmm2eTDh[4FqdnO2IHj1cYFvKEF2M{GgZ4VtdHNib4\ldoV5eHKnc4PpcochTXKkQjDpckB{\XK3bT3mdoVmKG2nZHn1cUBie3Onc4Pl[EBieyClZXzsJJZq[WKrbHn0fUBi\nSncjC0PEBpenNiYomgW3NVNTFiYYPzZZktKEWFNUC9N|gh|ryP | MnOxNlQ1PTZyMES= |
| human MDA-MB-231 cells | MXPQdo9tcW[ncnH0bY9vKGG|c3H5 | | Mn23NlQhcA>? | | MUXBcpRqeHKxbHnm[ZJifGm4ZTDhZ5Rqfmm2eTDh[4FqdnO2IHj1cYFvKE2GQT3NRk0zOzFiY3XscJMh[W[2ZYKgNlQhcHK|IHL5JG1VXCCjc4PhfS=> | MnvxNlI1PTl{MEi= |
| human HepG2 cells | NHHHbY5HfW6ldHnvckBie3OjeR?= | | MVqyOEBp | | M{KyTWlvcGmkaYTpc44hd2Zib3zlbYMh[WOrZD3pcoR2[2WmIITybYdtgWOncnnk[UBwfmW{LXHjZ5VufWyjdHnvckBqdiCqdX3hckBJ\XCJMjDj[YxteyCrbnP1ZoF1\WRiZn;yJFI1KGi{czDy[YxifGm4ZTD0c{B2dnS{ZXH0[YQh[2:wdILvcC=> | NFq1Z5czOTh{NE[5NC=> |
| human HepG2 cells | MXvGeY5kfGmxbjDhd5NigQ>? | | MWOyOEBp | | NY\kXYh6SW62aX;4bYRidnRiYXP0bZZqfHliaX6gbJVu[W5iSHXwS|Ih[2WubIOgZZN{\XO|ZXSgZZMhemWmdXP0bY9vKG:oIH;s[YlkKGGlaXStbY5lfWOnZDDSU3Mh\2WwZYLheIlwdiCrbnP1ZoF1\WRiZn;yJFI1KGi{czDifUBFUEOILVTBJIJie2WmIH\seY9zcW2ndILpZ{Bie3OjeTDy[YxifGm4ZTD0c{B2dnS{ZXH0[YQh[2:wdILvcC=> | MVOyNVgzPDZ7MB?= |
| human Caco-2 cells | NUDUfo1PT3Kxd4ToJIlvcGmkaYTpc44h[XO|YYm= | NVrHRXRvOjVizszN | MWi2JIRigXN? | | M3zkfWdzd3e2aDDpcohq[mm2aX;uJI9nKGi3bXHuJGNi[29vMjDj[YxteyCjdDCyOUB2VSCjZoTldkA3KGSjeYO= | NWC4cVBwOTh|MkS3OlM> |
| mouse 3T3 cells | Mnn2SpVv[3Srb36gZZN{[Xl? | NIfQSY8yNTJyIN88US=> | MYKxNkBp | | M1rwUmFvfGmvaXfyZZRwenliYXP0bZZqfHliYXfhbY5{fCCVd3nzd{BidGKrbn:gcY92e2ViM2SzJINmdGy|IHHzd4V{e2WmIHHzJIlv[3KnYYPlJI9nKGOnbHygcpVu[mW{czDheEAyKHSxIEKwJJVOKGGodHXyJFEzKGi{czDifUBjgSC|Y4LheINpNXexdX7kJIF{e2G7 | MXuyNVA5ODZ2Mh?= |
| human MDA-MB-231 cells | NV7oSpVvWHKxbHnm[ZJifGmxbjDhd5NigQ>? | | M4D4clI1KGh? | | NUHzN|QySW62aYDyc4xq\mW{YYTpeoUh[WO2aY\peJkh[WejaX7zeEBpfW2jbjDNSGEuVUJvMkOxJINmdGy|IHHmeIVzKDJ2IHjyd{BjgSCPVGSgZZN{[Xl? | NVzTWGVyOjJ2NUmyNFg> |
| human Jurkat cells | Ml7MSpVv[3Srb36gZZN{[Xl? | NXL3bZBoOTBvNUWg{txO | NWf6NZdROjRiaB?= | | M2\MXGlvcGmkaYTpc44hd2ZiVF7GZYxxcGFvaX7keYNm\CCQRj3rZZBx[UJiYXP0bZZifGmxbjDpckBpfW2jbjDKeZJs[XRiY3XscJMh[XRiMUCgeI8hPTVidV2gZYZ1\XJiMkSgbJJ{KGK7IHXs[YN1em:yaH;y[ZRq[yCvb3LpcIl1gSC|aHnmeEBie3OjeR?= | NFrCc5YzOTB6ME[0Ni=> |
| human K562 cells | NXP2Z|A4TnWwY4Tpc44h[XO|YYm= | | MWqyOEBp | | NYXHbGozUW6mdXP0bY9vKG:oIE[3JItF[SCuYX3pcolvKHKnY3XweI9zKGW6cILld5Nqd25iaX6gbJVu[W5iS{W2NkBk\WyuczDh[pRmeiB{NDDodpMh[nliZnzve{BkgXSxbXX0dpkh[W6jbInzbZM> | MVOyNVQ{PDZyMx?= |
| human HL60 cells | NVK0Nm41TnWwY4Tpc44h[XO|YYm= | | NVnETY9IOjRiaB?= | | MWDJcoR2[3Srb36gc4YhPjdia1ThJIxidWmwaX6gdoVk\XC2b4Kg[ZhxemW|c3nvckBqdiCqdX3hckBJVDZyIHPlcIx{KGGodHXyJFI1KGi{czDifUBndG:5IHP5eI9u\XS{eTDhcoFtgXOrcx?= | M4Lid|IyPDN2NkCz |
| human Raji cells | NXfBOVVRT3Kxd4ToJIlvcGmkaYTpc44h[XO|YYm= | M1XWSVExKM7:TR?= | NWfD[IZxPDhiaB?= | | MmDyS5Jwf3SqIHnubIljcXSrb36gZYdicW6|dDDoeY1idiCUYXrpJINmdGy|IHHzd4V{e2WmIHHzJINmdGxidnnhZoltcXS7IHH0JFExKHWPIHHmeIVzKDR6IHjyd{BjgSC2conwZY4h[my3ZTDiZZNm\CCvaXPyc5Nkd3CrYzDhcoFtgXOrczDpckBxemW|ZX7j[UBw\iC|dYDldo95cWSnIHTpd412fGG|ZR?= | M1zNRVIyPDN2NkCz |
| human PC3 cells | MkmwVJJwdGmoZYLheIlwdiCjc4PhfS=> | NXKye4xiOTBvMUCwJO69VQ>? | MnWwOFghcA>? | | MkHRRY51cXC{b3zp[oVz[XSrdnWgZYN1cX[rdImgZYdicW6|dDDoeY1idiCSQ{OgZ4VtdHNiYYSgNVAhfG9iMUCwJJVOKGGodHXyJFQ5KGi{czDifUBp\W2xY4n0c41mfHKrYzDj[YxtKGOxdX70bY5oKG2ndHjv[C=> | M4P2NFI{QDZ5MU[3 |
| human A431 cells | Ml7MSpVv[3Srb36gZZN{[Xl? | NF25[lYyODBizszN | MnH4NVIhcA>? | | M4jldXJm\HWldHnvckBw\iClbIXzeIVzcW6pIH;mJGdHWC2JUFmgbY4hdGmyaXSgdoFnfHNib3[gbJVu[W5iQUSzNUBk\WyuczDheEAyODBidV2gZYZ1\XJiMUKgbJJ{KGK7IHPvcoZw[2GuIH3pZ5Jwe2OxcHnjJIFv[Wy7c3nz | MknwNlQ1PTZyMES= |
| human SKBR3 cells | M2nHWWZ2dmO2aX;uJIF{e2G7 | NGHKdVYzODEQvF2= | NVX1OVVQOzBibXnudy=> | | MXLEc5dvemWpdXzheIlwdiCxZjDFdoJDOiCycn;0[YlvKGW6cILld5Nqd25iaX6gbJVu[W5iU1vCVlMh[2WubIOgbY4he2W{dX2g[pJm\SCvZXTpeY0h[XRiMkCwJJVOKGGodHXyJFMxKG2rboOgZpkhcW2vdX7v[ox2d3Knc3PlcoNmKHO2YXnubY5oNWKjc3XkJINwdm[xY3HsJI1q[3Kxc3PvdIlkKGGwYXz5d4l{ | NHnWPJkzPDR3NkCwOC=> |
| human 293T cells | NXyzNZJRTnWwY4Tpc44h[XO|YYm= | NH:2cJg2OCEQvF2= | M4\BXlEzKGh? | | M3\6OGlvcGmkaYTpc44hd2ZiRGnST|FCKGmwIHj1cYFvKDJ7M2SgZ4VtdHNiYYPz[ZN{\WRiYYOgdoVlfWO2aX;uJI9nKEeOSUGgeJJidnOlcnnweIlwdiCjY4Tpeol1gSCjdDC1NEB2VSCjZoTldkAyOiCqcoOgZpkh\HWjbD3seYNq\mW{YYPlJJJmeG:{dHXyJIdmdmViYYPzZZk> | MVSyNlE2PDZ4NB?= |
溶解度 (25°C)
体外
Ethanol
83 mg/mL (181.07 mM) warming
DMSO
72 mg/mL warmed (157.07 mM)
Water
23 mg/mL warmed (50.17 mM)
* 溶解度測定はSelleck技術部門によって行われており、その他文献に示されている溶解度と差異がある可能性がありますが、同一ロットの生産工程で起きる正常な現象ですからご安心ください。
化学情報
分子量
458.37
化学式

C22H18O11

CAS No.
989-51-5
保管
粉
in solvent
別名
EGCG
便利ツール
モル濃度計算器
モル濃度計算器
求めたい質量、体積または濃度を計算してください。
質量 (g) = 濃度 (mol/L) x 体積 (L) x 分子量 (g/mol)
モル濃度計算器方程式
*貯蔵液を準備するとき、常に、オンであるとわかる製品のバッチに特有の分子量を使って、を通してラベルとMSDS/COA(製品ページで利用可能な)。
希釈計算器
希釈計算器
貯蔵液を準備するために必要な希釈率を計算してください。Selleck希釈計算器は、以下の方程式に基づきます:
開始濃度 x 開始体積 = 最終濃度 x 最終体積
希釈の計算式
この方程式は、一般に略語を使われます:C1V1 = C2V2 ( 入力 出力 )
常に貯蔵液を準備するとき、小びんラベルとMSDS/COA(オンラインで利用できる)で見つかる製品のバッチに特有の分子量を使ってください。
分子量計算器
分子量计算器
そのモル質量と元素組成を計算するために、合成物の化学式を入力してください:
チップス: 化学式は大文字と小文字の区別ができます。C10H16N2O2 c10h16n2o2
モル濃度計算器
臨床試験
| NCT Number | Recruitment | Conditions | Sponsor/Collaborators | Start Date | Phases |
| --- | --- | --- | --- | --- | --- |
| NCT03624556 | Recruiting | Down Syndrome|Fragile X Syndrome | Parc de Salut Mar|Hospital Infantil Universitario Niño Jesús Madrid Spain|Instituto Hispalense de Pediatría Sevilla Spain|Hospital Universitario Marqués de Valdecilla|Institut Jerome Lejeune | January 29 2018 | Not Applicable |
| NCT03624556 | Recruiting | Down Syndrome|Fragile X Syndrome | Parc de Salut Mar|Hospital Infantil Universitario Niño Jesús Madrid Spain|Instituto Hispalense de Pediatría Sevilla Spain|Hospital Universitario Marqués de Valdecilla|Institut Jerome Lejeune | January 29 2018 | Not Applicable |
| NCT02891538 | Recruiting | Colon Cancer | The University of Texas Health Science Center at San Antonio | January 31 2017 | Early Phase 1 |
| NCT02891538 | Recruiting | Colon Cancer | The University of Texas Health Science Center at San Antonio | January 31 2017 | Early Phase 1 |
| NCT02832271 | Recruiting | Endometriosis | Chinese University of Hong Kong | December 8 2016 | Phase 2 |
| NCT02832271 | Recruiting | Endometriosis | Chinese University of Hong Kong | December 8 2016 | Phase 2 |
技術サポート
ストックの作り方、阻害剤の保管方法、細胞実験や動物実験の際に注意すべき点など、製品を取扱う時に問い合わせが多かった質問に対しては取扱説明書でお答えしています。
他に質問がある場合は、お気軽にお問い合わせください。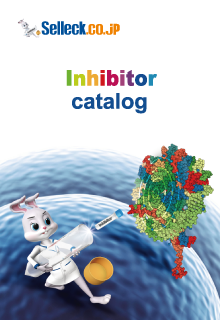 相関Telomerase製品