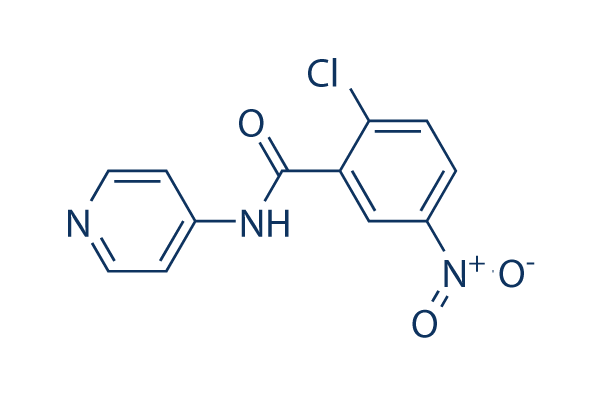 分子量(MW):277.66
T0070907 is a potent and selective PPARγ inhibitor with IC50 of 1 nM in a cell-free assay, with a >800-fold selectivity over PPARα and PPARδ.
カスタマーフィードバック(2)
PPARγ mRNA expression and activated PPARγ in nuclear extraction in monocytes after treatment with 10 μM atorvastatin for 24 h in the presence or absence of T0070907 (10 nM) or rosiglitazone (100 nM).§P<0.05 for atorvastatin versus vehicle. *P<0.05 for atorvastatin plus the indicated chemicals versus atorvastatin.

Int Immunopharmacol, 2015, 26(1): 58-64. T0070907 purchased from Selleck.
生物活性
製品説明
T0070907 is a potent and selective PPARγ inhibitor with IC50 of 1 nM in a cell-free assay, with a >800-fold selectivity over PPARα and PPARδ.
ターゲット

PPARγ [1]
(Cell-free assay)
1 nM

体外試験

T0070907 is a potent and selective PPARγ antagonist. With an apparent binding affinity (concentration at 50% inhibition of [3H] rosiglitazone binding or IC50) of 1 nM, T0070907 covalently modifies PPARγ on cysteine 313 in helix 3 of human PPARγ2. T0070907 blocks PPARγ function in both cell-based reporter gene and adipocyte differentiation assays. Consistent with its role as an antagonist of PPARγ, T0070907 blocks agonist-induced recruitment of coactivator-derived peptides to PPARγ in a homogeneous time-resolved fluorescence-based assay and promotes recruitment of the transcriptional corepressor NCoR to PPARγ in both glutathione S-transferase pull-down assays and a PPARγ/retinoid X receptor (RXR) α-dependent gel shift assay. Studies with mutant receptors suggest that T0070907 modulates the interaction of PPARγ with these cofactor proteins by affecting the conformation of helix 12 of the PPARγ ligand-binding domain. Interestingly, whereas the T0070907-induced NCoR recruitment to PPARγ/RXRα heterodimer can be almost completely reversed by the simultaneous treatment with RXRα agonist LGD1069, T0070907 treatment has only modest effects on LGD1069-induced coactivator recruitment to the PPARγ/RXRα heterodimer. [1] T0070907 treatment inhibits proliferation, invasion and migration but does not significantly affect apoptosis. Molecular inhibition using a dominant negative (Δ462) receptor yields similar results. T007 also mediates a dose-dependent decrease in phosphorylation of PPARγ, and its ability to bind to DNA, and may directly affect mitogen-activated protein kinase signaling. [2]

細胞データ

| Cell Lines | Assay Type | Concentration | Incubation Time | Formulation | Activity Description | PMID |
| --- | --- | --- | --- | --- | --- | --- |
| african green monkey OR6 cells | NYS3[VNzS3m2b4TvfIlkyqCjc4PhfS=> | | | | MVjDfZRwfG:6aXPpeJkh[WejaX7zeEBi\nKrY3HuJIdz\WWwIH3vcotmgSCRUk[gZ4VtdHNiYX\0[ZIhPzJiaILzJIJ6KFeVVEGgZZN{[XluIFPDOVA:Oi55IN88US=> | NXrFc21KOjN6OUGxPFM> |

体内試験
Lipopolysaccharide preconditioning significantly attenuates the development of renal dysfunction, hepatocellular injury, and circulatory failure as well as the increase in the plasma levels of interleukin-1 [beta] caused by severe endotoxemia. T0070907 can attenuate all of these beneficial effects afforded by preconditioning with lipopolysaccharide [3]
お薦めの試験操作(参考用のみ)
キナーゼ試験:[1]

+ 展開

Ligand Binding Assay:

To determine the binding affinity of T0070907 to the PPARs, scintillation proximity assay (SPA) is performed with the following modifications. A 90-μl reaction contains SPA buffer (10 mm KH

2

PO

4

, 10 mm KH

2

PO

4

, 2 mm EDTA, 50 mm NaCl, 1 mm dithiothreitol, 2 mmCHAPS, 10% (v/v) glycerol, pH 7.1), 50 ng of GST-PPARγ (or 150 ng of GST-PPARα, GST-PPARδ), 5 nm

3

H-labeled radioligands, and 5 μl of T0070907 in Me

2

SO. After incubation for 1 h at room temperature, 10 μl of polylysine-coated SPA beads (at 20 mg/ml in SPA buffer) are added, and the mixtureis incubated for 1 h before reading in Packard Topcount. [

3

H]Rosiglitazone is used for PPARγ, and [

3

H]GW2433 is used for PPARα and PPARδ.

細胞試験: [2]

+ 展開

細胞株: MCF-7 cells
濃度: 20 μM and higher concentrations
反応時間: 48 h
実験の流れ: MTS assay


(参考用のみ)

動物試験:[3]

+ 展開

動物モデル: Preconditioning is performed by administering a low dose (1 mg/kg) of Escherichia coli LPS (serotype 0.127:B8) intraperitoneally 24 hr before the induction of severe endotoxemia.
製剤: 10% v/v dimethylsulfoxide [DMSO], 20–25% v/v DMSO, or saline
投薬量: 1 mg/kg
投与方法: intraperitoneally


(参考用のみ)
溶解度 (25°C)
体外
DMSO
26 mg/mL (93.63 mM)
Water
Insoluble
Ethanol
Insoluble
体内
左から(NMPから)右の順に溶剤を製品に加えます(文献ではなく、Selleckの実験によるデータ):
5% DMSO+45% PEG 300+ddH2O
混合させたのち直ちに使用することを推奨します。
9mg/mL
* 溶解度測定はSelleck技術部門によって行われており、その他文献に示されている溶解度と差異がある可能性がありますが、同一ロットの生産工程で起きる正常な現象ですからご安心ください。
化学情報
分子量
277.66
化学式

C12H8ClN3O3

CAS No.
313516-66-4
保管
粉
in solvent
別名
N/A
便利ツール
モル濃度計算器
モル濃度計算器
求めたい質量、体積または濃度を計算してください。
質量 (g) = 濃度 (mol/L) x 体積 (L) x 分子量 (g/mol)
モル濃度計算器方程式
*貯蔵液を準備するとき、常に、オンであるとわかる製品のバッチに特有の分子量を使って、を通してラベルとMSDS/COA(製品ページで利用可能な)。
希釈計算器
希釈計算器
貯蔵液を準備するために必要な希釈率を計算してください。Selleck希釈計算器は、以下の方程式に基づきます:
開始濃度 x 開始体積 = 最終濃度 x 最終体積
希釈の計算式
この方程式は、一般に略語を使われます:C1V1 = C2V2 ( 入力 出力 )
常に貯蔵液を準備するとき、小びんラベルとMSDS/COA(オンラインで利用できる)で見つかる製品のバッチに特有の分子量を使ってください。
分子量計算器
分子量计算器
そのモル質量と元素組成を計算するために、合成物の化学式を入力してください:
チップス: 化学式は大文字と小文字の区別ができます。C10H16N2O2 c10h16n2o2
モル濃度計算器
技術サポート
ストックの作り方、阻害剤の保管方法、細胞実験や動物実験の際に注意すべき点など、製品を取扱う時に問い合わせが多かった質問に対しては取扱説明書でお答えしています。
他に質問がある場合は、お気軽にお問い合わせください。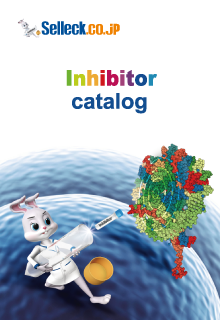 相関PPAR製品