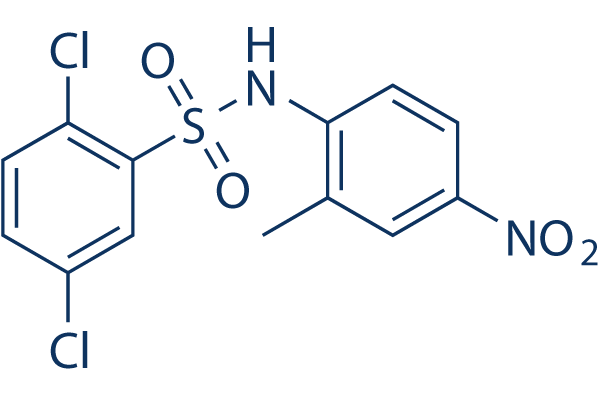 分子量(MW):361.20
FH535 is a Wnt/β-catenin signaling inhibitor and also a dual PPARγ and PPARδ antagonist.
カスタマーフィードバック(1)
BrdU assay was used to detect the proliferation level of cells in four groups: the control group, FH535 (15 μM) group, NAM (50 mM) + FH535 (15 μM) group, REV (100 μM) + FH535 (15 μM) group. A. At the next day, the cells were fixed and immunostained for BrdU (red) and with DAPI (blue) then merged the two pictures of the same field. The scale bar is 100 μm. B. The total numbers of cells (DAPI-staining cells) per field in the four groups. C. BrdU-positive rate of C2C12 cells was analyzed. Each value represents the mean ± standard error of the mean of triplicate determinations from three independent cell preparations. *P<0.05, **P<0.01, ***P<0.001 vs the value of the control; n=3; error bars ± standard error of means. Statistical analysis was conducted using one-way ANOVA. Original magnification is ×200.

Int J Clin Exp Pathol, 2016, 9(3):2857-2868.. FH535 purchased from Selleck.
Wnt/beta-catenin阻害剤の選択性比較
生物活性
| | |
| --- | --- |
| 製品説明 | FH535 is a Wnt/β-catenin signaling inhibitor and also a dual PPARγ and PPARδ antagonist. |
| ターゲット | |
| 体外試験 | FH535 antagonizes β-Catenin/Tcf–mediated transcription, and inhibits recruitment of the coactivators GRIP1 and β-catenin to PPARδ and PPARγ. FH535 shows selective anti-proliferation effect on some cancer cells expressing high or active Wnt/β-catenin pathway. [1] FH535 increases cigarette smoke condensate cytotoxicity, and causes changes in β-catenin and EGR-1 signaling. [2] FH535 has potential therapeutic value in treatment of liver cancer by targeting liver cancer stem cells and hepatocellular carcinoma cell lines. [3] |
お薦めの試験操作(参考用のみ)
キナーゼ試験:[1]

+ 展開

High-throughput Library Screen:

Three copies of the optimized or mutated Tcf-binding element from TOPFLASH or FOPFLASH driving a secreted alkaline phosphatase reporter gene are cloned into pCEP4 plasmid, replacing the cytomegalovirus promoter. The plasmids are transfected into HepG2 cells, and hygromycin-resistant clones are pooled. Library screening is done at 20 μmol/L concentration in HepG2 serum-free media. Hits are tested in the HCT116 cell line for inhibition of TOPFLASH luciferase activity but not for inhibition of a reporter activity controlled from β-actin promoter.

細胞試験: [1]

+ 展開

細胞株: HCT116, SW48, RKO, LoVo, COLO205, IEC6, A427, HCC15, NCI-H1703, A549, HepG2, Hep3b, Huh7, Fibroblasts
濃度: 30 μM
反応時間: 48 hours
実験の流れ: Cell viability is determined by the modified 3H-thymidine incorporation assay. Briefly, cells are plated in 96-well microplates for 24 h and treated in triplicate with various concentrations of the test compound. After 48 h of compound exposure, the cells are incubated for an additional 48 h in compound-free medium. The cells are then incubated in medium containing 3H-thymidine for 24 h, washed and mixed with the scintillant in the 96-well plate. Individual wells are counted with a 96-well scintillation counter and the LC50 is calculated.


(参考用のみ)
溶解度 (25°C)
体外
DMSO
72 mg/mL (199.33 mM) warming
Water
Insoluble
Ethanol
Insoluble
* 溶解度測定はSelleck技術部門によって行われており、その他文献に示されている溶解度と差異がある可能性がありますが、同一ロットの生産工程で起きる正常な現象ですからご安心ください。
化学情報
分子量
361.20
化学式

C13H10Cl2N2O4S

CAS No.
108409-83-2
保管
粉
in solvent
別名
N/A
便利ツール
モル濃度計算器
モル濃度計算器
求めたい質量、体積または濃度を計算してください。
質量 (g) = 濃度 (mol/L) x 体積 (L) x 分子量 (g/mol)
モル濃度計算器方程式
*貯蔵液を準備するとき、常に、オンであるとわかる製品のバッチに特有の分子量を使って、を通してラベルとMSDS/COA(製品ページで利用可能な)。
希釈計算器
希釈計算器
貯蔵液を準備するために必要な希釈率を計算してください。Selleck希釈計算器は、以下の方程式に基づきます:
開始濃度 x 開始体積 = 最終濃度 x 最終体積
希釈の計算式
この方程式は、一般に略語を使われます:C1V1 = C2V2 ( 入力 出力 )
常に貯蔵液を準備するとき、小びんラベルとMSDS/COA(オンラインで利用できる)で見つかる製品のバッチに特有の分子量を使ってください。
分子量計算器
分子量计算器
そのモル質量と元素組成を計算するために、合成物の化学式を入力してください:
チップス: 化学式は大文字と小文字の区別ができます。C10H16N2O2 c10h16n2o2
モル濃度計算器
技術サポート
ストックの作り方、阻害剤の保管方法、細胞実験や動物実験の際に注意すべき点など、製品を取扱う時に問い合わせが多かった質問に対しては取扱説明書でお答えしています。
他に質問がある場合は、お気軽にお問い合わせください。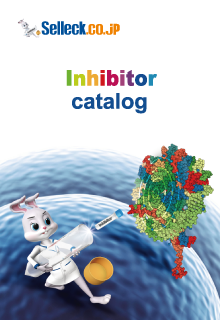 相関Wnt/beta-catenin製品