CHIR-99021 (CT99021) HCl
For research use only. Not for use in humans.
製品コードS2924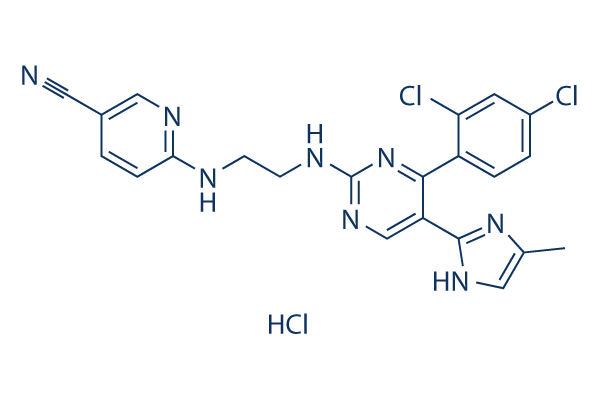 CAS No. 1797989-42-4
CHIR-99021 (CT99021) HCl is hydrochloride of CHIR-99021, which is a GSK-3α/β inhibitor with IC50 of 10 nM/6.7 nM; CHIR-99021 shows greater than 500-fold selectivity for GSK-3 versus its closest homologs Cdc2 and ERK2. CHIR-99021 is a potent pharmacological activators of the Wnt/beta-catenin signaling pathway. CHIR-99021 significantly rescues light-induced autophagy and augments GR, RORα and autophagy-related proteins.
生物活性
製品説明
CHIR-99021 (CT99021) HCl is hydrochloride of CHIR-99021, which is a GSK-3α/β inhibitor with IC50 of 10 nM/6.7 nM; CHIR-99021 shows greater than 500-fold selectivity for GSK-3 versus its closest homologs Cdc2 and ERK2. CHIR-99021 is a potent pharmacological activators of the Wnt/beta-catenin signaling pathway. CHIR-99021 significantly rescues light-induced autophagy and augments GR, RORα and autophagy-related proteins.
ターゲット

GSK-3β [1]
(Cell-free assay)
GSK-3α [1]
(Cell-free assay)
6.7 nM
10 nM

体外試験

CHIR-99021 shows greater than 500-fold selectivity for GSK-3 versus its closest homologs CDC2 and ERK2, as well as other protein kinases. Furthermore, CHIR-99021 shows only weak binding to a panel of 22 pharmacologically relevant receptors and little inhibitory activity against a panel of 23 nonkinase enzymes. CHIR-99021 induces the activation of glycogen synthase (GS) in insulin receptor-expressing CHO-IR cells with EC50 of 0.763 μM. [1] In addition to simulating the actions of insulin, inhibition of GSK-3 by CHIR-99021 (3 μM) increases free cytosolic β-catenin by 1.9-fold, mimicking the canonical Wnt signaling pathway in 3T3-L1 preadipocytes. During any of the first 3 days of differentiation, CHIR-99021 treatment inhibits the preadipocyte differentiation with IC50 of 0.3 μM by blocking induction of CCAAT/enhancer-binding protein α (C/EBPα) and peroxisome proliferator-activated receptor γ (PPARγ). [2] Unlike lithium chloride and AR-A014418, CHIR-99021 treatment does not reduce the viability of INS-1E cells even at high concentrations. Instead, CHIR-99021 robustly increases the rate of proliferation of INS-1E cells in a dose-dependent manner, and significantly inhibits INS-E cell death induced by high glucose and high palmitate in a concentration-dependent manner. CHIR-99021 promotes primary beta cell replication in isolated rat islets at concentrations as low as 1 μM, with 2-3 fold increase of cell replication at 5 μM of CHIR-99021 treatment. [3]

細胞データ

| Cell Lines | Assay Type | Concentration | Incubation Time | Formulation | Activity Description | PMID |
| --- | --- | --- | --- | --- | --- | --- |
| NCI-H1581 | NHfqXYxIem:5dHigTY5pcWKrdHnvckBCe3OjeR?= | | | | NEPuN2JKSzVyPUmwNE4zOzFizszN | Mlq2QIEhfGG{Z3X0QUdg[myjbnunJIhz\WZ;J3j0eJB{Qi9xd4f3MoVjcS6jYz71b{9kcGWvYnyvZ49ueG:3bnTfdoVxd3K2X3PhdoQwS0iHTVLMOFEzOTR{Lze+V2FPT0WUPD;hQi=> |
| NCI-H1155 | MoHjS5Jwf3SqIFnubIljcXSrb36gRZN{[Xl? | | | | M2e3SmlEPTB;OEG4MlA2QSEQvF2= | MY[8ZUB1[XKpZYS9K39jdGGwazegbJJm\j1paIT0dJM7Ny:5d4eu[YJqNmGlLoXrM4Np\W2kbD;jc41xd3WwZG;y[ZBwenShY3Hy[E9EUEWPQly0NVIyPDJxJ{7TRW5ITVJ:L3G+ |
| BC-3 | Mm\jS5Jwf3SqIFnubIljcXSrb36gRZN{[Xl? | | | | NFzlSY9KSzVyPUiwOU4zODNizszN | MWG8ZUB1[XKpZYS9K39jdGGwazegbJJm\j1paIT0dJM7Ny:5d4eu[YJqNmGlLoXrM4Np\W2kbD;jc41xd3WwZG;y[ZBwenShY3Hy[E9EUEWPQly0NVIyPDJxJ{7TRW5ITVJ:L3G+ |
| KARPAS-422 | NVvQSmE6T3Kxd4ToJGlvcGmkaYTpc44hSXO|YYm= | | | | NGX2cZFKSzVyPUe4PU4{OTVizszN | NHPzWWc9[SC2YYLn[ZQ:L1:kbHHub{chcHKnZk2nbJR1eHN8Lz;3e5cv\WKrLnHjMpVsN2OqZX3icE9kd22yb4Xu[H9z\XCxcoTfZ4Fz\C:FSFXNRmw1OTJzNEKvK|5USU6JRWK8M4E, |
| DEL | MXTHdo94fGhiSX7obYJqfGmxbjDBd5NigQ>? | | | | MULJR|UxRTdyMD64N|gh|ryP | M{X0dlxiKHSjcnfleF0oZ2KuYX7rK{BpemWoPTfoeJRxezpxL4f3e{5m[mlwYXOueYsw[2inbXLsM4NwdXCxdX7kY5JmeG:{dG;jZZJlN0OKRV3CUFQyOjF2Mj:nQnNCVkeHUkyvZV4> |
| KM-H2 | MVLHdo94fGhiSX7obYJqfGmxbjDBd5NigQ>? | | | | M33MbGlEPTB;Nkm5MlA2QSEQvF2= | Mn[2QIEhfGG{Z3X0QUdg[myjbnunJIhz\WZ;J3j0eJB{Qi9xd4f3MoVjcS6jYz71b{9kcGWvYnyvZ49ueG:3bnTfdoVxd3K2X3PhdoQwS0iHTVLMOFEzOTR{Lze+V2FPT0WUPD;hQi=> |
| U-87-MG | NXO2cGl4T3Kxd4ToJGlvcGmkaYTpc44hSXO|YYm= | | | | NF;CSXhKSzVyPU[5OE42QDVizszN | M3HYWlxiKHSjcnfleF0oZ2KuYX7rK{BpemWoPTfoeJRxezpxL4f3e{5m[mlwYXOueYsw[2inbXLsM4NwdXCxdX7kY5JmeG:{dG;jZZJlN0OKRV3CUFQyOjF2Mj:nQnNCVkeHUkyvZV4> |
| NCI-SNU-1 | MVvHdo94fGhiSX7obYJqfGmxbjDBd5NigQ>? | | | | NE\yXndKSzVyPU[5NE4yPzJizszN | MXm8ZUB1[XKpZYS9K39jdGGwazegbJJm\j1paIT0dJM7Ny:5d4eu[YJqNmGlLoXrM4Np\W2kbD;jc41xd3WwZG;y[ZBwenShY3Hy[E9EUEWPQly0NVIyPDJxJ{7TRW5ITVJ:L3G+ |
| NCI-SNU-16 | M3;YRmdzd3e2aDDJcohq[mm2aX;uJGF{e2G7 | | | | NFrrXXBKSzVyPU[4NE41PjJizszN | NYXjdJpzRGFidHHy[4V1RSehYnzhcosoKGi{ZX[9K4h1fHC|Oj:ve5d4NmWkaT7hZ{52cy:laHXtZoww[2:vcH;1coRgemWyb4L0Y4NiemRxQ1jFUWJNPDF{MUSyM{c,W0GQR1XSQE9iRg>? |
| TUR | NEPWU4dIem:5dHigTY5pcWKrdHnvckBCe3OjeR?= | | | | NUK3[WExUUN3ME22O|EvOzJ{IN88US=> | MXe8ZUB1[XKpZYS9K39jdGGwazegbJJm\j1paIT0dJM7Ny:5d4eu[YJqNmGlLoXrM4Np\W2kbD;jc41xd3WwZG;y[ZBwenShY3Hy[E9EUEWPQly0NVIyPDJxJ{7TRW5ITVJ:L3G+ |
| IM-9 | NGHJS2pIem:5dHigTY5pcWKrdHnvckBCe3OjeR?= | | | | MXjJR|UxRTZ3MT61OFEh|ryP | MXi8ZUB1[XKpZYS9K39jdGGwazegbJJm\j1paIT0dJM7Ny:5d4eu[YJqNmGlLoXrM4Np\W2kbD;jc41xd3WwZG;y[ZBwenShY3Hy[E9EUEWPQly0NVIyPDJxJ{7TRW5ITVJ:L3G+ |
| L-363 | MYHHdo94fGhiSX7obYJqfGmxbjDBd5NigQ>? | | | | M4LMb2lEPTB;NkS4MlA3PCEQvF2= | MYK8ZUB1[XKpZYS9K39jdGGwazegbJJm\j1paIT0dJM7Ny:5d4eu[YJqNmGlLoXrM4Np\W2kbD;jc41xd3WwZG;y[ZBwenShY3Hy[E9EUEWPQly0NVIyPDJxJ{7TRW5ITVJ:L3G+ |
| NCI-H226 | NHfvRYFIem:5dHigTY5pcWKrdHnvckBCe3OjeR?= | | | | NUTZT3J6UUN3ME22NlgvOzV|IN88US=> | M2\TOlxiKHSjcnfleF0oZ2KuYX7rK{BpemWoPTfoeJRxezpxL4f3e{5m[mlwYXOueYsw[2inbXLsM4NwdXCxdX7kY5JmeG:{dG;jZZJlN0OKRV3CUFQyOjF2Mj:nQnNCVkeHUkyvZV4> |
| HT | M3ryeWdzd3e2aDDJcohq[mm2aX;uJGF{e2G7 | | | | Mkf1TWM2OD14MkKuO|g2KM7:TR?= | NWjYVVZ2RGFidHHy[4V1RSehYnzhcosoKGi{ZX[9K4h1fHC|Oj:ve5d4NmWkaT7hZ{52cy:laHXtZoww[2:vcH;1coRgemWyb4L0Y4NiemRxQ1jFUWJNPDF{MUSyM{c,W0GQR1XSQE9iRg>? |
| KARPAS-45 | NV7lSY9lT3Kxd4ToJGlvcGmkaYTpc44hSXO|YYm= | | | | NV7MW2FCUUN3ME22NVgvOjJzIN88US=> | MUi8ZUB1[XKpZYS9K39jdGGwazegbJJm\j1paIT0dJM7Ny:5d4eu[YJqNmGlLoXrM4Np\W2kbD;jc41xd3WwZG;y[ZBwenShY3Hy[E9EUEWPQly0NVIyPDJxJ{7TRW5ITVJ:L3G+ |
| ML-2 | NU\G[m1QT3Kxd4ToJGlvcGmkaYTpc44hSXO|YYm= | | | | NVLrcnMxUUN3ME22NFYvPTd7IN88US=> | MmHrQIEhfGG{Z3X0QUdg[myjbnunJIhz\WZ;J3j0eJB{Qi9xd4f3MoVjcS6jYz71b{9kcGWvYnyvZ49ueG:3bnTfdoVxd3K2X3PhdoQwS0iHTVLMOFEzOTR{Lze+V2FPT0WUPD;hQi=> |
| LP-1 | NXfLb2IxT3Kxd4ToJGlvcGmkaYTpc44hSXO|YYm= | | | | NEK2PJRKSzVyPU[wN{42QDdizszN | NEKzWXU9[SC2YYLn[ZQ:L1:kbHHub{chcHKnZk2nbJR1eHN8Lz;3e5cv\WKrLnHjMpVsN2OqZX3icE9kd22yb4Xu[H9z\XCxcoTfZ4Fz\C:FSFXNRmw1OTJzNEKvK|5USU6JRWK8M4E, |
| L-428 | MVnHdo94fGhiSX7obYJqfGmxbjDBd5NigQ>? | | | | Mn;3TWM2OD14MECuOlcyKM7:TR?= | NXX1R3N{RGFidHHy[4V1RSehYnzhcosoKGi{ZX[9K4h1fHC|Oj:ve5d4NmWkaT7hZ{52cy:laHXtZoww[2:vcH;1coRgemWyb4L0Y4NiemRxQ1jFUWJNPDF{MUSyM{c,W0GQR1XSQE9iRg>? |
| K052 | Mmi1S5Jwf3SqIFnubIljcXSrb36gRZN{[Xl? | | | | M1TxOWlEPTB;NUe5MlIyOyEQvF2= | Mn;kQIEhfGG{Z3X0QUdg[myjbnunJIhz\WZ;J3j0eJB{Qi9xd4f3MoVjcS6jYz71b{9kcGWvYnyvZ49ueG:3bnTfdoVxd3K2X3PhdoQwS0iHTVLMOFEzOTR{Lze+V2FPT0WUPD;hQi=> |
| CAL-148 | NUHJUJNvT3Kxd4ToJGlvcGmkaYTpc44hSXO|YYm= | | | | NEjRV5JKSzVyPUW2OU4xQDlizszN | MnfFQIEhfGG{Z3X0QUdg[myjbnunJIhz\WZ;J3j0eJB{Qi9xd4f3MoVjcS6jYz71b{9kcGWvYnyvZ49ueG:3bnTfdoVxd3K2X3PhdoQwS0iHTVLMOFEzOTR{Lze+V2FPT0WUPD;hQi=> |
| UACC-812 | NWLaN45VT3Kxd4ToJGlvcGmkaYTpc44hSXO|YYm= | | | | MWLJR|UxRTV3OT6zPVEh|ryP | NH\pOIY9[SC2YYLn[ZQ:L1:kbHHub{chcHKnZk2nbJR1eHN8Lz;3e5cv\WKrLnHjMpVsN2OqZX3icE9kd22yb4Xu[H9z\XCxcoTfZ4Fz\C:FSFXNRmw1OTJzNEKvK|5USU6JRWK8M4E, |
| EW-11 | NYrpc5o5T3Kxd4ToJGlvcGmkaYTpc44hSXO|YYm= | | | | NH;jPHVKSzVyPUW1Nk4{QTlizszN | NXLJNG5MRGFidHHy[4V1RSehYnzhcosoKGi{ZX[9K4h1fHC|Oj:ve5d4NmWkaT7hZ{52cy:laHXtZoww[2:vcH;1coRgemWyb4L0Y4NiemRxQ1jFUWJNPDF{MUSyM{c,W0GQR1XSQE9iRg>? |
| COLO-320-HSR | MV;Hdo94fGhiSX7obYJqfGmxbjDBd5NigQ>? | | | | MYfJR|UxRTV3MT6zOUDPxE1? | NY\yOW5mRGFidHHy[4V1RSehYnzhcosoKGi{ZX[9K4h1fHC|Oj:ve5d4NmWkaT7hZ{52cy:laHXtZoww[2:vcH;1coRgemWyb4L0Y4NiemRxQ1jFUWJNPDF{MUSyM{c,W0GQR1XSQE9iRg>? |
| NCI-H889 | MYXHdo94fGhiSX7obYJqfGmxbjDBd5NigQ>? | | | | NIX2[|NKSzVyPUW0O{4zOyEQvF2= | NV\xVGJsRGFidHHy[4V1RSehYnzhcosoKGi{ZX[9K4h1fHC|Oj:ve5d4NmWkaT7hZ{52cy:laHXtZoww[2:vcH;1coRgemWyb4L0Y4NiemRxQ1jFUWJNPDF{MUSyM{c,W0GQR1XSQE9iRg>? |
| EVSA-T | NGPlc2pIem:5dHigTY5pcWKrdHnvckBCe3OjeR?= | | | | MU\JR|UxRTV2Mz62PFQh|ryP | NGrZbW09[SC2YYLn[ZQ:L1:kbHHub{chcHKnZk2nbJR1eHN8Lz;3e5cv\WKrLnHjMpVsN2OqZX3icE9kd22yb4Xu[H9z\XCxcoTfZ4Fz\C:FSFXNRmw1OTJzNEKvK|5USU6JRWK8M4E, |
| RL | NXL1eJhvT3Kxd4ToJGlvcGmkaYTpc44hSXO|YYm= | | | | MlLYTWM2OD13NEKuOFQzKM7:TR?= | NULoVGFtRGFidHHy[4V1RSehYnzhcosoKGi{ZX[9K4h1fHC|Oj:ve5d4NmWkaT7hZ{52cy:laHXtZoww[2:vcH;1coRgemWyb4L0Y4NiemRxQ1jFUWJNPDF{MUSyM{c,W0GQR1XSQE9iRg>? |
| HSC-4 | MWTHdo94fGhiSX7obYJqfGmxbjDBd5NigQ>? | | | | NXvyXlJNUUN3ME21N|kvOjl|IN88US=> | MWi8ZUB1[XKpZYS9K39jdGGwazegbJJm\j1paIT0dJM7Ny:5d4eu[YJqNmGlLoXrM4Np\W2kbD;jc41xd3WwZG;y[ZBwenShY3Hy[E9EUEWPQly0NVIyPDJxJ{7TRW5ITVJ:L3G+ |
| NCI-H2227 | M{XOcGdzd3e2aDDJcohq[mm2aX;uJGF{e2G7 | | | | M{fCOGlEPTB;NUOwMlI2PCEQvF2= | MUW8ZUB1[XKpZYS9K39jdGGwazegbJJm\j1paIT0dJM7Ny:5d4eu[YJqNmGlLoXrM4Np\W2kbD;jc41xd3WwZG;y[ZBwenShY3Hy[E9EUEWPQly0NVIyPDJxJ{7TRW5ITVJ:L3G+ |
| NB5 | M122b2dzd3e2aDDJcohq[mm2aX;uJGF{e2G7 | | | | MoTzTWM2OD13Mk[uOFMh|ryP | M4Thb|xiKHSjcnfleF0oZ2KuYX7rK{BpemWoPTfoeJRxezpxL4f3e{5m[mlwYXOueYsw[2inbXLsM4NwdXCxdX7kY5JmeG:{dG;jZZJlN0OKRV3CUFQyOjF2Mj:nQnNCVkeHUkyvZV4> |
| NCI-H2081 | M1nzWmdzd3e2aDDJcohq[mm2aX;uJGF{e2G7 | | | | M361e2lEPTB;NUK1MlUyOyEQvF2= | M1XDe|xiKHSjcnfleF0oZ2KuYX7rK{BpemWoPTfoeJRxezpxL4f3e{5m[mlwYXOueYsw[2inbXLsM4NwdXCxdX7kY5JmeG:{dG;jZZJlN0OKRV3CUFQyOjF2Mj:nQnNCVkeHUkyvZV4> |
| NCI-H510A | NW\UO3NtT3Kxd4ToJGlvcGmkaYTpc44hSXO|YYm= | | | | MVjJR|UxRTV{ND62PVYh|ryP | M1vFS|xiKHSjcnfleF0oZ2KuYX7rK{BpemWoPTfoeJRxezpxL4f3e{5m[mlwYXOueYsw[2inbXLsM4NwdXCxdX7kY5JmeG:{dG;jZZJlN0OKRV3CUFQyOjF2Mj:nQnNCVkeHUkyvZV4> |
| NCI-H1436 | NXTzflkzT3Kxd4ToJGlvcGmkaYTpc44hSXO|YYm= | | | | NWrzfYRTUUN3ME21NlMvODZ2IN88US=> | Mn\0QIEhfGG{Z3X0QUdg[myjbnunJIhz\WZ;J3j0eJB{Qi9xd4f3MoVjcS6jYz71b{9kcGWvYnyvZ49ueG:3bnTfdoVxd3K2X3PhdoQwS0iHTVLMOFEzOTR{Lze+V2FPT0WUPD;hQi=> |
| HL-60 | NXfDeJJuT3Kxd4ToJGlvcGmkaYTpc44hSXO|YYm= | | | | NIrLRZFKSzVyPUWyNk46OjRizszN | M4fqdVxiKHSjcnfleF0oZ2KuYX7rK{BpemWoPTfoeJRxezpxL4f3e{5m[mlwYXOueYsw[2inbXLsM4NwdXCxdX7kY5JmeG:{dG;jZZJlN0OKRV3CUFQyOjF2Mj:nQnNCVkeHUkyvZV4> |
| Mo-T | MWDHdo94fGhiSX7obYJqfGmxbjDBd5NigQ>? | | | | NUPNVXVsUUN3ME21NVUvOTF4IN88US=> | NWHl[mluRGFidHHy[4V1RSehYnzhcosoKGi{ZX[9K4h1fHC|Oj:ve5d4NmWkaT7hZ{52cy:laHXtZoww[2:vcH;1coRgemWyb4L0Y4NiemRxQ1jFUWJNPDF{MUSyM{c,W0GQR1XSQE9iRg>? |
| NCI-H2171 | NXjnRVdnT3Kxd4ToJGlvcGmkaYTpc44hSXO|YYm= | | | | NY\1TVF6UUN3ME21NVIvPzB3IN88US=> | NEDPfm89[SC2YYLn[ZQ:L1:kbHHub{chcHKnZk2nbJR1eHN8Lz;3e5cv\WKrLnHjMpVsN2OqZX3icE9kd22yb4Xu[H9z\XCxcoTfZ4Fz\C:FSFXNRmw1OTJzNEKvK|5USU6JRWK8M4E, |
| NCI-H1694 | MXTHdo94fGhiSX7obYJqfGmxbjDBd5NigQ>? | | | | NFTRcZFKSzVyPUWxNk41OzlizszN | NX70cmVYRGFidHHy[4V1RSehYnzhcosoKGi{ZX[9K4h1fHC|Oj:ve5d4NmWkaT7hZ{52cy:laHXtZoww[2:vcH;1coRgemWyb4L0Y4NiemRxQ1jFUWJNPDF{MUSyM{c,W0GQR1XSQE9iRg>? |
| P12-ICHIKAWA | MV3Hdo94fGhiSX7obYJqfGmxbjDBd5NigQ>? | | | | NYnVbY9IUUN3ME21NVEvPDF4IN88US=> | NIDVOlU9[SC2YYLn[ZQ:L1:kbHHub{chcHKnZk2nbJR1eHN8Lz;3e5cv\WKrLnHjMpVsN2OqZX3icE9kd22yb4Xu[H9z\XCxcoTfZ4Fz\C:FSFXNRmw1OTJzNEKvK|5USU6JRWK8M4E, |
| DU-4475 | M3PmO2dzd3e2aDDJcohq[mm2aX;uJGF{e2G7 | | | | Mm[yTWM2OD13MUGuNVAyKM7:TR?= | NHm5O4k9[SC2YYLn[ZQ:L1:kbHHub{chcHKnZk2nbJR1eHN8Lz;3e5cv\WKrLnHjMpVsN2OqZX3icE9kd22yb4Xu[H9z\XCxcoTfZ4Fz\C:FSFXNRmw1OTJzNEKvK|5USU6JRWK8M4E, |
| RPMI-8402 | NFK1PJpIem:5dHigTY5pcWKrdHnvckBCe3OjeR?= | | | | MYLJR|UxRTVzMD6wNlEh|ryP | M{PpXFxiKHSjcnfleF0oZ2KuYX7rK{BpemWoPTfoeJRxezpxL4f3e{5m[mlwYXOueYsw[2inbXLsM4NwdXCxdX7kY5JmeG:{dG;jZZJlN0OKRV3CUFQyOjF2Mj:nQnNCVkeHUkyvZV4> |
| EHEB | NGraZXlIem:5dHigTY5pcWKrdHnvckBCe3OjeR?= | | | | NXzIO5h6UUN3ME21NFcvOjB6IN88US=> | NFvuOWY9[SC2YYLn[ZQ:L1:kbHHub{chcHKnZk2nbJR1eHN8Lz;3e5cv\WKrLnHjMpVsN2OqZX3icE9kd22yb4Xu[H9z\XCxcoTfZ4Fz\C:FSFXNRmw1OTJzNEKvK|5USU6JRWK8M4E, |
| CA46 | NGmzPYxIem:5dHigTY5pcWKrdHnvckBCe3OjeR?= | | | | M4\FbGlEPTB;NUC0MlQxPyEQvF2= | M2\GdlxiKHSjcnfleF0oZ2KuYX7rK{BpemWoPTfoeJRxezpxL4f3e{5m[mlwYXOueYsw[2inbXLsM4NwdXCxdX7kY5JmeG:{dG;jZZJlN0OKRV3CUFQyOjF2Mj:nQnNCVkeHUkyvZV4> |
| EC-GI-10 | MoXLS5Jwf3SqIFnubIljcXSrb36gRZN{[Xl? | | | | NGqxW3hKSzVyPUWwNk4yPjlizszN | NHLib4E9[SC2YYLn[ZQ:L1:kbHHub{chcHKnZk2nbJR1eHN8Lz;3e5cv\WKrLnHjMpVsN2OqZX3icE9kd22yb4Xu[H9z\XCxcoTfZ4Fz\C:FSFXNRmw1OTJzNEKvK|5USU6JRWK8M4E, |
| CPC-N | NYTISlkyT3Kxd4ToJGlvcGmkaYTpc44hSXO|YYm= | | | | MVPJR|UxRTVyMj6wOlMh|ryP | M1\Tb|xiKHSjcnfleF0oZ2KuYX7rK{BpemWoPTfoeJRxezpxL4f3e{5m[mlwYXOueYsw[2inbXLsM4NwdXCxdX7kY5JmeG:{dG;jZZJlN0OKRV3CUFQyOjF2Mj:nQnNCVkeHUkyvZV4> |
| RPMI-6666 | M17FOGdzd3e2aDDJcohq[mm2aX;uJGF{e2G7 | | | | NWXUdm56UUN3ME20PVEvOzl6IN88US=> | NV33c|BnRGFidHHy[4V1RSehYnzhcosoKGi{ZX[9K4h1fHC|Oj:ve5d4NmWkaT7hZ{52cy:laHXtZoww[2:vcH;1coRgemWyb4L0Y4NiemRxQ1jFUWJNPDF{MUSyM{c,W0GQR1XSQE9iRg>? |
| NCI-H1395 | NWHp[5Z[T3Kxd4ToJGlvcGmkaYTpc44hSXO|YYm= | | | | MUDJR|UxRTR6OT6wNFQh|ryP | M2\aUlxiKHSjcnfleF0oZ2KuYX7rK{BpemWoPTfoeJRxezpxL4f3e{5m[mlwYXOueYsw[2inbXLsM4NwdXCxdX7kY5JmeG:{dG;jZZJlN0OKRV3CUFQyOjF2Mj:nQnNCVkeHUkyvZV4> |
| D-283MED | M2W0R2dzd3e2aDDJcohq[mm2aX;uJGF{e2G7 | | | | NEPhT3hKSzVyPUS4PE46OjRizszN | NYnNPFhpRGFidHHy[4V1RSehYnzhcosoKGi{ZX[9K4h1fHC|Oj:ve5d4NmWkaT7hZ{52cy:laHXtZoww[2:vcH;1coRgemWyb4L0Y4NiemRxQ1jFUWJNPDF{MUSyM{c,W0GQR1XSQE9iRg>? |
| HDLM-2 | Mn\PS5Jwf3SqIFnubIljcXSrb36gRZN{[Xl? | | | | MVHJR|UxRTR6MD64Olkh|ryP | Mo\MQIEhfGG{Z3X0QUdg[myjbnunJIhz\WZ;J3j0eJB{Qi9xd4f3MoVjcS6jYz71b{9kcGWvYnyvZ49ueG:3bnTfdoVxd3K2X3PhdoQwS0iHTVLMOFEzOTR{Lze+V2FPT0WUPD;hQi=> |
| NCI-H446 | NH7RSWVIem:5dHigTY5pcWKrdHnvckBCe3OjeR?= | | | | MVPJR|UxRTR5Nz6wPEDPxE1? | M1XNUVxiKHSjcnfleF0oZ2KuYX7rK{BpemWoPTfoeJRxezpxL4f3e{5m[mlwYXOueYsw[2inbXLsM4NwdXCxdX7kY5JmeG:{dG;jZZJlN0OKRV3CUFQyOjF2Mj:nQnNCVkeHUkyvZV4> |
| JAR | NVz4Wo0{T3Kxd4ToJGlvcGmkaYTpc44hSXO|YYm= | | | | NX\FZopFUUN3ME20O|QvPzh6IN88US=> | MWW8ZUB1[XKpZYS9K39jdGGwazegbJJm\j1paIT0dJM7Ny:5d4eu[YJqNmGlLoXrM4Np\W2kbD;jc41xd3WwZG;y[ZBwenShY3Hy[E9EUEWPQly0NVIyPDJxJ{7TRW5ITVJ:L3G+ |
| NCI-SNU-5 | M3jxdmdzd3e2aDDJcohq[mm2aX;uJGF{e2G7 | | | | M{jwXmlEPTB;NEeyMlI5KM7:TR?= | NFzvRYM9[SC2YYLn[ZQ:L1:kbHHub{chcHKnZk2nbJR1eHN8Lz;3e5cv\WKrLnHjMpVsN2OqZX3icE9kd22yb4Xu[H9z\XCxcoTfZ4Fz\C:FSFXNRmw1OTJzNEKvK|5USU6JRWK8M4E, |
| COR-L279 | MX3Hdo94fGhiSX7obYJqfGmxbjDBd5NigQ>? | | | | NXjMbYViUUN3ME20OlQvQDR5IN88US=> | Mo\4QIEhfGG{Z3X0QUdg[myjbnunJIhz\WZ;J3j0eJB{Qi9xd4f3MoVjcS6jYz71b{9kcGWvYnyvZ49ueG:3bnTfdoVxd3K2X3PhdoQwS0iHTVLMOFEzOTR{Lze+V2FPT0WUPD;hQi=> |
| NCI-H1092 | M1HvcWdzd3e2aDDJcohq[mm2aX;uJGF{e2G7 | | | | MVnJR|UxRTR4Mz65OFMh|ryP | MlW2QIEhfGG{Z3X0QUdg[myjbnunJIhz\WZ;J3j0eJB{Qi9xd4f3MoVjcS6jYz71b{9kcGWvYnyvZ49ueG:3bnTfdoVxd3K2X3PhdoQwS0iHTVLMOFEzOTR{Lze+V2FPT0WUPD;hQi=> |
| A3-KAW | NU\LRllWT3Kxd4ToJGlvcGmkaYTpc44hSXO|YYm= | | | | NIe1NVJKSzVyPUS2NE45PDFizszN | MXS8ZUB1[XKpZYS9K39jdGGwazegbJJm\j1paIT0dJM7Ny:5d4eu[YJqNmGlLoXrM4Np\W2kbD;jc41xd3WwZG;y[ZBwenShY3Hy[E9EUEWPQly0NVIyPDJxJ{7TRW5ITVJ:L3G+ |
| TE-441-T | NGnjZm9Iem:5dHigTY5pcWKrdHnvckBCe3OjeR?= | | | | MmDQTWM2OD12NUeuNVg3KM7:TR?= | NVPWSVJZRGFidHHy[4V1RSehYnzhcosoKGi{ZX[9K4h1fHC|Oj:ve5d4NmWkaT7hZ{52cy:laHXtZoww[2:vcH;1coRgemWyb4L0Y4NiemRxQ1jFUWJNPDF{MUSyM{c,W0GQR1XSQE9iRg>? |
| KMS-12-PE | NU[xdmE6T3Kxd4ToJGlvcGmkaYTpc44hSXO|YYm= | | | | MlfSTWM2OD12NU[uPFIzKM7:TR?= | MVi8ZUB1[XKpZYS9K39jdGGwazegbJJm\j1paIT0dJM7Ny:5d4eu[YJqNmGlLoXrM4Np\W2kbD;jc41xd3WwZG;y[ZBwenShY3Hy[E9EUEWPQly0NVIyPDJxJ{7TRW5ITVJ:L3G+ |
| SCLC-21H | MljtS5Jwf3SqIFnubIljcXSrb36gRZN{[Xl? | | | | M1jPNmlEPTB;NEW1MlY6QSEQvF2= | NHvSXlE9[SC2YYLn[ZQ:L1:kbHHub{chcHKnZk2nbJR1eHN8Lz;3e5cv\WKrLnHjMpVsN2OqZX3icE9kd22yb4Xu[H9z\XCxcoTfZ4Fz\C:FSFXNRmw1OTJzNEKvK|5USU6JRWK8M4E, |
| TALL-1 | MnXqS5Jwf3SqIFnubIljcXSrb36gRZN{[Xl? | | | | NVzaPXo1UUN3ME20OVUvOjl5IN88US=> | M{HU[VxiKHSjcnfleF0oZ2KuYX7rK{BpemWoPTfoeJRxezpxL4f3e{5m[mlwYXOueYsw[2inbXLsM4NwdXCxdX7kY5JmeG:{dG;jZZJlN0OKRV3CUFQyOjF2Mj:nQnNCVkeHUkyvZV4> |
| A4-Fuk | NV7pWW1PT3Kxd4ToJGlvcGmkaYTpc44hSXO|YYm= | | | | MmD2TWM2OD12NUSuOVA4KM7:TR?= | NVzGU3hyRGFidHHy[4V1RSehYnzhcosoKGi{ZX[9K4h1fHC|Oj:ve5d4NmWkaT7hZ{52cy:laHXtZoww[2:vcH;1coRgemWyb4L0Y4NiemRxQ1jFUWJNPDF{MUSyM{c,W0GQR1XSQE9iRg>? |
| MS-1 | MkfNS5Jwf3SqIFnubIljcXSrb36gRZN{[Xl? | | | | MlW2TWM2OD12NUSuN|g2KM7:TR?= | NHHzUZc9[SC2YYLn[ZQ:L1:kbHHub{chcHKnZk2nbJR1eHN8Lz;3e5cv\WKrLnHjMpVsN2OqZX3icE9kd22yb4Xu[H9z\XCxcoTfZ4Fz\C:FSFXNRmw1OTJzNEKvK|5USU6JRWK8M4E, |
| EW-1 | NXzJUVdXT3Kxd4ToJGlvcGmkaYTpc44hSXO|YYm= | | | | NFq4RlhKSzVyPUS1Nk45QDhizszN | MW[8ZUB1[XKpZYS9K39jdGGwazegbJJm\j1paIT0dJM7Ny:5d4eu[YJqNmGlLoXrM4Np\W2kbD;jc41xd3WwZG;y[ZBwenShY3Hy[E9EUEWPQly0NVIyPDJxJ{7TRW5ITVJ:L3G+ |
| DMS-79 | M2rnZ2dzd3e2aDDJcohq[mm2aX;uJGF{e2G7 | | | | NVTvTFJWUUN3ME20OFkvPjhizszN | MmXPQIEhfGG{Z3X0QUdg[myjbnunJIhz\WZ;J3j0eJB{Qi9xd4f3MoVjcS6jYz71b{9kcGWvYnyvZ49ueG:3bnTfdoVxd3K2X3PhdoQwS0iHTVLMOFEzOTR{Lze+V2FPT0WUPD;hQi=> |
| COLO-684 | MkPpS5Jwf3SqIFnubIljcXSrb36gRZN{[Xl? | | | | NVPDWG9{UUN3ME20OFgvQDh6IN88US=> | NF7IWIM9[SC2YYLn[ZQ:L1:kbHHub{chcHKnZk2nbJR1eHN8Lz;3e5cv\WKrLnHjMpVsN2OqZX3icE9kd22yb4Xu[H9z\XCxcoTfZ4Fz\C:FSFXNRmw1OTJzNEKvK|5USU6JRWK8M4E, |
| BL-70 | MXLHdo94fGhiSX7obYJqfGmxbjDBd5NigQ>? | | | | NIOyVWRKSzVyPUSzPU41OjlizszN | NGLZb|c9[SC2YYLn[ZQ:L1:kbHHub{chcHKnZk2nbJR1eHN8Lz;3e5cv\WKrLnHjMpVsN2OqZX3icE9kd22yb4Xu[H9z\XCxcoTfZ4Fz\C:FSFXNRmw1OTJzNEKvK|5USU6JRWK8M4E, |
| AM-38 | M2TuO2dzd3e2aDDJcohq[mm2aX;uJGF{e2G7 | | | | NFLZN5hKSzVyPUSzPE42PCEQvF2= | MoW1QIEhfGG{Z3X0QUdg[myjbnunJIhz\WZ;J3j0eJB{Qi9xd4f3MoVjcS6jYz71b{9kcGWvYnyvZ49ueG:3bnTfdoVxd3K2X3PhdoQwS0iHTVLMOFEzOTR{Lze+V2FPT0WUPD;hQi=> |
| RH-1 | NYf1XIVUT3Kxd4ToJGlvcGmkaYTpc44hSXO|YYm= | | | | M3TaWGlEPTB;NEO1MlA6KM7:TR?= | M3jwbVxiKHSjcnfleF0oZ2KuYX7rK{BpemWoPTfoeJRxezpxL4f3e{5m[mlwYXOueYsw[2inbXLsM4NwdXCxdX7kY5JmeG:{dG;jZZJlN0OKRV3CUFQyOjF2Mj:nQnNCVkeHUkyvZV4> |
| MDA-MB-134-VI | M1S5SGdzd3e2aDDJcohq[mm2aX;uJGF{e2G7 | | | | NXK0VFRYUUN3ME20N|EvODN|IN88US=> | NGL5W4E9[SC2YYLn[ZQ:L1:kbHHub{chcHKnZk2nbJR1eHN8Lz;3e5cv\WKrLnHjMpVsN2OqZX3icE9kd22yb4Xu[H9z\XCxcoTfZ4Fz\C:FSFXNRmw1OTJzNEKvK|5USU6JRWK8M4E, |
| NCI-H2141 | NUDGcZk3T3Kxd4ToJGlvcGmkaYTpc44hSXO|YYm= | | | | NFj3ZnJKSzVyPUSyOE4{QDhizszN | MnKxQIEhfGG{Z3X0QUdg[myjbnunJIhz\WZ;J3j0eJB{Qi9xd4f3MoVjcS6jYz71b{9kcGWvYnyvZ49ueG:3bnTfdoVxd3K2X3PhdoQwS0iHTVLMOFEzOTR{Lze+V2FPT0WUPD;hQi=> |
| KY821 | M1PqNWdzd3e2aDDJcohq[mm2aX;uJGF{e2G7 | | | | MVrJR|UxRTRzND6wPFYh|ryP | NFnTWY89[SC2YYLn[ZQ:L1:kbHHub{chcHKnZk2nbJR1eHN8Lz;3e5cv\WKrLnHjMpVsN2OqZX3icE9kd22yb4Xu[H9z\XCxcoTfZ4Fz\C:FSFXNRmw1OTJzNEKvK|5USU6JRWK8M4E, |
| GR-ST | Mof6S5Jwf3SqIFnubIljcXSrb36gRZN{[Xl? | | | | MVTJR|UxRTRzMD60PVch|ryP | Ml3uQIEhfGG{Z3X0QUdg[myjbnunJIhz\WZ;J3j0eJB{Qi9xd4f3MoVjcS6jYz71b{9kcGWvYnyvZ49ueG:3bnTfdoVxd3K2X3PhdoQwS0iHTVLMOFEzOTR{Lze+V2FPT0WUPD;hQi=> |
| NCI-H716 | NELNbpJIem:5dHigTY5pcWKrdHnvckBCe3OjeR?= | | | | M{TURWlEPTB;NEGwMlA4PSEQvF2= | M2DScVxiKHSjcnfleF0oZ2KuYX7rK{BpemWoPTfoeJRxezpxL4f3e{5m[mlwYXOueYsw[2inbXLsM4NwdXCxdX7kY5JmeG:{dG;jZZJlN0OKRV3CUFQyOjF2Mj:nQnNCVkeHUkyvZV4> |
| MES-SA | NELFSmxIem:5dHigTY5pcWKrdHnvckBCe3OjeR?= | | | | M4TBWWlEPTB;NEC5Mlk5KM7:TR?= | M2\XWVxiKHSjcnfleF0oZ2KuYX7rK{BpemWoPTfoeJRxezpxL4f3e{5m[mlwYXOueYsw[2inbXLsM4NwdXCxdX7kY5JmeG:{dG;jZZJlN0OKRV3CUFQyOjF2Mj:nQnNCVkeHUkyvZV4> |
| ECC4 | M{fQc2dzd3e2aDDJcohq[mm2aX;uJGF{e2G7 | | | | NFXIUI1KSzVyPUSwPE41PThizszN | NVyzcW13RGFidHHy[4V1RSehYnzhcosoKGi{ZX[9K4h1fHC|Oj:ve5d4NmWkaT7hZ{52cy:laHXtZoww[2:vcH;1coRgemWyb4L0Y4NiemRxQ1jFUWJNPDF{MUSyM{c,W0GQR1XSQE9iRg>? |
| FADU | NUn2Oo9HT3Kxd4ToJGlvcGmkaYTpc44hSXO|YYm= | | | | MYLJR|UxRTRyMz6wPFMh|ryP | MWi8ZUB1[XKpZYS9K39jdGGwazegbJJm\j1paIT0dJM7Ny:5d4eu[YJqNmGlLoXrM4Np\W2kbD;jc41xd3WwZG;y[ZBwenShY3Hy[E9EUEWPQly0NVIyPDJxJ{7TRW5ITVJ:L3G+ |
| SW962 | M1\ISGdzd3e2aDDJcohq[mm2aX;uJGF{e2G7 | | | | MV;JR|UxRTN7OD62PUDPxE1? | NGXKcHE9[SC2YYLn[ZQ:L1:kbHHub{chcHKnZk2nbJR1eHN8Lz;3e5cv\WKrLnHjMpVsN2OqZX3icE9kd22yb4Xu[H9z\XCxcoTfZ4Fz\C:FSFXNRmw1OTJzNEKvK|5USU6JRWK8M4E, |
| TE-6 | MYrHdo94fGhiSX7obYJqfGmxbjDBd5NigQ>? | | | | NIPseZBKSzVyPUO5O{4zPTRizszN | M{jJNlxiKHSjcnfleF0oZ2KuYX7rK{BpemWoPTfoeJRxezpxL4f3e{5m[mlwYXOueYsw[2inbXLsM4NwdXCxdX7kY5JmeG:{dG;jZZJlN0OKRV3CUFQyOjF2Mj:nQnNCVkeHUkyvZV4> |
| IST-SL1 | MXzHdo94fGhiSX7obYJqfGmxbjDBd5NigQ>? | | | | NV\wZWVvUUN3ME2zPVQvPDB4IN88US=> | NVjjbWkzRGFidHHy[4V1RSehYnzhcosoKGi{ZX[9K4h1fHC|Oj:ve5d4NmWkaT7hZ{52cy:laHXtZoww[2:vcH;1coRgemWyb4L0Y4NiemRxQ1jFUWJNPDF{MUSyM{c,W0GQR1XSQE9iRg>? |
| MN-60 | NWntbHZ3T3Kxd4ToJGlvcGmkaYTpc44hSXO|YYm= | | | | NUD6VXJ7UUN3ME2zPVMvQTR6IN88US=> | MVK8ZUB1[XKpZYS9K39jdGGwazegbJJm\j1paIT0dJM7Ny:5d4eu[YJqNmGlLoXrM4Np\W2kbD;jc41xd3WwZG;y[ZBwenShY3Hy[E9EUEWPQly0NVIyPDJxJ{7TRW5ITVJ:L3G+ |
| NCI-H719 | Ml:xS5Jwf3SqIFnubIljcXSrb36gRZN{[Xl? | | | | NHvnRVNKSzVyPUO5NU45QTNizszN | NHixcYY9[SC2YYLn[ZQ:L1:kbHHub{chcHKnZk2nbJR1eHN8Lz;3e5cv\WKrLnHjMpVsN2OqZX3icE9kd22yb4Xu[H9z\XCxcoTfZ4Fz\C:FSFXNRmw1OTJzNEKvK|5USU6JRWK8M4E, |
| GOTO | NGDpdIJIem:5dHigTY5pcWKrdHnvckBCe3OjeR?= | | | | NXjne2JyUUN3ME2zPVAvPjRzIN88US=> | NUHqZ2liRGFidHHy[4V1RSehYnzhcosoKGi{ZX[9K4h1fHC|Oj:ve5d4NmWkaT7hZ{52cy:laHXtZoww[2:vcH;1coRgemWyb4L0Y4NiemRxQ1jFUWJNPDF{MUSyM{c,W0GQR1XSQE9iRg>? |
| NCI-H596 | M2G5ZWdzd3e2aDDJcohq[mm2aX;uJGF{e2G7 | | | | Mm[wTWM2OD1|OEWuN|Qh|ryP | M162T|xiKHSjcnfleF0oZ2KuYX7rK{BpemWoPTfoeJRxezpxL4f3e{5m[mlwYXOueYsw[2inbXLsM4NwdXCxdX7kY5JmeG:{dG;jZZJlN0OKRV3CUFQyOjF2Mj:nQnNCVkeHUkyvZV4> |
| COR-L88 | NEnQXVVIem:5dHigTY5pcWKrdHnvckBCe3OjeR?= | | | | MVXJR|UxRTN6Mz62O|ch|ryP | MmHRQIEhfGG{Z3X0QUdg[myjbnunJIhz\WZ;J3j0eJB{Qi9xd4f3MoVjcS6jYz71b{9kcGWvYnyvZ49ueG:3bnTfdoVxd3K2X3PhdoQwS0iHTVLMOFEzOTR{Lze+V2FPT0WUPD;hQi=> |
| HCC2157 | M3;2Vmdzd3e2aDDJcohq[mm2aX;uJGF{e2G7 | | | | NYnRdGhYUUN3ME2zO|gvOTZzIN88US=> | MUO8ZUB1[XKpZYS9K39jdGGwazegbJJm\j1paIT0dJM7Ny:5d4eu[YJqNmGlLoXrM4Np\W2kbD;jc41xd3WwZG;y[ZBwenShY3Hy[E9EUEWPQly0NVIyPDJxJ{7TRW5ITVJ:L3G+ |
| P31-FUJ | M1HqfWdzd3e2aDDJcohq[mm2aX;uJGF{e2G7 | | | | MnnkTWM2OD1|N{[uPVY1KM7:TR?= | M4\6TVxiKHSjcnfleF0oZ2KuYX7rK{BpemWoPTfoeJRxezpxL4f3e{5m[mlwYXOueYsw[2inbXLsM4NwdXCxdX7kY5JmeG:{dG;jZZJlN0OKRV3CUFQyOjF2Mj:nQnNCVkeHUkyvZV4> |
| U-266 | MmHQS5Jwf3SqIFnubIljcXSrb36gRZN{[Xl? | | | | M2HZfmlEPTB;M{ezMlE{OiEQvF2= | M3[0XVxiKHSjcnfleF0oZ2KuYX7rK{BpemWoPTfoeJRxezpxL4f3e{5m[mlwYXOueYsw[2inbXLsM4NwdXCxdX7kY5JmeG:{dG;jZZJlN0OKRV3CUFQyOjF2Mj:nQnNCVkeHUkyvZV4> |
| IST-SL2 | M{jjXWdzd3e2aDDJcohq[mm2aX;uJGF{e2G7 | | | | MXnJR|UxRTN5Mj65NlYh|ryP | MVK8ZUB1[XKpZYS9K39jdGGwazegbJJm\j1paIT0dJM7Ny:5d4eu[YJqNmGlLoXrM4Np\W2kbD;jc41xd3WwZG;y[ZBwenShY3Hy[E9EUEWPQly0NVIyPDJxJ{7TRW5ITVJ:L3G+ |
| ChaGo-K-1 | M2\tV2dzd3e2aDDJcohq[mm2aX;uJGF{e2G7 | | | | MXzJR|UxRTN4Mz65NlQh|ryP | MWS8ZUB1[XKpZYS9K39jdGGwazegbJJm\j1paIT0dJM7Ny:5d4eu[YJqNmGlLoXrM4Np\W2kbD;jc41xd3WwZG;y[ZBwenShY3Hy[E9EUEWPQly0NVIyPDJxJ{7TRW5ITVJ:L3G+ |
| SJSA-1 | NGLBOoVIem:5dHigTY5pcWKrdHnvckBCe3OjeR?= | | | | MXvJR|UxRTN4MD65N|kh|ryP | MVe8ZUB1[XKpZYS9K39jdGGwazegbJJm\j1paIT0dJM7Ny:5d4eu[YJqNmGlLoXrM4Np\W2kbD;jc41xd3WwZG;y[ZBwenShY3Hy[E9EUEWPQly0NVIyPDJxJ{7TRW5ITVJ:L3G+ |
| NCI-H1838 | NG\kc2ZIem:5dHigTY5pcWKrdHnvckBCe3OjeR?= | | | | M1\oU2lEPTB;M{W5Mlk5PyEQvF2= | M{K0NVxiKHSjcnfleF0oZ2KuYX7rK{BpemWoPTfoeJRxezpxL4f3e{5m[mlwYXOueYsw[2inbXLsM4NwdXCxdX7kY5JmeG:{dG;jZZJlN0OKRV3CUFQyOjF2Mj:nQnNCVkeHUkyvZV4> |
| DMS-53 | NWe2eVYyT3Kxd4ToJGlvcGmkaYTpc44hSXO|YYm= | | | | M4Wwe2lEPTB;M{W4MlcyOSEQvF2= | MU[8ZUB1[XKpZYS9K39jdGGwazegbJJm\j1paIT0dJM7Ny:5d4eu[YJqNmGlLoXrM4Np\W2kbD;jc41xd3WwZG;y[ZBwenShY3Hy[E9EUEWPQly0NVIyPDJxJ{7TRW5ITVJ:L3G+ |
| NCI-H2126 | MnruS5Jwf3SqIFnubIljcXSrb36gRZN{[Xl? | | | | NVm3eIVvUUN3ME2zOVgvPTJzIN88US=> | MX68ZUB1[XKpZYS9K39jdGGwazegbJJm\j1paIT0dJM7Ny:5d4eu[YJqNmGlLoXrM4Np\W2kbD;jc41xd3WwZG;y[ZBwenShY3Hy[E9EUEWPQly0NVIyPDJxJ{7TRW5ITVJ:L3G+ |
| COLO-678 | MljpS5Jwf3SqIFnubIljcXSrb36gRZN{[Xl? | | | | M1z0ZWlEPTB;M{W3Mlg3OyEQvF2= | MVG8ZUB1[XKpZYS9K39jdGGwazegbJJm\j1paIT0dJM7Ny:5d4eu[YJqNmGlLoXrM4Np\W2kbD;jc41xd3WwZG;y[ZBwenShY3Hy[E9EUEWPQly0NVIyPDJxJ{7TRW5ITVJ:L3G+ |
| CW-2 | MVfHdo94fGhiSX7obYJqfGmxbjDBd5NigQ>? | | | | M1fSWGlEPTB;M{W2MlUzQSEQvF2= | Mm\QQIEhfGG{Z3X0QUdg[myjbnunJIhz\WZ;J3j0eJB{Qi9xd4f3MoVjcS6jYz71b{9kcGWvYnyvZ49ueG:3bnTfdoVxd3K2X3PhdoQwS0iHTVLMOFEzOTR{Lze+V2FPT0WUPD;hQi=> |
| NCI-H358 | M{XNSmdzd3e2aDDJcohq[mm2aX;uJGF{e2G7 | | | | M2nM[2lEPTB;M{W1MlM2PiEQvF2= | NXPJS|Y3RGFidHHy[4V1RSehYnzhcosoKGi{ZX[9K4h1fHC|Oj:ve5d4NmWkaT7hZ{52cy:laHXtZoww[2:vcH;1coRgemWyb4L0Y4NiemRxQ1jFUWJNPDF{MUSyM{c,W0GQR1XSQE9iRg>? |
| P30-OHK | M2jLeGdzd3e2aDDJcohq[mm2aX;uJGF{e2G7 | | | | M3vq[GlEPTB;M{WzMlA3OyEQvF2= | NX3LblFyRGFidHHy[4V1RSehYnzhcosoKGi{ZX[9K4h1fHC|Oj:ve5d4NmWkaT7hZ{52cy:laHXtZoww[2:vcH;1coRgemWyb4L0Y4NiemRxQ1jFUWJNPDF{MUSyM{c,W0GQR1XSQE9iRg>? |
| NCI-H2196 | M3PIfWdzd3e2aDDJcohq[mm2aX;uJGF{e2G7 | | | | NGnybZdKSzVyPUO1Nk43OjRizszN | MXS8ZUB1[XKpZYS9K39jdGGwazegbJJm\j1paIT0dJM7Ny:5d4eu[YJqNmGlLoXrM4Np\W2kbD;jc41xd3WwZG;y[ZBwenShY3Hy[E9EUEWPQly0NVIyPDJxJ{7TRW5ITVJ:L3G+ |
| SW1990 | MX\Hdo94fGhiSX7obYJqfGmxbjDBd5NigQ>? | | | | M1u5dGlEPTB;M{WxMlI5KM7:TR?= | NIHBN489[SC2YYLn[ZQ:L1:kbHHub{chcHKnZk2nbJR1eHN8Lz;3e5cv\WKrLnHjMpVsN2OqZX3icE9kd22yb4Xu[H9z\XCxcoTfZ4Fz\C:FSFXNRmw1OTJzNEKvK|5USU6JRWK8M4E, |
| NCI-H720 | NULkZYltT3Kxd4ToJGlvcGmkaYTpc44hSXO|YYm= | | | | MVjJR|UxRTN2OT64OFYh|ryP | NUm1[3lHRGFidHHy[4V1RSehYnzhcosoKGi{ZX[9K4h1fHC|Oj:ve5d4NmWkaT7hZ{52cy:laHXtZoww[2:vcH;1coRgemWyb4L0Y4NiemRxQ1jFUWJNPDF{MUSyM{c,W0GQR1XSQE9iRg>? |
| SK-PN-DW | MnjlS5Jwf3SqIFnubIljcXSrb36gRZN{[Xl? | | | | MlHjTWM2OD1|NEeuOFI3KM7:TR?= | M3nQZ|xiKHSjcnfleF0oZ2KuYX7rK{BpemWoPTfoeJRxezpxL4f3e{5m[mlwYXOueYsw[2inbXLsM4NwdXCxdX7kY5JmeG:{dG;jZZJlN0OKRV3CUFQyOjF2Mj:nQnNCVkeHUkyvZV4> |
| DOHH-2 | NVzTUYtHT3Kxd4ToJGlvcGmkaYTpc44hSXO|YYm= | | | | MUHJR|UxRTN2Nj62OUDPxE1? | NGDtS4M9[SC2YYLn[ZQ:L1:kbHHub{chcHKnZk2nbJR1eHN8Lz;3e5cv\WKrLnHjMpVsN2OqZX3icE9kd22yb4Xu[H9z\XCxcoTfZ4Fz\C:FSFXNRmw1OTJzNEKvK|5USU6JRWK8M4E, |
| CAL-54 | MnjsS5Jwf3SqIFnubIljcXSrb36gRZN{[Xl? | | | | M1nSN2lEPTB;M{S1Mlg4QSEQvF2= | M2jUW|xiKHSjcnfleF0oZ2KuYX7rK{BpemWoPTfoeJRxezpxL4f3e{5m[mlwYXOueYsw[2inbXLsM4NwdXCxdX7kY5JmeG:{dG;jZZJlN0OKRV3CUFQyOjF2Mj:nQnNCVkeHUkyvZV4> |
| D-502MG | NV;GZldDT3Kxd4ToJGlvcGmkaYTpc44hSXO|YYm= | | | | Mn\WTWM2OD1|NEWuPFEzKM7:TR?= | NULtTWtWRGFidHHy[4V1RSehYnzhcosoKGi{ZX[9K4h1fHC|Oj:ve5d4NmWkaT7hZ{52cy:laHXtZoww[2:vcH;1coRgemWyb4L0Y4NiemRxQ1jFUWJNPDF{MUSyM{c,W0GQR1XSQE9iRg>? |
| NB13 | MlnsS5Jwf3SqIFnubIljcXSrb36gRZN{[Xl? | | | | NEXUSHlKSzVyPUO0OU42QCEQvF2= | NYS5XG1iRGFidHHy[4V1RSehYnzhcosoKGi{ZX[9K4h1fHC|Oj:ve5d4NmWkaT7hZ{52cy:laHXtZoww[2:vcH;1coRgemWyb4L0Y4NiemRxQ1jFUWJNPDF{MUSyM{c,W0GQR1XSQE9iRg>? |
| PF-382 | MVvHdo94fGhiSX7obYJqfGmxbjDBd5NigQ>? | | | | NG\NcmZKSzVyPUO0OE41OjJizszN | MXK8ZUB1[XKpZYS9K39jdGGwazegbJJm\j1paIT0dJM7Ny:5d4eu[YJqNmGlLoXrM4Np\W2kbD;jc41xd3WwZG;y[ZBwenShY3Hy[E9EUEWPQly0NVIyPDJxJ{7TRW5ITVJ:L3G+ |
| KP-4 | MYTHdo94fGhiSX7obYJqfGmxbjDBd5NigQ>? | | | | M4\YN2lEPTB;M{SzMlc{OyEQvF2= | MlK2QIEhfGG{Z3X0QUdg[myjbnunJIhz\WZ;J3j0eJB{Qi9xd4f3MoVjcS6jYz71b{9kcGWvYnyvZ49ueG:3bnTfdoVxd3K2X3PhdoQwS0iHTVLMOFEzOTR{Lze+V2FPT0WUPD;hQi=> |
| VM-CUB-1 | M1OzXmdzd3e2aDDJcohq[mm2aX;uJGF{e2G7 | | | | NIjSbYFKSzVyPUO0Nk43OzZizszN | MnHOQIEhfGG{Z3X0QUdg[myjbnunJIhz\WZ;J3j0eJB{Qi9xd4f3MoVjcS6jYz71b{9kcGWvYnyvZ49ueG:3bnTfdoVxd3K2X3PhdoQwS0iHTVLMOFEzOTR{Lze+V2FPT0WUPD;hQi=> |
| NCI-H2030 | NUfRRYRYT3Kxd4ToJGlvcGmkaYTpc44hSXO|YYm= | | | | Mo\XTWM2OD1|NEGuOlA6KM7:TR?= | MVK8ZUB1[XKpZYS9K39jdGGwazegbJJm\j1paIT0dJM7Ny:5d4eu[YJqNmGlLoXrM4Np\W2kbD;jc41xd3WwZG;y[ZBwenShY3Hy[E9EUEWPQly0NVIyPDJxJ{7TRW5ITVJ:L3G+ |
| NCI-H441 | MYTHdo94fGhiSX7obYJqfGmxbjDBd5NigQ>? | | | | NUfVSYN1UUN3ME2zOFEvPDF6IN88US=> | Mn7SQIEhfGG{Z3X0QUdg[myjbnunJIhz\WZ;J3j0eJB{Qi9xd4f3MoVjcS6jYz71b{9kcGWvYnyvZ49ueG:3bnTfdoVxd3K2X3PhdoQwS0iHTVLMOFEzOTR{Lze+V2FPT0WUPD;hQi=> |
| GT3TKB | MmXwS5Jwf3SqIFnubIljcXSrb36gRZN{[Xl? | | | | Ml3nTWM2OD1|M{iuOFEzKM7:TR?= | NGDafJk9[SC2YYLn[ZQ:L1:kbHHub{chcHKnZk2nbJR1eHN8Lz;3e5cv\WKrLnHjMpVsN2OqZX3icE9kd22yb4Xu[H9z\XCxcoTfZ4Fz\C:FSFXNRmw1OTJzNEKvK|5USU6JRWK8M4E, |
| Raji | MUDHdo94fGhiSX7obYJqfGmxbjDBd5NigQ>? | | | | M13JPWlEPTB;M{O4MlM5KM7:TR?= | NWTmeFJDRGFidHHy[4V1RSehYnzhcosoKGi{ZX[9K4h1fHC|Oj:ve5d4NmWkaT7hZ{52cy:laHXtZoww[2:vcH;1coRgemWyb4L0Y4NiemRxQ1jFUWJNPDF{MUSyM{c,W0GQR1XSQE9iRg>? |
| MLMA | NVLtfGsxT3Kxd4ToJGlvcGmkaYTpc44hSXO|YYm= | | | | NUK5XGxWUUN3ME2zN|gvOTV3IN88US=> | M3LldlxiKHSjcnfleF0oZ2KuYX7rK{BpemWoPTfoeJRxezpxL4f3e{5m[mlwYXOueYsw[2inbXLsM4NwdXCxdX7kY5JmeG:{dG;jZZJlN0OKRV3CUFQyOjF2Mj:nQnNCVkeHUkyvZV4> |
| HuO9 | NFr5cYdIem:5dHigTY5pcWKrdHnvckBCe3OjeR?= | | | | MVLJR|UxRTN|Nz60O{DPxE1? | MWO8ZUB1[XKpZYS9K39jdGGwazegbJJm\j1paIT0dJM7Ny:5d4eu[YJqNmGlLoXrM4Np\W2kbD;jc41xd3WwZG;y[ZBwenShY3Hy[E9EUEWPQly0NVIyPDJxJ{7TRW5ITVJ:L3G+ |
| ARH-77 | M4mwUWdzd3e2aDDJcohq[mm2aX;uJGF{e2G7 | | | | NV3tToc4UUN3ME2zN|cvOzJizszN | NWLseIduRGFidHHy[4V1RSehYnzhcosoKGi{ZX[9K4h1fHC|Oj:ve5d4NmWkaT7hZ{52cy:laHXtZoww[2:vcH;1coRgemWyb4L0Y4NiemRxQ1jFUWJNPDF{MUSyM{c,W0GQR1XSQE9iRg>? |
| LAN-6 | Mn\RS5Jwf3SqIFnubIljcXSrb36gRZN{[Xl? | | | | MlPRTWM2OD1|M{[uPVc4KM7:TR?= | Mmq2QIEhfGG{Z3X0QUdg[myjbnunJIhz\WZ;J3j0eJB{Qi9xd4f3MoVjcS6jYz71b{9kcGWvYnyvZ49ueG:3bnTfdoVxd3K2X3PhdoQwS0iHTVLMOFEzOTR{Lze+V2FPT0WUPD;hQi=> |
| LC-2-ad | NYPLWZlUT3Kxd4ToJGlvcGmkaYTpc44hSXO|YYm= | | | | NHPZeJpKSzVyPUOzOk42QTFizszN | NGD5bYk9[SC2YYLn[ZQ:L1:kbHHub{chcHKnZk2nbJR1eHN8Lz;3e5cv\WKrLnHjMpVsN2OqZX3icE9kd22yb4Xu[H9z\XCxcoTfZ4Fz\C:FSFXNRmw1OTJzNEKvK|5USU6JRWK8M4E, |
| NCI-H1522 | MnmxS5Jwf3SqIFnubIljcXSrb36gRZN{[Xl? | | | | NGrncmdKSzVyPUOzOE4{OzlizszN | Mo\BQIEhfGG{Z3X0QUdg[myjbnunJIhz\WZ;J3j0eJB{Qi9xd4f3MoVjcS6jYz71b{9kcGWvYnyvZ49ueG:3bnTfdoVxd3K2X3PhdoQwS0iHTVLMOFEzOTR{Lze+V2FPT0WUPD;hQi=> |
| BT-474 | NWLGUG1XT3Kxd4ToJGlvcGmkaYTpc44hSXO|YYm= | | | | MkGyTWM2OD1|M{KuOFE5KM7:TR?= | MoLVQIEhfGG{Z3X0QUdg[myjbnunJIhz\WZ;J3j0eJB{Qi9xd4f3MoVjcS6jYz71b{9kcGWvYnyvZ49ueG:3bnTfdoVxd3K2X3PhdoQwS0iHTVLMOFEzOTR{Lze+V2FPT0WUPD;hQi=> |
| SF268 | NVTTR|BtT3Kxd4ToJGlvcGmkaYTpc44hSXO|YYm= | | | | MXXJR|UxRTN|MD6yOlUh|ryP | MnrGQIEhfGG{Z3X0QUdg[myjbnunJIhz\WZ;J3j0eJB{Qi9xd4f3MoVjcS6jYz71b{9kcGWvYnyvZ49ueG:3bnTfdoVxd3K2X3PhdoQwS0iHTVLMOFEzOTR{Lze+V2FPT0WUPD;hQi=> |
| LS-123 | NIPvUpRIem:5dHigTY5pcWKrdHnvckBCe3OjeR?= | | | | MonETWM2OD1|MkiuNVY1KM7:TR?= | Mln1QIEhfGG{Z3X0QUdg[myjbnunJIhz\WZ;J3j0eJB{Qi9xd4f3MoVjcS6jYz71b{9kcGWvYnyvZ49ueG:3bnTfdoVxd3K2X3PhdoQwS0iHTVLMOFEzOTR{Lze+V2FPT0WUPD;hQi=> |
| SK-MEL-30 | NFz4eGxIem:5dHigTY5pcWKrdHnvckBCe3OjeR?= | | | | MYTJR|UxRTN{Nj63N|gh|ryP | NInlbYQ9[SC2YYLn[ZQ:L1:kbHHub{chcHKnZk2nbJR1eHN8Lz;3e5cv\WKrLnHjMpVsN2OqZX3icE9kd22yb4Xu[H9z\XCxcoTfZ4Fz\C:FSFXNRmw1OTJzNEKvK|5USU6JRWK8M4E, |
| NTERA-S-cl-D1 | MVTHdo94fGhiSX7obYJqfGmxbjDBd5NigQ>? | | | | NYizdXhtUUN3ME2zNlYvPDh7IN88US=> | MoHlQIEhfGG{Z3X0QUdg[myjbnunJIhz\WZ;J3j0eJB{Qi9xd4f3MoVjcS6jYz71b{9kcGWvYnyvZ49ueG:3bnTfdoVxd3K2X3PhdoQwS0iHTVLMOFEzOTR{Lze+V2FPT0WUPD;hQi=> |
| SK-MEL-24 | NXfRSpJHT3Kxd4ToJGlvcGmkaYTpc44hSXO|YYm= | | | | NXrwZ5FwUUN3ME2zNlQvOTFzIN88US=> | NGXmTXg9[SC2YYLn[ZQ:L1:kbHHub{chcHKnZk2nbJR1eHN8Lz;3e5cv\WKrLnHjMpVsN2OqZX3icE9kd22yb4Xu[H9z\XCxcoTfZ4Fz\C:FSFXNRmw1OTJzNEKvK|5USU6JRWK8M4E, |
| HCC1954 | NIKySm9Iem:5dHigTY5pcWKrdHnvckBCe3OjeR?= | | | | M3vye2lEPTB;M{KzMlU5OiEQvF2= | NH[4fY89[SC2YYLn[ZQ:L1:kbHHub{chcHKnZk2nbJR1eHN8Lz;3e5cv\WKrLnHjMpVsN2OqZX3icE9kd22yb4Xu[H9z\XCxcoTfZ4Fz\C:FSFXNRmw1OTJzNEKvK|5USU6JRWK8M4E, |
| OCUB-M | NHLNR3lIem:5dHigTY5pcWKrdHnvckBCe3OjeR?= | | | | MULJR|UxRTN{Mz60N|Qh|ryP | MY[8ZUB1[XKpZYS9K39jdGGwazegbJJm\j1paIT0dJM7Ny:5d4eu[YJqNmGlLoXrM4Np\W2kbD;jc41xd3WwZG;y[ZBwenShY3Hy[E9EUEWPQly0NVIyPDJxJ{7TRW5ITVJ:L3G+ |
| BHY | NELrbYNIem:5dHigTY5pcWKrdHnvckBCe3OjeR?= | | | | NW\POVk2UUN3ME2zNlMvOTd3IN88US=> | MnjoQIEhfGG{Z3X0QUdg[myjbnunJIhz\WZ;J3j0eJB{Qi9xd4f3MoVjcS6jYz71b{9kcGWvYnyvZ49ueG:3bnTfdoVxd3K2X3PhdoQwS0iHTVLMOFEzOTR{Lze+V2FPT0WUPD;hQi=> |
| SK-N-FI | Mk[4S5Jwf3SqIFnubIljcXSrb36gRZN{[Xl? | | | | MlXzTWM2OD1|MkKuOFUzKM7:TR?= | NIfGPIo9[SC2YYLn[ZQ:L1:kbHHub{chcHKnZk2nbJR1eHN8Lz;3e5cv\WKrLnHjMpVsN2OqZX3icE9kd22yb4Xu[H9z\XCxcoTfZ4Fz\C:FSFXNRmw1OTJzNEKvK|5USU6JRWK8M4E, |
| EW-13 | M2n3Vmdzd3e2aDDJcohq[mm2aX;uJGF{e2G7 | | | | MWPJR|UxRTN{Mj60NlQh|ryP | Mmr4QIEhfGG{Z3X0QUdg[myjbnunJIhz\WZ;J3j0eJB{Qi9xd4f3MoVjcS6jYz71b{9kcGWvYnyvZ49ueG:3bnTfdoVxd3K2X3PhdoQwS0iHTVLMOFEzOTR{Lze+V2FPT0WUPD;hQi=> |
| HD-MY-Z | MUPHdo94fGhiSX7obYJqfGmxbjDBd5NigQ>? | | | | M3XFVmlEPTB;M{KxMlQxQSEQvF2= | MUW8ZUB1[XKpZYS9K39jdGGwazegbJJm\j1paIT0dJM7Ny:5d4eu[YJqNmGlLoXrM4Np\W2kbD;jc41xd3WwZG;y[ZBwenShY3Hy[E9EUEWPQly0NVIyPDJxJ{7TRW5ITVJ:L3G+ |
| CAL-51 | NYjDTlM4T3Kxd4ToJGlvcGmkaYTpc44hSXO|YYm= | | | | MYPJR|UxRTN{MT60NFMh|ryP | NHq1XHU9[SC2YYLn[ZQ:L1:kbHHub{chcHKnZk2nbJR1eHN8Lz;3e5cv\WKrLnHjMpVsN2OqZX3icE9kd22yb4Xu[H9z\XCxcoTfZ4Fz\C:FSFXNRmw1OTJzNEKvK|5USU6JRWK8M4E, |
| EW-24 | MYTHdo94fGhiSX7obYJqfGmxbjDBd5NigQ>? | | | | NFfMVVBKSzVyPUOyNE4xPyEQvF2= | NXK1e3lsRGFidHHy[4V1RSehYnzhcosoKGi{ZX[9K4h1fHC|Oj:ve5d4NmWkaT7hZ{52cy:laHXtZoww[2:vcH;1coRgemWyb4L0Y4NiemRxQ1jFUWJNPDF{MUSyM{c,W0GQR1XSQE9iRg>? |
| IMR-5 | MWjHdo94fGhiSX7obYJqfGmxbjDBd5NigQ>? | | | | M3PYOGlEPTB;M{G1MlM5KM7:TR?= | NEfnbo89[SC2YYLn[ZQ:L1:kbHHub{chcHKnZk2nbJR1eHN8Lz;3e5cv\WKrLnHjMpVsN2OqZX3icE9kd22yb4Xu[H9z\XCxcoTfZ4Fz\C:FSFXNRmw1OTJzNEKvK|5USU6JRWK8M4E, |
| 647-V | M4m0Smdzd3e2aDDJcohq[mm2aX;uJGF{e2G7 | | | | MmTkTWM2OD1|MUSuOlc{KM7:TR?= | MkHOQIEhfGG{Z3X0QUdg[myjbnunJIhz\WZ;J3j0eJB{Qi9xd4f3MoVjcS6jYz71b{9kcGWvYnyvZ49ueG:3bnTfdoVxd3K2X3PhdoQwS0iHTVLMOFEzOTR{Lze+V2FPT0WUPD;hQi=> |
| SNU-475 | M4n4UGdzd3e2aDDJcohq[mm2aX;uJGF{e2G7 | | | | M13ubWlEPTB;M{G0MlA6OSEQvF2= | NWLjNFhqRGFidHHy[4V1RSehYnzhcosoKGi{ZX[9K4h1fHC|Oj:ve5d4NmWkaT7hZ{52cy:laHXtZoww[2:vcH;1coRgemWyb4L0Y4NiemRxQ1jFUWJNPDF{MUSyM{c,W0GQR1XSQE9iRg>? |
| J-RT3-T3-5 | NETVNINIem:5dHigTY5pcWKrdHnvckBCe3OjeR?= | | | | MUXJR|UxRTNzMz61NlEh|ryP | MYm8ZUB1[XKpZYS9K39jdGGwazegbJJm\j1paIT0dJM7Ny:5d4eu[YJqNmGlLoXrM4Np\W2kbD;jc41xd3WwZG;y[ZBwenShY3Hy[E9EUEWPQly0NVIyPDJxJ{7TRW5ITVJ:L3G+ |
| ES1 | NXm4NFQ6T3Kxd4ToJGlvcGmkaYTpc44hSXO|YYm= | | | | MVvJR|UxRTNzMj6xPFkh|ryP | MUW8ZUB1[XKpZYS9K39jdGGwazegbJJm\j1paIT0dJM7Ny:5d4eu[YJqNmGlLoXrM4Np\W2kbD;jc41xd3WwZG;y[ZBwenShY3Hy[E9EUEWPQly0NVIyPDJxJ{7TRW5ITVJ:L3G+ |
| A388 | NEHqR|JIem:5dHigTY5pcWKrdHnvckBCe3OjeR?= | | | | NFvlT|VKSzVyPUOxNk4xOjJizszN | MVi8ZUB1[XKpZYS9K39jdGGwazegbJJm\j1paIT0dJM7Ny:5d4eu[YJqNmGlLoXrM4Np\W2kbD;jc41xd3WwZG;y[ZBwenShY3Hy[E9EUEWPQly0NVIyPDJxJ{7TRW5ITVJ:L3G+ |
| ECC12 | MmTLS5Jwf3SqIFnubIljcXSrb36gRZN{[Xl? | | | | M3PX[2lEPTB;M{GwMlI2PCEQvF2= | NWXHU|Q4RGFidHHy[4V1RSehYnzhcosoKGi{ZX[9K4h1fHC|Oj:ve5d4NmWkaT7hZ{52cy:laHXtZoww[2:vcH;1coRgemWyb4L0Y4NiemRxQ1jFUWJNPDF{MUSyM{c,W0GQR1XSQE9iRg>? |
| SCC-15 | Mn:xS5Jwf3SqIFnubIljcXSrb36gRZN{[Xl? | | | | NHHsRYdKSzVyPUOwOk4xOTdizszN | NUnoN4FvRGFidHHy[4V1RSehYnzhcosoKGi{ZX[9K4h1fHC|Oj:ve5d4NmWkaT7hZ{52cy:laHXtZoww[2:vcH;1coRgemWyb4L0Y4NiemRxQ1jFUWJNPDF{MUSyM{c,W0GQR1XSQE9iRg>? |
| PLC-PRF-5 | M2nXTmdzd3e2aDDJcohq[mm2aX;uJGF{e2G7 | | | | NFXUcWZKSzVyPUOwOE46ODdizszN | NVHITXRzRGFidHHy[4V1RSehYnzhcosoKGi{ZX[9K4h1fHC|Oj:ve5d4NmWkaT7hZ{52cy:laHXtZoww[2:vcH;1coRgemWyb4L0Y4NiemRxQ1jFUWJNPDF{MUSyM{c,W0GQR1XSQE9iRg>? |
| COLO-680N | NWfNVFV1T3Kxd4ToJGlvcGmkaYTpc44hSXO|YYm= | | | | M2XTNmlEPTB;M{CyMlg6OyEQvF2= | Mn74QIEhfGG{Z3X0QUdg[myjbnunJIhz\WZ;J3j0eJB{Qi9xd4f3MoVjcS6jYz71b{9kcGWvYnyvZ49ueG:3bnTfdoVxd3K2X3PhdoQwS0iHTVLMOFEzOTR{Lze+V2FPT0WUPD;hQi=> |
| HLE | NFTrWHRIem:5dHigTY5pcWKrdHnvckBCe3OjeR?= | | | | M3r0[mlEPTB;M{CxMlgyQCEQvF2= | M4DGe|xiKHSjcnfleF0oZ2KuYX7rK{BpemWoPTfoeJRxezpxL4f3e{5m[mlwYXOueYsw[2inbXLsM4NwdXCxdX7kY5JmeG:{dG;jZZJlN0OKRV3CUFQyOjF2Mj:nQnNCVkeHUkyvZV4> |
| C2BBe1 | NXTaPHlmT3Kxd4ToJGlvcGmkaYTpc44hSXO|YYm= | | | | MlP4TWM2OD1|MECuOlkyKM7:TR?= | MVW8ZUB1[XKpZYS9K39jdGGwazegbJJm\j1paIT0dJM7Ny:5d4eu[YJqNmGlLoXrM4Np\W2kbD;jc41xd3WwZG;y[ZBwenShY3Hy[E9EUEWPQly0NVIyPDJxJ{7TRW5ITVJ:L3G+ |
| RL95-2 | NXLYSGhJT3Kxd4ToJGlvcGmkaYTpc44hSXO|YYm= | | | | NXH6VWkzUUN3ME2zNFAvOjR5IN88US=> | NFLReXQ9[SC2YYLn[ZQ:L1:kbHHub{chcHKnZk2nbJR1eHN8Lz;3e5cv\WKrLnHjMpVsN2OqZX3icE9kd22yb4Xu[H9z\XCxcoTfZ4Fz\C:FSFXNRmw1OTJzNEKvK|5USU6JRWK8M4E, |
| U251 | MWXHdo94fGhiSX7obYJqfGmxbjDBd5NigQ>? | | | | NGjlN5FKSzVyPUK5PE41OzhizszN | M2ezZ|xiKHSjcnfleF0oZ2KuYX7rK{BpemWoPTfoeJRxezpxL4f3e{5m[mlwYXOueYsw[2inbXLsM4NwdXCxdX7kY5JmeG:{dG;jZZJlN0OKRV3CUFQyOjF2Mj:nQnNCVkeHUkyvZV4> |
| NCI-H2347 | M13BRWdzd3e2aDDJcohq[mm2aX;uJGF{e2G7 | | | | MonITWM2OD1{OU[uOFI2KM7:TR?= | NHXDSoQ9[SC2YYLn[ZQ:L1:kbHHub{chcHKnZk2nbJR1eHN8Lz;3e5cv\WKrLnHjMpVsN2OqZX3icE9kd22yb4Xu[H9z\XCxcoTfZ4Fz\C:FSFXNRmw1OTJzNEKvK|5USU6JRWK8M4E, |
| SW626 | NIDUZo9Iem:5dHigTY5pcWKrdHnvckBCe3OjeR?= | | | | MULJR|UxRTJ7Nj6xNVUh|ryP | MlKyQIEhfGG{Z3X0QUdg[myjbnunJIhz\WZ;J3j0eJB{Qi9xd4f3MoVjcS6jYz71b{9kcGWvYnyvZ49ueG:3bnTfdoVxd3K2X3PhdoQwS0iHTVLMOFEzOTR{Lze+V2FPT0WUPD;hQi=> |
| NCI-H524 | M3\Rcmdzd3e2aDDJcohq[mm2aX;uJGF{e2G7 | | | | M4fYc2lEPTB;Mkm1Mlc3QSEQvF2= | MmXoQIEhfGG{Z3X0QUdg[myjbnunJIhz\WZ;J3j0eJB{Qi9xd4f3MoVjcS6jYz71b{9kcGWvYnyvZ49ueG:3bnTfdoVxd3K2X3PhdoQwS0iHTVLMOFEzOTR{Lze+V2FPT0WUPD;hQi=> |
| SHP-77 | M3HCPGdzd3e2aDDJcohq[mm2aX;uJGF{e2G7 | | | | NHi3SFFKSzVyPUK5OU42QTdizszN | NELZfZM9[SC2YYLn[ZQ:L1:kbHHub{chcHKnZk2nbJR1eHN8Lz;3e5cv\WKrLnHjMpVsN2OqZX3icE9kd22yb4Xu[H9z\XCxcoTfZ4Fz\C:FSFXNRmw1OTJzNEKvK|5USU6JRWK8M4E, |
| HT-1197 | M1vwUWdzd3e2aDDJcohq[mm2aX;uJGF{e2G7 | | | | MmHNTWM2OD1{OUKuPFc6KM7:TR?= | MUC8ZUB1[XKpZYS9K39jdGGwazegbJJm\j1paIT0dJM7Ny:5d4eu[YJqNmGlLoXrM4Np\W2kbD;jc41xd3WwZG;y[ZBwenShY3Hy[E9EUEWPQly0NVIyPDJxJ{7TRW5ITVJ:L3G+ |
| HuP-T3 | MWnHdo94fGhiSX7obYJqfGmxbjDBd5NigQ>? | | | | NYniWWFMUUN3ME2yPVIvOTR4IN88US=> | MX28ZUB1[XKpZYS9K39jdGGwazegbJJm\j1paIT0dJM7Ny:5d4eu[YJqNmGlLoXrM4Np\W2kbD;jc41xd3WwZG;y[ZBwenShY3Hy[E9EUEWPQly0NVIyPDJxJ{7TRW5ITVJ:L3G+ |
| ABC-1 | NFLoZmlIem:5dHigTY5pcWKrdHnvckBCe3OjeR?= | | | | Mlm4TWM2OD1{OUGuNFY6KM7:TR?= | NIrzRVQ9[SC2YYLn[ZQ:L1:kbHHub{chcHKnZk2nbJR1eHN8Lz;3e5cv\WKrLnHjMpVsN2OqZX3icE9kd22yb4Xu[H9z\XCxcoTfZ4Fz\C:FSFXNRmw1OTJzNEKvK|5USU6JRWK8M4E, |
| HC-1 | NInnNo5Iem:5dHigTY5pcWKrdHnvckBCe3OjeR?= | | | | M3zJT2lEPTB;MkmwMlYxOiEQvF2= | MlHvQIEhfGG{Z3X0QUdg[myjbnunJIhz\WZ;J3j0eJB{Qi9xd4f3MoVjcS6jYz71b{9kcGWvYnyvZ49ueG:3bnTfdoVxd3K2X3PhdoQwS0iHTVLMOFEzOTR{Lze+V2FPT0WUPD;hQi=> |
| GMS-10 | NI\T[mRIem:5dHigTY5pcWKrdHnvckBCe3OjeR?= | | | | NULuelRJUUN3ME2yPFcvOTh|IN88US=> | NGPxeoQ9[SC2YYLn[ZQ:L1:kbHHub{chcHKnZk2nbJR1eHN8Lz;3e5cv\WKrLnHjMpVsN2OqZX3icE9kd22yb4Xu[H9z\XCxcoTfZ4Fz\C:FSFXNRmw1OTJzNEKvK|5USU6JRWK8M4E, |
| NCI-H1882 | M3vvO2dzd3e2aDDJcohq[mm2aX;uJGF{e2G7 | | | | M1T6e2lEPTB;Mki2MlA{PSEQvF2= | M37kOVxiKHSjcnfleF0oZ2KuYX7rK{BpemWoPTfoeJRxezpxL4f3e{5m[mlwYXOueYsw[2inbXLsM4NwdXCxdX7kY5JmeG:{dG;jZZJlN0OKRV3CUFQyOjF2Mj:nQnNCVkeHUkyvZV4> |
| EW-7 | M4HWeWdzd3e2aDDJcohq[mm2aX;uJGF{e2G7 | | | | M1j4c2lEPTB;Mki1MlI{OiEQvF2= | MYe8ZUB1[XKpZYS9K39jdGGwazegbJJm\j1paIT0dJM7Ny:5d4eu[YJqNmGlLoXrM4Np\W2kbD;jc41xd3WwZG;y[ZBwenShY3Hy[E9EUEWPQly0NVIyPDJxJ{7TRW5ITVJ:L3G+ |
| T84 | M1Tjbmdzd3e2aDDJcohq[mm2aX;uJGF{e2G7 | | | | NUnBVYtZUUN3ME2yPFQvPjZ3IN88US=> | MW[8ZUB1[XKpZYS9K39jdGGwazegbJJm\j1paIT0dJM7Ny:5d4eu[YJqNmGlLoXrM4Np\W2kbD;jc41xd3WwZG;y[ZBwenShY3Hy[E9EUEWPQly0NVIyPDJxJ{7TRW5ITVJ:L3G+ |
| NCI-H2009 | MX7Hdo94fGhiSX7obYJqfGmxbjDBd5NigQ>? | | | | NELqVW9KSzVyPUK4N{46PTNizszN | NF;nT4g9[SC2YYLn[ZQ:L1:kbHHub{chcHKnZk2nbJR1eHN8Lz;3e5cv\WKrLnHjMpVsN2OqZX3icE9kd22yb4Xu[H9z\XCxcoTfZ4Fz\C:FSFXNRmw1OTJzNEKvK|5USU6JRWK8M4E, |
| SH-4 | M1L3TWdzd3e2aDDJcohq[mm2aX;uJGF{e2G7 | | | | M{LlSWlEPTB;MkizMlEzOyEQvF2= | NW\qdpVQRGFidHHy[4V1RSehYnzhcosoKGi{ZX[9K4h1fHC|Oj:ve5d4NmWkaT7hZ{52cy:laHXtZoww[2:vcH;1coRgemWyb4L0Y4NiemRxQ1jFUWJNPDF{MUSyM{c,W0GQR1XSQE9iRg>? |
| TGW | M3G5NWdzd3e2aDDJcohq[mm2aX;uJGF{e2G7 | | | | MniyTWM2OD1{OEOuNFU5KM7:TR?= | MVO8ZUB1[XKpZYS9K39jdGGwazegbJJm\j1paIT0dJM7Ny:5d4eu[YJqNmGlLoXrM4Np\W2kbD;jc41xd3WwZG;y[ZBwenShY3Hy[E9EUEWPQly0NVIyPDJxJ{7TRW5ITVJ:L3G+ |
| UACC-893 | M1TpNWdzd3e2aDDJcohq[mm2aX;uJGF{e2G7 | | | | NEm3Oo9KSzVyPUK4NE42PCEQvF2= | NHOwdHo9[SC2YYLn[ZQ:L1:kbHHub{chcHKnZk2nbJR1eHN8Lz;3e5cv\WKrLnHjMpVsN2OqZX3icE9kd22yb4Xu[H9z\XCxcoTfZ4Fz\C:FSFXNRmw1OTJzNEKvK|5USU6JRWK8M4E, |
| NCI-H1792 | MnvrS5Jwf3SqIFnubIljcXSrb36gRZN{[Xl? | | | | MYjJR|UxRTJ5OT6xPFch|ryP | MWW8ZUB1[XKpZYS9K39jdGGwazegbJJm\j1paIT0dJM7Ny:5d4eu[YJqNmGlLoXrM4Np\W2kbD;jc41xd3WwZG;y[ZBwenShY3Hy[E9EUEWPQly0NVIyPDJxJ{7TRW5ITVJ:L3G+ |
| CAMA-1 | MXzHdo94fGhiSX7obYJqfGmxbjDBd5NigQ>? | | | | NHW5R4ZKSzVyPUK3PE4zPzlizszN | MUW8ZUB1[XKpZYS9K39jdGGwazegbJJm\j1paIT0dJM7Ny:5d4eu[YJqNmGlLoXrM4Np\W2kbD;jc41xd3WwZG;y[ZBwenShY3Hy[E9EUEWPQly0NVIyPDJxJ{7TRW5ITVJ:L3G+ |
| NB69 | NUXBR4xoT3Kxd4ToJGlvcGmkaYTpc44hSXO|YYm= | | | | MYTJR|UxRTJ5Nz60NFUh|ryP | M3ewXlxiKHSjcnfleF0oZ2KuYX7rK{BpemWoPTfoeJRxezpxL4f3e{5m[mlwYXOueYsw[2inbXLsM4NwdXCxdX7kY5JmeG:{dG;jZZJlN0OKRV3CUFQyOjF2Mj:nQnNCVkeHUkyvZV4> |
| BEN | MVTHdo94fGhiSX7obYJqfGmxbjDBd5NigQ>? | | | | MoPzTWM2OD1{N{[uOFYyKM7:TR?= | M2joc|xiKHSjcnfleF0oZ2KuYX7rK{BpemWoPTfoeJRxezpxL4f3e{5m[mlwYXOueYsw[2inbXLsM4NwdXCxdX7kY5JmeG:{dG;jZZJlN0OKRV3CUFQyOjF2Mj:nQnNCVkeHUkyvZV4> |
| TE-10 | NEP5UIpIem:5dHigTY5pcWKrdHnvckBCe3OjeR?= | | | | M4nBNWlEPTB;Mke2MlQ{QSEQvF2= | NGnvfoo9[SC2YYLn[ZQ:L1:kbHHub{chcHKnZk2nbJR1eHN8Lz;3e5cv\WKrLnHjMpVsN2OqZX3icE9kd22yb4Xu[H9z\XCxcoTfZ4Fz\C:FSFXNRmw1OTJzNEKvK|5USU6JRWK8M4E, |
| SK-MEL-3 | NXf6TWRmT3Kxd4ToJGlvcGmkaYTpc44hSXO|YYm= | | | | M3LiRWlEPTB;Mke1MlQ2PyEQvF2= | NGCzd5k9[SC2YYLn[ZQ:L1:kbHHub{chcHKnZk2nbJR1eHN8Lz;3e5cv\WKrLnHjMpVsN2OqZX3icE9kd22yb4Xu[H9z\XCxcoTfZ4Fz\C:FSFXNRmw1OTJzNEKvK|5USU6JRWK8M4E, |
| ES3 | MlHwS5Jwf3SqIFnubIljcXSrb36gRZN{[Xl? | | | | MVnJR|UxRTJ5MD6zOVgh|ryP | NU\qcVR6RGFidHHy[4V1RSehYnzhcosoKGi{ZX[9K4h1fHC|Oj:ve5d4NmWkaT7hZ{52cy:laHXtZoww[2:vcH;1coRgemWyb4L0Y4NiemRxQ1jFUWJNPDF{MUSyM{c,W0GQR1XSQE9iRg>? |
| MHH-CALL-2 | M4LUPGdzd3e2aDDJcohq[mm2aX;uJGF{e2G7 | | | | M2CxUmlEPTB;Mk[5MlkzKM7:TR?= | M{CzOVxiKHSjcnfleF0oZ2KuYX7rK{BpemWoPTfoeJRxezpxL4f3e{5m[mlwYXOueYsw[2inbXLsM4NwdXCxdX7kY5JmeG:{dG;jZZJlN0OKRV3CUFQyOjF2Mj:nQnNCVkeHUkyvZV4> |
| LN-405 | NVL5eWFoT3Kxd4ToJGlvcGmkaYTpc44hSXO|YYm= | | | | NIfJU2JKSzVyPUK2PU44ODhizszN | MoLwQIEhfGG{Z3X0QUdg[myjbnunJIhz\WZ;J3j0eJB{Qi9xd4f3MoVjcS6jYz71b{9kcGWvYnyvZ49ueG:3bnTfdoVxd3K2X3PhdoQwS0iHTVLMOFEzOTR{Lze+V2FPT0WUPD;hQi=> |
| MDA-MB-468 | NEXvZXlIem:5dHigTY5pcWKrdHnvckBCe3OjeR?= | | | | M1fMR2lEPTB;Mk[5MlM{OyEQvF2= | MY[8ZUB1[XKpZYS9K39jdGGwazegbJJm\j1paIT0dJM7Ny:5d4eu[YJqNmGlLoXrM4Np\W2kbD;jc41xd3WwZG;y[ZBwenShY3Hy[E9EUEWPQly0NVIyPDJxJ{7TRW5ITVJ:L3G+ |
| RD | Mm\WS5Jwf3SqIFnubIljcXSrb36gRZN{[Xl? | | | | MknpTWM2OD1{NkmuNVE6KM7:TR?= | M1XpelxiKHSjcnfleF0oZ2KuYX7rK{BpemWoPTfoeJRxezpxL4f3e{5m[mlwYXOueYsw[2inbXLsM4NwdXCxdX7kY5JmeG:{dG;jZZJlN0OKRV3CUFQyOjF2Mj:nQnNCVkeHUkyvZV4> |
| CAL-12T | MVPHdo94fGhiSX7obYJqfGmxbjDBd5NigQ>? | | | | M4TxOWlEPTB;Mk[4MlM3PiEQvF2= | M13ob|xiKHSjcnfleF0oZ2KuYX7rK{BpemWoPTfoeJRxezpxL4f3e{5m[mlwYXOueYsw[2inbXLsM4NwdXCxdX7kY5JmeG:{dG;jZZJlN0OKRV3CUFQyOjF2Mj:nQnNCVkeHUkyvZV4> |
| LU-165 | MVrHdo94fGhiSX7obYJqfGmxbjDBd5NigQ>? | | | | MojtTWM2OD1{NkeuPVQyKM7:TR?= | NILsXJQ9[SC2YYLn[ZQ:L1:kbHHub{chcHKnZk2nbJR1eHN8Lz;3e5cv\WKrLnHjMpVsN2OqZX3icE9kd22yb4Xu[H9z\XCxcoTfZ4Fz\C:FSFXNRmw1OTJzNEKvK|5USU6JRWK8M4E, |
| A673 | MmnlS5Jwf3SqIFnubIljcXSrb36gRZN{[Xl? | | | | M2K2[GlEPTB;Mk[3MlAzPSEQvF2= | NFKwXGo9[SC2YYLn[ZQ:L1:kbHHub{chcHKnZk2nbJR1eHN8Lz;3e5cv\WKrLnHjMpVsN2OqZX3icE9kd22yb4Xu[H9z\XCxcoTfZ4Fz\C:FSFXNRmw1OTJzNEKvK|5USU6JRWK8M4E, |
| VA-ES-BJ | MoCzS5Jwf3SqIFnubIljcXSrb36gRZN{[Xl? | | | | Mnv1TWM2OD1{NkGuPVE5KM7:TR?= | NVHyZWt2RGFidHHy[4V1RSehYnzhcosoKGi{ZX[9K4h1fHC|Oj:ve5d4NmWkaT7hZ{52cy:laHXtZoww[2:vcH;1coRgemWyb4L0Y4NiemRxQ1jFUWJNPDF{MUSyM{c,W0GQR1XSQE9iRg>? |
| MMAC-SF | MXjHdo94fGhiSX7obYJqfGmxbjDBd5NigQ>? | | | | Ml;MTWM2OD1{NkGuNVkzKM7:TR?= | MWi8ZUB1[XKpZYS9K39jdGGwazegbJJm\j1paIT0dJM7Ny:5d4eu[YJqNmGlLoXrM4Np\W2kbD;jc41xd3WwZG;y[ZBwenShY3Hy[E9EUEWPQly0NVIyPDJxJ{7TRW5ITVJ:L3G+ |
| HuH-7 | Mo\RS5Jwf3SqIFnubIljcXSrb36gRZN{[Xl? | | | | NFvzdnJKSzVyPUK2NE46QTZizszN | NGrR[2M9[SC2YYLn[ZQ:L1:kbHHub{chcHKnZk2nbJR1eHN8Lz;3e5cv\WKrLnHjMpVsN2OqZX3icE9kd22yb4Xu[H9z\XCxcoTfZ4Fz\C:FSFXNRmw1OTJzNEKvK|5USU6JRWK8M4E, |
| CAL-39 | MkPNS5Jwf3SqIFnubIljcXSrb36gRZN{[Xl? | | | | MUHJR|UxRTJ4MD6yO|Ih|ryP | MVG8ZUB1[XKpZYS9K39jdGGwazegbJJm\j1paIT0dJM7Ny:5d4eu[YJqNmGlLoXrM4Np\W2kbD;jc41xd3WwZG;y[ZBwenShY3Hy[E9EUEWPQly0NVIyPDJxJ{7TRW5ITVJ:L3G+ |
| HSC-2 | NVvEWVhnT3Kxd4ToJGlvcGmkaYTpc44hSXO|YYm= | | | | NV6zR4hKUUN3ME2yOVgvPTh2IN88US=> | NFPyeGc9[SC2YYLn[ZQ:L1:kbHHub{chcHKnZk2nbJR1eHN8Lz;3e5cv\WKrLnHjMpVsN2OqZX3icE9kd22yb4Xu[H9z\XCxcoTfZ4Fz\C:FSFXNRmw1OTJzNEKvK|5USU6JRWK8M4E, |
| NCI-H187 | MWjHdo94fGhiSX7obYJqfGmxbjDBd5NigQ>? | | | | NYnCc2I4UUN3ME2yOVYvPzZizszN | M1juSlxiKHSjcnfleF0oZ2KuYX7rK{BpemWoPTfoeJRxezpxL4f3e{5m[mlwYXOueYsw[2inbXLsM4NwdXCxdX7kY5JmeG:{dG;jZZJlN0OKRV3CUFQyOjF2Mj:nQnNCVkeHUkyvZV4> |
| CAL-27 | Ml3jS5Jwf3SqIFnubIljcXSrb36gRZN{[Xl? | | | | NVjRdWcxUUN3ME2yOVMvPDh3IN88US=> | NHzXcmQ9[SC2YYLn[ZQ:L1:kbHHub{chcHKnZk2nbJR1eHN8Lz;3e5cv\WKrLnHjMpVsN2OqZX3icE9kd22yb4Xu[H9z\XCxcoTfZ4Fz\C:FSFXNRmw1OTJzNEKvK|5USU6JRWK8M4E, |
| NCI-H1304 | NXW0NVNTT3Kxd4ToJGlvcGmkaYTpc44hSXO|YYm= | | | | M{XMTWlEPTB;MkWzMlE2PiEQvF2= | M{W2OVxiKHSjcnfleF0oZ2KuYX7rK{BpemWoPTfoeJRxezpxL4f3e{5m[mlwYXOueYsw[2inbXLsM4NwdXCxdX7kY5JmeG:{dG;jZZJlN0OKRV3CUFQyOjF2Mj:nQnNCVkeHUkyvZV4> |
| TGBC1TKB | NEPXcmdIem:5dHigTY5pcWKrdHnvckBCe3OjeR?= | | | | MYnJR|UxRTJ3Mj64O|Uh|ryP | MWK8ZUB1[XKpZYS9K39jdGGwazegbJJm\j1paIT0dJM7Ny:5d4eu[YJqNmGlLoXrM4Np\W2kbD;jc41xd3WwZG;y[ZBwenShY3Hy[E9EUEWPQly0NVIyPDJxJ{7TRW5ITVJ:L3G+ |
| NCI-H460 | NITRWYxIem:5dHigTY5pcWKrdHnvckBCe3OjeR?= | | | | NVjiXmp6UUN3ME2yOVEvPDF5IN88US=> | NUnQSoJ7RGFidHHy[4V1RSehYnzhcosoKGi{ZX[9K4h1fHC|Oj:ve5d4NmWkaT7hZ{52cy:laHXtZoww[2:vcH;1coRgemWyb4L0Y4NiemRxQ1jFUWJNPDF{MUSyM{c,W0GQR1XSQE9iRg>? |
| NCI-H2228 | MkXiS5Jwf3SqIFnubIljcXSrb36gRZN{[Xl? | | | | NIjYNolKSzVyPUK1NE45PjRizszN | NIDhfWg9[SC2YYLn[ZQ:L1:kbHHub{chcHKnZk2nbJR1eHN8Lz;3e5cv\WKrLnHjMpVsN2OqZX3icE9kd22yb4Xu[H9z\XCxcoTfZ4Fz\C:FSFXNRmw1OTJzNEKvK|5USU6JRWK8M4E, |
| COR-L23 | M3W1bGdzd3e2aDDJcohq[mm2aX;uJGF{e2G7 | | | | M4TsUWlEPTB;MkWwMlQyOiEQvF2= | MnXnQIEhfGG{Z3X0QUdg[myjbnunJIhz\WZ;J3j0eJB{Qi9xd4f3MoVjcS6jYz71b{9kcGWvYnyvZ49ueG:3bnTfdoVxd3K2X3PhdoQwS0iHTVLMOFEzOTR{Lze+V2FPT0WUPD;hQi=> |
| NCI-H1693 | Mo\4S5Jwf3SqIFnubIljcXSrb36gRZN{[Xl? | | | | MnjCTWM2OD1{NEmuOFk2KM7:TR?= | MknTQIEhfGG{Z3X0QUdg[myjbnunJIhz\WZ;J3j0eJB{Qi9xd4f3MoVjcS6jYz71b{9kcGWvYnyvZ49ueG:3bnTfdoVxd3K2X3PhdoQwS0iHTVLMOFEzOTR{Lze+V2FPT0WUPD;hQi=> |
| LC-1F | MXzHdo94fGhiSX7obYJqfGmxbjDBd5NigQ>? | | | | NUP0R4VNUUN3ME2yOFgvOTV4IN88US=> | NIfhOJo9[SC2YYLn[ZQ:L1:kbHHub{chcHKnZk2nbJR1eHN8Lz;3e5cv\WKrLnHjMpVsN2OqZX3icE9kd22yb4Xu[H9z\XCxcoTfZ4Fz\C:FSFXNRmw1OTJzNEKvK|5USU6JRWK8M4E, |
| KYSE-510 | MmnYS5Jwf3SqIFnubIljcXSrb36gRZN{[Xl? | | | | NXrFbGp4UUN3ME2yOFcvPTF5IN88US=> | MWi8ZUB1[XKpZYS9K39jdGGwazegbJJm\j1paIT0dJM7Ny:5d4eu[YJqNmGlLoXrM4Np\W2kbD;jc41xd3WwZG;y[ZBwenShY3Hy[E9EUEWPQly0NVIyPDJxJ{7TRW5ITVJ:L3G+ |
| T47D | Mm[0S5Jwf3SqIFnubIljcXSrb36gRZN{[Xl? | | | | MoDXTWM2OD1{NEeuNFE{KM7:TR?= | M1fjPFxiKHSjcnfleF0oZ2KuYX7rK{BpemWoPTfoeJRxezpxL4f3e{5m[mlwYXOueYsw[2inbXLsM4NwdXCxdX7kY5JmeG:{dG;jZZJlN0OKRV3CUFQyOjF2Mj:nQnNCVkeHUkyvZV4> |
| SK-HEP-1 | NEfs[GpIem:5dHigTY5pcWKrdHnvckBCe3OjeR?= | | | | NGX3cY1KSzVyPUK0Ok4xPDNizszN | NW\Vc5RTRGFidHHy[4V1RSehYnzhcosoKGi{ZX[9K4h1fHC|Oj:ve5d4NmWkaT7hZ{52cy:laHXtZoww[2:vcH;1coRgemWyb4L0Y4NiemRxQ1jFUWJNPDF{MUSyM{c,W0GQR1XSQE9iRg>? |
| ES5 | NYnlfmg3T3Kxd4ToJGlvcGmkaYTpc44hSXO|YYm= | | | | NXOyV2FjUUN3ME2yOFUvODN6IN88US=> | NIDkPG09[SC2YYLn[ZQ:L1:kbHHub{chcHKnZk2nbJR1eHN8Lz;3e5cv\WKrLnHjMpVsN2OqZX3icE9kd22yb4Xu[H9z\XCxcoTfZ4Fz\C:FSFXNRmw1OTJzNEKvK|5USU6JRWK8M4E, |
| BFTC-909 | MXfHdo94fGhiSX7obYJqfGmxbjDBd5NigQ>? | | | | MYXJR|UxRTJ2Mz6xNVgh|ryP | M2LEeVxiKHSjcnfleF0oZ2KuYX7rK{BpemWoPTfoeJRxezpxL4f3e{5m[mlwYXOueYsw[2inbXLsM4NwdXCxdX7kY5JmeG:{dG;jZZJlN0OKRV3CUFQyOjF2Mj:nQnNCVkeHUkyvZV4> |
| HN | M1L1WWdzd3e2aDDJcohq[mm2aX;uJGF{e2G7 | | | | MYHJR|UxRTJ2Mj65PVEh|ryP | NHjnfo89[SC2YYLn[ZQ:L1:kbHHub{chcHKnZk2nbJR1eHN8Lz;3e5cv\WKrLnHjMpVsN2OqZX3icE9kd22yb4Xu[H9z\XCxcoTfZ4Fz\C:FSFXNRmw1OTJzNEKvK|5USU6JRWK8M4E, |
| GP5d | M1nvNWdzd3e2aDDJcohq[mm2aX;uJGF{e2G7 | | | | MWfJR|UxRTJ2Mj62NVYh|ryP | NFnyN4w9[SC2YYLn[ZQ:L1:kbHHub{chcHKnZk2nbJR1eHN8Lz;3e5cv\WKrLnHjMpVsN2OqZX3icE9kd22yb4Xu[H9z\XCxcoTfZ4Fz\C:FSFXNRmw1OTJzNEKvK|5USU6JRWK8M4E, |
| IPC-298 | NGf1[WhIem:5dHigTY5pcWKrdHnvckBCe3OjeR?= | | | | NHHYfHZKSzVyPUK0Nk4xPzJizszN | M13yVVxiKHSjcnfleF0oZ2KuYX7rK{BpemWoPTfoeJRxezpxL4f3e{5m[mlwYXOueYsw[2inbXLsM4NwdXCxdX7kY5JmeG:{dG;jZZJlN0OKRV3CUFQyOjF2Mj:nQnNCVkeHUkyvZV4> |
| EB2 | Mn;HS5Jwf3SqIFnubIljcXSrb36gRZN{[Xl? | | | | NXPjU|BQUUN3ME2yOFEvQTB5IN88US=> | NXLZbG0xRGFidHHy[4V1RSehYnzhcosoKGi{ZX[9K4h1fHC|Oj:ve5d4NmWkaT7hZ{52cy:laHXtZoww[2:vcH;1coRgemWyb4L0Y4NiemRxQ1jFUWJNPDF{MUSyM{c,W0GQR1XSQE9iRg>? |
| MOLT-4 | M{jreGdzd3e2aDDJcohq[mm2aX;uJGF{e2G7 | | | | M2fu[GlEPTB;MkSxMlIxQSEQvF2= | NIjCToI9[SC2YYLn[ZQ:L1:kbHHub{chcHKnZk2nbJR1eHN8Lz;3e5cv\WKrLnHjMpVsN2OqZX3icE9kd22yb4Xu[H9z\XCxcoTfZ4Fz\C:FSFXNRmw1OTJzNEKvK|5USU6JRWK8M4E, |
| SW954 | NIDJeZlIem:5dHigTY5pcWKrdHnvckBCe3OjeR?= | | | | MlnSTWM2OD1{M{euPFY5KM7:TR?= | M3Xw[lxiKHSjcnfleF0oZ2KuYX7rK{BpemWoPTfoeJRxezpxL4f3e{5m[mlwYXOueYsw[2inbXLsM4NwdXCxdX7kY5JmeG:{dG;jZZJlN0OKRV3CUFQyOjF2Mj:nQnNCVkeHUkyvZV4> |
| NCCIT | MmPUS5Jwf3SqIFnubIljcXSrb36gRZN{[Xl? | | | | NYLmTHVLUUN3ME2yN|YvQDd|IN88US=> | NGPyNnI9[SC2YYLn[ZQ:L1:kbHHub{chcHKnZk2nbJR1eHN8Lz;3e5cv\WKrLnHjMpVsN2OqZX3icE9kd22yb4Xu[H9z\XCxcoTfZ4Fz\C:FSFXNRmw1OTJzNEKvK|5USU6JRWK8M4E, |
| NOMO-1 | M4H3VWdzd3e2aDDJcohq[mm2aX;uJGF{e2G7 | | | | MUPJR|UxRTJ|Nj6wNkDPxE1? | MX28ZUB1[XKpZYS9K39jdGGwazegbJJm\j1paIT0dJM7Ny:5d4eu[YJqNmGlLoXrM4Np\W2kbD;jc41xd3WwZG;y[ZBwenShY3Hy[E9EUEWPQly0NVIyPDJxJ{7TRW5ITVJ:L3G+ |
| NCI-H520 | MmXES5Jwf3SqIFnubIljcXSrb36gRZN{[Xl? | | | | M2\ZXmlEPTB;MkO1Mlc1OSEQvF2= | MVi8ZUB1[XKpZYS9K39jdGGwazegbJJm\j1paIT0dJM7Ny:5d4eu[YJqNmGlLoXrM4Np\W2kbD;jc41xd3WwZG;y[ZBwenShY3Hy[E9EUEWPQly0NVIyPDJxJ{7TRW5ITVJ:L3G+ |
| GB-1 | MoHES5Jwf3SqIFnubIljcXSrb36gRZN{[Xl? | | | | NXHF[4VWUUN3ME2yN|UvOTd5IN88US=> | M{DxVFxiKHSjcnfleF0oZ2KuYX7rK{BpemWoPTfoeJRxezpxL4f3e{5m[mlwYXOueYsw[2inbXLsM4NwdXCxdX7kY5JmeG:{dG;jZZJlN0OKRV3CUFQyOjF2Mj:nQnNCVkeHUkyvZV4> |
| SW1783 | MV3Hdo94fGhiSX7obYJqfGmxbjDBd5NigQ>? | | | | NYDCNnZ5UUN3ME2yN|QvPDFizszN | NIXSTYg9[SC2YYLn[ZQ:L1:kbHHub{chcHKnZk2nbJR1eHN8Lz;3e5cv\WKrLnHjMpVsN2OqZX3icE9kd22yb4Xu[H9z\XCxcoTfZ4Fz\C:FSFXNRmw1OTJzNEKvK|5USU6JRWK8M4E, |
| YAPC | MlrOS5Jwf3SqIFnubIljcXSrb36gRZN{[Xl? | | | | MoXpTWM2OD1{M{SuNlU{KM7:TR?= | MnnsQIEhfGG{Z3X0QUdg[myjbnunJIhz\WZ;J3j0eJB{Qi9xd4f3MoVjcS6jYz71b{9kcGWvYnyvZ49ueG:3bnTfdoVxd3K2X3PhdoQwS0iHTVLMOFEzOTR{Lze+V2FPT0WUPD;hQi=> |
| MSTO-211H | NIL6RnVIem:5dHigTY5pcWKrdHnvckBCe3OjeR?= | | | | NHvmSnlKSzVyPUKzN{4zPzZizszN | Mmn6QIEhfGG{Z3X0QUdg[myjbnunJIhz\WZ;J3j0eJB{Qi9xd4f3MoVjcS6jYz71b{9kcGWvYnyvZ49ueG:3bnTfdoVxd3K2X3PhdoQwS0iHTVLMOFEzOTR{Lze+V2FPT0WUPD;hQi=> |
| 5637 | MVLHdo94fGhiSX7obYJqfGmxbjDBd5NigQ>? | | | | Mk\TTWM2OD1{M{OuNFA{KM7:TR?= | Mln0QIEhfGG{Z3X0QUdg[myjbnunJIhz\WZ;J3j0eJB{Qi9xd4f3MoVjcS6jYz71b{9kcGWvYnyvZ49ueG:3bnTfdoVxd3K2X3PhdoQwS0iHTVLMOFEzOTR{Lze+V2FPT0WUPD;hQi=> |
| NCI-H630 | M2rWeWdzd3e2aDDJcohq[mm2aX;uJGF{e2G7 | | | | NUj1OWdWUUN3ME2yN|IvQDl5IN88US=> | Mn;EQIEhfGG{Z3X0QUdg[myjbnunJIhz\WZ;J3j0eJB{Qi9xd4f3MoVjcS6jYz71b{9kcGWvYnyvZ49ueG:3bnTfdoVxd3K2X3PhdoQwS0iHTVLMOFEzOTR{Lze+V2FPT0WUPD;hQi=> |
| CHL-1 | Mk\qS5Jwf3SqIFnubIljcXSrb36gRZN{[Xl? | | | | MXfJR|UxRTJ{OD6xN{DPxE1? | NFe5RlQ9[SC2YYLn[ZQ:L1:kbHHub{chcHKnZk2nbJR1eHN8Lz;3e5cv\WKrLnHjMpVsN2OqZX3icE9kd22yb4Xu[H9z\XCxcoTfZ4Fz\C:FSFXNRmw1OTJzNEKvK|5USU6JRWK8M4E, |
| NCI-H322M | M1\1fGdzd3e2aDDJcohq[mm2aX;uJGF{e2G7 | | | | NH3Kc4ZKSzVyPUKyPE4xOTlizszN | NWXRbng4RGFidHHy[4V1RSehYnzhcosoKGi{ZX[9K4h1fHC|Oj:ve5d4NmWkaT7hZ{52cy:laHXtZoww[2:vcH;1coRgemWyb4L0Y4NiemRxQ1jFUWJNPDF{MUSyM{c,W0GQR1XSQE9iRg>? |
| NCI-H209 | NHPhRXpIem:5dHigTY5pcWKrdHnvckBCe3OjeR?= | | | | M4LpWGlEPTB;MkK2MlU{KM7:TR?= | NVLSNWdDRGFidHHy[4V1RSehYnzhcosoKGi{ZX[9K4h1fHC|Oj:ve5d4NmWkaT7hZ{52cy:laHXtZoww[2:vcH;1coRgemWyb4L0Y4NiemRxQ1jFUWJNPDF{MUSyM{c,W0GQR1XSQE9iRg>? |
| HCC1937 | MnLrS5Jwf3SqIFnubIljcXSrb36gRZN{[Xl? | | | | M4n3bWlEPTB;MkK0MlM5QSEQvF2= | MnLkQIEhfGG{Z3X0QUdg[myjbnunJIhz\WZ;J3j0eJB{Qi9xd4f3MoVjcS6jYz71b{9kcGWvYnyvZ49ueG:3bnTfdoVxd3K2X3PhdoQwS0iHTVLMOFEzOTR{Lze+V2FPT0WUPD;hQi=> |
| SAS | MmfjS5Jwf3SqIFnubIljcXSrb36gRZN{[Xl? | | | | NXz0U2luUUN3ME2yNlMvPzl4IN88US=> | M4\lelxiKHSjcnfleF0oZ2KuYX7rK{BpemWoPTfoeJRxezpxL4f3e{5m[mlwYXOueYsw[2inbXLsM4NwdXCxdX7kY5JmeG:{dG;jZZJlN0OKRV3CUFQyOjF2Mj:nQnNCVkeHUkyvZV4> |
| AGS | NX\5SGdWT3Kxd4ToJGlvcGmkaYTpc44hSXO|YYm= | | | | NGTuZ5VKSzVyPUKyNk42OjNizszN | M2jXelxiKHSjcnfleF0oZ2KuYX7rK{BpemWoPTfoeJRxezpxL4f3e{5m[mlwYXOueYsw[2inbXLsM4NwdXCxdX7kY5JmeG:{dG;jZZJlN0OKRV3CUFQyOjF2Mj:nQnNCVkeHUkyvZV4> |
| NCI-H1623 | NYToRlNiT3Kxd4ToJGlvcGmkaYTpc44hSXO|YYm= | | | | Ml\aTWM2OD1{MkKuN|g6KM7:TR?= | NUL6UY14RGFidHHy[4V1RSehYnzhcosoKGi{ZX[9K4h1fHC|Oj:ve5d4NmWkaT7hZ{52cy:laHXtZoww[2:vcH;1coRgemWyb4L0Y4NiemRxQ1jFUWJNPDF{MUSyM{c,W0GQR1XSQE9iRg>? |
| NCI-H1993 | MknRS5Jwf3SqIFnubIljcXSrb36gRZN{[Xl? | | | | NXHUWItyUUN3ME2yNlIvOjN7IN88US=> | NFzIcm49[SC2YYLn[ZQ:L1:kbHHub{chcHKnZk2nbJR1eHN8Lz;3e5cv\WKrLnHjMpVsN2OqZX3icE9kd22yb4Xu[H9z\XCxcoTfZ4Fz\C:FSFXNRmw1OTJzNEKvK|5USU6JRWK8M4E, |
| NCI-H1355 | NYPWcIFDT3Kxd4ToJGlvcGmkaYTpc44hSXO|YYm= | | | | MmPSTWM2OD1{MkGuN|c4KM7:TR?= | MknKQIEhfGG{Z3X0QUdg[myjbnunJIhz\WZ;J3j0eJB{Qi9xd4f3MoVjcS6jYz71b{9kcGWvYnyvZ49ueG:3bnTfdoVxd3K2X3PhdoQwS0iHTVLMOFEzOTR{Lze+V2FPT0WUPD;hQi=> |
| CaR-1 | NWS4eoJUT3Kxd4ToJGlvcGmkaYTpc44hSXO|YYm= | | | | NHPnb2dKSzVyPUKyNU4zPTFizszN | NH3tcnQ9[SC2YYLn[ZQ:L1:kbHHub{chcHKnZk2nbJR1eHN8Lz;3e5cv\WKrLnHjMpVsN2OqZX3icE9kd22yb4Xu[H9z\XCxcoTfZ4Fz\C:FSFXNRmw1OTJzNEKvK|5USU6JRWK8M4E, |
| NCI-H1618 | NVjxbGRUT3Kxd4ToJGlvcGmkaYTpc44hSXO|YYm= | | | | NVH0[mhxUUN3ME2yNlEvODF6IN88US=> | NFix[5A9[SC2YYLn[ZQ:L1:kbHHub{chcHKnZk2nbJR1eHN8Lz;3e5cv\WKrLnHjMpVsN2OqZX3icE9kd22yb4Xu[H9z\XCxcoTfZ4Fz\C:FSFXNRmw1OTJzNEKvK|5USU6JRWK8M4E, |
| BC-1 | NWDHU5lHT3Kxd4ToJGlvcGmkaYTpc44hSXO|YYm= | | | | MXfJR|UxRTJ{MD63PVkh|ryP | M{LMcVxiKHSjcnfleF0oZ2KuYX7rK{BpemWoPTfoeJRxezpxL4f3e{5m[mlwYXOueYsw[2inbXLsM4NwdXCxdX7kY5JmeG:{dG;jZZJlN0OKRV3CUFQyOjF2Mj:nQnNCVkeHUkyvZV4> |
| SCC-3 | MoHJS5Jwf3SqIFnubIljcXSrb36gRZN{[Xl? | | | | MkPFTWM2OD1{MkCuOVc4KM7:TR?= | M1LjWVxiKHSjcnfleF0oZ2KuYX7rK{BpemWoPTfoeJRxezpxL4f3e{5m[mlwYXOueYsw[2inbXLsM4NwdXCxdX7kY5JmeG:{dG;jZZJlN0OKRV3CUFQyOjF2Mj:nQnNCVkeHUkyvZV4> |
| SCC-4 | M2LDc2dzd3e2aDDJcohq[mm2aX;uJGF{e2G7 | | | | MY\JR|UxRTJ{MD6zOVMh|ryP | M1HQdFxiKHSjcnfleF0oZ2KuYX7rK{BpemWoPTfoeJRxezpxL4f3e{5m[mlwYXOueYsw[2inbXLsM4NwdXCxdX7kY5JmeG:{dG;jZZJlN0OKRV3CUFQyOjF2Mj:nQnNCVkeHUkyvZV4> |
| THP-1 | M1TKdmdzd3e2aDDJcohq[mm2aX;uJGF{e2G7 | | | | MlzSTWM2OD1{MUmuOlA3KM7:TR?= | MXy8ZUB1[XKpZYS9K39jdGGwazegbJJm\j1paIT0dJM7Ny:5d4eu[YJqNmGlLoXrM4Np\W2kbD;jc41xd3WwZG;y[ZBwenShY3Hy[E9EUEWPQly0NVIyPDJxJ{7TRW5ITVJ:L3G+ |
| HOS | NVHlW5l7T3Kxd4ToJGlvcGmkaYTpc44hSXO|YYm= | | | | MoKxTWM2OD1{MUiuPUDPxE1? | M{fPcVxiKHSjcnfleF0oZ2KuYX7rK{BpemWoPTfoeJRxezpxL4f3e{5m[mlwYXOueYsw[2inbXLsM4NwdXCxdX7kY5JmeG:{dG;jZZJlN0OKRV3CUFQyOjF2Mj:nQnNCVkeHUkyvZV4> |
| LB771-HNC | MlrFS5Jwf3SqIFnubIljcXSrb36gRZN{[Xl? | | | | MnTETWM2OD1{MUeuPFk{KM7:TR?= | NYTIO41URGFidHHy[4V1RSehYnzhcosoKGi{ZX[9K4h1fHC|Oj:ve5d4NmWkaT7hZ{52cy:laHXtZoww[2:vcH;1coRgemWyb4L0Y4NiemRxQ1jFUWJNPDF{MUSyM{c,W0GQR1XSQE9iRg>? |
| DMS-153 | NV;qTZczT3Kxd4ToJGlvcGmkaYTpc44hSXO|YYm= | | | | NY\IUoc3UUN3ME2yNVcvQDN4IN88US=> | NGnOSnU9[SC2YYLn[ZQ:L1:kbHHub{chcHKnZk2nbJR1eHN8Lz;3e5cv\WKrLnHjMpVsN2OqZX3icE9kd22yb4Xu[H9z\XCxcoTfZ4Fz\C:FSFXNRmw1OTJzNEKvK|5USU6JRWK8M4E, |
| UACC-257 | MWTHdo94fGhiSX7obYJqfGmxbjDBd5NigQ>? | | | | M4TyVWlEPTB;MkG3MlQ{KM7:TR?= | NV;0dlBMRGFidHHy[4V1RSehYnzhcosoKGi{ZX[9K4h1fHC|Oj:ve5d4NmWkaT7hZ{52cy:laHXtZoww[2:vcH;1coRgemWyb4L0Y4NiemRxQ1jFUWJNPDF{MUSyM{c,W0GQR1XSQE9iRg>? |
| C3A | NUL4Wmt5T3Kxd4ToJGlvcGmkaYTpc44hSXO|YYm= | | | | MkjyTWM2OD1{MUWuOVc2KM7:TR?= | MYS8ZUB1[XKpZYS9K39jdGGwazegbJJm\j1paIT0dJM7Ny:5d4eu[YJqNmGlLoXrM4Np\W2kbD;jc41xd3WwZG;y[ZBwenShY3Hy[E9EUEWPQly0NVIyPDJxJ{7TRW5ITVJ:L3G+ |
| ES7 | NULaVmtLT3Kxd4ToJGlvcGmkaYTpc44hSXO|YYm= | | | | Mn;PTWM2OD1{MUSuPFc5KM7:TR?= | MoTuQIEhfGG{Z3X0QUdg[myjbnunJIhz\WZ;J3j0eJB{Qi9xd4f3MoVjcS6jYz71b{9kcGWvYnyvZ49ueG:3bnTfdoVxd3K2X3PhdoQwS0iHTVLMOFEzOTR{Lze+V2FPT0WUPD;hQi=> |
| NCI-H69 | NVnvXFgyT3Kxd4ToJGlvcGmkaYTpc44hSXO|YYm= | | | | M{HtbWlEPTB;MkG0MlE5PSEQvF2= | NVXkXYYyRGFidHHy[4V1RSehYnzhcosoKGi{ZX[9K4h1fHC|Oj:ve5d4NmWkaT7hZ{52cy:laHXtZoww[2:vcH;1coRgemWyb4L0Y4NiemRxQ1jFUWJNPDF{MUSyM{c,W0GQR1XSQE9iRg>? |
| HO-1-N-1 | NITqd|JIem:5dHigTY5pcWKrdHnvckBCe3OjeR?= | | | | MlToTWM2OD1{MUKuPFk1KM7:TR?= | NUGwdZE3RGFidHHy[4V1RSehYnzhcosoKGi{ZX[9K4h1fHC|Oj:ve5d4NmWkaT7hZ{52cy:laHXtZoww[2:vcH;1coRgemWyb4L0Y4NiemRxQ1jFUWJNPDF{MUSyM{c,W0GQR1XSQE9iRg>? |
| TCCSUP | M2Dscmdzd3e2aDDJcohq[mm2aX;uJGF{e2G7 | | | | NV\HWYo6UUN3ME2yNVEvPTN|IN88US=> | NUjZOY45RGFidHHy[4V1RSehYnzhcosoKGi{ZX[9K4h1fHC|Oj:ve5d4NmWkaT7hZ{52cy:laHXtZoww[2:vcH;1coRgemWyb4L0Y4NiemRxQ1jFUWJNPDF{MUSyM{c,W0GQR1XSQE9iRg>? |
| A431 | M1fIXWdzd3e2aDDJcohq[mm2aX;uJGF{e2G7 | | | | MUHJR|UxRTJzMT6yPVkh|ryP | MmX0QIEhfGG{Z3X0QUdg[myjbnunJIhz\WZ;J3j0eJB{Qi9xd4f3MoVjcS6jYz71b{9kcGWvYnyvZ49ueG:3bnTfdoVxd3K2X3PhdoQwS0iHTVLMOFEzOTR{Lze+V2FPT0WUPD;hQi=> |
| BT-20 | MWjHdo94fGhiSX7obYJqfGmxbjDBd5NigQ>? | | | | NVnNNpBYUUN3ME2yNVAvQTh4IN88US=> | M4XNVlxiKHSjcnfleF0oZ2KuYX7rK{BpemWoPTfoeJRxezpxL4f3e{5m[mlwYXOueYsw[2inbXLsM4NwdXCxdX7kY5JmeG:{dG;jZZJlN0OKRV3CUFQyOjF2Mj:nQnNCVkeHUkyvZV4> |
| EW-18 | M2\4[Wdzd3e2aDDJcohq[mm2aX;uJGF{e2G7 | | | | NULGelFLUUN3ME2yNVAvPzZ|IN88US=> | NXLUSHQ1RGFidHHy[4V1RSehYnzhcosoKGi{ZX[9K4h1fHC|Oj:ve5d4NmWkaT7hZ{52cy:laHXtZoww[2:vcH;1coRgemWyb4L0Y4NiemRxQ1jFUWJNPDF{MUSyM{c,W0GQR1XSQE9iRg>? |
| MHH-PREB-1 | MnzXS5Jwf3SqIFnubIljcXSrb36gRZN{[Xl? | | | | MYjJR|UxRTJzMD6zPFEh|ryP | MoPKQIEhfGG{Z3X0QUdg[myjbnunJIhz\WZ;J3j0eJB{Qi9xd4f3MoVjcS6jYz71b{9kcGWvYnyvZ49ueG:3bnTfdoVxd3K2X3PhdoQwS0iHTVLMOFEzOTR{Lze+V2FPT0WUPD;hQi=> |
| DJM-1 | MWLHdo94fGhiSX7obYJqfGmxbjDBd5NigQ>? | | | | NWDsVllmUUN3ME2yNFkvQDl5IN88US=> | MkPHQIEhfGG{Z3X0QUdg[myjbnunJIhz\WZ;J3j0eJB{Qi9xd4f3MoVjcS6jYz71b{9kcGWvYnyvZ49ueG:3bnTfdoVxd3K2X3PhdoQwS0iHTVLMOFEzOTR{Lze+V2FPT0WUPD;hQi=> |
| NUGC-3 | MWrHdo94fGhiSX7obYJqfGmxbjDBd5NigQ>? | | | | NXLwXlU2UUN3ME2yNFkvPjd6IN88US=> | MoTpQIEhfGG{Z3X0QUdg[myjbnunJIhz\WZ;J3j0eJB{Qi9xd4f3MoVjcS6jYz71b{9kcGWvYnyvZ49ueG:3bnTfdoVxd3K2X3PhdoQwS0iHTVLMOFEzOTR{Lze+V2FPT0WUPD;hQi=> |
| HPAF-II | NUPxdXBCT3Kxd4ToJGlvcGmkaYTpc44hSXO|YYm= | | | | MkTtTWM2OD1{MEmuOlcyKM7:TR?= | NHvE[Zg9[SC2YYLn[ZQ:L1:kbHHub{chcHKnZk2nbJR1eHN8Lz;3e5cv\WKrLnHjMpVsN2OqZX3icE9kd22yb4Xu[H9z\XCxcoTfZ4Fz\C:FSFXNRmw1OTJzNEKvK|5USU6JRWK8M4E, |
| NCI-H1651 | NVvlbYM4T3Kxd4ToJGlvcGmkaYTpc44hSXO|YYm= | | | | MlPWTWM2OD1{ME[uO|Mh|ryP | MofYQIEhfGG{Z3X0QUdg[myjbnunJIhz\WZ;J3j0eJB{Qi9xd4f3MoVjcS6jYz71b{9kcGWvYnyvZ49ueG:3bnTfdoVxd3K2X3PhdoQwS0iHTVLMOFEzOTR{Lze+V2FPT0WUPD;hQi=> |
| RPMI-2650 | MkO2S5Jwf3SqIFnubIljcXSrb36gRZN{[Xl? | | | | MVrJR|UxRTJyNT60Olch|ryP | MYK8ZUB1[XKpZYS9K39jdGGwazegbJJm\j1paIT0dJM7Ny:5d4eu[YJqNmGlLoXrM4Np\W2kbD;jc41xd3WwZG;y[ZBwenShY3Hy[E9EUEWPQly0NVIyPDJxJ{7TRW5ITVJ:L3G+ |
| EGI-1 | NFvmUlZIem:5dHigTY5pcWKrdHnvckBCe3OjeR?= | | | | M4PIWGlEPTB;MkC0Mlg{OyEQvF2= | MmTpQIEhfGG{Z3X0QUdg[myjbnunJIhz\WZ;J3j0eJB{Qi9xd4f3MoVjcS6jYz71b{9kcGWvYnyvZ49ueG:3bnTfdoVxd3K2X3PhdoQwS0iHTVLMOFEzOTR{Lze+V2FPT0WUPD;hQi=> |
| KYSE-70 | NH21R3FIem:5dHigTY5pcWKrdHnvckBCe3OjeR?= | | | | MkCwTWM2OD1{MEOuPFc6KM7:TR?= | MVq8ZUB1[XKpZYS9K39jdGGwazegbJJm\j1paIT0dJM7Ny:5d4eu[YJqNmGlLoXrM4Np\W2kbD;jc41xd3WwZG;y[ZBwenShY3Hy[E9EUEWPQly0NVIyPDJxJ{7TRW5ITVJ:L3G+ |
| NCI-H345 | MkToS5Jwf3SqIFnubIljcXSrb36gRZN{[Xl? | | | | NIDY[VFKSzVyPUKwN{4xOjdizszN | NWnacnlqRGFidHHy[4V1RSehYnzhcosoKGi{ZX[9K4h1fHC|Oj:ve5d4NmWkaT7hZ{52cy:laHXtZoww[2:vcH;1coRgemWyb4L0Y4NiemRxQ1jFUWJNPDF{MUSyM{c,W0GQR1XSQE9iRg>? |
| LS-1034 | NEm5UZFIem:5dHigTY5pcWKrdHnvckBCe3OjeR?= | | | | MXLJR|UxRTJyMj61OVMh|ryP | M4myXlxiKHSjcnfleF0oZ2KuYX7rK{BpemWoPTfoeJRxezpxL4f3e{5m[mlwYXOueYsw[2inbXLsM4NwdXCxdX7kY5JmeG:{dG;jZZJlN0OKRV3CUFQyOjF2Mj:nQnNCVkeHUkyvZV4> |
| LAMA-84 | Mn7OS5Jwf3SqIFnubIljcXSrb36gRZN{[Xl? | | | | MV7JR|UxRTJyMj6wO|Mh|ryP | M1LvdlxiKHSjcnfleF0oZ2KuYX7rK{BpemWoPTfoeJRxezpxL4f3e{5m[mlwYXOueYsw[2inbXLsM4NwdXCxdX7kY5JmeG:{dG;jZZJlN0OKRV3CUFQyOjF2Mj:nQnNCVkeHUkyvZV4> |
| MFE-280 | MYTHdo94fGhiSX7obYJqfGmxbjDBd5NigQ>? | | | | NWq4b3Y3UUN3ME2yNFEvQTZzIN88US=> | NX:0bGhTRGFidHHy[4V1RSehYnzhcosoKGi{ZX[9K4h1fHC|Oj:ve5d4NmWkaT7hZ{52cy:laHXtZoww[2:vcH;1coRgemWyb4L0Y4NiemRxQ1jFUWJNPDF{MUSyM{c,W0GQR1XSQE9iRg>? |
| MDA-MB-231 | NVLHSpY4T3Kxd4ToJGlvcGmkaYTpc44hSXO|YYm= | | | | M1PJZ2lEPTB;MkCwMlkxOiEQvF2= | MVu8ZUB1[XKpZYS9K39jdGGwazegbJJm\j1paIT0dJM7Ny:5d4eu[YJqNmGlLoXrM4Np\W2kbD;jc41xd3WwZG;y[ZBwenShY3Hy[E9EUEWPQly0NVIyPDJxJ{7TRW5ITVJ:L3G+ |
| MFM-223 | MYPHdo94fGhiSX7obYJqfGmxbjDBd5NigQ>? | | | | MYnJR|UxRTJyMT61PFch|ryP | NXnTR2ZQRGFidHHy[4V1RSehYnzhcosoKGi{ZX[9K4h1fHC|Oj:ve5d4NmWkaT7hZ{52cy:laHXtZoww[2:vcH;1coRgemWyb4L0Y4NiemRxQ1jFUWJNPDF{MUSyM{c,W0GQR1XSQE9iRg>? |
| COLO-679 | NYT0dZVRT3Kxd4ToJGlvcGmkaYTpc44hSXO|YYm= | | | | NX\I[ZNMUUN3ME2yNFAvQDV7IN88US=> | M3nk[lxiKHSjcnfleF0oZ2KuYX7rK{BpemWoPTfoeJRxezpxL4f3e{5m[mlwYXOueYsw[2inbXLsM4NwdXCxdX7kY5JmeG:{dG;jZZJlN0OKRV3CUFQyOjF2Mj:nQnNCVkeHUkyvZV4> |
| SJRH30 | NYX2NphST3Kxd4ToJGlvcGmkaYTpc44hSXO|YYm= | | | | MV\JR|UxRTJyMD61NVUh|ryP | MWC8ZUB1[XKpZYS9K39jdGGwazegbJJm\j1paIT0dJM7Ny:5d4eu[YJqNmGlLoXrM4Np\W2kbD;jc41xd3WwZG;y[ZBwenShY3Hy[E9EUEWPQly0NVIyPDJxJ{7TRW5ITVJ:L3G+ |
| QIMR-WIL | NWi2RmhXT3Kxd4ToJGlvcGmkaYTpc44hSXO|YYm= | | | | NIjSe49KSzVyPUKwNE4yOTZizszN | M{nQSVxiKHSjcnfleF0oZ2KuYX7rK{BpemWoPTfoeJRxezpxL4f3e{5m[mlwYXOueYsw[2inbXLsM4NwdXCxdX7kY5JmeG:{dG;jZZJlN0OKRV3CUFQyOjF2Mj:nQnNCVkeHUkyvZV4> |
| HT55 | MWDHdo94fGhiSX7obYJqfGmxbjDBd5NigQ>? | | | | MVfJR|UxRTF7OT6xPVIh|ryP | MljzQIEhfGG{Z3X0QUdg[myjbnunJIhz\WZ;J3j0eJB{Qi9xd4f3MoVjcS6jYz71b{9kcGWvYnyvZ49ueG:3bnTfdoVxd3K2X3PhdoQwS0iHTVLMOFEzOTR{Lze+V2FPT0WUPD;hQi=> |
| JVM-3 | NVe1cVJwT3Kxd4ToJGlvcGmkaYTpc44hSXO|YYm= | | | | M{\SdGlEPTB;MUm4MlQyQSEQvF2= | NETWVGE9[SC2YYLn[ZQ:L1:kbHHub{chcHKnZk2nbJR1eHN8Lz;3e5cv\WKrLnHjMpVsN2OqZX3icE9kd22yb4Xu[H9z\XCxcoTfZ4Fz\C:FSFXNRmw1OTJzNEKvK|5USU6JRWK8M4E, |
| TE-5 | NF6wfG5Iem:5dHigTY5pcWKrdHnvckBCe3OjeR?= | | | | M1jZb2lEPTB;MUm4MlA{OyEQvF2= | M{CwO|xiKHSjcnfleF0oZ2KuYX7rK{BpemWoPTfoeJRxezpxL4f3e{5m[mlwYXOueYsw[2inbXLsM4NwdXCxdX7kY5JmeG:{dG;jZZJlN0OKRV3CUFQyOjF2Mj:nQnNCVkeHUkyvZV4> |
| IA-LM | Mm\XS5Jwf3SqIFnubIljcXSrb36gRZN{[Xl? | | | | MYXJR|UxRTF7Nz64NlIh|ryP | NXPZWGloRGFidHHy[4V1RSehYnzhcosoKGi{ZX[9K4h1fHC|Oj:ve5d4NmWkaT7hZ{52cy:laHXtZoww[2:vcH;1coRgemWyb4L0Y4NiemRxQ1jFUWJNPDF{MUSyM{c,W0GQR1XSQE9iRg>? |
| 22RV1 | M3naTWdzd3e2aDDJcohq[mm2aX;uJGF{e2G7 | | | | MkLJTWM2OD1zOUeuOFI1KM7:TR?= | NWK4Z3o2RGFidHHy[4V1RSehYnzhcosoKGi{ZX[9K4h1fHC|Oj:ve5d4NmWkaT7hZ{52cy:laHXtZoww[2:vcH;1coRgemWyb4L0Y4NiemRxQ1jFUWJNPDF{MUSyM{c,W0GQR1XSQE9iRg>? |
| TE-1 | NIjKVINIem:5dHigTY5pcWKrdHnvckBCe3OjeR?= | | | | M2\rbmlEPTB;MUm2MlI3KM7:TR?= | NHPRNlk9[SC2YYLn[ZQ:L1:kbHHub{chcHKnZk2nbJR1eHN8Lz;3e5cv\WKrLnHjMpVsN2OqZX3icE9kd22yb4Xu[H9z\XCxcoTfZ4Fz\C:FSFXNRmw1OTJzNEKvK|5USU6JRWK8M4E, |
| SW780 | MVPHdo94fGhiSX7obYJqfGmxbjDBd5NigQ>? | | | | NIDpbpFKSzVyPUG5Ok44OzRizszN | NEiyUXo9[SC2YYLn[ZQ:L1:kbHHub{chcHKnZk2nbJR1eHN8Lz;3e5cv\WKrLnHjMpVsN2OqZX3icE9kd22yb4Xu[H9z\XCxcoTfZ4Fz\C:FSFXNRmw1OTJzNEKvK|5USU6JRWK8M4E, |
| KOSC-2 | M3\Cdmdzd3e2aDDJcohq[mm2aX;uJGF{e2G7 | | | | MmHKTWM2OD1zOUWuPFE5KM7:TR?= | MYe8ZUB1[XKpZYS9K39jdGGwazegbJJm\j1paIT0dJM7Ny:5d4eu[YJqNmGlLoXrM4Np\W2kbD;jc41xd3WwZG;y[ZBwenShY3Hy[E9EUEWPQly0NVIyPDJxJ{7TRW5ITVJ:L3G+ |
| SW1088 | NYDPXGdoT3Kxd4ToJGlvcGmkaYTpc44hSXO|YYm= | | | | NFPYV2RKSzVyPUG5OU43PzdizszN | NYjqcYFxRGFidHHy[4V1RSehYnzhcosoKGi{ZX[9K4h1fHC|Oj:ve5d4NmWkaT7hZ{52cy:laHXtZoww[2:vcH;1coRgemWyb4L0Y4NiemRxQ1jFUWJNPDF{MUSyM{c,W0GQR1XSQE9iRg>? |
| HGC-27 | Mnu2S5Jwf3SqIFnubIljcXSrb36gRZN{[Xl? | | | | NUf6O4hFUUN3ME2xPVUvPTN6IN88US=> | Mnv2QIEhfGG{Z3X0QUdg[myjbnunJIhz\WZ;J3j0eJB{Qi9xd4f3MoVjcS6jYz71b{9kcGWvYnyvZ49ueG:3bnTfdoVxd3K2X3PhdoQwS0iHTVLMOFEzOTR{Lze+V2FPT0WUPD;hQi=> |
| COLO-668 | MYnHdo94fGhiSX7obYJqfGmxbjDBd5NigQ>? | | | | MULJR|UxRTF7Mz6xOVch|ryP | NHXweFY9[SC2YYLn[ZQ:L1:kbHHub{chcHKnZk2nbJR1eHN8Lz;3e5cv\WKrLnHjMpVsN2OqZX3icE9kd22yb4Xu[H9z\XCxcoTfZ4Fz\C:FSFXNRmw1OTJzNEKvK|5USU6JRWK8M4E, |
| A2780 | MlfrS5Jwf3SqIFnubIljcXSrb36gRZN{[Xl? | | | | MmXkTWM2OD1zOUKuPFkyKM7:TR?= | MmfrQIEhfGG{Z3X0QUdg[myjbnunJIhz\WZ;J3j0eJB{Qi9xd4f3MoVjcS6jYz71b{9kcGWvYnyvZ49ueG:3bnTfdoVxd3K2X3PhdoQwS0iHTVLMOFEzOTR{Lze+V2FPT0WUPD;hQi=> |
| HCE-4 | NX;XfYF3T3Kxd4ToJGlvcGmkaYTpc44hSXO|YYm= | | | | MWPJR|UxRTF7MD65PVIh|ryP | NXLEbopKRGFidHHy[4V1RSehYnzhcosoKGi{ZX[9K4h1fHC|Oj:ve5d4NmWkaT7hZ{52cy:laHXtZoww[2:vcH;1coRgemWyb4L0Y4NiemRxQ1jFUWJNPDF{MUSyM{c,W0GQR1XSQE9iRg>? |
| NCI-H838 | NYPkdo85T3Kxd4ToJGlvcGmkaYTpc44hSXO|YYm= | | | | MoHVTWM2OD1zOUCuN|Qh|ryP | M{OxcVxiKHSjcnfleF0oZ2KuYX7rK{BpemWoPTfoeJRxezpxL4f3e{5m[mlwYXOueYsw[2inbXLsM4NwdXCxdX7kY5JmeG:{dG;jZZJlN0OKRV3CUFQyOjF2Mj:nQnNCVkeHUkyvZV4> |
| ETK-1 | MYTHdo94fGhiSX7obYJqfGmxbjDBd5NigQ>? | | | | MnrLTWM2OD1zOUCuNVgyKM7:TR?= | NVHtdZNsRGFidHHy[4V1RSehYnzhcosoKGi{ZX[9K4h1fHC|Oj:ve5d4NmWkaT7hZ{52cy:laHXtZoww[2:vcH;1coRgemWyb4L0Y4NiemRxQ1jFUWJNPDF{MUSyM{c,W0GQR1XSQE9iRg>? |
| KG-1 | NFPzNppIem:5dHigTY5pcWKrdHnvckBCe3OjeR?= | | | | NGDKeYpKSzVyPUG4PU44QThizszN | NGr1e249[SC2YYLn[ZQ:L1:kbHHub{chcHKnZk2nbJR1eHN8Lz;3e5cv\WKrLnHjMpVsN2OqZX3icE9kd22yb4Xu[H9z\XCxcoTfZ4Fz\C:FSFXNRmw1OTJzNEKvK|5USU6JRWK8M4E, |
| NCI-H1299 | Mm\JS5Jwf3SqIFnubIljcXSrb36gRZN{[Xl? | | | | MULJR|UxRTF6OD63NVkh|ryP | MVW8ZUB1[XKpZYS9K39jdGGwazegbJJm\j1paIT0dJM7Ny:5d4eu[YJqNmGlLoXrM4Np\W2kbD;jc41xd3WwZG;y[ZBwenShY3Hy[E9EUEWPQly0NVIyPDJxJ{7TRW5ITVJ:L3G+ |
| SK-LU-1 | MWrHdo94fGhiSX7obYJqfGmxbjDBd5NigQ>? | | | | M13y[WlEPTB;MUi4MlQzQCEQvF2= | NX\ofGFGRGFidHHy[4V1RSehYnzhcosoKGi{ZX[9K4h1fHC|Oj:ve5d4NmWkaT7hZ{52cy:laHXtZoww[2:vcH;1coRgemWyb4L0Y4NiemRxQ1jFUWJNPDF{MUSyM{c,W0GQR1XSQE9iRg>? |
| CAPAN-1 | MnjVS5Jwf3SqIFnubIljcXSrb36gRZN{[Xl? | | | | MV3JR|UxRTF6Nz60OVMh|ryP | MXu8ZUB1[XKpZYS9K39jdGGwazegbJJm\j1paIT0dJM7Ny:5d4eu[YJqNmGlLoXrM4Np\W2kbD;jc41xd3WwZG;y[ZBwenShY3Hy[E9EUEWPQly0NVIyPDJxJ{7TRW5ITVJ:L3G+ |
| MONO-MAC-6 | NVrxOmhkT3Kxd4ToJGlvcGmkaYTpc44hSXO|YYm= | | | | MkLLTWM2OD1zOEeuN|kzKM7:TR?= | MU[8ZUB1[XKpZYS9K39jdGGwazegbJJm\j1paIT0dJM7Ny:5d4eu[YJqNmGlLoXrM4Np\W2kbD;jc41xd3WwZG;y[ZBwenShY3Hy[E9EUEWPQly0NVIyPDJxJ{7TRW5ITVJ:L3G+ |
| MDA-MB-453 | NG\MUXVIem:5dHigTY5pcWKrdHnvckBCe3OjeR?= | | | | NUnDemVGUUN3ME2xPFYvQTRzIN88US=> | NFjS[mg9[SC2YYLn[ZQ:L1:kbHHub{chcHKnZk2nbJR1eHN8Lz;3e5cv\WKrLnHjMpVsN2OqZX3icE9kd22yb4Xu[H9z\XCxcoTfZ4Fz\C:FSFXNRmw1OTJzNEKvK|5USU6JRWK8M4E, |
| NCI-H1563 | M2Dhb2dzd3e2aDDJcohq[mm2aX;uJGF{e2G7 | | | | NH3O[2VKSzVyPUG4OU4zODlizszN | NImw[pI9[SC2YYLn[ZQ:L1:kbHHub{chcHKnZk2nbJR1eHN8Lz;3e5cv\WKrLnHjMpVsN2OqZX3icE9kd22yb4Xu[H9z\XCxcoTfZ4Fz\C:FSFXNRmw1OTJzNEKvK|5USU6JRWK8M4E, |
| LB2241-RCC | M4Picmdzd3e2aDDJcohq[mm2aX;uJGF{e2G7 | | | | MUHJR|UxRTF6NT6xOFUh|ryP | MmWwQIEhfGG{Z3X0QUdg[myjbnunJIhz\WZ;J3j0eJB{Qi9xd4f3MoVjcS6jYz71b{9kcGWvYnyvZ49ueG:3bnTfdoVxd3K2X3PhdoQwS0iHTVLMOFEzOTR{Lze+V2FPT0WUPD;hQi=> |
| MRK-nu-1 | Mn\LS5Jwf3SqIFnubIljcXSrb36gRZN{[Xl? | | | | MnLJTWM2OD1zOESuPVczKM7:TR?= | MYm8ZUB1[XKpZYS9K39jdGGwazegbJJm\j1paIT0dJM7Ny:5d4eu[YJqNmGlLoXrM4Np\W2kbD;jc41xd3WwZG;y[ZBwenShY3Hy[E9EUEWPQly0NVIyPDJxJ{7TRW5ITVJ:L3G+ |
| MDA-MB-415 | M2T3Omdzd3e2aDDJcohq[mm2aX;uJGF{e2G7 | | | | MY\JR|UxRTF6ND62OVEh|ryP | MlPSQIEhfGG{Z3X0QUdg[myjbnunJIhz\WZ;J3j0eJB{Qi9xd4f3MoVjcS6jYz71b{9kcGWvYnyvZ49ueG:3bnTfdoVxd3K2X3PhdoQwS0iHTVLMOFEzOTR{Lze+V2FPT0WUPD;hQi=> |
| DOK | M33EPGdzd3e2aDDJcohq[mm2aX;uJGF{e2G7 | | | | M1PQVWlEPTB;MUi0MlY1OyEQvF2= | MV[8ZUB1[XKpZYS9K39jdGGwazegbJJm\j1paIT0dJM7Ny:5d4eu[YJqNmGlLoXrM4Np\W2kbD;jc41xd3WwZG;y[ZBwenShY3Hy[E9EUEWPQly0NVIyPDJxJ{7TRW5ITVJ:L3G+ |
| A427 | MVvHdo94fGhiSX7obYJqfGmxbjDBd5NigQ>? | | | | NXL5[mlvUUN3ME2xPFQvPjNzIN88US=> | MVK8ZUB1[XKpZYS9K39jdGGwazegbJJm\j1paIT0dJM7Ny:5d4eu[YJqNmGlLoXrM4Np\W2kbD;jc41xd3WwZG;y[ZBwenShY3Hy[E9EUEWPQly0NVIyPDJxJ{7TRW5ITVJ:L3G+ |
| SN12C | NUe2SG14T3Kxd4ToJGlvcGmkaYTpc44hSXO|YYm= | | | | MYfJR|UxRTF6Mj64Nlkh|ryP | NYi2V|llRGFidHHy[4V1RSehYnzhcosoKGi{ZX[9K4h1fHC|Oj:ve5d4NmWkaT7hZ{52cy:laHXtZoww[2:vcH;1coRgemWyb4L0Y4NiemRxQ1jFUWJNPDF{MUSyM{c,W0GQR1XSQE9iRg>? |
| LOUCY | MoLXS5Jwf3SqIFnubIljcXSrb36gRZN{[Xl? | | | | NIfw[29KSzVyPUG4Nk43QDhizszN | M2nxd|xiKHSjcnfleF0oZ2KuYX7rK{BpemWoPTfoeJRxezpxL4f3e{5m[mlwYXOueYsw[2inbXLsM4NwdXCxdX7kY5JmeG:{dG;jZZJlN0OKRV3CUFQyOjF2Mj:nQnNCVkeHUkyvZV4> |
| ONS-76 | NEW5SHZIem:5dHigTY5pcWKrdHnvckBCe3OjeR?= | | | | NXW5PVdiUUN3ME2xPFIvOzh5IN88US=> | M{LVS|xiKHSjcnfleF0oZ2KuYX7rK{BpemWoPTfoeJRxezpxL4f3e{5m[mlwYXOueYsw[2inbXLsM4NwdXCxdX7kY5JmeG:{dG;jZZJlN0OKRV3CUFQyOjF2Mj:nQnNCVkeHUkyvZV4> |
| SBC-5 | MoHtS5Jwf3SqIFnubIljcXSrb36gRZN{[Xl? | | | | MXLJR|UxRTF6MT65N|Qh|ryP | MYq8ZUB1[XKpZYS9K39jdGGwazegbJJm\j1paIT0dJM7Ny:5d4eu[YJqNmGlLoXrM4Np\W2kbD;jc41xd3WwZG;y[ZBwenShY3Hy[E9EUEWPQly0NVIyPDJxJ{7TRW5ITVJ:L3G+ |
| GI-ME-N | M2PzVmdzd3e2aDDJcohq[mm2aX;uJGF{e2G7 | | | | NFnxOZBKSzVyPUG4NU43PzJizszN | MnHwQIEhfGG{Z3X0QUdg[myjbnunJIhz\WZ;J3j0eJB{Qi9xd4f3MoVjcS6jYz71b{9kcGWvYnyvZ49ueG:3bnTfdoVxd3K2X3PhdoQwS0iHTVLMOFEzOTR{Lze+V2FPT0WUPD;hQi=> |
| PSN1 | NIi1Z2lIem:5dHigTY5pcWKrdHnvckBCe3OjeR?= | | | | MlPQTWM2OD1zOEGuOlYh|ryP | MY[8ZUB1[XKpZYS9K39jdGGwazegbJJm\j1paIT0dJM7Ny:5d4eu[YJqNmGlLoXrM4Np\W2kbD;jc41xd3WwZG;y[ZBwenShY3Hy[E9EUEWPQly0NVIyPDJxJ{7TRW5ITVJ:L3G+ |
| NCI-H522 | M3zEVmdzd3e2aDDJcohq[mm2aX;uJGF{e2G7 | | | | NYW4UY95UUN3ME2xPFEvODV7IN88US=> | NGfVdIQ9[SC2YYLn[ZQ:L1:kbHHub{chcHKnZk2nbJR1eHN8Lz;3e5cv\WKrLnHjMpVsN2OqZX3icE9kd22yb4Xu[H9z\XCxcoTfZ4Fz\C:FSFXNRmw1OTJzNEKvK|5USU6JRWK8M4E, |
| SF126 | NHiyUJRIem:5dHigTY5pcWKrdHnvckBCe3OjeR?= | | | | M{\2b2lEPTB;MUe5MlQ{OiEQvF2= | NVjTd5dQRGFidHHy[4V1RSehYnzhcosoKGi{ZX[9K4h1fHC|Oj:ve5d4NmWkaT7hZ{52cy:laHXtZoww[2:vcH;1coRgemWyb4L0Y4NiemRxQ1jFUWJNPDF{MUSyM{c,W0GQR1XSQE9iRg>? |
| NB10 | MYXHdo94fGhiSX7obYJqfGmxbjDBd5NigQ>? | | | | Mnn4TWM2OD1zN{euPFQ3KM7:TR?= | NGP1clY9[SC2YYLn[ZQ:L1:kbHHub{chcHKnZk2nbJR1eHN8Lz;3e5cv\WKrLnHjMpVsN2OqZX3icE9kd22yb4Xu[H9z\XCxcoTfZ4Fz\C:FSFXNRmw1OTJzNEKvK|5USU6JRWK8M4E, |
| SK-NEP-1 | MXrHdo94fGhiSX7obYJqfGmxbjDBd5NigQ>? | | | | MojtTWM2OD1zN{euPFA3KM7:TR?= | MVG8ZUB1[XKpZYS9K39jdGGwazegbJJm\j1paIT0dJM7Ny:5d4eu[YJqNmGlLoXrM4Np\W2kbD;jc41xd3WwZG;y[ZBwenShY3Hy[E9EUEWPQly0NVIyPDJxJ{7TRW5ITVJ:L3G+ |
| COLO-741 | M3ruZmdzd3e2aDDJcohq[mm2aX;uJGF{e2G7 | | | | NYK0cWM1UUN3ME2xO|cvPTZzIN88US=> | MUK8ZUB1[XKpZYS9K39jdGGwazegbJJm\j1paIT0dJM7Ny:5d4eu[YJqNmGlLoXrM4Np\W2kbD;jc41xd3WwZG;y[ZBwenShY3Hy[E9EUEWPQly0NVIyPDJxJ{7TRW5ITVJ:L3G+ |
| EW-3 | NXTidGhtT3Kxd4ToJGlvcGmkaYTpc44hSXO|YYm= | | | | NISzUGNKSzVyPUG3Ok42PTVizszN | NGLhTYk9[SC2YYLn[ZQ:L1:kbHHub{chcHKnZk2nbJR1eHN8Lz;3e5cv\WKrLnHjMpVsN2OqZX3icE9kd22yb4Xu[H9z\XCxcoTfZ4Fz\C:FSFXNRmw1OTJzNEKvK|5USU6JRWK8M4E, |
| YT | M{PUfmdzd3e2aDDJcohq[mm2aX;uJGF{e2G7 | | | | NEfreHVKSzVyPUG3Ok4{QTlizszN | M2\h[FxiKHSjcnfleF0oZ2KuYX7rK{BpemWoPTfoeJRxezpxL4f3e{5m[mlwYXOueYsw[2inbXLsM4NwdXCxdX7kY5JmeG:{dG;jZZJlN0OKRV3CUFQyOjF2Mj:nQnNCVkeHUkyvZV4> |
| LNCaP-Clone-FGC | M1;0O2dzd3e2aDDJcohq[mm2aX;uJGF{e2G7 | | | | Mke4TWM2OD1zN{WuPFYyKM7:TR?= | Mom0QIEhfGG{Z3X0QUdg[myjbnunJIhz\WZ;J3j0eJB{Qi9xd4f3MoVjcS6jYz71b{9kcGWvYnyvZ49ueG:3bnTfdoVxd3K2X3PhdoQwS0iHTVLMOFEzOTR{Lze+V2FPT0WUPD;hQi=> |
| SW756 | MVPHdo94fGhiSX7obYJqfGmxbjDBd5NigQ>? | | | | Mn\NTWM2OD1zN{SuPFY{KM7:TR?= | M{\WN|xiKHSjcnfleF0oZ2KuYX7rK{BpemWoPTfoeJRxezpxL4f3e{5m[mlwYXOueYsw[2inbXLsM4NwdXCxdX7kY5JmeG:{dG;jZZJlN0OKRV3CUFQyOjF2Mj:nQnNCVkeHUkyvZV4> |
| ME-180 | M2m4T2dzd3e2aDDJcohq[mm2aX;uJGF{e2G7 | | | | NYWxfGZTUUN3ME2xO|QvODF4IN88US=> | M2\MblxiKHSjcnfleF0oZ2KuYX7rK{BpemWoPTfoeJRxezpxL4f3e{5m[mlwYXOueYsw[2inbXLsM4NwdXCxdX7kY5JmeG:{dG;jZZJlN0OKRV3CUFQyOjF2Mj:nQnNCVkeHUkyvZV4> |
| HH | NWqyWIQyT3Kxd4ToJGlvcGmkaYTpc44hSXO|YYm= | | | | NWrWOIh{UUN3ME2xO|MvQDR6IN88US=> | MoDYQIEhfGG{Z3X0QUdg[myjbnunJIhz\WZ;J3j0eJB{Qi9xd4f3MoVjcS6jYz71b{9kcGWvYnyvZ49ueG:3bnTfdoVxd3K2X3PhdoQwS0iHTVLMOFEzOTR{Lze+V2FPT0WUPD;hQi=> |
| HuO-3N1 | MmrWS5Jwf3SqIFnubIljcXSrb36gRZN{[Xl? | | | | NGDXcmxKSzVyPUG3Nk4zPzNizszN | NIPYblc9[SC2YYLn[ZQ:L1:kbHHub{chcHKnZk2nbJR1eHN8Lz;3e5cv\WKrLnHjMpVsN2OqZX3icE9kd22yb4Xu[H9z\XCxcoTfZ4Fz\C:FSFXNRmw1OTJzNEKvK|5USU6JRWK8M4E, |
| SW620 | MYjHdo94fGhiSX7obYJqfGmxbjDBd5NigQ>? | | | | MY\JR|UxRTF5MT61N|Uh|ryP | M{\5PFxiKHSjcnfleF0oZ2KuYX7rK{BpemWoPTfoeJRxezpxL4f3e{5m[mlwYXOueYsw[2inbXLsM4NwdXCxdX7kY5JmeG:{dG;jZZJlN0OKRV3CUFQyOjF2Mj:nQnNCVkeHUkyvZV4> |
| HUTU-80 | MkDtS5Jwf3SqIFnubIljcXSrb36gRZN{[Xl? | | | | M1jj[2lEPTB;MUexMlA{OiEQvF2= | NHvGSpA9[SC2YYLn[ZQ:L1:kbHHub{chcHKnZk2nbJR1eHN8Lz;3e5cv\WKrLnHjMpVsN2OqZX3icE9kd22yb4Xu[H9z\XCxcoTfZ4Fz\C:FSFXNRmw1OTJzNEKvK|5USU6JRWK8M4E, |
| Daoy | NWHMSox3T3Kxd4ToJGlvcGmkaYTpc44hSXO|YYm= | | | | NYPXVnlsUUN3ME2xOlkvQDlzIN88US=> | MWC8ZUB1[XKpZYS9K39jdGGwazegbJJm\j1paIT0dJM7Ny:5d4eu[YJqNmGlLoXrM4Np\W2kbD;jc41xd3WwZG;y[ZBwenShY3Hy[E9EUEWPQly0NVIyPDJxJ{7TRW5ITVJ:L3G+ |
| KYSE-150 | M{Gycmdzd3e2aDDJcohq[mm2aX;uJGF{e2G7 | | | | MoHkTWM2OD1zNkmuOlM3KM7:TR?= | M4PoTlxiKHSjcnfleF0oZ2KuYX7rK{BpemWoPTfoeJRxezpxL4f3e{5m[mlwYXOueYsw[2inbXLsM4NwdXCxdX7kY5JmeG:{dG;jZZJlN0OKRV3CUFQyOjF2Mj:nQnNCVkeHUkyvZV4> |
| CP66-MEL | M3O0dWdzd3e2aDDJcohq[mm2aX;uJGF{e2G7 | | | | M3;re2lEPTB;MU[4MlQyPSEQvF2= | NVHWPYhMRGFidHHy[4V1RSehYnzhcosoKGi{ZX[9K4h1fHC|Oj:ve5d4NmWkaT7hZ{52cy:laHXtZoww[2:vcH;1coRgemWyb4L0Y4NiemRxQ1jFUWJNPDF{MUSyM{c,W0GQR1XSQE9iRg>? |
| Calu-3 | MYXHdo94fGhiSX7obYJqfGmxbjDBd5NigQ>? | | | | MXTJR|UxRTF4OD6zNVEh|ryP | NYjVWWF{RGFidHHy[4V1RSehYnzhcosoKGi{ZX[9K4h1fHC|Oj:ve5d4NmWkaT7hZ{52cy:laHXtZoww[2:vcH;1coRgemWyb4L0Y4NiemRxQ1jFUWJNPDF{MUSyM{c,W0GQR1XSQE9iRg>? |
| JVM-2 | Mm\TS5Jwf3SqIFnubIljcXSrb36gRZN{[Xl? | | | | M13FXWlEPTB;MU[3MlQ2OSEQvF2= | M2i1UlxiKHSjcnfleF0oZ2KuYX7rK{BpemWoPTfoeJRxezpxL4f3e{5m[mlwYXOueYsw[2inbXLsM4NwdXCxdX7kY5JmeG:{dG;jZZJlN0OKRV3CUFQyOjF2Mj:nQnNCVkeHUkyvZV4> |
| OVCAR-5 | MoTLS5Jwf3SqIFnubIljcXSrb36gRZN{[Xl? | | | | NGDYZ5JKSzVyPUG2PE4{ODlizszN | NYDadI1HRGFidHHy[4V1RSehYnzhcosoKGi{ZX[9K4h1fHC|Oj:ve5d4NmWkaT7hZ{52cy:laHXtZoww[2:vcH;1coRgemWyb4L0Y4NiemRxQ1jFUWJNPDF{MUSyM{c,W0GQR1XSQE9iRg>? |
| KINGS-1 | NFjVeZlIem:5dHigTY5pcWKrdHnvckBCe3OjeR?= | | | | MUnJR|UxRTF4Nz6zOVQh|ryP | M2rFSVxiKHSjcnfleF0oZ2KuYX7rK{BpemWoPTfoeJRxezpxL4f3e{5m[mlwYXOueYsw[2inbXLsM4NwdXCxdX7kY5JmeG:{dG;jZZJlN0OKRV3CUFQyOjF2Mj:nQnNCVkeHUkyvZV4> |
| EFO-21 | MYnHdo94fGhiSX7obYJqfGmxbjDBd5NigQ>? | | | | M1fEXGlEPTB;MU[1MlQ2KM7:TR?= | MX:8ZUB1[XKpZYS9K39jdGGwazegbJJm\j1paIT0dJM7Ny:5d4eu[YJqNmGlLoXrM4Np\W2kbD;jc41xd3WwZG;y[ZBwenShY3Hy[E9EUEWPQly0NVIyPDJxJ{7TRW5ITVJ:L3G+ |
| Ca9-22 | NXz1b4RpT3Kxd4ToJGlvcGmkaYTpc44hSXO|YYm= | | | | MofDTWM2OD1zNkSuN|IyKM7:TR?= | MWW8ZUB1[XKpZYS9K39jdGGwazegbJJm\j1paIT0dJM7Ny:5d4eu[YJqNmGlLoXrM4Np\W2kbD;jc41xd3WwZG;y[ZBwenShY3Hy[E9EUEWPQly0NVIyPDJxJ{7TRW5ITVJ:L3G+ |
| AU565 | MWfHdo94fGhiSX7obYJqfGmxbjDBd5NigQ>? | | | | MWjJR|UxRTF4Mz62OEDPxE1? | M4ewfVxiKHSjcnfleF0oZ2KuYX7rK{BpemWoPTfoeJRxezpxL4f3e{5m[mlwYXOueYsw[2inbXLsM4NwdXCxdX7kY5JmeG:{dG;jZZJlN0OKRV3CUFQyOjF2Mj:nQnNCVkeHUkyvZV4> |
| CHP-212 | MnXsS5Jwf3SqIFnubIljcXSrb36gRZN{[Xl? | | | | Mm\jTWM2OD1zNkOuOlI3KM7:TR?= | NXuxPW5RRGFidHHy[4V1RSehYnzhcosoKGi{ZX[9K4h1fHC|Oj:ve5d4NmWkaT7hZ{52cy:laHXtZoww[2:vcH;1coRgemWyb4L0Y4NiemRxQ1jFUWJNPDF{MUSyM{c,W0GQR1XSQE9iRg>? |
| CAL-62 | MlPhS5Jwf3SqIFnubIljcXSrb36gRZN{[Xl? | | | | M1LaTWlEPTB;MU[yMlYyOyEQvF2= | MYG8ZUB1[XKpZYS9K39jdGGwazegbJJm\j1paIT0dJM7Ny:5d4eu[YJqNmGlLoXrM4Np\W2kbD;jc41xd3WwZG;y[ZBwenShY3Hy[E9EUEWPQly0NVIyPDJxJ{7TRW5ITVJ:L3G+ |
| EFO-27 | NIfhbHBIem:5dHigTY5pcWKrdHnvckBCe3OjeR?= | | | | M1vISGlEPTB;MU[wMlU5PCEQvF2= | NXnxSFFnRGFidHHy[4V1RSehYnzhcosoKGi{ZX[9K4h1fHC|Oj:ve5d4NmWkaT7hZ{52cy:laHXtZoww[2:vcH;1coRgemWyb4L0Y4NiemRxQ1jFUWJNPDF{MUSyM{c,W0GQR1XSQE9iRg>? |
| NCI-H2052 | MmDaS5Jwf3SqIFnubIljcXSrb36gRZN{[Xl? | | | | NUPKdnROUUN3ME2xOVkvPTh|IN88US=> | NFT5T|Q9[SC2YYLn[ZQ:L1:kbHHub{chcHKnZk2nbJR1eHN8Lz;3e5cv\WKrLnHjMpVsN2OqZX3icE9kd22yb4Xu[H9z\XCxcoTfZ4Fz\C:FSFXNRmw1OTJzNEKvK|5USU6JRWK8M4E, |
| ES4 | M{\GVmdzd3e2aDDJcohq[mm2aX;uJGF{e2G7 | | | | M4rJ[WlEPTB;MUW5MlM6PiEQvF2= | M{\0ZVxiKHSjcnfleF0oZ2KuYX7rK{BpemWoPTfoeJRxezpxL4f3e{5m[mlwYXOueYsw[2inbXLsM4NwdXCxdX7kY5JmeG:{dG;jZZJlN0OKRV3CUFQyOjF2Mj:nQnNCVkeHUkyvZV4> |
| HCC70 | M1jwNGdzd3e2aDDJcohq[mm2aX;uJGF{e2G7 | | | | Mk\1TWM2OD1zNUmuNlQzKM7:TR?= | NFPyXHQ9[SC2YYLn[ZQ:L1:kbHHub{chcHKnZk2nbJR1eHN8Lz;3e5cv\WKrLnHjMpVsN2OqZX3icE9kd22yb4Xu[H9z\XCxcoTfZ4Fz\C:FSFXNRmw1OTJzNEKvK|5USU6JRWK8M4E, |
| HCC38 | MU\Hdo94fGhiSX7obYJqfGmxbjDBd5NigQ>? | | | | MVjJR|UxRTF3Nz6zOlkh|ryP | MWC8ZUB1[XKpZYS9K39jdGGwazegbJJm\j1paIT0dJM7Ny:5d4eu[YJqNmGlLoXrM4Np\W2kbD;jc41xd3WwZG;y[ZBwenShY3Hy[E9EUEWPQly0NVIyPDJxJ{7TRW5ITVJ:L3G+ |
| DG-75 | MoOzS5Jwf3SqIFnubIljcXSrb36gRZN{[Xl? | | | | M{H1NWlEPTB;MUW2MlY6PCEQvF2= | MmDYQIEhfGG{Z3X0QUdg[myjbnunJIhz\WZ;J3j0eJB{Qi9xd4f3MoVjcS6jYz71b{9kcGWvYnyvZ49ueG:3bnTfdoVxd3K2X3PhdoQwS0iHTVLMOFEzOTR{Lze+V2FPT0WUPD;hQi=> |
| HCC1419 | Mm\rS5Jwf3SqIFnubIljcXSrb36gRZN{[Xl? | | | | MVfJR|UxRTF3Nj6wO|ch|ryP | NXqzeHJkRGFidHHy[4V1RSehYnzhcosoKGi{ZX[9K4h1fHC|Oj:ve5d4NmWkaT7hZ{52cy:laHXtZoww[2:vcH;1coRgemWyb4L0Y4NiemRxQ1jFUWJNPDF{MUSyM{c,W0GQR1XSQE9iRg>? |
| CAL-120 | MlzHS5Jwf3SqIFnubIljcXSrb36gRZN{[Xl? | | | | NUnLUm9mUUN3ME2xOVUvQDJzIN88US=> | NHfkNnA9[SC2YYLn[ZQ:L1:kbHHub{chcHKnZk2nbJR1eHN8Lz;3e5cv\WKrLnHjMpVsN2OqZX3icE9kd22yb4Xu[H9z\XCxcoTfZ4Fz\C:FSFXNRmw1OTJzNEKvK|5USU6JRWK8M4E, |
| DK-MG | MnLLS5Jwf3SqIFnubIljcXSrb36gRZN{[Xl? | | | | M1nYVmlEPTB;MUW1MlE5OyEQvF2= | NIWyNWM9[SC2YYLn[ZQ:L1:kbHHub{chcHKnZk2nbJR1eHN8Lz;3e5cv\WKrLnHjMpVsN2OqZX3icE9kd22yb4Xu[H9z\XCxcoTfZ4Fz\C:FSFXNRmw1OTJzNEKvK|5USU6JRWK8M4E, |
| RERF-LC-MS | M{\C[Wdzd3e2aDDJcohq[mm2aX;uJGF{e2G7 | | | | NWTze21YUUN3ME2xOVQvPzd{IN88US=> | MVy8ZUB1[XKpZYS9K39jdGGwazegbJJm\j1paIT0dJM7Ny:5d4eu[YJqNmGlLoXrM4Np\W2kbD;jc41xd3WwZG;y[ZBwenShY3Hy[E9EUEWPQly0NVIyPDJxJ{7TRW5ITVJ:L3G+ |
| Calu-1 | MkLsS5Jwf3SqIFnubIljcXSrb36gRZN{[Xl? | | | | MkL6TWM2OD1zNUSuNFA{KM7:TR?= | MmXOQIEhfGG{Z3X0QUdg[myjbnunJIhz\WZ;J3j0eJB{Qi9xd4f3MoVjcS6jYz71b{9kcGWvYnyvZ49ueG:3bnTfdoVxd3K2X3PhdoQwS0iHTVLMOFEzOTR{Lze+V2FPT0WUPD;hQi=> |
| TT | NYe2TJQ2T3Kxd4ToJGlvcGmkaYTpc44hSXO|YYm= | | | | NGfHc2VKSzVyPUG1N{41QSEQvF2= | NHnEWGE9[SC2YYLn[ZQ:L1:kbHHub{chcHKnZk2nbJR1eHN8Lz;3e5cv\WKrLnHjMpVsN2OqZX3icE9kd22yb4Xu[H9z\XCxcoTfZ4Fz\C:FSFXNRmw1OTJzNEKvK|5USU6JRWK8M4E, |
| MDA-MB-361 | M4HsVGdzd3e2aDDJcohq[mm2aX;uJGF{e2G7 | | | | NIr6RoNKSzVyPUG1N{4yPjRizszN | M1rNTFxiKHSjcnfleF0oZ2KuYX7rK{BpemWoPTfoeJRxezpxL4f3e{5m[mlwYXOueYsw[2inbXLsM4NwdXCxdX7kY5JmeG:{dG;jZZJlN0OKRV3CUFQyOjF2Mj:nQnNCVkeHUkyvZV4> |
| AsPC-1 | NWK2fGZJT3Kxd4ToJGlvcGmkaYTpc44hSXO|YYm= | | | | MoTaTWM2OD1zNUKuO|Y1KM7:TR?= | Mlf3QIEhfGG{Z3X0QUdg[myjbnunJIhz\WZ;J3j0eJB{Qi9xd4f3MoVjcS6jYz71b{9kcGWvYnyvZ49ueG:3bnTfdoVxd3K2X3PhdoQwS0iHTVLMOFEzOTR{Lze+V2FPT0WUPD;hQi=> |
| GAK | Mn;uS5Jwf3SqIFnubIljcXSrb36gRZN{[Xl? | | | | M1[0cmlEPTB;MUWxMlM4PCEQvF2= | NXztPXpMRGFidHHy[4V1RSehYnzhcosoKGi{ZX[9K4h1fHC|Oj:ve5d4NmWkaT7hZ{52cy:laHXtZoww[2:vcH;1coRgemWyb4L0Y4NiemRxQ1jFUWJNPDF{MUSyM{c,W0GQR1XSQE9iRg>? |
| GDM-1 | MlvuS5Jwf3SqIFnubIljcXSrb36gRZN{[Xl? | | | | NWDWUI1LUUN3ME2xOVEvOTN3IN88US=> | Mkn1QIEhfGG{Z3X0QUdg[myjbnunJIhz\WZ;J3j0eJB{Qi9xd4f3MoVjcS6jYz71b{9kcGWvYnyvZ49ueG:3bnTfdoVxd3K2X3PhdoQwS0iHTVLMOFEzOTR{Lze+V2FPT0WUPD;hQi=> |
| NCI-H748 | M4XyWWdzd3e2aDDJcohq[mm2aX;uJGF{e2G7 | | | | NFX0OHdKSzVyPUG1NE4zODlizszN | MXG8ZUB1[XKpZYS9K39jdGGwazegbJJm\j1paIT0dJM7Ny:5d4eu[YJqNmGlLoXrM4Np\W2kbD;jc41xd3WwZG;y[ZBwenShY3Hy[E9EUEWPQly0NVIyPDJxJ{7TRW5ITVJ:L3G+ |
| L-540 | NELlZ21Iem:5dHigTY5pcWKrdHnvckBCe3OjeR?= | | | | NHnsemtKSzVyPUG0PU44PSEQvF2= | NI\XWm09[SC2YYLn[ZQ:L1:kbHHub{chcHKnZk2nbJR1eHN8Lz;3e5cv\WKrLnHjMpVsN2OqZX3icE9kd22yb4Xu[H9z\XCxcoTfZ4Fz\C:FSFXNRmw1OTJzNEKvK|5USU6JRWK8M4E, |
| Caov-3 | M4njZWdzd3e2aDDJcohq[mm2aX;uJGF{e2G7 | | | | MXXJR|UxRTF2OT63NVQh|ryP | M{j5U|xiKHSjcnfleF0oZ2KuYX7rK{BpemWoPTfoeJRxezpxL4f3e{5m[mlwYXOueYsw[2inbXLsM4NwdXCxdX7kY5JmeG:{dG;jZZJlN0OKRV3CUFQyOjF2Mj:nQnNCVkeHUkyvZV4> |
| TE-9 | MWjHdo94fGhiSX7obYJqfGmxbjDBd5NigQ>? | | | | MWjJR|UxRTF2OT60OFMh|ryP | Mne5QIEhfGG{Z3X0QUdg[myjbnunJIhz\WZ;J3j0eJB{Qi9xd4f3MoVjcS6jYz71b{9kcGWvYnyvZ49ueG:3bnTfdoVxd3K2X3PhdoQwS0iHTVLMOFEzOTR{Lze+V2FPT0WUPD;hQi=> |
| 639-V | NUS0NWRjT3Kxd4ToJGlvcGmkaYTpc44hSXO|YYm= | | | | M1XvOWlEPTB;MUS4MlcxPSEQvF2= | NWPufG9YRGFidHHy[4V1RSehYnzhcosoKGi{ZX[9K4h1fHC|Oj:ve5d4NmWkaT7hZ{52cy:laHXtZoww[2:vcH;1coRgemWyb4L0Y4NiemRxQ1jFUWJNPDF{MUSyM{c,W0GQR1XSQE9iRg>? |
| LB647-SCLC | NUG5WG53T3Kxd4ToJGlvcGmkaYTpc44hSXO|YYm= | | | | NVTBOGI2UUN3ME2xOFgvPTZ{IN88US=> | Mn33QIEhfGG{Z3X0QUdg[myjbnunJIhz\WZ;J3j0eJB{Qi9xd4f3MoVjcS6jYz71b{9kcGWvYnyvZ49ueG:3bnTfdoVxd3K2X3PhdoQwS0iHTVLMOFEzOTR{Lze+V2FPT0WUPD;hQi=> |
| KYSE-520 | M2CwV2dzd3e2aDDJcohq[mm2aX;uJGF{e2G7 | | | | MYPJR|UxRTF2OD61OEDPxE1? | NWjL[nR2RGFidHHy[4V1RSehYnzhcosoKGi{ZX[9K4h1fHC|Oj:ve5d4NmWkaT7hZ{52cy:laHXtZoww[2:vcH;1coRgemWyb4L0Y4NiemRxQ1jFUWJNPDF{MUSyM{c,W0GQR1XSQE9iRg>? |
| GAMG | MlPSS5Jwf3SqIFnubIljcXSrb36gRZN{[Xl? | | | | M2Tl[mlEPTB;MUS4MlI1PyEQvF2= | M4rQPFxiKHSjcnfleF0oZ2KuYX7rK{BpemWoPTfoeJRxezpxL4f3e{5m[mlwYXOueYsw[2inbXLsM4NwdXCxdX7kY5JmeG:{dG;jZZJlN0OKRV3CUFQyOjF2Mj:nQnNCVkeHUkyvZV4> |
| GCIY | NVnXNZdjT3Kxd4ToJGlvcGmkaYTpc44hSXO|YYm= | | | | MnXoTWM2OD1zNEeuO|k4KM7:TR?= | NYXRfXZQRGFidHHy[4V1RSehYnzhcosoKGi{ZX[9K4h1fHC|Oj:ve5d4NmWkaT7hZ{52cy:laHXtZoww[2:vcH;1coRgemWyb4L0Y4NiemRxQ1jFUWJNPDF{MUSyM{c,W0GQR1XSQE9iRg>? |
| DMS-114 | NVjjNHNFT3Kxd4ToJGlvcGmkaYTpc44hSXO|YYm= | | | | MXnJR|UxRTF2Nz60OFEh|ryP | M3zMU|xiKHSjcnfleF0oZ2KuYX7rK{BpemWoPTfoeJRxezpxL4f3e{5m[mlwYXOueYsw[2inbXLsM4NwdXCxdX7kY5JmeG:{dG;jZZJlN0OKRV3CUFQyOjF2Mj:nQnNCVkeHUkyvZV4> |
| BB49-HNC | NVLmfFlvT3Kxd4ToJGlvcGmkaYTpc44hSXO|YYm= | | | | NI\QUmlKSzVyPUG0O{41ODRizszN | M2fBPFxiKHSjcnfleF0oZ2KuYX7rK{BpemWoPTfoeJRxezpxL4f3e{5m[mlwYXOueYsw[2inbXLsM4NwdXCxdX7kY5JmeG:{dG;jZZJlN0OKRV3CUFQyOjF2Mj:nQnNCVkeHUkyvZV4> |
| SW13 | MmrXS5Jwf3SqIFnubIljcXSrb36gRZN{[Xl? | | | | M{\2[2lEPTB;MUS3MlI2OyEQvF2= | NX;J[5lTRGFidHHy[4V1RSehYnzhcosoKGi{ZX[9K4h1fHC|Oj:ve5d4NmWkaT7hZ{52cy:laHXtZoww[2:vcH;1coRgemWyb4L0Y4NiemRxQ1jFUWJNPDF{MUSyM{c,W0GQR1XSQE9iRg>? |
| LK-2 | NWqzWXM1T3Kxd4ToJGlvcGmkaYTpc44hSXO|YYm= | | | | MVfJR|UxRTF2Nz6xOFMh|ryP | NULjNVliRGFidHHy[4V1RSehYnzhcosoKGi{ZX[9K4h1fHC|Oj:ve5d4NmWkaT7hZ{52cy:laHXtZoww[2:vcH;1coRgemWyb4L0Y4NiemRxQ1jFUWJNPDF{MUSyM{c,W0GQR1XSQE9iRg>? |
| OMC-1 | NILVcZhIem:5dHigTY5pcWKrdHnvckBCe3OjeR?= | | | | Mn;HTWM2OD1zNEWuPVY4KM7:TR?= | M1LR[VxiKHSjcnfleF0oZ2KuYX7rK{BpemWoPTfoeJRxezpxL4f3e{5m[mlwYXOueYsw[2inbXLsM4NwdXCxdX7kY5JmeG:{dG;jZZJlN0OKRV3CUFQyOjF2Mj:nQnNCVkeHUkyvZV4> |
| G-401 | NGrHcoVIem:5dHigTY5pcWKrdHnvckBCe3OjeR?= | | | | NYDNbo8xUUN3ME2xOFUvQDN3IN88US=> | M3L0SFxiKHSjcnfleF0oZ2KuYX7rK{BpemWoPTfoeJRxezpxL4f3e{5m[mlwYXOueYsw[2inbXLsM4NwdXCxdX7kY5JmeG:{dG;jZZJlN0OKRV3CUFQyOjF2Mj:nQnNCVkeHUkyvZV4> |
| HTC-C3 | M4DmUmdzd3e2aDDJcohq[mm2aX;uJGF{e2G7 | | | | Mn7pTWM2OD1zNEWuNFc2KM7:TR?= | MVG8ZUB1[XKpZYS9K39jdGGwazegbJJm\j1paIT0dJM7Ny:5d4eu[YJqNmGlLoXrM4Np\W2kbD;jc41xd3WwZG;y[ZBwenShY3Hy[E9EUEWPQly0NVIyPDJxJ{7TRW5ITVJ:L3G+ |
| SCC-25 | NEXtbVlIem:5dHigTY5pcWKrdHnvckBCe3OjeR?= | | | | M4O2bmlEPTB;MUS0MlAxPSEQvF2= | NYH5OnhwRGFidHHy[4V1RSehYnzhcosoKGi{ZX[9K4h1fHC|Oj:ve5d4NmWkaT7hZ{52cy:laHXtZoww[2:vcH;1coRgemWyb4L0Y4NiemRxQ1jFUWJNPDF{MUSyM{c,W0GQR1XSQE9iRg>? |
| NCI-H810 | NH\5bXdIem:5dHigTY5pcWKrdHnvckBCe3OjeR?= | | | | MUTJR|UxRTF2Mz62PFch|ryP | NIXEWWk9[SC2YYLn[ZQ:L1:kbHHub{chcHKnZk2nbJR1eHN8Lz;3e5cv\WKrLnHjMpVsN2OqZX3icE9kd22yb4Xu[H9z\XCxcoTfZ4Fz\C:FSFXNRmw1OTJzNEKvK|5USU6JRWK8M4E, |
| CCF-STTG1 | NVe2UGlVT3Kxd4ToJGlvcGmkaYTpc44hSXO|YYm= | | | | NHLyTlhKSzVyPUG0N{4{OzRizszN | MVO8ZUB1[XKpZYS9K39jdGGwazegbJJm\j1paIT0dJM7Ny:5d4eu[YJqNmGlLoXrM4Np\W2kbD;jc41xd3WwZG;y[ZBwenShY3Hy[E9EUEWPQly0NVIyPDJxJ{7TRW5ITVJ:L3G+ |
| YKG-1 | MV7Hdo94fGhiSX7obYJqfGmxbjDBd5NigQ>? | | | | NXfSbW1uUUN3ME2xOFIvQDh7IN88US=> | M3;YWFxiKHSjcnfleF0oZ2KuYX7rK{BpemWoPTfoeJRxezpxL4f3e{5m[mlwYXOueYsw[2inbXLsM4NwdXCxdX7kY5JmeG:{dG;jZZJlN0OKRV3CUFQyOjF2Mj:nQnNCVkeHUkyvZV4> |
| OE33 | MX;Hdo94fGhiSX7obYJqfGmxbjDBd5NigQ>? | | | | M1zld2lEPTB;MUSxMlc6QCEQvF2= | NUTmZpFyRGFidHHy[4V1RSehYnzhcosoKGi{ZX[9K4h1fHC|Oj:ve5d4NmWkaT7hZ{52cy:laHXtZoww[2:vcH;1coRgemWyb4L0Y4NiemRxQ1jFUWJNPDF{MUSyM{c,W0GQR1XSQE9iRg>? |
| OCI-AML2 | MUTHdo94fGhiSX7obYJqfGmxbjDBd5NigQ>? | | | | NILJXWxKSzVyPUG0NU42ODdizszN | NHr2[Ws9[SC2YYLn[ZQ:L1:kbHHub{chcHKnZk2nbJR1eHN8Lz;3e5cv\WKrLnHjMpVsN2OqZX3icE9kd22yb4Xu[H9z\XCxcoTfZ4Fz\C:FSFXNRmw1OTJzNEKvK|5USU6JRWK8M4E, |
| Detroit562 | M3O3NWdzd3e2aDDJcohq[mm2aX;uJGF{e2G7 | | | | NFi5bmZKSzVyPUG0NU41PjZizszN | NYr5SXBNRGFidHHy[4V1RSehYnzhcosoKGi{ZX[9K4h1fHC|Oj:ve5d4NmWkaT7hZ{52cy:laHXtZoww[2:vcH;1coRgemWyb4L0Y4NiemRxQ1jFUWJNPDF{MUSyM{c,W0GQR1XSQE9iRg>? |
| OVCAR-4 | MnzJS5Jwf3SqIFnubIljcXSrb36gRZN{[Xl? | | | | MnPSTWM2OD1zNECuO|Q6KM7:TR?= | MnPiQIEhfGG{Z3X0QUdg[myjbnunJIhz\WZ;J3j0eJB{Qi9xd4f3MoVjcS6jYz71b{9kcGWvYnyvZ49ueG:3bnTfdoVxd3K2X3PhdoQwS0iHTVLMOFEzOTR{Lze+V2FPT0WUPD;hQi=> |
| BHT-101 | NF3UbWVIem:5dHigTY5pcWKrdHnvckBCe3OjeR?= | | | | M{K3SmlEPTB;MUSwMlIxQCEQvF2= | MV68ZUB1[XKpZYS9K39jdGGwazegbJJm\j1paIT0dJM7Ny:5d4eu[YJqNmGlLoXrM4Np\W2kbD;jc41xd3WwZG;y[ZBwenShY3Hy[E9EUEWPQly0NVIyPDJxJ{7TRW5ITVJ:L3G+ |
| Ca-Ski | MUHHdo94fGhiSX7obYJqfGmxbjDBd5NigQ>? | | | | NIHhPZRKSzVyPUGzPE45OzFizszN | M2XzW|xiKHSjcnfleF0oZ2KuYX7rK{BpemWoPTfoeJRxezpxL4f3e{5m[mlwYXOueYsw[2inbXLsM4NwdXCxdX7kY5JmeG:{dG;jZZJlN0OKRV3CUFQyOjF2Mj:nQnNCVkeHUkyvZV4> |
| OAW-42 | M1nNXGdzd3e2aDDJcohq[mm2aX;uJGF{e2G7 | | | | MljaTWM2OD1zM{euPFU3KM7:TR?= | NIT5UYY9[SC2YYLn[ZQ:L1:kbHHub{chcHKnZk2nbJR1eHN8Lz;3e5cv\WKrLnHjMpVsN2OqZX3icE9kd22yb4Xu[H9z\XCxcoTfZ4Fz\C:FSFXNRmw1OTJzNEKvK|5USU6JRWK8M4E, |
| G-402 | MlTSS5Jwf3SqIFnubIljcXSrb36gRZN{[Xl? | | | | M{C3b2lEPTB;MUO1MlI6PSEQvF2= | MoTwQIEhfGG{Z3X0QUdg[myjbnunJIhz\WZ;J3j0eJB{Qi9xd4f3MoVjcS6jYz71b{9kcGWvYnyvZ49ueG:3bnTfdoVxd3K2X3PhdoQwS0iHTVLMOFEzOTR{Lze+V2FPT0WUPD;hQi=> |
| NOS-1 | NVqx[5N1T3Kxd4ToJGlvcGmkaYTpc44hSXO|YYm= | | | | MUHJR|UxRTF|ND63OlUh|ryP | Mn[zQIEhfGG{Z3X0QUdg[myjbnunJIhz\WZ;J3j0eJB{Qi9xd4f3MoVjcS6jYz71b{9kcGWvYnyvZ49ueG:3bnTfdoVxd3K2X3PhdoQwS0iHTVLMOFEzOTR{Lze+V2FPT0WUPD;hQi=> |
| NCI-H1437 | Mmf2S5Jwf3SqIFnubIljcXSrb36gRZN{[Xl? | | | | MWPJR|UxRTF|ND61PUDPxE1? | MonOQIEhfGG{Z3X0QUdg[myjbnunJIhz\WZ;J3j0eJB{Qi9xd4f3MoVjcS6jYz71b{9kcGWvYnyvZ49ueG:3bnTfdoVxd3K2X3PhdoQwS0iHTVLMOFEzOTR{Lze+V2FPT0WUPD;hQi=> |
| JEG-3 | M1P5dWdzd3e2aDDJcohq[mm2aX;uJGF{e2G7 | | | | NIOxUXJKSzVyPUGzOE4{PTlizszN | MnfrQIEhfGG{Z3X0QUdg[myjbnunJIhz\WZ;J3j0eJB{Qi9xd4f3MoVjcS6jYz71b{9kcGWvYnyvZ49ueG:3bnTfdoVxd3K2X3PhdoQwS0iHTVLMOFEzOTR{Lze+V2FPT0WUPD;hQi=> |
| CP50-MEL-B | MYrHdo94fGhiSX7obYJqfGmxbjDBd5NigQ>? | | | | MVzJR|UxRTF|ND6yJO69VQ>? | NX7HU2N{RGFidHHy[4V1RSehYnzhcosoKGi{ZX[9K4h1fHC|Oj:ve5d4NmWkaT7hZ{52cy:laHXtZoww[2:vcH;1coRgemWyb4L0Y4NiemRxQ1jFUWJNPDF{MUSyM{c,W0GQR1XSQE9iRg>? |
| BB30-HNC | M3nZOWdzd3e2aDDJcohq[mm2aX;uJGF{e2G7 | | | | NUTWeIFjUUN3ME2xN|QvOTF4IN88US=> | NUfFUFNpRGFidHHy[4V1RSehYnzhcosoKGi{ZX[9K4h1fHC|Oj:ve5d4NmWkaT7hZ{52cy:laHXtZoww[2:vcH;1coRgemWyb4L0Y4NiemRxQ1jFUWJNPDF{MUSyM{c,W0GQR1XSQE9iRg>? |
| Capan-2 | M13nfGdzd3e2aDDJcohq[mm2aX;uJGF{e2G7 | | | | NIniTVFKSzVyPUGzN{46PzVizszN | NG\yNHY9[SC2YYLn[ZQ:L1:kbHHub{chcHKnZk2nbJR1eHN8Lz;3e5cv\WKrLnHjMpVsN2OqZX3icE9kd22yb4Xu[H9z\XCxcoTfZ4Fz\C:FSFXNRmw1OTJzNEKvK|5USU6JRWK8M4E, |
| CTB-1 | M3LNfmdzd3e2aDDJcohq[mm2aX;uJGF{e2G7 | | | | Mnf1TWM2OD1zM{KuPFk4KM7:TR?= | MWC8ZUB1[XKpZYS9K39jdGGwazegbJJm\j1paIT0dJM7Ny:5d4eu[YJqNmGlLoXrM4Np\W2kbD;jc41xd3WwZG;y[ZBwenShY3Hy[E9EUEWPQly0NVIyPDJxJ{7TRW5ITVJ:L3G+ |
| HT-1080 | Mo\tS5Jwf3SqIFnubIljcXSrb36gRZN{[Xl? | | | | NVvlNVNvUUN3ME2xN|IvOjB2IN88US=> | MoHZQIEhfGG{Z3X0QUdg[myjbnunJIhz\WZ;J3j0eJB{Qi9xd4f3MoVjcS6jYz71b{9kcGWvYnyvZ49ueG:3bnTfdoVxd3K2X3PhdoQwS0iHTVLMOFEzOTR{Lze+V2FPT0WUPD;hQi=> |
| MFH-ino | M{TmNGdzd3e2aDDJcohq[mm2aX;uJGF{e2G7 | | | | NGq1b4hKSzVyPUGzNU4yOTRizszN | Mk\6QIEhfGG{Z3X0QUdg[myjbnunJIhz\WZ;J3j0eJB{Qi9xd4f3MoVjcS6jYz71b{9kcGWvYnyvZ49ueG:3bnTfdoVxd3K2X3PhdoQwS0iHTVLMOFEzOTR{Lze+V2FPT0WUPD;hQi=> |
| VMRC-RCZ | MlPlS5Jwf3SqIFnubIljcXSrb36gRZN{[Xl? | | | | M{\GRWlEPTB;MUOwMlM4PSEQvF2= | MXq8ZUB1[XKpZYS9K39jdGGwazegbJJm\j1paIT0dJM7Ny:5d4eu[YJqNmGlLoXrM4Np\W2kbD;jc41xd3WwZG;y[ZBwenShY3Hy[E9EUEWPQly0NVIyPDJxJ{7TRW5ITVJ:L3G+ |
| LU-99A | M{DZU2dzd3e2aDDJcohq[mm2aX;uJGF{e2G7 | | | | MVzJR|UxRTF{OT65N|Eh|ryP | MkHCQIEhfGG{Z3X0QUdg[myjbnunJIhz\WZ;J3j0eJB{Qi9xd4f3MoVjcS6jYz71b{9kcGWvYnyvZ49ueG:3bnTfdoVxd3K2X3PhdoQwS0iHTVLMOFEzOTR{Lze+V2FPT0WUPD;hQi=> |
| HEC-1 | MV\Hdo94fGhiSX7obYJqfGmxbjDBd5NigQ>? | | | | MYXJR|UxRTF{OT6xPVgh|ryP | NF;OVYQ9[SC2YYLn[ZQ:L1:kbHHub{chcHKnZk2nbJR1eHN8Lz;3e5cv\WKrLnHjMpVsN2OqZX3icE9kd22yb4Xu[H9z\XCxcoTfZ4Fz\C:FSFXNRmw1OTJzNEKvK|5USU6JRWK8M4E, |
| EB-3 | M1zMUWdzd3e2aDDJcohq[mm2aX;uJGF{e2G7 | | | | MmXLTWM2OD1zMkeuNFE{KM7:TR?= | MUm8ZUB1[XKpZYS9K39jdGGwazegbJJm\j1paIT0dJM7Ny:5d4eu[YJqNmGlLoXrM4Np\W2kbD;jc41xd3WwZG;y[ZBwenShY3Hy[E9EUEWPQly0NVIyPDJxJ{7TRW5ITVJ:L3G+ |
| UMC-11 | NH24RVlIem:5dHigTY5pcWKrdHnvckBCe3OjeR?= | | | | M2qwRmlEPTB;MUK2MlA{QCEQvF2= | MYC8ZUB1[XKpZYS9K39jdGGwazegbJJm\j1paIT0dJM7Ny:5d4eu[YJqNmGlLoXrM4Np\W2kbD;jc41xd3WwZG;y[ZBwenShY3Hy[E9EUEWPQly0NVIyPDJxJ{7TRW5ITVJ:L3G+ |
| NCI-H2087 | NX7vWW85T3Kxd4ToJGlvcGmkaYTpc44hSXO|YYm= | | | | M4nGW2lEPTB;MUK0MlI5OyEQvF2= | MXe8ZUB1[XKpZYS9K39jdGGwazegbJJm\j1paIT0dJM7Ny:5d4eu[YJqNmGlLoXrM4Np\W2kbD;jc41xd3WwZG;y[ZBwenShY3Hy[E9EUEWPQly0NVIyPDJxJ{7TRW5ITVJ:L3G+ |
| SW1463 | MUjHdo94fGhiSX7obYJqfGmxbjDBd5NigQ>? | | | | MYnJR|UxRTF{ND6wO|ch|ryP | MWK8ZUB1[XKpZYS9K39jdGGwazegbJJm\j1paIT0dJM7Ny:5d4eu[YJqNmGlLoXrM4Np\W2kbD;jc41xd3WwZG;y[ZBwenShY3Hy[E9EUEWPQly0NVIyPDJxJ{7TRW5ITVJ:L3G+ |
| OPM-2 | Mk\CS5Jwf3SqIFnubIljcXSrb36gRZN{[Xl? | | | | Mnf6TWM2OD1zMkOuNVc3KM7:TR?= | MojEQIEhfGG{Z3X0QUdg[myjbnunJIhz\WZ;J3j0eJB{Qi9xd4f3MoVjcS6jYz71b{9kcGWvYnyvZ49ueG:3bnTfdoVxd3K2X3PhdoQwS0iHTVLMOFEzOTR{Lze+V2FPT0WUPD;hQi=> |
| HT-29 | NXnEb2JOT3Kxd4ToJGlvcGmkaYTpc44hSXO|YYm= | | | | MVTJR|UxRTF{Mj63O|gh|ryP | MXm8ZUB1[XKpZYS9K39jdGGwazegbJJm\j1paIT0dJM7Ny:5d4eu[YJqNmGlLoXrM4Np\W2kbD;jc41xd3WwZG;y[ZBwenShY3Hy[E9EUEWPQly0NVIyPDJxJ{7TRW5ITVJ:L3G+ |
| HAL-01 | M3PieWdzd3e2aDDJcohq[mm2aX;uJGF{e2G7 | | | | M3\mfmlEPTB;MUKyMlQ6QSEQvF2= | NFzHbGc9[SC2YYLn[ZQ:L1:kbHHub{chcHKnZk2nbJR1eHN8Lz;3e5cv\WKrLnHjMpVsN2OqZX3icE9kd22yb4Xu[H9z\XCxcoTfZ4Fz\C:FSFXNRmw1OTJzNEKvK|5USU6JRWK8M4E, |
| KYSE-140 | MnXQS5Jwf3SqIFnubIljcXSrb36gRZN{[Xl? | | | | MkLQTWM2OD1zMkKuNVQyKM7:TR?= | NUTMbmplRGFidHHy[4V1RSehYnzhcosoKGi{ZX[9K4h1fHC|Oj:ve5d4NmWkaT7hZ{52cy:laHXtZoww[2:vcH;1coRgemWyb4L0Y4NiemRxQ1jFUWJNPDF{MUSyM{c,W0GQR1XSQE9iRg>? |
| HuP-T4 | M2HLZWdzd3e2aDDJcohq[mm2aX;uJGF{e2G7 | | | | M1nMRWlEPTB;MUKxMlU2KM7:TR?= | MVK8ZUB1[XKpZYS9K39jdGGwazegbJJm\j1paIT0dJM7Ny:5d4eu[YJqNmGlLoXrM4Np\W2kbD;jc41xd3WwZG;y[ZBwenShY3Hy[E9EUEWPQly0NVIyPDJxJ{7TRW5ITVJ:L3G+ |
| NCI-N87 | Mn3uS5Jwf3SqIFnubIljcXSrb36gRZN{[Xl? | | | | MnzNTWM2OD1zMkGuNFQ1KM7:TR?= | MWO8ZUB1[XKpZYS9K39jdGGwazegbJJm\j1paIT0dJM7Ny:5d4eu[YJqNmGlLoXrM4Np\W2kbD;jc41xd3WwZG;y[ZBwenShY3Hy[E9EUEWPQly0NVIyPDJxJ{7TRW5ITVJ:L3G+ |
| OVCAR-3 | MXPHdo94fGhiSX7obYJqfGmxbjDBd5NigQ>? | | | | MmfVTWM2OD1zMUmuPVE2KM7:TR?= | M2GwfFxiKHSjcnfleF0oZ2KuYX7rK{BpemWoPTfoeJRxezpxL4f3e{5m[mlwYXOueYsw[2inbXLsM4NwdXCxdX7kY5JmeG:{dG;jZZJlN0OKRV3CUFQyOjF2Mj:nQnNCVkeHUkyvZV4> |
| KNS-81-FD | MnzqS5Jwf3SqIFnubIljcXSrb36gRZN{[Xl? | | | | MYfJR|UxRTFzOT60NVch|ryP | NGjMVZA9[SC2YYLn[ZQ:L1:kbHHub{chcHKnZk2nbJR1eHN8Lz;3e5cv\WKrLnHjMpVsN2OqZX3icE9kd22yb4Xu[H9z\XCxcoTfZ4Fz\C:FSFXNRmw1OTJzNEKvK|5USU6JRWK8M4E, |
| SUP-T1 | M4\Ve2dzd3e2aDDJcohq[mm2aX;uJGF{e2G7 | | | | NVT1T5Y1UUN3ME2xNVgvQTV4IN88US=> | M2LmcVxiKHSjcnfleF0oZ2KuYX7rK{BpemWoPTfoeJRxezpxL4f3e{5m[mlwYXOueYsw[2inbXLsM4NwdXCxdX7kY5JmeG:{dG;jZZJlN0OKRV3CUFQyOjF2Mj:nQnNCVkeHUkyvZV4> |
| SKG-IIIa | MXvHdo94fGhiSX7obYJqfGmxbjDBd5NigQ>? | | | | NULkOopHUUN3ME2xNVgvOTF4IN88US=> | M{PkWFxiKHSjcnfleF0oZ2KuYX7rK{BpemWoPTfoeJRxezpxL4f3e{5m[mlwYXOueYsw[2inbXLsM4NwdXCxdX7kY5JmeG:{dG;jZZJlN0OKRV3CUFQyOjF2Mj:nQnNCVkeHUkyvZV4> |
| RKO | M1qzeGdzd3e2aDDJcohq[mm2aX;uJGF{e2G7 | | | | NXz6[VdRUUN3ME2xNVcvQDl6IN88US=> | NWHrZXg4RGFidHHy[4V1RSehYnzhcosoKGi{ZX[9K4h1fHC|Oj:ve5d4NmWkaT7hZ{52cy:laHXtZoww[2:vcH;1coRgemWyb4L0Y4NiemRxQ1jFUWJNPDF{MUSyM{c,W0GQR1XSQE9iRg>? |
| ATN-1 | M37LcWdzd3e2aDDJcohq[mm2aX;uJGF{e2G7 | | | | MVPJR|UxRTFzNz64Nlgh|ryP | NYnJS4hKRGFidHHy[4V1RSehYnzhcosoKGi{ZX[9K4h1fHC|Oj:ve5d4NmWkaT7hZ{52cy:laHXtZoww[2:vcH;1coRgemWyb4L0Y4NiemRxQ1jFUWJNPDF{MUSyM{c,W0GQR1XSQE9iRg>? |
| OVCAR-8 | M2H0Nmdzd3e2aDDJcohq[mm2aX;uJGF{e2G7 | | | | NEXmR|JKSzVyPUGxO{43PjhizszN | MVq8ZUB1[XKpZYS9K39jdGGwazegbJJm\j1paIT0dJM7Ny:5d4eu[YJqNmGlLoXrM4Np\W2kbD;jc41xd3WwZG;y[ZBwenShY3Hy[E9EUEWPQly0NVIyPDJxJ{7TRW5ITVJ:L3G+ |
| HCC1599 | NV25VHA3T3Kxd4ToJGlvcGmkaYTpc44hSXO|YYm= | | | | NEjvO5hKSzVyPUGxO{4yPTZizszN | NV\q[m9jRGFidHHy[4V1RSehYnzhcosoKGi{ZX[9K4h1fHC|Oj:ve5d4NmWkaT7hZ{52cy:laHXtZoww[2:vcH;1coRgemWyb4L0Y4NiemRxQ1jFUWJNPDF{MUSyM{c,W0GQR1XSQE9iRg>? |
| Calu-6 | MXHHdo94fGhiSX7obYJqfGmxbjDBd5NigQ>? | | | | NELnUldKSzVyPUGxOk44QThizszN | NFPYeXU9[SC2YYLn[ZQ:L1:kbHHub{chcHKnZk2nbJR1eHN8Lz;3e5cv\WKrLnHjMpVsN2OqZX3icE9kd22yb4Xu[H9z\XCxcoTfZ4Fz\C:FSFXNRmw1OTJzNEKvK|5USU6JRWK8M4E, |
| DMS-273 | MnzmS5Jwf3SqIFnubIljcXSrb36gRZN{[Xl? | | | | Mkn2TWM2OD1zMUWuOlE4KM7:TR?= | NEnPSJc9[SC2YYLn[ZQ:L1:kbHHub{chcHKnZk2nbJR1eHN8Lz;3e5cv\WKrLnHjMpVsN2OqZX3icE9kd22yb4Xu[H9z\XCxcoTfZ4Fz\C:FSFXNRmw1OTJzNEKvK|5USU6JRWK8M4E, |
| 786-0 | NH7SSGhIem:5dHigTY5pcWKrdHnvckBCe3OjeR?= | | | | M2HuXmlEPTB;MUGzMlQ2OyEQvF2= | MnnRQIEhfGG{Z3X0QUdg[myjbnunJIhz\WZ;J3j0eJB{Qi9xd4f3MoVjcS6jYz71b{9kcGWvYnyvZ49ueG:3bnTfdoVxd3K2X3PhdoQwS0iHTVLMOFEzOTR{Lze+V2FPT0WUPD;hQi=> |
| SIG-M5 | M{DUNWdzd3e2aDDJcohq[mm2aX;uJGF{e2G7 | | | | NUXCSIllUUN3ME2xNVMvOTJ3IN88US=> | MnvXQIEhfGG{Z3X0QUdg[myjbnunJIhz\WZ;J3j0eJB{Qi9xd4f3MoVjcS6jYz71b{9kcGWvYnyvZ49ueG:3bnTfdoVxd3K2X3PhdoQwS0iHTVLMOFEzOTR{Lze+V2FPT0WUPD;hQi=> |
| NEC8 | NEXlZXVIem:5dHigTY5pcWKrdHnvckBCe3OjeR?= | | | | NH7YTZlKSzVyPUGxNk43OjRizszN | M2nyTFxiKHSjcnfleF0oZ2KuYX7rK{BpemWoPTfoeJRxezpxL4f3e{5m[mlwYXOueYsw[2inbXLsM4NwdXCxdX7kY5JmeG:{dG;jZZJlN0OKRV3CUFQyOjF2Mj:nQnNCVkeHUkyvZV4> |
| MDA-MB-157 | MV3Hdo94fGhiSX7obYJqfGmxbjDBd5NigQ>? | | | | NVPwN29VUUN3ME2xNVIvPDlizszN | Mk[3QIEhfGG{Z3X0QUdg[myjbnunJIhz\WZ;J3j0eJB{Qi9xd4f3MoVjcS6jYz71b{9kcGWvYnyvZ49ueG:3bnTfdoVxd3K2X3PhdoQwS0iHTVLMOFEzOTR{Lze+V2FPT0WUPD;hQi=> |
| U031 | NYPDUXpxT3Kxd4ToJGlvcGmkaYTpc44hSXO|YYm= | | | | MljyTWM2OD1zMUKuNFY2KM7:TR?= | Mnu5QIEhfGG{Z3X0QUdg[myjbnunJIhz\WZ;J3j0eJB{Qi9xd4f3MoVjcS6jYz71b{9kcGWvYnyvZ49ueG:3bnTfdoVxd3K2X3PhdoQwS0iHTVLMOFEzOTR{Lze+V2FPT0WUPD;hQi=> |
| WSU-NHL | MUHHdo94fGhiSX7obYJqfGmxbjDBd5NigQ>? | | | | NFfFWYVKSzVyPUGxNk4xOSEQvF2= | MnrhQIEhfGG{Z3X0QUdg[myjbnunJIhz\WZ;J3j0eJB{Qi9xd4f3MoVjcS6jYz71b{9kcGWvYnyvZ49ueG:3bnTfdoVxd3K2X3PhdoQwS0iHTVLMOFEzOTR{Lze+V2FPT0WUPD;hQi=> |
| HCT-15 | Ml7KS5Jwf3SqIFnubIljcXSrb36gRZN{[Xl? | | | | Mly5TWM2OD1zMUCuOlYyKM7:TR?= | Mn3pQIEhfGG{Z3X0QUdg[myjbnunJIhz\WZ;J3j0eJB{Qi9xd4f3MoVjcS6jYz71b{9kcGWvYnyvZ49ueG:3bnTfdoVxd3K2X3PhdoQwS0iHTVLMOFEzOTR{Lze+V2FPT0WUPD;hQi=> |
| A253 | MWjHdo94fGhiSX7obYJqfGmxbjDBd5NigQ>? | | | | MXLJR|UxRTFzMD60O|kh|ryP | NXL3WphGRGFidHHy[4V1RSehYnzhcosoKGi{ZX[9K4h1fHC|Oj:ve5d4NmWkaT7hZ{52cy:laHXtZoww[2:vcH;1coRgemWyb4L0Y4NiemRxQ1jFUWJNPDF{MUSyM{c,W0GQR1XSQE9iRg>? |
| DU-145 | NUHRPWxFT3Kxd4ToJGlvcGmkaYTpc44hSXO|YYm= | | | | M4HDXWlEPTB;MUC5Mlk1PSEQvF2= | MmTRQIEhfGG{Z3X0QUdg[myjbnunJIhz\WZ;J3j0eJB{Qi9xd4f3MoVjcS6jYz71b{9kcGWvYnyvZ49ueG:3bnTfdoVxd3K2X3PhdoQwS0iHTVLMOFEzOTR{Lze+V2FPT0WUPD;hQi=> |
| D-263MG | MWfHdo94fGhiSX7obYJqfGmxbjDBd5NigQ>? | | | | NGfGN|NKSzVyPUGwPE46PjFizszN | Mm\aQIEhfGG{Z3X0QUdg[myjbnunJIhz\WZ;J3j0eJB{Qi9xd4f3MoVjcS6jYz71b{9kcGWvYnyvZ49ueG:3bnTfdoVxd3K2X3PhdoQwS0iHTVLMOFEzOTR{Lze+V2FPT0WUPD;hQi=> |
| FTC-133 | NFzwUHBIem:5dHigTY5pcWKrdHnvckBCe3OjeR?= | | | | NYHzRnZ2UUN3ME2xNFgvPDh6IN88US=> | NXPtdI8zRGFidHHy[4V1RSehYnzhcosoKGi{ZX[9K4h1fHC|Oj:ve5d4NmWkaT7hZ{52cy:laHXtZoww[2:vcH;1coRgemWyb4L0Y4NiemRxQ1jFUWJNPDF{MUSyM{c,W0GQR1XSQE9iRg>? |
| HOP-92 | M2\2[2dzd3e2aDDJcohq[mm2aX;uJGF{e2G7 | | | | NFrHNmRKSzVyPUGwPE41PzVizszN | NVLtXFdtRGFidHHy[4V1RSehYnzhcosoKGi{ZX[9K4h1fHC|Oj:ve5d4NmWkaT7hZ{52cy:laHXtZoww[2:vcH;1coRgemWyb4L0Y4NiemRxQ1jFUWJNPDF{MUSyM{c,W0GQR1XSQE9iRg>? |
| NCI-H23 | MoXJS5Jwf3SqIFnubIljcXSrb36gRZN{[Xl? | | | | NXHPTG1YUUN3ME2xNFgvOzV5IN88US=> | M{juZVxiKHSjcnfleF0oZ2KuYX7rK{BpemWoPTfoeJRxezpxL4f3e{5m[mlwYXOueYsw[2inbXLsM4NwdXCxdX7kY5JmeG:{dG;jZZJlN0OKRV3CUFQyOjF2Mj:nQnNCVkeHUkyvZV4> |
| PANC-08-13 | NITIfm5Iem:5dHigTY5pcWKrdHnvckBCe3OjeR?= | | | | NI\ndpFKSzVyPUGwOk45PSEQvF2= | M1ThVlxiKHSjcnfleF0oZ2KuYX7rK{BpemWoPTfoeJRxezpxL4f3e{5m[mlwYXOueYsw[2inbXLsM4NwdXCxdX7kY5JmeG:{dG;jZZJlN0OKRV3CUFQyOjF2Mj:nQnNCVkeHUkyvZV4> |
| RPMI-8226 | MUXHdo94fGhiSX7obYJqfGmxbjDBd5NigQ>? | | | | NEexdIJKSzVyPUGwOk43PzhizszN | NWrLcXd7RGFidHHy[4V1RSehYnzhcosoKGi{ZX[9K4h1fHC|Oj:ve5d4NmWkaT7hZ{52cy:laHXtZoww[2:vcH;1coRgemWyb4L0Y4NiemRxQ1jFUWJNPDF{MUSyM{c,W0GQR1XSQE9iRg>? |
| SNU-C2B | Mne1S5Jwf3SqIFnubIljcXSrb36gRZN{[Xl? | | | | NGrnTGFKSzVyPUGwOU4xOjNizszN | NX33Tm5ZRGFidHHy[4V1RSehYnzhcosoKGi{ZX[9K4h1fHC|Oj:ve5d4NmWkaT7hZ{52cy:laHXtZoww[2:vcH;1coRgemWyb4L0Y4NiemRxQ1jFUWJNPDF{MUSyM{c,W0GQR1XSQE9iRg>? |
| UM-UC-3 | MXTHdo94fGhiSX7obYJqfGmxbjDBd5NigQ>? | | | | NXvmblBJUUN3ME2xNFMvQDR{IN88US=> | M2OySFxiKHSjcnfleF0oZ2KuYX7rK{BpemWoPTfoeJRxezpxL4f3e{5m[mlwYXOueYsw[2inbXLsM4NwdXCxdX7kY5JmeG:{dG;jZZJlN0OKRV3CUFQyOjF2Mj:nQnNCVkeHUkyvZV4> |
| MKN45 | M4fqcGdzd3e2aDDJcohq[mm2aX;uJGF{e2G7 | | | | MmS3TWM2OD1zMEOuOVg1KM7:TR?= | NFiwSoY9[SC2YYLn[ZQ:L1:kbHHub{chcHKnZk2nbJR1eHN8Lz;3e5cv\WKrLnHjMpVsN2OqZX3icE9kd22yb4Xu[H9z\XCxcoTfZ4Fz\C:FSFXNRmw1OTJzNEKvK|5USU6JRWK8M4E, |
| KE-37 | NH;NSVhIem:5dHigTY5pcWKrdHnvckBCe3OjeR?= | | | | M2jFXmlEPTB;MUCyMlk2KM7:TR?= | NWnMbWN4RGFidHHy[4V1RSehYnzhcosoKGi{ZX[9K4h1fHC|Oj:ve5d4NmWkaT7hZ{52cy:laHXtZoww[2:vcH;1coRgemWyb4L0Y4NiemRxQ1jFUWJNPDF{MUSyM{c,W0GQR1XSQE9iRg>? |
| SK-MES-1 | MWDHdo94fGhiSX7obYJqfGmxbjDBd5NigQ>? | | | | NIH1copKSzVyPUGwNU44PjJizszN | MVm8ZUB1[XKpZYS9K39jdGGwazegbJJm\j1paIT0dJM7Ny:5d4eu[YJqNmGlLoXrM4Np\W2kbD;jc41xd3WwZG;y[ZBwenShY3Hy[E9EUEWPQly0NVIyPDJxJ{7TRW5ITVJ:L3G+ |
| TE-11 | MVHHdo94fGhiSX7obYJqfGmxbjDBd5NigQ>? | | | | NHLaTVJKSzVyPUGwNU44OjRizszN | NV7BU5dWRGFidHHy[4V1RSehYnzhcosoKGi{ZX[9K4h1fHC|Oj:ve5d4NmWkaT7hZ{52cy:laHXtZoww[2:vcH;1coRgemWyb4L0Y4NiemRxQ1jFUWJNPDF{MUSyM{c,W0GQR1XSQE9iRg>? |
| Saos-2 | M{\MOmdzd3e2aDDJcohq[mm2aX;uJGF{e2G7 | | | | Mk[yTWM2OD1zMEGuOFM4KM7:TR?= | M3\JSFxiKHSjcnfleF0oZ2KuYX7rK{BpemWoPTfoeJRxezpxL4f3e{5m[mlwYXOueYsw[2inbXLsM4NwdXCxdX7kY5JmeG:{dG;jZZJlN0OKRV3CUFQyOjF2Mj:nQnNCVkeHUkyvZV4> |
| LU-65 | MofvS5Jwf3SqIFnubIljcXSrb36gRZN{[Xl? | | | | M{jkOmlEPTB;MUCxMlA5OSEQvF2= | NYXVbWVvRGFidHHy[4V1RSehYnzhcosoKGi{ZX[9K4h1fHC|Oj:ve5d4NmWkaT7hZ{52cy:laHXtZoww[2:vcH;1coRgemWyb4L0Y4NiemRxQ1jFUWJNPDF{MUSyM{c,W0GQR1XSQE9iRg>? |
| Mewo | NHrOdnVIem:5dHigTY5pcWKrdHnvckBCe3OjeR?= | | | | MmS1TWM2OD17OT61OlA{KM7:TR?= | MofUQIEhfGG{Z3X0QUdg[myjbnunJIhz\WZ;J3j0eJB{Qi9xd4f3MoVjcS6jYz71b{9kcGWvYnyvZ49ueG:3bnTfdoVxd3K2X3PhdoQwS0iHTVLMOFEzOTR{Lze+V2FPT0WUPD;hQi=> |
| IGR-1 | MojFS5Jwf3SqIFnubIljcXSrb36gRZN{[Xl? | | | | MkjrTWM2OD17OT6zNVE6KM7:TR?= | NU\GUHRVRGFidHHy[4V1RSehYnzhcosoKGi{ZX[9K4h1fHC|Oj:ve5d4NmWkaT7hZ{52cy:laHXtZoww[2:vcH;1coRgemWyb4L0Y4NiemRxQ1jFUWJNPDF{MUSyM{c,W0GQR1XSQE9iRg>? |
| NCI-H292 | NInmdmxIem:5dHigTY5pcWKrdHnvckBCe3OjeR?= | | | | M{PufWlEPTB;OUmuN|AxPCEQvF2= | NWjiTFRVRGFidHHy[4V1RSehYnzhcosoKGi{ZX[9K4h1fHC|Oj:ve5d4NmWkaT7hZ{52cy:laHXtZoww[2:vcH;1coRgemWyb4L0Y4NiemRxQ1jFUWJNPDF{MUSyM{c,W0GQR1XSQE9iRg>? |
| PC-3 | MXXHdo94fGhiSX7obYJqfGmxbjDBd5NigQ>? | | | | MkfyTWM2OD17OT6wOVY1KM7:TR?= | NHy0[3Y9[SC2YYLn[ZQ:L1:kbHHub{chcHKnZk2nbJR1eHN8Lz;3e5cv\WKrLnHjMpVsN2OqZX3icE9kd22yb4Xu[H9z\XCxcoTfZ4Fz\C:FSFXNRmw1OTJzNEKvK|5USU6JRWK8M4E, |
| U-698-M | M1;ST2dzd3e2aDDJcohq[mm2aX;uJGF{e2G7 | | | | MnfvTWM2OD17OD65OFg6KM7:TR?= | Ml\qQIEhfGG{Z3X0QUdg[myjbnunJIhz\WZ;J3j0eJB{Qi9xd4f3MoVjcS6jYz71b{9kcGWvYnyvZ49ueG:3bnTfdoVxd3K2X3PhdoQwS0iHTVLMOFEzOTR{Lze+V2FPT0WUPD;hQi=> |
| MKN7 | MYfHdo94fGhiSX7obYJqfGmxbjDBd5NigQ>? | | | | MkDzTWM2OD17Nz63OFM6KM7:TR?= | M1Pv[|xiKHSjcnfleF0oZ2KuYX7rK{BpemWoPTfoeJRxezpxL4f3e{5m[mlwYXOueYsw[2inbXLsM4NwdXCxdX7kY5JmeG:{dG;jZZJlN0OKRV3CUFQyOjF2Mj:nQnNCVkeHUkyvZV4> |
| OS-RC-2 | NGK4S3ZIem:5dHigTY5pcWKrdHnvckBCe3OjeR?= | | | | NVW5dZV3UUN3ME25O{41PjFizszN | NXf0WFNkRGFidHHy[4V1RSehYnzhcosoKGi{ZX[9K4h1fHC|Oj:ve5d4NmWkaT7hZ{52cy:laHXtZoww[2:vcH;1coRgemWyb4L0Y4NiemRxQ1jFUWJNPDF{MUSyM{c,W0GQR1XSQE9iRg>? |
| Caov-4 | NFjQUVdIem:5dHigTY5pcWKrdHnvckBCe3OjeR?= | | | | MUfJR|UxRTl3Lk[4OUDPxE1? | M3nKV|xiKHSjcnfleF0oZ2KuYX7rK{BpemWoPTfoeJRxezpxL4f3e{5m[mlwYXOueYsw[2inbXLsM4NwdXCxdX7kY5JmeG:{dG;jZZJlN0OKRV3CUFQyOjF2Mj:nQnNCVkeHUkyvZV4> |
| A2058 | MWPHdo94fGhiSX7obYJqfGmxbjDBd5NigQ>? | | | | NIDJWYVKSzVyPUm1MlQ3OTdizszN | Ml25QIEhfGG{Z3X0QUdg[myjbnunJIhz\WZ;J3j0eJB{Qi9xd4f3MoVjcS6jYz71b{9kcGWvYnyvZ49ueG:3bnTfdoVxd3K2X3PhdoQwS0iHTVLMOFEzOTR{Lze+V2FPT0WUPD;hQi=> |
| RMG-I | M4jkWGdzd3e2aDDJcohq[mm2aX;uJGF{e2G7 | | | | MkPJTWM2OD17NT6xNFczKM7:TR?= | MX:8ZUB1[XKpZYS9K39jdGGwazegbJJm\j1paIT0dJM7Ny:5d4eu[YJqNmGlLoXrM4Np\W2kbD;jc41xd3WwZG;y[ZBwenShY3Hy[E9EUEWPQly0NVIyPDJxJ{7TRW5ITVJ:L3G+ |
| MEL-JUSO | NVj5c4JuT3Kxd4ToJGlvcGmkaYTpc44hSXO|YYm= | | | | MWTJR|UxRTl2Lkm1OEDPxE1? | MVS8ZUB1[XKpZYS9K39jdGGwazegbJJm\j1paIT0dJM7Ny:5d4eu[YJqNmGlLoXrM4Np\W2kbD;jc41xd3WwZG;y[ZBwenShY3Hy[E9EUEWPQly0NVIyPDJxJ{7TRW5ITVJ:L3G+ |
| MZ1-PC | M{\pXGdzd3e2aDDJcohq[mm2aX;uJGF{e2G7 | | | | MUjJR|UxRTl2LkW5PFQh|ryP | MojlQIEhfGG{Z3X0QUdg[myjbnunJIhz\WZ;J3j0eJB{Qi9xd4f3MoVjcS6jYz71b{9kcGWvYnyvZ49ueG:3bnTfdoVxd3K2X3PhdoQwS0iHTVLMOFEzOTR{Lze+V2FPT0WUPD;hQi=> |
| J82 | MlO5S5Jwf3SqIFnubIljcXSrb36gRZN{[Xl? | | | | M3TXU2lEPTB;OUOuO|gyOSEQvF2= | MnjHQIEhfGG{Z3X0QUdg[myjbnunJIhz\WZ;J3j0eJB{Qi9xd4f3MoVjcS6jYz71b{9kcGWvYnyvZ49ueG:3bnTfdoVxd3K2X3PhdoQwS0iHTVLMOFEzOTR{Lze+V2FPT0WUPD;hQi=> |
| 23132-87 | NHPLdXpIem:5dHigTY5pcWKrdHnvckBCe3OjeR?= | | | | MYTJR|UxRTl|LkG2PEDPxE1? | NVvMXnpiRGFidHHy[4V1RSehYnzhcosoKGi{ZX[9K4h1fHC|Oj:ve5d4NmWkaT7hZ{52cy:laHXtZoww[2:vcH;1coRgemWyb4L0Y4NiemRxQ1jFUWJNPDF{MUSyM{c,W0GQR1XSQE9iRg>? |
| CAL-33 | NVzOdJZHT3Kxd4ToJGlvcGmkaYTpc44hSXO|YYm= | | | | MYjJR|UxRTl|LkC2NFEh|ryP | MUi8ZUB1[XKpZYS9K39jdGGwazegbJJm\j1paIT0dJM7Ny:5d4eu[YJqNmGlLoXrM4Np\W2kbD;jc41xd3WwZG;y[ZBwenShY3Hy[E9EUEWPQly0NVIyPDJxJ{7TRW5ITVJ:L3G+ |
| BOKU | M3PkUGdzd3e2aDDJcohq[mm2aX;uJGF{e2G7 | | | | MY\JR|UxRTl{Lk[5OVch|ryP | M2XMdVxiKHSjcnfleF0oZ2KuYX7rK{BpemWoPTfoeJRxezpxL4f3e{5m[mlwYXOueYsw[2inbXLsM4NwdXCxdX7kY5JmeG:{dG;jZZJlN0OKRV3CUFQyOjF2Mj:nQnNCVkeHUkyvZV4> |
| MZ7-mel | MkXCS5Jwf3SqIFnubIljcXSrb36gRZN{[Xl? | | | | MnmyTWM2OD17MT6yOlc3KM7:TR?= | NFjZfoY9[SC2YYLn[ZQ:L1:kbHHub{chcHKnZk2nbJR1eHN8Lz;3e5cv\WKrLnHjMpVsN2OqZX3icE9kd22yb4Xu[H9z\XCxcoTfZ4Fz\C:FSFXNRmw1OTJzNEKvK|5USU6JRWK8M4E, |
| C-33-A | MnLmS5Jwf3SqIFnubIljcXSrb36gRZN{[Xl? | | | | NVTKZlBrUUN3ME25NE42PCEQvF2= | NITVemY9[SC2YYLn[ZQ:L1:kbHHub{chcHKnZk2nbJR1eHN8Lz;3e5cv\WKrLnHjMpVsN2OqZX3icE9kd22yb4Xu[H9z\XCxcoTfZ4Fz\C:FSFXNRmw1OTJzNEKvK|5USU6JRWK8M4E, |
| NCI-H650 | M3PZb2dzd3e2aDDJcohq[mm2aX;uJGF{e2G7 | | | | MWHJR|UxRTh7Lki3NlQh|ryP | Mli2QIEhfGG{Z3X0QUdg[myjbnunJIhz\WZ;J3j0eJB{Qi9xd4f3MoVjcS6jYz71b{9kcGWvYnyvZ49ueG:3bnTfdoVxd3K2X3PhdoQwS0iHTVLMOFEzOTR{Lze+V2FPT0WUPD;hQi=> |
| TE-12 | MoLnS5Jwf3SqIFnubIljcXSrb36gRZN{[Xl? | | | | MUPJR|UxRTh7LkO3OFEh|ryP | MmXxQIEhfGG{Z3X0QUdg[myjbnunJIhz\WZ;J3j0eJB{Qi9xd4f3MoVjcS6jYz71b{9kcGWvYnyvZ49ueG:3bnTfdoVxd3K2X3PhdoQwS0iHTVLMOFEzOTR{Lze+V2FPT0WUPD;hQi=> |
| MDA-MB-175-VII | MV3Hdo94fGhiSX7obYJqfGmxbjDBd5NigQ>? | | | | M2HDWGlEPTB;OEWuO|QzPiEQvF2= | MV:8ZUB1[XKpZYS9K39jdGGwazegbJJm\j1paIT0dJM7Ny:5d4eu[YJqNmGlLoXrM4Np\W2kbD;jc41xd3WwZG;y[ZBwenShY3Hy[E9EUEWPQly0NVIyPDJxJ{7TRW5ITVJ:L3G+ |
| SBC-1 | Mon5S5Jwf3SqIFnubIljcXSrb36gRZN{[Xl? | | | | MnTwTWM2OD16ND6wNlA5KM7:TR?= | NGO1Vo89[SC2YYLn[ZQ:L1:kbHHub{chcHKnZk2nbJR1eHN8Lz;3e5cv\WKrLnHjMpVsN2OqZX3icE9kd22yb4Xu[H9z\XCxcoTfZ4Fz\C:FSFXNRmw1OTJzNEKvK|5USU6JRWK8M4E, |
| BFTC-905 | NIOwZ3VIem:5dHigTY5pcWKrdHnvckBCe3OjeR?= | | | | NWnLZppSUUN3ME24OE4xOTd{IN88US=> | NIHZfWQ9[SC2YYLn[ZQ:L1:kbHHub{chcHKnZk2nbJR1eHN8Lz;3e5cv\WKrLnHjMpVsN2OqZX3icE9kd22yb4Xu[H9z\XCxcoTfZ4Fz\C:FSFXNRmw1OTJzNEKvK|5USU6JRWK8M4E, |
| SW1573 | Mn\KS5Jwf3SqIFnubIljcXSrb36gRZN{[Xl? | | | | Mnr2TWM2OD16Mj61PFk{KM7:TR?= | M3rsXVxiKHSjcnfleF0oZ2KuYX7rK{BpemWoPTfoeJRxezpxL4f3e{5m[mlwYXOueYsw[2inbXLsM4NwdXCxdX7kY5JmeG:{dG;jZZJlN0OKRV3CUFQyOjF2Mj:nQnNCVkeHUkyvZV4> |
| KMOE-2 | MU\Hdo94fGhiSX7obYJqfGmxbjDBd5NigQ>? | | | | MkDiTWM2OD16MT64OVMyKM7:TR?= | M2TRVFxiKHSjcnfleF0oZ2KuYX7rK{BpemWoPTfoeJRxezpxL4f3e{5m[mlwYXOueYsw[2inbXLsM4NwdXCxdX7kY5JmeG:{dG;jZZJlN0OKRV3CUFQyOjF2Mj:nQnNCVkeHUkyvZV4> |
| NCI-H1417 | M{jHdGdzd3e2aDDJcohq[mm2aX;uJGF{e2G7 | | | | NYnxbFRLUUN3ME24NU41OzZ6IN88US=> | MmrIQIEhfGG{Z3X0QUdg[myjbnunJIhz\WZ;J3j0eJB{Qi9xd4f3MoVjcS6jYz71b{9kcGWvYnyvZ49ueG:3bnTfdoVxd3K2X3PhdoQwS0iHTVLMOFEzOTR{Lze+V2FPT0WUPD;hQi=> |
| NCI-H661 | NETLNI9Iem:5dHigTY5pcWKrdHnvckBCe3OjeR?= | | | | M1HsNWlEPTB;OEGuN|Q1KM7:TR?= | NX6zeo8zRGFidHHy[4V1RSehYnzhcosoKGi{ZX[9K4h1fHC|Oj:ve5d4NmWkaT7hZ{52cy:laHXtZoww[2:vcH;1coRgemWyb4L0Y4NiemRxQ1jFUWJNPDF{MUSyM{c,W0GQR1XSQE9iRg>? |
| NB12 | NXzYSFNET3Kxd4ToJGlvcGmkaYTpc44hSXO|YYm= | | | | NW\6OW0yUUN3ME24NE46OzZ7IN88US=> | MXO8ZUB1[XKpZYS9K39jdGGwazegbJJm\j1paIT0dJM7Ny:5d4eu[YJqNmGlLoXrM4Np\W2kbD;jc41xd3WwZG;y[ZBwenShY3Hy[E9EUEWPQly0NVIyPDJxJ{7TRW5ITVJ:L3G+ |
| KYSE-410 | M4T4NWdzd3e2aDDJcohq[mm2aX;uJGF{e2G7 | | | | MXnJR|UxRThyLkK4OVch|ryP | MofDQIEhfGG{Z3X0QUdg[myjbnunJIhz\WZ;J3j0eJB{Qi9xd4f3MoVjcS6jYz71b{9kcGWvYnyvZ49ueG:3bnTfdoVxd3K2X3PhdoQwS0iHTVLMOFEzOTR{Lze+V2FPT0WUPD;hQi=> |
| HCE-T | MnTIS5Jwf3SqIFnubIljcXSrb36gRZN{[Xl? | | | | NV\qXZZFUUN3ME24NE4yPTh6IN88US=> | NXzqVoI6RGFidHHy[4V1RSehYnzhcosoKGi{ZX[9K4h1fHC|Oj:ve5d4NmWkaT7hZ{52cy:laHXtZoww[2:vcH;1coRgemWyb4L0Y4NiemRxQ1jFUWJNPDF{MUSyM{c,W0GQR1XSQE9iRg>? |
| SF295 | NEDwSppIem:5dHigTY5pcWKrdHnvckBCe3OjeR?= | | | | NEKzfIFKSzVyPUe5Mlk2PTNizszN | MYO8ZUB1[XKpZYS9K39jdGGwazegbJJm\j1paIT0dJM7Ny:5d4eu[YJqNmGlLoXrM4Np\W2kbD;jc41xd3WwZG;y[ZBwenShY3Hy[E9EUEWPQly0NVIyPDJxJ{7TRW5ITVJ:L3G+ |
| KP-N-YS | MXvHdo94fGhiSX7obYJqfGmxbjDBd5NigQ>? | | | | NWf5UGJTUUN3ME23PE42QDd6IN88US=> | NV;wfI9tRGFidHHy[4V1RSehYnzhcosoKGi{ZX[9K4h1fHC|Oj:ve5d4NmWkaT7hZ{52cy:laHXtZoww[2:vcH;1coRgemWyb4L0Y4NiemRxQ1jFUWJNPDF{MUSyM{c,W0GQR1XSQE9iRg>? |
| PANC-03-27 | MmfLS5Jwf3SqIFnubIljcXSrb36gRZN{[Xl? | | | | NVvNdXJLUUN3ME23PE41OzVizszN | NF\3[Vc9[SC2YYLn[ZQ:L1:kbHHub{chcHKnZk2nbJR1eHN8Lz;3e5cv\WKrLnHjMpVsN2OqZX3icE9kd22yb4Xu[H9z\XCxcoTfZ4Fz\C:FSFXNRmw1OTJzNEKvK|5USU6JRWK8M4E, |
| NB6 | NWmwOnU2T3Kxd4ToJGlvcGmkaYTpc44hSXO|YYm= | | | | M33yT2lEPTB;N{iuNVI6QSEQvF2= | NIXIdmo9[SC2YYLn[ZQ:L1:kbHHub{chcHKnZk2nbJR1eHN8Lz;3e5cv\WKrLnHjMpVsN2OqZX3icE9kd22yb4Xu[H9z\XCxcoTfZ4Fz\C:FSFXNRmw1OTJzNEKvK|5USU6JRWK8M4E, |
| HSC-3 | MWjHdo94fGhiSX7obYJqfGmxbjDBd5NigQ>? | | | | NGnYSmRKSzVyPUe3MlAzQDJizszN | NHf0Umw9[SC2YYLn[ZQ:L1:kbHHub{chcHKnZk2nbJR1eHN8Lz;3e5cv\WKrLnHjMpVsN2OqZX3icE9kd22yb4Xu[H9z\XCxcoTfZ4Fz\C:FSFXNRmw1OTJzNEKvK|5USU6JRWK8M4E, |
| 8-MG-BA | M{DXc2dzd3e2aDDJcohq[mm2aX;uJGF{e2G7 | | | | M37PcWlEPTB;N{[uNVA6PiEQvF2= | NYHsOZdZRGFidHHy[4V1RSehYnzhcosoKGi{ZX[9K4h1fHC|Oj:ve5d4NmWkaT7hZ{52cy:laHXtZoww[2:vcH;1coRgemWyb4L0Y4NiemRxQ1jFUWJNPDF{MUSyM{c,W0GQR1XSQE9iRg>? |
| SK-MEL-1 | M3XBemdzd3e2aDDJcohq[mm2aX;uJGF{e2G7 | | | | MV;JR|UxRTd3LkiwNVkh|ryP | MlLKQIEhfGG{Z3X0QUdg[myjbnunJIhz\WZ;J3j0eJB{Qi9xd4f3MoVjcS6jYz71b{9kcGWvYnyvZ49ueG:3bnTfdoVxd3K2X3PhdoQwS0iHTVLMOFEzOTR{Lze+V2FPT0WUPD;hQi=> |
| LS-411N | M{fM[Gdzd3e2aDDJcohq[mm2aX;uJGF{e2G7 | | | | MWPJR|UxRTd2LkK1Nlgh|ryP | M4j2flxiKHSjcnfleF0oZ2KuYX7rK{BpemWoPTfoeJRxezpxL4f3e{5m[mlwYXOueYsw[2inbXLsM4NwdXCxdX7kY5JmeG:{dG;jZZJlN0OKRV3CUFQyOjF2Mj:nQnNCVkeHUkyvZV4> |
| RT4 | M{HlbGdzd3e2aDDJcohq[mm2aX;uJGF{e2G7 | | | | Mnm5TWM2OD15Mz61O|QzKM7:TR?= | NFnQUlE9[SC2YYLn[ZQ:L1:kbHHub{chcHKnZk2nbJR1eHN8Lz;3e5cv\WKrLnHjMpVsN2OqZX3icE9kd22yb4Xu[H9z\XCxcoTfZ4Fz\C:FSFXNRmw1OTJzNEKvK|5USU6JRWK8M4E, |
| KALS-1 | M4\EeGdzd3e2aDDJcohq[mm2aX;uJGF{e2G7 | | | | M1nzVGlEPTB;N{OuOVQ4PSEQvF2= | M4DDeVxiKHSjcnfleF0oZ2KuYX7rK{BpemWoPTfoeJRxezpxL4f3e{5m[mlwYXOueYsw[2inbXLsM4NwdXCxdX7kY5JmeG:{dG;jZZJlN0OKRV3CUFQyOjF2Mj:nQnNCVkeHUkyvZV4> |
| EW-16 | Mm\tS5Jwf3SqIFnubIljcXSrb36gRZN{[Xl? | | | | M4rD[mlEPTB;N{GuO|QyPSEQvF2= | MWG8ZUB1[XKpZYS9K39jdGGwazegbJJm\j1paIT0dJM7Ny:5d4eu[YJqNmGlLoXrM4Np\W2kbD;jc41xd3WwZG;y[ZBwenShY3Hy[E9EUEWPQly0NVIyPDJxJ{7TRW5ITVJ:L3G+ |
| HCC1806 | Mn35S5Jwf3SqIFnubIljcXSrb36gRZN{[Xl? | | | | NH35OnNKSzVyPUexMlQ2QDdizszN | MXe8ZUB1[XKpZYS9K39jdGGwazegbJJm\j1paIT0dJM7Ny:5d4eu[YJqNmGlLoXrM4Np\W2kbD;jc41xd3WwZG;y[ZBwenShY3Hy[E9EUEWPQly0NVIyPDJxJ{7TRW5ITVJ:L3G+ |
| Hs-578-T | M1zlcGdzd3e2aDDJcohq[mm2aX;uJGF{e2G7 | | | | NXHDTIdUUUN3ME23NE4{KM7:TR?= | M365VFxiKHSjcnfleF0oZ2KuYX7rK{BpemWoPTfoeJRxezpxL4f3e{5m[mlwYXOueYsw[2inbXLsM4NwdXCxdX7kY5JmeG:{dG;jZZJlN0OKRV3CUFQyOjF2Mj:nQnNCVkeHUkyvZV4> |
| NCI-H2342 | M3PUbmdzd3e2aDDJcohq[mm2aX;uJGF{e2G7 | | | | M1TxdWlEPTB;NkmuN|k3OSEQvF2= | M37L[|xiKHSjcnfleF0oZ2KuYX7rK{BpemWoPTfoeJRxezpxL4f3e{5m[mlwYXOueYsw[2inbXLsM4NwdXCxdX7kY5JmeG:{dG;jZZJlN0OKRV3CUFQyOjF2Mj:nQnNCVkeHUkyvZV4> |
| C-4-II | M2TXNGdzd3e2aDDJcohq[mm2aX;uJGF{e2G7 | | | | NFzTOJRKSzVyPU[5MlM3ODdizszN | MoO2QIEhfGG{Z3X0QUdg[myjbnunJIhz\WZ;J3j0eJB{Qi9xd4f3MoVjcS6jYz71b{9kcGWvYnyvZ49ueG:3bnTfdoVxd3K2X3PhdoQwS0iHTVLMOFEzOTR{Lze+V2FPT0WUPD;hQi=> |
| NCI-H1703 | MlzES5Jwf3SqIFnubIljcXSrb36gRZN{[Xl? | | | | NGLncVBKSzVyPU[4MlEyPzFizszN | NGnSc|Y9[SC2YYLn[ZQ:L1:kbHHub{chcHKnZk2nbJR1eHN8Lz;3e5cv\WKrLnHjMpVsN2OqZX3icE9kd22yb4Xu[H9z\XCxcoTfZ4Fz\C:FSFXNRmw1OTJzNEKvK|5USU6JRWK8M4E, |
| HuCCT1 | NEnE[INIem:5dHigTY5pcWKrdHnvckBCe3OjeR?= | | | | NXjCZVhoUUN3ME22O{4xOzd2IN88US=> | M3zEdFxiKHSjcnfleF0oZ2KuYX7rK{BpemWoPTfoeJRxezpxL4f3e{5m[mlwYXOueYsw[2inbXLsM4NwdXCxdX7kY5JmeG:{dG;jZZJlN0OKRV3CUFQyOjF2Mj:nQnNCVkeHUkyvZV4> |
| MFE-296 | NGPaeJJIem:5dHigTY5pcWKrdHnvckBCe3OjeR?= | | | | NHjDc21KSzVyPU[0MlQ1PzNizszN | NV;wPHF[RGFidHHy[4V1RSehYnzhcosoKGi{ZX[9K4h1fHC|Oj:ve5d4NmWkaT7hZ{52cy:laHXtZoww[2:vcH;1coRgemWyb4L0Y4NiemRxQ1jFUWJNPDF{MUSyM{c,W0GQR1XSQE9iRg>? |
| AN3-CA | MXPHdo94fGhiSX7obYJqfGmxbjDBd5NigQ>? | | | | NUDwRWtoUUN3ME22OE4{ODN3IN88US=> | M2\GVFxiKHSjcnfleF0oZ2KuYX7rK{BpemWoPTfoeJRxezpxL4f3e{5m[mlwYXOueYsw[2inbXLsM4NwdXCxdX7kY5JmeG:{dG;jZZJlN0OKRV3CUFQyOjF2Mj:nQnNCVkeHUkyvZV4> |
| SCH | M120XWdzd3e2aDDJcohq[mm2aX;uJGF{e2G7 | | | | M2W0Z2lEPTB;NkSuNlM2OSEQvF2= | M1LSXlxiKHSjcnfleF0oZ2KuYX7rK{BpemWoPTfoeJRxezpxL4f3e{5m[mlwYXOueYsw[2inbXLsM4NwdXCxdX7kY5JmeG:{dG;jZZJlN0OKRV3CUFQyOjF2Mj:nQnNCVkeHUkyvZV4> |
| T-24 | MX7Hdo94fGhiSX7obYJqfGmxbjDBd5NigQ>? | | | | NYrFN2ZvUUN3ME22Nk44OTJ4IN88US=> | NInV[4g9[SC2YYLn[ZQ:L1:kbHHub{chcHKnZk2nbJR1eHN8Lz;3e5cv\WKrLnHjMpVsN2OqZX3icE9kd22yb4Xu[H9z\XCxcoTfZ4Fz\C:FSFXNRmw1OTJzNEKvK|5USU6JRWK8M4E, |
| K-562 | M3HuR2dzd3e2aDDJcohq[mm2aX;uJGF{e2G7 | | | | Mli4TWM2OD14Mj6yOFUzKM7:TR?= | MljVQIEhfGG{Z3X0QUdg[myjbnunJIhz\WZ;J3j0eJB{Qi9xd4f3MoVjcS6jYz71b{9kcGWvYnyvZ49ueG:3bnTfdoVxd3K2X3PhdoQwS0iHTVLMOFEzOTR{Lze+V2FPT0WUPD;hQi=> |
| NCI-H1734 | MWPHdo94fGhiSX7obYJqfGmxbjDBd5NigQ>? | | | | MmW0TWM2OD14MT65OlY{KM7:TR?= | NX3pO5Y{RGFidHHy[4V1RSehYnzhcosoKGi{ZX[9K4h1fHC|Oj:ve5d4NmWkaT7hZ{52cy:laHXtZoww[2:vcH;1coRgemWyb4L0Y4NiemRxQ1jFUWJNPDF{MUSyM{c,W0GQR1XSQE9iRg>? |
| NMC-G1 | MnrNS5Jwf3SqIFnubIljcXSrb36gRZN{[Xl? | | | | NIXXTJFKSzVyPU[xMlkzPDJizszN | NHTEfFU9[SC2YYLn[ZQ:L1:kbHHub{chcHKnZk2nbJR1eHN8Lz;3e5cv\WKrLnHjMpVsN2OqZX3icE9kd22yb4Xu[H9z\XCxcoTfZ4Fz\C:FSFXNRmw1OTJzNEKvK|5USU6JRWK8M4E, |
| EKVX | M3\oTmdzd3e2aDDJcohq[mm2aX;uJGF{e2G7 | | | | NF;XXnBKSzVyPU[xMlQ6PThizszN | NH3kfmo9[SC2YYLn[ZQ:L1:kbHHub{chcHKnZk2nbJR1eHN8Lz;3e5cv\WKrLnHjMpVsN2OqZX3icE9kd22yb4Xu[H9z\XCxcoTfZ4Fz\C:FSFXNRmw1OTJzNEKvK|5USU6JRWK8M4E, |
| SiHa | Mn3IS5Jwf3SqIFnubIljcXSrb36gRZN{[Xl? | | | | MonhTWM2OD13OT62OFg4KM7:TR?= | Mk\DQIEhfGG{Z3X0QUdg[myjbnunJIhz\WZ;J3j0eJB{Qi9xd4f3MoVjcS6jYz71b{9kcGWvYnyvZ49ueG:3bnTfdoVxd3K2X3PhdoQwS0iHTVLMOFEzOTR{Lze+V2FPT0WUPD;hQi=> |
| LU-134-A | NUn2RY5yT3Kxd4ToJGlvcGmkaYTpc44hSXO|YYm= | | | | NVTUe3B[UUN3ME21PU43ODF4IN88US=> | NYfNSZV{RGFidHHy[4V1RSehYnzhcosoKGi{ZX[9K4h1fHC|Oj:ve5d4NmWkaT7hZ{52cy:laHXtZoww[2:vcH;1coRgemWyb4L0Y4NiemRxQ1jFUWJNPDF{MUSyM{c,W0GQR1XSQE9iRg>? |
| ACN | NX:0TGlET3Kxd4ToJGlvcGmkaYTpc44hSXO|YYm= | | | | NGP0cJFKSzVyPUW5MlE2QDdizszN | MoW1QIEhfGG{Z3X0QUdg[myjbnunJIhz\WZ;J3j0eJB{Qi9xd4f3MoVjcS6jYz71b{9kcGWvYnyvZ49ueG:3bnTfdoVxd3K2X3PhdoQwS0iHTVLMOFEzOTR{Lze+V2FPT0WUPD;hQi=> |
| HT-1376 | MXnHdo94fGhiSX7obYJqfGmxbjDBd5NigQ>? | | | | MmrsTWM2OD13OT6wPVIyKM7:TR?= | NXXmR3d1RGFidHHy[4V1RSehYnzhcosoKGi{ZX[9K4h1fHC|Oj:ve5d4NmWkaT7hZ{52cy:laHXtZoww[2:vcH;1coRgemWyb4L0Y4NiemRxQ1jFUWJNPDF{MUSyM{c,W0GQR1XSQE9iRg>? |
| LCLC-97TM1 | NXPJT2t3T3Kxd4ToJGlvcGmkaYTpc44hSXO|YYm= | | | | MnvITWM2OD13OT6wOVU{KM7:TR?= | MknMQIEhfGG{Z3X0QUdg[myjbnunJIhz\WZ;J3j0eJB{Qi9xd4f3MoVjcS6jYz71b{9kcGWvYnyvZ49ueG:3bnTfdoVxd3K2X3PhdoQwS0iHTVLMOFEzOTR{Lze+V2FPT0WUPD;hQi=> |
| BV-173 | NInHdYpIem:5dHigTY5pcWKrdHnvckBCe3OjeR?= | | | | MUfJR|UxRTV5LkWxOFIh|ryP | NHnQWZI9[SC2YYLn[ZQ:L1:kbHHub{chcHKnZk2nbJR1eHN8Lz;3e5cv\WKrLnHjMpVsN2OqZX3icE9kd22yb4Xu[H9z\XCxcoTfZ4Fz\C:FSFXNRmw1OTJzNEKvK|5USU6JRWK8M4E, |
| RPMI-8866 | M13MfGdzd3e2aDDJcohq[mm2aX;uJGF{e2G7 | | | | Mk\jTWM2OD13Nz6yOFEzKM7:TR?= | MXq8ZUB1[XKpZYS9K39jdGGwazegbJJm\j1paIT0dJM7Ny:5d4eu[YJqNmGlLoXrM4Np\W2kbD;jc41xd3WwZG;y[ZBwenShY3Hy[E9EUEWPQly0NVIyPDJxJ{7TRW5ITVJ:L3G+ |
| DoTc2-4510 | MVvHdo94fGhiSX7obYJqfGmxbjDBd5NigQ>? | | | | NFHTNXRKSzVyPUW2MlYxPTdizszN | MXq8ZUB1[XKpZYS9K39jdGGwazegbJJm\j1paIT0dJM7Ny:5d4eu[YJqNmGlLoXrM4Np\W2kbD;jc41xd3WwZG;y[ZBwenShY3Hy[E9EUEWPQly0NVIyPDJxJ{7TRW5ITVJ:L3G+ |
| NCI-H2405 | M3LKc2dzd3e2aDDJcohq[mm2aX;uJGF{e2G7 | | | | NVHHemg4UUN3ME21Ok4yPjl|IN88US=> | NIDCRlg9[SC2YYLn[ZQ:L1:kbHHub{chcHKnZk2nbJR1eHN8Lz;3e5cv\WKrLnHjMpVsN2OqZX3icE9kd22yb4Xu[H9z\XCxcoTfZ4Fz\C:FSFXNRmw1OTJzNEKvK|5USU6JRWK8M4E, |
| RCM-1 | M2WzS2dzd3e2aDDJcohq[mm2aX;uJGF{e2G7 | | | | M3jsVmlEPTB;NU[uNFA4QCEQvF2= | NV33TopyRGFidHHy[4V1RSehYnzhcosoKGi{ZX[9K4h1fHC|Oj:ve5d4NmWkaT7hZ{52cy:laHXtZoww[2:vcH;1coRgemWyb4L0Y4NiemRxQ1jFUWJNPDF{MUSyM{c,W0GQR1XSQE9iRg>? |