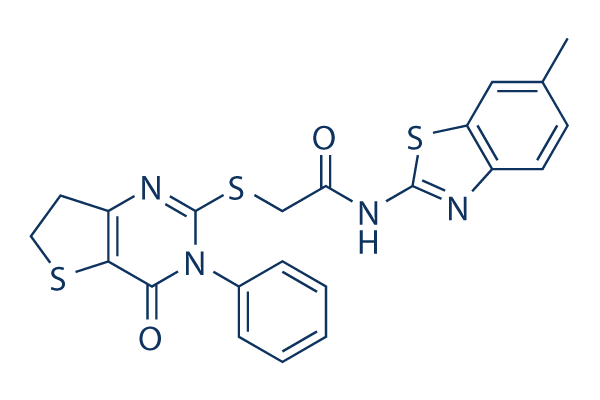 分子量(MW):466.6
IWP-2 is an inhibitor of Wnt processing and secretion with IC50 of 27 nM in a cell-free assay, selective blockage of Porcn-mediated Wnt palmitoylation, does not affect Wnt/β-catenin in general and displays no effect against Wnt-stimulated cellular responses.
カスタマーフィードバック(3)
KIF3A knockdown promotes both ligand secretion and intracellular signalling of the Wnt/β-catenin pathway in NSCLC cell lines. (c,d) SuperTOPFlash reporter assay to examine the effect of KIF3A knockdown on signalling pathway activation by autocrine or exogenous WNTs in A549 and SW900 cell lines. A549 and SW900 cells were incubated with DMSO or IWP-2 (30 μ M) for 48 h, and then treated with BSA or WNT3A (100 ng/ml) for additional 24 h. Luciferase reporter activity was calculated by dividing TOP/RL ratio by FOP/RL ratio (n = 3; error bars indicate SEM; p-value was determined by one-way ANOVA). *P < 0.05; **P < 0.01.

Sci Rep, 2016, 6:32770.. IWP-2 purchased from Selleck.

(b-d) Combined and temporal treatment with IWP-2, SAG and FGF8 resulted in robust induction of MGE cells from H9 and H7 hESCs as well as iPSCs, assayed after 25 days of differentiation. The image in the insets is Hoechst-labeled nuclei of the same microscope field. Scale bar: 100 μm.

Methods, 2016, 101:103-12.. IWP-2 purchased from Selleck.
Wnt/beta-catenin阻害剤の選択性比較
生物活性
製品説明
IWP-2 is an inhibitor of Wnt processing and secretion with IC50 of 27 nM in a cell-free assay, selective blockage of Porcn-mediated Wnt palmitoylation, does not affect Wnt/β-catenin in general and displays no effect against Wnt-stimulated cellular responses.
特性
Selective inhibitor of Porcn-mediated Wnt secretion.
ターゲット

Wnt [1]
(Cell-free assay)
27 nM

体外試験

IWP-2 is useful in both regenerative medicine and anticancer efforts. IWP-2 inactivates Porcn, a membrane-bound O-acyltransferase (MBOAT), and selectively inhibits palmitoylation of Wnt. IWP-2 blocks Wnt-dependent phosphorylation of Lrp6 receptor and Dvl2, and β-catenin accumulation. [1]

細胞データ

| Cell Lines | Assay Type | Concentration | Incubation Time | Formulation | Activity Description | PMID |
| --- | --- | --- | --- | --- | --- | --- |
| mouse L cells | MXfGeY5kfGmxbjDhd5NigQ>? | | MWqyOEBp | | MnXWTY5pcWKrdHnvckBw\iCyb4LjeZBqdmVvbXXkbYF1\WRiV370JJNq\26jbHzpcochcW5ibX;1d4UhVCClZXzsd{Bi\nSncjCyOEBpenNiYomgV5BzcW6pZYLJcYFo\XNvVH;w[oxie2hicnXwc5J1\XJiYYPzZZktKEWFNUC9N|Ahdk1? | NF\mVpgzOzR5N{O2OS=> |
お薦めの試験操作(参考用のみ)
細胞試験:

+ 展開

細胞株: L-Wnt-STF cells
濃度: 5 μM
反応時間: 24 h
実験の流れ:

L-Wnt-STF cells that exhibit constitutive Wnt pathway activation were incubated with IWR (10μM) and IWP (5μM) compounds for 24 hrs prior to lysis. Cellular lysates were subjected to Western blot analysis.




(参考用のみ)

動物試験:

+ 展開

動物モデル: Crl:CD1 (ICR) and FVB/N female mice
製剤: encapsulated in liposomes
投薬量: 50 µg
投与方法: s.c.


(参考用のみ)
溶解度 (25°C)
体外
DMF
22 mg/mL (47.14 mM) warming
DMSO
4 mg/mL warmed (8.57 mM)
Water
Insoluble
* 溶解度測定はSelleck技術部門によって行われており、その他文献に示されている溶解度と差異がある可能性がありますが、同一ロットの生産工程で起きる正常な現象ですからご安心ください。
化学情報
分子量
466.6
化学式

C22H18N4O2S3

CAS No.
686770-61-6
保管
粉
in solvent
別名
N/A
便利ツール
モル濃度計算器
モル濃度計算器
求めたい質量、体積または濃度を計算してください。
質量 (g) = 濃度 (mol/L) x 体積 (L) x 分子量 (g/mol)
モル濃度計算器方程式
*貯蔵液を準備するとき、常に、オンであるとわかる製品のバッチに特有の分子量を使って、を通してラベルとMSDS/COA(製品ページで利用可能な)。
希釈計算器
希釈計算器
貯蔵液を準備するために必要な希釈率を計算してください。Selleck希釈計算器は、以下の方程式に基づきます:
開始濃度 x 開始体積 = 最終濃度 x 最終体積
希釈の計算式
この方程式は、一般に略語を使われます:C1V1 = C2V2 ( 入力 出力 )
常に貯蔵液を準備するとき、小びんラベルとMSDS/COA(オンラインで利用できる)で見つかる製品のバッチに特有の分子量を使ってください。
分子量計算器
分子量计算器
そのモル質量と元素組成を計算するために、合成物の化学式を入力してください:
チップス: 化学式は大文字と小文字の区別ができます。C10H16N2O2 c10h16n2o2
モル濃度計算器
技術サポート
ストックの作り方、阻害剤の保管方法、細胞実験や動物実験の際に注意すべき点など、製品を取扱う時に問い合わせが多かった質問に対しては取扱説明書でお答えしています。
他に質問がある場合は、お気軽にお問い合わせください。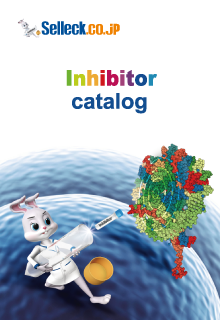 相関Wnt/beta-catenin製品