3-Methyladenine (3-MA)
For research use only. Not for use in humans.
製品コードS2767 別名:NSC 66389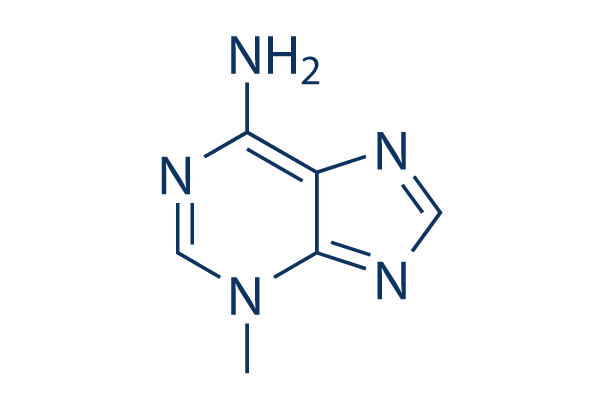 CAS No. 5142-23-4
3-Methyladenine (3-MA, NSC 66389) is a selective PI3K inhibitor for Vps34 and PI3Kγ with IC50 of 25 μM and 60 μM in HeLa cells; blocks class I PI3K consistently, whereas suppression of class III PI3K is transient, and also blocks autophagosome formation. 3-Methyladenine (3-MA) is successfully used to suppress mitophagy. Solutions of 3-MA are best fresh-prepared by heating.
生物活性
製品説明
3-Methyladenine (3-MA, NSC 66389) is a selective PI3K inhibitor for Vps34 and PI3Kγ with IC50 of 25 μM and 60 μM in HeLa cells; blocks class I PI3K consistently, whereas suppression of class III PI3K is transient, and also blocks autophagosome formation. 3-Methyladenine (3-MA) is successfully used to suppress mitophagy.

Solutions of 3-MA are best fresh-prepared by heating.

ターゲット

Vps34 [1]
(HeLa cells)
PI3Kγ [1]
(HeLa cells)
25 μM
60 μM

体外試験

The slight preference for Vps34 prevention by 3-Methyladenine probably arises from a hydrophobic ring specific to Vps34, which encircles the 3-methyl group of 3-Methyladenine. [1] 3-Methyladenine has been reported to cause cancer cell death under both normal and starvation conditions. 3-Methyladenine could also suppress cell migration and invasion independently of its ability to inhibit autophagy, implying that 3-Methyladenine possesses functions other than autophagy suppression. 3-Methyladenine elicits caspase-dependent cell death that is independent of autophagy inhibition. Treatment with 5 mM 3-Methyladenine reduces the percentage of glucose-starved HeLa cells displaying GFP-LC3 puncta to 23%. The levels of LC3-I are increasing and the levels of LC3-II are decreasing between 12 and 48 hours in cells that are treated with 3-Methyladenine. Conversion of LC3-I to LC3-II is suppressed by 3-Methyladenine. Treatment of HeLa cells with 3-Methyladenine at 2.5 mM or 5 mM for one day does not affect cell viability, whereas treatment with 10 mM 3-Methyladenine for one day causes a 25.0% decrease in cell viability. Treatment of cells with 2.5, 5 or 10 mM 3-Methyladenine for two days causes 11.5%, 38.0% and 79.4% decrease in viability, respectively. 3-Methyladenine decreases cell viability in a time- and dose-dependent manner. 3-Methyladenine significantly shortens the duration of nocodazole-induced-prometaphase arrest. [2] Suppression of autophagy by 3-Methyladenine inhibits SU11274-induced cell death. [3] Prolonged treatment with 3-Methyladenine (up to 9 hours) induces significant LC3 I to II conversion in wild type MEFs. Prolonged treatment with 3-Methyladenine, but not wortmannin, markedly increases GFP-LC3 punctuation/aggregation. 3-Methyladenine-induced LC3 conversion and free GFP liberation are ATG7-dependent. 3-Methyladenine treatment leads to evident increase of p62 protein level. 3-Methyladenine increases the p62 level even in Atg5−/− MEFs as well as in cells with DOX-mediated deletion of ATG5. 3-Methyladenine inhibits class I and class III PI3K in different temporal patterns. 3-Methyladenine-induced LC3 I to LC3 II conversion is dramatically compromised in Tsc2−/− cells compared with wild type cells.3-Methyladenine disrupts the anti-autophagic function of mTOR complex 1. [4]

細胞データ

Cell Lines
Assay Type
Concentration
Incubation Time
Formulation
Activity Description
PMID
K562
NH\pOVJHfW6ldHnvckBCe3OjeR?=
MYGxNI1O
M{Wwc|Fp
MU\k[YNz\WG|ZYOgeIhmKGW6cILld5Nqd25ib3[gUGM{NUmLIHHu[EB1cGViZn;ycYF1cW:wIH;mJIF2fG:yaHHnc5NwdWW|
MmLTQIEhfGG{Z3X0QUdg[myjbnunJIhz\WZ;J3j0eJB{Qi9xcIXicYVlNm6lYnmucoxuNm6raD7nc5YwOjF6NkSwN|coRjJzOE[0NFM4RC:jPh?=
Jurkat
MoPvSpVv[3Srb36gRZN{[Xl?
NV\TdJVpOTCvTR?=
NUTD[ok{OWh?
NYracZdr\GWlcnXhd4V{KHSqZTDlfJBz\XO|aX;uJI9nKEyFMz3JTUBidmRidHjlJIZwem2jdHnvckBw\iCjdYTvdIhi\2:|b33ldy=>
MXe8ZUB1[XKpZYS9K39jdGGwazegbJJm\j1paIT0dJM7Ny:ydXLt[YQvdmOkaT7ucI0vdmmqLnfvek8zOTh4NECzO{c,OjF6NkSwN|c9N2F-
HeLa
M3LMbmN6fG:2b4jpZ4l1gSCDc4PhfS=>
NWLIPHJiOm2P
M3zIUFI1cA>?
MXrpcohq[mm2ZYOgeIhmKGO7dH;0c5hq[2m2eTDv[kB{cWyrYnnubY4hfG9iSHXMZUBk\Wyucz6=
MYi8ZUB1[XKpZYS9K39jdGGwazegbJJm\j1paIT0dJM7Ny:ydXLt[YQvdmOkaT7ucI0vdmmqLnfvek8zOTh5NUO4OUc,OjF6N{WzPFU9N2F-
PC12/TetOn
NGjsXZBHfW6ldHnvckBCe3OjeR?=
MkLFNE4yNzGvTR?=
NWr1fHJtOTiq
NFPTVJNt\WGmczD0c{DPuS2|eX6oW3QqKGGlY4XteYxifGmxbjygeI95cWOrdImsJIFv\CCxbHnnc41meiCob4LtZZRqd28EoB?=
MV:8ZUB1[XKpZYS9K39jdGGwazegbJJm\j1paIT0dJM7Ny:ydXLt[YQvdmOkaT7ucI0vdmmqLnfvek8zOTlyNk[1PUc,OjF7ME[2OVk9N2F-
RMPI8226
NVq2d3Q2TnWwY4Tpc44hSXO|YYm=
NE\tR|k2dU1?
MmC5NYg>
MkTVd5VxeHKnc4Pld{B1cGVibHX2[Ywhd2ZiYYX0c5Bp[We7IIXu[IVzKG63dILp[Y51KGSncHzleIlwdg>?
M4[zXFxiKHSjcnfleF0oZ2KuYX7rK{BpemWoPTfoeJRxezpxL4D1Zo1m\C6wY3LpMo5tdS6waXiu[493NzJzOUG1OlIxLz5{MUmxOVYzODxxYU6=
MCF-7
M3K4VmZ2dmO2aX;uJGF{e2G7
M2C2N|ExdU1?
NUnzZm1wPDiq
MWjicI9kc3NiYYX0c5Bp[We7IHnu[JVk\WRiYomgZo9zfGW8b33pZi=>
MmO3QIEhfGG{Z3X0QUdg[myjbnunJIhz\WZ;J3j0eJB{Qi9xcIXicYVlNm6lYnmucoxuNm6raD7nc5YwOjF7M{G5N|coRjJzOUOxPVM4RC:jPh?=
HBx
MXjBdI9xfG:|aYOgRZN{[Xl?
Ml3XNVBuVQ>?
NGjCb5Q1QGh?
Ml:4SG1UVw>?
M1zIbYlv[3KnYYPld{Bk\WyuIHTlZZRp
MlfBQIEhfGG{Z3X0QUdg[myjbnunJIhz\WZ;J3j0eJB{Qi9xcIXicYVlNm6lYnmucoxuNm6raD7nc5YwOjJyMkCwO|goRjJ{MEKwNFc5RC:jPh?=
Marc-145
MYjGeY5kfGmxbjDBd5NigQ>?
MYW1cW0>
M3P0O|EzNzJ2L{O2bC=>
NVTnZ5VIemWmdXPld{B1cGViUGLSV3YhfGm2ZYLzJIFv\CC2aHWgdJJwfGWrbjDlfJBz\XO|aX;u
NFrm[Gc9[SC2YYLn[ZQ:L1:kbHHub{chcHKnZk2nbJR1eHN8Lz;weYJu\WRwbnPibU5vdG1wbnnoModwfi9{MkGxPVkxOCd-MkKxNVk6ODB:L3G+
U937
NHHqfHpHfW6ldHnvckBCe3OjeR?=
MXiycW0>
NGraXFIyOmh?
NGn3[mhl\WO{ZXHz[ZMhfGinIHH1eI9xcGGpeTDyZZRqd8Li
MmrBQIEhfGG{Z3X0QUdg[myjbnunJIhz\WZ;J3j0eJB{Qi9xcIXicYVlNm6lYnmucoxuNm6raD7nc5YwOjJzNUWxOVAoRjJ{MUW1NVUxRC:jPh?=
BGC-823
NGG1cVhHfW6ldHnvckBCe3OjeR?=
NX:1bIZCPW2P
MlfnNog>
M3;YZ4lvcGmkaYTzJJRp\SC{YYTlJI9nKGG3dH;wbIFocWNiY3XscJM>
MWO8ZUB1[XKpZYS9K39jdGGwazegbJJm\j1paIT0dJM7Ny:ydXLt[YQvdmOkaT7ucI0vdmmqLnfvek8zOjN{MkG1Nkc,OjJ|MkKxOVI9N2F-
A549
NIfGbHVHfW6ldHnvckBCe3OjeR?=
NIW0ZYkxNjGvTR?=
M2W1e|I1cA>?
Mnrhd5VxeHKnc4Pld{BUXTFzMke0MYlv\HWlZXSgZ4VtdCCmZXH0bC=>
MlnMQIEhfGG{Z3X0QUdg[myjbnunJIhz\WZ;J3j0eJB{Qi9xcIXicYVlNm6lYnmucoxuNm6raD7nc5YwOjJ2Nk[5OlAoRjJ{NE[2PVYxRC:jPh?=
pDCs
MUTGeY5kfGmxbjDBd5NigQ>?
NEjiXGgyOG2P
NF7JZ5QxNjWq
MYlCpJJm\HWlZYOgeIhmKGmwZIXjeIlwdiCxZjDJSm4u|rFiYomgd5NTVkF2MB?=
Mm\5QIEhfGG{Z3X0QUdg[myjbnunJIhz\WZ;J3j0eJB{Qi9xcIXicYVlNm6lYnmucoxuNm6raD7nc5YwOjJ|OU[1PVkoRjJ{M{m2OVk6RC:jPh?=
HeLa
NEnMNFRCeG:ydH;zbZMhSXO|YYm=
NH3iRWg2dU1?
MVOyOIg>
NUPsfJlNcW6mdXPld{Bk[XOyYYPlMYRmeGWwZHXueEBk\WyuIHTlZZRp
M1\tRVxiKHSjcnfleF0oZ2KuYX7rK{BpemWoPTfoeJRxezpxL4D1Zo1m\C6wY3LpMo5tdS6waXiu[493NzJ{NUS1NVI5Lz5{MkW0OVEzQDxxYU6=
U251
M1XWWGFxd3C2b4Ppd{BCe3OjeR?=
NYr1cpY5PW2P
MUmyOIg>
Mo\wbY5kemWjc3XzJHMyNWmwZIXj[YQh[2WubDDk[YF1cA>?
M4PHPFxiKHSjcnfleF0oZ2KuYX7rK{BpemWoPTfoeJRxezpxL4D1Zo1m\C6wY3LpMo5tdS6waXiu[493NzJ{NUe5O|g5Lz5{MkW3PVc5QDxxYU6=
MCF-7
MlvzRZBweHSxc3nzJGF{e2G7
MnvkNE4ydU1?
NF;QSI43cA>?
NE\BbGJmdmijbnPld{B{cXK2aX7vcE1qdmS3Y3XkJIFxd3C2b4Ppdy=>
MYi8ZUB1[XKpZYS9K39jdGGwazegbJJm\j1paIT0dJM7Ny:ydXLt[YQvdmOkaT7ucI0vdmmqLnfvek8zOjd3MUm4PUc,OjJ5NUG5PFk9N2F-
PC-3
Mo\nRZBweHSxc3nzJGF{e2G7
MXqycW0>
MWeybC=>
NULhNZVEcW6lcnXhd4V{KE:UST3pcoR2[2WmIHPlcIwh\GWjdHi=
M4X4fVxiKHSjcnfleF0oZ2KuYX7rK{BpemWoPTfoeJRxezpxL4D1Zo1m\C6wY3LpMo5tdS6waXiu[493NzJ{N{S1OVgxLz5{Mke0OVU5ODxxYU6=
HCT116
NGL4SWJCeG:ydH;zbZMhSXO|YYm=
MnTLOY1O
M4LxZVI1cA>?
MXTEUXNQ
M4qydoVvcGGwY3XzJIFxcWenbnnuMYlv\HWlZXSgZ4VtdCCmZXH0bC=>
NHO0Oow9[SC2YYLn[ZQ:L1:kbHHub{chcHKnZk2nbJR1eHN8Lz;weYJu\WRwbnPibU5vdG1wbnnoModwfi9{NE[yOlUzOid-MkS2NlY2OjJ:L3G+
U2OS
NHXCVm1Iem:5dHigTY5pcWKrdHnvckBCe3OjeR?=
NFznW|MyOG2P
NUnL[3ZpOjSq
M37TUolvfGWwc3nmbYV{KHSqZTDndo94fGhiaX7obYJqfGmxbjDpcoR2[2WmIHL5JGRwgA>?
NE\iOI49[SC2YYLn[ZQ:L1:kbHHub{chcHKnZk2nbJR1eHN8Lz;weYJu\WRwbnPibU5vdG1wbnnoModwfi9{NE[zPVAyOyd-MkS2N|kxOTN:L3G+
A2780cp
NIGy[YRCeG:ydH;zbZMhSXO|YYm=
M2HiSlIvPW2P
NWfuWmhZOWh?
M2TkNoRlUDKR
NIDDfYVmdmijbnPld{BkcXOybHH0bY4ucW6mdXPl[EBk\WyuIHTlZZRp
MUO8ZUB1[XKpZYS9K39jdGGwazegbJJm\j1paIT0dJM7Ny:ydXLt[YQvdmOkaT7ucI0vdmmqLnfvek8zPDhzN{m0Okc,OjR6MUe5OFY9N2F-
HepG2
M1;Qc2Z2dmO2aX;uJGF{e2G7
NGPJRZg2dU1?
NIDyWmY1cA>?
NWW5TZhvcW6lcnXhd4V{KGOnbHz1cIFzKGyndnXsd{Bw\iCKTNMg
NFTtSIo9[SC2YYLn[ZQ:L1:kbHHub{chcHKnZk2nbJR1eHN8Lz;weYJu\WRwbnPibU5vdG1wbnnoModwfi9{NEexN|U5Pyd-MkS3NVM2QDd:L3G+
Microglia
MkexRZBweHSxc3nzJGF{e2G7
MUO1cW0>
MXmyOIg>
NF\JNoVl\WO{ZXHz[ZMhcHmyb4jpZU1qdmS3Y3XkJINmdGxiZHXheIg>
MlewQIEhfGG{Z3X0QUdg[myjbnunJIhz\WZ;J3j0eJB{Qi9xcIXicYVlNm6lYnmucoxuNm6raD7nc5YwOjR6MUi2NFEoRjJ2OEG4OlAyRC:jPh?=
MDA-MB 231
M{G3eWFxd3C2b4Ppd{BCe3OjeR?=
M3TIelVuVQ>?
MXmwMlVp
M3XCfY1w\HWuYYTld{BVd2OxbXnuxs7DqGmwZIXj[YQh[XCxcITvd4l{
M4nwPFxiKHSjcnfleF0oZ2KuYX7rK{BpemWoPTfoeJRxezpxL4D1Zo1m\C6wY3LpMo5tdS6waXiu[493NzJ2OEOwO|gyLz5{NEizNFc5OTxxYU6=
PANC-1
M1r1VGFxd3C2b4Ppd{BCe3OjeR?=
NW\HOVE4OW2P
MojwOFhp
MmfmSG1UVw>?
MnfU[Y5p[W6lZYOgZo9zfGW8b33pZk1qdmS3Y3XkJINmdGxidnnhZoltcXS7IHzvd5M>
NHK1U2k9[SC2YYLn[ZQ:L1:kbHHub{chcHKnZk2nbJR1eHN8Lz;weYJu\WRwbnPibU5vdG1wbnnoModwfi9{NEi0NlE2QCd-MkS4OFIyPTh:L3G+
MDA-MB-231
M2XMTmZ2dmO2aX;uJGF{e2G7
MoTFNo1O
NH:2PJA1QGh?
MXPwdo9ud3SnczDUUU1qdmS3Y3XkJINmdGxiZHXheIg>
M2PMWVxiKHSjcnfleF0oZ2KuYX7rK{BpemWoPTfoeJRxezpxL4D1Zo1m\C6wY3LpMo5tdS6waXiu[493NzJ2OUewOlc3Lz5{NEm3NFY4PjxxYU6=
MDA-MB-231
NF:1R2NHfW6ldHnvckBCe3OjeR?=
MUeycW0>
Ml\DNlRp
NEPxN3pqdmirYnn0d{BifXSxcHjh[5khcW6mdXPl[EBjgSCWTdMg
MYC8ZUB1[XKpZYS9K39jdGGwazegbJJm\j1paIT0dJM7Ny:ydXLt[YQvdmOkaT7ucI0vdmmqLnfvek8zPDl5ME[3Okc,OjR7N{C2O|Y9N2F-
MCF-7
M1;tdWZ2dmO2aX;uJGF{e2G7
NWGwUFg6Om2P
NH\sNJA1QGh?
MkL2dJJwdW:2ZYOgWG0ucW6mdXPl[EBk\WyuIHTlZZRp
MXm8ZUB1[XKpZYS9K39jdGGwazegbJJm\j1paIT0dJM7Ny:ydXLt[YQvdmOkaT7ucI0vdmmqLnfvek8zPDl5ME[3Okc,OjR7N{C2O|Y9N2F-
MCF-7
MnjySpVv[3Srb36gRZN{[Xl?
MkXONo1O
MWeyOIg>
NHvwW4FqdmirYnn0d{BifXSxcHjh[5khcW6mdXPl[EBjgSCWTdMg
M{THeVxiKHSjcnfleF0oZ2KuYX7rK{BpemWoPTfoeJRxezpxL4D1Zo1m\C6wY3LpMo5tdS6waXiu[493NzJ2OUewOlc3Lz5{NEm3NFY4PjxxYU6=
HepG2
MkjoRZBweHSxc3nzJGF{e2G7
NVT5R5N4O22P
MWi1bC=>
MoTZdoVlfWOnczDj[YxtKGGyb4D0c5NqeyCrbnT1Z4VlKGK7IGHEdy=>
MlH3QIEhfGG{Z3X0QUdg[myjbnunJIhz\WZ;J3j0eJB{Qi9xcIXicYVlNm6lYnmucoxuNm6raD7nc5YwOjJ6M{[1PVUoRjJ{OEO2OVk2RC:jPh?=
HeLa
MUfBdI9xfG:|aYOgRZN{[Xl?
MVqxNI1O
MYOybC=>
NXjo[ZhJ\GWlcnXhd4V{KGOnbHygeoli[mmuaYT5JINwNXS{ZXH0cYVvfCC5aYToJHBGUQ>?
M4TqblxiKHSjcnfleF0oZ2KuYX7rK{BpemWoPTfoeJRxezpxL4D1Zo1m\C6wY3LpMo5tdS6waXiu[493NzJ|MECwNVM2Lz5{M{CwNFE{PTxxYU6=
SK-HEP-1
MY\BdI9xfG:|aYOgRZN{[Xl?
NWDLVnpsOTCvTR?=
MWSxbC=>
MmDWdJJwfGWldIOgZYdicW6|dDDheZRweGijZ4mgZY5lKGmwZIXj[ZMh[XCxcITvd4l{KGmwIHL1[oFtcW5vdILlZZRm\CClZXzsdy=>
NWSyeGFbRGFidHHy[4V1RSehYnzhcosoKGi{ZX[9K4h1fHC|Oj:vdJVjdWWmLn7jZokvdmyvLn7pbE5od3ZxMkK4OVg3PDlpPkKyPFU5PjR7PD;hQi=>
MDA-MB231
MYrGeY5kfGmxbjDBd5NigQ>?
NYO4VlJpPW2P
MlOyNYg>
NFntfVhqdmO{ZXHz[ZMhemW|dnXyZZRzd2xvbXXkbYF1\WRiY3HzdIF{\SCjY4TpeoF1cW:wIHHu[EBk\WyuIHTlZZRp
MUi8ZUB1[XKpZYS9K39jdGGwazegbJJm\j1paIT0dJM7Ny:ydXLt[YQvdmOkaT7ucI0vdmmqLnfvek8zOzB6OEi1NEc,OjNyOEi4OVA9N2F-
PaCa44
M{jFWWFxd3C2b4Ppd{BCe3OjeR?=
MWiyMlVuVQ>?
MVuxbC=>
NHz2R21z\WS3Y3XzxsBo\W6rcHnuMY1m\GmjdHXkJIFxd3C2b4Ppdy=>
NXLBV4ViRGFidHHy[4V1RSehYnzhcosoKGi{ZX[9K4h1fHC|Oj:vdJVjdWWmLn7jZokvdmyvLn7pbE5od3ZxMkOxNlQyOTJpPkKzNVI1OTF{PD;hQi=>
T-47D
MW\GeY5kfGmxbjDBd5NigQ>?
MnLENVBuVQ>?
NX62d|FvOmh?
NGfH[VNqdmirYnn0d{BifXSxcHjh[5kheHKxY3Xzd{BidmRiaX7jdoVie2W|IILhdIFugWOrbjDpcoR2[2WmIHHwc5B1d3Orcx?=
MVq8ZUB1[XKpZYS9K39jdGGwazegbJJm\j1paIT0dJM7Ny:ydXLt[YQvdmOkaT7ucI0vdmmqLnfvek8zOzNyMECyOkc,OjN|MECwNlY9N2F-
GTL-16
NHH6[mJCeG:ydH;zbZMhSXO|YYm=
M1jIflVuVQ>?
M1j4d|I1cA>?
MXPy[YR2[2W|IHPlcIwhfmmjYnnsbZR6KGG|IHPvcZBiemWmIITvJINmdGy|IITy[YF1\WRid3n0bEBOTVRiaX7obYJqfG:{cx?=
MXm8ZUB1[XKpZYS9K39jdGGwazegbJJm\j1paIT0dJM7Ny:ydXLt[YQvdmOkaT7ucI0vdmmqLnfvek8zOzNzM{S5NEc,OjN|MUO0PVA9N2F-
U251MG
NUm3RpNmTnWwY4Tpc44hSXO|YYm=
MojjN41O
M3LxU|Fp
NELZdlV{fXCycnXzd4V{KEyFMz3JTUBxem:2ZXnuJIV5eHKnc4Ppc44>
NFfQb5k9[SC2YYLn[ZQ:L1:kbHHub{chcHKnZk2nbJR1eHN8Lz;weYJu\WRwbnPibU5vdG1wbnnoModwfi9{M{OzPFYyQCd-MkOzN|g3OTh:L3G+
T24
MV\GeY5kfGmxbjDBd5NigQ>?
M2jNdFExdU1?
M{jLdFFp
Mn\kdoVlfWOnczD0bIUh[2ynYY\h[4Uhd2ZiTFOzJIFnfGW{IHLhbYNidGmwIITy[YF1dWWwdB?=
NIraNYk9[SC2YYLn[ZQ:L1:kbHHub{chcHKnZk2nbJR1eHN8Lz;weYJu\WRwbnPibU5vdG1wbnnoModwfi9{M{O1OFA5OCd-MkOzOVQxQDB:L3G+
HUVECs
MY\GeY5kfGmxbjDBd5NigQ>?
NHOxOms{dU1?
M2W0XVI1cA>?
NFTzeJFjdG:la4OgeIhmKHC{b4TlZ5RqfmViZX\m[YN1KG:oIILld5ZmemG2cn;sJIJ6KGmwaHnibZRqdmdiYYX0c5Bp[We7
MX:8ZUB1[XKpZYS9K39jdGGwazegbJJm\j1paIT0dJM7Ny:ydXLt[YQvdmOkaT7ucI0vdmmqLnfvek8zOzN3OEmyPEc,OjN|NUi5Nlg9N2F-
MCF-7
M3O4bmZ2dmO2aX;uJGF{e2G7
MnexOY1O
NFy5ZlIzPGh?
MmDpbY5pcWKrdIOgd5Rien[jdHnvck1qdmS3Y3XkJIF2fG:yaHHnfS=>
NIq4TWc9[SC2YYLn[ZQ:L1:kbHHub{chcHKnZk2nbJR1eHN8Lz;weYJu\WRwbnPibU5vdG1wbnnoModwfi9{M{O5OVY4QSd-MkOzPVU3Pzl:L3G+
Hela
M2rmNWZ2dmO2aX;uJGF{e2G7
NHTvW|A2dU1?
NIT0[3AzPGh?
NV;mbo0ycW6qaXLpeJMhe3Sjco\heIlwdi2rbnT1Z4VlKGG3dH;wbIFogQ>?
MUS8ZUB1[XKpZYS9K39jdGGwazegbJJm\j1paIT0dJM7Ny:ydXLt[YQvdmOkaT7ucI0vdmmqLnfvek8zOzN7NU[3PUc,OjN|OUW2O|k9N2F-
OR6
MoTlSpVv[3Srb36gRZN{[Xl?
M1e1O|ExdU1?
NXjDNnA4PzKq
MVnzeZBxemW|c3XzJGhEXiC{ZYDsbYNifGmxbjDhcoQh\m:{bXH0bY9vKG:oIHH1eI9xcGGpb4PvcYV{
MWS8ZUB1[XKpZYS9K39jdGGwazegbJJm\j1paIT0dJM7Ny:ydXLt[YQvdmOkaT7ucI0vdmmqLnfvek8zOzN7NUi3OUc,OjN|OUW4O|U9N2F-
HT-29
NEDrUJhHfW6ldHnvckBCe3OjeR?=
NXTQVoN{OW2P
MmLxOFgwQT[q
MoDRbY5pcWKrdIOgRW1RUyCrbnT1Z4V{KGG3dH;wbIFocWNiY3XscEBl\WG2aB?=
M2ju[|xiKHSjcnfleF0oZ2KuYX7rK{BpemWoPTfoeJRxezpxL4D1Zo1m\C6wY3LpMo5tdS6waXiu[493NzJ|NUC4NlczLz5{M{WwPFI4OjxxYU6=
SH-SY5Y
MofHR5l1d3SxeHnjbZR6KEG|c3H5
MWW1cW0>
Mk\pNlRp
NGm4fVdqdmO{ZXHz[ZMhWEOQIITvfIlkcXS7
NG\VS3g9[SC2YYLn[ZQ:L1:kbHHub{chcHKnZk2nbJR1eHN8Lz;weYJu\WRwbnPibU5vdG1wbnnoModwfi9{M{WyOVI3PSd-MkO1NlUzPjV:L3G+
Saos-2
NInsc|JCeG:ydH;zbZMhSXO|YYm=
M17NXFFuVQ>?
M1m5UVk3cA>?
NUnod3pTcW6lcnXhd4V{KGOnbHyg[IVifGhiaX7keYNm\CCkeTDQR3g>
NHfpUVk9[SC2YYLn[ZQ:L1:kbHHub{chcHKnZk2nbJR1eHN8Lz;weYJu\WRwbnPibU5vdG1wbnnoModwfi9{M{W2N|E4OSd-MkO1OlMyPzF:L3G+
1321N1
MoP1R5l1d3SxeHnjbZR6KEG|c3H5
NEL4NnQ2dU1?
NW[xWHgyOjSq
M3vGNpBzd3SnY4TzJINmdGxiYXfhbY5{fCCSQ16tbY5lfWOnZDD0c5hq[2m2eR?=
MVG8ZUB1[XKpZYS9K39jdGGwazegbJJm\j1paIT0dJM7Ny:ydXLt[YQvdmOkaT7ucI0vdmmqLnfvek8zOzV{NUK2OUc,OjN3MkWyOlU9N2F-
A2780
MXXBdI9xfG:|aYOgRZN{[Xl?
MnHMOY1O
NYrsO|V4OjSq
MUfjc453\XK2czDGWHk4OjBid3n0bEBETESSIHnueI8h[W5iYXTkbZRqfmViZX\m[YN1KHSxd3Hy[JMhc2mubHnu[{BwfmG{aXHuJINidmOncjDj[Yxtew>?
NVvZVplXRGFidHHy[4V1RSehYnzhcosoKGi{ZX[9K4h1fHC|Oj:vdJVjdWWmLn7jZokvdmyvLn7pbE5od3ZxMkO1PVIzQDFpPkKzOVkzOjhzPD;hQi=>
OV2008
M{P4XGFxd3C2b4Ppd{BCe3OjeR?=
MojUOY1O
MoTINlRp
MmLKZ49vfmW{dIOgSnR[PzJyIIfpeIghS0SGUDDpcpRwKGGwIHHk[Il1cX[nIHXm[oVkfCC2b4fhdoR{KGurbHzpcochd3[jcnnhckBk[W6lZYKgZ4VtdHN?
M3S0TVxiKHSjcnfleF0oZ2KuYX7rK{BpemWoPTfoeJRxezpxL4D1Zo1m\C6wY3LpMo5tdS6waXiu[493NzJ|NUmyNlgyLz5{M{W5NlI5OTxxYU6=
PC12
Mom2SpVv[3Srb36gRZN{[Xl?
NEXjXm8yOG2P
NE\TbGYzPGh?
Mnn4e4F1\XJ?
MUhCpIlvcGmkaYTzJINpgW2xdIL5dJNqdi2uaXvlJJBzd3SnYYPvcYFtKGGldHn2bZR6Ng>?
M{\pNVxiKHSjcnfleF0oZ2KuYX7rK{BpemWoPTfoeJRxezpxL4D1Zo1m\C6wY3LpMo5tdS6waXiu[493NzJ|NkCzPVc6Lz5{M{[wN|k4QTxxYU6=
SH-SY5Y
M3zkb2Fxd3C2b4Ppd{BCe3OjeR?=
NH\NeFQ2dU1?
MnHtNYg>
Mof2ZYJwdGm|aHXzJINmdGG|dILvcEBv\XW{b4Dyc5Rm[3SrdnWg[YZn\WO2
MlrXQIEhfGG{Z3X0QUdg[myjbnunJIhz\WZ;J3j0eJB{Qi9xcIXicYVlNm6lYnmucoxuNm6raD7nc5YwOjN4MUmzPVUoRjJ|NkG5N|k2RC:jPh?=
SH-SY5Y
MWDGeY5kfGmxbjDBd5NigQ>?
NFzaVWkydU1?
MW[yOIg>
NUjSU|VZcW6qaXLpeJMhfGinIHH1eI9xcGGpeTDpcoR2[2WmIHL5JHRQS1B?
MVe8ZUB1[XKpZYS9K39jdGGwazegbJJm\j1paIT0dJM7Ny:ydXLt[YQvdmOkaT7ucI0vdmmqLnfvek8zOzd2M{G0PEc,OjN5NEOxOFg9N2F-
HepG2
NH2xc2JHfW6ldHnvckBCe3OjeR?=
MYWxNI1O
MVWyOIg>
M37oNYlvcGmkaYTzJJNqXEmJQWKtJIFv\CCKQmPTMYlv\HWlZXSgZZV1d3CqYXf5
MYW8ZUB1[XKpZYS9K39jdGGwazegbJJm\j1paIT0dJM7Ny:ydXLt[YQvdmOkaT7ucI0vdmmqLnfvek8zOzhzN{C0NEc,OjN6MUewOFA9N2F-
HeLa
NHPvbYtHfW6ldHnvckBCe3OjeR?=
MVGxNI1O
NVzlZmhGOmh?
MoTId5VxeHKnc4Pld{BNSzNiSVmg[ZhxemW|c3nzc44>
NYXQ[VBWRGFidHHy[4V1RSehYnzhcosoKGi{ZX[9K4h1fHC|Oj:vdJVjdWWmLn7jZokvdmyvLn7pbE5od3ZxMkO4OlQ4OzhpPkKzPFY1PzN6PD;hQi=>
HONE-1
MVLGeY5kfGmxbjDBd5NigQ>?
NUjrNY1qPW2P
M2\tUVFp
NWnydIdXemWycnXzd4V{KD[{LX3l[IlifGWmIGLPV{Bxem:mdXP0bY9v
M2DLXVxiKHSjcnfleF0oZ2KuYX7rK{BpemWoPTfoeJRxezpxL4D1Zo1m\C6wY3LpMo5tdS6waXiu[493NzJ|OEmyN|U5Lz5{M{i5NlM2QDxxYU6=
MCF7
NFu4epdHfW6ldHnvckBCe3OjeR?=
NUfTcpZUPW2P
NF7yV5MzPGh?
M1rlUIlv[3KnYYPld{BEfU9iaX7keYNm\CClZXzsJIRm[XSq
M{nPSlxiKHSjcnfleF0oZ2KuYX7rK{BpemWoPTfoeJRxezpxL4D1Zo1m\C6wY3LpMo5tdS6waXiu[493NzJ|OU[yOlI6Lz5{M{m2NlYzQTxxYU6=
HO8910
NXjlRXJsSXCxcITvd4l{KEG|c3H5
MWexNI1O
NUTWXHJHOTKq
M3fDb4VvcGGwY3XzJGIyQS2rbnT1Z4VlKGGyb4D0c5Nq
M1zQUlxiKHSjcnfleF0oZ2KuYX7rK{BpemWoPTfoeJRxezpxL4D1Zo1m\C6wY3LpMo5tdS6waXiu[493NzJ|OUizOlExLz5{M{m4N|YyODxxYU6=
SMMC-7721
Ml\yRZBweHSxc3nzJGF{e2G7
MVu1cW0>
MoPGNlRp
MkXDZZR1\W63YYTld{BVVkZvzsGgdJJwfGWldHnvckBi\2GrboP0JJNmenWvIIP0ZZJ3[XSrb36tcYVlcWG2ZXSgZZBweHSxc3nz
MUi8ZUB1[XKpZYS9K39jdGGwazegbJJm\j1paIT0dJM7Ny:ydXLt[YQvdmOkaT7ucI0vdmmqLnfvek8zPDB4Nk[5N{c,OjRyNk[2PVM9N2F-
Hep3B
NF[wVIdCeG:ydH;zbZMhSXO|YYm=
NX65W5VlPW2P
MX2yOIg>
MXXheJRmdnWjdHXzJHRPTi4QsTDwdo91\WO2aX;uJIFo[Wmwc4Sgd4VzfW1ic4ThdpZifGmxbj3t[YRq[XSnZDDhdI9xfG:|aYO=
NYPGWWp[RGFidHHy[4V1RSehYnzhcosoKGi{ZX[9K4h1fHC|Oj:vdJVjdWWmLn7jZokvdmyvLn7pbE5od3ZxMkSwOlY3QTNpPkK0NFY3Pjl|PD;hQi=>
H460
NUfZOI16TnWwY4Tpc44hSXO|YYm=
MnTvNVBuVQ>?
NGqwdI41cA>?
NFPPNphqdmO{ZXHz[ZMh[2m|cHzheIlvNWmwZIXj[YQh[2WubDDk[YF1cA>?
NWjwT3RTRGFidHHy[4V1RSehYnzhcosoKGi{ZX[9K4h1fHC|Oj:vdJVjdWWmLn7jZokvdmyvLn7pbE5od3ZxMkSxO|MzODhpPkK0NVc{OjB6PD;hQi=>
A549
MoS3SpVv[3Srb36gRZN{[Xl?
M4nlc|ExdU1?
M4TZZVRp
NYjvZVlJcW6qaXLpeJMh[XW2b4DoZYd6KGmwZIXj[YQh[nliaYLyZYRq[XSrb36=
M4Owb|xiKHSjcnfleF0oZ2KuYX7rK{BpemWoPTfoeJRxezpxL4D1Zo1m\C6wY3LpMo5tdS6waXiu[493NzJ2MUSyO|M2Lz5{NEG0Nlc{PTxxYU6=
H1299
NETRTXFHfW6ldHnvckBCe3OjeR?=
NIrsOYgyOG2P
NIfyWow1cA>?
MV3pcoNz\WG|ZYOgZ4l{eGyjdHnuMYlv\HWlZXSgZ4VtdCCmZXH0bC=>
NHLPUFI9[SC2YYLn[ZQ:L1:kbHHub{chcHKnZk2nbJR1eHN8Lz;weYJu\WRwbnPibU5vdG1wbnnoModwfi9{NEG3N|IxQCd-MkSxO|MzODh:L3G+
WiDr
M4Lsd2Z2dmO2aX;uJGF{e2G7
NFqwR5oyOG2P
NWT6W4N5OWh?
NVjndmp3cW6qaXLpeJMhWEOETD3pcoR2[2WmIFzDN{BKUSCneIDy[ZN{cW:w
NYLjXYdyRGFidHHy[4V1RSehYnzhcosoKGi{ZX[9K4h1fHC|Oj:vdJVjdWWmLn7jZokvdmyvLn7pbE5od3ZxMkSxPVA1QDlpPkK0NVkxPDh7PD;hQi=>
LoVo
M164e2Fxd3C2b4Ppd{BCe3OjeR?=
M4P6c|VuVQ>?
NGKwSIU1QGh?
NFPnV2RmdmijbnPld{BFS0FvaX7keYNm\CCjcH;weI9{cXNw
MlL2QIEhfGG{Z3X0QUdg[myjbnunJIhz\WZ;J3j0eJB{Qi9xcIXicYVlNm6lYnmucoxuNm6raD7nc5YwOjR{MEG4NVIoRjJ2MkCxPFEzRC:jPh?=
HepG2 E47
MnXBSpVv[3Srb36gRZN{[Xl?
NH3iUo8zNjWvTR?=
M{\HbVQ5cA>?
MYTpcoNz\WG|ZYOgeIhmKHSxeHnjbZR6KG:oIFHBMEBDW09uIHHu[EBES2x2
MlvlQIEhfGG{Z3X0QUdg[myjbnunJIhz\WZ;J3j0eJB{Qi9xcIXicYVlNm6lYnmucoxuNm6raD7nc5YwOjR{N{O3N|goRjJ2MkezO|M5RC:jPh?=
RKO
MXnGeY5kfGmxbjDBd5NigQ>?
NUTofpNSOm2P
NXPWS4R[OWh?
MnLzSG1UVw>?
M1zuVYVvcGGwY3XzJINmdGxiZHXheIgh[nliZ3Xs[IFv[W27Y3nu
NH3xZlg9[SC2YYLn[ZQ:L1:kbHHub{chcHKnZk2nbJR1eHN8Lz;weYJu\WRwbnPibU5vdG1wbnnoModwfi9{NEK5NVc4Pyd-MkSyPVE4Pzd:L3G+
Hep3B
NHj1[VdCeG:ydH;zbZMhSXO|YYm=
M4nLbFJuVQ>?
NFyye4EyOmh?
NF3MOnFFVVOR
NYX0c4lycW6qaXLpeJMhSVqGOEC1OU1qdmS3Y3XkJINmdGxiZHXheIg>
M2XZd|xiKHSjcnfleF0oZ2KuYX7rK{BpemWoPTfoeJRxezpxL4D1Zo1m\C6wY3LpMo5tdS6waXiu[493NzJ2Mkm3N|AxLz5{NEK5O|MxODxxYU6=
ACHN-5968
MYXBdI9xfG:|aYOgRZN{[Xl?
MVO1cW0>
MYGzbC=>
M2DB[IVvcGGwY3XzJJBi[2yrdHH4[YwudWWmaXH0[YQh[XCxcITvd4l{yqB?
MYG8ZUB1[XKpZYS9K39jdGGwazegbJJm\j1paIT0dJM7Ny:ydXLt[YQvdmOkaT7ucI0vdmmqLnfvek8zPDNyNU[wOEc,OjR|MEW2NFQ9N2F-
Huh7
M1LvcmFxd3C2b4Ppd{BCe3OjeR?=
MWSycW0>
NVjEfINGOTKq
MVvEUXNQ
Mo\vbY5pcWKrdIOgRXpFQDB3NT3pcoR2[2WmIHPlcIwh\GWjdHi=
MX[8ZUB1[XKpZYS9K39jdGGwazegbJJm\j1paIT0dJM7Ny:ydXLt[YQvdmOkaT7ucI0vdmmqLnfvek8zPDJ7N{OwNEc,OjR{OUezNFA9N2F-
UOK257
M1W4WmFxd3C2b4Ppd{BCe3OjeR?=
M{GxVlVuVQ>?
MXKzbC=>
M4G1boVvcGGwY3XzJJBi[2yrdHH4[YwudWWmaXH0[YQh[XCxcITvd4l{yqB?
MXm8ZUB1[XKpZYS9K39jdGGwazegbJJm\j1paIT0dJM7Ny:ydXLt[YQvdmOkaT7ucI0vdmmqLnfvek8zPDNyNU[wOEc,OjR|MEW2NFQ9N2F-
ECSCs
M1XmNmFxd3C2b4Ppd{BCe3OjeR?=
NEG4TWIyOG2P
Mkm4OIg>
NEfYOVFl\WO{ZXHz[ZMhemGyYX35Z4lvNXS{ZXH0[YQh[XCxcITvd4l{
MnPKQIEhfGG{Z3X0QUdg[myjbnunJIhz\WZ;J3j0eJB{Qi9xcIXicYVlNm6lYnmucoxuNm6raD7nc5YwOjR|MUmxNFkoRjJ2M{G5NVA6RC:jPh?=
MCF-7
Mn;VSpVv[3Srb36gRZN{[Xl?
MU[xNI1O
NGfVWVgzPGh?
NV65Nnd{cW6qaXLpeJMhfGinIHH1eI9xcGGpeTDpcoR2[2WmIHL5JINp\W2xdHjldoFxgSCmcoXndy=>
M1vnN|xiKHSjcnfleF0oZ2KuYX7rK{BpemWoPTfoeJRxezpxL4D1Zo1m\C6wY3LpMo5tdS6waXiu[493NzJ2M{G1OVc5Lz5{NEOxOVU4QDxxYU6=
SGC-7901
NWD3T3dNSXCxcITvd4l{KEG|c3H5
NIrRWJUzdU1?
NGHIR2wycA>?
MXLpcoNz\WG|ZYOgR2EuPCCrbnT1Z4VlKGGyb4D0c5Nqew>?
MY[8ZUB1[XKpZYS9K39jdGGwazegbJJm\j1paIT0dJM7Ny:ydXLt[YQvdmOkaT7ucI0vdmmqLnfvek8zPDN{MUO0NEc,OjR|MkGzOFA9N2F-
SMMC-7721
MW\BdI9xfG:|aYOgRZN{[Xl?
MYCycW0>
NW\SZldSOWh?
MVvpcoNz\WG|ZYOgR2EuPCCrbnT1Z4VlKGGyb4D0c5Nqew>?
M3rzU|xiKHSjcnfleF0oZ2KuYX7rK{BpemWoPTfoeJRxezpxL4D1Zo1m\C6wY3LpMo5tdS6waXiu[493NzJ2M{KxN|QxLz5{NEOyNVM1ODxxYU6=
T24
MkDjRZBweHSxc3nzJGF{e2G7
NHv5eYk2dU1?
M3\wSlEvPWh?
NV;t[YtTeG:2ZX70bYF1\XNiY3Xs[YNwgGmkLXnu[JVk\WRiYYDvdJRwe2m|
Mki5QIEhfGG{Z3X0QUdg[myjbnunJIhz\WZ;J3j0eJB{Qi9xcIXicYVlNm6lYnmucoxuNm6raD7nc5YwOjR|NEmxO|YoRjJ2M{S5NVc3RC:jPh?=
NTUB1
MlfBRZBweHSxc3nzJGF{e2G7
M1;pRVVuVQ>?
MkG0NU42cA>?
NF\4UYdxd3SnboTpZZRmeyClZXzlZ495cWJvaX7keYNm\CCjcH;weI9{cXN?
MX68ZUB1[XKpZYS9K39jdGGwazegbJJm\j1paIT0dJM7Ny:ydXLt[YQvdmOkaT7ucI0vdmmqLnfvek8zPDN2OUG3Okc,OjR|NEmxO|Y9N2F-
MG-63
MnewRZBweHSxc3nzJGF{e2G7
NWG0RotnOTCvTR?=
NVjtUlJiOTKq
NXP6TGZw\W6qYX7j[ZMhTFBvaX7keYNm\CCjcH;weI9{cXN?
NITS[II9[SC2YYLn[ZQ:L1:kbHHub{chcHKnZk2nbJR1eHN8Lz;weYJu\WRwbnPibU5vdG1wbnnoModwfi9{NEO1PFMxOSd-MkSzOVg{ODF:L3G+
MG-63
M4rpSWFxd3C2b4Ppd{BCe3OjeR?=
NXixbm5WOC53L{HtUS=>
M2jmWlMzcA>?
NVvO[nlG\W6qYX7j[ZMhe2GuaX7vcZlkcW5vaX7keYNm\CClZXzsJIFxd3C2b4Ppdy=>
MoPmQIEhfGG{Z3X0QUdg[myjbnunJIhz\WZ;J3j0eJB{Qi9xcIXicYVlNm6lYnmucoxuNm6raD7nc5YwOjR|NUizOFIoRjJ2M{W4N|QzRC:jPh?=
MG-63
M2e5TWZ2dmO2aX;uJGF{e2G7
MXOwMlUwOW2P
NGD4WVk1QGh?
M3Hn[olv\HWlZYOgd4FtcW6xbYnjbY4ucW6mdXPl[EBk\WyuII\pZYJqdGm2eTDsc5N{
NXry[IlbRGFidHHy[4V1RSehYnzhcosoKGi{ZX[9K4h1fHC|Oj:vdJVjdWWmLn7jZokvdmyvLn7pbE5od3ZxMkSzOVg{PDJpPkK0N|U5OzR{PD;hQi=>
U2OS
MVvGeY5kfGmxbjDBd5NigQ>?
MYqwMlUwOW2P
NFXGXWk1QGh?
MmntbY5lfWOnczDzZYxqdm:veXPpck1qdmS3Y3XkJINmdGxidnnhZoltcXS7IHzvd5M>
MXu8ZUB1[XKpZYS9K39jdGGwazegbJJm\j1paIT0dJM7Ny:ydXLt[YQvdmOkaT7ucI0vdmmqLnfvek8zPDN3OEO0Nkc,OjR|NUizOFI9N2F-
HGC-27
NWLBSXdsTnWwY4Tpc44hSXO|YYm=
MUmxNI1O
MUSxbC=>
NWLKdVIycW6qaXLpeJMhfGinIHPlcIwhfmmjYnnsbZR6KGyxc4OgZpkhWkGGMECxJI9zKE2NLUKyNFY>
NUPp[3EzRGFidHHy[4V1RSehYnzhcosoKGi{ZX[9K4h1fHC|Oj:vdJVjdWWmLn7jZokvdmyvLn7pbE5od3ZxMkS0NVY{PDlpPkK0OFE3OzR7PD;hQi=>
HCT116
MnvNRZBweHSxc3nzJGF{e2G7
NFHTTpY2dU1?
NYCyepo6OjSq
NHzoR5ZmdmijbnPld{B1cGViYYDvdJRwe2m|IHnu[JVk\WRiYomgZZBq\2WwaX6=
MXi8ZUB1[XKpZYS9K39jdGGwazegbJJm\j1paIT0dJM7Ny:ydXLt[YQvdmOkaT7ucI0vdmmqLnfvek8zPDZ{NkWyNkc,OjR4Mk[1NlI9N2F-
A549
NGDwSHhCeG:ydH;zbZMhSXO|YYm=
NG\1eJMyOG2P
MmnvOFhp
MUXhZ4NmdGW{YYTld{B1cGVicnXkeYN1cW:wIH;mJINmdGxidnnhZoltcXS7IHnu[JVk\WRiYomgVHRZ
MWK8ZUB1[XKpZYS9K39jdGGwazegbJJm\j1paIT0dJM7Ny:ydXLt[YQvdmOkaT7ucI0vdmmqLnfvek8zPDZ{NkeyNkc,OjR4Mk[3NlI9N2F-
Saos-2
NX7ZPWlWSXCxcITvd4l{KEG|c3H5
NX3iN4VkOTCvTR?=
M3XFVVI1cA>?
MVjpcpRmdnOrZnnld{B1cGViZ4Lve5RpKGmwaHnibZRqd25ib3[geIhmKFV{T2OgZ4VtdHNiaX7keYNm\CCkeTDEc5g>
NVTNZ|V6RGFidHHy[4V1RSehYnzhcosoKGi{ZX[9K4h1fHC|Oj:vdJVjdWWmLn7jZokvdmyvLn7pbE5od3ZxMkS2N|kxOTNpPkK0OlM6ODF|PD;hQi=>
U2OS
MVXBdI9xfG:|aYOgRZN{[Xl?
M4LSUlExdU1?
Mn\vNlRp
MmXrbY51\W6|aX\p[ZMhfGinIHfyc5d1cCCrbnjpZol1cW:wIH;mJJRp\SCXMl;TJINmdGy|IHnu[JVk\WRiYomgSI95
M{TKUlxiKHSjcnfleF0oZ2KuYX7rK{BpemWoPTfoeJRxezpxL4D1Zo1m\C6wY3LpMo5tdS6waXiu[493NzJ2NkO5NFE{Lz5{NE[zPVAyOzxxYU6=
HepG2
MWDGeY5kfGmxbjDBd5NigQ>?
NHrwOVA2dU1?
MYC0bC=>
MXnpcoNz\WG|ZYOgTGwhemWuZXHz[S=>
M3LB[VxiKHSjcnfleF0oZ2KuYX7rK{BpemWoPTfoeJRxezpxL4D1Zo1m\C6wY3LpMo5tdS6waXiu[493NzJ2N{GzOVg4Lz5{NEexN|U5PzxxYU6=
A549
M1e3NWFxd3C2b4Ppd{BCe3OjeR?=
Mli0OY1O
NYHPXGxKPDiq
M4jt[4Rm[3KnYYPld{B1cGVicHXyZ4VvfGGpZTDv[kBk\WyuIHTlZZRpKGGwZDDlfJBz\XO|aX;uJIxmfmWuczDv[kBk[XOyYYPlMVMtKEKnY3zpck0yKGGwZDDMR|MuUUl?
NIfvfFA9[SC2YYLn[ZQ:L1:kbHHub{chcHKnZk2nbJR1eHN8Lz;weYJu\WRwbnPibU5vdG1wbnnoModwfi9{NEewOlMxOyd-MkS3NFY{ODN:L3G+
A2780cp
MX;BdI9xfG:|aYOgRZN{[Xl?
NFfGRVQzNjWvTR?=
M3e4bFFp
NFficHZl\Eh{Tx?=
MVLlcohidmOnczDjbZNxdGG2aX6tbY5lfWOnZDDj[YxtKGSnYYTo
Ml;xQIEhfGG{Z3X0QUdg[myjbnunJIhz\WZ;J3j0eJB{Qi9xcIXicYVlNm6lYnmucoxuNm6raD7nc5YwOjR6MUe5OFYoRjJ2OEG3PVQ3RC:jPh?=
Microglia
NVT3OmV{SXCxcITvd4l{KEG|c3H5
MnjZOY1O
MWGyOIg>
MoLN[IVkemWjc3XzJIh6eG:6aXGtbY5lfWOnZDDj[YxtKGSnYYTo
MmDmQIEhfGG{Z3X0QUdg[myjbnunJIhz\WZ;J3j0eJB{Qi9xcIXicYVlNm6lYnmucoxuNm6raD7nc5YwOjR6MUi2NFEoRjJ2OEG4OlAyRC:jPh?=
HT-29
MYPBdI9xfG:|aYOgRZN{[Xl?
MlraNY1O
MnvlOFhp
NVzWb2JvTE2VTx?=
NF[xT5VmdmijbnPld{Bjd3K2ZYrvcYljNWmwZIXj[YQh[2WubDD2bYFjcWyrdImgcI9{ew>?
NU\BdWVnRGFidHHy[4V1RSehYnzhcosoKGi{ZX[9K4h1fHC|Oj:vdJVjdWWmLn7jZokvdmyvLn7pbE5od3ZxMkS4OFIyPThpPkK0PFQzOTV6PD;hQi=>
MDR
MYPBdI9xfG:|aYOgRZN{[Xl?
NXPZUWd1OTCvTR?=
MXe2bC=>
M1\2e5N1emWwZ4To[Y5{KHSqZTDwc5dmeiCxZjDhcpRq[2GwY3XyJIRzfWe|
NGHnOVU9[SC2YYLn[ZQ:L1:kbHHub{chcHKnZk2nbJR1eHN8Lz;weYJu\WRwbnPibU5vdG1wbnnoModwfi9{NUCxPVcxOSd-MkWwNVk4ODF:L3G+
H157
NYHUVlFKTnWwY4Tpc44hSXO|YYm=
MmD5OY1O
MXmybC=>
M2\XRZN2eHC{ZYPz[ZMhW1CFIHnu[JVk\WRiYXPjeY12dGG2aX;uJI9nKEyFMz3JTS=>
MlzkQIEhfGG{Z3X0QUdg[myjbnunJIhz\WZ;J3j0eJB{Qi9xcIXicYVlNm6lYnmucoxuNm6raD7nc5YwOjV{OEW2NlgoRjJ3Mki1OlI5RC:jPh?=
A549
MVXGeY5kfGmxbjDBd5NigQ>?
M3vwR|VuVQ>?
MVSybC=>
NUPxPVNie3WycILld5NmeyCVUFOgbY5lfWOnZDDhZ4N2dXWuYYTpc44hd2ZiTFOzMWlK
M{TJcFxiKHSjcnfleF0oZ2KuYX7rK{BpemWoPTfoeJRxezpxL4D1Zo1m\C6wY3LpMo5tdS6waXiu[493NzJ3Mki1OlI5Lz5{NUK4OVYzQDxxYU6=
A2780cp
Mo\iS5Jwf3SqIFnubIljcXSrb36gRZN{[Xl?
M1jTS|FuVQ>?
MlrwNYg>
NVrsSHNycW6lcnXhd4V{KGOrc4DsZZRqdi2rbnT1Z4VlKGOnbHyg[IVifGh?
NHfhZWU9[SC2YYLn[ZQ:L1:kbHHub{chcHKnZk2nbJR1eHN8Lz;weYJu\WRwbnPibU5vdG1wbnnoModwfi9{NUOyNlY6PCd-MkWzNlI3QTR:L3G+
NBL-W-S
NF[wOGNCeG:ydH;zbZMhSXO|YYm=
MofkNY1O
NFTMbYI3cA>?
NW\6NZV1cW6lcnXhd4V{KGOnbHygZZBweHSxc3nzJIlv\HWlZXSgZpkhT0GQVD22NS=>
M3\aWVxiKHSjcnfleF0oZ2KuYX7rK{BpemWoPTfoeJRxezpxL4D1Zo1m\C6wY3LpMo5tdS6waXiu[493NzJ3M{KzNlIzLz5{NUOyN|IzOjxxYU6=
NBL-W-S
NH7WfnFIem:5dHigTY5pcWKrdHnvckBCe3OjeR?=
NIfoeJYydU1?
NV;nZZUxPmh?
NHLLZplmdmijbnPld{BISU6WLU[xJJRwgGmlaYT5
NWPHNZJrRGFidHHy[4V1RSehYnzhcosoKGi{ZX[9K4h1fHC|Oj:vdJVjdWWmLn7jZokvdmyvLn7pbE5od3ZxMkWzNlMzOjJpPkK1N|I{OjJ{PD;hQi=>
A549
M2P4XGFxd3C2b4Ppd{BCe3OjeR?=
NICzVXc2dU1?
M1n6OVJp
MmX1SG1UVw>?
NGXNZmtqdmirYnn0d{BDTE2FLXnu[JVk\WRiYYDvdJRwfGmlIHPlcIwh\GWjdHi=
NIXZOoU9[SC2YYLn[ZQ:L1:kbHHub{chcHKnZk2nbJR1eHN8Lz;weYJu\WRwbnPibU5vdG1wbnnoModwfi9{NUexOlU3OSd-MkW3NVY2PjF:L3G+
95D
MkO5RZBweHSxc3nzJGF{e2G7
NV61N4sxPW2P
MWKybC=>
NVnVNJN5TE2VTx?=
MWfpcohq[mm2czDCSG1ENWmwZIXj[YQh[XCxcITveIlkKGOnbHyg[IVifGh?
NWPvSW9ORGFidHHy[4V1RSehYnzhcosoKGi{ZX[9K4h1fHC|Oj:vdJVjdWWmLn7jZokvdmyvLn7pbE5od3ZxMkW3NVY2PjFpPkK1O|E3PTZzPD;hQi=>
A549
MXPHdo94fGhiSX7obYJqfGmxbjDBd5NigQ>?
NFfNZ2w{dU1?
MkG1Nog>
M3HCcWROW09?
M1T5S5Jm\HWlZYOg[5Jwf3SqIHnubIljcXSxcomg[YZn\WO2IH;mJGJFVUN?
NV[yZ4RFRGFidHHy[4V1RSehYnzhcosoKGi{ZX[9K4h1fHC|Oj:vdJVjdWWmLn7jZokvdmyvLn7pbE5od3ZxMkW3NVY2PjFpPkK1O|E3PTZzPD;hQi=>
95D
NYTwRplZT3Kxd4ToJGlvcGmkaYTpc44hSXO|YYm=
M3;0dVNuVQ>?
MVyybC=>
NVPJRpZyTE2VTx?=