Dactolisib (BEZ235)
For research use only. Not for use in humans.
製品コードS1009 別名:NVP-BEZ235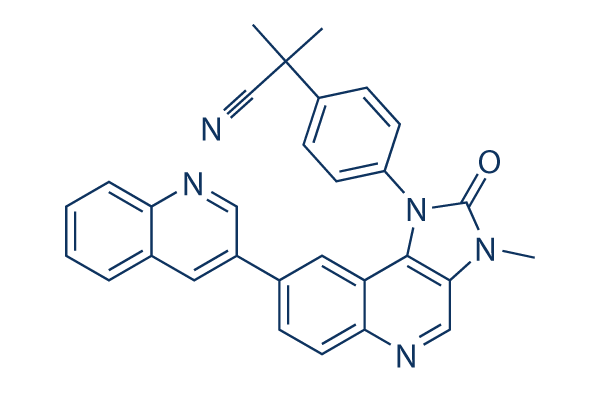 CAS No. 915019-65-7
Dactolisib (BEZ235, NVP-BEZ235) is a dual ATP-competitive PI3K and mTOR inhibitor for p110α/γ/δ/β and mTOR(p70S6K) with IC50 of 4 nM /5 nM /7 nM /75 nM /6 nM in cell-free assays, respectively. Inhibits ATR with IC50 of 21 nM in 3T3TopBP1-ER cell. Dactolisib induces autophagy and suppresses HIV-1 replication. Phase 2.
生物活性
製品説明
Dactolisib (BEZ235, NVP-BEZ235) is a dual ATP-competitive PI3K and mTOR inhibitor for p110α/γ/δ/β and mTOR(p70S6K) with IC50 of 4 nM /5 nM /7 nM /75 nM /6 nM in cell-free assays, respectively. Inhibits ATR with IC50 of 21 nM in 3T3TopBP1-ER cell. Dactolisib induces autophagy and suppresses HIV-1 replication. Phase 2.
ターゲット

p110α [1]
(Cell-free assay)
p110γ [1]
(Cell-free assay)
mTOR (p70S6K) [1]
(Cell-free assay)
p110δ [1]
(Cell-free assay)
ATR [8]
(3T3TopBP1-ER cells)

4 nM
5 nM
6 nM
7 nM
21 nM

体外試験

BEZ235 significantly reduces the phosphorylation levels of the mTOR activated kinase p70S6K. BEZ235 results in a reduction of S235/S236P-RPS6 levels with IC50 of 6.5 nM. The activity of BEZ235 against mTOR is determined using a biochemical mTOR K-LISA assay with IC50 of 20.7 nM. BEZ235 shows slightly lower activity against its β paralogue with IC50 of 75 nM. The PI3K/Akt/mTOR pathway is often constitutively activated in human tumor cells. BEZ235 blocks PI3K and mTOR kinase activity by binding to the ATP-binding cleft of these enzymes. Both PTEN-null cell lines PC3M and U87MG show a dose-dependent reduction in cell proliferation when treated with increasing concentrations of BEZ235 with an average GI50 of 10-12 nM. [1] BEZ235 is an mTORC1/2 catalytic inhibitor. [2]

細胞データ

Cell Lines
Assay Type
Concentration
Incubation Time
Formulation
Activity Description
PMID
Trypanosoma brucei brucei
M1HVfWFvfGmvaXPyc4Jq[WxiQYPzZZk>
NFHxeHYyQCCq
NWS4empnTE2VTx?=
MUTBcpRqfHK7cHHuc5NwdWGuIHHjeIl3cXS7IIfpeIghTUN3MDDv[kAxNjByMkWg{txO
NGnMeoU9[SC2YYLn[ZQ:L1:kbHHub{chcHKnZk2nbJR1eHN8Lz;weYJu\WRwbnPibU5vdG1wbnnoModwfi9{NEiwOVk1Pid-MkS4NFU6PDZ:L3G+
MCF7
NVzG[GxVT3Kxd4ToJGlvcGmkaYTpc44hSXO|YYm=
NES4d5kxNjBzLUGwNEDPxE1?
NX;hfnlMPDhiaB?=
MYLEUXNQ
NIjTZ5hKSzVyPUCuO|Mh|ryP
MlfDQIEhfGG{Z3X0QUdg[myjbnunJIhz\WZ;J3j0eJB{Qi9xcIXicYVlNm6lYnmucoxuNm6raD7nc5YwOjN6N{G5NFQoRjJ|OEexPVA1RC:jPh?=
HCT116
NXG2dmp1T3Kxd4ToJGlvcGmkaYTpc44hSXO|YYm=
MWewMlAyNTFyMDFOwG0>
NXH0fG5WPDhiaB?=
NGTRS4pFVVOR
MULJR|UxRTFwMU[g{txO
NXH0VYJLRGFidHHy[4V1RSehYnzhcosoKGi{ZX[9K4h1fHC|Oj:vdJVjdWWmLn7jZokvdmyvLn7pbE5od3ZxMkO4O|E6ODRpPkKzPFcyQTB2PD;hQi=>
U87MG
M4mzZmdzd3e2aDDJcohq[mm2aX;uJGF{e2G7
NYC3R2hZOC5yMT2xNFAh|ryP
MlXVOFghcA>?
MVvEUXNQ
M1HTV2lEPTB;MT6zNkDPxE1?
NH;xUYM9[SC2YYLn[ZQ:L1:kbHHub{chcHKnZk2nbJR1eHN8Lz;weYJu\WRwbnPibU5vdG1wbnnoModwfi9{M{i3NVkxPCd-MkO4O|E6ODR:L3G+
HBC4
NWnsXmpwT3Kxd4ToJGlvcGmkaYTpc44hSXO|YYm=
NEKwVXIxNjBzLUGwNEDPxE1?
M4nKfVQ5KGh?
M1ryc2xw\yCJSUWwQU05NjZzIF2=
MX28ZUB1[XKpZYS9K39jdGGwazegbJJm\j1paIT0dJM7Ny:ydXLt[YQvdmOkaT7ucI0vdmmqLnfvek8zOjN|NkK0Okc,OjJ|M{[yOFY9N2F-
BSY1
M2PocGdzd3e2aDDJcohq[mm2aX;uJGF{e2G7
Ml3PNE4xOS1zMECg{txO
M1fqdVQ5KGh?
NUfUbW5OVG:pIFfJOVA:NThwNEigUS=>
NVPCbYp2RGFidHHy[4V1RSehYnzhcosoKGi{ZX[9K4h1fHC|Oj:vdJVjdWWmLn7jZokvdmyvLn7pbE5od3ZxMkKzN|YzPDZpPkKyN|M3OjR4PD;hQi=>
HBC5
MVjHdo94fGhiSX7obYJqfGmxbjDBd5NigQ>?
NF3TdXQxNjBzLUGwNEDPxE1?
M3Pi[VQ5KGh?
Ml;WUI9oKEeLNUC9MVcvQDdiTR?=
NYHwfIl4RGFidHHy[4V1RSehYnzhcosoKGi{ZX[9K4h1fHC|Oj:vdJVjdWWmLn7jZokvdmyvLn7pbE5od3ZxMkKzN|YzPDZpPkKyN|M3OjR4PD;hQi=>
MCF7
NIHEWVJIem:5dHigTY5pcWKrdHnvckBCe3OjeR?=
M3jFTlAvODFvMUCwJO69VQ>?
MWO0PEBp
NFW2dnRNd2diR1m1NF0uQC5zNjDN
MWi8ZUB1[XKpZYS9K39jdGGwazegbJJm\j1paIT0dJM7Ny:ydXLt[YQvdmOkaT7ucI0vdmmqLnfvek8zOjN|NkK0Okc,OjJ|M{[yOFY9N2F-
MDA-MB-231
M3jFd2dzd3e2aDDJcohq[mm2aX;uJGF{e2G7
MVSwMlAyNTFyMDFOwG0>
Ml3HOFghcA>?
NYPLXXFzVG:pIFfJOVA:NThwMEmgUS=>
NVLpfFQxRGFidHHy[4V1RSehYnzhcosoKGi{ZX[9K4h1fHC|Oj:vdJVjdWWmLn7jZokvdmyvLn7pbE5od3ZxMkKzN|YzPDZpPkKyN|M3OjR4PD;hQi=>
U251
NYnhN|Z[T3Kxd4ToJGlvcGmkaYTpc44hSXO|YYm=
NYDLR2F1OC5yMT2xNFAh|ryP
NUCzS3hIPDhiaB?=
M{m5fWxw\yCJSUWwQU04NjZ4IF2=
NGf2UYk9[SC2YYLn[ZQ:L1:kbHHub{chcHKnZk2nbJR1eHN8Lz;weYJu\WRwbnPibU5vdG1wbnnoModwfi9{MkOzOlI1Pid-MkKzN|YzPDZ:L3G+
SF268
MWHHdo94fGhiSX7obYJqfGmxbjDBd5NigQ>?
MmruNE4xOS1zMECg{txO
NVPNNWtuPDhiaB?=
M1u4SWxw\yCJSUWwQU04Njl{IF2=
MUS8ZUB1[XKpZYS9K39jdGGwazegbJJm\j1paIT0dJM7Ny:ydXLt[YQvdmOkaT7ucI0vdmmqLnfvek8zOjN|NkK0Okc,OjJ|M{[yOFY9N2F-
SF295
NWXBN3BvT3Kxd4ToJGlvcGmkaYTpc44hSXO|YYm=
M{n1NlAvODFvMUCwJO69VQ>?
MkPmOFghcA>?
M{W4cGxw\yCJSUWwQU05NjNzIF2=
NGXMfXk9[SC2YYLn[ZQ:L1:kbHHub{chcHKnZk2nbJR1eHN8Lz;weYJu\WRwbnPibU5vdG1wbnnoModwfi9{MkOzOlI1Pid-MkKzN|YzPDZ:L3G+
SF539
NFPxNnVIem:5dHigTY5pcWKrdHnvckBCe3OjeR?=
M2q2T|AvODFvMUCwJO69VQ>?
M4jNclQ5KGh?
Ml3iUI9oKEeLNUC9MVgvPTliTR?=
MYO8ZUB1[XKpZYS9K39jdGGwazegbJJm\j1paIT0dJM7Ny:ydXLt[YQvdmOkaT7ucI0vdmmqLnfvek8zOjN|NkK0Okc,OjJ|M{[yOFY9N2F-
SNB75
MmS4S5Jwf3SqIFnubIljcXSrb36gRZN{[Xl?
NXLIWGd7OC5yMT2xNFAh|ryP
MoWwOFghcA>?
MmLhUI9oKEeLNUC9MVgvPThiTR?=
M1HDd|xiKHSjcnfleF0oZ2KuYX7rK{BpemWoPTfoeJRxezpxL4D1Zo1m\C6wY3LpMo5tdS6waXiu[493NzJ{M{O2NlQ3Lz5{MkOzOlI1PjxxYU6=
SNB78
NEXMUnNIem:5dHigTY5pcWKrdHnvckBCe3OjeR?=
MoW0NE4xOS1zMECg{txO
MVq0PEBp
NYX6c3ZqVG:pIFfJOVA:NThwNkWgUS=>
Ml;PQIEhfGG{Z3X0QUdg[myjbnunJIhz\WZ;J3j0eJB{Qi9xcIXicYVlNm6lYnmucoxuNm6raD7nc5YwOjJ|M{[yOFYoRjJ{M{O2NlQ3RC:jPh?=
HCC2998
NFXoN|ZIem:5dHigTY5pcWKrdHnvckBCe3OjeR?=
NYTST3VmOC5yMT2xNFAh|ryP
M2q5XFQ5KGh?
MXTMc4chT0l3ME2tPE4xPSCP
NFnsSm09[SC2YYLn[ZQ:L1:kbHHub{chcHKnZk2nbJR1eHN8Lz;weYJu\WRwbnPibU5vdG1wbnnoModwfi9{MkOzOlI1Pid-MkKzN|YzPDZ:L3G+
KM12
NELyflZIem:5dHigTY5pcWKrdHnvckBCe3OjeR?=
NUfQeXRLOC5yMT2xNFAh|ryP
NFjkR5c1QCCq
M2LEXGxw\yCJSUWwQU04NjV2IF2=
MkOyQIEhfGG{Z3X0QUdg[myjbnunJIhz\WZ;J3j0eJB{Qi9xcIXicYVlNm6lYnmucoxuNm6raD7nc5YwOjJ|M{[yOFYoRjJ{M{O2NlQ3RC:jPh?=
HT-29
M37rWWdzd3e2aDDJcohq[mm2aX;uJGF{e2G7
Mof1NE4xOS1zMECg{txO
MYG0PEBp
NGnXPFFNd2diR1m1NF0uPy55NTDN
MkXNQIEhfGG{Z3X0QUdg[myjbnunJIhz\WZ;J3j0eJB{Qi9xcIXicYVlNm6lYnmucoxuNm6raD7nc5YwOjJ|M{[yOFYoRjJ{M{O2NlQ3RC:jPh?=
HCT15
NIqwTolIem:5dHigTY5pcWKrdHnvckBCe3OjeR?=
Mn7ZNE4xOS1zMECg{txO
NEDCNnQ1QCCq
NEjZdZNNd2diR1m1NF0uQC5yMzDN
MkHkQIEhfGG{Z3X0QUdg[myjbnunJIhz\WZ;J3j0eJB{Qi9xcIXicYVlNm6lYnmucoxuNm6raD7nc5YwOjJ|M{[yOFYoRjJ{M{O2NlQ3RC:jPh?=
HCT116
NHPpb|NIem:5dHigTY5pcWKrdHnvckBCe3OjeR?=
MV6wMlAyNTFyMDFOwG0>
NVvjfYZPPDhiaB?=
MnTtUI9oKEeLNUC9MVcvPjFiTR?=
NHH4fG49[SC2YYLn[ZQ:L1:kbHHub{chcHKnZk2nbJR1eHN8Lz;weYJu\WRwbnPibU5vdG1wbnnoModwfi9{MkOzOlI1Pid-MkKzN|YzPDZ:L3G+
NCI-H23
NXvVSmpRT3Kxd4ToJGlvcGmkaYTpc44hSXO|YYm=
NWXkSWtiOC5yMT2xNFAh|ryP
MYm0PEBp
MUXMc4chT0l3ME2tO{43PCCP
NUfQfm1oRGFidHHy[4V1RSehYnzhcosoKGi{ZX[9K4h1fHC|Oj:vdJVjdWWmLn7jZokvdmyvLn7pbE5od3ZxMkKzN|YzPDZpPkKyN|M3OjR4PD;hQi=>
NCI-H226
MYLHdo94fGhiSX7obYJqfGmxbjDBd5NigQ>?
M{LyW|AvODFvMUCwJO69VQ>?
NUXpNIs6PDhiaB?=
NXPsXlNtVG:pIFfJOVA:NThwNESgUS=>
NXrxeHNZRGFidHHy[4V1RSehYnzhcosoKGi{ZX[9K4h1fHC|Oj:vdJVjdWWmLn7jZokvdmyvLn7pbE5od3ZxMkKzN|YzPDZpPkKyN|M3OjR4PD;hQi=>
NCI-H522
MkjMS5Jwf3SqIFnubIljcXSrb36gRZN{[Xl?
NULWSolVOC5yMT2xNFAh|ryP
MYi0PEBp
MWDMc4chT0l3ME2tPE41PSCP
NUnOfol2RGFidHHy[4V1RSehYnzhcosoKGi{ZX[9K4h1fHC|Oj:vdJVjdWWmLn7jZokvdmyvLn7pbE5od3ZxMkKzN|YzPDZpPkKyN|M3OjR4PD;hQi=>
NCI-H438
NYLUVI9YT3Kxd4ToJGlvcGmkaYTpc44hSXO|YYm=
MVWwMlAyNTFyMDFOwG0>
Mn;6OFghcA>?
NX60[YZ3VG:pIFfJOVA:NThwMUGgUS=>
M2m2WVxiKHSjcnfleF0oZ2KuYX7rK{BpemWoPTfoeJRxezpxL4D1Zo1m\C6wY3LpMo5tdS6waXiu[493NzJ{M{O2NlQ3Lz5{MkOzOlI1PjxxYU6=
A549
M2W1cWdzd3e2aDDJcohq[mm2aX;uJGF{e2G7
MmO5NE4xOS1zMECg{txO
NITBUo81QCCq
NFXnVJNNd2diR1m1NF0uQC5yNzDN
NX61dG05RGFidHHy[4V1RSehYnzhcosoKGi{ZX[9K4h1fHC|Oj:vdJVjdWWmLn7jZokvdmyvLn7pbE5od3ZxMkKzN|YzPDZpPkKyN|M3OjR4PD;hQi=>
DMS273
NVvGUoVNT3Kxd4ToJGlvcGmkaYTpc44hSXO|YYm=
MX:wMlAyNTFyMDFOwG0>
MUS0PEBp
MUDMc4chT0l3ME2tO{45OCCP
NX35[Ww6RGFidHHy[4V1RSehYnzhcosoKGi{ZX[9K4h1fHC|Oj:vdJVjdWWmLn7jZokvdmyvLn7pbE5od3ZxMkKzN|YzPDZpPkKyN|M3OjR4PD;hQi=>
DMS114
NWr2bJJkT3Kxd4ToJGlvcGmkaYTpc44hSXO|YYm=
MnjINE4xOS1zMECg{txO
MYK0PEBp
M4fh[Gxw\yCJSUWwQU05NjN7IF2=
M1XnOVxiKHSjcnfleF0oZ2KuYX7rK{BpemWoPTfoeJRxezpxL4D1Zo1m\C6wY3LpMo5tdS6waXiu[493NzJ{M{O2NlQ3Lz5{MkOzOlI1PjxxYU6=
LOXIMVI
MXvHdo94fGhiSX7obYJqfGmxbjDBd5NigQ>?
MUmwMlAyNTFyMDFOwG0>
MkHDOFghcA>?
M4XWXmxw\yCJSUWwQU05NjZ4IF2=
NFfD[409[SC2YYLn[ZQ:L1:kbHHub{chcHKnZk2nbJR1eHN8Lz;weYJu\WRwbnPibU5vdG1wbnnoModwfi9{MkOzOlI1Pid-MkKzN|YzPDZ:L3G+
OVCAR3
MlfLS5Jwf3SqIFnubIljcXSrb36gRZN{[Xl?
MUOwMlAyNTFyMDFOwG0>
MoG3OFghcA>?
NW\zeHNjVG:pIFfJOVA:NThwMUegUS=>
NGq0ZYs9[SC2YYLn[ZQ:L1:kbHHub{chcHKnZk2nbJR1eHN8Lz;weYJu\WRwbnPibU5vdG1wbnnoModwfi9{MkOzOlI1Pid-MkKzN|YzPDZ:L3G+
OVCAR4
NGC2eoxIem:5dHigTY5pcWKrdHnvckBCe3OjeR?=
NEDYTlYxNjBzLUGwNEDPxE1?
M{TOSFQ5KGh?
MVPMc4chT0l3ME2tPE42QCCP
NYHYOHZlRGFidHHy[4V1RSehYnzhcosoKGi{ZX[9K4h1fHC|Oj:vdJVjdWWmLn7jZokvdmyvLn7pbE5od3ZxMkKzN|YzPDZpPkKyN|M3OjR4PD;hQi=>
OVCAR5
M{f6cGdzd3e2aDDJcohq[mm2aX;uJGF{e2G7
MlzpNE4xOS1zMECg{txO
M1jI[lQ5KGh?
M1XLN2xw\yCJSUWwQU04NjV5IF2=
M1PZdlxiKHSjcnfleF0oZ2KuYX7rK{BpemWoPTfoeJRxezpxL4D1Zo1m\C6wY3LpMo5tdS6waXiu[493NzJ{M{O2NlQ3Lz5{MkOzOlI1PjxxYU6=
OVCAR8
MmPiS5Jwf3SqIFnubIljcXSrb36gRZN{[Xl?
MoDpNE4xOS1zMECg{txO
NGXR[HA1QCCq
MXnMc4chT0l3ME2tO{45PCCP
NWXjdpFERGFidHHy[4V1RSehYnzhcosoKGi{ZX[9K4h1fHC|Oj:vdJVjdWWmLn7jZokvdmyvLn7pbE5od3ZxMkKzN|YzPDZpPkKyN|M3OjR4PD;hQi=>
SKOV3
NGLtcJNIem:5dHigTY5pcWKrdHnvckBCe3OjeR?=
NIXKV4IxNjBzLUGwNEDPxE1?
M1\3clQ5KGh?
M3X6Nmxw\yCJSUWwQU05NjRzIF2=
M3jySFxiKHSjcnfleF0oZ2KuYX7rK{BpemWoPTfoeJRxezpxL4D1Zo1m\C6wY3LpMo5tdS6waXiu[493NzJ{M{O2NlQ3Lz5{MkOzOlI1PjxxYU6=
RXF631L
M2Tv[2dzd3e2aDDJcohq[mm2aX;uJGF{e2G7
NFXoXlExNjBzLUGwNEDPxE1?
M{PEeVQ5KGh?
NELNdFRNd2diR1m1NF0uQC5{MTDN
MX28ZUB1[XKpZYS9K39jdGGwazegbJJm\j1paIT0dJM7Ny:ydXLt[YQvdmOkaT7ucI0vdmmqLnfvek8zOjN|NkK0Okc,OjJ|M{[yOFY9N2F-
ACHN
NU\QUmF1T3Kxd4ToJGlvcGmkaYTpc44hSXO|YYm=
NES0PZcxNjBzLUGwNEDPxE1?
MV[0PEBp
M{\v[2xw\yCJSUWwQU04Njl3IF2=
MXy8ZUB1[XKpZYS9K39jdGGwazegbJJm\j1paIT0dJM7Ny:ydXLt[YQvdmOkaT7ucI0vdmmqLnfvek8zOjN|NkK0Okc,OjJ|M{[yOFY9N2F-
St-4
NGLrOlBIem:5dHigTY5pcWKrdHnvckBCe3OjeR?=
MYKwMlAyNTFyMDFOwG0>
M3XwdVQ5KGh?
NEiyTlZNd2diR1m1NF0uPy52NzDN
MmXMQIEhfGG{Z3X0QUdg[myjbnunJIhz\WZ;J3j0eJB{Qi9xcIXicYVlNm6lYnmucoxuNm6raD7nc5YwOjJ|M{[yOFYoRjJ{M{O2NlQ3RC:jPh?=
MKN1
NGrRRm5Iem:5dHigTY5pcWKrdHnvckBCe3OjeR?=
MUSwMlAyNTFyMDFOwG0>
NYDH[GpKPDhiaB?=
MXHMc4chT0l3ME2tPE41OSCP
NVOyc5M1RGFidHHy[4V1RSehYnzhcosoKGi{ZX[9K4h1fHC|Oj:vdJVjdWWmLn7jZokvdmyvLn7pbE5od3ZxMkKzN|YzPDZpPkKyN|M3OjR4PD;hQi=>
MKN7
M2LKcWdzd3e2aDDJcohq[mm2aX;uJGF{e2G7
M4G4dlAvODFvMUCwJO69VQ>?
NWiwVYIyPDhiaB?=
NIPnXmxNd2diR1m1NF0uPy54ODDN
NUXHdY95RGFidHHy[4V1RSehYnzhcosoKGi{ZX[9K4h1fHC|Oj:vdJVjdWWmLn7jZokvdmyvLn7pbE5od3ZxMkKzN|YzPDZpPkKyN|M3OjR4PD;hQi=>
MKN28
NGLEbHNIem:5dHigTY5pcWKrdHnvckBCe3OjeR?=
MnHONE4xOS1zMECg{txO
NEXRcoc1QCCq
M{ixbGxw\yCJSUWwQU04NjB5IF2=
NF;X[JY9[SC2YYLn[ZQ:L1:kbHHub{chcHKnZk2nbJR1eHN8Lz;weYJu\WRwbnPibU5vdG1wbnnoModwfi9{MkOzOlI1Pid-MkKzN|YzPDZ:L3G+
MKN45
M1P3cWdzd3e2aDDJcohq[mm2aX;uJGF{e2G7
NGXiVZExNjBzLUGwNEDPxE1?
NXnVXVRDPDhiaB?=
NHH1eGxNd2diR1m1NF0uQC5|NDDN
M4rJRVxiKHSjcnfleF0oZ2KuYX7rK{BpemWoPTfoeJRxezpxL4D1Zo1m\C6wY3LpMo5tdS6waXiu[493NzJ{M{O2NlQ3Lz5{MkOzOlI1PjxxYU6=
MKN74
M3y1U2dzd3e2aDDJcohq[mm2aX;uJGF{e2G7
MXGwMlAyNTFyMDFOwG0>
NVjjeoo5PDhiaB?=
NHvoNGxNd2diR1m1NF0uPy52MjDN
MXq8ZUB1[XKpZYS9K39jdGGwazegbJJm\j1paIT0dJM7Ny:ydXLt[YQvdmOkaT7ucI0vdmmqLnfvek8zOjN|NkK0Okc,OjJ|M{[yOFY9N2F-
DU145
NFLtcFFIem:5dHigTY5pcWKrdHnvckBCe3OjeR?=
M1q3PFAvODFvMUCwJO69VQ>?
M2X3NFQ5KGh?
NFHCU4VNd2diR1m1NF0uQC5zNjDN
MVG8ZUB1[XKpZYS9K39jdGGwazegbJJm\j1paIT0dJM7Ny:ydXLt[YQvdmOkaT7ucI0vdmmqLnfvek8zOjN|NkK0Okc,OjJ|M{[yOFY9N2F-
PC3
MVPHdo94fGhiSX7obYJqfGmxbjDBd5NigQ>?
MUSwMlAyNTFyMDFOwG0>
NIP4[Jc1QCCq
NWPhbY1SVG:pIFfJOVA:NThwNk[gUS=>
M1\PUVxiKHSjcnfleF0oZ2KuYX7rK{BpemWoPTfoeJRxezpxL4D1Zo1m\C6wY3LpMo5tdS6waXiu[493NzJ{M{O2NlQ3Lz5{MkOzOlI1PjxxYU6=
Trypanosoma brucei brucei
M3npTWZ2dmO2aX;uJGF{e2G7
MoK3NlAxKG6P
NHix[pMyOiCq
NW\nW2FITE2VTx?=
MUHE[YNz\WG|ZTDpckBxcG:|cHjveIllgWxiaX7vd4l1d2xicHjvd5Bp[XSnIHzleoVt
M3fGe|xiKHSjcnfleF0oZ2KuYX7rK{BpemWoPTfoeJRxezpxL4D1Zo1m\C6wY3LpMo5tdS6waXiu[493NzJ2OEC1PVQ3Lz5{NEiwOVk1PjxxYU6=
Trypanosoma brucei brucei
M3rTTGZ2dmO2aX;uJGF{e2G7
MoLjNVghcA>?
M2XlOGROW09?
NGDkRVlKdmirYnn0bY9vKG:oIILlZ4VxfG:{LX3l[IlifGWmIHXu[I9kgXSxc3nzJIF{e2W|c3XkJIF{KGSnY4LlZZNmKGmwIITyZY5{\mW{cnnuJJVxfGGtZR?=
NV7BXWVTRGFidHHy[4V1RSehYnzhcosoKGi{ZX[9K4h1fHC|Oj:vdJVjdWWmLn7jZokvdmyvLn7pbE5od3ZxMkS4NFU6PDZpPkK0PFA2QTR4PD;hQi=>
Trypanosoma brucei brucei
NEjZbVdHfW6ldHnvckBCe3OjeR?=
MWiyNFAhdk1?
M3nmPVEzKGh?
NYr2cYxCTE2VTx?=
MXHF[oZm[3Rib36gd5BpcW6pb335cIVqdiCuZY\lcC=>
MUm8ZUB1[XKpZYS9K39jdGGwazegbJJm\j1paIT0dJM7Ny:ydXLt[YQvdmOkaT7ucI0vdmmqLnfvek8zPDhyNUm0Okc,OjR6MEW5OFY9N2F-
Trypanosoma brucei brucei
M17DOmZ2dmO2aX;uJGF{e2G7
NEnFd4UzODBibl2=
NIjTTZQyOiCq
NEXtS25FVVOR
NFPHUW1G\m[nY4Sgc44heGixc4DoZZRq\HmuY3jvcIlv\SCuZY\lcC=>
M{juflxiKHSjcnfleF0oZ2KuYX7rK{BpemWoPTfoeJRxezpxL4D1Zo1m\C6wY3LpMo5tdS6waXiu[493NzJ2OEC1PVQ3Lz5{NEiwOVk1PjxxYU6=
UM-UC-3
NVzrenFjT3Kxd4ToJGlvcGmkaYTpc44hSXO|YYm=
MorWTWM2OD1|MUWgdG0>
Ml;EQIEhfGG{Z3X0QUdg[myjbnunJIhz\WZ;J3j0eJB{Qi9xd4f3MoVjcS6jYz71b{9kcGWvYnyvZ49ueG:3bnTfdoVxd3K2X3PhdoQwS0iHTVLMNVg4QTR4Mz:nQnNCVkeHUkyvZV4>
SBC-1
NGrGNJZIem:5dHigTY5pcWKrdHnvckBCe3OjeR?=
MVrJR|UxRTd2MjDwUS=>
NUPEXYpNRGFidHHy[4V1RSehYnzhcosoKGi{ZX[9K4h1fHC|Oj:ve5d4NmWkaT7hZ{52cy:laHXtZoww[2:vcH;1coRgemWyb4L0Y4NiemRxQ1jFUWJNOTh5OUS2N{8oRlODTlfFVlww[T5?
MKN1
M1jUcWdzd3e2aDDJcohq[mm2aX;uJGF{e2G7
NYHmRZp4UUN3ME2yMlghdk1?
MnnhQIEhfGG{Z3X0QUdg[myjbnunJIhz\WZ;J3j0eJB{Qi9xd4f3MoVjcS6jYz71b{9kcGWvYnyvZ49ueG:3bnTfdoVxd3K2X3PhdoQwS0iHTVLMNVg4QTR4Mz:nQnNCVkeHUkyvZV4>
NCI-H720
NEfMd41Iem:5dHigTY5pcWKrdHnvckBCe3OjeR?=
NHK2O3NKSzVyPUOuOVchdk1?
NVjrVodDRGFidHHy[4V1RSehYnzhcosoKGi{ZX[9K4h1fHC|Oj:ve5d4NmWkaT7hZ{52cy:laHXtZoww[2:vcH;1coRgemWyb4L0Y4NiemRxQ1jFUWJNOTh5OUS2N{8oRlODTlfFVlww[T5?
BFTC-909
M1rsTGdzd3e2aDDJcohq[mm2aX;uJGF{e2G7
MXHJR|UxRTNwN{Ggcm0>
NYe4fVhkRGFidHHy[4V1RSehYnzhcosoKGi{ZX[9K4h1fHC|Oj:ve5d4NmWkaT7hZ{52cy:laHXtZoww[2:vcH;1coRgemWyb4L0Y4NiemRxQ1jFUWJNOTh5OUS2N{8oRlODTlfFVlww[T5?
BPH-1
NW\obXFRT3Kxd4ToJGlvcGmkaYTpc44hSXO|YYm=
MX\JR|UxRTRwN{[gcm0>
NXvXWnNmRGFidHHy[4V1RSehYnzhcosoKGi{ZX[9K4h1fHC|Oj:ve5d4NmWkaT7hZ{52cy:laHXtZoww[2:vcH;1coRgemWyb4L0Y4NiemRxQ1jFUWJNOTh5OUS2N{8oRlODTlfFVlww[T5?
PC-3
M2\RT2dzd3e2aDDJcohq[mm2aX;uJGF{e2G7
NXXwOGpxUUN3ME21MlA6KG6P
MVi8ZUB1[XKpZYS9K39jdGGwazegbJJm\j1paIT0dJM7Ny:5d4eu[YJqNmGlLoXrM4Np\W2kbD;jc41xd3WwZG;y[ZBwenShY3Hy[E9EUEWPQlyxPFc6PDZ|Lze+V2FPT0WUPD;hQi=>
AN3-CA
MmHqS5Jwf3SqIFnubIljcXSrb36gRZN{[Xl?
NFnQWoFKSzVyPUWuOVYhdk1?
NHvFcZQ9[SC2YYLn[ZQ:L1:kbHHub{chcHKnZk2nbJR1eHN8Lz;3e5cv\WKrLnHjMpVsN2OqZX3icE9kd22yb4Xu[H9z\XCxcoTfZ4Fz\C:FSFXNRmwyQDd7NE[zM{c,W0GQR1XSQE9iRg>?
HN
NWnKbodlT3Kxd4ToJGlvcGmkaYTpc44hSXO|YYm=
NG\FXVJKSzVyPUWuPVYhdk1?
NFfCV3I9[SC2YYLn[ZQ:L1:kbHHub{chcHKnZk2nbJR1eHN8Lz;3e5cv\WKrLnHjMpVsN2OqZX3icE9kd22yb4Xu[H9z\XCxcoTfZ4Fz\C:FSFXNRmwyQDd7NE[zM{c,W0GQR1XSQE9iRg>?
HCC2218
MWDHdo94fGhiSX7obYJqfGmxbjDBd5NigQ>?
NXnjPY9KUUN3ME22MlYyKG6P
M4noV|xiKHSjcnfleF0oZ2KuYX7rK{BpemWoPTfoeJRxezpxL4f3e{5m[mlwYXOueYsw[2inbXLsM4NwdXCxdX7kY5JmeG:{dG;jZZJlN0OKRV3CUFE5Pzl2NkOvK|5USU6JRWK8M4E,
KP-4
NV7yW5U6T3Kxd4ToJGlvcGmkaYTpc44hSXO|YYm=
M{TyfWlEPTB;NzDuUS=>
MVS8ZUB1[XKpZYS9K39jdGGwazegbJJm\j1paIT0dJM7Ny:5d4eu[YJqNmGlLoXrM4Np\W2kbD;jc41xd3WwZG;y[ZBwenShY3Hy[E9EUEWPQlyxPFc6PDZ|Lze+V2FPT0WUPD;hQi=>
LU-139
NIL6TYtIem:5dHigTY5pcWKrdHnvckBCe3OjeR?=
NWH1SVVMUUN3ME23Mlc4KG6P
NIK1Row9[SC2YYLn[ZQ:L1:kbHHub{chcHKnZk2nbJR1eHN8Lz;3e5cv\WKrLnHjMpVsN2OqZX3icE9kd22yb4Xu[H9z\XCxcoTfZ4Fz\C:FSFXNRmwyQDd7NE[zM{c,W0GQR1XSQE9iRg>?
ETK-1
M4\3SGdzd3e2aDDJcohq[mm2aX;uJGF{e2G7
NGnTNpRKSzVyPUeuPFghdk1?
NV71Npd{RGFidHHy[4V1RSehYnzhcosoKGi{ZX[9K4h1fHC|Oj:ve5d4NmWkaT7hZ{52cy:laHXtZoww[2:vcH;1coRgemWyb4L0Y4NiemRxQ1jFUWJNOTh5OUS2N{8oRlODTlfFVlww[T5?
Ramos-2G6-4C10
MWnHdo94fGhiSX7obYJqfGmxbjDBd5NigQ>?
NYeyVng2UUN3ME24MlQ6KG6P
M3eweVxiKHSjcnfleF0oZ2KuYX7rK{BpemWoPTfoeJRxezpxL4f3e{5m[mlwYXOueYsw[2inbXLsM4NwdXCxdX7kY5JmeG:{dG;jZZJlN0OKRV3CUFE5Pzl2NkOvK|5USU6JRWK8M4E,
MHH-PREB-1
MVTHdo94fGhiSX7obYJqfGmxbjDBd5NigQ>?
MlHyTWM2OD17LkGyJI5O
M3vvZVxiKHSjcnfleF0oZ2KuYX7rK{BpemWoPTfoeJRxezpxL4f3e{5m[mlwYXOueYsw[2inbXLsM4NwdXCxdX7kY5JmeG:{dG;jZZJlN0OKRV3CUFE5Pzl2NkOvK|5USU6JRWK8M4E,
DU-4475
MX;Hdo94fGhiSX7obYJqfGmxbjDBd5NigQ>?
NX;mS5plUUN3ME25MlQ1KG6P
NWD1VY9kRGFidHHy[4V1RSehYnzhcosoKGi{ZX[9K4h1fHC|Oj:ve5d4NmWkaT7hZ{52cy:laHXtZoww[2:vcH;1coRgemWyb4L0Y4NiemRxQ1jFUWJNOTh5OUS2N{8oRlODTlfFVlww[T5?
NCI-H1666
M1zPPWdzd3e2aDDJcohq[mm2aX;uJGF{e2G7
NI[2[IFKSzVyPUmuO|Ehdk1?
NVGxUIRRRGFidHHy[4V1RSehYnzhcosoKGi{ZX[9K4h1fHC|Oj:ve5d4NmWkaT7hZ{52cy:laHXtZoww[2:vcH;1coRgemWyb4L0Y4NiemRxQ1jFUWJNOTh5OUS2N{8oRlODTlfFVlww[T5?
CAMA-1
MYXHdo94fGhiSX7obYJqfGmxbjDBd5NigQ>?
Mo\RTWM2OD17Lkigcm0>
NYTaTmFURGFidHHy[4V1RSehYnzhcosoKGi{ZX[9K4h1fHC|Oj:ve5d4NmWkaT7hZ{52cy:laHXtZoww[2:vcH;1coRgemWyb4L0Y4NiemRxQ1jFUWJNOTh5OUS2N{8oRlODTlfFVlww[T5?
TYK-nu
NH7QTYpIem:5dHigTY5pcWKrdHnvckBCe3OjeR?=
NIrofJBKSzVyPUmuPVQhdk1?
Ml3nQIEhfGG{Z3X0QUdg[myjbnunJIhz\WZ;J3j0eJB{Qi9xd4f3MoVjcS6jYz71b{9kcGWvYnyvZ49ueG:3bnTfdoVxd3K2X3PhdoQwS0iHTVLMNVg4QTR4Mz:nQnNCVkeHUkyvZV4>
MFE-280
MoTsS5Jwf3SqIFnubIljcXSrb36gRZN{[Xl?
MkTSTWM2OD17Lkm5JI5O
NFizU2Q9[SC2YYLn[ZQ:L1:kbHHub{chcHKnZk2nbJR1eHN8Lz;3e5cv\WKrLnHjMpVsN2OqZX3icE9kd22yb4Xu[H9z\XCxcoTfZ4Fz\C:FSFXNRmwyQDd7NE[zM{c,W0GQR1XSQE9iRg>?
A549
NGfJV3FIem:5dHigTY5pcWKrdHnvckBCe3OjeR?=
M{THfWlEPTB;MUCuNVQhdk1?
NVvRV3pJRGFidHHy[4V1RSehYnzhcosoKGi{ZX[9K4h1fHC|Oj:ve5d4NmWkaT7hZ{52cy:laHXtZoww[2:vcH;1coRgemWyb4L0Y4NiemRxQ1jFUWJNOTh5OUS2N{8oRlODTlfFVlww[T5?
769-P
M4PKPGdzd3e2aDDJcohq[mm2aX;uJGF{e2G7
MmWzTWM2OD1zMD60OEBvVQ>?
NFvhS289[SC2YYLn[ZQ:L1:kbHHub{chcHKnZk2nbJR1eHN8Lz;3e5cv\WKrLnHjMpVsN2OqZX3icE9kd22yb4Xu[H9z\XCxcoTfZ4Fz\C:FSFXNRmwyQDd7NE[zM{c,W0GQR1XSQE9iRg>?
L-363
M1SzbWdzd3e2aDDJcohq[mm2aX;uJGF{e2G7
NGrnVJNKSzVyPUGwMlY6KG6P
M{\meVxiKHSjcnfleF0oZ2KuYX7rK{BpemWoPTfoeJRxezpxL4f3e{5m[mlwYXOueYsw[2inbXLsM4NwdXCxdX7kY5JmeG:{dG;jZZJlN0OKRV3CUFE5Pzl2NkOvK|5USU6JRWK8M4E,
ES8
NVfqXZdCT3Kxd4ToJGlvcGmkaYTpc44hSXO|YYm=
MnOxTWM2OD1zMD65JI5O
M1KzO|xiKHSjcnfleF0oZ2KuYX7rK{BpemWoPTfoeJRxezpxL4f3e{5m[mlwYXOueYsw[2inbXLsM4NwdXCxdX7kY5JmeG:{dG;jZZJlN0OKRV3CUFE5Pzl2NkOvK|5USU6JRWK8M4E,
PA-1
NFPBXY1Iem:5dHigTY5pcWKrdHnvckBCe3OjeR?=
NVLEe|k6UUN3ME2xNU45OiCwTR?=
NF\TbXE9[SC2YYLn[ZQ:L1:kbHHub{chcHKnZk2nbJR1eHN8Lz;3e5cv\WKrLnHjMpVsN2OqZX3icE9kd22yb4Xu[H9z\XCxcoTfZ4Fz\C:FSFXNRmwyQDd7NE[zM{c,W0GQR1XSQE9iRg>?
Mewo
NGrDdGdIem:5dHigTY5pcWKrdHnvckBCe3OjeR?=
Mn7jTWM2OD1zMT65PUBvVQ>?
NIDTfIk9[SC2YYLn[ZQ:L1:kbHHub{chcHKnZk2nbJR1eHN8Lz;3e5cv\WKrLnHjMpVsN2OqZX3icE9kd22yb4Xu[H9z\XCxcoTfZ4Fz\C:FSFXNRmwyQDd7NE[zM{c,W0GQR1XSQE9iRg>?
HSC-3
NEnFSWNIem:5dHigTY5pcWKrdHnvckBCe3OjeR?=
Mm\hTWM2OD1zMj6yNUBvVQ>?
MmDJQIEhfGG{Z3X0QUdg[myjbnunJIhz\WZ;J3j0eJB{Qi9xd4f3MoVjcS6jYz71b{9kcGWvYnyvZ49ueG:3bnTfdoVxd3K2X3PhdoQwS0iHTVLMNVg4QTR4Mz:nQnNCVkeHUkyvZV4>
H4
MVvHdo94fGhiSX7obYJqfGmxbjDBd5NigQ>?
NV;IZZN5UUN3ME2xNk43PyCwTR?=
NFvYVXA9[SC2YYLn[ZQ:L1:kbHHub{chcHKnZk2nbJR1eHN8Lz;3e5cv\WKrLnHjMpVsN2OqZX3icE9kd22yb4Xu[H9z\XCxcoTfZ4Fz\C:FSFXNRmwyQDd7NE[zM{c,W0GQR1XSQE9iRg>?
BB65-RCC
M{HydGdzd3e2aDDJcohq[mm2aX;uJGF{e2G7
MVXJR|UxRTF{LkeyJI5O
MojZQIEhfGG{Z3X0QUdg[myjbnunJIhz\WZ;J3j0eJB{Qi9xd4f3MoVjcS6jYz71b{9kcGWvYnyvZ49ueG:3bnTfdoVxd3K2X3PhdoQwS0iHTVLMNVg4QTR4Mz:nQnNCVkeHUkyvZV4>
NCI-H1793
NH;DdWVIem:5dHigTY5pcWKrdHnvckBCe3OjeR?=
MorlTWM2OD1zMj64NkBvVQ>?
NWH2cFdzRGFidHHy[4V1RSehYnzhcosoKGi{ZX[9K4h1fHC|Oj:ve5d4NmWkaT7hZ{52cy:laHXtZoww[2:vcH;1coRgemWyb4L0Y4NiemRxQ1jFUWJNOTh5OUS2N{8oRlODTlfFVlww[T5?
KARPAS-45
MWTHdo94fGhiSX7obYJqfGmxbjDBd5NigQ>?
MV\JR|UxRTF|LkWxJI5O
NVfhbXVGRGFidHHy[4V1RSehYnzhcosoKGi{ZX[9K4h1fHC|Oj:ve5d4NmWkaT7hZ{52cy:laHXtZoww[2:vcH;1coRgemWyb4L0Y4NiemRxQ1jFUWJNOTh5OUS2N{8oRlODTlfFVlww[T5?
GCT
MVvHdo94fGhiSX7obYJqfGmxbjDBd5NigQ>?
NUGzNVRxUUN3ME2xN{43QCCwTR?=
MX[8ZUB1[XKpZYS9K39jdGGwazegbJJm\j1paIT0dJM7Ny:5d4eu[YJqNmGlLoXrM4Np\W2kbD;jc41xd3WwZG;y[ZBwenShY3Hy[E9EUEWPQlyxPFc6PDZ|Lze+V2FPT0WUPD;hQi=>
EoL-1
MnvaS5Jwf3SqIFnubIljcXSrb36gRZN{[Xl?
MnvMTWM2OD1zMz65N{BvVQ>?
Mn7DQIEhfGG{Z3X0QUdg[myjbnunJIhz\WZ;J3j0eJB{Qi9xd4f3MoVjcS6jYz71b{9kcGWvYnyvZ49ueG:3bnTfdoVxd3K2X3PhdoQwS0iHTVLMNVg4QTR4Mz:nQnNCVkeHUkyvZV4>
LB2241-RCC
M1voTmdzd3e2aDDJcohq[mm2aX;uJGF{e2G7
NX3GOIU3UUN3ME2xOE4xOSCwTR?=
NF;HWGU9[SC2YYLn[ZQ:L1:kbHHub{chcHKnZk2nbJR1eHN8Lz;3e5cv\WKrLnHjMpVsN2OqZX3icE9kd22yb4Xu[H9z\XCxcoTfZ4Fz\C:FSFXNRmwyQDd7NE[zM{c,W0GQR1XSQE9iRg>?
ES5
MlvNS5Jwf3SqIFnubIljcXSrb36gRZN{[Xl?
MorxTWM2OD1zND63OEBvVQ>?
M4ryUFxiKHSjcnfleF0oZ2KuYX7rK{BpemWoPTfoeJRxezpxL4f3e{5m[mlwYXOueYsw[2inbXLsM4NwdXCxdX7kY5JmeG:{dG;jZZJlN0OKRV3CUFE5Pzl2NkOvK|5USU6JRWK8M4E,
LOXIMVI
MlLaS5Jwf3SqIFnubIljcXSrb36gRZN{[Xl?
MoDOTWM2OD1zND65PUBvVQ>?
MYm8ZUB1[XKpZYS9K39jdGGwazegbJJm\j1paIT0dJM7Ny:5d4eu[YJqNmGlLoXrM4Np\W2kbD;jc41xd3WwZG;y[ZBwenShY3Hy[E9EUEWPQlyxPFc6PDZ|Lze+V2FPT0WUPD;hQi=>
COR-L105
NVjlVXY5T3Kxd4ToJGlvcGmkaYTpc44hSXO|YYm=
NXTD[oc3UUN3ME2xOU4xPCCwTR?=
NF7LelQ9[SC2YYLn[ZQ:L1:kbHHub{chcHKnZk2nbJR1eHN8Lz;3e5cv\WKrLnHjMpVsN2OqZX3icE9kd22yb4Xu[H9z\XCxcoTfZ4Fz\C:FSFXNRmwyQDd7NE[zM{c,W0GQR1XSQE9iRg>?
P12-ICHIKAWA
NITSTXhIem:5dHigTY5pcWKrdHnvckBCe3OjeR?=
NYPESYRbUUN3ME2xOU4yKG6P
NEnPfFk9[SC2YYLn[ZQ:L1:kbHHub{chcHKnZk2nbJR1eHN8Lz;3e5cv\WKrLnHjMpVsN2OqZX3icE9kd22yb4Xu[H9z\XCxcoTfZ4Fz\C:FSFXNRmwyQDd7NE[zM{c,W0GQR1XSQE9iRg>?
CHL-1
Mn\0S5Jwf3SqIFnubIljcXSrb36gRZN{[Xl?
NYSzRXB6UUN3ME2xOU41PSCwTR?=
M1;HXFxiKHSjcnfleF0oZ2KuYX7rK{BpemWoPTfoeJRxezpxL4f3e{5m[mlwYXOueYsw[2inbXLsM4NwdXCxdX7kY5JmeG:{dG;jZZJlN0OKRV3CUFE5Pzl2NkOvK|5USU6JRWK8M4E,
VMRC-RCZ
MkTLS5Jwf3SqIFnubIljcXSrb36gRZN{[Xl?
NGHOWItKSzVyPUG1MlY{KG6P
MW[8ZUB1[XKpZYS9K39jdGGwazegbJJm\j1paIT0dJM7Ny:5d4eu[YJqNmGlLoXrM4Np\W2kbD;jc41xd3WwZG;y[ZBwenShY3Hy[E9EUEWPQlyxPFc6PDZ|Lze+V2FPT0WUPD;hQi=>
HH
MmjqS5Jwf3SqIFnubIljcXSrb36gRZN{[Xl?
NYnuTG1QUUN3ME2xOU44KG6P
MWG8ZUB1[XKpZYS9K39jdGGwazegbJJm\j1paIT0dJM7Ny:5d4eu[YJqNmGlLoXrM4Np\W2kbD;jc41xd3WwZG;y[ZBwenShY3Hy[E9EUEWPQlyxPFc6PDZ|Lze+V2FPT0WUPD;hQi=>
NUGC-3
MVjHdo94fGhiSX7obYJqfGmxbjDBd5NigQ>?
MX\JR|UxRTF4LkO0JI5O
M{LEclxiKHSjcnfleF0oZ2KuYX7rK{BpemWoPTfoeJRxezpxL4f3e{5m[mlwYXOueYsw[2inbXLsM4NwdXCxdX7kY5JmeG:{dG;jZZJlN0OKRV3CUFE5Pzl2NkOvK|5USU6JRWK8M4E,
EGI-1
NXPodYw1T3Kxd4ToJGlvcGmkaYTpc44hSXO|YYm=
MXPJR|UxRTF4LkSzJI5O
MlzvQIEhfGG{Z3X0QUdg[myjbnunJIhz\WZ;J3j0eJB{Qi9xd4f3MoVjcS6jYz71b{9kcGWvYnyvZ49ueG:3bnTfdoVxd3K2X3PhdoQwS0iHTVLMNVg4QTR4Mz:nQnNCVkeHUkyvZV4>
OS-RC-2
MVfHdo94fGhiSX7obYJqfGmxbjDBd5NigQ>?
MnftTWM2OD1zNj60O{BvVQ>?
MUS8ZUB1[XKpZYS9K39jdGGwazegbJJm\j1paIT0dJM7Ny:5d4eu[YJqNmGlLoXrM4Np\W2kbD;jc41xd3WwZG;y[ZBwenShY3Hy[E9EUEWPQlyxPFc6PDZ|Lze+V2FPT0WUPD;hQi=>
MOLT-16
NITMdZJIem:5dHigTY5pcWKrdHnvckBCe3OjeR?=
M{Xyd2lEPTB;MUeuNVUhdk1?
M3H0OFxiKHSjcnfleF0oZ2KuYX7rK{BpemWoPTfoeJRxezpxL4f3e{5m[mlwYXOueYsw[2inbXLsM4NwdXCxdX7kY5JmeG:{dG;jZZJlN0OKRV3CUFE5Pzl2NkOvK|5USU6JRWK8M4E,
NCI-H209
NXfOOXRCT3Kxd4ToJGlvcGmkaYTpc44hSXO|YYm=
MX7JR|UxRTF5LkK5JI5O
MWW8ZUB1[XKpZYS9K39jdGGwazegbJJm\j1paIT0dJM7Ny:5d4eu[YJqNmGlLoXrM4Np\W2kbD;jc41xd3WwZG;y[ZBwenShY3Hy[E9EUEWPQlyxPFc6PDZ|Lze+V2FPT0WUPD;hQi=>
697
NH7yTG9Iem:5dHigTY5pcWKrdHnvckBCe3OjeR?=
NYi2WnU4UUN3ME2xO{41OyCwTR?=
Ml\QQIEhfGG{Z3X0QUdg[myjbnunJIhz\WZ;J3j0eJB{Qi9xd4f3MoVjcS6jYz71b{9kcGWvYnyvZ49ueG:3bnTfdoVxd3K2X3PhdoQwS0iHTVLMNVg4QTR4Mz:nQnNCVkeHUkyvZV4>
D-56MG
Ml[2S5Jwf3SqIFnubIljcXSrb36gRZN{[Xl?
M2XIRmlEPTB;MUeuOlkhdk1?
MoDIQIEhfGG{Z3X0QUdg[myjbnunJIhz\WZ;J3j0eJB{Qi9xd4f3MoVjcS6jYz71b{9kcGWvYnyvZ49ueG:3bnTfdoVxd3K2X3PhdoQwS0iHTVLMNVg4QTR4Mz:nQnNCVkeHUkyvZV4>
VA-ES-BJ
NFXa[HNIem:5dHigTY5pcWKrdHnvckBCe3OjeR?=
MoPXTWM2OD1zNz64N{BvVQ>?
NFP6VlY9[SC2YYLn[ZQ:L1:kbHHub{chcHKnZk2nbJR1eHN8Lz;3e5cv\WKrLnHjMpVsN2OqZX3icE9kd22yb4Xu[H9z\XCxcoTfZ4Fz\C:FSFXNRmwyQDd7NE[zM{c,W0GQR1XSQE9iRg>?
EW-16
NGXrPWpIem:5dHigTY5pcWKrdHnvckBCe3OjeR?=
MljDTWM2OD1zOD6wOEBvVQ>?
MlrDQIEhfGG{Z3X0QUdg[myjbnunJIhz\WZ;J3j0eJB{Qi9xd4f3MoVjcS6jYz71b{9kcGWvYnyvZ49ueG:3bnTfdoVxd3K2X3PhdoQwS0iHTVLMNVg4QTR4Mz:nQnNCVkeHUkyvZV4>
HGC-27
MWPHdo94fGhiSX7obYJqfGmxbjDBd5NigQ>?
NYq2TXpyUUN3ME2xPE4xPiCwTR?=
NYXlSotERGFidHHy[4V1RSehYnzhcosoKGi{ZX[9K4h1fHC|Oj:ve5d4NmWkaT7hZ{52cy:laHXtZoww[2:vcH;1coRgemWyb4L0Y4NiemRxQ1jFUWJNOTh5OUS2N{8oRlODTlfFVlww[T5?
ES7
MV7Hdo94fGhiSX7obYJqfGmxbjDBd5NigQ>?
M{LId2lEPTB;MUiuNFkhdk1?
MkLHQIEhfGG{Z3X0QUdg[myjbnunJIhz\WZ;J3j0eJB{Qi9xd4f3MoVjcS6jYz71b{9kcGWvYnyvZ49ueG:3bnTfdoVxd3K2X3PhdoQwS0iHTVLMNVg4QTR4Mz:nQnNCVkeHUkyvZV4>
HuH-7
M{DDPWdzd3e2aDDJcohq[mm2aX;uJGF{e2G7
MVPJR|UxRTF6LkSgcm0>
NG\YfWI9[SC2YYLn[ZQ:L1:kbHHub{chcHKnZk2nbJR1eHN8Lz;3e5cv\WKrLnHjMpVsN2OqZX3icE9kd22yb4Xu[H9z\XCxcoTfZ4Fz\C:FSFXNRmwyQDd7NE[zM{c,W0GQR1XSQE9iRg>?
BCPAP
Mlv5S5Jwf3SqIFnubIljcXSrb36gRZN{[Xl?
MXXJR|UxRTF6Lk[1JI5O
NGn0Ro09[SC2YYLn[ZQ:L1:kbHHub{chcHKnZk2nbJR1eHN8Lz;3e5cv\WKrLnHjMpVsN2OqZX3icE9kd22yb4Xu[H9z\XCxcoTfZ4Fz\C:FSFXNRmwyQDd7NE[zM{c,W0GQR1XSQE9iRg>?
SW1710
MXrHdo94fGhiSX7obYJqfGmxbjDBd5NigQ>?
MmH6TWM2OD1zOD63NkBvVQ>?
NVjJ[4N{RGFidHHy[4V1RSehYnzhcosoKGi{ZX[9K4h1fHC|Oj:ve5d4NmWkaT7hZ{52cy:laHXtZoww[2:vcH;1coRgemWyb4L0Y4NiemRxQ1jFUWJNOTh5OUS2N{8oRlODTlfFVlww[T5?
IST-MEL1
MXvHdo94fGhiSX7obYJqfGmxbjDBd5NigQ>?
NHLrTG9KSzVyPUG4Mlc4KG6P
MojmQIEhfGG{Z3X0QUdg[myjbnunJIhz\WZ;J3j0eJB{Qi9xd4f3MoVjcS6jYz71b{9kcGWvYnyvZ49ueG:3bnTfdoVxd3K2X3PhdoQwS0iHTVLMNVg4QTR4Mz:nQnNCVkeHUkyvZV4>
SF295
MlrYS5Jwf3SqIFnubIljcXSrb36gRZN{[Xl?
MkjzTWM2OD1zOD65N{BvVQ>?
M3zzdlxiKHSjcnfleF0oZ2KuYX7rK{BpemWoPTfoeJRxezpxL4f3e{5m[mlwYXOueYsw[2inbXLsM4NwdXCxdX7kY5JmeG:{dG;jZZJlN0OKRV3CUFE5Pzl2NkOvK|5USU6JRWK8M4E,
RPMI-7951
NIHHeFJIem:5dHigTY5pcWKrdHnvckBCe3OjeR?=
NXnMd3V[UUN3ME2xPU4zQCCwTR?=
NIDY[2o9[SC2YYLn[ZQ:L1:kbHHub{chcHKnZk2nbJR1eHN8Lz;3e5cv\WKrLnHjMpVsN2OqZX3icE9kd22yb4Xu[H9z\XCxcoTfZ4Fz\C:FSFXNRmwyQDd7NE[zM{c,W0GQR1XSQE9iRg>?
SF126
M1\ieWdzd3e2aDDJcohq[mm2aX;uJGF{e2G7
NIDWUG5KSzVyPUG5MlQyKG6P
NWK3N|E1RGFidHHy[4V1RSehYnzhcosoKGi{ZX[9K4h1fHC|Oj:ve5d4NmWkaT7hZ{52cy:laHXtZoww[2:vcH;1coRgemWyb4L0Y4NiemRxQ1jFUWJNOTh5OUS2N{8oRlODTlfFVlww[T5?
GAMG
NHLYUZNIem:5dHigTY5pcWKrdHnvckBCe3OjeR?=
MWnJR|UxRTF7LkS4JI5O
M3;ZUVxiKHSjcnfleF0oZ2KuYX7rK{BpemWoPTfoeJRxezpxL4f3e{5m[mlwYXOueYsw[2inbXLsM4NwdXCxdX7kY5JmeG:{dG;jZZJlN0OKRV3CUFE5Pzl2NkOvK|5USU6JRWK8M4E,
KNS-81-FD
MVvHdo94fGhiSX7obYJqfGmxbjDBd5NigQ>?
M33uXmlEPTB;MUmuOVQhdk1?
MkDyQIEhfGG{Z3X0QUdg[myjbnunJIhz\WZ;J3j0eJB{Qi9xd4f3MoVjcS6jYz71b{9kcGWvYnyvZ49ueG:3bnTfdoVxd3K2X3PhdoQwS0iHTVLMNVg4QTR4Mz:nQnNCVkeHUkyvZV4>
RT-112
NXTNdWpvT3Kxd4ToJGlvcGmkaYTpc44hSXO|YYm=
NWLtOHNuUUN3ME2xPU43PiCwTR?=
MXK8ZUB1[XKpZYS9K39jdGGwazegbJJm\j1paIT0dJM7Ny:5d4eu[YJqNmGlLoXrM4Np\W2kbD;jc41xd3WwZG;y[ZBwenShY3Hy[E9EUEWPQlyxPFc6PDZ|Lze+V2FPT0WUPD;hQi=>
DEL
NIrxeZRIem:5dHigTY5pcWKrdHnvckBCe3OjeR?=
MV7JR|UxRTJyLkS5JI5O
NE[4Z5U9[SC2YYLn[ZQ:L1:kbHHub{chcHKnZk2nbJR1eHN8Lz;3e5cv\WKrLnHjMpVsN2OqZX3icE9kd22yb4Xu[H9z\XCxcoTfZ4Fz\C:FSFXNRmwyQDd7NE[zM{c,W0GQR1XSQE9iRg>?
CGTH-W-1
NHLJSFRIem:5dHigTY5pcWKrdHnvckBCe3OjeR?=
M173bWlEPTB;MkCuOlMhdk1?
M4rYNVxiKHSjcnfleF0oZ2KuYX7rK{BpemWoPTfoeJRxezpxL4f3e{5m[mlwYXOueYsw[2inbXLsM4NwdXCxdX7kY5JmeG:{dG;jZZJlN0OKRV3CUFE5Pzl2NkOvK|5USU6JRWK8M4E,
HOS
M2TLTmdzd3e2aDDJcohq[mm2aX;uJGF{e2G7
NGrGNVNKSzVyPUKxMlA3KG6P
M{DEZlxiKHSjcnfleF0oZ2KuYX7rK{BpemWoPTfoeJRxezpxL4f3e{5m[mlwYXOueYsw[2inbXLsM4NwdXCxdX7kY5JmeG:{dG;jZZJlN0OKRV3CUFE5Pzl2NkOvK|5USU6JRWK8M4E,
ES4
MXzHdo94fGhiSX7obYJqfGmxbjDBd5NigQ>?
MVjJR|UxRTJzLkC4JI5O
NUXzPW9mRGFidHHy[4V1RSehYnzhcosoKGi{ZX[9K4h1fHC|Oj:ve5d4NmWkaT7hZ{52cy:laHXtZoww[2:vcH;1coRgemWyb4L0Y4NiemRxQ1jFUWJNOTh5OUS2N{8oRlODTlfFVlww[T5?
RXF393
MmjZS5Jwf3SqIFnubIljcXSrb36gRZN{[Xl?
NVS3bWZ4UUN3ME2yNU41PSCwTR?=
NGrUT489[SC2YYLn[ZQ:L1:kbHHub{chcHKnZk2nbJR1eHN8Lz;3e5cv\WKrLnHjMpVsN2OqZX3icE9kd22yb4Xu[H9z\XCxcoTfZ4Fz\C:FSFXNRmwyQDd7NE[zM{c,W0GQR1XSQE9iRg>?
NCI-H2030
MkTrS5Jwf3SqIFnubIljcXSrb36gRZN{[Xl?
M{DEUmlEPTB;MkGuOVIhdk1?
NFzsVWQ9[SC2YYLn[ZQ:L1:kbHHub{chcHKnZk2nbJR1eHN8Lz;3e5cv\WKrLnHjMpVsN2OqZX3icE9kd22yb4Xu[H9z\XCxcoTfZ4Fz\C:FSFXNRmwyQDd7NE[zM{c,W0GQR1XSQE9iRg>?
YH-13
NYO4WoU3T3Kxd4ToJGlvcGmkaYTpc44hSXO|YYm=
Ml3ETWM2OD1{MT64PEBvVQ>?
MUS8ZUB1[XKpZYS9K39jdGGwazegbJJm\j1paIT0dJM7Ny:5d4eu[YJqNmGlLoXrM4Np\W2kbD;jc41xd3WwZG;y[ZBwenShY3Hy[E9EUEWPQlyxPFc6PDZ|Lze+V2FPT0WUPD;hQi=>
HT-1080
MkD0S5Jwf3SqIFnubIljcXSrb36gRZN{[Xl?
NFvJOINKSzVyPUKxMlk{KG6P
MYi8ZUB1[XKpZYS9K39jdGGwazegbJJm\j1paIT0dJM7Ny:5d4eu[YJqNmGlLoXrM4Np\W2kbD;jc41xd3WwZG;y[ZBwenShY3Hy[E9EUEWPQlyxPFc6PDZ|Lze+V2FPT0WUPD;hQi=>
NCI-SNU-1
NHPhO4dIem:5dHigTY5pcWKrdHnvckBCe3OjeR?=
NX\QfVRUUUN3ME2yNU46PSCwTR?=
MoH3QIEhfGG{Z3X0QUdg[myjbnunJIhz\WZ;J3j0eJB{Qi9xd4f3MoVjcS6jYz71b{9kcGWvYnyvZ49ueG:3bnTfdoVxd3K2X3PhdoQwS0iHTVLMNVg4QTR4Mz:nQnNCVkeHUkyvZV4>
G-402
MVrHdo94fGhiSX7obYJqfGmxbjDBd5NigQ>?
MnS3TWM2OD1{Mj6xOkBvVQ>?
M2TPXlxiKHSjcnfleF0oZ2KuYX7rK{BpemWoPTfoeJRxezpxL4f3e{5m[mlwYXOueYsw[2inbXLsM4NwdXCxdX7kY5JmeG:{dG;jZZJlN0OKRV3CUFE5Pzl2NkOvK|5USU6JRWK8M4E,
786-0
MkPDS5Jwf3SqIFnubIljcXSrb36gRZN{[Xl?
NWfTepFkUUN3ME2yNk4zQSCwTR?=
MnW3QIEhfGG{Z3X0QUdg[myjbnunJIhz\WZ;J3j0eJB{Qi9xd4f3MoVjcS6jYz71b{9kcGWvYnyvZ49ueG:3bnTfdoVxd3K2X3PhdoQwS0iHTVLMNVg4QTR4Mz:nQnNCVkeHUkyvZV4>
ME-180
MWDHdo94fGhiSX7obYJqfGmxbjDBd5NigQ>?
M3jFVWlEPTB;MkKuOFMhdk1?
M4XyTFxiKHSjcnfleF0oZ2KuYX7rK{BpemWoPTfoeJRxezpxL4f3e{5m[mlwYXOueYsw[2inbXLsM4NwdXCxdX7kY5JmeG:{dG;jZZJlN0OKRV3CUFE5Pzl2NkOvK|5USU6JRWK8M4E,
NB69
M37idmdzd3e2aDDJcohq[mm2aX;uJGF{e2G7
NV2yRWtKUUN3ME2yNk42OyCwTR?=
MlTGQIEhfGG{Z3X0QUdg[myjbnunJIhz\WZ;J3j0eJB{Qi9xd4f3MoVjcS6jYz71b{9kcGWvYnyvZ49ueG:3bnTfdoVxd3K2X3PhdoQwS0iHTVLMNVg4QTR4Mz:nQnNCVkeHUkyvZV4>
J-RT3-T3-5
M37aWGdzd3e2aDDJcohq[mm2aX;uJGF{e2G7
NF2xVGJKSzVyPUKyMlk3KG6P
Mn7XQIEhfGG{Z3X0QUdg[myjbnunJIhz\WZ;J3j0eJB{Qi9xd4f3MoVjcS6jYz71b{9kcGWvYnyvZ49ueG:3bnTfdoVxd3K2X3PhdoQwS0iHTVLMNVg4QTR4Mz:nQnNCVkeHUkyvZV4>
TGBC1TKB
NILz[G5Iem:5dHigTY5pcWKrdHnvckBCe3OjeR?=
MoXXTWM2OD1{Mz6wOUBvVQ>?
MYS8ZUB1[XKpZYS9K39jdGGwazegbJJm\j1paIT0dJM7Ny:5d4eu[YJqNmGlLoXrM4Np\W2kbD;jc41xd3WwZG;y[ZBwenShY3Hy[E9EUEWPQlyxPFc6PDZ|Lze+V2FPT0WUPD;hQi=>
SW780
NVTxcJV2T3Kxd4ToJGlvcGmkaYTpc44hSXO|YYm=
MXnJR|UxRTJ|LkGzJI5O
MXu8ZUB1[XKpZYS9K39jdGGwazegbJJm\j1paIT0dJM7Ny:5d4eu[YJqNmGlLoXrM4Np\W2kbD;jc41xd3WwZG;y[ZBwenShY3Hy[E9EUEWPQlyxPFc6PDZ|Lze+V2FPT0WUPD;hQi=>
MG-63
MVnHdo94fGhiSX7obYJqfGmxbjDBd5NigQ>?
MlHFTWM2OD1{Mz60OUBvVQ>?
MY[8ZUB1[XKpZYS9K39jdGGwazegbJJm\j1paIT0dJM7Ny:5d4eu[YJqNmGlLoXrM4Np\W2kbD;jc41xd3WwZG;y[ZBwenShY3Hy[E9EUEWPQlyxPFc6PDZ|Lze+V2FPT0WUPD;hQi=>
BV-173
MlOxS5Jwf3SqIFnubIljcXSrb36gRZN{[Xl?
M4r2VWlEPTB;MkOuPFchdk1?
M2W1XFxiKHSjcnfleF0oZ2KuYX7rK{BpemWoPTfoeJRxezpxL4f3e{5m[mlwYXOueYsw[2inbXLsM4NwdXCxdX7kY5JmeG:{dG;jZZJlN0OKRV3CUFE5Pzl2NkOvK|5USU6JRWK8M4E,
CAL-51
MlPSS5Jwf3SqIFnubIljcXSrb36gRZN{[Xl?
NHjDUlBKSzVyPUKzMlg6KG6P
NEfMdGY9[SC2YYLn[ZQ:L1:kbHHub{chcHKnZk2nbJR1eHN8Lz;3e5cv\WKrLnHjMpVsN2OqZX3icE9kd22yb4Xu[H9z\XCxcoTfZ4Fz\C:FSFXNRmwyQDd7NE[zM{c,W0GQR1XSQE9iRg>?
A375
NIW0dZBIem:5dHigTY5pcWKrdHnvckBCe3OjeR?=
MYjJR|UxRTJ|LkmzJI5O
MnjUQIEhfGG{Z3X0QUdg[myjbnunJIhz\WZ;J3j0eJB{Qi9xd4f3MoVjcS6jYz71b{9kcGWvYnyvZ49ueG:3bnTfdoVxd3K2X3PhdoQwS0iHTVLMNVg4QTR4Mz:nQnNCVkeHUkyvZV4>
MEL-HO
MXrHdo94fGhiSX7obYJqfGmxbjDBd5NigQ>?
M3OzfmlEPTB;MkSuNFQhdk1?
NVPDR4dERGFidHHy[4V1RSehYnzhcosoKGi{ZX[9K4h1fHC|Oj:ve5d4NmWkaT7hZ{52cy:laHXtZoww[2:vcH;1coRgemWyb4L0Y4NiemRxQ1jFUWJNOTh5OUS2N{8oRlODTlfFVlww[T5?
EFO-27
MWfHdo94fGhiSX7obYJqfGmxbjDBd5NigQ>?
NI[4eGVKSzVyPUK0MlM{KG6P
MYK8ZUB1[XKpZYS9K39jdGGwazegbJJm\j1paIT0dJM7Ny:5d4eu[YJqNmGlLoXrM4Np\W2kbD;jc41xd3WwZG;y[ZBwenShY3Hy[E9EUEWPQlyxPFc6PDZ|Lze+V2FPT0WUPD;hQi=>
Hs-578-T
M3vzW2dzd3e2aDDJcohq[mm2aX;uJGF{e2G7
NXnIZo83UUN3ME2yOE42QCCwTR?=
NUnLbJJORGFidHHy[4V1RSehYnzhcosoKGi{ZX[9K4h1fHC|Oj:ve5d4NmWkaT7hZ{52cy:laHXtZoww[2:vcH;1coRgemWyb4L0Y4NiemRxQ1jFUWJNOTh5OUS2N{8oRlODTlfFVlww[T5?
NBsusSR
NHXxcJpIem:5dHigTY5pcWKrdHnvckBCe3OjeR?=
NFHtS2xKSzVyPUK0MlYhdk1?
MU[8ZUB1[XKpZYS9K39jdGGwazegbJJm\j1paIT0dJM7Ny:5d4eu[YJqNmGlLoXrM4Np\W2kbD;jc41xd3WwZG;y[ZBwenShY3Hy[E9EUEWPQlyxPFc6PDZ|Lze+V2FPT0WUPD;hQi=>
CTB-1
NEfncG1Iem:5dHigTY5pcWKrdHnvckBCe3OjeR?=
M3;tWWlEPTB;MkSuOlchdk1?
M4rFfFxiKHSjcnfleF0oZ2KuYX7rK{BpemWoPTfoeJRxezpxL4f3e{5m[mlwYXOueYsw[2inbXLsM4NwdXCxdX7kY5JmeG:{dG;jZZJlN0OKRV3CUFE5Pzl2NkOvK|5USU6JRWK8M4E,
FTC-133
NH7UXpBIem:5dHigTY5pcWKrdHnvckBCe3OjeR?=
M{PiUmlEPTB;MkWuNUBvVQ>?
NYLPOVM1RGFidHHy[4V1RSehYnzhcosoKGi{ZX[9K4h1fHC|Oj:ve5d4NmWkaT7hZ{52cy:laHXtZoww[2:vcH;1coRgemWyb4L0Y4NiemRxQ1jFUWJNOTh5OUS2N{8oRlODTlfFVlww[T5?
MOLT-4
MUjHdo94fGhiSX7obYJqfGmxbjDBd5NigQ>?
MlHHTWM2OD1{NT6xNkBvVQ>?
M4jE[lxiKHSjcnfleF0oZ2KuYX7rK{BpemWoPTfoeJRxezpxL4f3e{5m[mlwYXOueYsw[2inbXLsM4NwdXCxdX7kY5JmeG:{dG;jZZJlN0OKRV3CUFE5Pzl2NkOvK|5USU6JRWK8M4E,
HO-1-N-1
MlrSS5Jwf3SqIFnubIljcXSrb36gRZN{[Xl?
MUTJR|UxRTJ3LkG1JI5O
NXi4b25bRGFidHHy[4V1RSehYnzhcosoKGi{ZX[9K4h1fHC|Oj:ve5d4NmWkaT7hZ{52cy:laHXtZoww[2:vcH;1coRgemWyb4L0Y4NiemRxQ1jFUWJNOTh5OUS2N{8oRlODTlfFVlww[T5?
ES3
M1HZ[Wdzd3e2aDDJcohq[mm2aX;uJGF{e2G7
MlHvTWM2OD1{NT6yNkBvVQ>?
NHiwU|k9[SC2YYLn[ZQ:L1:kbHHub{chcHKnZk2nbJR1eHN8Lz;3e5cv\WKrLnHjMpVsN2OqZX3icE9kd22yb4Xu[H9z\XCxcoTfZ4Fz\C:FSFXNRmwyQDd7NE[zM{c,W0GQR1XSQE9iRg>?
TI-73
NGfQUJZIem:5dHigTY5pcWKrdHnvckBCe3OjeR?=
M2XQfGlEPTB;MkWuNlghdk1?
MkfZQIEhfGG{Z3X0QUdg[myjbnunJIhz\WZ;J3j0eJB{Qi9xd4f3MoVjcS6jYz71b{9kcGWvYnyvZ49ueG:3bnTfdoVxd3K2X3PhdoQwS0iHTVLMNVg4QTR4Mz:nQnNCVkeHUkyvZV4>
MPP-89
NFjDfY5Iem:5dHigTY5pcWKrdHnvckBCe3OjeR?=
NHnCeY1KSzVyPUK1MlMzKG6P
M1;5O|xiKHSjcnfleF0oZ2KuYX7rK{BpemWoPTfoeJRxezpxL4f3e{5m[mlwYXOueYsw[2inbXLsM4NwdXCxdX7kY5JmeG:{dG;jZZJlN0OKRV3CUFE5Pzl2NkOvK|5USU6JRWK8M4E,
KYSE-150
M3\GR2dzd3e2aDDJcohq[mm2aX;uJGF{e2G7
MVHJR|UxRTJ3Lki5JI5O
MWS8ZUB1[XKpZYS9K39jdGGwazegbJJm\j1paIT0dJM7Ny:5d4eu[YJqNmGlLoXrM4Np\W2kbD;jc41xd3WwZG;y[ZBwenShY3Hy[E9EUEWPQlyxPFc6PDZ|Lze+V2FPT0WUPD;hQi=>
LXF-289
M4\1WGdzd3e2aDDJcohq[mm2aX;uJGF{e2G7
NWPWRnc3UUN3ME2yOk4xPCCwTR?=
MYK8ZUB1[XKpZYS9K39jdGGwazegbJJm\j1paIT0dJM7Ny:5d4eu[YJqNmGlLoXrM4Np\W2kbD;jc41xd3WwZG;y[ZBwenShY3Hy[E9EUEWPQlyxPFc6PDZ|Lze+V2FPT0WUPD;hQi=>
SK-LU-1
M{fDOGdzd3e2aDDJcohq[mm2aX;uJGF{e2G7
M4C0O2lEPTB;Mk[uNVchdk1?
NEHaVGw9[SC2YYLn[ZQ:L1:kbHHub{chcHKnZk2nbJR1eHN8Lz;3e5cv\WKrLnHjMpVsN2OqZX3icE9kd22yb4Xu[H9z\XCxcoTfZ4Fz\C:FSFXNRmwyQDd7NE[zM{c,W0GQR1XSQE9iRg>?
HOP-92
Mn\0S5Jwf3SqIFnubIljcXSrb36gRZN{[Xl?
MkXZTWM2OD1{Nj60PEBvVQ>?
MVG8ZUB1[XKpZYS9K39jdGGwazegbJJm\j1paIT0dJM7Ny:5d4eu[YJqNmGlLoXrM4Np\W2kbD;jc41xd3WwZG;y[ZBwenShY3Hy[E9EUEWPQlyxPFc6PDZ|Lze+V2FPT0WUPD;hQi=>
HuO9
MVvHdo94fGhiSX7obYJqfGmxbjDBd5NigQ>?
MX7JR|UxRTJ4Lke2JI5O
NYn2eZVyRGFidHHy[4V1RSehYnzhcosoKGi{ZX[9K4h1fHC|Oj:ve5d4NmWkaT7hZ{52cy:laHXtZoww[2:vcH;1coRgemWyb4L0Y4NiemRxQ1jFUWJNOTh5OUS2N{8oRlODTlfFVlww[T5?
SW962
M4m2b2dzd3e2aDDJcohq[mm2aX;uJGF{e2G7
M{Lkb2lEPTB;Mk[uO|Yhdk1?
NI\LSWo9[SC2YYLn[ZQ:L1:kbHHub{chcHKnZk2nbJR1eHN8Lz;3e5cv\WKrLnHjMpVsN2OqZX3icE9kd22yb4Xu[H9z\XCxcoTfZ4Fz\C:FSFXNRmwyQDd7NE[zM{c,W0GQR1XSQE9iRg>?
RS4-11
Ml\lS5Jwf3SqIFnubIljcXSrb36gRZN{[Xl?
NHTTPGJKSzVyPUK2MlkyKG6P
MljFQIEhfGG{Z3X0QUdg[myjbnunJIhz\WZ;J3j0eJB{Qi9xd4f3MoVjcS6jYz71b{9kcGWvYnyvZ49ueG:3bnTfdoVxd3K2X3PhdoQwS0iHTVLMNVg4QTR4Mz:nQnNCVkeHUkyvZV4>
NCI-H292
MnP1S5Jwf3SqIFnubIljcXSrb36gRZN{[Xl?
NUXzbZA3UUN3ME2yO{BvVQ>?
MVu8ZUB1[XKpZYS9K39jdGGwazegbJJm\j1paIT0dJM7Ny:5d4eu[YJqNmGlLoXrM4Np\W2kbD;jc41xd3WwZG;y[ZBwenShY3Hy[E9EUEWPQlyxPFc6PDZ|Lze+V2FPT0WUPD;hQi=>
DB
MmHnS5Jwf3SqIFnubIljcXSrb36gRZN{[Xl?
MV7JR|UxRTJ5LkO2JI5O
M1X1blxiKHSjcnfleF0oZ2KuYX7rK{BpemWoPTfoeJRxezpxL4f3e{5m[mlwYXOueYsw[2inbXLsM4NwdXCxdX7kY5JmeG:{dG;jZZJlN0OKRV3CUFE5Pzl2NkOvK|5USU6JRWK8M4E,
SW1088
NEnjZ5VIem:5dHigTY5pcWKrdHnvckBCe3OjeR?=
M1Py[WlEPTB;MkiuNlkhdk1?
MYS8ZUB1[XKpZYS9K39jdGGwazegbJJm\j1paIT0dJM7Ny:5d4eu[YJqNmGlLoXrM4Np\W2kbD;jc41xd3WwZG;y[ZBwenShY3Hy[E9EUEWPQlyxPFc6PDZ|Lze+V2FPT0WUPD;hQi=>
A204
MoHOS5Jwf3SqIFnubIljcXSrb36gRZN{[Xl?
MUPJR|UxRTJ6LkS3JI5O
MmTlQIEhfGG{Z3X0QUdg[myjbnunJIhz\WZ;J3j0eJB{Qi9xd4f3MoVjcS6jYz71b{9kcGWvYnyvZ49ueG:3bnTfdoVxd3K2X3PhdoQwS0iHTVLMNVg4QTR4Mz:nQnNCVkeHUkyvZV4>
A3-KAW
M{L2bGdzd3e2aDDJcohq[mm2aX;uJGF{e2G7
NEPqb4dKSzVyPUK4MlY1KG6P
MnzkQIEhfGG{Z3X0QUdg[myjbnunJIhz\WZ;J3j0eJB{Qi9xd4f3MoVjcS6jYz71b{9kcGWvYnyvZ49ueG:3bnTfdoVxd3K2X3PhdoQwS0iHTVLMNVg4QTR4Mz:nQnNCVkeHUkyvZV4>
MV-4-11
MYTHdo94fGhiSX7obYJqfGmxbjDBd5NigQ>?
MUjJR|UxRTJ6Lkegcm0>
NXHTcoR1RGFidHHy[4V1RSehYnzhcosoKGi{ZX[9K4h1fHC|Oj:ve5d4NmWkaT7hZ{52cy:laHXtZoww[2:vcH;1coRgemWyb4L0Y4NiemRxQ1jFUWJNOTh5OUS2N{8oRlODTlfFVlww[T5?
ES1
M2n2TGdzd3e2aDDJcohq[mm2aX;uJGF{e2G7
NILuO5BKSzVyPUK4Mlg1KG6P
NIHuemE9[SC2YYLn[ZQ:L1:kbHHub{chcHKnZk2nbJR1eHN8Lz;3e5cv\WKrLnHjMpVsN2OqZX3icE9kd22yb4Xu[H9z\XCxcoTfZ4Fz\C:FSFXNRmwyQDd7NE[zM{c,W0GQR1XSQE9iRg>?
ONS-76
MWLHdo94fGhiSX7obYJqfGmxbjDBd5NigQ>?
MUHJR|UxRTJ7LkC1JI5O
MXu8ZUB1[XKpZYS9K39jdGGwazegbJJm\j1paIT0dJM7Ny:5d4eu[YJqNmGlLoXrM4Np\W2kbD;jc41xd3WwZG;y[ZBwenShY3Hy[E9EUEWPQlyxPFc6PDZ|Lze+V2FPT0WUPD;hQi=>
D-263MG
NYX3U3U3T3Kxd4ToJGlvcGmkaYTpc44hSXO|YYm=
NGrLbVdKSzVyPUK5MlM2KG6P
MmDuQIEhfGG{Z3X0QUdg[myjbnunJIhz\WZ;J3j0eJB{Qi9xd4f3MoVjcS6jYz71b{9kcGWvYnyvZ49ueG:3bnTfdoVxd3K2X3PhdoQwS0iHTVLMNVg4QTR4Mz:nQnNCVkeHUkyvZV4>
U-2-OS
M2rZd2dzd3e2aDDJcohq[mm2aX;uJGF{e2G7
NEHncVBKSzVyPUK5MlUhdk1?
NXTINXlQRGFidHHy[4V1RSehYnzhcosoKGi{ZX[9K4h1fHC|Oj:ve5d4NmWkaT7hZ{52cy:laHXtZoww[2:vcH;1coRgemWyb4L0Y4NiemRxQ1jFUWJNOTh5OUS2N{8oRlODTlfFVlww[T5?
T98G
NYfBVnJ4T3Kxd4ToJGlvcGmkaYTpc44hSXO|YYm=
MXjJR|UxRTJ7Lki4JI5O
M1nhcVxiKHSjcnfleF0oZ2KuYX7rK{BpemWoPTfoeJRxezpxL4f3e{5m[mlwYXOueYsw[2inbXLsM4NwdXCxdX7kY5JmeG:{dG;jZZJlN0OKRV3CUFE5Pzl2NkOvK|5USU6JRWK8M4E,
GI-ME-N
NYO4TFR[T3Kxd4ToJGlvcGmkaYTpc44hSXO|YYm=
MnvoTWM2OD1{OT65NUBvVQ>?
M1rzTlxiKHSjcnfleF0oZ2KuYX7rK{BpemWoPTfoeJRxezpxL4f3e{5m[mlwYXOueYsw[2inbXLsM4NwdXCxdX7kY5JmeG:{dG;jZZJlN0OKRV3CUFE5Pzl2NkOvK|5USU6JRWK8M4E,
BHT-101
M2[3eWdzd3e2aDDJcohq[mm2aX;uJGF{e2G7
MX\JR|UxRTNyLkC1JI5O
MkXIQIEhfGG{Z3X0QUdg[myjbnunJIhz\WZ;J3j0eJB{Qi9xd4f3MoVjcS6jYz71b{9kcGWvYnyvZ49ueG:3bnTfdoVxd3K2X3PhdoQwS0iHTVLMNVg4QTR4Mz:nQnNCVkeHUkyvZV4>
NOS-1
NXfOUWU5T3Kxd4ToJGlvcGmkaYTpc44hSXO|YYm=
MX3JR|UxRTNyLkGyJI5O
MoftQIEhfGG{Z3X0QUdg[myjbnunJIhz\WZ;J3j0eJB{Qi9xd4f3MoVjcS6jYz71b{9kcGWvYnyvZ49ueG:3bnTfdoVxd3K2X3PhdoQwS0iHTVLMNVg4QTR4Mz:nQnNCVkeHUkyvZV4>
AsPC-1
NVr5RplsT3Kxd4ToJGlvcGmkaYTpc44hSXO|YYm=
Mm\LTWM2OD1|MD6yJI5O
MofVQIEhfGG{Z3X0QUdg[myjbnunJIhz\WZ;J3j0eJB{Qi9xd4f3MoVjcS6jYz71b{9kcGWvYnyvZ49ueG:3bnTfdoVxd3K2X3PhdoQwS0iHTVLMNVg4QTR4Mz:nQnNCVkeHUkyvZV4>
QIMR-WIL
MX3Hdo94fGhiSX7obYJqfGmxbjDBd5NigQ>?
MoW4TWM2OD1|MD62JI5O
NX;FXZNlRGFidHHy[4V1RSehYnzhcosoKGi{ZX[9K4h1fHC|Oj:ve5d4NmWkaT7hZ{52cy:laHXtZoww[2:vcH;1coRgemWyb4L0Y4NiemRxQ1jFUWJNOTh5OUS2N{8oRlODTlfFVlww[T5?
JVM-3
Mof5S5Jwf3SqIFnubIljcXSrb36gRZN{[Xl?
NE\IfG9KSzVyPUOwMlg{KG6P
NUnpOHhHRGFidHHy[4V1RSehYnzhcosoKGi{ZX[9K4h1fHC|Oj:ve5d4NmWkaT7hZ{52cy:laHXtZoww[2:vcH;1coRgemWyb4L0Y4NiemRxQ1jFUWJNOTh5OUS2N{8oRlODTlfFVlww[T5?
KU-19-19
NVTxNph5T3Kxd4ToJGlvcGmkaYTpc44hSXO|YYm=
NUjvWHBMUUN3ME2zNU4yOyCwTR?=
NUfqSVIzRGFidHHy[4V1RSehYnzhcosoKGi{ZX[9K4h1fHC|Oj:ve5d4NmWkaT7hZ{52cy:laHXtZoww[2:vcH;1coRgemWyb4L0Y4NiemRxQ1jFUWJNOTh5OUS2N{8oRlODTlfFVlww[T5?
OVCAR-8
NV7FS5NUT3Kxd4ToJGlvcGmkaYTpc44hSXO|YYm=
NVPpWFZiUUN3ME2zNU4zPiCwTR?=
MnXKQIEhfGG{Z3X0QUdg[myjbnunJIhz\WZ;J3j0eJB{Qi9xd4f3MoVjcS6jYz71b{9kcGWvYnyvZ49ueG:3bnTfdoVxd3K2X3PhdoQwS0iHTVLMNVg4QTR4Mz:nQnNCVkeHUkyvZV4>
BEN
MV3Hdo94fGhiSX7obYJqfGmxbjDBd5NigQ>?
NXv2cGhUUUN3ME2zNU43OyCwTR?=
NUflTZk5RGFidHHy[4V1RSehYnzhcosoKGi{ZX[9K4h1fHC|Oj:ve5d4NmWkaT7hZ{52cy:laHXtZoww[2:vcH;1coRgemWyb4L0Y4NiemRxQ1jFUWJNOTh5OUS2N{8oRlODTlfFVlww[T5?
BE-13
MV7Hdo94fGhiSX7obYJqfGmxbjDBd5NigQ>?
MV;JR|UxRTNzLkiyJI5O
MnPiQIEhfGG{Z3X0QUdg[myjbnunJIhz\WZ;J3j0eJB{Qi9xd4f3MoVjcS6jYz71b{9kcGWvYnyvZ49ueG:3bnTfdoVxd3K2X3PhdoQwS0iHTVLMNVg4QTR4Mz:nQnNCVkeHUkyvZV4>
EW-18
NIXrWopIem:5dHigTY5pcWKrdHnvckBCe3OjeR?=
NWrWWmxSUUN3ME2zNU45PiCwTR?=
NHzTbWo9[SC2YYLn[ZQ:L1:kbHHub{chcHKnZk2nbJR1eHN8Lz;3e5cv\WKrLnHjMpVsN2OqZX3icE9kd22yb4Xu[H9z\XCxcoTfZ4Fz\C:FSFXNRmwyQDd7NE[zM{c,W0GQR1XSQE9iRg>?
ECC10
MXrHdo94fGhiSX7obYJqfGmxbjDBd5NigQ>?
M3PBTGlEPTB;M{GuPVUhdk1?
NU\Hb5h3RGFidHHy[4V1RSehYnzhcosoKGi{ZX[9K4h1fHC|Oj:ve5d4NmWkaT7hZ{52cy:laHXtZoww[2:vcH;1coRgemWyb4L0Y4NiemRxQ1jFUWJNOTh5OUS2N{8oRlODTlfFVlww[T5?
CTV-1
NHHPc4dIem:5dHigTY5pcWKrdHnvckBCe3OjeR?=
M3jE[2lEPTB;M{KuPFIhdk1?
NVi3SmZ[RGFidHHy[4V1RSehYnzhcosoKGi{ZX[9K4h1fHC|Oj:ve5d4NmWkaT7hZ{52cy:laHXtZoww[2:vcH;1coRgemWyb4L0Y4NiemRxQ1jFUWJNOTh5OUS2N{8oRlODTlfFVlww[T5?
COLO-800
NGTZPHhIem:5dHigTY5pcWKrdHnvckBCe3OjeR?=
NULP[FJ5UUN3ME2zNk46OiCwTR?=
M4jRTFxiKHSjcnfleF0oZ2KuYX7rK{BpemWoPTfoeJRxezpxL4f3e{5m[mlwYXOueYsw[2inbXLsM4NwdXCxdX7kY5JmeG:{dG;jZZJlN0OKRV3CUFE5Pzl2NkOvK|5USU6JRWK8M4E,
A2058
MljWS5Jwf3SqIFnubIljcXSrb36gRZN{[Xl?
MVvJR|UxRTN|LkK1JI5O
M2HU[lxiKHSjcnfleF0oZ2KuYX7rK{BpemWoPTfoeJRxezpxL4f3e{5m[mlwYXOueYsw[2inbXLsM4NwdXCxdX7kY5JmeG:{dG;jZZJlN0OKRV3CUFE5Pzl2NkOvK|5USU6JRWK8M4E,
VM-CUB-1
MYnHdo94fGhiSX7obYJqfGmxbjDBd5NigQ>?
NEK2fZhKSzVyPUOzMlQ{KG6P
NVPheotGRGFidHHy[4V1RSehYnzhcosoKGi{ZX[9K4h1fHC|Oj:ve5d4NmWkaT7hZ{52cy:laHXtZoww[2:vcH;1coRgemWyb4L0Y4NiemRxQ1jFUWJNOTh5OUS2N{8oRlODTlfFVlww[T5?
Ca9-22
MYPHdo94fGhiSX7obYJqfGmxbjDBd5NigQ>?
MWPJR|UxRTN|LkW1JI5O
NYq5fGhiRGFidHHy[4V1RSehYnzhcosoKGi{ZX[9K4h1fHC|Oj:ve5d4NmWkaT7hZ{52cy:laHXtZoww[2:vcH;1coRgemWyb4L0Y4NiemRxQ1jFUWJNOTh5OUS2N{8oRlODTlfFVlww[T5?
COLO-684
MVTHdo94fGhiSX7obYJqfGmxbjDBd5NigQ>?
MYXJR|UxRTN|LkW4JI5O
NFLZXm89[SC2YYLn[ZQ:L1:kbHHub{chcHKnZk2nbJR1eHN8Lz;3e5cv\WKrLnHjMpVsN2OqZX3icE9kd22yb4Xu[H9z\XCxcoTfZ4Fz\C:FSFXNRmwyQDd7NE[zM{c,W0GQR1XSQE9iRg>?
RPMI-8226
NV\IVWpuT3Kxd4ToJGlvcGmkaYTpc44hSXO|YYm=
MXHJR|UxRTN|LkiyJI5O
MlHuQIEhfGG{Z3X0QUdg[myjbnunJIhz\WZ;J3j0eJB{Qi9xd4f3MoVjcS6jYz71b{9kcGWvYnyvZ49ueG:3bnTfdoVxd3K2X3PhdoQwS0iHTVLMNVg4QTR4Mz:nQnNCVkeHUkyvZV4>
SK-NEP-1
NHewbm9Iem:5dHigTY5pcWKrdHnvckBCe3OjeR?=
NGTrV49KSzVyPUO0MlE2KG6P
MnjCQIEhfGG{Z3X0QUdg[myjbnunJIhz\WZ;J3j0eJB{Qi9xd4f3MoVjcS6jYz71b{9kcGWvYnyvZ49ueG:3bnTfdoVxd3K2X3PhdoQwS0iHTVLMNVg4QTR4Mz:nQnNCVkeHUkyvZV4>
Becker
MY\Hdo94fGhiSX7obYJqfGmxbjDBd5NigQ>?
NVHTd2NuUUN3ME2zOE4zOSCwTR?=
NGj2Rm49[SC2YYLn[ZQ:L1:kbHHub{chcHKnZk2nbJR1eHN8Lz;3e5cv\WKrLnHjMpVsN2OqZX3icE9kd22yb4Xu[H9z\XCxcoTfZ4Fz\C:FSFXNRmwyQDd7NE[zM{c,W0GQR1XSQE9iRg>?
NCI-H28
NU[zcWZLT3Kxd4ToJGlvcGmkaYTpc44hSXO|YYm=
NF7FNphKSzVyPUO0MlQ1KG6P
MYG8ZUB1[XKpZYS9K39jdGGwazegbJJm\j1paIT0dJM7Ny:5d4eu[YJqNmGlLoXrM4Np\W2kbD;jc41xd3WwZG;y[ZBwenShY3Hy[E9EUEWPQlyxPFc6PDZ|Lze+V2FPT0WUPD;hQi=>
CAL-120
M4\pR2dzd3e2aDDJcohq[mm2aX;uJGF{e2G7
M{LtXWlEPTB;M{SuO|Ihdk1?
MkDjQIEhfGG{Z3X0QUdg[myjbnunJIhz\WZ;J3j0eJB{Qi9xd4f3MoVjcS6jYz71b{9kcGWvYnyvZ49ueG:3bnTfdoVxd3K2X3PhdoQwS0iHTVLMNVg4QTR4Mz:nQnNCVkeHUkyvZV4>
MDA-MB-157
MnThS5Jwf3SqIFnubIljcXSrb36gRZN{[Xl?
M1fsfGlEPTB;M{WuOFEhdk1?
MlyzQIEhfGG{Z3X0QUdg[myjbnunJIhz\WZ;J3j0eJB{Qi9xd4f3MoVjcS6jYz71b{9kcGWvYnyvZ49ueG:3bnTfdoVxd3K2X3PhdoQwS0iHTVLMNVg4QTR4Mz:nQnNCVkeHUkyvZV4>
OVCAR-5
MX3Hdo94fGhiSX7obYJqfGmxbjDBd5NigQ>?
MX;JR|UxRTN3LkS3JI5O
MlLUQIEhfGG{Z3X0QUdg[myjbnunJIhz\WZ;J3j0eJB{Qi9xd4f3MoVjcS6jYz71b{9kcGWvYnyvZ49ueG:3bnTfdoVxd3K2X3PhdoQwS0iHTVLMNVg4QTR4Mz:nQnNCVkeHUkyvZV4>
LAMA-84
MnTyS5Jwf3SqIFnubIljcXSrb36gRZN{[Xl?
M2LBeWlEPTB;M{WuPFchdk1?
MVS8ZUB1[XKpZYS9K39jdGGwazegbJJm\j1paIT0dJM7Ny:5d4eu[YJqNmGlLoXrM4Np\W2kbD;jc41xd3WwZG;y[ZBwenShY3Hy[E9EUEWPQlyxPFc6PDZ|Lze+V2FPT0WUPD;hQi=>
CAKI-1
MUnHdo94fGhiSX7obYJqfGmxbjDBd5NigQ>?
MYjJR|UxRTN4LkSzJI5O
NH7sSlg9[SC2YYLn[ZQ:L1:kbHHub{chcHKnZk2nbJR1eHN8Lz;3e5cv\WKrLnHjMpVsN2OqZX3icE9kd22yb4Xu[H9z\XCxcoTfZ4Fz\C:FSFXNRmwyQDd7NE[zM{c,W0GQR1XSQE9iRg>?
Daoy
NFq4fFJIem:5dHigTY5pcWKrdHnvckBCe3OjeR?=
NUSxUY51UUN3ME2zOk44KG6P
M3\wXlxiKHSjcnfleF0oZ2KuYX7rK{BpemWoPTfoeJRxezpxL4f3e{5m[mlwYXOueYsw[2inbXLsM4NwdXCxdX7kY5JmeG:{dG;jZZJlN0OKRV3CUFE5Pzl2NkOvK|5USU6JRWK8M4E,
CAL-62
MmLGS5Jwf3SqIFnubIljcXSrb36gRZN{[Xl?
NVLScVFPUUN3ME2zOk45PiCwTR?=
MnznQIEhfGG{Z3X0QUdg[myjbnunJIhz\WZ;J3j0eJB{Qi9xd4f3MoVjcS6jYz71b{9kcGWvYnyvZ49ueG:3bnTfdoVxd3K2X3PhdoQwS0iHTVLMNVg4QTR4Mz:nQnNCVkeHUkyvZV4>
8-MG-BA
MU\Hdo94fGhiSX7obYJqfGmxbjDBd5NigQ>?
MXnJR|UxRTN5LkK1JI5O
MY[8ZUB1[XKpZYS9K39jdGGwazegbJJm\j1paIT0dJM7Ny:5d4eu[YJqNmGlLoXrM4Np\W2kbD;jc41xd3WwZG;y[ZBwenShY3Hy[E9EUEWPQlyxPFc6PDZ|Lze+V2FPT0WUPD;hQi=>
8505C
MlXKS5Jwf3SqIFnubIljcXSrb36gRZN{[Xl?
NI\oe4lKSzVyPUO3MlUyKG6P
NIO4fok9[SC2YYLn[ZQ:L1:kbHHub{chcHKnZk2nbJR1eHN8Lz;3e5cv\WKrLnHjMpVsN2OqZX3icE9kd22yb4Xu[H9z\XCxcoTfZ4Fz\C:FSFXNRmwyQDd7NE[zM{c,W0GQR1XSQE9iRg>?
LNCaP-Clone-FGC
NXrO[WZoT3Kxd4ToJGlvcGmkaYTpc44hSXO|YYm=
MWfJR|UxRTN5LkW5JI5O
NHr4RnA9[SC2YYLn[ZQ:L1:kbHHub{chcHKnZk2nbJR1eHN8Lz;3e5cv\WKrLnHjMpVsN2OqZX3icE9kd22yb4Xu[H9z\XCxcoTfZ4Fz\C:FSFXNRmwyQDd7NE[zM{c,W0GQR1XSQE9iRg>?
CAL-39
NE[5bnJIem:5dHigTY5pcWKrdHnvckBCe3OjeR?=
MmPoTWM2OD1|Nz65JI5O
M321dVxiKHSjcnfleF0oZ2KuYX7rK{BpemWoPTfoeJRxezpxL4f3e{5m[mlwYXOueYsw[2inbXLsM4NwdXCxdX7kY5JmeG:{dG;jZZJlN0OKRV3CUFE5Pzl2NkOvK|5USU6JRWK8M4E,
MN-60
MVzHdo94fGhiSX7obYJqfGmxbjDBd5NigQ>?
M1nBTWlEPTB;M{euPVYhdk1?
Ml\CQIEhfGG{Z3X0QUdg[myjbnunJIhz\WZ;J3j0eJB{Qi9xd4f3MoVjcS6jYz71b{9kcGWvYnyvZ49ueG:3bnTfdoVxd3K2X3PhdoQwS0iHTVLMNVg4QTR4Mz:nQnNCVkeHUkyvZV4>
RKO
MlLyS5Jwf3SqIFnubIljcXSrb36gRZN{[Xl?
M1\4bWlEPTB;M{iuN|Mhdk1?
MU[8ZUB1[XKpZYS9K39jdGGwazegbJJm\j1paIT0dJM7Ny:5d4eu[YJqNmGlLoXrM4Np\W2kbD;jc41xd3WwZG;y[ZBwenShY3Hy[E9EUEWPQlyxPFc6PDZ|Lze+V2FPT0WUPD;hQi=>
U251
NXfmSYtUT3Kxd4ToJGlvcGmkaYTpc44hSXO|YYm=
M2TjXWlEPTB;M{iuOFMhdk1?
M3HXSFxiKHSjcnfleF0oZ2KuYX7rK{BpemWoPTfoeJRxezpxL4f3e{5m[mlwYXOueYsw[2inbXLsM4NwdXCxdX7kY5JmeG:{dG;jZZJlN0OKRV3CUFE5Pzl2NkOvK|5USU6JRWK8M4E,
SJSA-1
NULY[mxqT3Kxd4ToJGlvcGmkaYTpc44hSXO|YYm=
NUDpV4NRUUN3ME2zPE42PCCwTR?=
M4m2OFxiKHSjcnfleF0oZ2KuYX7rK{BpemWoPTfoeJRxezpxL4f3e{5m[mlwYXOueYsw[2inbXLsM4NwdXCxdX7kY5JmeG:{dG;jZZJlN0OKRV3CUFE5Pzl2NkOvK|5USU6JRWK8M4E,
CAL-12T
NWPKTmI{T3Kxd4ToJGlvcGmkaYTpc44hSXO|YYm=
MlqwTWM2OD1|OD62JI5O
M13P[VxiKHSjcnfleF0oZ2KuYX7rK{BpemWoPTfoeJRxezpxL4f3e{5m[mlwYXOueYsw[2inbXLsM4NwdXCxdX7kY5JmeG:{dG;jZZJlN0OKRV3CUFE5Pzl2NkOvK|5USU6JRWK8M4E,
HCC1419
MYPHdo94fGhiSX7obYJqfGmxbjDBd5NigQ>?
MUPJR|UxRTN6LkexJI5O
MWG8ZUB1[XKpZYS9K39jdGGwazegbJJm\j1paIT0dJM7Ny:5d4eu[YJqNmGlLoXrM4Np\W2kbD;jc41xd3WwZG;y[ZBwenShY3Hy[E9EUEWPQlyxPFc6PDZ|Lze+V2FPT0WUPD;hQi=>
CO-314
NYHYeFVPT3Kxd4ToJGlvcGmkaYTpc44hSXO|YYm=
MXXJR|UxRTN6Lke0JI5O
M2HXVlxiKHSjcnfleF0oZ2KuYX7rK{BpemWoPTfoeJRxezpxL4f3e{5m[mlwYXOueYsw[2inbXLsM4NwdXCxdX7kY5JmeG:{dG;jZZJlN0OKRV3CUFE5Pzl2NkOvK|5USU6JRWK8M4E,
LB1047-RCC
MVvHdo94fGhiSX7obYJqfGmxbjDBd5NigQ>?
MkPRTWM2OD1|OD64NUBvVQ>?
MYS8ZUB1[XKpZYS9K39jdGGwazegbJJm\j1paIT0dJM7Ny:5d4eu[YJqNmGlLoXrM4Np\W2kbD;jc41xd3WwZG;y[ZBwenShY3Hy[E9EUEWPQlyxPFc6PDZ|Lze+V2FPT0WUPD;hQi=>
A101D
MVXHdo94fGhiSX7obYJqfGmxbjDBd5NigQ>?
MVnJR|UxRTN6Lkm3JI5O
NWLXfmFHRGFidHHy[4V1RSehYnzhcosoKGi{ZX[9K4h1fHC|Oj:ve5d4NmWkaT7hZ{52cy:laHXtZoww[2:vcH;1coRgemWyb4L0Y4NiemRxQ1jFUWJNOTh5OUS2N{8oRlODTlfFVlww[T5?
MDA-MB-175-VII
M4Pybmdzd3e2aDDJcohq[mm2aX;uJGF{e2G7
NFq0WZNKSzVyPUO5MlUyKG6P
MXm8ZUB1[XKpZYS9K39jdGGwazegbJJm\j1paIT0dJM7Ny:5d4eu[YJqNmGlLoXrM4Np\W2kbD;jc41xd3WwZG;y[ZBwenShY3Hy[E9EUEWPQlyxPFc6PDZ|Lze+V2FPT0WUPD;hQi=>
MZ2-MEL
NXzvUop4T3Kxd4ToJGlvcGmkaYTpc44hSXO|YYm=
MoT3TWM2OD1|OT62OkBvVQ>?
NUXmfZNnRGFidHHy[4V1RSehYnzhcosoKGi{ZX[9K4h1fHC|Oj:ve5d4NmWkaT7hZ{52cy:laHXtZoww[2:vcH;1coRgemWyb4L0Y4NiemRxQ1jFUWJNOTh5OUS2N{8oRlODTlfFVlww[T5?
NB5
NGLES2VIem:5dHigTY5pcWKrdHnvckBCe3OjeR?=
MVXJR|UxRTRyLk[0JI5O
MUi8ZUB1[XKpZYS9K39jdGGwazegbJJm\j1paIT0dJM7Ny:5d4eu[YJqNmGlLoXrM4Np\W2kbD;jc41xd3WwZG;y[ZBwenShY3Hy[E9EUEWPQlyxPFc6PDZ|Lze+V2FPT0WUPD;hQi=>
G-401
M1P5bmdzd3e2aDDJcohq[mm2aX;uJGF{e2G7
M{W1XWlEPTB;NECuPFIhdk1?
M3zQd|xiKHSjcnfleF0oZ2KuYX7rK{BpemWoPTfoeJRxezpxL4f3e{5m[mlwYXOueYsw[2inbXLsM4NwdXCxdX7kY5JmeG:{dG;jZZJlN0OKRV3CUFE5Pzl2NkOvK|5USU6JRWK8M4E,
HT
NHWyVoxIem:5dHigTY5pcWKrdHnvckBCe3OjeR?=
NXrQdZA4UUN3ME20NU4xOiCwTR?=
MWm8ZUB1[XKpZYS9K39jdGGwazegbJJm\j1paIT0dJM7Ny:5d4eu[YJqNmGlLoXrM4Np\W2kbD;jc41xd3WwZG;y[ZBwenShY3Hy[E9EUEWPQlyxPFc6PDZ|Lze+V2FPT0WUPD;hQi=>
8305C
M3rNO2dzd3e2aDDJcohq[mm2aX;uJGF{e2G7
MnfyTWM2OD12MT64O{BvVQ>?
NWH2NVFrRGFidHHy[4V1RSehYnzhcosoKGi{ZX[9K4h1fHC|Oj:ve5d4NmWkaT7hZ{52cy:laHXtZoww[2:vcH;1coRgemWyb4L0Y4NiemRxQ1jFUWJNOTh5OUS2N{8oRlODTlfFVlww[T5?
BHY
NUW3b4F7T3Kxd4ToJGlvcGmkaYTpc44hSXO|YYm=
NWmzd|loUUN3ME20Nk44OiCwTR?=
NX;mN|c1RGFidHHy[4V1RSehYnzhcosoKGi{ZX[9K4h1fHC|Oj:ve5d4NmWkaT7hZ{52cy:laHXtZoww[2:vcH;1coRgemWyb4L0Y4NiemRxQ1jFUWJNOTh5OUS2N{8oRlODTlfFVlww[T5?
NTERA-S-cl-D1
MXrHdo94fGhiSX7obYJqfGmxbjDBd5NigQ>?
MnTDTWM2OD12MzDuUS=>
M4K5SVxiKHSjcnfleF0oZ2KuYX7rK{BpemWoPTfoeJRxezpxL4f3e{5m[mlwYXOueYsw[2inbXLsM4NwdXCxdX7kY5JmeG:{dG;jZZJlN0OKRV3CUFE5Pzl2NkOvK|5USU6JRWK8M4E,
T-24
NGXhc5lIem:5dHigTY5pcWKrdHnvckBCe3OjeR?=
NGK4SlBKSzVyPUSzMlg{KG6P
M4LIRVxiKHSjcnfleF0oZ2KuYX7rK{BpemWoPTfoeJRxezpxL4f3e{5m[mlwYXOueYsw[2inbXLsM4NwdXCxdX7kY5JmeG:{dG;jZZJlN0OKRV3CUFE5Pzl2NkOvK|5USU6JRWK8M4E,
EPLC-272H
M{PhWWdzd3e2aDDJcohq[mm2aX;uJGF{e2G7
MV;JR|UxRTR2LkO5JI5O
NUfSfWxKRGFidHHy[4V1RSehYnzhcosoKGi{ZX[9K4h1fHC|Oj:ve5d4NmWkaT7hZ{52cy:laHXtZoww[2:vcH;1coRgemWyb4L0Y4NiemRxQ1jFUWJNOTh5OUS2N{8oRlODTlfFVlww[T5?
PSN1
M{DHeWdzd3e2aDDJcohq[mm2aX;uJGF{e2G7
MXnJR|UxRTR2LkSgcm0>
M2TlZlxiKHSjcnfleF0oZ2KuYX7rK{BpemWoPTfoeJRxezpxL4f3e{5m[mlwYXOueYsw[2inbXLsM4NwdXCxdX7kY5JmeG:{dG;jZZJlN0OKRV3CUFE5Pzl2NkOvK|5USU6JRWK8M4E,
NCI-H2452
NXS1W4tMT3Kxd4ToJGlvcGmkaYTpc44hSXO|YYm=
NIXQTlBKSzVyPUS0MlU5KG6P
MUC8ZUB1[XKpZYS9K39jdGGwazegbJJm\j1paIT0dJM7Ny:5d4eu[YJqNmGlLoXrM4Np\W2kbD;jc41xd3WwZG;y[ZBwenShY3Hy[E9EUEWPQlyxPFc6PDZ|Lze+V2FPT0WUPD;hQi=>
KS-1
MVrHdo94fGhiSX7obYJqfGmxbjDBd5NigQ>?
M{PQZWlEPTB;NESuOlYhdk1?
MVy8ZUB1[XKpZYS9K39jdGGwazegbJJm\j1paIT0dJM7Ny:5d4eu[YJqNmGlLoXrM4Np\W2kbD;jc41xd3WwZG;y[ZBwenShY3Hy[E9EUEWPQlyxPFc6PDZ|Lze+V2FPT0WUPD;hQi=>
HD-MY-Z
MVnHdo94fGhiSX7obYJqfGmxbjDBd5NigQ>?
NHH2emlKSzVyPUS0MlkzKG6P
M4jDWVxiKHSjcnfleF0oZ2KuYX7rK{BpemWoPTfoeJRxezpxL4f3e{5m[mlwYXOueYsw[2inbXLsM4NwdXCxdX7kY5JmeG:{dG;jZZJlN0OKRV3CUFE5Pzl2NkOvK|5USU6JRWK8M4E,
KNS-62
MnH0S5Jwf3SqIFnubIljcXSrb36gRZN{[Xl?
MkXOTWM2OD12NT6zPEBvVQ>?
NHfnNmo9[SC2YYLn[ZQ:L1:kbHHub{chcHKnZk2nbJR1eHN8Lz;3e5cv\WKrLnHjMpVsN2OqZX3icE9kd22yb4Xu[H9z\XCxcoTfZ4Fz\C:FSFXNRmwyQDd7NE[zM{c,W0GQR1XSQE9iRg>?
NOMO-1
NWfYe5NlT3Kxd4ToJGlvcGmkaYTpc44hSXO|YYm=
NX;lcXBRUUN3ME20OU45PyCwTR?=
MorYQIEhfGG{Z3X0QUdg[myjbnunJIhz\WZ;J3j0eJB{Qi9xd4f3MoVjcS6jYz71b{9kcGWvYnyvZ49ueG:3bnTfdoVxd3K2X3PhdoQwS0iHTVLMNVg4QTR4Mz:nQnNCVkeHUkyvZV4>
SK-HEP-1
M{[4SGdzd3e2aDDJcohq[mm2aX;uJGF{e2G7
M3jZSGlEPTB;NE[uNFQhdk1?
M4X4[VxiKHSjcnfleF0oZ2KuYX7rK{BpemWoPTfoeJRxezpxL4f3e{5m[mlwYXOueYsw[2inbXLsM4NwdXCxdX7kY5JmeG:{dG;jZZJlN0OKRV3CUFE5Pzl2NkOvK|5USU6JRWK8M4E,
IGR-1
M3fDfWdzd3e2aDDJcohq[mm2aX;uJGF{e2G7
NF3qdoFKSzVyPUS2MlE{KG6P
MYO8ZUB1[XKpZYS9K39jdGGwazegbJJm\j1paIT0dJM7Ny:5d4eu[YJqNmGlLoXrM4Np\W2kbD;jc41xd3WwZG;y[ZBwenShY3Hy[E9EUEWPQlyxPFc6PDZ|Lze+V2FPT0WUPD;hQi=>
KYSE-180
MmG2S5Jwf3SqIFnubIljcXSrb36gRZN{[Xl?
NHnPRmFKSzVyPUS2MlE4KG6P
NFjUNVg9[SC2YYLn[ZQ:L1:kbHHub{chcHKnZk2nbJR1eHN8Lz;3e5cv\WKrLnHjMpVsN2OqZX3icE9kd22yb4Xu[H9z\XCxcoTfZ4Fz\C:FSFXNRmwyQDd7NE[zM{c,W0GQR1XSQE9iRg>?
EW-22
MWrHdo94fGhiSX7obYJqfGmxbjDBd5NigQ>?
Mn;HTWM2OD12Nj6yJI5O
MUS8ZUB1[XKpZYS9K39jdGGwazegbJJm\j1paIT0dJM7Ny:5d4eu[YJqNmGlLoXrM4Np\W2kbD;jc41xd3WwZG;y[ZBwenShY3Hy[E9EUEWPQlyxPFc6PDZ|Lze+V2FPT0WUPD;hQi=>
NCI-H1355
NUfGbnBuT3Kxd4ToJGlvcGmkaYTpc44hSXO|YYm=
MYXJR|UxRTR4LkO0JI5O
MXu8ZUB1[XKpZYS9K39jdGGwazegbJJm\j1paIT0dJM7Ny:5d4eu[YJqNmGlLoXrM4Np\W2kbD;jc41xd3WwZG;y[ZBwenShY3Hy[E9EUEWPQlyxPFc6PDZ|Lze+V2FPT0WUPD;hQi=>
DOHH-2
NITrcnJIem:5dHigTY5pcWKrdHnvckBCe3OjeR?=
NYPZTJdxUUN3ME20Ok4{PyCwTR?=
MnjkQIEhfGG{Z3X0QUdg[myjbnunJIhz\WZ;J3j0eJB{Qi9xd4f3MoVjcS6jYz71b{9kcGWvYnyvZ49ueG:3bnTfdoVxd3K2X3PhdoQwS0iHTVLMNVg4QTR4Mz:nQnNCVkeHUkyvZV4>
A4-Fuk
NX\tboFzT3Kxd4ToJGlvcGmkaYTpc44hSXO|YYm=
NX\ob4JPUUN3ME20Ok42OiCwTR?=
NXTnb4xRRGFidHHy[4V1RSehYnzhcosoKGi{ZX[9K4h1fHC|Oj:ve5d4NmWkaT7hZ{52cy:laHXtZoww[2:vcH;1coRgemWyb4L0Y4NiemRxQ1jFUWJNOTh5OUS2N{8oRlODTlfFVlww[T5?
PC-14
NV;GWJBMT3Kxd4ToJGlvcGmkaYTpc44hSXO|YYm=
M2T6bWlEPTB;NE[uOVchdk1?
MUK8ZUB1[XKpZYS9K39jdGGwazegbJJm\j1paIT0dJM7Ny:5d4eu[YJqNmGlLoXrM4Np\W2kbD;jc41xd3WwZG;y[ZBwenShY3Hy[E9EUEWPQlyxPFc6PDZ|Lze+V2FPT0WUPD;hQi=>
TE-5
NH7yUZJIem:5dHigTY5pcWKrdHnvckBCe3OjeR?=
NF3aOmRKSzVyPUS2Mlg1KG6P
NVK1XVduRGFidHHy[4V1RSehYnzhcosoKGi{ZX[9K4h1fHC|Oj:ve5d4NmWkaT7hZ{52cy:laHXtZoww[2:vcH;1coRgemWyb4L0Y4NiemRxQ1jFUWJNOTh5OUS2N{8oRlODTlfFVlww[T5?
LB996-RCC
M{LDcmdzd3e2aDDJcohq[mm2aX;uJGF{e2G7
M2Poe2lEPTB;NEeuNVkhdk1?
NGT4d4s9[SC2YYLn[ZQ:L1:kbHHub{chcHKnZk2nbJR1eHN8Lz;3e5cv\WKrLnHjMpVsN2OqZX3icE9kd22yb4Xu[H9z\XCxcoTfZ4Fz\C:FSFXNRmwyQDd7NE[zM{c,W0GQR1XSQE9iRg>?
NCI-H1623
NYXE[5dST3Kxd4ToJGlvcGmkaYTpc44hSXO|YYm=
MWrJR|UxRTR5Lke2JI5O
M{nIUFxiKHSjcnfleF0oZ2KuYX7rK{BpemWoPTfoeJRxezpxL4f3e{5m[mlwYXOueYsw[2inbXLsM4NwdXCxdX7kY5JmeG:{dG;jZZJlN0OKRV3CUFE5Pzl2NkOvK|5USU6JRWK8M4E,
NCI-H1155
NWrKZpU{T3Kxd4ToJGlvcGmkaYTpc44hSXO|YYm=
M3HhcWlEPTB;NEiuN|Ihdk1?
NGS4V2o9[SC2YYLn[ZQ:L1:kbHHub{chcHKnZk2nbJR1eHN8Lz;3e5cv\WKrLnHjMpVsN2OqZX3icE9kd22yb4Xu[H9z\XCxcoTfZ4Fz\C:FSFXNRmwyQDd7NE[zM{c,W0GQR1XSQE9iRg>?
LoVo
MkDrS5Jwf3SqIFnubIljcXSrb36gRZN{[Xl?
MUTJR|UxRTR6LkSgcm0>
NEDiXXY9[SC2YYLn[ZQ:L1:kbHHub{chcHKnZk2nbJR1eHN8Lz;3e5cv\WKrLnHjMpVsN2OqZX3icE9kd22yb4Xu[H9z\XCxcoTfZ4Fz\C:FSFXNRmwyQDd7NE[zM{c,W0GQR1XSQE9iRg>?
MCF7
NVrrXFhyT3Kxd4ToJGlvcGmkaYTpc44hSXO|YYm=
M1PxfGlEPTB;NEiuOVghdk1?
NHfTPWc9[SC2YYLn[ZQ:L1:kbHHub{chcHKnZk2nbJR1eHN8Lz;3e5cv\WKrLnHjMpVsN2OqZX3icE9kd22yb4Xu[H9z\XCxcoTfZ4Fz\C:FSFXNRmwyQDd7NE[zM{c,W0GQR1XSQE9iRg>?
AGS
M1HaWmdzd3e2aDDJcohq[mm2aX;uJGF{e2G7
M{fXOGlEPTB;NEiuO|chdk1?
M{jiSFxiKHSjcnfleF0oZ2KuYX7rK{BpemWoPTfoeJRxezpxL4f3e{5m[mlwYXOueYsw[2inbXLsM4NwdXCxdX7kY5JmeG:{dG;jZZJlN0OKRV3CUFE5Pzl2NkOvK|5USU6JRWK8M4E,
PFSK-1
NGL5eJdIem:5dHigTY5pcWKrdHnvckBCe3OjeR?=
MXXJR|UxRTR7LkC2JI5O
MorCQIEhfGG{Z3X0QUdg[myjbnunJIhz\WZ;J3j0eJB{Qi9xd4f3MoVjcS6jYz71b{9kcGWvYnyvZ49ueG:3bnTfdoVxd3K2X3PhdoQwS0iHTVLMNVg4QTR4Mz:nQnNCVkeHUkyvZV4>
22RV1
MnywS5Jwf3SqIFnubIljcXSrb36gRZN{[Xl?
M3j2cmlEPTB;NEmuNFkhdk1?
NIfWRmY9[SC2YYLn[ZQ:L1:kbHHub{chcHKnZk2nbJR1eHN8Lz;3e5cv\WKrLnHjMpVsN2OqZX3icE9kd22yb4Xu[H9z\XCxcoTfZ4Fz\C:FSFXNRmwyQDd7NE[zM{c,W0GQR1XSQE9iRg>?
COR-L23
NIrOelFIem:5dHigTY5pcWKrdHnvckBCe3OjeR?=
NI\XRoZKSzVyPUS5MlE3KG6P
MmryQIEhfGG{Z3X0QUdg[myjbnunJIhz\WZ;J3j0eJB{Qi9xd4f3MoVjcS6jYz71b{9kcGWvYnyvZ49ueG:3bnTfdoVxd3K2X3PhdoQwS0iHTVLMNVg4QTR4Mz:nQnNCVkeHUkyvZV4>
D-283MED
MkTKS5Jwf3SqIFnubIljcXSrb36gRZN{[Xl?
NVfRbVFSUUN3ME20PU43OSCwTR?=
NHS5NnA9[SC2YYLn[ZQ:L1:kbHHub{chcHKnZk2nbJR1eHN8Lz;3e5cv\WKrLnHjMpVsN2OqZX3icE9kd22yb4Xu[H9z\XCxcoTfZ4Fz\C:FSFXNRmwyQDd7NE[zM{c,W0GQR1XSQE9iRg>?
SW982
M1WzWGdzd3e2aDDJcohq[mm2aX;uJGF{e2G7
NV;OPIk4UUN3ME20PU46OSCwTR?=
NH[3UHc9[SC2YYLn[ZQ:L1:kbHHub{chcHKnZk2nbJR1eHN8Lz;3e5cv\WKrLnHjMpVsN2OqZX3icE9kd22yb4Xu[H9z\XCxcoTfZ4Fz\C:FSFXNRmwyQDd7NE[zM{c,W0GQR1XSQE9iRg>?
SW620
MUjHdo94fGhiSX7obYJqfGmxbjDBd5NigQ>?
NHHaU4tKSzVyPUWwMlM3KG6P
M2L0W|xiKHSjcnfleF0oZ2KuYX7rK{BpemWoPTfoeJRxezpxL4f3e{5m[mlwYXOueYsw[2inbXLsM4NwdXCxdX7kY5JmeG:{dG;jZZJlN0OKRV3CUFE5Pzl2NkOvK|5USU6JRWK8M4E,
KYSE-140
MXzHdo94fGhiSX7obYJqfGmxbjDBd5NigQ>?
NX7TfXQxUUN3ME21NE42PSCwTR?=
M4fDcVxiKHSjcnfleF0oZ2KuYX7rK{BpemWoPTfoeJRxezpxL4f3e{5m[mlwYXOueYsw[2inbXLsM4NwdXCxdX7kY5JmeG:{dG;jZZJlN0OKRV3CUFE5Pzl2NkOvK|5USU6JRWK8M4E,
GCIY
MlLtS5Jwf3SqIFnubIljcXSrb36gRZN{[Xl?
NWW1RVgzUUN3ME21NE43PyCwTR?=
MoTsQIEhfGG{Z3X0QUdg[myjbnunJIhz\WZ;J3j0eJB{Qi9xd4f3MoVjcS6jYz71b{9kcGWvYnyvZ49ueG:3bnTfdoVxd3K2X3PhdoQwS0iHTVLMNVg4QTR4Mz:nQnNCVkeHUkyvZV4>
MHH-ESS-1
NVLR[|hwT3Kxd4ToJGlvcGmkaYTpc44hSXO|YYm=
MVTJR|UxRTVzLkm1JI5O
MXi8ZUB1[XKpZYS9K39jdGGwazegbJJm\j1paIT0dJM7Ny:5d4eu[YJqNmGlLoXrM4Np\W2kbD;jc41xd3WwZG;y[ZBwenShY3Hy[E9EUEWPQlyxPFc6PDZ|Lze+V2FPT0WUPD;hQi=>
D-423MG
MWLHdo94fGhiSX7obYJqfGmxbjDBd5NigQ>?
NXLJWVNCUUN3ME21Nk4xQCCwTR?=
NUfJWm1WRGFidHHy[4V1RSehYnzhcosoKGi{ZX[9K4h1fHC|Oj:ve5d4NmWkaT7hZ{52cy:laHXtZoww[2:vcH;1coRgemWyb4L0Y4NiemRxQ1jFUWJNOTh5OUS2N{8oRlODTlfFVlww[T5?
SF539
NFjCPIdIem:5dHigTY5pcWKrdHnvckBCe3OjeR?=
NIP2eG9KSzVyPUWyMlM2KG6P
Ml7oQIEhfGG{Z3X0QUdg[myjbnunJIhz\WZ;J3j0eJB{Qi9xd4f3MoVjcS6jYz71b{9kcGWvYnyvZ49ueG:3bnTfdoVxd3K2X3PhdoQwS0iHTVLMNVg4QTR4Mz:nQnNCVkeHUkyvZV4>
RPMI-2650
M4DtXGdzd3e2aDDJcohq[mm2aX;uJGF{e2G7
NHLtcW1KSzVyPUWyMlY6KG6P
M2TVO|xiKHSjcnfleF0oZ2KuYX7rK{BpemWoPTfoeJRxezpxL4f3e{5m[mlwYXOueYsw[2inbXLsM4NwdXCxdX7kY5JmeG:{dG;jZZJlN0OKRV3CUFE5Pzl2NkOvK|5USU6JRWK8M4E,
GR-ST
NWD3Z2xKT3Kxd4ToJGlvcGmkaYTpc44hSXO|YYm=
NXj3emJRUUN3ME21Nk45PyCwTR?=
MXG8ZUB1[XKpZYS9K39jdGGwazegbJJm\j1paIT0dJM7Ny:5d4eu[YJqNmGlLoXrM4Np\W2kbD;jc41xd3WwZG;y[ZBwenShY3Hy[E9EUEWPQlyxPFc6PDZ|Lze+V2FPT0WUPD;hQi=>
YKG-1
MnS2S5Jwf3SqIFnubIljcXSrb36gRZN{[Xl?
MonrTWM2OD13MzDuUS=>
MlPKQIEhfGG{Z3X0QUdg[myjbnunJIhz\WZ;J3j0eJB{Qi9xd4f3MoVjcS6jYz71b{9kcGWvYnyvZ49ueG:3bnTfdoVxd3K2X3PhdoQwS0iHTVLMNVg4QTR4Mz:nQnNCVkeHUkyvZV4>
SK-MES-1
NVK5e|lMT3Kxd4ToJGlvcGmkaYTpc44hSXO|YYm=
MlLyTWM2OD13Mz6yOkBvVQ>?
M2DMdFxiKHSjcnfleF0oZ2KuYX7rK{BpemWoPTfoeJRxezpxL4f3e{5m[mlwYXOueYsw[2inbXLsM4NwdXCxdX7kY5JmeG:{dG;jZZJlN0OKRV3CUFE5Pzl2NkOvK|5USU6JRWK8M4E,
HLE
NILRUoJIem:5dHigTY5pcWKrdHnvckBCe3OjeR?=
MmrlTWM2OD13Mz60O{BvVQ>?
M3TKblxiKHSjcnfleF0oZ2KuYX7rK{BpemWoPTfoeJRxezpxL4f3e{5m[mlwYXOueYsw[2inbXLsM4NwdXCxdX7kY5JmeG:{dG;jZZJlN0OKRV3CUFE5Pzl2NkOvK|5USU6JRWK8M4E,
RVH-421
MX\Hdo94fGhiSX7obYJqfGmxbjDBd5NigQ>?
M4O1NmlEPTB;NUOuOlchdk1?
NYTsVVd5RGFidHHy[4V1RSehYnzhcosoKGi{ZX[9K4h1fHC|Oj:ve5d4NmWkaT7hZ{52cy:laHXtZoww[2:vcH;1coRgemWyb4L0Y4NiemRxQ1jFUWJNOTh5OUS2N{8oRlODTlfFVlww[T5?
C32
M4npSGdzd3e2aDDJcohq[mm2aX;uJGF{e2G7
NF\5UmlKSzVyPUWzMlg{KG6P
M2iw[|xiKHSjcnfleF0oZ2KuYX7rK{BpemWoPTfoeJRxezpxL4f3e{5m[mlwYXOueYsw[2inbXLsM4NwdXCxdX7kY5JmeG:{dG;jZZJlN0OKRV3CUFE5Pzl2NkOvK|5USU6JRWK8M4E,
GB-1
Ml\GS5Jwf3SqIFnubIljcXSrb36gRZN{[Xl?
NVvYNVFkUUN3ME21OE4zKG6P
NIPD[5g9[SC2YYLn[ZQ:L1:kbHHub{chcHKnZk2nbJR1eHN8Lz;3e5cv\WKrLnHjMpVsN2OqZX3icE9kd22yb4Xu[H9z\XCxcoTfZ4Fz\C:FSFXNRmwyQDd7NE[zM{c,W0GQR1XSQE9iRg>?
SNB75
M{DC[Wdzd3e2aDDJcohq[mm2aX;uJGF{e2G7
MmnOTWM2OD13ND6yOkBvVQ>?
MoPPQIEhfGG{Z3X0QUdg[myjbnunJIhz\WZ;J3j0eJB{Qi9xd4f3MoVjcS6jYz71b{9kcGWvYnyvZ49ueG:3bnTfdoVxd3K2X3PhdoQwS0iHTVLMNVg4QTR4Mz:nQnNCVkeHUkyvZV4>
EM-2
M1v2[mdzd3e2aDDJcohq[mm2aX;uJGF{e2G7
MYnJR|UxRTV2LkSgcm0>
NUfsWHBIRGFidHHy[4V1RSehYnzhcosoKGi{ZX[9K4h1fHC|Oj:ve5d4NmWkaT7hZ{52cy:laHXtZoww[2:vcH;1coRgemWyb4L0Y4NiemRxQ1jFUWJNOTh5OUS2N{8oRlODTlfFVlww[T5?
RH-1
MUjHdo94fGhiSX7obYJqfGmxbjDBd5NigQ>?
NHHDfXRKSzVyPUW0Mlchdk1?
NH\rVIY9[SC2YYLn[ZQ:L1:kbHHub{chcHKnZk2nbJR1eHN8Lz;3e5cv\WKrLnHjMpVsN2OqZX3icE9kd22yb4Xu[H9z\XCxcoTfZ4Fz\C:FSFXNRmwyQDd7NE[zM{c,W0GQR1XSQE9iRg>?
NKM-1
MUjHdo94fGhiSX7obYJqfGmxbjDBd5NigQ>?
MXHJR|UxRTV2LkixJI5O
MXS8ZUB1[XKpZYS9K39jdGGwazegbJJm\j1paIT0dJM7Ny:5d4eu[YJqNmGlLoXrM4Np\W2kbD;jc41xd3WwZG;y[ZBwenShY3Hy[E9EUEWPQlyxPFc6PDZ|Lze+V2FPT0WUPD;hQi=>
NCI-H2405
NHHl[ppIem:5dHigTY5pcWKrdHnvckBCe3OjeR?=
NWHPSplqUUN3ME21OE45QCCwTR?=
Mlm2QIEhfGG{Z3X0QUdg[myjbnunJIhz\WZ;J3j0eJB{Qi9xd4f3MoVjcS6jYz71b{9kcGWvYnyvZ49ueG:3bnTfdoVxd3K2X3PhdoQwS0iHTVLMNVg4QTR4Mz:nQnNCVkeHUkyvZV4>
KYSE-450
MmTkS5Jwf3SqIFnubIljcXSrb36gRZN{[Xl?
NHnme3FKSzVyPUW1MlE3KG6P
MmfNQIEhfGG{Z3X0QUdg[myjbnunJIhz\WZ;J3j0eJB{Qi9xd4f3MoVjcS6jYz71b{9kcGWvYnyvZ49ueG:3bnTfdoVxd3K2X3PhdoQwS0iHTVLMNVg4QTR4Mz:nQnNCVkeHUkyvZV4>
A704
NX\Y[5Y3T3Kxd4ToJGlvcGmkaYTpc44hSXO|YYm=
MlnITWM2OD13NT61PUBvVQ>?
MWC8ZUB1[XKpZYS9K39jdGGwazegbJJm\j1paIT0dJM7Ny:5d4eu[YJqNmGlLoXrM4Np\W2kbD;jc41xd3WwZG;y[ZBwenShY3Hy[E9EUEWPQlyxPFc6PDZ|Lze+V2FPT0WUPD;hQi=>
HAL-01
NH[3d3ZIem:5dHigTY5pcWKrdHnvckBCe3OjeR?=
Mn\JTWM2OD13NT64N{BvVQ>?
NWnOUZI1RGFidHHy[4V1RSehYnzhcosoKGi{ZX[9K4h1fHC|Oj:ve5d4NmWkaT7hZ{52cy:laHXtZoww[2:vcH;1coRgemWyb4L0Y4NiemRxQ1jFUWJNOTh5OUS2N{8oRlODTlfFVlww[T5?
TE-11
NXntT2lmT3Kxd4ToJGlvcGmkaYTpc44hSXO|YYm=
NYq5bno2UUN3ME21OU46QSCwTR?=
MmDXQIEhfGG{Z3X0QUdg[myjbnunJIhz\WZ;J3j0eJB{Qi9xd4f3MoVjcS6jYz71b{9kcGWvYnyvZ49ueG:3bnTfdoVxd3K2X3PhdoQwS0iHTVLMNVg4QTR4Mz:nQnNCVkeHUkyvZV4>
DOK
NYi2S5JwT3Kxd4ToJGlvcGmkaYTpc44hSXO|YYm=
MVrJR|UxRTV4LkCyJI5O
MUS8ZUB1[XKpZYS9K39jdGGwazegbJJm\j1paIT0dJM7Ny:5d4eu[YJqNmGlLoXrM4Np\W2kbD;jc41xd3WwZG;y[ZBwenShY3Hy[E9EUEWPQlyxPFc6PDZ|Lze+V2FPT0WUPD;hQi=>
KY821
M4PnRWdzd3e2aDDJcohq[mm2aX;uJGF{e2G7
MWHJR|UxRTV4LkKgcm0>
NIm2Xnc9[SC2YYLn[ZQ:L1:kbHHub{chcHKnZk2nbJR1eHN8Lz;3e5cv\WKrLnHjMpVsN2OqZX3icE9kd22yb4Xu[H9z\XCxcoTfZ4Fz\C:FSFXNRmwyQDd7NE[zM{c,W0GQR1XSQE9iRg>?
KGN
M4DIUmdzd3e2aDDJcohq[mm2aX;uJGF{e2G7
M375TmlEPTB;NU[uN|Ihdk1?
MYe8ZUB1[XKpZYS9K39jdGGwazegbJJm\j1paIT0dJM7Ny:5d4eu[YJqNmGlLoXrM4Np\W2kbD;jc41xd3WwZG;y[ZBwenShY3Hy[E9EUEWPQlyxPFc6PDZ|Lze+V2FPT0WUPD;hQi=>
MC116
MmfXS5Jwf3SqIFnubIljcXSrb36gRZN{[Xl?
Ml7HTWM2OD13Nz64JI5O
MkSxQIEhfGG{Z3X0QUdg[myjbnunJIhz\WZ;J3j0eJB{Qi9xd4f3MoVjcS6jYz71b{9kcGWvYnyvZ49ueG:3bnTfdoVxd3K2X3PhdoQwS0iHTVLMNVg4QTR4Mz:nQnNCVkeHUkyvZV4>
PANC-08-13
NFnNblhIem:5dHigTY5pcWKrdHnvckBCe3OjeR?=
Ml72TWM2OD13OD6wNUBvVQ>?
MXm8ZUB1[XKpZYS9K39jdGGwazegbJJm\j1paIT0dJM7Ny:5d4eu[YJqNmGlLoXrM4Np\W2kbD;jc41xd3WwZG;y[ZBwenShY3Hy[E9EUEWPQlyxPFc6PDZ|Lze+V2FPT0WUPD;hQi=>
KE-37
MnrOS5Jwf3SqIFnubIljcXSrb36gRZN{[Xl?
MlXtTWM2OD13OD63O{BvVQ>?
MVm8ZUB1[XKpZYS9K39jdGGwazegbJJm\j1paIT0dJM7Ny:5d4eu[YJqNmGlLoXrM4Np\W2kbD;jc41xd3WwZG;y[ZBwenShY3Hy[E9EUEWPQlyxPFc6PDZ|Lze+V2FPT0WUPD;hQi=>
KYSE-410
NW\2[5lKT3Kxd4ToJGlvcGmkaYTpc44hSXO|YYm=
NWfweppkUUN3ME21PU41PyCwTR?=
NIXaZ|c9[SC2YYLn[ZQ:L1:kbHHub{chcHKnZk2nbJR1eHN8Lz;3e5cv\WKrLnHjMpVsN2OqZX3icE9kd22yb4Xu[H9z\XCxcoTfZ4Fz\C:FSFXNRmwyQDd7NE[zM{c,W0GQR1XSQE9iRg>?
RO82-W-1
M2TBSWdzd3e2aDDJcohq[mm2aX;uJGF{e2G7
MYfJR|UxRTV7Lkmgcm0>
M2T5PFxiKHSjcnfleF0oZ2KuYX7rK{BpemWoPTfoeJRxezpxL4f3e{5m[mlwYXOueYsw[2inbXLsM4NwdXCxdX7kY5JmeG:{dG;jZZJlN0OKRV3CUFE5Pzl2NkOvK|5USU6JRWK8M4E,
M14
Mn73S5Jwf3SqIFnubIljcXSrb36gRZN{[Xl?
NUnYOGdUUUN3ME22NE4xPCCwTR?=
M3XyZlxiKHSjcnfleF0oZ2KuYX7rK{BpemWoPTfoeJRxezpxL4f3e{5m[mlwYXOueYsw[2inbXLsM4NwdXCxdX7kY5JmeG:{dG;jZZJlN0OKRV3CUFE5Pzl2NkOvK|5USU6JRWK8M4E,
GI-1
NE\kNXRIem:5dHigTY5pcWKrdHnvckBCe3OjeR?=
MlL3TWM2OD14MD6zJI5O
M1H5S|xiKHSjcnfleF0oZ2KuYX7rK{BpemWoPTfoeJRxezpxL4f3e{5m[mlwYXOueYsw[2inbXLsM4NwdXCxdX7kY5JmeG:{dG;jZZJlN0OKRV3CUFE5Pzl2NkOvK|5USU6JRWK8M4E,
ML-2
NU\3S4xpT3Kxd4ToJGlvcGmkaYTpc44hSXO|YYm=
NYW3OYdqUUN3ME22NE43OiCwTR?=
MWm8ZUB1[XKpZYS9K39jdGGwazegbJJm\j1paIT0dJM7Ny:5d4eu[YJqNmGlLoXrM4Np\W2kbD;jc41xd3WwZG;y[ZBwenShY3Hy[E9EUEWPQlyxPFc6PDZ|Lze+V2FPT0WUPD;hQi=>
BFTC-905
MlzWS5Jwf3SqIFnubIljcXSrb36gRZN{[Xl?
NVvWU|hKUUN3ME22NE43PSCwTR?=
NX3WdmtiRGFidHHy[4V1RSehYnzhcosoKGi{ZX[9K4h1fHC|Oj:ve5d4NmWkaT7hZ{52cy:laHXtZoww[2:vcH;1coRgemWyb4L0Y4NiemRxQ1jFUWJNOTh5OUS2N{8oRlODTlfFVlww[T5?
DMS-273
MYTHdo94fGhiSX7obYJqfGmxbjDBd5NigQ>?
MojVTWM2OD14MD64O{BvVQ>?
MYi8ZUB1[XKpZYS9K39jdGGwazegbJJm\j1paIT0dJM7Ny:5d4eu[YJqNmGlLoXrM4Np\W2kbD;jc41xd3WwZG;y[ZBwenShY3Hy[E9EUEWPQlyxPFc6PDZ|Lze+V2FPT0WUPD;hQi=>
MDA-MB-361
NFTBT2hIem:5dHigTY5pcWKrdHnvckBCe3OjeR?=
NFmwNY9KSzVyPU[xJI5O
MV68ZUB1[XKpZYS9K39jdGGwazegbJJm\j1paIT0dJM7Ny:5d4eu[YJqNmGlLoXrM4Np\W2kbD;jc41xd3WwZG;y[ZBwenShY3Hy[E9EUEWPQlyxPFc6PDZ|Lze+V2FPT0WUPD;hQi=>
MSTO-211H
NIj0XpJIem:5dHigTY5pcWKrdHnvckBCe3OjeR?=
NWDx[IpWUUN3ME22N{42OSCwTR?=
M4TrclxiKHSjcnfleF0oZ2KuYX7rK{BpemWoPTfoeJRxezpxL4f3e{5m[mlwYXOueYsw[2inbXLsM4NwdXCxdX7kY5JmeG:{dG;jZZJlN0OKRV3CUFE5Pzl2NkOvK|5USU6JRWK8M4E,
MEG-01
NV7zPVJET3Kxd4ToJGlvcGmkaYTpc44hSXO|YYm=
NF3LW|ZKSzVyPU[zMlUzKG6P
MojkQIEhfGG{Z3X0QUdg[myjbnunJIhz\WZ;J3j0eJB{Qi9xd4f3MoVjcS6jYz71b{9kcGWvYnyvZ49ueG:3bnTfdoVxd3K2X3PhdoQwS0iHTVLMNVg4QTR4Mz:nQnNCVkeHUkyvZV4>
M059J
MUXHdo94fGhiSX7obYJqfGmxbjDBd5NigQ>?
NXH2foxyUUN3ME22N{42QCCwTR?=
MWS8ZUB1[XKpZYS9K39jdGGwazegbJJm\j1paIT0dJM7Ny:5d4eu[YJqNmGlLoXrM4Np\W2kbD;jc41xd3WwZG;y[ZBwenShY3Hy[E9EUEWPQlyxPFc6PDZ|Lze+V2FPT0WUPD;hQi=>
LN-405
NWDTZW1yT3Kxd4ToJGlvcGmkaYTpc44hSXO|YYm=
M2HUNmlEPTB;NkOuPFUhdk1?
NHfzTmE9[SC2YYLn[ZQ:L1:kbHHub{chcHKnZk2nbJR1eHN8Lz;3e5cv\WKrLnHjMpVsN2OqZX3icE9kd22yb4Xu[H9z\XCxcoTfZ4Fz\C:FSFXNRmwyQDd7NE[zM{c,W0GQR1XSQE9iRg>?
NCI-H1581
NEnLSHVIem:5dHigTY5pcWKrdHnvckBCe3OjeR?=
NIDEXlRKSzVyPU[0MlA{KG6P
MXS8ZUB1[XKpZYS9K39jdGGwazegbJJm\j1paIT0dJM7Ny:5d4eu[YJqNmGlLoXrM4Np\W2kbD;jc41xd3WwZG;y[ZBwenShY3Hy[E9EUEWPQlyxPFc6PDZ|Lze+V2FPT0WUPD;hQi=>
TCCSUP
NFfndGlIem:5dHigTY5pcWKrdHnvckBCe3OjeR?=
NWrzeol5UUN3ME22OE42OyCwTR?=
NGjqVGc9[SC2YYLn[ZQ:L1:kbHHub{chcHKnZk2nbJR1eHN8Lz;3e5cv\WKrLnHjMpVsN2OqZX3icE9kd22yb4Xu[H9z\XCxcoTfZ4Fz\C:FSFXNRmwyQDd7NE[zM{c,W0GQR1XSQE9iRg>?
SW872
NIi0UFJIem:5dHigTY5pcWKrdHnvckBCe3OjeR?=
NULOSGtPUUN3ME22OE42PyCwTR?=
M1PO[lxiKHSjcnfleF0oZ2KuYX7rK{BpemWoPTfoeJRxezpxL4f3e{5m[mlwYXOueYsw[2inbXLsM4NwdXCxdX7kY5JmeG:{dG;jZZJlN0OKRV3CUFE5Pzl2NkOvK|5USU6JRWK8M4E,
KYSE-510
NGfCWIxIem:5dHigTY5pcWKrdHnvckBCe3OjeR?=
NWHKVJhXUUN3ME22OU44PSCwTR?=
M{TyZlxiKHSjcnfleF0oZ2KuYX7rK{BpemWoPTfoeJRxezpxL4f3e{5m[mlwYXOueYsw[2inbXLsM4NwdXCxdX7kY5JmeG:{dG;jZZJlN0OKRV3CUFE5Pzl2NkOvK|5USU6JRWK8M4E,
NCI-H1792
NV[2c2w5T3Kxd4ToJGlvcGmkaYTpc44hSXO|YYm=
MlTyTWM2OD14Nj6xOUBvVQ>?
NVP1WJRPRGFidHHy[4V1RSehYnzhcosoKGi{ZX[9K4h1fHC|Oj:ve5d4NmWkaT7hZ{52cy:laHXtZoww[2:vcH;1coRgemWyb4L0Y4NiemRxQ1jFUWJNOTh5OUS2N{8oRlODTlfFVlww[T5?
SW13
MUDHdo94fGhiSX7obYJqfGmxbjDBd5NigQ>?
NImyeWJKSzVyPU[2MlUhdk1?
M3jDNVxiKHSjcnfleF0oZ2KuYX7rK{BpemWoPTfoeJRxezpxL4f3e{5m[mlwYXOueYsw[2inbXLsM4NwdXCxdX7kY5JmeG:{dG;jZZJlN0OKRV3CUFE5Pzl2NkOvK|5USU6JRWK8M4E,
TE-8
Mm\nS5Jwf3SqIFnubIljcXSrb36gRZN{[Xl?
NETsb5VKSzVyPU[2MlUzKG6P
NGflc409[SC2YYLn[ZQ:L1:kbHHub{chcHKnZk2nbJR1eHN8Lz;3e5cv\WKrLnHjMpVsN2OqZX3icE9kd22yb4Xu[H9z\XCxcoTfZ4Fz\C:FSFXNRmwyQDd7NE[zM{c,W0GQR1XSQE9iRg>?
SCH
M3LWR2dzd3e2aDDJcohq[mm2aX;uJGF{e2G7
MoewTWM2OD14Nz6xJI5O
NGq5dXQ9[SC2YYLn[ZQ:L1:kbHHub{chcHKnZk2nbJR1eHN8Lz;3e5cv\WKrLnHjMpVsN2OqZX3icE9kd22yb4Xu[H9z\XCxcoTfZ4Fz\C:FSFXNRmwyQDd7NE[zM{c,W0GQR1XSQE9iRg>?
NEC8
NXn5UmFkT3Kxd4ToJGlvcGmkaYTpc44hSXO|YYm=
M4TzcmlEPTB;NkeuNlQhdk1?
M{SwWFxiKHSjcnfleF0oZ2KuYX7rK{BpemWoPTfoeJRxezpxL4f3e{5m[mlwYXOueYsw[2inbXLsM4NwdXCxdX7kY5JmeG:{dG;jZZJlN0OKRV3CUFE5Pzl2NkOvK|5USU6JRWK8M4E,
HuO-3N1
NFW2ZohIem:5dHigTY5pcWKrdHnvckBCe3OjeR?=
M1PxZ2lEPTB;NkeuN|Ehdk1?
M2nXSFxiKHSjcnfleF0oZ2KuYX7rK{BpemWoPTfoeJRxezpxL4f3e{5m[mlwYXOueYsw[2inbXLsM4NwdXCxdX7kY5JmeG:{dG;jZZJlN0OKRV3CUFE5Pzl2NkOvK|5USU6JRWK8M4E,
EFM-19
MV3Hdo94fGhiSX7obYJqfGmxbjDBd5NigQ>?
NFm2WZRKSzVyPU[3MlUhdk1?
NYXlRoVjRGFidHHy[4V1RSehYnzhcosoKGi{ZX[9K4h1fHC|Oj:ve5d4NmWkaT7hZ{52cy:laHXtZoww[2:vcH;1coRgemWyb4L0Y4NiemRxQ1jFUWJNOTh5OUS2N{8oRlODTlfFVlww[T5?
HEC-1
MoW1S5Jwf3SqIFnubIljcXSrb36gRZN{[Xl?
M{j6ZWlEPTB;NkeuOVIhdk1?
MVe8ZUB1[XKpZYS9K39jdGGwazegbJJm\j1paIT0dJM7Ny:5d4eu[YJqNmGlLoXrM4Np\W2kbD;jc41xd3WwZG;y[ZBwenShY3Hy[E9EUEWPQlyxPFc6PDZ|Lze+V2FPT0WUPD;hQi=>
T47D
NYe0WXQ5T3Kxd4ToJGlvcGmkaYTpc44hSXO|YYm=
NVzobZduUUN3ME22O{45PyCwTR?=
M2jlWlxiKHSjcnfleF0oZ2KuYX7rK{BpemWoPTfoeJRxezpxL4f3e{5m[mlwYXOueYsw[2inbXLsM4NwdXCxdX7kY5JmeG:{dG;jZZJlN0OKRV3CUFE5Pzl2NkOvK|5USU6JRWK8M4E,
SNU-423
NV7EO5lLT3Kxd4ToJGlvcGmkaYTpc44hSXO|YYm=
NIq1NJRKSzVyPU[3Mlk5KG6P
MmnhQIEhfGG{Z3X0QUdg[myjbnunJIhz\WZ;J3j0eJB{Qi9xd4f3MoVjcS6jYz71b{9kcGWvYnyvZ49ueG:3bnTfdoVxd3K2X3PhdoQwS0iHTVLMNVg4QTR4Mz:nQnNCVkeHUkyvZV4>
WM-115
MXrHdo94fGhiSX7obYJqfGmxbjDBd5NigQ>?
MWDJR|UxRTZ6LkG0JI5O
Moj6QIEhfGG{Z3X0QUdg[myjbnunJIhz\WZ;J3j0eJB{Qi9xd4f3MoVjcS6jYz71b{9kcGWvYnyvZ49ueG:3bnTfdoVxd3K2X3PhdoQwS0iHTVLMNVg4QTR4Mz:nQnNCVkeHUkyvZV4>
CaR-1
MYXHdo94fGhiSX7obYJqfGmxbjDBd5NigQ>?
Ml7zTWM2OD14OD6yOUBvVQ>?
M{S4UVxiKHSjcnfleF0oZ2KuYX7rK{BpemWoPTfoeJRxezpxL4f3e{5m[mlwYXOueYsw[2inbXLsM4NwdXCxdX7kY5JmeG:{dG;jZZJlN0OKRV3CUFE5Pzl2NkOvK|5USU6JRWK8M4E,
KU812
NFntNXhIem:5dHigTY5pcWKrdHnvckBCe3OjeR?=
MWDJR|UxRTZ6Lk[5JI5O
NVjLeYNQRGFidHHy[4V1RSehYnzhcosoKGi{ZX[9K4h1fHC|Oj:ve5d4NmWkaT7hZ{52cy:laHXtZoww[2:vcH;1coRgemWyb4L0Y4NiemRxQ1jFUWJNOTh5OUS2N{8oRlODTlfFVlww[T5?
AM-38
NGDKSWlIem:5dHigTY5pcWKrdHnvckBCe3OjeR?=
NIDTZ3hKSzVyPU[5MlMyKG6P
MXS8ZUB1[XKpZYS9K39jdGGwazegbJJm\j1paIT0dJM7Ny:5d4eu[YJqNmGlLoXrM4Np\W2kbD;jc41xd3WwZG;y[ZBwenShY3Hy[E9EUEWPQlyxPFc6PDZ|Lze+V2FPT0WUPD;hQi=>
KOSC-2
M{nrW2dzd3e2aDDJcohq[mm2aX;uJGF{e2G7
MnjDTWM2OD14OT65O{BvVQ>?
NHuy[2c9[SC2YYLn[ZQ:L1:kbHHub{chcHKnZk2nbJR1eHN8Lz;3e5cv\WKrLnHjMpVsN2OqZX3icE9kd22yb4Xu[H9z\XCxcoTfZ4Fz\C:FSFXNRmwyQDd7NE[zM{c,W0GQR1XSQE9iRg>?
MC-IXC
MkPLS5Jwf3SqIFnubIljcXSrb36gRZN{[Xl?
MkKxTWM2OD15MD6wPEBvVQ>?
NWPmfmt4RGFidHHy[4V1RSehYnzhcosoKGi{ZX[9K4h1fHC|Oj:ve5d4NmWkaT7hZ{52cy:laHXtZoww[2:vcH;1coRgemWyb4L0Y4NiemRxQ1jFUWJNOTh5OUS2N{8oRlODTlfFVlww[T5?
SCC-4
NWnpNIVqT3Kxd4ToJGlvcGmkaYTpc44hSXO|YYm=
M3:3[WlEPTB;N{GuN|ghdk1?
NEnDXok9[SC2YYLn[ZQ:L1:kbHHub{chcHKnZk2nbJR1eHN8Lz;3e5cv\WKrLnHjMpVsN2OqZX3icE9kd22yb4Xu[H9z\XCxcoTfZ4Fz\C:FSFXNRmwyQDd7NE[zM{c,W0GQR1XSQE9iRg>?
Calu-3
NGP2c|NIem:5dHigTY5pcWKrdHnvckBCe3OjeR?=
MmTqTWM2OD15MT65PEBvVQ>?
MknCQIEhfGG{Z3X0QUdg[myjbnunJIhz\WZ;J3j0eJB{Qi9xd4f3MoVjcS6jYz71b{9kcGWvYnyvZ49ueG:3bnTfdoVxd3K2X3PhdoQwS0iHTVLMNVg4QTR4Mz:nQnNCVkeHUkyvZV4>
RPMI-8866
MkflS5Jwf3SqIFnubIljcXSrb36gRZN{[Xl?
M3zLWGlEPTB;N{KuPFIhdk1?
NW\HfIVURGFidHHy[4V1RSehYnzhcosoKGi{ZX[9K4h1fHC|Oj:ve5d4NmWkaT7hZ{52cy:laHXtZoww[2:vcH;1coRgemWyb4L0Y4NiemRxQ1jFUWJNOTh5OUS2N{8oRlODTlfFVlww[T5?
OVCAR-4
MVLHdo94fGhiSX7obYJqfGmxbjDBd5NigQ>?
M3Ll[2lEPTB;N{OuN|Yhdk1?
NYfPcVZMRGFidHHy[4V1RSehYnzhcosoKGi{ZX[9K4h1fHC|Oj:ve5d4NmWkaT7hZ{52cy:laHXtZoww[2:vcH;1coRgemWyb4L0Y4NiemRxQ1jFUWJNOTh5OUS2N{8oRlODTlfFVlww[T5?
OAW-42
NU\KOZNwT3Kxd4ToJGlvcGmkaYTpc44hSXO|YYm=
MYPJR|UxRTd|LkO5JI5O
MXy8ZUB1[XKpZYS9K39jdGGwazegbJJm\j1paIT0dJM7Ny:5d4eu[YJqNmGlLoXrM4Np\W2kbD;jc41xd3WwZG;y[ZBwenShY3Hy[E9EUEWPQlyxPFc6PDZ|Lze+V2FPT0WUPD;hQi=>
ATN-1
MmjkS5Jwf3SqIFnubIljcXSrb36gRZN{[Xl?
NYq3R25wUUN3ME23N{45PyCwTR?=
M1vZcFxiKHSjcnfleF0oZ2KuYX7rK{BpemWoPTfoeJRxezpxL4f3e{5m[mlwYXOueYsw[2inbXLsM4NwdXCxdX7kY5JmeG:{dG;jZZJlN0OKRV3CUFE5Pzl2NkOvK|5USU6JRWK8M4E,
CHP-212
NVrmO3d{T3Kxd4ToJGlvcGmkaYTpc44hSXO|YYm=
Mn[yTWM2OD15ND65OUBvVQ>?
MlLsQIEhfGG{Z3X0QUdg[myjbnunJIhz\WZ;J3j0eJB{Qi9xd4f3MoVjcS6jYz71b{9kcGWvYnyvZ49ueG:3bnTfdoVxd3K2X3PhdoQwS0iHTVLMNVg4QTR4Mz:nQnNCVkeHUkyvZV4>
C2BBe1
NWS0dWZLT3Kxd4ToJGlvcGmkaYTpc44hSXO|YYm=
MnzHTWM2OD15NT6wN{BvVQ>?
Ml:yQIEhfGG{Z3X0QUdg[myjbnunJIhz\WZ;J3j0eJB{Qi9xd4f3MoVjcS6jYz71b{9kcGWvYnyvZ49ueG:3bnTfdoVxd3K2X3PhdoQwS0iHTVLMNVg4QTR4Mz:nQnNCVkeHUkyvZV4>
A498
NICzdpRIem:5dHigTY5pcWKrdHnvckBCe3OjeR?=
MYjJR|UxRTd3LkG1JI5O
MXG8ZUB1[XKpZYS9K39jdGGwazegbJJm\j1paIT0dJM7Ny:5d4eu[YJqNmGlLoXrM4Np\W2kbD;jc41xd3WwZG;y[ZBwenShY3Hy[E9EUEWPQlyxPFc6PDZ|Lze+V2FPT0WUPD;hQi=>
SH-4
MX\Hdo94fGhiSX7obYJqfGmxbjDBd5NigQ>?
M2rkSmlEPTB;N{WuNlEhdk1?
M{XK[lxiKHSjcnfleF0oZ2KuYX7rK{BpemWoPTfoeJRxezpxL4f3e{5m[mlwYXOueYsw[2inbXLsM4NwdXCxdX7kY5JmeG:{dG;jZZJlN0OKRV3CUFE5Pzl2NkOvK|5USU6JRWK8M4E,
SNU-449
NV\ufpB6T3Kxd4ToJGlvcGmkaYTpc44hSXO|YYm=
NXvLUY91UUN3ME23OU44QSCwTR?=
MkXHQIEhfGG{Z3X0QUdg[myjbnunJIhz\WZ;J3j0eJB{Qi9xd4f3MoVjcS6jYz71b{9kcGWvYnyvZ49ueG:3bnTfdoVxd3K2X3PhdoQwS0iHTVLMNVg4QTR4Mz:nQnNCVkeHUkyvZV4>
RD
NE\ueVJIem:5dHigTY5pcWKrdHnvckBCe3OjeR?=
MYnJR|UxRTd3Lki2JI5O
MUO8ZUB1[XKpZYS9K39jdGGwazegbJJm\j1paIT0dJM7Ny:5d4eu[YJqNmGlLoXrM4Np\W2kbD;jc41xd3WwZG;y[ZBwenShY3Hy[E9EUEWPQlyxPFc6PDZ|Lze+V2FPT0WUPD;hQi=>
PANC-03-27
M4r4Wmdzd3e2aDDJcohq[mm2aX;uJGF{e2G7
NE[ySpRKSzVyPUe2MlI2KG6P
NH\DfWE9[SC2YYLn[ZQ:L1:kbHHub{chcHKnZk2nbJR1eHN8Lz;3e5cv\WKrLnHjMpVsN2OqZX3icE9kd22yb4Xu[H9z\XCxcoTfZ4Fz\C:FSFXNRmwyQDd7NE[zM{c,W0GQR1XSQE9iRg>?
S-117
MYLHdo94fGhiSX7obYJqfGmxbjDBd5NigQ>?
MkXSTWM2OD15Nj6yO{BvVQ>?
NGPsNIs9[SC2YYLn[ZQ:L1:kbHHub{chcHKnZk2nbJR1eHN8Lz;3e5cv\WKrLnHjMpVsN2OqZX3icE9kd22yb4Xu[H9z\XCxcoTfZ4Fz\C:FSFXNRmwyQDd7NE[zM{c,W0GQR1XSQE9iRg>?
SK-MEL-2
MX\Hdo94fGhiSX7obYJqfGmxbjDBd5NigQ>?
NELIcoJKSzVyPUe2Mlc2KG6P
MlfwQIEhfGG{Z3X0QUdg[myjbnunJIhz\WZ;J3j0eJB{Qi9xd4f3MoVjcS6jYz71b{9kcGWvYnyvZ49ueG:3bnTfdoVxd3K2X3PhdoQwS0iHTVLMNVg4QTR4Mz:nQnNCVkeHUkyvZV4>
LK-2
MlPMS5Jwf3SqIFnubIljcXSrb36gRZN{[Xl?
MUXJR|UxRTd5LkC1JI5O
MkLRQIEhfGG{Z3X0QUdg[myjbnunJIhz\WZ;J3j0eJB{Qi9xd4f3MoVjcS6jYz71b{9kcGWvYnyvZ49ueG:3bnTfdoVxd3K2X3PhdoQwS0iHTVLMNVg4QTR4Mz:nQnNCVkeHUkyvZV4>
CP50-MEL-B
M1nINmdzd3e2aDDJcohq[mm2aX;uJGF{e2G7
NWDZUZpCUUN3ME23O{41KG6P
MYW8ZUB1[XKpZYS9K39jdGGwazegbJJm\j1paIT0dJM7Ny:5d4eu[YJqNmGlLoXrM4Np\W2kbD;jc41xd3WwZG;y[ZBwenShY3Hy[E9EUEWPQlyxPFc6PDZ|Lze+V2FPT0WUPD;hQi=>
647-V
NWG4UYFGT3Kxd4ToJGlvcGmkaYTpc44hSXO|YYm=
NH7HNo9KSzVyPUe4MlA4KG6P
MVW8ZUB1[XKpZYS9K39jdGGwazegbJJm\j1paIT0dJM7Ny:5d4eu[YJqNmGlLoXrM4Np\W2kbD;jc41xd3WwZG;y[ZBwenShY3Hy[E9EUEWPQlyxPFc6PDZ|Lze+V2FPT0WUPD;hQi=>
LU-134-A
MljqS5Jwf3SqIFnubIljcXSrb36gRZN{[Xl?
M4Ll[WlEPTB;N{muNFMhdk1?
NGT0TZc9[SC2YYLn[ZQ:L1:kbHHub{chcHKnZk2nbJR1eHN8Lz;3e5cv\WKrLnHjMpVsN2OqZX3icE9kd22yb4Xu[H9z\XCxcoTfZ4Fz\C:FSFXNRmwyQDd7NE[zM{c,W0GQR1XSQE9iRg>?
5637
NUPGZmFtT3Kxd4ToJGlvcGmkaYTpc44hSXO|YYm=
NVe0[ZIzUUN3ME23PU4zOyCwTR?=
M3XCXlxiKHSjcnfleF0oZ2KuYX7rK{BpemWoPTfoeJRxezpxL4f3e{5m[mlwYXOueYsw[2inbXLsM4NwdXCxdX7kY5JmeG:{dG;jZZJlN0OKRV3CUFE5Pzl2NkOvK|5USU6JRWK8M4E,
NCI-H1437
MlnsS5Jwf3SqIFnubIljcXSrb36gRZN{[Xl?
NF63dlBKSzVyPUiwMlUhdk1?
NVLyTGZuRGFidHHy[4V1RSehYnzhcosoKGi{ZX[9K4h1fHC|Oj:ve5d4NmWkaT7hZ{52cy:laHXtZoww[2:vcH;1coRgemWyb4L0Y4NiemRxQ1jFUWJNOTh5OUS2N{8oRlODTlfFVlww[T5?
NCI-H460
MkXBS5Jwf3SqIFnubIljcXSrb36gRZN{[Xl?
NY\6b4JGUUN3ME24NU4zOyCwTR?=
MWe8ZUB1[XKpZYS9K39jdGGwazegbJJm\j1paIT0dJM7Ny:5d4eu[YJqNmGlLoXrM4Np\W2kbD;jc41xd3WwZG;y[ZBwenShY3Hy[E9EUEWPQlyxPFc6PDZ|Lze+V2FPT0WUPD;hQi=>
BxPC-3
NF\V[opIem:5dHigTY5pcWKrdHnvckBCe3OjeR?=
NYLwNWVSUUN3ME24NU41PiCwTR?=
Mn7vQIEhfGG{Z3X0QUdg[myjbnunJIhz\WZ;J3j0eJB{Qi9xd4f3MoVjcS6jYz71b{9kcGWvYnyvZ49ueG:3bnTfdoVxd3K2X3PhdoQwS0iHTVLMNVg4QTR4Mz:nQnNCVkeHUkyvZV4>
CAN
NHfRRphIem:5dHigTY5pcWKrdHnvckBCe3OjeR?=
NELOSXpKSzVyPUixMlg1KG6P
M2e5S|xiKHSjcnfleF0oZ2KuYX7rK{BpemWoPTfoeJRxezpxL4f3e{5m[mlwYXOueYsw[2inbXLsM4NwdXCxdX7kY5JmeG:{dG;jZZJlN0OKRV3CUFE5Pzl2NkOvK|5USU6JRWK8M4E,
KINGS-1
M{nGNWdzd3e2aDDJcohq[mm2aX;uJGF{e2G7
M2jObGlEPTB;OEKuN|Ihdk1?
MWq8ZUB1[XKpZYS9K39jdGGwazegbJJm\j1paIT0dJM7Ny:5d4eu[YJqNmGlLoXrM4Np\W2kbD;jc41xd3WwZG;y[ZBwenShY3Hy[E9EUEWPQlyxPFc6PDZ|Lze+V2FPT0WUPD;hQi=>
OCUB-M
NIf5PI1Iem:5dHigTY5pcWKrdHnvckBCe3OjeR?=
M2rTT2lEPTB;OEKuOFEhdk1?
NUjGcXBJRGFidHHy[4V1RSehYnzhcosoKGi{ZX[9K4h1fHC|Oj:ve5d4NmWkaT7hZ{52cy:laHXtZoww[2:vcH;1coRgemWyb4L0Y4NiemRxQ1jFUWJNOTh5OUS2N{8oRlODTlfFVlww[T5?
KALS-1
NVzjZXNCT3Kxd4ToJGlvcGmkaYTpc44hSXO|YYm=
MVrJR|UxRTh{LkW0JI5O
NYm4S2FWRGFidHHy[4V1RSehYnzhcosoKGi{ZX[9K4h1fHC|Oj:ve5d4NmWkaT7hZ{52cy:laHXtZoww[2:vcH;1coRgemWyb4L0Y4NiemRxQ1jFUWJNOTh5OUS2N{8oRlODTlfFVlww[T5?
OCI-AML2
NXjt[JhzT3Kxd4ToJGlvcGmkaYTpc44hSXO|YYm=
M3;CcGlEPTB;OEKuOlEhdk1?
NXzLcHFYRGFidHHy[4V1RSehYnzhcosoKGi{ZX[9K4h1fHC|Oj:ve5d4NmWkaT7hZ{52cy:laHXtZoww[2:vcH;1coRgemWyb4L0Y4NiemRxQ1jFUWJNOTh5OUS2N{8oRlODTlfFVlww[T5?
A253
NUjmZ3JRT3Kxd4ToJGlvcGmkaYTpc44hSXO|YYm=
M4WxeWlEPTB;OEKuOlUhdk1?
NX;v[mkxRGFidHHy[4V1RSehYnzhcosoKGi{ZX[9K4h1fHC|Oj:ve5d4NmWkaT7hZ{52cy:laHXtZoww[2:vcH;1coRgemWyb4L0Y4NiemRxQ1jFUWJNOTh5OUS2N{8oRlODTlfFVlww[T5?
LCLC-97TM1
M13hXGdzd3e2aDDJcohq[mm2aX;uJGF{e2G7
NXHzbVhVUUN3ME24Nk45PiCwTR?=
M{TqRVxiKHSjcnfleF0oZ2KuYX7rK{BpemWoPTfoeJRxezpxL4f3e{5m[mlwYXOueYsw[2inbXLsM4NwdXCxdX7kY5JmeG:{dG;jZZJlN0OKRV3CUFE5Pzl2NkOvK|5USU6JRWK8M4E,
NCI-H520
NFrtZ|FIem:5dHigTY5pcWKrdHnvckBCe3OjeR?=
NX3LOXY1UUN3ME24N{4xPiCwTR?=
Mlr1QIEhfGG{Z3X0QUdg[myjbnunJIhz\WZ;J3j0eJB{Qi9xd4f3MoVjcS6jYz71b{9kcGWvYnyvZ49ueG:3bnTfdoVxd3K2X3PhdoQwS0iHTVLMNVg4QTR4Mz:nQnNCVkeHUkyvZV4>
P30-OHK
NEDiZXhIem:5dHigTY5pcWKrdHnvckBCe3OjeR?=
NWHxSZVEUUN3ME24N{42KG6P
NFTKXm49[SC2YYLn[ZQ:L1:kbHHub{chcHKnZk2nbJR1eHN8Lz;3e5cv\WKrLnHjMpVsN2OqZX3icE9kd22yb4Xu[H9z\XCxcoTfZ4Fz\C:FSFXNRmwyQDd7NE[zM{c,W0GQR1XSQE9iRg>?
SBC-5
MV\Hdo94fGhiSX7obYJqfGmxbjDBd5NigQ>?
MVPJR|UxRTh|LkWyJI5O
M4PKUlxiKHSjcnfleF0oZ2KuYX7rK{BpemWoPTfoeJRxezpxL4f3e{5m[mlwYXOueYsw[2inbXLsM4NwdXCxdX7kY5JmeG:{dG;jZZJlN0OKRV3CUFE5Pzl2NkOvK|5USU6JRWK8M4E,
HCE-T
MoPhS5Jwf3SqIFnubIljcXSrb36gRZN{[Xl?
NV71[|AxUUN3ME24N{44PCCwTR?=
NUG3[IxTRGFidHHy[4V1RSehYnzhcosoKGi{ZX[9K4h1fHC|Oj:ve5d4NmWkaT7hZ{52cy:laHXtZoww[2:vcH;1coRgemWyb4L0Y4NiemRxQ1jFUWJNOTh5OUS2N{8oRlODTlfFVlww[T5?
JEG-3
Ml7DS5Jwf3SqIFnubIljcXSrb36gRZN{[Xl?
M3LQc2lEPTB;OESuNUBvVQ>?
M1HJS|xiKHSjcnfleF0oZ2KuYX7rK{BpemWoPTfoeJRxezpxL4f3e{5m[mlwYXOueYsw[2inbXLsM4NwdXCxdX7kY5JmeG:{dG;jZZJlN0OKRV3CUFE5Pzl2NkOvK|5USU6JRWK8M4E,
KG-1
MkfVS5Jwf3SqIFnubIljcXSrb36gRZN{[Xl?
MnLZTWM2OD16ND6yOEBvVQ>?
MlroQIEhfGG{Z3X0QUdg[myjbnunJIhz\WZ;J3j0eJB{Qi9xd4f3MoVjcS6jYz71b{9kcGWvYnyvZ49ueG:3bnTfdoVxd3K2X3PhdoQwS0iHTVLMNVg4QTR4Mz:nQnNCVkeHUkyvZV4>
MIA-PaCa-2
Mny3S5Jwf3SqIFnubIljcXSrb36gRZN{[Xl?
MWfJR|UxRTh2LkW0JI5O
MlT0QIEhfGG{Z3X0QUdg[myjbnunJIhz\WZ;J3j0eJB{Qi9xd4f3MoVjcS6jYz71b{9kcGWvYnyvZ49ueG:3bnTfdoVxd3K2X3PhdoQwS0iHTVLMNVg4QTR4Mz:nQnNCVkeHUkyvZV4>
CAL-33
MYTHdo94fGhiSX7obYJqfGmxbjDBd5NigQ>?
NHLTT2JKSzVyPUi1MlA5KG6P
NYi1[GJ7RGFidHHy[4V1RSehYnzhcosoKGi{ZX[9K4h1fHC|Oj:ve5d4NmWkaT7hZ{52cy:laHXtZoww[2:vcH;1coRgemWyb4L0Y4NiemRxQ1jFUWJNOTh5OUS2N{8oRlODTlfFVlww[T5?
639-V
NYHOdJN[T3Kxd4ToJGlvcGmkaYTpc44hSXO|YYm=
MmfkTWM2OD16NT60NkBvVQ>?
Ml\aQIEhfGG{Z3X0QUdg[myjbnunJIhz\WZ;J3j0eJB{Qi9xd4f3MoVjcS6jYz71b{9kcGWvYnyvZ49ueG:3bnTfdoVxd3K2X3PhdoQwS0iHTVLMNVg4QTR4Mz:nQnNCVkeHUkyvZV4>
NCI-H1048
MYTHdo94fGhiSX7obYJqfGmxbjDBd5NigQ>?
MWPJR|UxRTh4LkOxJI5O
M4XwWFxiKHSjcnfleF0oZ2KuYX7rK{BpemWoPTfoeJRxezpxL4f3e{5m[mlwYXOueYsw[2inbXLsM4NwdXCxdX7kY5JmeG:{dG;jZZJlN0OKRV3CUFE5Pzl2NkOvK|5USU6JRWK8M4E,
NCI-H1573
MkGyS5Jwf3SqIFnubIljcXSrb36gRZN{[Xl?
MYrJR|UxRTh5LkS4JI5O
MlLNQIEhfGG{Z3X0QUdg[myjbnunJIhz\WZ;J3j0eJB{Qi9xd4f3MoVjcS6jYz71b{9kcGWvYnyvZ49ueG:3bnTfdoVxd3K2X3PhdoQwS0iHTVLMNVg4QTR4Mz:nQnNCVkeHUkyvZV4>
NCI-H2228
NUKzZohZT3Kxd4ToJGlvcGmkaYTpc44hSXO|YYm=
NHHFem9KSzVyPUi4MlI3KG6P
NGnlWW09[SC2YYLn[ZQ:L1:kbHHub{chcHKnZk2nbJR1eHN8Lz;3e5cv\WKrLnHjMpVsN2OqZX3icE9kd22yb4Xu[H9z\XCxcoTfZ4Fz\C:FSFXNRmwyQDd7NE[zM{c,W0GQR1XSQE9iRg>?
NB14
M2XacGdzd3e2aDDJcohq[mm2aX;uJGF{e2G7
MYrJR|UxRTh6LkOgcm0>
NHu1OJU9[SC2YYLn[ZQ:L1:kbHHub{chcHKnZk2nbJR1eHN8Lz;3e5cv\WKrLnHjMpVsN2OqZX3icE9kd22yb4Xu[H9z\XCxcoTfZ4Fz\C:FSFXNRmwyQDd7NE[zM{c,W0GQR1XSQE9iRg>?
SCC-25
MVzHdo94fGhiSX7obYJqfGmxbjDBd5NigQ>?
MX7JR|UxRTh7LkiyJI5O
M{\EfFxiKHSjcnfleF0oZ2KuYX7rK{BpemWoPTfoeJRxezpxL4f3e{5m[mlwYXOueYsw[2inbXLsM4NwdXCxdX7kY5JmeG:{dG;jZZJlN0OKRV3CUFE5Pzl2NkOvK|5USU6JRWK8M4E,
A431
MXjHdo94fGhiSX7obYJqfGmxbjDBd5NigQ>?
MYLJR|UxRTh7Lkm3JI5O
M2fxVlxiKHSjcnfleF0oZ2KuYX7rK{BpemWoPTfoeJRxezpxL4f3e{5m[mlwYXOueYsw[2inbXLsM4NwdXCxdX7kY5JmeG:{dG;jZZJlN0OKRV3CUFE5Pzl2NkOvK|5USU6JRWK8M4E,
SN12C
MUXHdo94fGhiSX7obYJqfGmxbjDBd5NigQ>?
NHv0[JRKSzVyPUmwMlYzKG6P
NVTZ[YJxRGFidHHy[4V1RSehYnzhcosoKGi{ZX[9K4h1fHC|Oj:ve5d4NmWkaT7hZ{52cy:laHXtZoww[2:vcH;1coRgemWyb4L0Y4NiemRxQ1jFUWJNOTh5OUS2N{8oRlODTlfFVlww[T5?
HuCCT1
MmfnS5Jwf3SqIFnubIljcXSrb36gRZN{[Xl?
NX:yXnZDUUN3ME25NE44PiCwTR?=
M3;2OVxiKHSjcnfleF0oZ2KuYX7rK{BpemWoPTfoeJRxezpxL4f3e{5m[mlwYXOueYsw[2inbXLsM4NwdXCxdX7kY5JmeG:{dG;jZZJlN0OKRV3CUFE5Pzl2NkOvK|5USU6JRWK8M4E,
LS-123
NUTKRplpT3Kxd4ToJGlvcGmkaYTpc44hSXO|YYm=
MVXJR|UxRTl{LkG4JI5O
NHmxWZc9[SC2YYLn[ZQ:L1:kbHHub{chcHKnZk2nbJR1eHN8Lz;3e5cv\WKrLnHjMpVsN2OqZX3icE9kd22yb4Xu[H9z\XCxcoTfZ4Fz\C:FSFXNRmwyQDd7NE[zM{c,W0GQR1XSQE9iRg>?
CAL-85-1
MmDJS5Jwf3SqIFnubIljcXSrb36gRZN{[Xl?
NXrNcGVnUUN3ME25Nk41QCCwTR?=
NIKyUVQ9[SC2YYLn[ZQ:L1:kbHHub{chcHKnZk2nbJR1eHN8Lz;3e5cv\WKrLnHjMpVsN2OqZX3icE9kd22yb4Xu[H9z\XCxcoTfZ4Fz\C:FSFXNRmwyQDd7NE[zM{c,W0GQR1XSQE9iRg>?
ES6
NHe0Xo5Iem:5dHigTY5pcWKrdHnvckBCe3OjeR?=
MXjJR|UxRTl{LkizJI5O
NHvyVpU9[SC2YYLn[ZQ:L1:kbHHub{chcHKnZk2nbJR1eHN8Lz;3e5cv\WKrLnHjMpVsN2OqZX3icE9kd22yb4Xu[H9z\XCxcoTfZ4Fz\C:FSFXNRmwyQDd7NE[zM{c,W0GQR1XSQE9iRg>?
NCI-H650
NFLjPHNIem:5dHigTY5pcWKrdHnvckBCe3OjeR?=
NF;jfnhKSzVyPUm0MlA6KG6P
MoXVQIEhfGG{Z3X0QUdg[myjbnunJIhz\WZ;J3j0eJB{Qi9xd4f3MoVjcS6jYz71b{9kcGWvYnyvZ49ueG:3bnTfdoVxd3K2X3PhdoQwS0iHTVLMNVg4QTR4Mz:nQnNCVkeHUkyvZV4>
NCI-H446
MljPS5Jwf3SqIFnubIljcXSrb36gRZN{[Xl?
NXXXRoN2UUN3ME25OU4yOiCwTR?=
NV3BSFZbRGFidHHy[4V1RSehYnzhcosoKGi{ZX[9K4h1fHC|Oj:ve5d4NmWkaT7hZ{52cy:laHXtZoww[2:vcH;1coRgemWyb4L0Y4NiemRxQ1jFUWJNOTh5OUS2N{8oRlODTlfFVlww[T5?
EW-13
NGm1[5NIem:5dHigTY5pcWKrdHnvckBCe3OjeR?=
MX;JR|UxRTl3Lke1JI5O
MnjwQIEhfGG{Z3X0QUdg[myjbnunJIhz\WZ;J3j0eJB{Qi9xd4f3MoVjcS6jYz71b{9kcGWvYnyvZ49ueG:3bnTfdoVxd3K2X3PhdoQwS0iHTVLMNVg4QTR4Mz:nQnNCVkeHUkyvZV4>
HSC-2
M4PFcGdzd3e2aDDJcohq[mm2aX;uJGF{e2G7
M4HVO2lEPTB;OUWuPFkhdk1?
M1zadVxiKHSjcnfleF0oZ2KuYX7rK{BpemWoPTfoeJRxezpxL4f3e{5m[mlwYXOueYsw[2inbXLsM4NwdXCxdX7kY5JmeG:{dG;jZZJlN0OKRV3CUFE5Pzl2NkOvK|5USU6JRWK8M4E,
U031
MlLtS5Jwf3SqIFnubIljcXSrb36gRZN{[Xl?
NUThRmpkUUN3ME25Ok44OyCwTR?=
NGfBTZE9[SC2YYLn[ZQ:L1:kbHHub{chcHKnZk2nbJR1eHN8Lz;3e5cv\WKrLnHjMpVsN2OqZX3icE9kd22yb4Xu[H9z\XCxcoTfZ4Fz\C:FSFXNRmwyQDd7NE[zM{c,W0GQR1XSQE9iRg>?
EW-11
NELyfZlIem:5dHigTY5pcWKrdHnvckBCe3OjeR?=
MnzjTWM2OD17Nj64PEBvVQ>?
MVu8ZUB1[XKpZYS9K39jdGGwazegbJJm\j1paIT0dJM7Ny:5d4eu[YJqNmGlLoXrM4Np\W2kbD;jc41xd3WwZG;y[ZBwenShY3Hy[E9EUEWPQlyxPFc6PDZ|Lze+V2FPT0WUPD;hQi=>
GAK
MUTHdo94fGhiSX7obYJqfGmxbjDBd5NigQ>?
MU\JR|UxRTl6LkmzJI5O
NF3sfGU9[SC2YYLn[ZQ:L1:kbHHub{chcHKnZk2nbJR1eHN8Lz;3e5cv\WKrLnHjMpVsN2OqZX3icE9kd22yb4Xu[H9z\XCxcoTfZ4Fz\C:FSFXNRmwyQDd7NE[zM{c,W0GQR1XSQE9iRg>?
SK-OV-3
NU\OTWF[T3Kxd4ToJGlvcGmkaYTpc44hSXO|YYm=
MV3JR|UxRTFyMD6wO{BvVQ>?
M3PqTlxiKHSjcnfleF0oZ2KuYX7rK{BpemWoPTfoeJRxezpxL4f3e{5m[mlwYXOueYsw[2inbXLsM4NwdXCxdX7kY5JmeG:{dG;jZZJlN0OKRV3CUFE5Pzl2NkOvK|5USU6JRWK8M4E,
OMC-1
MlHtS5Jwf3SqIFnubIljcXSrb36gRZN{[Xl?
NWKyW5d2UUN3ME2xNFAvOThibl2=
NFTSd249[SC2YYLn[ZQ:L1:kbHHub{chcHKnZk2nbJR1eHN8Lz;3e5cv\WKrLnHjMpVsN2OqZX3icE9kd22yb4Xu[H9z\XCxcoTfZ4Fz\C:FSFXNRmwyQDd7NE[zM{c,W0GQR1XSQE9iRg>?
TK10
M1m1S2dzd3e2aDDJcohq[mm2aX;uJGF{e2G7
MWnJR|UxRTFyMD6yNUBvVQ>?
MUi8ZUB1[XKpZYS9K39jdGGwazegbJJm\j1paIT0dJM7Ny:5d4eu[YJqNmGlLoXrM4Np\W2kbD;jc41xd3WwZG;y[ZBwenShY3Hy[E9EUEWPQlyxPFc6PDZ|Lze+V2FPT0WUPD;hQi=>
EKVX
M2nHfWdzd3e2aDDJcohq[mm2aX;uJGF{e2G7
NGHnU21KSzVyPUGwNE43KG6P
NGXUeIU9[SC2YYLn[ZQ:L1:kbHHub{chcHKnZk2nbJR1eHN8Lz;3e5cv\WKrLnHjMpVsN2OqZX3icE9kd22yb4Xu[H9z\XCxcoTfZ4Fz\C:FSFXNRmwyQDd7NE[zM{c,W0GQR1XSQE9iRg>?
Detroit562
NEHBWHRIem:5dHigTY5pcWKrdHnvckBCe3OjeR?=
NGHMW3lKSzVyPUGwNk4yPyCwTR?=
MWq8ZUB1[XKpZYS9K39jdGGwazegbJJm\j1paIT0dJM7Ny:5d4eu[YJqNmGlLoXrM4Np\W2kbD;jc41xd3WwZG;y[ZBwenShY3Hy[E9EUEWPQlyxPFc6PDZ|Lze+V2FPT0WUPD;hQi=>
SF268
NHzCW3dIem:5dHigTY5pcWKrdHnvckBCe3OjeR?=
MnjQTWM2OD1zMEKuN|Qhdk1?
M1H4PFxiKHSjcnfleF0oZ2KuYX7rK{BpemWoPTfoeJRxezpxL4f3e{5m[mlwYXOueYsw[2inbXLsM4NwdXCxdX7kY5JmeG:{dG;jZZJlN0OKRV3CUFE5Pzl2NkOvK|5USU6JRWK8M4E,
SNU-387
NYDKdJlTT3Kxd4ToJGlvcGmkaYTpc44hSXO|YYm=
MmjUTWM2OD1zMESuNVchdk1?
MmqzQIEhfGG{Z3X0QUdg[myjbnunJIhz\WZ;J3j0eJB{Qi9xd4f3MoVjcS6jYz71b{9kcGWvYnyvZ49ueG:3bnTfdoVxd3K2X3PhdoQwS0iHTVLMNVg4QTR4Mz:nQnNCVkeHUkyvZV4>
MDA-MB-231
MkXvS5Jwf3SqIFnubIljcXSrb36gRZN{[Xl?
MorLTWM2OD1zMEWuNFYhdk1?
NYrSVVFrRGFidHHy[4V1RSehYnzhcosoKGi{ZX[9K4h1fHC|Oj:ve5d4NmWkaT7hZ{52cy:laHXtZoww[2:vcH;1coRgemWyb4L0Y4NiemRxQ1jFUWJNOTh5OUS2N{8oRlODTlfFVlww[T5?
NCI-H1563
MVTHdo94fGhiSX7obYJqfGmxbjDBd5NigQ>?
M2LPS2lEPTB;MUC1MlE5KG6P
Mle2QIEhfGG{Z3X0QUdg[myjbnunJIhz\WZ;J3j0eJB{Qi9xd4f3MoVjcS6jYz71b{9kcGWvYnyvZ49ueG:3bnTfdoVxd3K2X3PhdoQwS0iHTVLMNVg4QTR4Mz:nQnNCVkeHUkyvZV4>
D-502MG
Mnv6S5Jwf3SqIFnubIljcXSrb36gRZN{[Xl?
MXLJR|UxRTFyNT63JI5O
MUi8ZUB1[XKpZYS9K39jdGGwazegbJJm\j1paIT0dJM7Ny:5d4eu[YJqNmGlLoXrM4Np\W2kbD;jc41xd3WwZG;y[ZBwenShY3Hy[E9EUEWPQlyxPFc6PDZ|Lze+V2FPT0WUPD;hQi=>
A2780
M3PaTWdzd3e2aDDJcohq[mm2aX;uJGF{e2G7
NVfx[Ix6UUN3ME2xNFYvPDdibl2=
M2PSeFxiKHSjcnfleF0oZ2KuYX7rK{BpemWoPTfoeJRxezpxL4f3e{5m[mlwYXOueYsw[2inbXLsM4NwdXCxdX7kY5JmeG:{dG;jZZJlN0OKRV3CUFE5Pzl2NkOvK|5USU6JRWK8M4E,
IA-LM
NGOx[G5Iem:5dHigTY5pcWKrdHnvckBCe3OjeR?=
NYT3dG5qUUN3ME2xNFcvPTFibl2=
M2LYS|xiKHSjcnfleF0oZ2KuYX7rK{BpemWoPTfoeJRxezpxL4f3e{5m[mlwYXOueYsw[2inbXLsM4NwdXCxdX7kY5JmeG:{dG;jZZJlN0OKRV3CUFE5Pzl2NkOvK|5USU6JRWK8M4E,
D-392MG
NVHGSmhoT3Kxd4ToJGlvcGmkaYTpc44hSXO|YYm=
M2m4XWlEPTB;MUC3MlU1KG6P
MXq8ZUB1[XKpZYS9K39jdGGwazegbJJm\j1paIT0dJM7Ny:5d4eu[YJqNmGlLoXrM4Np\W2kbD;jc41xd3WwZG;y[ZBwenShY3Hy[E9EUEWPQlyxPFc6PDZ|Lze+V2FPT0WUPD;hQi=>
MS-1
MonkS5Jwf3SqIFnubIljcXSrb36gRZN{[Xl?
M3XlNGlEPTB;MUC3MlcyKG6P
NUfBO49tRGFidHHy[4V1RSehYnzhcosoKGi{ZX[9K4h1fHC|Oj:ve5d4NmWkaT7hZ{52cy:laHXtZoww[2:vcH;1coRgemWyb4L0Y4NiemRxQ1jFUWJNOTh5OUS2N{8oRlODTlfFVlww[T5?
SW1990
MVjHdo94fGhiSX7obYJqfGmxbjDBd5NigQ>?
M13TNmlEPTB;MUC4MlU1KG6P
NIDZbm49[SC2YYLn[ZQ:L1:kbHHub{chcHKnZk2nbJR1eHN8Lz;3e5cv\WKrLnHjMpVsN2OqZX3icE9kd22yb4Xu[H9z\XCxcoTfZ4Fz\C:FSFXNRmwyQDd7NE[zM{c,W0GQR1XSQE9iRg>?
HEL
NVm3PJFjT3Kxd4ToJGlvcGmkaYTpc44hSXO|YYm=
M{CxPGlEPTB;MUC5MlI6KG6P
Mmr3QIEhfGG{Z3X0QUdg[myjbnunJIhz\WZ;J3j0eJB{Qi9xd4f3MoVjcS6jYz71b{9kcGWvYnyvZ49ueG:3bnTfdoVxd3K2X3PhdoQwS0iHTVLMNVg4QTR4Mz:nQnNCVkeHUkyvZV4>
SW1573
M3rSZ2dzd3e2aDDJcohq[mm2aX;uJGF{e2G7
NULERZpnUUN3ME2xNFkvOzFibl2=
M1fQW|xiKHSjcnfleF0oZ2KuYX7rK{BpemWoPTfoeJRxezpxL4f3e{5m[mlwYXOueYsw[2inbXLsM4NwdXCxdX7kY5JmeG:{dG;jZZJlN0OKRV3CUFE5Pzl2NkOvK|5USU6JRWK8M4E,
SW1783
NWj4fGIzT3Kxd4ToJGlvcGmkaYTpc44hSXO|YYm=
MYLJR|UxRTFzMD6yNkBvVQ>?
M2jYPFxiKHSjcnfleF0oZ2KuYX7rK{BpemWoPTfoeJRxezpxL4f3e{5m[mlwYXOueYsw[2inbXLsM4NwdXCxdX7kY5JmeG:{dG;jZZJlN0OKRV3CUFE5Pzl2NkOvK|5USU6JRWK8M4E,
COLO-680N
M1fwSWdzd3e2aDDJcohq[mm2aX;uJGF{e2G7
MYrJR|UxRTFzMD63OkBvVQ>?
MX:8ZUB1[XKpZYS9K39jdGGwazegbJJm\j1paIT0dJM7Ny:5d4eu[YJqNmGlLoXrM4Np\W2kbD;jc41xd3WwZG;y[ZBwenShY3Hy[E9EUEWPQlyxPFc6PDZ|Lze+V2FPT0WUPD;hQi=>
NCI-N87
NH3iXJRIem:5dHigTY5pcWKrdHnvckBCe3OjeR?=
NYq0NnhLUUN3ME2xNVEvODRibl2=
NFXDU2E9[SC2YYLn[ZQ:L1:kbHHub{chcHKnZk2nbJR1eHN8Lz;3e5cv\WKrLnHjMpVsN2OqZX3icE9kd22yb4Xu[H9z\XCxcoTfZ4Fz\C:FSFXNRmwyQDd7NE[zM{c,W0GQR1XSQE9iRg>?
SK-MEL-28
NHjPcG9Iem:5dHigTY5pcWKrdHnvckBCe3OjeR?=
MmnzTWM2OD1zMUGuOVUhdk1?
M2T5TVxiKHSjcnfleF0oZ2KuYX7rK{BpemWoPTfoeJRxezpxL4f3e{5m[mlwYXOueYsw[2inbXLsM4NwdXCxdX7kY5JmeG:{dG;jZZJlN0OKRV3CUFE5Pzl2NkOvK|5USU6JRWK8M4E,
BT-20
M4\vNWdzd3e2aDDJcohq[mm2aX;uJGF{e2G7
MlvUTWM2OD1zMUKuNFEhdk1?
MnfPQIEhfGG{Z3X0QUdg[myjbnunJIhz\WZ;J3j0eJB{Qi9xd4f3MoVjcS6jYz71b{9kcGWvYnyvZ49ueG:3bnTfdoVxd3K2X3PhdoQwS0iHTVLMNVg4QTR4Mz:nQnNCVkeHUkyvZV4>
NCI-H1648
M{HtZWdzd3e2aDDJcohq[mm2aX;uJGF{e2G7
NEn0XY5KSzVyPUGxN{BvVQ>?
NGXvdHo9[SC2YYLn[ZQ:L1:kbHHub{chcHKnZk2nbJR1eHN8Lz;3e5cv\WKrLnHjMpVsN2OqZX3icE9kd22yb4Xu[H9z\XCxcoTfZ4Fz\C:FSFXNRmwyQDd7NE[zM{c,W0GQR1XSQE9iRg>?
no-11
NULu[JRDT3Kxd4ToJGlvcGmkaYTpc44hSXO|YYm=
MVnJR|UxRTFzMz6yPEBvVQ>?
NYTWOlVZRGFidHHy[4V1RSehYnzhcosoKGi{ZX[9K4h1fHC|Oj:ve5d4NmWkaT7hZ{52cy:laHXtZoww[2:vcH;1coRgemWyb4L0Y4NiemRxQ1jFUWJNOTh5OUS2N{8oRlODTlfFVlww[T5?
MOLT-13
NEnYbFZIem:5dHigTY5pcWKrdHnvckBCe3OjeR?=
M3HHbmlEPTB;MUGzMlQ1KG6P
NG\6TmY9[SC2YYLn[ZQ:L1:kbHHub{chcHKnZk2nbJR1eHN8Lz;3e5cv\WKrLnHjMpVsN2OqZX3icE9kd22yb4Xu[H9z\XCxcoTfZ4Fz\C:FSFXNRmwyQDd7NE[zM{c,W0GQR1XSQE9iRg>?
NCI-H2170
M{HnbGdzd3e2aDDJcohq[mm2aX;uJGF{e2G7
M3vj[WlEPTB;MUG0MlUyKG6P
Mk\6QIEhfGG{Z3X0QUdg[myjbnunJIhz\WZ;J3j0eJB{Qi9xd4f3MoVjcS6jYz71b{9kcGWvYnyvZ49ueG:3bnTfdoVxd3K2X3PhdoQwS0iHTVLMNVg4QTR4Mz:nQnNCVkeHUkyvZV4>
HTC-C3
MX3Hdo94fGhiSX7obYJqfGmxbjDBd5NigQ>?
M{DCbGlEPTB;MUG2Mlg2KG6P
MnnJQIEhfGG{Z3X0QUdg[myjbnunJIhz\WZ;J3j0eJB{Qi9xd4f3MoVjcS6jYz71b{9kcGWvYnyvZ49ueG:3bnTfdoVxd3K2X3PhdoQwS0iHTVLMNVg4QTR4Mz:nQnNCVkeHUkyvZV4>
LU-99A
MYPHdo94fGhiSX7obYJqfGmxbjDBd5NigQ>?
MXPJR|UxRTFzNz6yNUBvVQ>?
NWjZdnVbRGFidHHy[4V1RSehYnzhcosoKGi{ZX[9K4h1fHC|Oj:ve5d4NmWkaT7hZ{52cy:laHXtZoww[2:vcH;1coRgemWyb4L0Y4NiemRxQ1jFUWJNOTh5OUS2N{8oRlODTlfFVlww[T5?
HCC2998
M325b2dzd3e2aDDJcohq[mm2aX;uJGF{e2G7
NGPa[3BKSzVyPUGxO{46OiCwTR?=
NHnPOGw9[SC2YYLn[ZQ:L1:kbHHub{chcHKnZk2nbJR1eHN8Lz;3e5cv\WKrLnHjMpVsN2OqZX3icE9kd22yb4Xu[H9z\XCxcoTfZ4Fz\C:FSFXNRmwyQDd7NE[zM{c,W0GQR1XSQE9iRg>?
NB13
NWTjd5FzT3Kxd4ToJGlvcGmkaYTpc44hSXO|YYm=
NFmyUJFKSzVyPUGxO{46QSCwTR?=
MUm8ZUB1[XKpZYS9K39jdGGwazegbJJm\j1paIT0dJM7Ny:5d4eu[YJqNmGlLoXrM4Np\W2kbD;jc41xd3WwZG;y[ZBwenShY3Hy[E9EUEWPQlyxPFc6PDZ|Lze+V2FPT0WUPD;hQi=>
GT3TKB
MUjHdo94fGhiSX7obYJqfGmxbjDBd5NigQ>?
MlfaTWM2OD1zMUiuNFghdk1?
M4DlPFxiKHSjcnfleF0oZ2KuYX7rK{BpemWoPTfoeJRxezpxL4f3e{5m[mlwYXOueYsw[2inbXLsM4NwdXCxdX7kY5JmeG:{dG;jZZJlN0OKRV3CUFE5Pzl2NkOvK|5USU6JRWK8M4E,
BT-549
NF36bFZIem:5dHigTY5pcWKrdHnvckBCe3OjeR?=
NInleYhKSzVyPUGxPE46PSCwTR?=
NIXY[Gc9[SC2YYLn[ZQ:L1:kbHHub{chcHKnZk2nbJR1eHN8Lz;3e5cv\WKrLnHjMpVsN2OqZX3icE9kd22yb4Xu[H9z\XCxcoTfZ4Fz\C:FSFXNRmwyQDd7NE[zM{c,W0GQR1XSQE9iRg>?
NCI-H747
NVXC[IpuT3Kxd4ToJGlvcGmkaYTpc44hSXO|YYm=
M3LlUWlEPTB;MUG5MlM1KG6P
NHTPTYM9[SC2YYLn[ZQ:L1:kbHHub{chcHKnZk2nbJR1eHN8Lz;3e5cv\WKrLnHjMpVsN2OqZX3icE9kd22yb4Xu[H9z\XCxcoTfZ4Fz\C:FSFXNRmwyQDd7NE[zM{c,W0GQR1XSQE9iRg>?
EW-1
MUjHdo94fGhiSX7obYJqfGmxbjDBd5NigQ>?
NG\IXGFKSzVyPUGyNE4zKG6P
NHfQc3I9[SC2YYLn[ZQ:L1:kbHHub{chcHKnZk2nbJR1eHN8Lz;3e5cv\WKrLnHjMpVsN2OqZX3icE9kd22yb4Xu[H9z\XCxcoTfZ4Fz\C:FSFXNRmwyQDd7NE[zM{c,W0GQR1XSQE9iRg>?
LB831-BLC
NF3sd|hIem:5dHigTY5pcWKrdHnvckBCe3OjeR?=
NWDOcIxyUUN3ME2xNlAvPjNibl2=
Mkn6QIEhfGG{Z3X0QUdg[myjbnunJIhz\WZ;J3j0eJB{Qi9xd4f3MoVjcS6jYz71b{9kcGWvYnyvZ49ueG:3bnTfdoVxd3K2X3PhdoQwS0iHTVLMNVg4QTR4Mz:nQnNCVkeHUkyvZV4>
NMC-G1
NXLIWWlHT3Kxd4ToJGlvcGmkaYTpc44hSXO|YYm=
NV3CT5BOUUN3ME2xNlEvOTFibl2=
NWnnTVRYRGFidHHy[4V1RSehYnzhcosoKGi{ZX[9K4h1fHC|Oj:ve5d4NmWkaT7hZ{52cy:laHXtZoww[2:vcH;1coRgemWyb4L0Y4NiemRxQ1jFUWJNOTh5OUS2N{8oRlODTlfFVlww[T5?
COLO-679
M3jMe2dzd3e2aDDJcohq[mm2aX;uJGF{e2G7
MWHJR|UxRTF{Mj6xOUBvVQ>?
MWq8ZUB1[XKpZYS9K39jdGGwazegbJJm\j1paIT0dJM7Ny:5d4eu[YJqNmGlLoXrM4Np\W2kbD;jc41xd3WwZG;y[ZBwenShY3Hy[E9EUEWPQlyxPFc6PDZ|Lze+V2FPT0WUPD;hQi=>
HL-60
NFXXOFBIem:5dHigTY5pcWKrdHnvckBCe3OjeR?=
MlXETWM2OD1zMkOuNUBvVQ>?
NXO0SolpRGFidHHy[4V1RSehYnzhcosoKGi{ZX[9K4h1fHC|Oj:ve5d4NmWkaT7hZ{52cy:laHXtZoww[2:vcH;1coRgemWyb4L0Y4NiemRxQ1jFUWJNOTh5OUS2N{8oRlODTlfFVlww[T5?
MKN7
NXfhXGs1T3Kxd4ToJGlvcGmkaYTpc44hSXO|YYm=
Ml3tTWM2OD1zMkOuPFMhdk1?
M4XpVVxiKHSjcnfleF0oZ2KuYX7rK{BpemWoPTfoeJRxezpxL4f3e{5m[mlwYXOueYsw[2inbXLsM4NwdXCxdX7kY5JmeG:{dG;jZZJlN0OKRV3CUFE5Pzl2NkOvK|5USU6JRWK8M4E,
RERF-LC-MS
NG\YS3ZIem:5dHigTY5pcWKrdHnvckBCe3OjeR?=
MXzJR|UxRTF{ND6zNUBvVQ>?
M{e2clxiKHSjcnfleF0oZ2KuYX7rK{BpemWoPTfoeJRxezpxL4f3e{5m[mlwYXOueYsw[2inbXLsM4NwdXCxdX7kY5JmeG:{dG;jZZJlN0OKRV3CUFE5Pzl2NkOvK|5USU6JRWK8M4E,
DMS-114
NEXPS5hIem:5dHigTY5pcWKrdHnvckBCe3OjeR?=
MWXJR|UxRTF{NT6wPUBvVQ>?
NWDnUmFpRGFidHHy[4V1RSehYnzhcosoKGi{ZX[9K4h1fHC|Oj:ve5d4NmWkaT7hZ{52cy:laHXtZoww[2:vcH;1coRgemWyb4L0Y4NiemRxQ1jFUWJNOTh5OUS2N{8oRlODTlfFVlww[T5?
HuP-T4
NF\Pco5Iem:5dHigTY5pcWKrdHnvckBCe3OjeR?=
NXSzOGt5UUN3ME2xNlYvQTdibl2=
MmT0QIEhfGG{Z3X0QUdg[myjbnunJIhz\WZ;J3j0eJB{Qi9xd4f3MoVjcS6jYz71b{9kcGWvYnyvZ49ueG:3bnTfdoVxd3K2X3PhdoQwS0iHTVLMNVg4QTR4Mz:nQnNCVkeHUkyvZV4>
HCC2157
NXTVU2xLT3Kxd4ToJGlvcGmkaYTpc44hSXO|YYm=
M325V2lEPTB;MUK3MlUhdk1?
MoTUQIEhfGG{Z3X0QUdg[myjbnunJIhz\WZ;J3j0eJB{Qi9xd4f3MoVjcS6jYz71b{9kcGWvYnyvZ49ueG:3bnTfdoVxd3K2X3PhdoQwS0iHTVLMNVg4QTR4Mz:nQnNCVkeHUkyvZV4>
SKG-IIIa
NYrxdYNNT3Kxd4ToJGlvcGmkaYTpc44hSXO|YYm=
NXTXb3Z3UUN3ME2xNlgvQCCwTR?=
MYC8ZUB1[XKpZYS9K39jdGGwazegbJJm\j1paIT0dJM7Ny:5d4eu[YJqNmGlLoXrM4Np\W2kbD;jc41xd3WwZG;y[ZBwenShY3Hy[E9EUEWPQlyxPFc6PDZ|Lze+V2FPT0WUPD;hQi=>
HCT-116
M1LLPGdzd3e2aDDJcohq[mm2aX;uJGF{e2G7
M3zYZ2lEPTB;MUOwMlY1KG6P
NEDaVog9[SC2YYLn[ZQ:L1:kbHHub{chcHKnZk2nbJR1eHN8Lz;3e5cv\WKrLnHjMpVsN2OqZX3icE9kd22yb4Xu[H9z\XCxcoTfZ4Fz\C:FSFXNRmwyQDd7NE[zM{c,W0GQR1XSQE9iRg>?
BB30-HNC
Ml3MS5Jwf3SqIFnubIljcXSrb36gRZN{[Xl?
M1G5VGlEPTB;MUOwMlc5KG6P
M4LrcVxiKHSjcnfleF0oZ2KuYX7rK{BpemWoPTfoeJRxezpxL4f3e{5m[mlwYXOueYsw[2inbXLsM4NwdXCxdX7kY5JmeG:{dG;jZZJlN0OKRV3CUFE5Pzl2NkOvK|5USU6JRWK8M4E,
KYSE-270
NXjxTo9RT3Kxd4ToJGlvcGmkaYTpc44hSXO|YYm=
Ml30TWM2OD1zM{CuPFghdk1?
NVzTfphCRGFidHHy[4V1RSehYnzhcosoKGi{ZX[9K4h1fHC|Oj:ve5d4NmWkaT7hZ{52cy:laHXtZoww[2:vcH;1coRgemWyb4L0Y4NiemRxQ1jFUWJNOTh5OUS2N{8oRlODTlfFVlww[T5?
MFM-223
MnvGS5Jwf3SqIFnubIljcXSrb36gRZN{[Xl?
NXL5fJk6UUN3ME2xN|EvPTFibl2=
M{jycFxiKHSjcnfleF0oZ2KuYX7rK{BpemWoPTfoeJRxezpxL4f3e{5m[mlwYXOueYsw[2inbXLsM4NwdXCxdX7kY5JmeG:{dG;jZZJlN0OKRV3CUFE5Pzl2NkOvK|5USU6JRWK8M4E,
NH-12
MW\Hdo94fGhiSX7obYJqfGmxbjDBd5NigQ>?
M1za[WlEPTB;MUOyMlk6KG6P
Mm\RQIEhfGG{Z3X0QUdg[myjbnunJIhz\WZ;J3j0eJB{Qi9xd4f3MoVjcS6jYz71b{9kcGWvYnyvZ49ueG:3bnTfdoVxd3K2X3PhdoQwS0iHTVLMNVg4QTR4Mz:nQnNCVkeHUkyvZV4>
U-118-MG
M2HyO2dzd3e2aDDJcohq[mm2aX;uJGF{e2G7
NXuyTIY5UUN3ME2xN|MvPjJibl2=
NFH0c5g9[SC2YYLn[ZQ:L1:kbHHub{chcHKnZk2nbJR1eHN8Lz;3e5cv\WKrLnHjMpVsN2OqZX3icE9kd22yb4Xu[H9z\XCxcoTfZ4Fz\C:FSFXNRmwyQDd7NE[zM{c,W0GQR1XSQE9iRg>?
ESS-1
MWHHdo94fGhiSX7obYJqfGmxbjDBd5NigQ>?
MnLJTWM2OD1zM{WuNVghdk1?
MoTiQIEhfGG{Z3X0QUdg[myjbnunJIhz\WZ;J3j0eJB{Qi9xd4f3MoVjcS6jYz71b{9kcGWvYnyvZ49ueG:3bnTfdoVxd3K2X3PhdoQwS0iHTVLMNVg4QTR4Mz:nQnNCVkeHUkyvZV4>
D-247MG
MkHMS5Jwf3SqIFnubIljcXSrb36gRZN{[Xl?
MVnJR|UxRTF|NT6yNUBvVQ>?
NGL0dW09[SC2YYLn[ZQ:L1:kbHHub{chcHKnZk2nbJR1eHN8Lz;3e5cv\WKrLnHjMpVsN2OqZX3icE9kd22yb4Xu[H9z\XCxcoTfZ4Fz\C:FSFXNRmwyQDd7NE[zM{c,W0GQR1XSQE9iRg>?
IGROV-1
MVvHdo94fGhiSX7obYJqfGmxbjDBd5NigQ>?
MVfJR|UxRTF|NT63OkBvVQ>?
NIXjXnA9[SC2YYLn[ZQ:L1:kbHHub{chcHKnZk2nbJR1eHN8Lz;3e5cv\WKrLnHjMpVsN2OqZX3icE9kd22yb4Xu[H9z\XCxcoTfZ4Fz\C:FSFXNRmwyQDd7NE[zM{c,W0GQR1XSQE9iRg>?
C-33-A
NUiyPI55T3Kxd4ToJGlvcGmkaYTpc44hSXO|YYm=
NYrYTok2UUN3ME2xN|UvQTdibl2=
NEXCbWU9[SC2YYLn[ZQ:L1:kbHHub{chcHKnZk2nbJR1eHN8Lz;3e5cv\WKrLnHjMpVsN2OqZX3icE9kd22yb4Xu[H9z\XCxcoTfZ4Fz\C:FSFXNRmwyQDd7NE[zM{c,W0GQR1XSQE9iRg>?
NCI-H1693
MkPSS5Jwf3SqIFnubIljcXSrb36gRZN{[Xl?
NEfweWlKSzVyPUGzOk4yOiCwTR?=
M3TGSlxiKHSjcnfleF0oZ2KuYX7rK{BpemWoPTfoeJRxezpxL4f3e{5m[mlwYXOueYsw[2inbXLsM4NwdXCxdX7kY5JmeG:{dG;jZZJlN0OKRV3CUFE5Pzl2NkOvK|5USU6JRWK8M4E,
MLMA
M1LU[Wdzd3e2aDDJcohq[mm2aX;uJGF{e2G7
MV\JR|UxRTF|Nj61PEBvVQ>?
NEnscmI9[SC2YYLn[ZQ:L1:kbHHub{chcHKnZk2nbJR1eHN8Lz;3e5cv\WKrLnHjMpVsN2OqZX3icE9kd22yb4Xu[H9z\XCxcoTfZ4Fz\C:FSFXNRmwyQDd7NE[zM{c,W0GQR1XSQE9iRg>?
SK-N-AS
NXTieXFHT3Kxd4ToJGlvcGmkaYTpc44hSXO|YYm=
NIDLc5VKSzVyPUGzO{4yPyCwTR?=
NH\id3o9[SC2YYLn[ZQ:L1:kbHHub{chcHKnZk2nbJR1eHN8Lz;3e5cv\WKrLnHjMpVsN2OqZX3icE9kd22yb4Xu[H9z\XCxcoTfZ4Fz\C:FSFXNRmwyQDd7NE[zM{c,W0GQR1XSQE9iRg>?
NCI-H1755
NUe0VZFXT3Kxd4ToJGlvcGmkaYTpc44hSXO|YYm=
NV3mNYp2UUN3ME2xN|gvQDVibl2=
NFfJXXI9[SC2YYLn[ZQ:L1:kbHHub{chcHKnZk2nbJR1eHN8Lz;3e5cv\WKrLnHjMpVsN2OqZX3icE9kd22yb4Xu[H9z\XCxcoTfZ4Fz\C:FSFXNRmwyQDd7NE[zM{c,W0GQR1XSQE9iRg>?
CHP-134
NFL3bHNIem:5dHigTY5pcWKrdHnvckBCe3OjeR?=
NIn2XmhKSzVyPUGzPU42PSCwTR?=
NWG0WFRZRGFidHHy[4V1RSehYnzhcosoKGi{ZX[9K4h1fHC|Oj:ve5d4NmWkaT7hZ{52cy:laHXtZoww[2:vcH;1coRgemWyb4L0Y4NiemRxQ1jFUWJNOTh5OUS2N{8oRlODTlfFVlww[T5?
LS-513
MknxS5Jwf3SqIFnubIljcXSrb36gRZN{[Xl?
MV3JR|UxRTF2MD65NUBxVQ>?
NHrsW5Y9[SC2YYLn[ZQ:L1:kbHHub{chcHKnZk2nbJR1eHN8Lz;3e5cv\WKrLnHjMpVsN2OqZX3icE9kd22yb4Xu[H9z\XCxcoTfZ4Fz\C:FSFXNRmwyQDd7NE[zM{c,W0GQR1XSQE9iRg>?
TE-12
NF23OoZIem:5dHigTY5pcWKrdHnvckBCe3OjeR?=
MlvYTWM2OD1zNECuPVMhdk1?
M2TtT|xiKHSjcnfleF0oZ2KuYX7rK{BpemWoPTfoeJRxezpxL4f3e{5m[mlwYXOueYsw[2inbXLsM4NwdXCxdX7kY5JmeG:{dG;jZZJlN0OKRV3CUFE5Pzl2NkOvK|5USU6JRWK8M4E,
KNS-42
M{TZO2dzd3e2aDDJcohq[mm2aX;uJGF{e2G7
NWPZNm1GUUN3ME2xOFQvOyCwTR?=
NFu1SIY9[SC2YYLn[ZQ:L1:kbHHub{chcHKnZk2nbJR1eHN8Lz;3e5cv\WKrLnHjMpVsN2OqZX3icE9kd22yb4Xu[H9z\XCxcoTfZ4Fz\C:FSFXNRmwyQDd7NE[zM{c,W0GQR1XSQE9iRg>?
SJRH30
M2H6Nmdzd3e2aDDJcohq[mm2aX;uJGF{e2G7
NYn3[FZQUUN3ME2xOFQvPDRibl2=
NELud4E9[SC2YYLn[ZQ:L1:kbHHub{chcHKnZk2nbJR1eHN8Lz;3e5cv\WKrLnHjMpVsN2OqZX3icE9kd22yb4Xu[H9z\XCxcoTfZ4Fz\C:FSFXNRmwyQDd7NE[zM{c,W0GQR1XSQE9iRg>?
NCI-H1092
M4jqTGdzd3e2aDDJcohq[mm2aX;uJGF{e2G7
Moe5TWM2OD1zNESuOVIhdk1?
MWW8ZUB1[XKpZYS9K39jdGGwazegbJJm\j1paIT0dJM7Ny:5d4eu[YJqNmGlLoXrM4Np\W2kbD;jc41xd3WwZG;y[ZBwenShY3Hy[E9EUEWPQlyxPFc6PDZ|Lze+V2FPT0WUPD;hQi=>
H-EMC-SS
MXzHdo94fGhiSX7obYJqfGmxbjDBd5NigQ>?
NVLvVW84UUN3ME2xOFYvQDFibl2=
MmDKQIEhfGG{Z3X0QUdg[myjbnunJIhz\WZ;J3j0eJB{Qi9xd4f3MoVjcS6jYz71b{9kcGWvYnyvZ49ueG:3bnTfdoVxd3K2X3PhdoQwS0iHTVLMNVg4QTR4Mz:nQnNCVkeHUkyvZV4>
SK-MEL-3
M3zxemdzd3e2aDDJcohq[mm2aX;uJGF{e2G7
MmW1TWM2OD1zNEeuOVUhdk1?
M2jmVVxiKHSjcnfleF0oZ2KuYX7rK{BpemWoPTfoeJRxezpxL4f3e{5m[mlwYXOueYsw[2inbXLsM4NwdXCxdX7kY5JmeG:{dG;jZZJlN0OKRV3CUFE5Pzl2NkOvK|5USU6JRWK8M4E,
SK-N-FI
NVTpXnQzT3Kxd4ToJGlvcGmkaYTpc44hSXO|YYm=
NY\3UIpLUUN3ME2xOFcvPTlibl2=
MmjmQIEhfGG{Z3X0QUdg[myjbnunJIhz\WZ;J3j0eJB{Qi9xd4f3MoVjcS6jYz71b{9kcGWvYnyvZ49ueG:3bnTfdoVxd3K2X3PhdoQwS0iHTVLMNVg4QTR4Mz:nQnNCVkeHUkyvZV4>
NCI-H2126
NG\DUJNIem:5dHigTY5pcWKrdHnvckBCe3OjeR?=
NWDNWXpmUUN3ME2xOFgvOTVibl2=
Ml\WQIEhfGG{Z3X0QUdg[myjbnunJIhz\WZ;J3j0eJB{Qi9xd4f3MoVjcS6jYz71b{9kcGWvYnyvZ49ueG:3bnTfdoVxd3K2X3PhdoQwS0iHTVLMNVg4QTR4Mz:nQnNCVkeHUkyvZV4>
NCI-H1299
MXvHdo94fGhiSX7obYJqfGmxbjDBd5NigQ>?
M3j1TGlEPTB;MUWwMlIzKG6P
M2K1V|xiKHSjcnfleF0oZ2KuYX7rK{BpemWoPTfoeJRxezpxL4f3e{5m[mlwYXOueYsw[2inbXLsM4NwdXCxdX7kY5JmeG:{dG;jZZJlN0OKRV3CUFE5Pzl2NkOvK|5USU6JRWK8M4E,
CFPAC-1
NUHwcmQzT3Kxd4ToJGlvcGmkaYTpc44hSXO|YYm=
NXn1[Gx7UUN3ME2xOVAvPjZibl2=
MV28ZUB1[XKpZYS9K39jdGGwazegbJJm\j1paIT0dJM7Ny:5d4eu[YJqNmGlLoXrM4Np\W2kbD;jc41xd3WwZG;y[ZBwenShY3Hy[E9EUEWPQlyxPFc6PDZ|Lze+V2FPT0WUPD;hQi=>
NCI-H661
NIfZW4ZIem:5dHigTY5pcWKrdHnvckBCe3OjeR?=
M2P3TGlEPTB;MUWxMlI3KG6P
NUP6RWR3RGFidHHy[4V1RSehYnzhcosoKGi{ZX[9K4h1fHC|Oj:ve5d4NmWkaT7hZ{52cy:laHXtZoww[2:vcH;1coRgemWyb4L0Y4NiemRxQ1jFUWJNOTh5OUS2N{8oRlODTlfFVlww[T5?
KYSE-70
M3[2T2dzd3e2aDDJcohq[mm2aX;uJGF{e2G7
MXLJR|UxRTF3MT63PUBvVQ>?
M3mxO|xiKHSjcnfleF0oZ2KuYX7rK{BpemWoPTfoeJRxezpxL4f3e{5m[mlwYXOueYsw[2inbXLsM4NwdXCxdX7kY5JmeG:{dG;jZZJlN0OKRV3CUFE5Pzl2NkOvK|5USU6JRWK8M4E,
SW900
M4nZS2dzd3e2aDDJcohq[mm2aX;uJGF{e2G7
Mo\3TWM2OD1zNUSuOlUhdk1?
MVW8ZUB1[XKpZYS9K39jdGGwazegbJJm\j1paIT0dJM7Ny:5d4eu[YJqNmGlLoXrM4Np\W2kbD;jc41xd3WwZG;y[ZBwenShY3Hy[E9EUEWPQlyxPFc6PDZ|Lze+V2FPT0WUPD;hQi=>
Ca-Ski
MYnHdo94fGhiSX7obYJqfGmxbjDBd5NigQ>?
M3fvbmlEPTB;MUW2MlM6KG6P
Ml;nQIEhfGG{Z3X0QUdg[myjbnunJIhz\WZ;J3j0eJB{Qi9xd4f3MoVjcS6jYz71b{9kcGWvYnyvZ49ueG:3bnTfdoVxd3K2X3PhdoQwS0iHTVLMNVg4QTR4Mz:nQnNCVkeHUkyvZV4>
HPAF-II
MVnHdo94fGhiSX7obYJqfGmxbjDBd5NigQ>?
NYPJSoZPUUN3ME2xOVYvPDdibl2=
M{\YRlxiKHSjcnfleF0oZ2KuYX7rK{BpemWoPTfoeJRxezpxL4f3e{5m[mlwYXOueYsw[2inbXLsM4NwdXCxdX7kY5JmeG:{dG;jZZJlN0OKRV3CUFE5Pzl2NkOvK|5USU6JRWK8M4E,
LB2518-MEL
M{nSUGdzd3e2aDDJcohq[mm2aX;uJGF{e2G7
M2DzUWlEPTB;MUW3MlEhdk1?
MWq8ZUB1[XKpZYS9K39jdGGwazegbJJm\j1paIT0dJM7Ny:5d4eu[YJqNmGlLoXrM4Np\W2kbD;jc41xd3WwZG;y[ZBwenShY3Hy[E9EUEWPQlyxPFc6PDZ|Lze+V2FPT0WUPD;hQi=>
LC-2-ad
M2DjZWdzd3e2aDDJcohq[mm2aX;uJGF{e2G7
MofNTWM2OD1zNUiuOlIhdk1?
MofVQIEhfGG{Z3X0QUdg[myjbnunJIhz\WZ;J3j0eJB{Qi9xd4f3MoVjcS6jYz71b{9kcGWvYnyvZ49ueG:3bnTfdoVxd3K2X3PhdoQwS0iHTVLMNVg4QTR4Mz:nQnNCVkeHUkyvZV4>
HCC1806
M2TG[mdzd3e2aDDJcohq[mm2aX;uJGF{e2G7
MlvVTWM2OD1zNkeuPFghdk1?
M2XiUFxiKHSjcnfleF0oZ2KuYX7rK{BpemWoPTfoeJRxezpxL4f3e{5m[mlwYXOueYsw[2inbXLsM4NwdXCxdX7kY5JmeG:{dG;jZZJlN0OKRV3CUFE5Pzl2NkOvK|5USU6JRWK8M4E,
UACC-62
MkD5S5Jwf3SqIFnubIljcXSrb36gRZN{[Xl?
Mk[2TWM2OD1zNkiuNFkhdk1?
MkPCQIEhfGG{Z3X0QUdg[myjbnunJIhz\WZ;J3j0eJB{Qi9xd4f3MoVjcS6jYz71b{9kcGWvYnyvZ49ueG:3bnTfdoVxd3K2X3PhdoQwS0iHTVLMNVg4QTR4Mz:nQnNCVkeHUkyvZV4>
KM-H2
MmnRS5Jwf3SqIFnubIljcXSrb36gRZN{[Xl?
NXPydWt7UUN3ME2xO|AvPThibl2=
M{fUclxiKHSjcnfleF0oZ2KuYX7rK{BpemWoPTfoeJRxezpxL4f3e{5m[mlwYXOueYsw[2inbXLsM4NwdXCxdX7kY5JmeG:{dG;jZZJlN0OKRV3CUFE5Pzl2NkOvK|5USU6JRWK8M4E,
NCI-H2347
Mk[3S5Jwf3SqIFnubIljcXSrb36gRZN{[Xl?
M3fvWWlEPTB;MUeyMlczKG6P
NIfOVnk9[SC2YYLn[ZQ:L1:kbHHub{chcHKnZk2nbJR1eHN8Lz;3e5cv\WKrLnHjMpVsN2OqZX3icE9kd22yb4Xu[H9z\XCxcoTfZ4Fz\C:FSFXNRmwyQDd7NE[zM{c,W0GQR1XSQE9iRg>?
SCC-15
NGPMR5hIem:5dHigTY5pcWKrdHnvckBCe3OjeR?=
MVzJR|UxRTF5Mz62OkBvVQ>?
NE[zS4U9[SC2YYLn[ZQ:L1:kbHHub{chcHKnZk2nbJR1eHN8Lz;3e5cv\WKrLnHjMpVsN2OqZX3icE9kd22yb4Xu[H9z\XCxcoTfZ4Fz\C:FSFXNRmwyQDd7NE[zM{c,W0GQR1XSQE9iRg>?
BB49-HNC
NXm5OYlkT3Kxd4ToJGlvcGmkaYTpc44hSXO|YYm=
NGPkTWtKSzVyPUG3N{45OSCwTR?=
MnL2QIEhfGG{Z3X0QUdg[myjbnunJIhz\WZ;J3j0eJB{Qi9xd4f3MoVjcS6jYz71b{9kcGWvYnyvZ49ueG:3bnTfdoVxd3K2X3PhdoQwS0iHTVLMNVg4QTR4Mz:nQnNCVkeHUkyvZV4>
GMS-10
NHnVNoJIem:5dHigTY5pcWKrdHnvckBCe3OjeR?=
NFTsb2JKSzVyPUG3N{46PCCwTR?=
Moe3QIEhfGG{Z3X0QUdg[myjbnunJIhz\WZ;J3j0eJB{Qi9xd4f3MoVjcS6jYz71b{9kcGWvYnyvZ49ueG:3bnTfdoVxd3K2X3PhdoQwS0iHTVLMNVg4QTR4Mz:nQnNCVkeHUkyvZV4>
NCI-H2052
MnP4S5Jwf3SqIFnubIljcXSrb36gRZN{[Xl?
MmnSTWM2OD1zN{SuPUBvVQ>?
M3HGV|xiKHSjcnfleF0oZ2KuYX7rK{BpemWoPTfoeJRxezpxL4f3e{5m[mlwYXOueYsw[2inbXLsM4NwdXCxdX7kY5JmeG:{dG;jZZJlN0OKRV3CUFE5Pzl2NkOvK|5USU6JRWK8M4E,
SW626
NETEV2dIem:5dHigTY5pcWKrdHnvckBCe3OjeR?=
NYfN[21GUUN3ME2xO|YvODZibl2=
NHm1OW49[SC2YYLn[ZQ:L1:kbHHub{chcHKnZk2nbJR1eHN8Lz;3e5cv\WKrLnHjMpVsN2OqZX3icE9kd22yb4Xu[H9z\XCxcoTfZ4Fz\C:FSFXNRmwyQDd7NE[zM{c,W0GQR1XSQE9iRg>?
MDA-MB-415
NEiyRXhIem:5dHigTY5pcWKrdHnvckBCe3OjeR?=
M1rNTmlEPTB;MUe2MlYyKG6P
NYC2eJExRGFidHHy[4V1RSehYnzhcosoKGi{ZX[9K4h1fHC|Oj:ve5d4NmWkaT7hZ{52cy:laHXtZoww[2:vcH;1coRgemWyb4L0Y4NiemRxQ1jFUWJNOTh5OUS2N{8oRlODTlfFVlww[T5?
Saos-2
NHLi[|RIem:5dHigTY5pcWKrdHnvckBCe3OjeR?=
MmDZTWM2OD1zN{muN|Uhdk1?
Mnn0QIEhfGG{Z3X0QUdg[myjbnunJIhz\WZ;J3j0eJB{Qi9xd4f3MoVjcS6jYz71b{9kcGWvYnyvZ49ueG:3bnTfdoVxd3K2X3PhdoQwS0iHTVLMNVg4QTR4Mz:nQnNCVkeHUkyvZV4>
DK-MG
MXzHdo94fGhiSX7obYJqfGmxbjDBd5NigQ>?
M1\NVmlEPTB;MUiwMlMhdk1?
MknUQIEhfGG{Z3X0QUdg[myjbnunJIhz\WZ;J3j0eJB{Qi9xd4f3MoVjcS6jYz71b{9kcGWvYnyvZ49ueG:3bnTfdoVxd3K2X3PhdoQwS0iHTVLMNVg4QTR4Mz:nQnNCVkeHUkyvZV4>
SNU-C2B
NGfpXFZIem:5dHigTY5pcWKrdHnvckBCe3OjeR?=
NHj3d3ZKSzVyPUG4NE44OyCwTR?=
MUe8ZUB1[XKpZYS9K39jdGGwazegbJJm\j1paIT0dJM7Ny:5d4eu[YJqNmGlLoXrM4Np\W2kbD;jc41xd3WwZG;y[ZBwenShY3Hy[E9EUEWPQlyxPFc6PDZ|Lze+V2FPT0WUPD;hQi=>
A427
Mn3BS5Jwf3SqIFnubIljcXSrb36gRZN{[Xl?
MnXYTWM2OD1zOEKuOVchdk1?
NYn3fJQzRGFidHHy[4V1RSehYnzhcosoKGi{ZX[9K4h1fHC|Oj:ve5d4NmWkaT7hZ{52cy:laHXtZoww[2:vcH;1coRgemWyb4L0Y4NiemRxQ1jFUWJNOTh5OUS2N{8oRlODTlfFVlww[T5?
KP-N-YS
MVnHdo94fGhiSX7obYJqfGmxbjDBd5NigQ>?
M4TIR2lEPTB;MUi1JI5O
NYXtT3hjRGFidHHy[4V1RSehYnzhcosoKGi{ZX[9K4h1fHC|Oj:ve5d4NmWkaT7hZ{52cy:laHXtZoww[2:vcH;1coRgemWyb4L0Y4NiemRxQ1jFUWJNOTh5OUS2N{8oRlODTlfFVlww[T5?
J82
NVfQVYFOT3Kxd4ToJGlvcGmkaYTpc44hSXO|YYm=
NF;OUodKSzVyPUG4OU4yQCCwTR?=
MX[8ZUB1[XKpZYS9K39jdGGwazegbJJm\j1paIT0dJM7Ny:5d4eu[YJqNmGlLoXrM4Np\W2kbD;jc41xd3WwZG;y[ZBwenShY3Hy[E9EUEWPQlyxPFc6PDZ|Lze+V2FPT0WUPD;hQi=>
LS-411N
NGrqcWhIem:5dHigTY5pcWKrdHnvckBCe3OjeR?=
MmT5TWM2OD1zOEeuNlghdk1?
NVG1[WlORGFidHHy[4V1RSehYnzhcosoKGi{ZX[9K4h1fHC|Oj:ve5d4NmWkaT7hZ{52cy:laHXtZoww[2:vcH;1coRgemWyb4L0Y4NiemRxQ1jFUWJNOTh5OUS2N{8oRlODTlfFVlww[T5?
HCC1937
NUXSPXhtT3Kxd4ToJGlvcGmkaYTpc44hSXO|YYm=
NVL1fYF6UUN3ME2xPFcvPDlibl2=
NUjnXYFXRGFidHHy[4V1RSehYnzhcosoKGi{ZX[9K4h1fHC|Oj:ve5d4NmWkaT7hZ{52cy:laHXtZoww[2:vcH;1coRgemWyb4L0Y4NiemRxQ1jFUWJNOTh5OUS2N{8oRlODTlfFVlww[T5?
OE33
NI\tZ4xIem:5dHigTY5pcWKrdHnvckBCe3OjeR?=
MoLWTWM2OD1zOEiuPVchdk1?
NX3QSYdtRGFidHHy[4V1RSehYnzhcosoKGi{ZX[9K4h1fHC|Oj:ve5d4NmWkaT7hZ{52cy:laHXtZoww[2:vcH;1coRgemWyb4L0Y4NiemRxQ1jFUWJNOTh5OUS2N{8oRlODTlfFVlww[T5?
NB7
NGToT|BIem:5dHigTY5pcWKrdHnvckBCe3OjeR?=
NXvGOnZWUUN3ME2xPFkvQDlibl2=<