Idelalisib
For research use only. Not for use in humans.
製品コードS2226 別名:CAL-101, GS-1101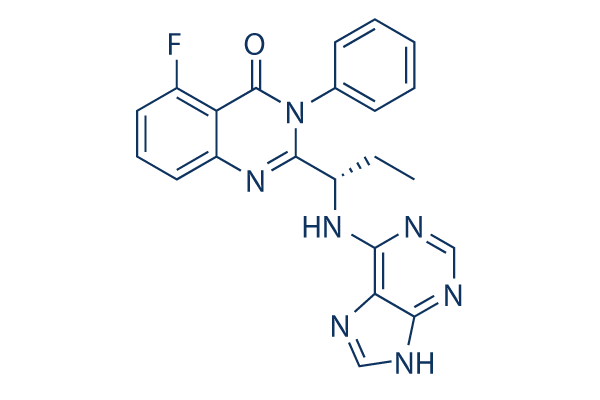 CAS No. 870281-82-6
Idelalisib (CAL-101, GS-1101) is a selective p110δ inhibitor with IC50 of 2.5 nM in cell-free assays; shown to have 40- to 300-fold greater selectivity for p110δ than p110α/β/γ, and 400- to 4000-fold more selectivity to p110δ than C2β, hVPS34, DNA-PK and mTOR. Idelalisib also stimulates autophagy.
生物活性
製品説明
Idelalisib (CAL-101, GS-1101) is a selective p110δ inhibitor with IC50 of 2.5 nM in cell-free assays; shown to have 40- to 300-fold greater selectivity for p110δ than p110α/β/γ, and 400- to 4000-fold more selectivity to p110δ than C2β, hVPS34, DNA-PK and mTOR. Idelalisib also stimulates autophagy.
ターゲット

p110δ [1]
(Cell-free assay)
p110γ [1]
(Cell-free assay)
2.5 nM
89 nM

体外試験

CAL-101 is not sensitive to other PI3K class I subunits including p110α, p110β, and p110γ. CAL-101 specifically blocks FcϵR1 p110δ-mediated CD63 expression with an EC50 of 8 nM in primary basophil. CAL-101 exhibits greater activity in B-cell acute lymphoblastic leukemia (B-ALL) and chronic lymphocytic leukemia (CLL) cells compared with acute myeloid leukemia (AML) and myeloproliferative neoplasm (MPN) cells. CAL-101 produces the reduction in pAktS473, pAktT308, and the downstream target S6 in SU-DHL-5, KARPAS-422 and CCRF-SB cells with EC50 of 0.1 to 1.0 μM. [1] CAL-101 induces selective cytotoxicity in CLL cells independent of IgVH mutational status or interphase cytogenetics, primarily through a caspase-dependent mechanism. CAL-101 induces cytotoxicity preferentially to CLL cells compared with normal B cells, without producing cytotoxicity in other hematopoietic cells, compared to LY294002. CAL-101 lacks direct cytotoxic potential to T cells and nature killer (NK) cells. CAL-101 can inhibit production of inflammatory cytokines, such as IL-6, IL-10, TNF-α, and IFN-γ, and activation-induced cytokines, such as CD40L. CAL-101 also antagonizes CD40L-mediated CLL cell survival. [2] CAL-101 induces an accumulation of cells in G1 and a decrease in the S-phase population in L1236 and L591 cells, which indicates CAL-101 as a novel strategy for the treatment of hodgkin lymphoma (HL). [3]

細胞データ

| Cell Lines | Assay Type | Concentration | Incubation Time | Formulation | Activity Description | PMID |
| --- | --- | --- | --- | --- | --- | --- |
| MEC1 | NYjoW3RIT3Kxd4ToJGlvcGmkaYTpc44hSXO|YYm= | | | NWrNeIdLTE2VTx?= | M1XxVGlEPTB;MkCuOEDPxE1? | M1jpXVxiKHSjcnfleF0oZ2KuYX7rK{BpemWoPTfoeJRxezpxL4D1Zo1m\C6wY3LpMo5tdS6waXiu[493NzJ3OUm5N|UzLz5{NUm5PVM2OjxxYU6= |
| CLL PBMCs | NUTKNVg5T3Kxd4ToJGlvcGmkaYTpc44hSXO|YYm= | | | NV7l[Gg2TE2VTx?= | M3fsWGlEPTB;Mj65JI5O | Ml\oQIEhfGG{Z3X0QUdg[myjbnunJIhz\WZ;J3j0eJB{Qi9xcIXicYVlNm6lYnmucoxuNm6raD7nc5YwOjV7MUeyOlcoRjJ3OUG3NlY4RC:jPh?= |
| U266 | M2nMbGdzd3e2aDDJcohq[mm2aX;uJGF{e2G7 | MnrGOFAh|ryP | NUDsS3pSPDhiaB?= | | NITKd2Q4QS53JTDpcohq[mm2aX;uJJJifGV? | MV[8ZUB1[XKpZYS9K39jdGGwazegbJJm\j1paIT0dJM7Ny:ydXLt[YQvdmOkaT7ucI0vdmmqLnfvek8zPTN|OUOzNkc,OjV|M{mzN|I9N2F- |
| K562 | NEnDW2xHfW6ldHnvckBCe3OjeR?= | NY\Xe4dWOSEQvF2= | Mk\CN{Bp | | NVnXXlZ[UW6qaXLpeIlwdiCxZjDBb5QheGixc4Doc5J6dGG2aX;u | MlexQIEhfGG{Z3X0QUdg[myjbnunJIhz\WZ;J3j0eJB{Qi9xcIXicYVlNm6lYnmucoxuNm6raD7nc5YwOjVyMUS3O|UoRjJ3MEG0O|c2RC:jPh?= |
| K562 | MmXaSpVv[3Srb36gRZN{[Xl? | M2XrelEh|ryP | NUPmZ29uOyCq | | M2Xje2lvcGmkaYTpc44hd2ZiUEewV|ZMKHCqb4PwbI9zgWyjdHnvci=> | M4rhTVxiKHSjcnfleF0oZ2KuYX7rK{BpemWoPTfoeJRxezpxL4D1Zo1m\C6wY3LpMo5tdS6waXiu[493NzJ3MEG0O|c2Lz5{NUCxOFc4PTxxYU6= |
| K562 | NV6wSllvTnWwY4Tpc44hSXO|YYm= | NX\q[I9NOSEQvF2= | MX6zJIg> | | NGHrboRKdmirYnn0bY9vKG:oIFfTT|MheGixc4Doc5J6dGG2aX;u | NGrE[5M9[SC2YYLn[ZQ:L1:kbHHub{chcHKnZk2nbJR1eHN8Lz;weYJu\WRwbnPibU5vdG1wbnnoModwfi9{NUCxOFc4PSd-MkWwNVQ4PzV:L3G+ |
| K562 | NU\oU3QzT3Kxd4ToJGlvcGmkaYTpc44hSXO|YYm= | Ml7VNUDPxE1? | NYOzT5FTPzJiaB?= | | NV;wVVF1UW6qaXLpeIlwdiCxZjDwdo9tcW[ncnH0bY9v | Mn3RQIEhfGG{Z3X0QUdg[myjbnunJIhz\WZ;J3j0eJB{Qi9xcIXicYVlNm6lYnmucoxuNm6raD7nc5YwOjVyMUS3O|UoRjJ3MEG0O|c2RC:jPh?= |
| Primary AML cell | MYXGeY5kfGmxbjDBd5NigQ>? | MmDhNUDPxE1? | MV6zJIg> | | MoPETY5pcWKrdHnvckBw\iCDa4SgdIhwe3Cqb4L5cIF1cW:w | M{jKSFxiKHSjcnfleF0oZ2KuYX7rK{BpemWoPTfoeJRxezpxL4D1Zo1m\C6wY3LpMo5tdS6waXiu[493NzJ3MEG0O|c2Lz5{NUCxOFc4PTxxYU6= |
| Primary AML cell | MYLGeY5kfGmxbjDBd5NigQ>? | MmDENUDPxE1? | NH;QepU{KGh? | | NWrGN49{UW6qaXLpeIlwdiCxZjDQO|BUPkticHjvd5Bpd3K7bHH0bY9v | M3XlUFxiKHSjcnfleF0oZ2KuYX7rK{BpemWoPTfoeJRxezpxL4D1Zo1m\C6wY3LpMo5tdS6waXiu[493NzJ3MEG0O|c2Lz5{NUCxOFc4PTxxYU6= |
| Primary AML cell | NWLBUWQ1TnWwY4Tpc44hSXO|YYm= | NFTlUG0yKM7:TR?= | NXHDdHBnOyCq | | M{my[GlvcGmkaYTpc44hd2ZiR2PLN{BxcG:|cHjvdplt[XSrb36= | NX[3ZVJjRGFidHHy[4V1RSehYnzhcosoKGi{ZX[9K4h1fHC|Oj:vdJVjdWWmLn7jZokvdmyvLn7pbE5od3ZxMkWwNVQ4PzVpPkK1NFE1Pzd3PD;hQi=> |
| Primary AML cell | NXPy[ZVlT3Kxd4ToJGlvcGmkaYTpc44hSXO|YYm= | MoDwNUDPxE1? | NEDHXZA{KGh? | | MnewV5VxeHKnc4Ppc44hd2ZicmLORUB{gW62aHXzbZM> | NHvMVFg9[SC2YYLn[ZQ:L1:kbHHub{chcHKnZk2nbJR1eHN8Lz;weYJu\WRwbnPibU5vdG1wbnnoModwfi9{NUCxOFc4PSd-MkWwNVQ4PzV:L3G+ |
| Microglia | M1XTfWZ2dmO2aX;uJGF{e2G7 | NGP6NYo2KM7:TR?= | MnXHNVAhcA>? | MmexSG1UVw>? | NEC1bJNF\WO{ZXHz[UBw\iCWTl\hJJNm[3KndHnvckBnem:vIFzQV{1{fGmvdXzheIVlKCCyMUGw{tRFQTFyQT;EPVExSSCvaXPyc4dtcWF? | NXTOSph2RGFidHHy[4V1RSehYnzhcosoKGi{ZX[9K4h1fHC|Oj:vdJVjdWWmLn7jZokvdmyvLn7pbE5od3ZxMkS2NlU3QDRpPkK0OlI2Pjh2PD;hQi=> |
| Primary CLL cell | MnzaSpVv[3Srb36gRZN{[Xl? | NUPiTYx7OSEQvF2= | M1;6NlE2KG2rbh?= | MUHEUXNQ | NWX2VIpnSmyxY3vzJGJEWi2rbnT1Z4VlKEyFUEGgd4VzcW6nLUWgZYN1cX[jdHnvci=> | NGDKRWQ9[SC2YYLn[ZQ:L1:kbHHub{chcHKnZk2nbJR1eHN8Lz;weYJu\WRwbnPibU5vdG1wbnnoModwfi9{NECwPVI{Oyd-MkSwNFkzOzN:L3G+ |
| JEKO-1 | NGn1bFNHfW6ldHnvckBCe3OjeR?= | NIDNbncyKM7:TR?= | MoTVO|IhcA>? | | MlTRTY5pcWKrdHnvckBw\iCDa4SgdIhwe3Cqb4L5cIF1cW:wIHnuJGloVS2|dHnteYxifGWmIFrFT28uOQ>? | M{e0RlxiKHSjcnfleF0oZ2KuYX7rK{BpemWoPTfoeJRxezpxL4D1Zo1m\C6wY3LpMo5tdS6waXiu[493NzJ|M{SxOVQyLz5{M{O0NVU1OTxxYU6= |
| Granta-519 | MWrGeY5kfGmxbjDBd5NigQ>? | MWKxJO69VQ>? | M1TF[FIhcA>? | | MnHBTY5pcWKrdHnvckBw\iCDa4SoeFMxQClicHjvd5Bpd3K7bHH0bY9v | NIKxXJE9[SC2YYLn[ZQ:L1:kbHHub{chcHKnZk2nbJR1eHN8Lz;weYJu\WRwbnPibU5vdG1wbnnoModwfi9{M{O0NVU1OSd-MkOzOFE2PDF:L3G+ |
| Granta-519 | MYXGeY5kfGmxbjDBd5NigQ>? | NIfHXJcyKM7:TR?= | MkTaNkBp | | MUHJcohq[mm2aX;uJI9nKEGtdDjzOFc{MSCyaH;zdIhwenmuYYTpc44> | MWi8ZUB1[XKpZYS9K39jdGGwazegbJJm\j1paIT0dJM7Ny:ydXLt[YQvdmOkaT7ucI0vdmmqLnfvek8zOzN2MUW0NUc,OjN|NEG1OFE9N2F- |
| JEKO-1 | MYfHdo94fGhiSX7obYJqfGmxbjDBd5NigQ>? | M4XyOVExKM7:TR?= | Mn23O|IhcA>? | | M{jXUmlvcGmkaYTpc44hd2ZicILvcIln\XKjdHnvckB{dGmpaITsfS=> | MWO8ZUB1[XKpZYS9K39jdGGwazegbJJm\j1paIT0dJM7Ny:ydXLt[YQvdmOkaT7ucI0vdmmqLnfvek8zOzN2MUW0NUc,OjN|NEG1OFE9N2F- |
| JEKO-1 | M{DqNmdzd3e2aDDJcohq[mm2aX;uJGF{e2G7 | M1XXRlUh|ryP | MUC3NkBp | | MXPkc4V{KG6xdDDpcoR2[2ViY3XscEBkgWOuZTDhdpJme3Rib4KgZZBweHSxc3nz | NGO5Vmc9[SC2YYLn[ZQ:L1:kbHHub{chcHKnZk2nbJR1eHN8Lz;weYJu\WRwbnPibU5vdG1wbnnoModwfi9{M{[3OlIzOCd-MkO2O|YzOjB:L3G+ |
| MAVER-1 | NGPKTG9Iem:5dHigTY5pcWKrdHnvckBCe3OjeR?= | M2TUV|Uh|ryP | MXG3NkBp | | NHTpdYhld2W|IH7veEBqdmS3Y3WgZ4VtdCCleXPs[UBienKnc4Sgc5Ih[XCxcITvd4l{ | NGntZ|g9[SC2YYLn[ZQ:L1:kbHHub{chcHKnZk2nbJR1eHN8Lz;weYJu\WRwbnPibU5vdG1wbnnoModwfi9{M{[3OlIzOCd-MkO2O|YzOjB:L3G+ |
| MINO | NGLL[YdIem:5dHigTY5pcWKrdHnvckBCe3OjeR?= | MWm1JO69VQ>? | NHvJ[Hk4OiCq | | MUnkc4V{KG6xdDDpcoR2[2ViY3XscEBkgWOuZTDhdpJme3Rib4KgZZBweHSxc3nz | M2XyXlxiKHSjcnfleF0oZ2KuYX7rK{BpemWoPTfoeJRxezpxL4D1Zo1m\C6wY3LpMo5tdS6waXiu[493NzJ|Nke2NlIxLz5{M{[3OlIzODxxYU6= |
| SP53 | MUnHdo94fGhiSX7obYJqfGmxbjDBd5NigQ>? | M2TJW|AvOSEQvF2= | NUHBdXNnPzJiaB?= | | NG\IXYVld2W|IH7veEBqdmS3Y3WgZ4VtdCCleXPs[UBienKnc4Sgc5Ih[XCxcITvd4l{ | M2PmbFxiKHSjcnfleF0oZ2KuYX7rK{BpemWoPTfoeJRxezpxL4D1Zo1m\C6wY3LpMo5tdS6waXiu[493NzJ|Nke2NlIxLz5{M{[3OlIzODxxYU6= |
| HH | MV3Hdo94fGhiSX7obYJqfGmxbjDBd5NigQ>? | NIP3XFAyOCEQvF2= | M3LWS|czKGh? | MmHBSG1UVw>? | NEHWNGlKdmS3Y4Tpc44hd2ZiYYDvdJRwe2m|IIPsbYdpfGy7 | MUC8ZUB1[XKpZYS9K39jdGGwazegbJJm\j1paIT0dJM7Ny:ydXLt[YQvdmOkaT7ucI0vdmmqLnfvek8zOjhyMUm1PUc,OjJ6MEG5OVk9N2F- |
| Myla | Mm\wS5Jwf3SqIFnubIljcXSrb36gRZN{[Xl? | MlftNVAh|ryP | M4f2[FczKGh? | MmPwSG1UVw>? | MmC4[I9meyCwb4SgbY5lfWOnIHHwc5B1d3Orcx?= | MWG8ZUB1[XKpZYS9K39jdGGwazegbJJm\j1paIT0dJM7Ny:ydXLt[YQvdmOkaT7ucI0vdmmqLnfvek8zOjhyMUm1PUc,OjJ6MEG5OVk9N2F- |
| SR786 | MmfoS5Jwf3SqIFnubIljcXSrb36gRZN{[Xl? | NHjy[VUyOCEQvF2= | MWK3NkBp | Mni2SG1UVw>? | NYHSTYtm\G:nczDuc5QhcW6mdXPlJIFxd3C2b4Ppdy=> | NFTlSlI9[SC2YYLn[ZQ:L1:kbHHub{chcHKnZk2nbJR1eHN8Lz;weYJu\WRwbnPibU5vdG1wbnnoModwfi9{MkiwNVk2QSd-MkK4NFE6PTl:L3G+ |
| HuT78 | NY\rOGxFT3Kxd4ToJGlvcGmkaYTpc44hSXO|YYm= | Mn;RNVAh|ryP | MXm3NkBp | Mlq1SG1UVw>? | NVrIfGRu\G:nczDuc5QhcW6mdXPlJIFxd3C2b4Ppdy=> | NHzw[JU9[SC2YYLn[ZQ:L1:kbHHub{chcHKnZk2nbJR1eHN8Lz;weYJu\WRwbnPibU5vdG1wbnnoModwfi9{MkiwNVk2QSd-MkK4NFE6PTl:L3G+ |
| MJ | NGjCd5hIem:5dHigTY5pcWKrdHnvckBCe3OjeR?= | MX[xNEDPxE1? | NF3mdVc4OiCq | MnX4SG1UVw>? | MXPkc4V{KG6xdDDpcoR2[2ViYYDvdJRwe2m| | M3jXe|xiKHSjcnfleF0oZ2KuYX7rK{BpemWoPTfoeJRxezpxL4D1Zo1m\C6wY3LpMo5tdS6waXiu[493NzJ{OECxPVU6Lz5{MkiwNVk2QTxxYU6= |
| DERL7 | MVTHdo94fGhiSX7obYJqfGmxbjDBd5NigQ>? | M3;EUFExKM7:TR?= | NYT0WZk2PzJiaB?= | MlvISG1UVw>? | Moi1[I9meyCwb4SgbY5lfWOnIHHwc5B1d3Orcx?= | NHryWpU9[SC2YYLn[ZQ:L1:kbHHub{chcHKnZk2nbJR1eHN8Lz;weYJu\WRwbnPibU5vdG1wbnnoModwfi9{MkiwNVk2QSd-MkK4NFE6PTl:L3G+ |
| L1236 | NEfKeJFHfW6ldHnvckBCe3OjeR?= | NIXTWFMyOCEQvF2= | M{nE[FIhcA>? | | M3TGTGlvcGmkaYTpc44hd2ZiQXv0JJBpd3OyaH;yfYxifGmxbh?= | MWK8ZUB1[XKpZYS9K39jdGGwazegbJJm\j1paIT0dJM7Ny:ydXLt[YQvdmOkaT7ucI0vdmmqLnfvek8zOjJzMEi3O{c,OjJ{MUC4O|c9N2F- |
| L428 | M1vCfWZ2dmO2aX;uJGF{e2G7 | NGTSeZEyOCEQvF2= | NETaTJkzKGh? | | NXLGNldlUW6qaXLpeIlwdiCxZjDBb5QheGixc4Doc5J6dGG2aX;u | MYC8ZUB1[XKpZYS9K39jdGGwazegbJJm\j1paIT0dJM7Ny:ydXLt[YQvdmOkaT7ucI0vdmmqLnfvek8zOjJzMEi3O{c,OjJ{MUC4O|c9N2F- |
| L591 | M3[2WGZ2dmO2aX;uJGF{e2G7 | MVOxNEDPxE1? | M{i2b|IhcA>? | | NWHZXmg3UW6qaXLpeIlwdiCxZjDBb5QheGixc4Doc5J6dGG2aX;u | NVLRO2VnRGFidHHy[4V1RSehYnzhcosoKGi{ZX[9K4h1fHC|Oj:vdJVjdWWmLn7jZokvdmyvLn7pbE5od3ZxMkKyNVA5PzdpPkKyNlExQDd5PD;hQi=> |
| KMH-2 | Mn64SpVv[3Srb36gRZN{[Xl? | M3;Fe|ExKM7:TR?= | MnLINkBp | | NEjZVpZKdmirYnn0bY9vKG:oIFHreEBxcG:|cHjvdplt[XSrb36= | NHTCfoo9[SC2YYLn[ZQ:L1:kbHHub{chcHKnZk2nbJR1eHN8Lz;weYJu\WRwbnPibU5vdG1wbnnoModwfi9{MkKxNFg4Pyd-MkKyNVA5Pzd:L3G+ |
| L1236 | M1XBZmZ2dmO2aX;uJGF{e2G7 | M4jad|Uh|ryP | MWWyOEBp | | MU\CcI9kc3Nic3XjdoV1cW:wIH;mJJRp\SCFQ1y1 | NVvHXndGRGFidHHy[4V1RSehYnzhcosoKGi{ZX[9K4h1fHC|Oj:vdJVjdWWmLn7jZokvdmyvLn7pbE5od3ZxMkKyNVA5PzdpPkKyNlExQDd5PD;hQi=> |
| L591 | M4\uUGZ2dmO2aX;uJGF{e2G7 | NGq2T4I2KM7:TR?= | NF\SN4wzPCCq | | NYK1UmM5SmyxY3vzJJNm[3KndHnvckBw\iC2aHWgR2NNPQ>? | MWO8ZUB1[XKpZYS9K39jdGGwazegbJJm\j1paIT0dJM7Ny:ydXLt[YQvdmOkaT7ucI0vdmmqLnfvek8zOjJzMEi3O{c,OjJ{MUC4O|c9N2F- |
| L1236 | NFLPSWtCeG:ydH;zbZMhSXO|YYm= | NVjoOXZ3PSEQvF2= | NWPqS4E4OjRiaB?= | | NVr5[INJUW6mdXP0bY9vKG:oIHHwc5B1d3Orcx?= | M1jWdVxiKHSjcnfleF0oZ2KuYX7rK{BpemWoPTfoeJRxezpxL4D1Zo1m\C6wY3LpMo5tdS6waXiu[493NzJ{MkGwPFc4Lz5{MkKxNFg4PzxxYU6= |
| L591 | NX\MUFBDSXCxcITvd4l{KEG|c3H5 | MlPSOUDPxE1? | M37We|I1KGh? | | MmnhTY5lfWO2aX;uJI9nKGGyb4D0c5Nqew>? | M1XSXFxiKHSjcnfleF0oZ2KuYX7rK{BpemWoPTfoeJRxezpxL4D1Zo1m\C6wY3LpMo5tdS6waXiu[493NzJ{MkGwPFc4Lz5{MkKxNFg4PzxxYU6= |
| U-87MG | M4fCfmZ2dmO2aX;uJGF{e2G7 | MkTqNVAxKG6P | MXWyOEBp | Moq4SG1UVw>? | NF3uOHpKdmirYnn0bY9vKG:oIDDj[YxtKG2rZ4LheIlwdg>? | MWK8ZUB1[XKpZYS9K39jdGGwazegbJJm\j1paIT0dJM7Ny:ydXLt[YQvdmOkaT7ucI0vdmmqLnfvek8zOjB5OU[wPUc,OjJyN{m2NFk9N2F- |
| SW1783 | MVTGeY5kfGmxbjDBd5NigQ>? | M4i0WFExOCCwTR?= | M1HRN|I1KGh? | NGXtT3VFVVOR | M2PiNWlvcGmkaYTpc44hd2ZiIHPlcIwhdWmpcnH0bY9v | MkDJQIEhfGG{Z3X0QUdg[myjbnunJIhz\WZ;J3j0eJB{Qi9xcIXicYVlNm6lYnmucoxuNm6raD7nc5YwOjJyN{m2NFkoRjJ{MEe5OlA6RC:jPh?= |
| U-87MG | Mo\tSpVv[3Srb36gRZN{[Xl? | M3\KRlUh|ryP | MVeyOEBp | NWO1U5pDTE2VTx?= | M1fUOGlvcGmkaYTpc44hd2ZiQXv0JJBpd3OyaH;yfYxifGmxbjDzeYJ{fGGwdHnhcIx6 | M3v0dFxiKHSjcnfleF0oZ2KuYX7rK{BpemWoPTfoeJRxezpxL4D1Zo1m\C6wY3LpMo5tdS6waXiu[493NzJ{MEe5OlA6Lz5{MkC3PVYxQTxxYU6= |
| SW1783 | NV7LToRbTnWwY4Tpc44hSXO|YYm= | NWOw[G9jPSEQvF2= | NGn4bJozPCCq | MXfEUXNQ | NIO0U4pKdmirYnn0bY9vKG:oIFHreEBxcG:|cHjvdplt[XSrb36gd5Vje3SjboTpZYxtgQ>? | MkX3QIEhfGG{Z3X0QUdg[myjbnunJIhz\WZ;J3j0eJB{Qi9xcIXicYVlNm6lYnmucoxuNm6raD7nc5YwOjJyN{m2NFkoRjJ{MEe5OlA6RC:jPh?= |
| U-373MG | NEnCT25HfW6ldHnvckBCe3OjeR?= | NHjTO3o2KM7:TR?= | NIr4SYMzPCCq | M3nnfmROW09? | MV3Jcohq[mm2aX;uJI9nKEGtdDDwbI9{eGixconsZZRqd25ic4Xid5RidnSrYXzsfS=> | NWr6Z491RGFidHHy[4V1RSehYnzhcosoKGi{ZX[9K4h1fHC|Oj:vdJVjdWWmLn7jZokvdmyvLn7pbE5od3ZxMkKwO|k3ODlpPkKyNFc6PjB7PD;hQi=> |
| SK-MG3 | MnPlSpVv[3Srb36gRZN{[Xl? | Mom1OUDPxE1? | MV[yOEBp | NHm4b4NFVVOR | MUDJcohq[mm2aX;uJI9nKEGtdDDwbI9{eGixconsZZRqd25ic4Xid5RidnSrYXzsfS=> | NVnNXm5HRGFidHHy[4V1RSehYnzhcosoKGi{ZX[9K4h1fHC|Oj:vdJVjdWWmLn7jZokvdmyvLn7pbE5od3ZxMkKwO|k3ODlpPkKyNFc6PjB7PD;hQi=> |
| SU-DHL-5 | NETQRW1HfW6ldHnvckBCe3OjeR?= | NYfHXIRTOSEQvF2= | NFz6fXkzPCCq | NWjVN3N6TE2VTx?= | NU\rbpc3UW6mdXP0bY9vKG:oIHHwc5B1d3Orcx?= | MkPXQIEhfGG{Z3X0QUdg[myjbnunJIhz\WZ;J3j0eJB{Qi9xcIXicYVlNm6lYnmucoxuNm6raD7nc5YwOjB7NUm2NFYoRjJyOUW5OlA3RC:jPh?= |
| WSU-NHL | NHy4cpNHfW6ldHnvckBCe3OjeR?= | MVGxJO69VQ>? | Mn6yNlQhcA>? | M1\3dmROW09? | Mn\3TY5lfWO2aX;uJI9nKGGyb4D0c5Nqew>? | MWq8ZUB1[XKpZYS9K39jdGGwazegbJJm\j1paIT0dJM7Ny:ydXLt[YQvdmOkaT7ucI0vdmmqLnfvek8zODl3OU[wOkc,OjB7NUm2NFY9N2F- |
| CCRF-SB | MUDGeY5kfGmxbjDBd5NigQ>? | NFfBO|MyKM7:TR?= | MXSyOEBp | MonBSG1UVw>? | NE\TWm1KdmS3Y4Tpc44hd2ZiYYDvdJRwe2m| | M1LvWlxiKHSjcnfleF0oZ2KuYX7rK{BpemWoPTfoeJRxezpxL4D1Zo1m\C6wY3LpMo5tdS6waXiu[493NzJyOUW5OlA3Lz5{MEm1PVYxPjxxYU6= |
| INA-6 | NYG3UlJ4TnWwY4Tpc44hSXO|YYm= | MlzlOUDPxE1? | M{HJV|YhcA>? | | M{PmcmlvcGmkaYTpc44hd2ZiUFmzT{9Cc3RiYX7kJGVTUyCyYYToe4F6 | Ml7zQIEhfGG{Z3X0QUdg[myjbnunJIhz\WZ;J3j0eJB{Qi9xcIXicYVlNm6lYnmucoxuNm6raD7nc5YwOjB3MEWxOVgoRjJyNUC1NVU5RC:jPh?= |
| LB | M{DI[mZ2dmO2aX;uJGF{e2G7 | NGLoSY42KM7:TR?= | NFTtelg3KGh? | | NX7GPHpvUW6qaXLpeIlwdiCxZjDQTVRMN0GtdDDhcoQhTVKNIIDheIh4[Xl? | NIraUJc9[SC2YYLn[ZQ:L1:kbHHub{chcHKnZk2nbJR1eHN8Lz;weYJu\WRwbnPibU5vdG1wbnnoModwfi9{MEWwOVE2QCd-MkC1NFUyPTh:L3G+ |
| B-cells | NVfWO45FTnWwY4Tpc44h[XO|YYm= | | | | MoHVTY5pcWKrdHnvckBw\iCSSUPL[IVtfGFiaX6gRk1k\WyuczDifUBxem:uaX\ldoF1cW:wIHHzd4F6NCCLQ{WwJF0hOC5yME[xJO69VS5? | M{PvOlxiKHSjcnfleF0oZ2KuYX7rK{BpemWoPTfoeJRxezpxL4D1Zo1m\C6wY3LpMo5tdS6waXiu[493NzJ{OUK0Olg5Lz5{MkmyOFY5QDxxYU6= |
| MOLM14 | NI[yXlFCdnSrcILvcIln\XKjdHn2[UBie3OjeR?= | | MnXtN{Bl[Xm| | | MnnSRY51cXC{b3zp[oVz[XSrdnWgZYN1cX[rdImgZYdicW6|dDDoeY1idiCPT1zNNVQh[2WubIOgZYZ1\XJiMzDkZZl{KGK7IFPlcIxVcXSncj3HcI8h[XO|YYmsJGlEPTBiPTCzMlYh|ryPLh?= | NHvicGM9[SC2YYLn[ZQ:L1:kbHHub{chcHKnZk2nbJR1eHN8Lz;weYJu\WRwbnPibU5vdG1wbnnoModwfi9{N{e3OFEzPyd-Mke3O|QyOjd:L3G+ |
| MV4-11 | MojLRY51cXC{b3zp[oVz[XSrdnWgZZN{[Xl? | | MW[zJIRigXN? | | M1S1bmFvfGmycn;sbYZmemG2aY\lJIFkfGm4aYT5JIFo[Wmwc4SgbJVu[W5iTW[0MVEyKGOnbHzzJIFnfGW{IEOg[IF6eyCkeTDD[YxtXGm2ZYKtS4xwKGG|c3H5MEBKSzVyIE2gOk4{KM7:TT6= | M3yzdFxiKHSjcnfleF0oZ2KuYX7rK{BpemWoPTfoeJRxezpxL4D1Zo1m\C6wY3LpMo5tdS6waXiu[493NzJ5N{e0NVI4Lz5{N{e3OFEzPzxxYU6= |
| Jurkat | Mki1RY51cXC{b3zp[oVz[XSrdnWgZZN{[Xl? | | M1vtPFMh\GG7cx?= | | MVTBcpRqeHKxbHnm[ZJifGm4ZTDhZ5Rqfmm2eTDh[4FqdnO2IHj1cYFvKEq3cnvheEBk\WyuczDh[pRmeiB|IHThfZMh[nliQ3XscHRqfGW{LVfsc{Bie3OjeTygTWM2OCB;IEeuPUDPxE1w | MXO8ZUB1[XKpZYS9K39jdGGwazegbJJm\j1paIT0dJM7Ny:ydXLt[YQvdmOkaT7ucI0vdmmqLnfvek8zPzd5NEGyO{c,Ojd5N{SxNlc9N2F- |
| Loucy | M2HmVGFvfGmycn;sbYZmemG2aY\lJIF{e2G7 | | M1;rVVMh\GG7cx?= | | NIO3OW1CdnSrcILvcIln\XKjdHn2[UBi[3Srdnn0fUBi\2GrboP0JIh2dWGwIFzveYN6KGOnbHzzJIFnfGW{IEOg[IF6eyCkeTDD[YxtXGm2ZYKtS4xwKGG|c3H5MEBKSzVyIE2gPE41KM7:TT6= | MlyyQIEhfGG{Z3X0QUdg[myjbnunJIhz\WZ;J3j0eJB{Qi9xcIXicYVlNm6lYnmucoxuNm6raD7nc5YwOjd5N{SxNlcoRjJ5N{e0NVI4RC:jPh?= |
| MOLT4 | NEToXFJCdnSrcILvcIln\XKjdHn2[UBie3OjeR?= | | MmDrN{Bl[Xm| | | NGCxSJlCdnSrcILvcIln\XKjdHn2[UBi[3Srdnn0fUBi\2GrboP0JIh2dWGwIF3PUHQ1KGOnbHzzJIFnfGW{IEOg[IF6eyCkeTDD[YxtXGm2ZYKtS4xwKGG|c3H5MEBKSzVyIE2gNVAvPiEQvF2u | MmjNQIEhfGG{Z3X0QUdg[myjbnunJIhz\WZ;J3j0eJB{Qi9xcIXicYVlNm6lYnmucoxuNm6raD7nc5YwOjd5N{SxNlcoRjJ5N{e0NVI4RC:jPh?= |
| insect cells | NXTEcmtCTnWwY4Tpc44h[XO|YYm= | | | | NH70ZoVKdmirYnn0bY9vKG:oIILlZ49u[mmwYX70JIh2dWGwIH\1cIwhdGWwZ4ToJGhqey22YXfn[YQhWEl|S3fhcY1iKGW6cILld5Nm\CCrbjDpcpNm[3RiY3XscJMtKEmFNUCgQUAxNjB6OTFOwG0v | MXe8ZUB1[XKpZYS9K39jdGGwazegbJJm\j1paIT0dJM7Ny:ydXLt[YQvdmOkaT7ucI0vdmmqLnfvek8zPzh2NkS1NUc,Ojd6NE[0OVE9N2F- |
| SUDHL6 | M2iz[2FvfGmycn;sbYZmemG2aY\lJIF{e2G7 | | NGDKOIc4OiCqcoO= | | NXfiWW95SW62aYDyc4xq\mW{YYTpeoUh[WO2aY\peJkh[WejaX7zeEBpfW2jbjDTWWRJVDZiY3XscJMhdWWjc4Xy[YQh[W[2ZYKgO|IhcHK|IHL5JIFt[W2jcjDicJVmKGG|c3H5MEBKSzVyIE2gNE4yOTd4IN88UU4> | NY\h[FFVRGFidHHy[4V1RSehYnzhcosoKGi{ZX[9K4h1fHC|Oj:vdJVjdWWmLn7jZokvdmyvLn7pbE5od3ZxMke4OFY1PTFpPkK3PFQ3PDVzPD;hQi=> |
| insect cells | M3e1bmZ2dmO2aX;uJIF{e2G7 | | | | NVvpT4xFUW6qaXLpeIlwdiCxZjDy[YNwdWKrbnHueEBpfW2jbjDmeYxtKGynbnf0bEBJcXNvdHHn[4VlKFCLM1vi[ZRiKGW6cILld5Nm\CCrbjDpcpNm[3RiY3XscJMtKEmFNUCgQUAxNjV4NTFOwG0v | MXe8ZUB1[XKpZYS9K39jdGGwazegbJJm\j1paIT0dJM7Ny:ydXLt[YQvdmOkaT7ucI0vdmmqLnfvek8zPzh2NkS1NUc,Ojd6NE[0OVE9N2F- |
| SU-DHL4 | MX7BcpRqeHKxbHnm[ZJifGm4ZTDhd5NigQ>? | | M1XnXlczKGi{cx?= | | NULhUHZySW62aYDyc4xq\mW{YYTpeoUh[WO2aY\peJkh[WejaX7zeEBpfW2jbjDTWU1FUEx2IHPlcIx{KG2nYYP1doVlKGGodHXyJFczKGi{czDifUBidGGvYYKgZox2\SCjc4PhfUwhUUN3MDC9JFEvPiEQvF2u | M3f0bVxiKHSjcnfleF0oZ2KuYX7rK{BpemWoPTfoeJRxezpxL4D1Zo1m\C6wY3LpMo5tdS6waXiu[493NzJ5OES2OFUyLz5{N{i0OlQ2OTxxYU6= |
| Pfeiffer | Mn6yRY51cXC{b3zp[oVz[XSrdnWgZZN{[Xl? | | MVe3NkBpenN? | | NXK2Z2RtSW62aYDyc4xq\mW{YYTpeoUh[WO2aY\peJkh[WejaX7zeEBpfW2jbjDQ[oVq\m[ncjDj[YxteyCvZXHzeZJm\CCjZoTldkA4OiCqcoOgZpkh[WyjbXHyJIJtfWViYYPzZZktKEmFNUCgQUA3NjhizszNMi=> | MnnSQIEhfGG{Z3X0QUdg[myjbnunJIhz\WZ;J3j0eJB{Qi9xcIXicYVlNm6lYnmucoxuNm6raD7nc5YwOjd6NE[0OVEoRjJ5OES2OFUyRC:jPh?= |
| KARPAS422 | MljKRY51cXC{b3zp[oVz[XSrdnWgZZN{[Xl? | | NFv1SFM4OiCqcoO= | | MmjURY51cXC{b3zp[oVz[XSrdnWgZYN1cX[rdImgZYdicW6|dDDoeY1idiCNQWLQRXM1OjJiY3XscJMhdWWjc4Xy[YQh[W[2ZYKgO|IhcHK|IHL5JIFt[W2jcjDicJVmKGG|c3H5MEBKSzVyIE2gPE4yKM7:TT6= | MoL3QIEhfGG{Z3X0QUdg[myjbnunJIhz\WZ;J3j0eJB{Qi9xcIXicYVlNm6lYnmucoxuNm6raD7nc5YwOjd6NE[0OVEoRjJ5OES2OFUyRC:jPh?= |
| Sf21 | NVr2VXd{TnWwY4Tpc44h[XO|YYm= | | M1fUflMxKG2rboO= | | MW\Jcohq[mm2aX;uJI9nKE5vdHXycYlv[WxiSHnzOk11[WepZXSgdoVkd22kaX7hcpQh\nWubD3s[Y5ofGhiaIXtZY4hWEl|SzDwNVEx[mW2YT;1cpRi\2enZDDy[YNwdWKrbnHueEBnfWyuIHzlcod1cCCqdX3hckBxQDWjbIDoZUBmgHC{ZYPz[YQhcW5iYnHjeYxwfmm{dYOgbY5n\WO2ZXSgV4YzOSCrboPlZ5Qh[2WubIOgeZNqdmdiUFnQNk9CXFBiYYOgd5Vje3S{YYTlJIFnfGW{IEOwJI1qdnNiYomgWHIuTlKHVDDhd5NigSxiSVO1NEA:KDNwNzFOwG0v | NUC1[INJRGFidHHy[4V1RSehYnzhcosoKGi{ZX[9K4h1fHC|Oj:vdJVjdWWmLn7jZokvdmyvLn7pbE5od3ZxMkixNFY6QTFpPkK4NVA3QTlzPD;hQi=> |
| Sf21 | M4noWGZ2dmO2aX;uJIF{e2G7 | | M1nNelMxKG2rboO= | | NFTCSGxKdmirYnn0bY9vKG:oIF6teIVzdWmwYXygTIl{Pi22YXfn[YQhemWlb33ibY5idnRiZoXscE1t\W6pdHigbJVu[W5iUFmzT{BxOTFyYnX0ZU92dnSjZ3fl[EBz\WOxbXLpcoFvfCCodXzsJIxmdme2aDDoeY1idiCyOEXhcJBp[SCneIDy[ZN{\WRiaX6gZoFkfWyxdnnyeZMhcW6oZXP0[YQhW2Z{MTDpcpNm[3RiY3XscJMhfXOrbnegVGlROi:DVGCgZZMhe3Wkc4TyZZRmKGGodHXyJFMxKG2rboOgZpkhXFJvRmLFWEBie3OjeTygTWM2OCB;IEOuO{DPxE1w | M4C2[FxiKHSjcnfleF0oZ2KuYX7rK{BpemWoPTfoeJRxezpxL4D1Zo1m\C6wY3LpMo5tdS6waXiu[493NzJ6MUC2PVkyLz5{OEGwOlk6OTxxYU6= |
| RPMI8266 | M1KyNWFvfGmycn;sbYZmemG2aY\lJIF{e2G7 | | MYS3NkBpenN? | | M3LSbWFvfGmycn;sbYZmemG2aY\lJIFkfGm4aYT5JIFo[Wmwc4SgbJVu[W5iUmDNTVgzPjZiY3XscJMh[W[2ZYKgO|IhcHK|IHL5JG1VXCCjc4PhfUwhUUN3MDC9JFAvODB3NEmg{txONg>? | MlWzQIEhfGG{Z3X0QUdg[myjbnunJIhz\WZ;J3j0eJB{Qi9xcIXicYVlNm6lYnmucoxuNm6raD7nc5YwOjh|MkW2NFEoRjJ6M{K1OlAyRC:jPh?= |
| Raji | MkfGRY51cXC{b3zp[oVz[XSrdnWgZZN{[Xl? | | Ml\uO|IhcHK| | | MV3BcpRqeHKxbHnm[ZJifGm4ZTDhZ5Rqfmm2eTDh[4FqdnO2IHj1cYFvKFKjanmgZ4VtdHNiYX\0[ZIhPzJiaILzJIJ6KE2WVDDhd5NigSxiSVO1NEA:KDBwMEC5PVUh|ryPLh?= | NXm3WYhwRGFidHHy[4V1RSehYnzhcosoKGi{ZX[9K4h1fHC|Oj:vdJVjdWWmLn7jZokvdmyvLn7pbE5od3ZxMkizNlU3ODFpPkK4N|I2PjBzPD;hQi=> |
| KARPAS422 | M3XEV2dzd3e2aDDpcohq[mm2aX;uJIF{e2G7 | | | | NXSzTXVZT3Kxd4ToJIlvcGmkaYTpc44hd2ZiaIXtZY4hU0GUUFHTOFIzKGOnbHzzJIJ6KEOFS{igZZN{[XluIFfJOVAhRSByLk[4JO69VS5? | MmizQIEhfGG{Z3X0QUdg[myjbnunJIhz\WZ;J3j0eJB{Qi9xcIXicYVlNm6lYnmucoxuNm6raD7nc5YwOjh6M{W4NFUoRjJ6OEO1PFA2RC:jPh?= |
| Pfeiffer | NFHhR4ZIem:5dHigbY5pcWKrdHnvckBie3OjeR?= | | | | MkHiS5Jwf3SqIHnubIljcXSrb36gc4YhcHWvYX6gVIZmcW[oZYKgZ4VtdHNiYomgR2NMQCCjc4PhfUwhT0l3MDC9JFAvPzRizszNMi=> | NUPYOGhMRGFidHHy[4V1RSehYnzhcosoKGi{ZX[9K4h1fHC|Oj:vdJVjdWWmLn7jZokvdmyvLn7pbE5od3ZxMki4N|U5ODVpPkK4PFM2QDB3PD;hQi=> |
| Saos-2 | NHv6VmdyUFSVIHHzd4F6 | | | | Mo\pdWhVWyCxZjDw[YRq[XS{aXOgZ4Fv[2W{IHPlcIwhdGmwZYOgeI8hcWSnboTp[pkhdXWudHnwcIUhd3Cyb4L0eY5qfGmnczDmc5Ih\HK3ZzDy[ZB2enCxc3nu[|ohWHKrbXHyfUB{[3KnZX6g[o9zKFOjb4OtNkBk\Wyucx?= | MmjzQIEhfGG{Z3X0QUdg[myjbnunJIhz\WZ;J3j0eJB{Qi9xcIXicYVlNm6lYnmucoxuNm6raD7nc5YwOjl2M{WxN|koRjJ7NEO1NVM6RC:jPh?= |
| SK-N-SH | NWTROYxseUiWUzDhd5NigQ>? | | | | NFLDb|hyUFSVIH;mJJBm\GmjdILpZ{Bk[W6lZYKgZ4VtdCCuaX7ld{B1dyCrZHXueIlngSCvdXz0bZBt\SCxcIDvdpR2dmm2aXXzJIZweiCmcoXnJJJmeHW{cH;zbY5oQiCScnntZZJ6KHOlcnXlckBnd3JiU1utUk1UUCClZXzsdy=> | M1jrNFxiKHSjcnfleF0oZ2KuYX7rK{BpemWoPTfoeJRxezpxL4D1Zo1m\C6wY3LpMo5tdS6waXiu[493NzJ7NEO1NVM6Lz5{OUSzOVE{QTxxYU6= |
| MG 63 (6-TG R) | MUXxTHRUKGG|c3H5 | | | | NFPKdJpyUFSVIH;mJJBm\GmjdILpZ{Bk[W6lZYKgZ4VtdCCuaX7ld{B1dyCrZHXueIlngSCvdXz0bZBt\SCxcIDvdpR2dmm2aXXzJIZweiCmcoXnJJJmeHW{cH;zbY5oQiCScnntZZJ6KHOlcnXlckBnd3JiTVegOlMhMDZvVFegVkkh[2WubIO= | MkDyQIEhfGG{Z3X0QUdg[myjbnunJIhz\WZ;J3j0eJB{Qi9xcIXicYVlNm6lYnmucoxuNm6raD7nc5YwOjl2M{WxN|koRjJ7NEO1NVM6RC:jPh?= |
| NB1643 | M3HUepFJXFNiYYPzZZk> | | | | NEnFOFFyUFSVIH;mJJBm\GmjdILpZ{Bk[W6lZYKgZ4VtdCCuaX7ld{B1dyCrZHXueIlngSCvdXz0bZBt\SCxcIDvdpR2dmm2aXXzJIZweiCmcoXnJJJmeHW{cH;zbY5oQiCScnntZZJ6KHOlcnXlckBnd3JiTlKxOlQ{KGOnbHzz | M1HuWVxiKHSjcnfleF0oZ2KuYX7rK{BpemWoPTfoeJRxezpxL4D1Zo1m\C6wY3LpMo5tdS6waXiu[493NzJ7NEO1NVM6Lz5{OUSzOVE{QTxxYU6= |
| OHS-50 | M1HrSJFJXFNiYYPzZZk> | | | | Mo\idWhVWyCxZjDw[YRq[XS{aXOgZ4Fv[2W{IHPlcIwhdGmwZYOgeI8hcWSnboTp[pkhdXWudHnwcIUhd3Cyb4L0eY5qfGmnczDmc5Ih\HK3ZzDy[ZB2enCxc3nu[|ohWHKrbXHyfUB{[3KnZX6g[o9zKE:KUz21NEBk\Wyucx?= | M4nHRVxiKHSjcnfleF0oZ2KuYX7rK{BpemWoPTfoeJRxezpxL4D1Zo1m\C6wY3LpMo5tdS6waXiu[493NzJ7NEO1NVM6Lz5{OUSzOVE{QTxxYU6= |
| Rh41 | NIW4WXhyUFSVIHHzd4F6 | | | | MkDtdWhVWyCxZjDw[YRq[XS{aXOgZ4Fv[2W{IHPlcIwhdGmwZYOgeI8hcWSnboTp[pkhdXWudHnwcIUhd3Cyb4L0eY5qfGmnczDmc5Ih\HK3ZzDy[ZB2enCxc3nu[|ohWHKrbXHyfUB{[3KnZX6g[o9zKFKqNEGgZ4VtdHN? | NIXXPJA9[SC2YYLn[ZQ:L1:kbHHub{chcHKnZk2nbJR1eHN8Lz;weYJu\WRwbnPibU5vdG1wbnnoModwfi9{OUSzOVE{QSd-Mkm0N|UyOzl:L3G+ |
| SK-N-MC | NHXTOpJyUFSVIHHzd4F6 | | | | NVTY[YdLeUiWUzDv[kBx\WSrYYTybYMh[2GwY3XyJINmdGxibHnu[ZMhfG9iaXTlcpRq\nlibYXseIlxdGVib4Dwc5J1fW6rdHnld{Bnd3JiZIL1[{Bz\XC3coDvd4lv\zpiUILpcYFzgSC|Y4Ll[Y4h\m:{IGPLMW4uVUNiY3XscJM> | NFzGTnk9[SC2YYLn[ZQ:L1:kbHHub{chcHKnZk2nbJR1eHN8Lz;weYJu\WRwbnPibU5vdG1wbnnoModwfi9{OUSzOVE{QSd-Mkm0N|UyOzl:L3G+ |
| NB-EBc1 | MXzxTHRUKGG|c3H5 | | | | NHvKZXNyUFSVIH;mJJBm\GmjdILpZ{Bk[W6lZYKgZ4VtdCCuaX7ld{B1dyCrZHXueIlngSCvdXz0bZBt\SCxcIDvdpR2dmm2aXXzJIZweiCmcoXnJJJmeHW{cH;zbY5oQiCScnntZZJ6KHOlcnXlckBnd3JiTlKtSWJkOSClZXzsdy=> | NVXUeWxXRGFidHHy[4V1RSehYnzhcosoKGi{ZX[9K4h1fHC|Oj:vdJVjdWWmLn7jZokvdmyvLn7pbE5od3ZxMkm0N|UyOzlpPkK5OFM2OTN7PD;hQi=> |
| LAN-5 | MmHWdWhVWyCjc4PhfS=> | | | | NX\a[phZeUiWUzDv[kBx\WSrYYTybYMh[2GwY3XyJINmdGxibHnu[ZMhfG9iaXTlcpRq\nlibYXseIlxdGVib4Dwc5J1fW6rdHnld{Bnd3JiZIL1[{Bz\XC3coDvd4lv\zpiUILpcYFzgSC|Y4Ll[Y4h\m:{IFzBUk02KGOnbHzz | NGLQR|k9[SC2YYLn[ZQ:L1:kbHHub{chcHKnZk2nbJR1eHN8Lz;weYJu\WRwbnPibU5vdG1wbnnoModwfi9{OUSzOVE{QSd-Mkm0N|UyOzl:L3G+ |
| SUDHL6 | M1nWd2FvfGmycn;sbYZmemG2aY\lJIF{e2G7 | | NFnic3E4OiCqcoO= | | MkTkRY51cXC{b3zp[oVz[XSrdnWgZYN1cX[rdImgZYdicW6|dDDoeY1idiCVVVTIUFYh[2WubIOgZYZ1\XJiN{KgbJJ{KGK7IFPDT|gh[XO|YYmsJGlEPTBiPTCwMlY2KM7:TT6= | M4niZVxiKHSjcnfleF0oZ2KuYX7rK{BpemWoPTfoeJRxezpxL4D1Zo1m\C6wY3LpMo5tdS6waXiu[493NzJ7NUO0PVM3Lz5{OUWzOFk{PjxxYU6= |
| RPMI8226 | MXXBcpRqeHKxbHnm[ZJifGm4ZTDhd5NigQ>? | | NIK0XXg4OiCqcoO= | | MVfBcpRqeHKxbHnm[ZJifGm4ZTDhZ5Rqfmm2eTDh[4FqdnO2IHj1cYFvKFKSTVm4NlI3KGOnbHzzJIFnfGW{IEeyJIhzeyCkeTDNWHQh[XO|YYmsJGlEPTBiPTC1MlQ6KM7:TT6= | M3foWlxiKHSjcnfleF0oZ2KuYX7rK{BpemWoPTfoeJRxezpxL4D1Zo1m\C6wY3LpMo5tdS6waXiu[493NzJ7NUO0PVM3Lz5{OUWzOFk{PjxxYU6= |
| Raji | NHP3V|dCdnSrcILvcIln\XKjdHn2[UBie3OjeR?= | | MkiyO|IhcHK| | | NF\Y[4lCdnSrcILvcIln\XKjdHn2[UBi[3Srdnn0fUBi\2GrboP0JIh2dWGwIGLhbokh[2WubIOgZYZ1\XJiN{KgbJJ{KGK7IF3UWEBie3OjeTygTWM2OCB;IEmuPVUh|ryPLh?= | M3HXblxiKHSjcnfleF0oZ2KuYX7rK{BpemWoPTfoeJRxezpxL4D1Zo1m\C6wY3LpMo5tdS6waXiu[493NzJ7NUO0PVM3Lz5{OUWzOFk{PjxxYU6= |
| SU-DHL6 | M3rpSmdzd3e2aDDpcohq[mm2aX;uJIF{e2G7 | | | | MW\Hdo94fGhiaX7obYJqfGmxbjDv[kBpfW2jbjDTWU1FUEx4IHPlcIx{KGK7IFPlcIxVcXSncj3HcI8h[XO|YYmsJGdKPTBiPTCwMlA1OiEQvF2u | MWS8ZUB1[XKpZYS9K39jdGGwazegbJJm\j1paIT0dJM7Ny:ydXLt[YQvdmOkaT7ucI0vdmmqLnfvek8zQTZyMUm5NUc,Ojl4MEG5PVE9N2F- |
| MOLM13 | MoqyS5Jwf3SqIHnubIljcXSrb36gZZN{[Xl? | | NI\Reo04OiCqcoO= | | NHPae4FIem:5dHigbY5pcWKrdHnvckBw\iCqdX3hckBOV0yPMUOgZ4VtdHNiYX\0[ZIhPzJiaILzJIJ6KEOnbHzUbZRmei2JbH:gcJVucW6nc3PlcpQh[XO|YYmsJGdKPTBiPTCxMlch|ryPLh?= | MmTIQIEhfGG{Z3X0QUdg[myjbnunJIhz\WZ;J3j0eJB{Qi9xcIXicYVlNm6lYnmucoxuNm6raD7nc5YwOzByNUO3NlEoRjNyMEWzO|IyRC:jPh?= |
| MOLM14 | NX[3NHpNT3Kxd4ToJIlvcGmkaYTpc44h[XO|YYm= | | MUm3NkBpenN? | | NEHHSIpIem:5dHigbY5pcWKrdHnvckBw\iCqdX3hckBOV0yPMUSgZ4VtdHNiYX\0[ZIhPzJiaILzJIJ6KEOnbHzUbZRmei2JbH:gcJVucW6nc3PlcpQh[XO|YYmsJGdKPTBiPTC2MlQh|ryPLh?= | M1znOlxiKHSjcnfleF0oZ2KuYX7rK{BpemWoPTfoeJRxezpxL4D1Zo1m\C6wY3LpMo5tdS6waXiu[493NzNyMEWzO|IyLz5|MEC1N|czOTxxYU6= |
| MOLM14 | Ml\WRY51cXS3bX;yJIF{e2G7 | NF7HXm0yODBibXevb4c> | NX3pPHNDOTRiZHH5dy=> | | MVXBcpRqfHWvb4KgZYN1cX[rdImgZYdicW6|dDDoeY1idiCPT1zNNVQh[2WubIOgfIVvd2e{YX\0[YQhcW5iboWvcpUhdW:3c3WgZZN{\XO|ZXSgZZMhfHWvb4Kg[5Jwf3SqIHnubIljcXSrb36gZZQhOTByIH3nM4toNCCybzDh[I1qdmm|dHXy[YQh\GGrbImgeoliKGejdnHn[UBld3OnZDDmc5IhOTRiZHH5d{BidmRibXXhd5Vz\WRiZHHpcJkh\HW{aX7nJINwdXCxdX7kJIRwe2mwZzDy[YxifGm4ZTD0c{Bkd262cn;s | M4LPWFxiKHSjcnfleF0oZ2KuYX7rK{BpemWoPTfoeJRxezpxL4D1Zo1m\C6wY3LpMo5tdS6waXiu[493NzNyMEWzO|IyLz5|MEC1N|czOTxxYU6= |
| MOLM14 | NFHkNllCdnSrdIXtc5Ih[XO|YYm= | NHK5NVUyODBibXevb4c> | MnOzNVQh\GG7cx?= | | NWDrdZVLSW62aYT1cY9zKGGldHn2bZR6KGGpYXnud5QhcHWvYX6gUW9NVTF2IHPlcIx{KHinbn;ndoFnfGWmIHnuJI52N263IH3veZNmKGG|c3Xzd4VlKGG|IHnu[JVkfGmxbjDv[kBieG:ydH;zbZMh[XRiMUCwJI1oN2upLDDwc{Bi\G2rbnnzeIVz\WRiZHHpcJkhfmmjIHfheoFo\SCmb4Pl[EBnd3JiMUSg[IF6eyCjbnSgcYVie3W{ZXSg[IFqdHliZIXybY5oKGOxbYDveY5lKGSxc3nu[{BjgSCWVV7FUEBj[XOnZDDhd5NigQ>? | NYLPe5N2RGFidHHy[4V1RSehYnzhcosoKGi{ZX[9K4h1fHC|Oj:vdJVjdWWmLn7jZokvdmyvLn7pbE5od3ZxM{CwOVM4OjFpPkOwNFU{PzJzPD;hQi=> |
| MOLM14 | MkjKRY51cXS3bX;yJIF{e2G7 | NUjGWnlwOTByIH3nM4to | NYjKeXRQOTRiZHH5dy=> | | NWPDTXFLSW62aYT1cY9zKGGldHn2bZR6KGGpYXnud5QhcHWvYX6gUW9NVTF2IHPlcIx{KHinbn;ndoFnfGWmIHnuJI52N263IH3veZNmKGG|c3Xzd4VlKGG|IHnubIljcXSrb36gc4YhfHWvb4KgdJJwdGmoZYLheIlwdiBzMECgcYcwc2duIIDvJIFldWmwaYP0[ZJm\CCmYXnsfUB3cWFiZ3H2ZYdmKGSxc3XkJIZweiBzNDDkZZl{KGGwZDDt[YF{fXKnZDDkZYltgSCmdYLpcoch[2:vcH;1coQh\G:|aX7nJIJ6KEurLU[3JIxi[mWubHnu[{Bj[XOnZDDpcY12dm:q | MYO8ZUB1[XKpZYS9K39jdGGwazegbJJm\j1paIT0dJM7Ny:ydXLt[YQvdmOkaT7ucI0vdmmqLnfvek8{ODB3M{eyNUc,OzByNUO3NlE9N2F- |

アッセイ

Methods
Test Index
PMID
Western blot
27342398 30224718 28008149
Growth inhibition assay

Cell viability;


The indicated cell lines were treated with increasing concentrations of idelalisib for 72 h. Cell viability was determined by MTS assay.

Cell viability;


Indicated cell lines were treated with different concentrations of idelalisib for 72 hours. Cell proliferation was determined by MTS assay. Results were expressed as means ± SD of three independent experiments.

30224718 28008149
お薦めの試験操作(参考用のみ)
キナーゼ試験:[2]

- 合併

PI3K assay:

PI3K assay is preformed on whole-cell lysates from CLL or normal B cells. A PI3K ELISA assay is performed. Briefly, whole-cell extracts are added to a mixture of PI(4,5)P2 substrate and reaction buffer containing adenosine triphosphate (ATP) and allowed to incubate at room temperature. The reaction is stopped by adding PI(3,4,5)P3 detector mixed with EDTA (ethylenediaminetetraacetic acid) and allowed to incubate at room temperature for 1 hour. After this time, the mixture is transferred from each well to a PI3K ELISA plate and allowed to incubate 1 hour. Plates are washed and then incubated with secondary detector for 30 minutes. Plates are washed again, and 3,3′,5,5′-tetramethylbenzidine solution is added for 5 minutes at which time H2SO4 is added to stop all reactions. Plates are read at 450 nm on a Labsystems 96-well plate reader.

細胞試験: [2]

- 合併

細胞株: CLL B cells or healthy volunteer T cells or NK cells
濃度: 0.01-100 μM
反応時間: 48 hours
実験の流れ: MTT assays are performed to determine cytotoxicity. 1 × 105 cells are incubated with CAL-101. MTT reagent is then added, and plates are incubated for an additional 20 hours before washing with protamine sulfate in phosphate-buffered saline. DMSO is added, and absorbance is measured by spectrophotometry at 540 nm in a Labsystems plate reader. Cell viability is also measured at various time points with the use of annexin/PI flow cytometry. Data are analyzed. At least 104 cells are counted for each sample. Results are expressed as the percentage of total positive cells over untreated control. Experiments examining caspase-dependent apoptosis included the addition of 100 μM Z-VAD. Experiments examining survival signals include the addition of 1 μg/mL CD40L, 800 U/mL IL-4, 50 ng/mL BAFF, 20 ng/mL TNF-α, or coculturing on fibronectin or stromal (HS-5 cell line) coated plates. Stromal coculture is done by plating a 75-cm2 flask (80%-100% confluent) per 6-well plate 24 hours before the addition of CLL cells.


(参考用のみ)
溶解度 (25°C)
体外
DMSO
83 mg/mL (199.79 mM) warming
Ethanol
23 mg/mL (55.36 mM)
Water
Insoluble
体内
左から(NMPから)右の順に溶剤を製品に加えます(文献ではなく、Selleckの実験によるデータ):
2% DMSO+20%PEG 300+ddH2O
混合させたのち直ちに使用することを推奨します。
5mg/mL
* 溶解度測定はSelleck技術部門によって行われており、その他文献に示されている溶解度と差異がある可能性がありますが、同一ロットの生産工程で起きる正常な現象ですからご安心ください。
化学情報
分子量
415.42
化学式

C22H18FN7O

CAS No.
870281-82-6
Storage
powder
in solvent
別名
CAL-101, GS-1101
Smiles
CCC(C1=NC2=C(C(=CC=C2)F)C(=O)N1C3=CC=CC=C3)NC4=NC=NC5=C4NC=N5
投与溶媒組成計算器(クリア溶液)
ステップ1:実験データを入力してください。(実験操作によるロスを考慮し、動物数を1匹分多くして計算・調製することを推奨します)
投与量
mg/kg
動物平均体重
g
投与体積(動物毎)
ul
動物数
匹
ステップ2:投与溶媒の組成を入力してください。(ロット毎に適した溶解組成が異なる場合があります。詳細については弊社までお問い合わせください)
% DMSO % % Tween 80 % ddH2O
計算リセット
計算結果:
投与溶媒濃度: mg/ml;
DMSOストック溶液調製方法: mg 試薬を μL DMSOに溶解する(濃度 mg/mL,
投与溶媒調製方法:μL DMSOストック溶液に μL PEG300,を加え、完全溶解後μL Tween 80,を加えて完全溶解させた後 μL ddH2O,を加え完全に溶解させます。
1.ストック溶液に沈殿、混濁などがないことをご確認ください;
2.順番通りに溶剤を加えてください。次のステップに進む前に溶液に沈殿、混濁などがないことを確認してから加えてください。ボルテックス、ソニケーション、水浴加熱など物理的な方法で溶解を早めることは可能です。

便利ツール
モル濃度計算器
モル濃度計算器
求めたい質量、体積または濃度を計算してください。
質量 (mg) = 濃度 (mM) x 体積 (mL) x 分子量 (g/mol)
モル濃度計算器方程式
*貯蔵液を準備するとき、常に、オンであるとわかる製品のバッチに特有の分子量を使って、を通してラベルとSDS/COA(製品ページで利用可能な)。
希釈計算器
希釈計算器
貯蔵液を準備するために必要な希釈率を計算してください。Selleck希釈計算器は、以下の方程式に基づきます:
開始濃度 x 開始体積 = 最終濃度 x 最終体積
希釈の計算式
この方程式は、一般に略語を使われます:C1V1 = C2V2 ( 入力 出力 )
常に貯蔵液を準備するとき、小びんラベルとSDS/COA(オンラインで利用できる)で見つかる製品のバッチに特有の分子量を使ってください。
分子量計算器
分子量计算器
そのモル質量と元素組成を計算するために、合成物の化学式を入力してください:
チップス: 化学式は大文字と小文字の区別ができます。C10H16N2O2 c10h16n2o2
モル濃度計算器
臨床試験
| NCT Number | Recruitment | interventions | Conditions | Sponsor/Collaborators | Start Date | Phases |
| --- | --- | --- | --- | --- | --- | --- |
| NCT03582098 | Completed | Drug: Idelalisib|Drug: Rituximab | Chronic Lymphocytic Leukaemia | Gilead Sciences | September 12 2018 | -- |
| NCT03151057 | Active not recruiting | Drug: Idelalisib 100 MG|Drug: Placebo Oral Tablet | B Cells-Tumors|B Cell Chronic Lymphocytic Leukemia|Follicular Lymphoma|Mantle Cell Lymphoma|Large B-Cell Diffuse Lymphoma of Bone (Diagnosis) | Sidney Kimmel Comprehensive Cancer Center at Johns Hopkins|Gilead Sciences | July 31 2018 | Phase 1 |
| NCT03568929 | Completed | Drug: Idelalisib | Follicular Non-Hodgkin''s Lymphoma Refractory | Gilead Sciences | May 25 2018 | -- |
技術サポート
ストックの作り方、阻害剤の保管方法、細胞実験や動物実験の際に注意すべき点など、製品を取扱う時に問い合わせが多かった質問に対しては取扱説明書でお答えしています。
他に質問がある場合は、お気軽にお問い合わせください。
よくある質問(FAQ)
質問1:

What is the recommended dose of CAL-101 and the route of administration for mouse studies?

回答:

According to the following paper, S2226 can be used by I.V. administration at the concentration of 40 mg/kg. https://www.ncbi.nlm.nih.gov/pubmed/24625684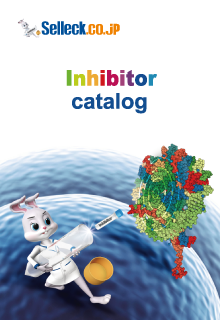 PI3K Inhibitors with Unique Features
相関PI3K製品