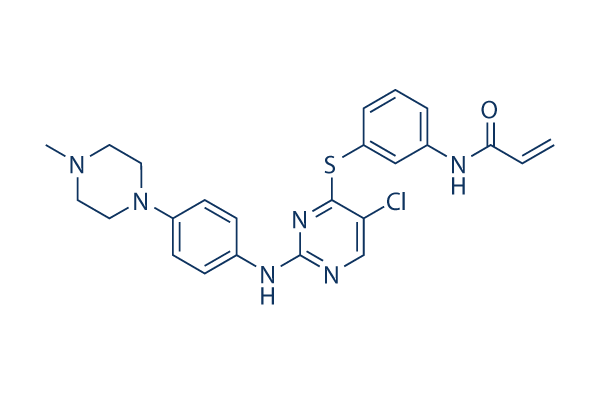 分子量(MW):481.01
WZ8040 is a novel mutant-selective irreversible EGFRT790M inhibitor, does not inhibit ERBB2 phosphorylation (T798I).
カスタマーフィードバック(2)
After starved in serum-free medium for 24h,A549 cells incubated with the indicated concentrations of WZ8040 for 3h,followed by 20-minute stimolation of 100ng/ml EGF.

Dr. Zhang of Tianjin Medical University. WZ8040 purchased from Selleck.

For MTT assays, cells (2,000 ~ 5,000 cells/well) were subcultured into 96-well plates according to their growth properties. Cell proliferation was assayed at 72 hr after treatment of WZ8040 by adding 20 μl of 5 mg/ml 3-(4,5-Dimethylthiazol-2-yl)-2,5-diphenyltetrazolium bromide (MTT) solution per 100 μl of growth medium. After incubating for 3-4 h at 37°C, the media were removed and 150 µl/well of MTT solvent (either absolute DMSO or isopropanol containing 4 μM HCl and 0.1% Nonidet-40) was added to dissolve the formazan.

Dr. Yong-Weon Yi from Georgetown University Medical Center. WZ8040 purchased from Selleck.
生物活性
| | |
| --- | --- |
| 製品説明 | WZ8040 is a novel mutant-selective irreversible EGFRT790M inhibitor, does not inhibit ERBB2 phosphorylation (T798I). |
| 特性 | Inhibits EGFR T790M mutation and not wild-type EGFR. |
| ターゲット | |
| 体外試験 | WZ8040 is 30- to 100-fold more potent against EGFR T790M, and up to 100-fold less potent against wild-type EGFR, than quinazoline-based EGFR inhibitors such as CL-387785 and HKI-272. WZ8040 treatment potently inhibits the growth of HCC827 (EGFR Del E746_A750), PC9 (EGFR Del E746_A750), H3255 (EGFR L858R), H1975 (EGFR L858R/T790M), and PC9 GR (EGFR Del E746_A750/T790M) with IC50 of 1 nM, 6 nM, 66 nM, 9 nM, and 8 nM, respectively. WZ8040 weakly inhibits the growth of HCC827 GR (EGFR E746_A750/MET amp), H1819 (ERBB2 amp), Calu-3 (ERBB2 amp), H1781 (ERBB2 Ins G776V, C), and HN11 (EGFR & ERBB2 WT) with IC50 of >3.3 μM, 738 nM, 915 nM, 744 nM, and 1.82 μM, respectively. WZ8040 is not toxic up to 10 μM against A549 (KRAS mutant) or H3122 (EML4-ALK) cells. [1] |
お薦めの試験操作(参考用のみ)
細胞試験: [1]

+ 展開

細胞株: HCC827, H3255, HCC827 GR, H1975, PC9, PC9 GR, Calu-3, H1819, and Ba/F3
濃度: Dissolved in DMSO, final concentrations ~10 μM
反応時間: 72 hours
実験の流れ: Cells are exposed to increasing concentrations of WZ8040 for 72 hours. Growth is assessed using the MTS survival assay.


(参考用のみ)
溶解度 (25°C)
体外
DMSO
96 mg/mL (199.58 mM)
Ethanol
3 mg/mL (6.23 mM)
Water
Insoluble
* 溶解度測定はSelleck技術部門によって行われており、その他文献に示されている溶解度と差異がある可能性がありますが、同一ロットの生産工程で起きる正常な現象ですからご安心ください。
化学情報
分子量
481.01
化学式

C24H25ClN6OS

CAS No.
1214265-57-2
保管
粉
in solvent
別名
N/A
便利ツール
モル濃度計算器
モル濃度計算器
求めたい質量、体積または濃度を計算してください。
質量 (g) = 濃度 (mol/L) x 体積 (L) x 分子量 (g/mol)
モル濃度計算器方程式
*貯蔵液を準備するとき、常に、オンであるとわかる製品のバッチに特有の分子量を使って、を通してラベルとMSDS/COA(製品ページで利用可能な)。
希釈計算器
希釈計算器
貯蔵液を準備するために必要な希釈率を計算してください。Selleck希釈計算器は、以下の方程式に基づきます:
開始濃度 x 開始体積 = 最終濃度 x 最終体積
希釈の計算式
この方程式は、一般に略語を使われます:C1V1 = C2V2 ( 入力 出力 )
常に貯蔵液を準備するとき、小びんラベルとMSDS/COA(オンラインで利用できる)で見つかる製品のバッチに特有の分子量を使ってください。
分子量計算器
分子量计算器
そのモル質量と元素組成を計算するために、合成物の化学式を入力してください:
チップス: 化学式は大文字と小文字の区別ができます。C10H16N2O2 c10h16n2o2
モル濃度計算器
技術サポート
ストックの作り方、阻害剤の保管方法、細胞実験や動物実験の際に注意すべき点など、製品を取扱う時に問い合わせが多かった質問に対しては取扱説明書でお答えしています。
他に質問がある場合は、お気軽にお問い合わせください。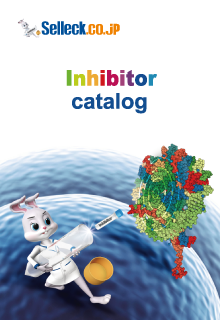 相関EGFR製品