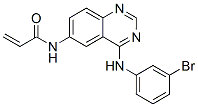 分子量(MW):369.22
PD168393 is an irreversible EGFR inhibitor with IC50 of 0.70 nM, irreversibly alkylate Cys-773; inactive against insulin, PDGFR, FGFR and PKC.
カスタマーフィードバック(1)
(B) Immunohistochemical staining for α-actinin and EdU showed that EGFR inhibitor (PD-168393), JNK inhibitor (sp-600125), and SP-1 inhibitor (mithramycin A) could abolish the effect of TIMP-3 siRNA in promoting cardiomyocyte proliferation. n=3 per group for Western blot. At least 2000 cells were quantified in each group. Data are shown as mean±SEM and reflect at least three independent experiments. Scale bar: 100 μm. *, P<0.05, ***, P<0.001 versus respective control.

Theranostics, 2017, 7(3):664-676.. PD168393 purchased from Selleck.
生物活性
| | |
| --- | --- |
| 製品説明 | PD168393 is an irreversible EGFR inhibitor with IC50 of 0.70 nM, irreversibly alkylate Cys-773; inactive against insulin, PDGFR, FGFR and PKC. |
| 特性 | Preclinical compound used in the design of CI-1033. |
| ターゲット | |
| 体外試験 | PD 168393 is docked into the ATP binding pocket of EGFR TK. PD168393 completely suppresses EGF-dependent receptor autophosphorylation in A431 cells during continuous exposure, with continous suppression even after 8 hr in compound-free medium. PD168393 inhibits heregulin-induced tyrosine phosphorylation in MDA-MB-453 cells with IC50 of 5.7 nM. PD168393 is inactive against insulin, PDGF and basic FGFR TKs as well as PKC. PD168393 inhibits EGF-mediated tyrosine phosphorylation in HS-27 human fibroblasts with IC50 of 1-6 nM but has little effect on FGF- or PDGF-mediated tyrosine phosphorylation. [1] PD168393 shows rapid and potent inhibition of Her2-induced tyrosine phosphorylation with IC50 of ~100 nM in 3T3-Her2 cells. D168393 also inhibits phosphorylation of PLCγ1/Stat1/Dok1/δ-catenin in 3T3-Her2 cells, except for Fyb. [2] |
| 体内試験 | PD 168393 produces tumor growth inhibition of 115% in A431 human epidermoid carcinoma xenograft in nude mice, with 50% reduced phosphotyrosine content of EGFR. PD 168393 also shows a low plasma concentration. [1] |
お薦めの試験操作(参考用のみ)
動物試験:[1]

+ 展開

動物モデル: Athymic nude mice with A431 human epidermoid carcinoma
製剤: 4% dimethylacetamide in aqueous 50 mM sodium lactate buffer (pH 4)
投薬量: 58 mg/kg
投与方法: i.p.


(参考用のみ)
溶解度 (25°C)
体外
DMSO
73 mg/mL (197.71 mM)
Water
Insoluble
Ethanol
Insoluble
体内
左から(NMPから)右の順に溶剤を製品に加えます(文献ではなく、Selleckの実験によるデータ):
30% PEG400+0.5% Tween80+5% propylene glycol
混合させたのち直ちに使用することを推奨します。
10 mg/mL
* 溶解度測定はSelleck技術部門によって行われており、その他文献に示されている溶解度と差異がある可能性がありますが、同一ロットの生産工程で起きる正常な現象ですからご安心ください。
化学情報
分子量
369.22
化学式

C17H13BrN4O

CAS No.
194423-15-9
保管
粉
in solvent
別名
N/A
便利ツール
モル濃度計算器
モル濃度計算器
求めたい質量、体積または濃度を計算してください。
質量 (g) = 濃度 (mol/L) x 体積 (L) x 分子量 (g/mol)
モル濃度計算器方程式
*貯蔵液を準備するとき、常に、オンであるとわかる製品のバッチに特有の分子量を使って、を通してラベルとMSDS/COA(製品ページで利用可能な)。
希釈計算器
希釈計算器
貯蔵液を準備するために必要な希釈率を計算してください。Selleck希釈計算器は、以下の方程式に基づきます:
開始濃度 x 開始体積 = 最終濃度 x 最終体積
希釈の計算式
この方程式は、一般に略語を使われます:C1V1 = C2V2 ( 入力 出力 )
常に貯蔵液を準備するとき、小びんラベルとMSDS/COA(オンラインで利用できる)で見つかる製品のバッチに特有の分子量を使ってください。
分子量計算器
分子量计算器
そのモル質量と元素組成を計算するために、合成物の化学式を入力してください:
チップス: 化学式は大文字と小文字の区別ができます。C10H16N2O2 c10h16n2o2
モル濃度計算器
技術サポート
ストックの作り方、阻害剤の保管方法、細胞実験や動物実験の際に注意すべき点など、製品を取扱う時に問い合わせが多かった質問に対しては取扱説明書でお答えしています。
他に質問がある場合は、お気軽にお問い合わせください。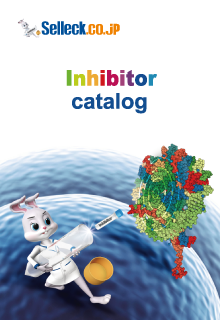 相関EGFR製品