CL-387785 (EKI-785)
製品コードS7557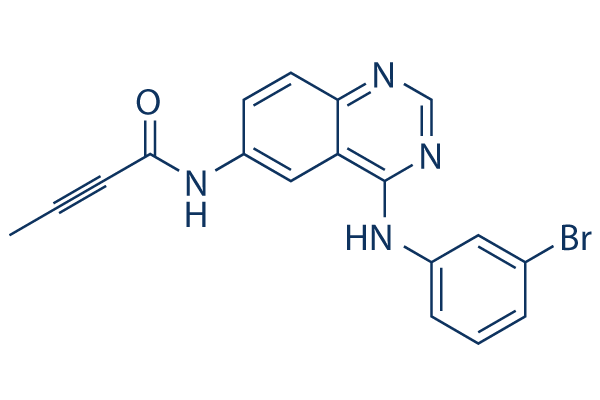 分子量(MW):381.23
CL-387785 (EKI-785) is an irreversible, and selective EGFR inhibitor with IC50 of 370 pM.
カスタマーフィードバック(1)
C, EGFR L718Q and L844V Ba/F3 cells retain sensitivity to irreversible quinazoline EGFR inhibitors. Cells were treated with different drugs at the indicated concentrations, and viable cells were measured after 72 hours of treatment and plotted relative to untreated controls. For Western blot analysis, 3T3 cells expressing the respective constructs were treated with different drugs at indicated concentrations for 16 hours. Cell extracts were immunoblotted to detect the indicated proteins. D, EGFR Del 1/L718Q Ba/F3 cells have a growth disadvantage. Equal number of cells was seeded in the presence of or absence of EGF or IL3. Cell number was evaluated in triplicate at the indicated time points.

Clin Cancer Res, 2015, 21(17):3913-23. . CL-387785 (EKI-785) purchased from Selleck.
生物活性
| | |
| --- | --- |
| 製品説明 | CL-387785 (EKI-785) is an irreversible, and selective EGFR inhibitor with IC50 of 370 pM. |
| ターゲット | |
| 体外試験 | CL-387785 blocks EGF-stimulated autoposphorylation of the receptor in cells (IC50, 5 nM), In cell lines that overexpress EGF-R or c-erbB-2, CL-387785 inhibits cell proliferation (IC50, 31 nM) primarily in a cytostatic manner. [1] |
| 体内試験 | In nude mice overexpressed EGF-R, CL-387785 (80 mg/kg/day, p.o.) profoundly blocks the growth of tumor. [1] In murine models of autosomal recessive polycystic kidney disease (ARPKD), treatment of Balb/c-bpk/bpk (BPK) mice with CL-387785 (90 mg/kg, i.p.) results in a marked reduction of collecting tubule cystic lesions, improved renal function, decreased biliary epithelial abnormalities, and prolonged life span. [2] Doses of CL-387785 as low as 25 mg/kg reduces the growth of HCA-7-induced xenograft tumor, and a dose of 100 mg/kg prevents tumor growth entirely. Dose of 50 mg/kg CL-387785 is effective at reducing the growth of HCT-116-induced xenograft tumor. [5] |
お薦めの試験操作(参考用のみ)
キナーゼ試験: [1]

+ 展開

Liquid scintillation:

Stock solutions of 500 μM CL-387785 (prepared in 100% DMSO) are diluted to the desired concentration with 30 mM HEPES, pH 7.4. Ten microliters of CL-387785 at various concentrations are incubated with 3 μL of recombinant enzyme (1:120 dilution in 100 mM HEPES, pH 7.4) on ice for 10 min. Then, 5 μL peptide (400 μM final concentration of RR-SRC composed of Arg-Arg-Leu-Ile-Glu-Asp-Ala-Glu-Tyr-Ala-Ala-Arg-Gly), 10 μL of 4× reaction buffer containing 50 mM HEPES, pH 7.4, 80 μM ATP, 40 mM MnCl2, and 200 μM sodium orthovanadate. 0.30 μL [

33

P]ATP ( >2500 Ci/mmol), and 12 μL H

2

O are added. After incubation for 90 min at room temperature, the entire volume is spotted onto precut P81 filter papers. The filter discs are washed two times with 0.5% phosphoric acid, and radioactivity is measured using a liquid scintillation counter. Under these conditions, the specific activity of EGF-R kinase is approximately 0.50 pmol/mg/min.

細胞試験: [3] [4]

+ 展開

細胞株: Ba/F3-E709K, Ba/F3-l858r or Ba/F3-ERBB2 cells
濃度: ~2000 nM
反応時間: 2 days
実験の流れ: MTS assays are performed with the CellTiter 96@ AQueous One solution proliferation kit. A total of 10,000 cells per well in 96-well flat-bottomed plates are incubated with various concentrations of inhibitors for 48 h. The IC50 is determined from dose–response curves using XLfit4.


(参考用のみ)

動物試験:[5]

+ 展開

動物モデル: Human CRC cell line xenografts (nude mice)
製剤: DMSO
投薬量: 100 mg/kg
投与方法: i.p.


(参考用のみ)
溶解度 (25°C)
体外
DMSO
63 mg/mL (165.25 mM) warming
Water
Insoluble
Ethanol
Insoluble
* 溶解度測定はSelleck技術部門によって行われており、その他文献に示されている溶解度と差異がある可能性がありますが、同一ロットの生産工程で起きる正常な現象ですからご安心ください。
化学情報
分子量
381.23
化学式

C18H13BrN4O

CAS No.
194423-06-8
保管
粉
in solvent
別名
N/A
便利ツール
モル濃度計算器
モル濃度計算器
求めたい質量、体積または濃度を計算してください。
質量 (g) = 濃度 (mol/L) x 体積 (L) x 分子量 (g/mol)
モル濃度計算器方程式
*貯蔵液を準備するとき、常に、オンであるとわかる製品のバッチに特有の分子量を使って、を通してラベルとMSDS/COA(製品ページで利用可能な)。
希釈計算器
希釈計算器
貯蔵液を準備するために必要な希釈率を計算してください。Selleck希釈計算器は、以下の方程式に基づきます:
開始濃度 x 開始体積 = 最終濃度 x 最終体積
希釈の計算式
この方程式は、一般に略語を使われます:C1V1 = C2V2 ( 入力 出力 )
常に貯蔵液を準備するとき、小びんラベルとMSDS/COA(オンラインで利用できる)で見つかる製品のバッチに特有の分子量を使ってください。
分子量計算器
分子量计算器
そのモル質量と元素組成を計算するために、合成物の化学式を入力してください:
チップス: 化学式は大文字と小文字の区別ができます。C10H16N2O2 c10h16n2o2
モル濃度計算器
技術サポート
ストックの作り方、阻害剤の保管方法、細胞実験や動物実験の際に注意すべき点など、製品を取扱う時に問い合わせが多かった質問に対しては取扱説明書でお答えしています。
他に質問がある場合は、お気軽にお問い合わせください。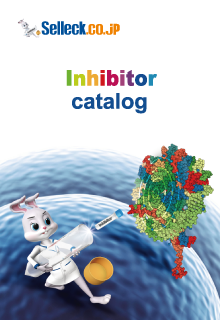 相関EGFR製品