Gefitinib (ZD1839)
For research use only. Not for use in humans.
製品コードS1025 別名:Iressa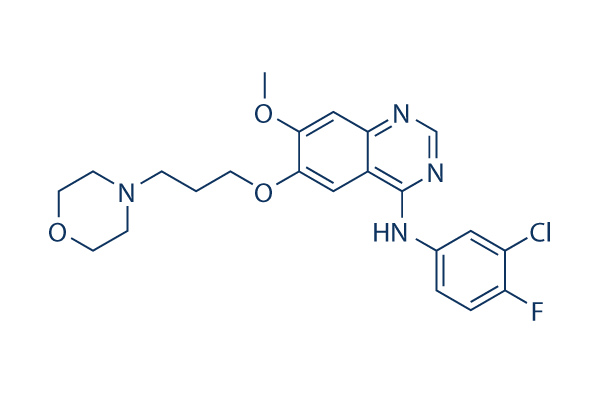 CAS No. 184475-35-2
Gefitinib (ZD-1839) is an EGFR inhibitor for Tyr1173, Tyr992, Tyr1173 and Tyr992 in the NR6wtEGFR and NR6W cells with IC50 of 37 nM, 37nM, 26 nM and 57 nM, respectively. Gefitinib promotes autophagy and apoptosis of lung cancer cells via blockade of the PI3K/AKT/mTOR pathway.
生物活性
製品説明
Gefitinib (ZD-1839) is an EGFR inhibitor for Tyr1173, Tyr992, Tyr1173 and Tyr992 in the NR6wtEGFR and NR6W cells with IC50 of 37 nM, 37nM, 26 nM and 57 nM, respectively. Gefitinib promotes autophagy and apoptosis of lung cancer cells via blockade of the PI3K/AKT/mTOR pathway.
特性
A potent EGFR tyrosine kinase inhibitor.
ターゲット

| | | | |
| --- | --- | --- | --- |
| Tyr1173 (NR6W cells) [1] | Tyr1173 (NR6wtEGFR cells) [1] | Tyr992 (NR6wtEGFR cells) [1] | Tyr992 (NR6W cells) [1] |
| 26 nM | 37 nM | 37 nM | 57 nM |

体外試験

Gefitinib effectively inhibits all tyrosine phosphorylation sites on EGFR in both the high and low-EGFR-expressing cell lines including NR6, NR6M and NR6W cell lines. The phosphorylation sites Tyr1173 and Tyr992 are less sensitive requiring higher concentrations of Gefitinib for inhibition. Gefitinib effectively blocks the phosphorylation of PLC-γ, with IC50 of 27nM, in NR6W cells. The NR6wtEGFR and NR6M cell lines has low levels of PLC-γ phosphorylation but the level in the NR6M cell line is more resistant to inhibition by Gefitinib with IC50 of 43 nM and 369 nM, respectively. Gefitinib inhibits Akt phosphorylations, with IC50 of 220 and 263nM, in the low-EGFR- and -EGFRvIII-expressing cell lines, respectively. Gefitinib in the dose range from 0.1 to 0.5μM significantly facilitates, rather than abrogates, colony formation of NR6M cells. However, at a concentration of 2 μM Gefitinib completely blocks NR6M colony formation. Gefitinib rapidly and in a dose-dependent manner inhibits EGFR and ERK phosphorylation up to 72 hours after EGF stimulation in both the high- and low-EGFR-expressing cell lines. [1] Gefitinib is the monolayer growth of these EGF-driven untransformed MCF10A cells with an IC50 of 20 nM. [2] The combination of Gefitinib (0.2 μM and 0.5 μM) with irradiation lead to a significant growth inhibition in LoVo cells, compared with radiation alone.. [3]

細胞データ

Cell Lines
Assay Type
Concentration
Incubation Time
Formulation
Activity Description
PMID
NCI-H1975
NGnFSGRIem:5dHigTY5pcWKrdHnvckBCe3OjeR?=
NVXnZVgzUUN3ME2yNU41PjFizszN
MorPQIEhfGG{Z3X0QUdg[myjbnunJIhz\WZ;J3j0eJB{Qi9xd4f3MoVjcS6jYz71b{9kcGWvYnyvZ49ueG:3bnTfdoVxd3K2X3PhdoQwS0iHTVLMPVM6Nyd-U1HOS2VTRC:jPh?=
HT
MoL4S5Jwf3SqIFnubIljcXSrb36gRZN{[Xl?
NX:5cWUzUUN3ME2yNU41OzNzIN88US=>
M2XiUVxiKHSjcnfleF0oZ2KuYX7rK{BpemWoPTfoeJRxezpxL4f3e{5m[mlwYXOueYsw[2inbXLsM4NwdXCxdX7kY5JmeG:{dG;jZZJlN0OKRV3CUFk{QS9pPmPBUmdGWjxxYU6=
HUTU-80
MYLHdo94fGhiSX7obYJqfGmxbjDBd5NigQ>?
MnvVTWM2OD1{MT60N|M3KM7:TR?=
NYfkN5hORGFidHHy[4V1RSehYnzhcosoKGi{ZX[9K4h1fHC|Oj:ve5d4NmWkaT7hZ{52cy:laHXtZoww[2:vcH;1coRgemWyb4L0Y4NiemRxQ1jFUWJNQTN7Lze+V2FPT0WUPD;hQi=>
PA-1
MWXHdo94fGhiSX7obYJqfGmxbjDBd5NigQ>?
M2PkT2lEPTB;MkGuNlc5PyEQvF2=
NX\0O5FtRGFidHHy[4V1RSehYnzhcosoKGi{ZX[9K4h1fHC|Oj:ve5d4NmWkaT7hZ{52cy:laHXtZoww[2:vcH;1coRgemWyb4L0Y4NiemRxQ1jFUWJNQTN7Lze+V2FPT0WUPD;hQi=>
HOP-62
MkXaS5Jwf3SqIFnubIljcXSrb36gRZN{[Xl?
MXzJR|UxRTJzLkK3PFQh|ryP
NF\lbpc9[SC2YYLn[ZQ:L1:kbHHub{chcHKnZk2nbJR1eHN8Lz;3e5cv\WKrLnHjMpVsN2OqZX3icE9kd22yb4Xu[H9z\XCxcoTfZ4Fz\C:FSFXNRmw6OzlxJ{7TRW5ITVJ:L3G+
GI-1
MnL5S5Jwf3SqIFnubIljcXSrb36gRZN{[Xl?
NY\LO4xzUUN3ME2yNU4yPyEQvF2=
NF\p[4k9[SC2YYLn[ZQ:L1:kbHHub{chcHKnZk2nbJR1eHN8Lz;3e5cv\WKrLnHjMpVsN2OqZX3icE9kd22yb4Xu[H9z\XCxcoTfZ4Fz\C:FSFXNRmw6OzlxJ{7TRW5ITVJ:L3G+
MC116
NXPiO5ZzT3Kxd4ToJGlvcGmkaYTpc44hSXO|YYm=
M1zBc2lEPTB;MkGuNFczOyEQvF2=
M{iyR|xiKHSjcnfleF0oZ2KuYX7rK{BpemWoPTfoeJRxezpxL4f3e{5m[mlwYXOueYsw[2inbXLsM4NwdXCxdX7kY5JmeG:{dG;jZZJlN0OKRV3CUFk{QS9pPmPBUmdGWjxxYU6=
A375
NI\lbnRIem:5dHigTY5pcWKrdHnvckBCe3OjeR?=
NVPuSVZpUUN3ME2yNU4xPTZ5IN88US=>
MXm8ZUB1[XKpZYS9K39jdGGwazegbJJm\j1paIT0dJM7Ny:5d4eu[YJqNmGlLoXrM4Np\W2kbD;jc41xd3WwZG;y[ZBwenShY3Hy[E9EUEWPQly5N|kwLz6VQV7HSXI9N2F-
IST-SL1
NXm3V5I{T3Kxd4ToJGlvcGmkaYTpc44hSXO|YYm=
M3rVWmlEPTB;MkCuO|g4QSEQvF2=
MnrJQIEhfGG{Z3X0QUdg[myjbnunJIhz\WZ;J3j0eJB{Qi9xd4f3MoVjcS6jYz71b{9kcGWvYnyvZ49ueG:3bnTfdoVxd3K2X3PhdoQwS0iHTVLMPVM6Nyd-U1HOS2VTRC:jPh?=
TE-5
MoC5S5Jwf3SqIFnubIljcXSrb36gRZN{[Xl?
NY\hRZZXUUN3ME2yNE44PDh{IN88US=>
MXi8ZUB1[XKpZYS9K39jdGGwazegbJJm\j1paIT0dJM7Ny:5d4eu[YJqNmGlLoXrM4Np\W2kbD;jc41xd3WwZG;y[ZBwenShY3Hy[E9EUEWPQly5N|kwLz6VQV7HSXI9N2F-
SiHa
M1vjZWdzd3e2aDDJcohq[mm2aX;uJGF{e2G7
NYH4VJRzUUN3ME2yNE4{PzF{IN88US=>
NVz2cmJXRGFidHHy[4V1RSehYnzhcosoKGi{ZX[9K4h1fHC|Oj:ve5d4NmWkaT7hZ{52cy:laHXtZoww[2:vcH;1coRgemWyb4L0Y4NiemRxQ1jFUWJNQTN7Lze+V2FPT0WUPD;hQi=>
LB2518-MEL
M2[wbGdzd3e2aDDJcohq[mm2aX;uJGF{e2G7
MUPJR|UxRTJyLkO3N|kh|ryP
MlXpQIEhfGG{Z3X0QUdg[myjbnunJIhz\WZ;J3j0eJB{Qi9xd4f3MoVjcS6jYz71b{9kcGWvYnyvZ49ueG:3bnTfdoVxd3K2X3PhdoQwS0iHTVLMPVM6Nyd-U1HOS2VTRC:jPh?=
BB49-HNC
MVrHdo94fGhiSX7obYJqfGmxbjDBd5NigQ>?
NI[0ZYpKSzVyPUG5MlkzKM7:TR?=
M37N[VxiKHSjcnfleF0oZ2KuYX7rK{BpemWoPTfoeJRxezpxL4f3e{5m[mlwYXOueYsw[2inbXLsM4NwdXCxdX7kY5JmeG:{dG;jZZJlN0OKRV3CUFk{QS9pPmPBUmdGWjxxYU6=
HGC-27
NEjPWY1Iem:5dHigTY5pcWKrdHnvckBCe3OjeR?=
NYPXZ2xKUUN3ME2yNE4yOzl2IN88US=>
M1T1XFxiKHSjcnfleF0oZ2KuYX7rK{BpemWoPTfoeJRxezpxL4f3e{5m[mlwYXOueYsw[2inbXLsM4NwdXCxdX7kY5JmeG:{dG;jZZJlN0OKRV3CUFk{QS9pPmPBUmdGWjxxYU6=
Becker
MXTHdo94fGhiSX7obYJqfGmxbjDBd5NigQ>?
M3HlTWlEPTB;MUmuPFU1PyEQvF2=
MlzyQIEhfGG{Z3X0QUdg[myjbnunJIhz\WZ;J3j0eJB{Qi9xd4f3MoVjcS6jYz71b{9kcGWvYnyvZ49ueG:3bnTfdoVxd3K2X3PhdoQwS0iHTVLMPVM6Nyd-U1HOS2VTRC:jPh?=
TYK-nu
NXj4cWVTT3Kxd4ToJGlvcGmkaYTpc44hSXO|YYm=
M1PYWGlEPTB;MUmuPFM4QCEQvF2=
MVm8ZUB1[XKpZYS9K39jdGGwazegbJJm\j1paIT0dJM7Ny:5d4eu[YJqNmGlLoXrM4Np\W2kbD;jc41xd3WwZG;y[ZBwenShY3Hy[E9EUEWPQly5N|kwLz6VQV7HSXI9N2F-
NCI-H650
MUjHdo94fGhiSX7obYJqfGmxbjDBd5NigQ>?
MlfkTWM2OD1zOT63OVA5KM7:TR?=
NEXEZ5Y9[SC2YYLn[ZQ:L1:kbHHub{chcHKnZk2nbJR1eHN8Lz;3e5cv\WKrLnHjMpVsN2OqZX3icE9kd22yb4Xu[H9z\XCxcoTfZ4Fz\C:FSFXNRmw6OzlxJ{7TRW5ITVJ:L3G+
WM-115
NWnEclg{T3Kxd4ToJGlvcGmkaYTpc44hSXO|YYm=
MXjJR|UxRTF7Lk[3O|Qh|ryP
NX\qfWM2RGFidHHy[4V1RSehYnzhcosoKGi{ZX[9K4h1fHC|Oj:ve5d4NmWkaT7hZ{52cy:laHXtZoww[2:vcH;1coRgemWyb4L0Y4NiemRxQ1jFUWJNQTN7Lze+V2FPT0WUPD;hQi=>
HuH-7
MVXHdo94fGhiSX7obYJqfGmxbjDBd5NigQ>?
NEjIdnpKSzVyPUG5Mlc1OjFizszN
M4O1TFxiKHSjcnfleF0oZ2KuYX7rK{BpemWoPTfoeJRxezpxL4f3e{5m[mlwYXOueYsw[2inbXLsM4NwdXCxdX7kY5JmeG:{dG;jZZJlN0OKRV3CUFk{QS9pPmPBUmdGWjxxYU6=
NCI-N87
MX3Hdo94fGhiSX7obYJqfGmxbjDBd5NigQ>?
M4LQTWlEPTB;MUmuOVk6OiEQvF2=
MmrmQIEhfGG{Z3X0QUdg[myjbnunJIhz\WZ;J3j0eJB{Qi9xd4f3MoVjcS6jYz71b{9kcGWvYnyvZ49ueG:3bnTfdoVxd3K2X3PhdoQwS0iHTVLMPVM6Nyd-U1HOS2VTRC:jPh?=
NCI-H1048
MX7Hdo94fGhiSX7obYJqfGmxbjDBd5NigQ>?
MV;JR|UxRTF7LkKzNlYh|ryP
NWXjPW5ZRGFidHHy[4V1RSehYnzhcosoKGi{ZX[9K4h1fHC|Oj:ve5d4NmWkaT7hZ{52cy:laHXtZoww[2:vcH;1coRgemWyb4L0Y4NiemRxQ1jFUWJNQTN7Lze+V2FPT0WUPD;hQi=>
NCI-H446
M2C2TWdzd3e2aDDJcohq[mm2aX;uJGF{e2G7
MkP4TWM2OD1zOT6zOVg6KM7:TR?=
MYW8ZUB1[XKpZYS9K39jdGGwazegbJJm\j1paIT0dJM7Ny:5d4eu[YJqNmGlLoXrM4Np\W2kbD;jc41xd3WwZG;y[ZBwenShY3Hy[E9EUEWPQly5N|kwLz6VQV7HSXI9N2F-
NCI-H1437
MnrIS5Jwf3SqIFnubIljcXSrb36gRZN{[Xl?
Mni2TWM2OD1zOT6wOFY4KM7:TR?=
MVK8ZUB1[XKpZYS9K39jdGGwazegbJJm\j1paIT0dJM7Ny:5d4eu[YJqNmGlLoXrM4Np\W2kbD;jc41xd3WwZG;y[ZBwenShY3Hy[E9EUEWPQly5N|kwLz6VQV7HSXI9N2F-
D-263MG
NWi2[VhQT3Kxd4ToJGlvcGmkaYTpc44hSXO|YYm=
Ml\UTWM2OD1zOT6wNVczKM7:TR?=
NGHIXIc9[SC2YYLn[ZQ:L1:kbHHub{chcHKnZk2nbJR1eHN8Lz;3e5cv\WKrLnHjMpVsN2OqZX3icE9kd22yb4Xu[H9z\XCxcoTfZ4Fz\C:FSFXNRmw6OzlxJ{7TRW5ITVJ:L3G+
MFH-ino
M4G5Nmdzd3e2aDDJcohq[mm2aX;uJGF{e2G7
NVLXR|ZJUUN3ME2xPE46PjZ7IN88US=>
NIK0PHY9[SC2YYLn[ZQ:L1:kbHHub{chcHKnZk2nbJR1eHN8Lz;3e5cv\WKrLnHjMpVsN2OqZX3icE9kd22yb4Xu[H9z\XCxcoTfZ4Fz\C:FSFXNRmw6OzlxJ{7TRW5ITVJ:L3G+
U-266
NE\U[XBIem:5dHigTY5pcWKrdHnvckBCe3OjeR?=
MnexTWM2OD1zOD64OlQ6KM7:TR?=
NEjxc3U9[SC2YYLn[ZQ:L1:kbHHub{chcHKnZk2nbJR1eHN8Lz;3e5cv\WKrLnHjMpVsN2OqZX3icE9kd22yb4Xu[H9z\XCxcoTfZ4Fz\C:FSFXNRmw6OzlxJ{7TRW5ITVJ:L3G+
OVCAR-8
NYXkbVF{T3Kxd4ToJGlvcGmkaYTpc44hSXO|YYm=
M1jmXGlEPTB;MUiuPVI4PiEQvF2=
MkPMQIEhfGG{Z3X0QUdg[myjbnunJIhz\WZ;J3j0eJB{Qi9xd4f3MoVjcS6jYz71b{9kcGWvYnyvZ49ueG:3bnTfdoVxd3K2X3PhdoQwS0iHTVLMPVM6Nyd-U1HOS2VTRC:jPh?=
KNS-42
MUnHdo94fGhiSX7obYJqfGmxbjDBd5NigQ>?
MYrJR|UxRTF6LkiwNVUh|ryP
MUe8ZUB1[XKpZYS9K39jdGGwazegbJJm\j1paIT0dJM7Ny:5d4eu[YJqNmGlLoXrM4Np\W2kbD;jc41xd3WwZG;y[ZBwenShY3Hy[E9EUEWPQly5N|kwLz6VQV7HSXI9N2F-
U251
MnfOS5Jwf3SqIFnubIljcXSrb36gRZN{[Xl?
NWe1[mVFUUN3ME2xPE44OzR5IN88US=>
MmS3QIEhfGG{Z3X0QUdg[myjbnunJIhz\WZ;J3j0eJB{Qi9xd4f3MoVjcS6jYz71b{9kcGWvYnyvZ49ueG:3bnTfdoVxd3K2X3PhdoQwS0iHTVLMPVM6Nyd-U1HOS2VTRC:jPh?=
MFE-280
M1TJOWdzd3e2aDDJcohq[mm2aX;uJGF{e2G7
NEDJemJKSzVyPUG4MlczQTNizszN
MX68ZUB1[XKpZYS9K39jdGGwazegbJJm\j1paIT0dJM7Ny:5d4eu[YJqNmGlLoXrM4Np\W2kbD;jc41xd3WwZG;y[ZBwenShY3Hy[E9EUEWPQly5N|kwLz6VQV7HSXI9N2F-
NCI-H1563
MXXHdo94fGhiSX7obYJqfGmxbjDBd5NigQ>?
MUHJR|UxRTF6LkexNlQh|ryP
NW\FdIt[RGFidHHy[4V1RSehYnzhcosoKGi{ZX[9K4h1fHC|Oj:ve5d4NmWkaT7hZ{52cy:laHXtZoww[2:vcH;1coRgemWyb4L0Y4NiemRxQ1jFUWJNQTN7Lze+V2FPT0WUPD;hQi=>
MDA-MB-361
M{LYd2dzd3e2aDDJcohq[mm2aX;uJGF{e2G7
MUTJR|UxRTF6LkW1PFgh|ryP
NX3ySphQRGFidHHy[4V1RSehYnzhcosoKGi{ZX[9K4h1fHC|Oj:ve5d4NmWkaT7hZ{52cy:laHXtZoww[2:vcH;1coRgemWyb4L0Y4NiemRxQ1jFUWJNQTN7Lze+V2FPT0WUPD;hQi=>
HLE
M4Hsc2dzd3e2aDDJcohq[mm2aX;uJGF{e2G7
NULFNWQ3UUN3ME2xPE4{OTR6IN88US=>
NVPZd5h7RGFidHHy[4V1RSehYnzhcosoKGi{ZX[9K4h1fHC|Oj:ve5d4NmWkaT7hZ{52cy:laHXtZoww[2:vcH;1coRgemWyb4L0Y4NiemRxQ1jFUWJNQTN7Lze+V2FPT0WUPD;hQi=>
SW982
M1jlR2dzd3e2aDDJcohq[mm2aX;uJGF{e2G7
NGflTGRKSzVyPUG4MlQxPzVizszN
NFHtWpQ9[SC2YYLn[ZQ:L1:kbHHub{chcHKnZk2nbJR1eHN8Lz;3e5cv\WKrLnHjMpVsN2OqZX3icE9kd22yb4Xu[H9z\XCxcoTfZ4Fz\C:FSFXNRmw6OzlxJ{7TRW5ITVJ:L3G+
KM-H2
MoTzS5Jwf3SqIFnubIljcXSrb36gRZN{[Xl?
M4XobmlEPTB;MUeuPVQyOSEQvF2=
M{H6TlxiKHSjcnfleF0oZ2KuYX7rK{BpemWoPTfoeJRxezpxL4f3e{5m[mlwYXOueYsw[2inbXLsM4NwdXCxdX7kY5JmeG:{dG;jZZJlN0OKRV3CUFk{QS9pPmPBUmdGWjxxYU6=
D-502MG
M3LTSWdzd3e2aDDJcohq[mm2aX;uJGF{e2G7
MkPOTWM2OD1zNz65PFA5KM7:TR?=
NEHP[Gc9[SC2YYLn[ZQ:L1:kbHHub{chcHKnZk2nbJR1eHN8Lz;3e5cv\WKrLnHjMpVsN2OqZX3icE9kd22yb4Xu[H9z\XCxcoTfZ4Fz\C:FSFXNRmw6OzlxJ{7TRW5ITVJ:L3G+
ES8
Mof4S5Jwf3SqIFnubIljcXSrb36gRZN{[Xl?
MnmzTWM2OD1zNz64OVk{KM7:TR?=
Mn\MQIEhfGG{Z3X0QUdg[myjbnunJIhz\WZ;J3j0eJB{Qi9xd4f3MoVjcS6jYz71b{9kcGWvYnyvZ49ueG:3bnTfdoVxd3K2X3PhdoQwS0iHTVLMPVM6Nyd-U1HOS2VTRC:jPh?=
SF268
MV\Hdo94fGhiSX7obYJqfGmxbjDBd5NigQ>?
MUnJR|UxRTF5Lk[5Olkh|ryP
MUG8ZUB1[XKpZYS9K39jdGGwazegbJJm\j1paIT0dJM7Ny:5d4eu[YJqNmGlLoXrM4Np\W2kbD;jc41xd3WwZG;y[ZBwenShY3Hy[E9EUEWPQly5N|kwLz6VQV7HSXI9N2F-
Calu-6
M3rieWdzd3e2aDDJcohq[mm2aX;uJGF{e2G7
MnHLTWM2OD1zNz62O|gzKM7:TR?=
Mlf0QIEhfGG{Z3X0QUdg[myjbnunJIhz\WZ;J3j0eJB{Qi9xd4f3MoVjcS6jYz71b{9kcGWvYnyvZ49ueG:3bnTfdoVxd3K2X3PhdoQwS0iHTVLMPVM6Nyd-U1HOS2VTRC:jPh?=
SW1783
NVrwWlhNT3Kxd4ToJGlvcGmkaYTpc44hSXO|YYm=
NVTWV4xZUUN3ME2xO{43PDF3IN88US=>
M{jvcFxiKHSjcnfleF0oZ2KuYX7rK{BpemWoPTfoeJRxezpxL4f3e{5m[mlwYXOueYsw[2inbXLsM4NwdXCxdX7kY5JmeG:{dG;jZZJlN0OKRV3CUFk{QS9pPmPBUmdGWjxxYU6=
NCI-H747
NF2wWppIem:5dHigTY5pcWKrdHnvckBCe3OjeR?=
Mk\JTWM2OD1zNz61Nlk4KM7:TR?=
MmiwQIEhfGG{Z3X0QUdg[myjbnunJIhz\WZ;J3j0eJB{Qi9xd4f3MoVjcS6jYz71b{9kcGWvYnyvZ49ueG:3bnTfdoVxd3K2X3PhdoQwS0iHTVLMPVM6Nyd-U1HOS2VTRC:jPh?=
NCI-H1573
M3f6Nmdzd3e2aDDJcohq[mm2aX;uJGF{e2G7
MoDwTWM2OD1zNz6yPFI3KM7:TR?=
MYO8ZUB1[XKpZYS9K39jdGGwazegbJJm\j1paIT0dJM7Ny:5d4eu[YJqNmGlLoXrM4Np\W2kbD;jc41xd3WwZG;y[ZBwenShY3Hy[E9EUEWPQly5N|kwLz6VQV7HSXI9N2F-
NCI-H1581
NVHTUpZmT3Kxd4ToJGlvcGmkaYTpc44hSXO|YYm=
M{fCXmlEPTB;MUeuOFQyOSEQvF2=
MVW8ZUB1[XKpZYS9K39jdGGwazegbJJm\j1paIT0dJM7Ny:5d4eu[YJqNmGlLoXrM4Np\W2kbD;jc41xd3WwZG;y[ZBwenShY3Hy[E9EUEWPQly5N|kwLz6VQV7HSXI9N2F-
RKO
NX3FeGZrT3Kxd4ToJGlvcGmkaYTpc44hSXO|YYm=
M{nCSWlEPTB;MUeuNFc1QCEQvF2=
Mo\iQIEhfGG{Z3X0QUdg[myjbnunJIhz\WZ;J3j0eJB{Qi9xd4f3MoVjcS6jYz71b{9kcGWvYnyvZ49ueG:3bnTfdoVxd3K2X3PhdoQwS0iHTVLMPVM6Nyd-U1HOS2VTRC:jPh?=
MZ2-MEL
NVLMSW1uT3Kxd4ToJGlvcGmkaYTpc44hSXO|YYm=
M3u1UmlEPTB;MUeuNVM{KM7:TR?=
M3nvT|xiKHSjcnfleF0oZ2KuYX7rK{BpemWoPTfoeJRxezpxL4f3e{5m[mlwYXOueYsw[2inbXLsM4NwdXCxdX7kY5JmeG:{dG;jZZJlN0OKRV3CUFk{QS9pPmPBUmdGWjxxYU6=
GI-ME-N
NFK1coJIem:5dHigTY5pcWKrdHnvckBCe3OjeR?=
M2fXR2lEPTB;MU[uPVA{OiEQvF2=
MkPIQIEhfGG{Z3X0QUdg[myjbnunJIhz\WZ;J3j0eJB{Qi9xd4f3MoVjcS6jYz71b{9kcGWvYnyvZ49ueG:3bnTfdoVxd3K2X3PhdoQwS0iHTVLMPVM6Nyd-U1HOS2VTRC:jPh?=
LB373-MEL-D
M{\QZWdzd3e2aDDJcohq[mm2aX;uJGF{e2G7
MWjJR|UxRTF4LkeyN|Ih|ryP
NVL4XVBYRGFidHHy[4V1RSehYnzhcosoKGi{ZX[9K4h1fHC|Oj:ve5d4NmWkaT7hZ{52cy:laHXtZoww[2:vcH;1coRgemWyb4L0Y4NiemRxQ1jFUWJNQTN7Lze+V2FPT0WUPD;hQi=>
MEL-HO
NEDNZ45Iem:5dHigTY5pcWKrdHnvckBCe3OjeR?=
NYrWNJNOUUN3ME2xOk45QDV2IN88US=>
NVmyVZJ6RGFidHHy[4V1RSehYnzhcosoKGi{ZX[9K4h1fHC|Oj:ve5d4NmWkaT7hZ{52cy:laHXtZoww[2:vcH;1coRgemWyb4L0Y4NiemRxQ1jFUWJNQTN7Lze+V2FPT0WUPD;hQi=>
BEN
NILRNHNIem:5dHigTY5pcWKrdHnvckBCe3OjeR?=
NVrEbmd[UUN3ME2xOk42OTV3IN88US=>
NX3yVHpvRGFidHHy[4V1RSehYnzhcosoKGi{ZX[9K4h1fHC|Oj:ve5d4NmWkaT7hZ{52cy:laHXtZoww[2:vcH;1coRgemWyb4L0Y4NiemRxQ1jFUWJNQTN7Lze+V2FPT0WUPD;hQi=>
M059J
NVnwNG5vT3Kxd4ToJGlvcGmkaYTpc44hSXO|YYm=
M4Tu[GlEPTB;MU[uNlg1KM7:TR?=
MV68ZUB1[XKpZYS9K39jdGGwazegbJJm\j1paIT0dJM7Ny:5d4eu[YJqNmGlLoXrM4Np\W2kbD;jc41xd3WwZG;y[ZBwenShY3Hy[E9EUEWPQly5N|kwLz6VQV7HSXI9N2F-
D-283MED
M3H4[mdzd3e2aDDJcohq[mm2aX;uJGF{e2G7
M3TLUmlEPTB;MU[uOFIxQSEQvF2=
MnrsQIEhfGG{Z3X0QUdg[myjbnunJIhz\WZ;J3j0eJB{Qi9xd4f3MoVjcS6jYz71b{9kcGWvYnyvZ49ueG:3bnTfdoVxd3K2X3PhdoQwS0iHTVLMPVM6Nyd-U1HOS2VTRC:jPh?=
GP5d
M1nLN2dzd3e2aDDJcohq[mm2aX;uJGF{e2G7
MYDJR|UxRTF4LkKxPFch|ryP
MkTKQIEhfGG{Z3X0QUdg[myjbnunJIhz\WZ;J3j0eJB{Qi9xd4f3MoVjcS6jYz71b{9kcGWvYnyvZ49ueG:3bnTfdoVxd3K2X3PhdoQwS0iHTVLMPVM6Nyd-U1HOS2VTRC:jPh?=
BHT-101
M2XvZmdzd3e2aDDJcohq[mm2aX;uJGF{e2G7
NF\yfmpKSzVyPUG2MlI1OzlizszN
NVj2UZVyRGFidHHy[4V1RSehYnzhcosoKGi{ZX[9K4h1fHC|Oj:ve5d4NmWkaT7hZ{52cy:laHXtZoww[2:vcH;1coRgemWyb4L0Y4NiemRxQ1jFUWJNQTN7Lze+V2FPT0WUPD;hQi=>
HT55
NV\nUY8zT3Kxd4ToJGlvcGmkaYTpc44hSXO|YYm=
NITVe2VKSzVyPUG1Mlk1PzhizszN
M4\l[lxiKHSjcnfleF0oZ2KuYX7rK{BpemWoPTfoeJRxezpxL4f3e{5m[mlwYXOueYsw[2inbXLsM4NwdXCxdX7kY5JmeG:{dG;jZZJlN0OKRV3CUFk{QS9pPmPBUmdGWjxxYU6=
no-11
M17XT2dzd3e2aDDJcohq[mm2aX;uJGF{e2G7
MVzJR|UxRTF3Lkm2OlMh|ryP
MoLvQIEhfGG{Z3X0QUdg[myjbnunJIhz\WZ;J3j0eJB{Qi9xd4f3MoVjcS6jYz71b{9kcGWvYnyvZ49ueG:3bnTfdoVxd3K2X3PhdoQwS0iHTVLMPVM6Nyd-U1HOS2VTRC:jPh?=
MPP-89
MUHHdo94fGhiSX7obYJqfGmxbjDBd5NigQ>?
M4nYUWlEPTB;MUWuPVQyPyEQvF2=
Mn\SQIEhfGG{Z3X0QUdg[myjbnunJIhz\WZ;J3j0eJB{Qi9xd4f3MoVjcS6jYz71b{9kcGWvYnyvZ49ueG:3bnTfdoVxd3K2X3PhdoQwS0iHTVLMPVM6Nyd-U1HOS2VTRC:jPh?=
HuCCT1
NXXxbVRGT3Kxd4ToJGlvcGmkaYTpc44hSXO|YYm=
NITMZpdKSzVyPUG1Mlg4PCEQvF2=
MUm8ZUB1[XKpZYS9K39jdGGwazegbJJm\j1paIT0dJM7Ny:5d4eu[YJqNmGlLoXrM4Np\W2kbD;jc41xd3WwZG;y[ZBwenShY3Hy[E9EUEWPQly5N|kwLz6VQV7HSXI9N2F-
NCI-H23
Ml36S5Jwf3SqIFnubIljcXSrb36gRZN{[Xl?
MnvrTWM2OD1zNT64OFM5KM7:TR?=
NUD4fJVTRGFidHHy[4V1RSehYnzhcosoKGi{ZX[9K4h1fHC|Oj:ve5d4NmWkaT7hZ{52cy:laHXtZoww[2:vcH;1coRgemWyb4L0Y4NiemRxQ1jFUWJNQTN7Lze+V2FPT0WUPD;hQi=>
UMC-11
NXvTRYRKT3Kxd4ToJGlvcGmkaYTpc44hSXO|YYm=
NHi3OldKSzVyPUG1Mlc2OjNizszN
MVm8ZUB1[XKpZYS9K39jdGGwazegbJJm\j1paIT0dJM7Ny:5d4eu[YJqNmGlLoXrM4Np\W2kbD;jc41xd3WwZG;y[ZBwenShY3Hy[E9EUEWPQly5N|kwLz6VQV7HSXI9N2F-
MCF7
M3zwTmdzd3e2aDDJcohq[mm2aX;uJGF{e2G7
MVzJR|UxRTF3LkixOFUh|ryP
MlzOQIEhfGG{Z3X0QUdg[myjbnunJIhz\WZ;J3j0eJB{Qi9xd4f3MoVjcS6jYz71b{9kcGWvYnyvZ49ueG:3bnTfdoVxd3K2X3PhdoQwS0iHTVLMPVM6Nyd-U1HOS2VTRC:jPh?=
COLO-320-HSR
M2jyN2dzd3e2aDDJcohq[mm2aX;uJGF{e2G7
NUPLbVVGUUN3ME2xOU42OzB5IN88US=>
MWi8ZUB1[XKpZYS9K39jdGGwazegbJJm\j1paIT0dJM7Ny:5d4eu[YJqNmGlLoXrM4Np\W2kbD;jc41xd3WwZG;y[ZBwenShY3Hy[E9EUEWPQly5N|kwLz6VQV7HSXI9N2F-
CW-2
NY\0OldNT3Kxd4ToJGlvcGmkaYTpc44hSXO|YYm=
MoLZTWM2OD1zNT6xOFIyKM7:TR?=
NXWydY9ERGFidHHy[4V1RSehYnzhcosoKGi{ZX[9K4h1fHC|Oj:ve5d4NmWkaT7hZ{52cy:laHXtZoww[2:vcH;1coRgemWyb4L0Y4NiemRxQ1jFUWJNQTN7Lze+V2FPT0WUPD;hQi=>
MOLT-4
NHjES4pIem:5dHigTY5pcWKrdHnvckBCe3OjeR?=
NHnsbIFKSzVyPUG1MlA1QTdizszN
M3f0SVxiKHSjcnfleF0oZ2KuYX7rK{BpemWoPTfoeJRxezpxL4f3e{5m[mlwYXOueYsw[2inbXLsM4NwdXCxdX7kY5JmeG:{dG;jZZJlN0OKRV3CUFk{QS9pPmPBUmdGWjxxYU6=
NCI-H1755
M4r6UWdzd3e2aDDJcohq[mm2aX;uJGF{e2G7
MUXJR|UxRTF2Lkm5OVMh|ryP
M3HrPFxiKHSjcnfleF0oZ2KuYX7rK{BpemWoPTfoeJRxezpxL4f3e{5m[mlwYXOueYsw[2inbXLsM4NwdXCxdX7kY5JmeG:{dG;jZZJlN0OKRV3CUFk{QS9pPmPBUmdGWjxxYU6=
MIA-PaCa-2
Ml;zS5Jwf3SqIFnubIljcXSrb36gRZN{[Xl?
NIPze21KSzVyPUG0Mlk3QSEQvF2=
M4DJe|xiKHSjcnfleF0oZ2KuYX7rK{BpemWoPTfoeJRxezpxL4f3e{5m[mlwYXOueYsw[2inbXLsM4NwdXCxdX7kY5JmeG:{dG;jZZJlN0OKRV3CUFk{QS9pPmPBUmdGWjxxYU6=
TGBC1TKB
M161Z2dzd3e2aDDJcohq[mm2aX;uJGF{e2G7
M2ThOmlEPTB;MUSuOlYyPSEQvF2=
MYW8ZUB1[XKpZYS9K39jdGGwazegbJJm\j1paIT0dJM7Ny:5d4eu[YJqNmGlLoXrM4Np\W2kbD;jc41xd3WwZG;y[ZBwenShY3Hy[E9EUEWPQly5N|kwLz6VQV7HSXI9N2F-
NCI-H630
M2DQXGdzd3e2aDDJcohq[mm2aX;uJGF{e2G7
NX\HPZU4UUN3ME2xOE46PDZ5IN88US=>
M4HoSFxiKHSjcnfleF0oZ2KuYX7rK{BpemWoPTfoeJRxezpxL4f3e{5m[mlwYXOueYsw[2inbXLsM4NwdXCxdX7kY5JmeG:{dG;jZZJlN0OKRV3CUFk{QS9pPmPBUmdGWjxxYU6=
LAN-6
NEe1b2dIem:5dHigTY5pcWKrdHnvckBCe3OjeR?=
NGjLSmFKSzVyPUG0MlI2OyEQvF2=
MVG8ZUB1[XKpZYS9K39jdGGwazegbJJm\j1paIT0dJM7Ny:5d4eu[YJqNmGlLoXrM4Np\W2kbD;jc41xd3WwZG;y[ZBwenShY3Hy[E9EUEWPQly5N|kwLz6VQV7HSXI9N2F-
A549
MXLHdo94fGhiSX7obYJqfGmxbjDBd5NigQ>?
M{fFPWlEPTB;MUSuOFcyOiEQvF2=
MYi8ZUB1[XKpZYS9K39jdGGwazegbJJm\j1paIT0dJM7Ny:5d4eu[YJqNmGlLoXrM4Np\W2kbD;jc41xd3WwZG;y[ZBwenShY3Hy[E9EUEWPQly5N|kwLz6VQV7HSXI9N2F-
RD
MYDHdo94fGhiSX7obYJqfGmxbjDBd5NigQ>?
Mn;MTWM2OD1zND60PFE{KM7:TR?=
NXPDZ5RxRGFidHHy[4V1RSehYnzhcosoKGi{ZX[9K4h1fHC|Oj:ve5d4NmWkaT7hZ{52cy:laHXtZoww[2:vcH;1coRgemWyb4L0Y4NiemRxQ1jFUWJNQTN7Lze+V2FPT0WUPD;hQi=>
KALS-1
MkPzS5Jwf3SqIFnubIljcXSrb36gRZN{[Xl?
MVfJR|UxRTF|Lki1NlUh|ryP
NUDGTJNqRGFidHHy[4V1RSehYnzhcosoKGi{ZX[9K4h1fHC|Oj:ve5d4NmWkaT7hZ{52cy:laHXtZoww[2:vcH;1coRgemWyb4L0Y4NiemRxQ1jFUWJNQTN7Lze+V2FPT0WUPD;hQi=>
LOXIMVI
MnHGS5Jwf3SqIFnubIljcXSrb36gRZN{[Xl?
NEfRXGdKSzVyPUGzMlYyPTFizszN
MnH3QIEhfGG{Z3X0QUdg[myjbnunJIhz\WZ;J3j0eJB{Qi9xd4f3MoVjcS6jYz71b{9kcGWvYnyvZ49ueG:3bnTfdoVxd3K2X3PhdoQwS0iHTVLMPVM6Nyd-U1HOS2VTRC:jPh?=
SK-PN-DW
NULQS41JT3Kxd4ToJGlvcGmkaYTpc44hSXO|YYm=
M376Z2lEPTB;MUOuPFQzPyEQvF2=
MUm8ZUB1[XKpZYS9K39jdGGwazegbJJm\j1paIT0dJM7Ny:5d4eu[YJqNmGlLoXrM4Np\W2kbD;jc41xd3WwZG;y[ZBwenShY3Hy[E9EUEWPQly5N|kwLz6VQV7HSXI9N2F-
SN12C
MojhS5Jwf3SqIFnubIljcXSrb36gRZN{[Xl?
NHn4b2hKSzVyPUGzMlM5ODhizszN
MYG8ZUB1[XKpZYS9K39jdGGwazegbJJm\j1paIT0dJM7Ny:5d4eu[YJqNmGlLoXrM4Np\W2kbD;jc41xd3WwZG;y[ZBwenShY3Hy[E9EUEWPQly5N|kwLz6VQV7HSXI9N2F-
NCI-H1993
Mmr1S5Jwf3SqIFnubIljcXSrb36gRZN{[Xl?
MW\JR|UxRTF|LkSyPFUh|ryP
MYS8ZUB1[XKpZYS9K39jdGGwazegbJJm\j1paIT0dJM7Ny:5d4eu[YJqNmGlLoXrM4Np\W2kbD;jc41xd3WwZG;y[ZBwenShY3Hy[E9EUEWPQly5N|kwLz6VQV7HSXI9N2F-
G-361
M3;OXGdzd3e2aDDJcohq[mm2aX;uJGF{e2G7
NGDtXGFKSzVyPUGyMlkyOjlizszN
MoTXQIEhfGG{Z3X0QUdg[myjbnunJIhz\WZ;J3j0eJB{Qi9xd4f3MoVjcS6jYz71b{9kcGWvYnyvZ49ueG:3bnTfdoVxd3K2X3PhdoQwS0iHTVLMPVM6Nyd-U1HOS2VTRC:jPh?=
RH-18
NITrXXFIem:5dHigTY5pcWKrdHnvckBCe3OjeR?=
MoDhTWM2OD1zMz6yPVYzKM7:TR?=
Mni1QIEhfGG{Z3X0QUdg[myjbnunJIhz\WZ;J3j0eJB{Qi9xd4f3MoVjcS6jYz71b{9kcGWvYnyvZ49ueG:3bnTfdoVxd3K2X3PhdoQwS0iHTVLMPVM6Nyd-U1HOS2VTRC:jPh?=
GT3TKB
MX;Hdo94fGhiSX7obYJqfGmxbjDBd5NigQ>?
NIX1NYpKSzVyPUGyMlY{OjdizszN
NFjyUoI9[SC2YYLn[ZQ:L1:kbHHub{chcHKnZk2nbJR1eHN8Lz;3e5cv\WKrLnHjMpVsN2OqZX3icE9kd22yb4Xu[H9z\XCxcoTfZ4Fz\C:FSFXNRmw6OzlxJ{7TRW5ITVJ:L3G+
DMS-273
MljBS5Jwf3SqIFnubIljcXSrb36gRZN{[Xl?
NWjoZlJ[UUN3ME2xNk45PjN|IN88US=>
NGTw[FQ9[SC2YYLn[ZQ:L1:kbHHub{chcHKnZk2nbJR1eHN8Lz;3e5cv\WKrLnHjMpVsN2OqZX3icE9kd22yb4Xu[H9z\XCxcoTfZ4Fz\C:FSFXNRmw6OzlxJ{7TRW5ITVJ:L3G+
C3A
M{L1XGdzd3e2aDDJcohq[mm2aX;uJGF{e2G7
MmrqTWM2OD1zMj61O|g2KM7:TR?=
NVf6SWFyRGFidHHy[4V1RSehYnzhcosoKGi{ZX[9K4h1fHC|Oj:ve5d4NmWkaT7hZ{52cy:laHXtZoww[2:vcH;1coRgemWyb4L0Y4NiemRxQ1jFUWJNQTN7Lze+V2FPT0WUPD;hQi=>
Daoy
NHjiOGdIem:5dHigTY5pcWKrdHnvckBCe3OjeR?=
MVHJR|UxRTF{LkS1OFIh|ryP
MWe8ZUB1[XKpZYS9K39jdGGwazegbJJm\j1paIT0dJM7Ny:5d4eu[YJqNmGlLoXrM4Np\W2kbD;jc41xd3WwZG;y[ZBwenShY3Hy[E9EUEWPQly5N|kwLz6VQV7HSXI9N2F-
ABC-1
MXPHdo94fGhiSX7obYJqfGmxbjDBd5NigQ>?
MVHJR|UxRTF{LkO0NUDPxE1?
NUPPZ2ZKRGFidHHy[4V1RSehYnzhcosoKGi{ZX[9K4h1fHC|Oj:ve5d4NmWkaT7hZ{52cy:laHXtZoww[2:vcH;1coRgemWyb4L0Y4NiemRxQ1jFUWJNQTN7Lze+V2FPT0WUPD;hQi=>
KS-1
NUP1SIRvT3Kxd4ToJGlvcGmkaYTpc44hSXO|YYm=
NFzBepdKSzVyPUGyMlI5OzJizszN
M3m3dVxiKHSjcnfleF0oZ2KuYX7rK{BpemWoPTfoeJRxezpxL4f3e{5m[mlwYXOueYsw[2inbXLsM4NwdXCxdX7kY5JmeG:{dG;jZZJlN0OKRV3CUFk{QS9pPmPBUmdGWjxxYU6=
JAR
NFzIfnpIem:5dHigTY5pcWKrdHnvckBCe3OjeR?=
NXP5WFZ1UUN3ME2xNk4{OzZ7IN88US=>
NGXHTGk9[SC2YYLn[ZQ:L1:kbHHub{chcHKnZk2nbJR1eHN8Lz;3e5cv\WKrLnHjMpVsN2OqZX3icE9kd22yb4Xu[H9z\XCxcoTfZ4Fz\C:FSFXNRmw6OzlxJ{7TRW5ITVJ:L3G+
CAMA-1
M2TabWdzd3e2aDDJcohq[mm2aX;uJGF{e2G7
NVrHVJJGUUN3ME2xNk4yPjN|IN88US=>
NVzQd|NrRGFidHHy[4V1RSehYnzhcosoKGi{ZX[9K4h1fHC|Oj:ve5d4NmWkaT7hZ{52cy:laHXtZoww[2:vcH;1coRgemWyb4L0Y4NiemRxQ1jFUWJNQTN7Lze+V2FPT0WUPD;hQi=>
U-118-MG
MWPHdo94fGhiSX7obYJqfGmxbjDBd5NigQ>?
MoPETWM2OD1zMj6yOFQyKM7:TR?=
M{Dte|xiKHSjcnfleF0oZ2KuYX7rK{BpemWoPTfoeJRxezpxL4f3e{5m[mlwYXOueYsw[2inbXLsM4NwdXCxdX7kY5JmeG:{dG;jZZJlN0OKRV3CUFk{QS9pPmPBUmdGWjxxYU6=
OE19
MoLXS5Jwf3SqIFnubIljcXSrb36gRZN{[Xl?
NIrmXWlKSzVyPUGxMlk{PjdizszN
NGP4XWM9[SC2YYLn[ZQ:L1:kbHHub{chcHKnZk2nbJR1eHN8Lz;3e5cv\WKrLnHjMpVsN2OqZX3icE9kd22yb4Xu[H9z\XCxcoTfZ4Fz\C:FSFXNRmw6OzlxJ{7TRW5ITVJ:L3G+
Mo-T
M4D4Zmdzd3e2aDDJcohq[mm2aX;uJGF{e2G7
NIO3RVRKSzVyPUGxMlk2PDFizszN
NV6yNYN6RGFidHHy[4V1RSehYnzhcosoKGi{ZX[9K4h1fHC|Oj:ve5d4NmWkaT7hZ{52cy:laHXtZoww[2:vcH;1coRgemWyb4L0Y4NiemRxQ1jFUWJNQTN7Lze+V2FPT0WUPD;hQi=>
SCC-9
NVv6R5NlT3Kxd4ToJGlvcGmkaYTpc44hSXO|YYm=
M4nqSmlEPTB;MUGuPFE2OSEQvF2=
NX:5[INMRGFidHHy[4V1RSehYnzhcosoKGi{ZX[9K4h1fHC|Oj:ve5d4NmWkaT7hZ{52cy:laHXtZoww[2:vcH;1coRgemWyb4L0Y4NiemRxQ1jFUWJNQTN7Lze+V2FPT0WUPD;hQi=>
HOS
NVHENmJJT3Kxd4ToJGlvcGmkaYTpc44hSXO|YYm=
M33POmlEPTB;MUGuPFY5OyEQvF2=
Mo\0QIEhfGG{Z3X0QUdg[myjbnunJIhz\WZ;J3j0eJB{Qi9xd4f3MoVjcS6jYz71b{9kcGWvYnyvZ49ueG:3bnTfdoVxd3K2X3PhdoQwS0iHTVLMPVM6Nyd-U1HOS2VTRC:jPh?=
UM-UC-3
NHT4N3lIem:5dHigTY5pcWKrdHnvckBCe3OjeR?=
NHnoO4ZKSzVyPUGxMlc1OjFizszN
NV7KRo1jRGFidHHy[4V1RSehYnzhcosoKGi{ZX[9K4h1fHC|Oj:ve5d4NmWkaT7hZ{52cy:laHXtZoww[2:vcH;1coRgemWyb4L0Y4NiemRxQ1jFUWJNQTN7Lze+V2FPT0WUPD;hQi=>
MMAC-SF
MU\Hdo94fGhiSX7obYJqfGmxbjDBd5NigQ>?
MVjJR|UxRTFzLkeyOVIh|ryP
Ml7HQIEhfGG{Z3X0QUdg[myjbnunJIhz\WZ;J3j0eJB{Qi9xd4f3MoVjcS6jYz71b{9kcGWvYnyvZ49ueG:3bnTfdoVxd3K2X3PhdoQwS0iHTVLMPVM6Nyd-U1HOS2VTRC:jPh?=
MLMA
M1TJRWdzd3e2aDDJcohq[mm2aX;uJGF{e2G7
M2r0eWlEPTB;MUGuOlk6PyEQvF2=
M1rrblxiKHSjcnfleF0oZ2KuYX7rK{BpemWoPTfoeJRxezpxL4f3e{5m[mlwYXOueYsw[2inbXLsM4NwdXCxdX7kY5JmeG:{dG;jZZJlN0OKRV3CUFk{QS9pPmPBUmdGWjxxYU6=
RPMI-7951
NV;rVGM3T3Kxd4ToJGlvcGmkaYTpc44hSXO|YYm=
NVXPNYx2UUN3ME2xNU43OzR6IN88US=>
M{KxdVxiKHSjcnfleF0oZ2KuYX7rK{BpemWoPTfoeJRxezpxL4f3e{5m[mlwYXOueYsw[2inbXLsM4NwdXCxdX7kY5JmeG:{dG;jZZJlN0OKRV3CUFk{QS9pPmPBUmdGWjxxYU6=
NCI-H1299
NXTLe5dET3Kxd4ToJGlvcGmkaYTpc44hSXO|YYm=
NIfWfGtKSzVyPUGxMlY3PDdizszN
MofIQIEhfGG{Z3X0QUdg[myjbnunJIhz\WZ;J3j0eJB{Qi9xd4f3MoVjcS6jYz71b{9kcGWvYnyvZ49ueG:3bnTfdoVxd3K2X3PhdoQwS0iHTVLMPVM6Nyd-U1HOS2VTRC:jPh?=
LS-411N
MXPHdo94fGhiSX7obYJqfGmxbjDBd5NigQ>?
NF7PSpFKSzVyPUGxMlYyODFizszN
NHHKOnI9[SC2YYLn[ZQ:L1:kbHHub{chcHKnZk2nbJR1eHN8Lz;3e5cv\WKrLnHjMpVsN2OqZX3icE9kd22yb4Xu[H9z\XCxcoTfZ4Fz\C:FSFXNRmw6OzlxJ{7TRW5ITVJ:L3G+
HCC1954
NFfiOYFIem:5dHigTY5pcWKrdHnvckBCe3OjeR?=
NFrDN5ZKSzVyPUGxMlQ{PiEQvF2=
M{faUVxiKHSjcnfleF0oZ2KuYX7rK{BpemWoPTfoeJRxezpxL4f3e{5m[mlwYXOueYsw[2inbXLsM4NwdXCxdX7kY5JmeG:{dG;jZZJlN0OKRV3CUFk{QS9pPmPBUmdGWjxxYU6=
GOTO
MWrHdo94fGhiSX7obYJqfGmxbjDBd5NigQ>?
MUXJR|UxRTFzLkWyNFYh|ryP
NHXEWpk9[SC2YYLn[ZQ:L1:kbHHub{chcHKnZk2nbJR1eHN8Lz;3e5cv\WKrLnHjMpVsN2OqZX3icE9kd22yb4Xu[H9z\XCxcoTfZ4Fz\C:FSFXNRmw6OzlxJ{7TRW5ITVJ:L3G+
FTC-133
NWnweW5nT3Kxd4ToJGlvcGmkaYTpc44hSXO|YYm=
M{TjV2lEPTB;MUGuN|A5OSEQvF2=
MU[8ZUB1[XKpZYS9K39jdGGwazegbJJm\j1paIT0dJM7Ny:5d4eu[YJqNmGlLoXrM4Np\W2kbD;jc41xd3WwZG;y[ZBwenShY3Hy[E9EUEWPQly5N|kwLz6VQV7HSXI9N2F-
LB831-BLC
MlnpS5Jwf3SqIFnubIljcXSrb36gRZN{[Xl?
NHzPPZdKSzVyPUGxMlI2PTZizszN
M4PvOlxiKHSjcnfleF0oZ2KuYX7rK{BpemWoPTfoeJRxezpxL4f3e{5m[mlwYXOueYsw[2inbXLsM4NwdXCxdX7kY5JmeG:{dG;jZZJlN0OKRV3CUFk{QS9pPmPBUmdGWjxxYU6=
HCC38
M3j1[Wdzd3e2aDDJcohq[mm2aX;uJGF{e2G7
NXHYPYV5UUN3ME2xNE46PzF4IN88US=>
NGPHWXQ9[SC2YYLn[ZQ:L1:kbHHub{chcHKnZk2nbJR1eHN8Lz;3e5cv\WKrLnHjMpVsN2OqZX3icE9kd22yb4Xu[H9z\XCxcoTfZ4Fz\C:FSFXNRmw6OzlxJ{7TRW5ITVJ:L3G+
SF-295
NHy0ZpBIem:5dHigTY5pcWKrdHnvckBCe3OjeR?=
NF;V[YJKSzVyPUGwMlk6ODJizszN
NXPTdW03RGFidHHy[4V1RSehYnzhcosoKGi{ZX[9K4h1fHC|Oj:ve5d4NmWkaT7hZ{52cy:laHXtZoww[2:vcH;1coRgemWyb4L0Y4NiemRxQ1jFUWJNQTN7Lze+V2FPT0WUPD;hQi=>
K-562
NWSxTpd1T3Kxd4ToJGlvcGmkaYTpc44hSXO|YYm=
M2fTXGlEPTB;MUCuPFM6PSEQvF2=
MUi8ZUB1[XKpZYS9K39jdGGwazegbJJm\j1paIT0dJM7Ny:5d4eu[YJqNmGlLoXrM4Np\W2kbD;jc41xd3WwZG;y[ZBwenShY3Hy[E9EUEWPQly5N|kwLz6VQV7HSXI9N2F-
SW900
NIO3SIZIem:5dHigTY5pcWKrdHnvckBCe3OjeR?=
M4DtS2lEPTB;MUCuPFIzQCEQvF2=
NWjUcVlnRGFidHHy[4V1RSehYnzhcosoKGi{ZX[9K4h1fHC|Oj:ve5d4NmWkaT7hZ{52cy:laHXtZoww[2:vcH;1coRgemWyb4L0Y4NiemRxQ1jFUWJNQTN7Lze+V2FPT0WUPD;hQi=>
D-336MG
M4\uemdzd3e2aDDJcohq[mm2aX;uJGF{e2G7
M1O5dWlEPTB;MUCuO|AxPSEQvF2=
MmH6QIEhfGG{Z3X0QUdg[myjbnunJIhz\WZ;J3j0eJB{Qi9xd4f3MoVjcS6jYz71b{9kcGWvYnyvZ49ueG:3bnTfdoVxd3K2X3PhdoQwS0iHTVLMPVM6Nyd-U1HOS2VTRC:jPh?=
LXF-289
MmfwS5Jwf3SqIFnubIljcXSrb36gRZN{[Xl?
M3rPNmlEPTB;MUCuO|k3PyEQvF2=
MYS8ZUB1[XKpZYS9K39jdGGwazegbJJm\j1paIT0dJM7Ny:5d4eu[YJqNmGlLoXrM4Np\W2kbD;jc41xd3WwZG;y[ZBwenShY3Hy[E9EUEWPQly5N|kwLz6VQV7HSXI9N2F-
SW962
M4\Lemdzd3e2aDDJcohq[mm2aX;uJGF{e2G7
Mn7TTWM2OD1zMD62NlA1KM7:TR?=
NE[xb5k9[SC2YYLn[ZQ:L1:kbHHub{chcHKnZk2nbJR1eHN8Lz;3e5cv\WKrLnHjMpVsN2OqZX3icE9kd22yb4Xu[H9z\XCxcoTfZ4Fz\C:FSFXNRmw6OzlxJ{7TRW5ITVJ:L3G+
VMRC-RCZ
NUnGe5FvT3Kxd4ToJGlvcGmkaYTpc44hSXO|YYm=
MYHJR|UxRTFyLk[3OFkh|ryP
M1zYd|xiKHSjcnfleF0oZ2KuYX7rK{BpemWoPTfoeJRxezpxL4f3e{5m[mlwYXOueYsw[2inbXLsM4NwdXCxdX7kY5JmeG:{dG;jZZJlN0OKRV3CUFk{QS9pPmPBUmdGWjxxYU6=
HEC-1
MVXHdo94fGhiSX7obYJqfGmxbjDBd5NigQ>?
NYfOdo5uUUN3ME2xNE41ODhzIN88US=>
MlSzQIEhfGG{Z3X0QUdg[myjbnunJIhz\WZ;J3j0eJB{Qi9xd4f3MoVjcS6jYz71b{9kcGWvYnyvZ49ueG:3bnTfdoVxd3K2X3PhdoQwS0iHTVLMPVM6Nyd-U1HOS2VTRC:jPh?=
A2058
NVfGem1LT3Kxd4ToJGlvcGmkaYTpc44hSXO|YYm=
M3i3R2lEPTB;MUCuOVQ6OSEQvF2=
Mn:2QIEhfGG{Z3X0QUdg[myjbnunJIhz\WZ;J3j0eJB{Qi9xd4f3MoVjcS6jYz71b{9kcGWvYnyvZ49ueG:3bnTfdoVxd3K2X3PhdoQwS0iHTVLMPVM6Nyd-U1HOS2VTRC:jPh?=
K5
NULNVIN6T3Kxd4ToJGlvcGmkaYTpc44hSXO|YYm=
NWLtbFFjUUN3ME2xNE4{Ozl3IN88US=>
NV;IN4dWRGFidHHy[4V1RSehYnzhcosoKGi{ZX[9K4h1fHC|Oj:ve5d4NmWkaT7hZ{52cy:laHXtZoww[2:vcH;1coRgemWyb4L0Y4NiemRxQ1jFUWJNQTN7Lze+V2FPT0WUPD;hQi=>
U031
MYfHdo94fGhiSX7obYJqfGmxbjDBd5NigQ>?
M1\q[WlEPTB;MUCuNlY5PiEQvF2=
Mnj0QIEhfGG{Z3X0QUdg[myjbnunJIhz\WZ;J3j0eJB{Qi9xd4f3MoVjcS6jYz71b{9kcGWvYnyvZ49ueG:3bnTfdoVxd3K2X3PhdoQwS0iHTVLMPVM6Nyd-U1HOS2VTRC:jPh?=
YH-13
M{Dre2dzd3e2aDDJcohq[mm2aX;uJGF{e2G7
M3LRZ2lEPTB;MUCuN|A2PyEQvF2=
MU[8ZUB1[XKpZYS9K39jdGGwazegbJJm\j1paIT0dJM7Ny:5d4eu[YJqNmGlLoXrM4Np\W2kbD;jc41xd3WwZG;y[ZBwenShY3Hy[E9EUEWPQly5N|kwLz6VQV7HSXI9N2F-
SK-UT-1
MVvHdo94fGhiSX7obYJqfGmxbjDBd5NigQ>?
M3PPXWlEPTB;MUCuNlU4PCEQvF2=
NFf6e5Y9[SC2YYLn[ZQ:L1:kbHHub{chcHKnZk2nbJR1eHN8Lz;3e5cv\WKrLnHjMpVsN2OqZX3icE9kd22yb4Xu[H9z\XCxcoTfZ4Fz\C:FSFXNRmw6OzlxJ{7TRW5ITVJ:L3G+
NCI-H810
MkTwS5Jwf3SqIFnubIljcXSrb36gRZN{[Xl?
MVvJR|UxRTFyLkG1PVch|ryP
NEjWcJY9[SC2YYLn[ZQ:L1:kbHHub{chcHKnZk2nbJR1eHN8Lz;3e5cv\WKrLnHjMpVsN2OqZX3icE9kd22yb4Xu[H9z\XCxcoTfZ4Fz\C:FSFXNRmw6OzlxJ{7TRW5ITVJ:L3G+
DJM-1
Mkf3S5Jwf3SqIFnubIljcXSrb36gRZN{[Xl?
M4PNPGlEPTB;MUCuNVc{OiEQvF2=
MV28ZUB1[XKpZYS9K39jdGGwazegbJJm\j1paIT0dJM7Ny:5d4eu[YJqNmGlLoXrM4Np\W2kbD;jc41xd3WwZG;y[ZBwenShY3Hy[E9EUEWPQly5N|kwLz6VQV7HSXI9N2F-
CAL-51
NYjLUGZxT3Kxd4ToJGlvcGmkaYTpc44hSXO|YYm=
M4DzSmlEPTB;MUCuNFg4PyEQvF2=
M2f5NlxiKHSjcnfleF0oZ2KuYX7rK{BpemWoPTfoeJRxezpxL4f3e{5m[mlwYXOueYsw[2inbXLsM4NwdXCxdX7kY5JmeG:{dG;jZZJlN0OKRV3CUFk{QS9pPmPBUmdGWjxxYU6=
HCE-4
M4O2c2dzd3e2aDDJcohq[mm2aX;uJGF{e2G7
MXTJR|UxRTFyLkGxNlIh|ryP
NHHqbnY9[SC2YYLn[ZQ:L1:kbHHub{chcHKnZk2nbJR1eHN8Lz;3e5cv\WKrLnHjMpVsN2OqZX3icE9kd22yb4Xu[H9z\XCxcoTfZ4Fz\C:FSFXNRmw6OzlxJ{7TRW5ITVJ:L3G+
NCI-H2342
NUDzfFQxT3Kxd4ToJGlvcGmkaYTpc44hSXO|YYm=
NYjkSJRTUUN3ME2xNE4xOTV3IN88US=>
MmnrQIEhfGG{Z3X0QUdg[myjbnunJIhz\WZ;J3j0eJB{Qi9xd4f3MoVjcS6jYz71b{9kcGWvYnyvZ49ueG:3bnTfdoVxd3K2X3PhdoQwS0iHTVLMPVM6Nyd-U1HOS2VTRC:jPh?=
A204
M3fRWmdzd3e2aDDJcohq[mm2aX;uJGF{e2G7
MXXJR|UxRTFyLkC0OlYh|ryP
NHnRSZQ9[SC2YYLn[ZQ:L1:kbHHub{chcHKnZk2nbJR1eHN8Lz;3e5cv\WKrLnHjMpVsN2OqZX3icE9kd22yb4Xu[H9z\XCxcoTfZ4Fz\C:FSFXNRmw6OzlxJ{7TRW5ITVJ:L3G+
NCI-H1355
MoOzS5Jwf3SqIFnubIljcXSrb36gRZN{[Xl?
NFeybVNKSzVyPUmuPVQxQDhizszN
NHHZc2s9[SC2YYLn[ZQ:L1:kbHHub{chcHKnZk2nbJR1eHN8Lz;3e5cv\WKrLnHjMpVsN2OqZX3icE9kd22yb4Xu[H9z\XCxcoTfZ4Fz\C:FSFXNRmw6OzlxJ{7TRW5ITVJ:L3G+
SW837
NHnKfoFIem:5dHigTY5pcWKrdHnvckBCe3OjeR?=
MmroTWM2OD17Lki0PFIh|ryP
MWi8ZUB1[XKpZYS9K39jdGGwazegbJJm\j1paIT0dJM7Ny:5d4eu[YJqNmGlLoXrM4Np\W2kbD;jc41xd3WwZG;y[ZBwenShY3Hy[E9EUEWPQly5N|kwLz6VQV7HSXI9N2F-
OCI-AML2
Ml:xS5Jwf3SqIFnubIljcXSrb36gRZN{[Xl?
NFjnO2ZKSzVyPUmuPFY6PiEQvF2=
M37WXVxiKHSjcnfleF0oZ2KuYX7rK{BpemWoPTfoeJRxezpxL4f3e{5m[mlwYXOueYsw[2inbXLsM4NwdXCxdX7kY5JmeG:{dG;jZZJlN0OKRV3CUFk{QS9pPmPBUmdGWjxxYU6=
EFO-21
MULHdo94fGhiSX7obYJqfGmxbjDBd5NigQ>?
M2TPVWlEPTB;OT61PFc{PSEQvF2=
NIT3b4o9[SC2YYLn[ZQ:L1:kbHHub{chcHKnZk2nbJR1eHN8Lz;3e5cv\WKrLnHjMpVsN2OqZX3icE9kd22yb4Xu[H9z\XCxcoTfZ4Fz\C:FSFXNRmw6OzlxJ{7TRW5ITVJ:L3G+
C32
M3zYfWdzd3e2aDDJcohq[mm2aX;uJGF{e2G7
Mn7vTWM2OD17Lk[zN|Qh|ryP
Mn7ZQIEhfGG{Z3X0QUdg[myjbnunJIhz\WZ;J3j0eJB{Qi9xd4f3MoVjcS6jYz71b{9kcGWvYnyvZ49ueG:3bnTfdoVxd3K2X3PhdoQwS0iHTVLMPVM6Nyd-U1HOS2VTRC:jPh?=
KP-4
NXPDXoxJT3Kxd4ToJGlvcGmkaYTpc44hSXO|YYm=
NFjSRY1KSzVyPUmuOFg5OzhizszN
NEO3c249[SC2YYLn[ZQ:L1:kbHHub{chcHKnZk2nbJR1eHN8Lz;3e5cv\WKrLnHjMpVsN2OqZX3icE9kd22yb4Xu[H9z\XCxcoTfZ4Fz\C:FSFXNRmw6OzlxJ{7TRW5ITVJ:L3G+
A101D
MV3Hdo94fGhiSX7obYJqfGmxbjDBd5NigQ>?
NXH3dm0{UUN3ME25MlUyPzF7IN88US=>
MWO8ZUB1[XKpZYS9K39jdGGwazegbJJm\j1paIT0dJM7Ny:5d4eu[YJqNmGlLoXrM4Np\W2kbD;jc41xd3WwZG;y[ZBwenShY3Hy[E9EUEWPQly5N|kwLz6VQV7HSXI9N2F-
IA-LM
NGXuRWdIem:5dHigTY5pcWKrdHnvckBCe3OjeR?=
NULSRlJoUUN3ME25MlQyQTZ4IN88US=>
MUi8ZUB1[XKpZYS9K39jdGGwazegbJJm\j1paIT0dJM7Ny:5d4eu[YJqNmGlLoXrM4Np\W2kbD;jc41xd3WwZG;y[ZBwenShY3Hy[E9EUEWPQly5N|kwLz6VQV7HSXI9N2F-
HPAF-II
MmHKS5Jwf3SqIFnubIljcXSrb36gRZN{[Xl?
MlXMTWM2OD17LkKyOVE5KM7:TR?=
NV;MNWdlRGFidHHy[4V1RSehYnzhcosoKGi{ZX[9K4h1fHC|Oj:ve5d4NmWkaT7hZ{52cy:laHXtZoww[2:vcH;1coRgemWyb4L0Y4NiemRxQ1jFUWJNQTN7Lze+V2FPT0WUPD;hQi=>
Capan-2
MlH5S5Jwf3SqIFnubIljcXSrb36gRZN{[Xl?
Mo[3TWM2OD17LkSwNVA6KM7:TR?=
NYjU[Wd{RGFidHHy[4V1RSehYnzhcosoKGi{ZX[9K4h1fHC|Oj:ve5d4NmWkaT7hZ{52cy:laHXtZoww[2:vcH;1coRgemWyb4L0Y4NiemRxQ1jFUWJNQTN7Lze+V2FPT0WUPD;hQi=>
BFTC-909
M2fEOGdzd3e2aDDJcohq[mm2aX;uJGF{e2G7
MojSTWM2OD17LkG4Nlk4KM7:TR?=
NX3yNnMzRGFidHHy[4V1RSehYnzhcosoKGi{ZX[9K4h1fHC|Oj:ve5d4NmWkaT7hZ{52cy:laHXtZoww[2:vcH;1coRgemWyb4L0Y4NiemRxQ1jFUWJNQTN7Lze+V2FPT0WUPD;hQi=>
RPMI-8226
NGXZU4ZIem:5dHigTY5pcWKrdHnvckBCe3OjeR?=
MVzJR|UxRTlwMUGzNFQh|ryP
M1HE[lxiKHSjcnfleF0oZ2KuYX7rK{BpemWoPTfoeJRxezpxL4f3e{5m[mlwYXOueYsw[2inbXLsM4NwdXCxdX7kY5JmeG:{dG;jZZJlN0OKRV3CUFk{QS9pPmPBUmdGWjxxYU6=
ChaGo-K-1
NWjtUYU5T3Kxd4ToJGlvcGmkaYTpc44hSXO|YYm=
NVTFVXRGUUN3ME25MlExPTd7IN88US=>
NE\oVoU9[SC2YYLn[ZQ:L1:kbHHub{chcHKnZk2nbJR1eHN8Lz;3e5cv\WKrLnHjMpVsN2OqZX3icE9kd22yb4Xu[H9z\XCxcoTfZ4Fz\C:FSFXNRmw6OzlxJ{7TRW5ITVJ:L3G+
NCI-H2228
NYLNRpZFT3Kxd4ToJGlvcGmkaYTpc44hSXO|YYm=
MVrJR|UxRTlwMUGwPFEh|ryP
MXu8ZUB1[XKpZYS9K39jdGGwazegbJJm\j1paIT0dJM7Ny:5d4eu[YJqNmGlLoXrM4Np\W2kbD;jc41xd3WwZG;y[ZBwenShY3Hy[E9EUEWPQly5N|kwLz6VQV7HSXI9N2F-
NCI-H226
MkP3S5Jwf3SqIFnubIljcXSrb36gRZN{[Xl?
M3\1dmlEPTB;OT6wPUDPxE1?
MkXaQIEhfGG{Z3X0QUdg[myjbnunJIhz\WZ;J3j0eJB{Qi9xd4f3MoVjcS6jYz71b{9kcGWvYnyvZ49ueG:3bnTfdoVxd3K2X3PhdoQwS0iHTVLMPVM6Nyd-U1HOS2VTRC:jPh?=
D-566MG
MnPGS5Jwf3SqIFnubIljcXSrb36gRZN{[Xl?
M4TXZWlEPTB;OT6wNVgyKM7:TR?=
NWDv[lZJRGFidHHy[4V1RSehYnzhcosoKGi{ZX[9K4h1fHC|Oj:ve5d4NmWkaT7hZ{52cy:laHXtZoww[2:vcH;1coRgemWyb4L0Y4NiemRxQ1jFUWJNQTN7Lze+V2FPT0WUPD;hQi=>
LS-1034
NEK2UGFIem:5dHigTY5pcWKrdHnvckBCe3OjeR?=
M1L4XWlEPTB;OD65OFY2OiEQvF2=
NGXQR4o9[SC2YYLn[ZQ:L1:kbHHub{chcHKnZk2nbJR1eHN8Lz;3e5cv\WKrLnHjMpVsN2OqZX3icE9kd22yb4Xu[H9z\XCxcoTfZ4Fz\C:FSFXNRmw6OzlxJ{7TRW5ITVJ:L3G+
NCI-H1792
NEGxVJhIem:5dHigTY5pcWKrdHnvckBCe3OjeR?=
MWDJR|UxRThwOEi5NFMh|ryP
NH3xOmM9[SC2YYLn[ZQ:L1:kbHHub{chcHKnZk2nbJR1eHN8Lz;3e5cv\WKrLnHjMpVsN2OqZX3icE9kd22yb4Xu[H9z\XCxcoTfZ4Fz\C:FSFXNRmw6OzlxJ{7TRW5ITVJ:L3G+
COLO-792
M1rGc2dzd3e2aDDJcohq[mm2aX;uJGF{e2G7
M1y4SWlEPTB;OD63OFk1PiEQvF2=
M{PzclxiKHSjcnfleF0oZ2KuYX7rK{BpemWoPTfoeJRxezpxL4f3e{5m[mlwYXOueYsw[2inbXLsM4NwdXCxdX7kY5JmeG:{dG;jZZJlN0OKRV3CUFk{QS9pPmPBUmdGWjxxYU6=
A673
NVnLdGRwT3Kxd4ToJGlvcGmkaYTpc44hSXO|YYm=
MYfJR|UxRThwNke2NVEh|ryP
NFHjOXE9[SC2YYLn[ZQ:L1:kbHHub{chcHKnZk2nbJR1eHN8Lz;3e5cv\WKrLnHjMpVsN2OqZX3icE9kd22yb4Xu[H9z\XCxcoTfZ4Fz\C:FSFXNRmw6OzlxJ{7TRW5ITVJ:L3G+
D-392MG
MkC3S5Jwf3SqIFnubIljcXSrb36gRZN{[Xl?
NFS2OJlKSzVyPUiuOlYzOTRizszN
NFyzO3k9[SC2YYLn[ZQ:L1:kbHHub{chcHKnZk2nbJR1eHN8Lz;3e5cv\WKrLnHjMpVsN2OqZX3icE9kd22yb4Xu[H9z\XCxcoTfZ4Fz\C:FSFXNRmw6OzlxJ{7TRW5ITVJ:L3G+
EGI-1
NX;xZoU1T3Kxd4ToJGlvcGmkaYTpc44hSXO|YYm=
NYf3[nlLUUN3ME24MlYxODh6IN88US=>
M1TMclxiKHSjcnfleF0oZ2KuYX7rK{BpemWoPTfoeJRxezpxL4f3e{5m[mlwYXOueYsw[2inbXLsM4NwdXCxdX7kY5JmeG:{dG;jZZJlN0OKRV3CUFk{QS9pPmPBUmdGWjxxYU6=
TGBC11TKB
MnX3S5Jwf3SqIFnubIljcXSrb36gRZN{[Xl?
Ml3YTWM2OD16LkS2NVY1KM7:TR?=
MkHFQIEhfGG{Z3X0QUdg[myjbnunJIhz\WZ;J3j0eJB{Qi9xd4f3MoVjcS6jYz71b{9kcGWvYnyvZ49ueG:3bnTfdoVxd3K2X3PhdoQwS0iHTVLMPVM6Nyd-U1HOS2VTRC:jPh?=
5637
NWi3UFZbT3Kxd4ToJGlvcGmkaYTpc44hSXO|YYm=
NX;pPVFyUUN3ME24MlMyODV3IN88US=>
MnfYQIEhfGG{Z3X0QUdg[myjbnunJIhz\WZ;J3j0eJB{Qi9xd4f3MoVjcS6jYz71b{9kcGWvYnyvZ49ueG:3bnTfdoVxd3K2X3PhdoQwS0iHTVLMPVM6Nyd-U1HOS2VTRC:jPh?=
KYSE-70
Mo\yS5Jwf3SqIFnubIljcXSrb36gRZN{[Xl?
MWPJR|UxRThwMUm3OlEh|ryP
M1m3NVxiKHSjcnfleF0oZ2KuYX7rK{BpemWoPTfoeJRxezpxL4f3e{5m[mlwYXOueYsw[2inbXLsM4NwdXCxdX7kY5JmeG:{dG;jZZJlN0OKRV3CUFk{QS9pPmPBUmdGWjxxYU6=
VM-CUB-1
MlGxS5Jwf3SqIFnubIljcXSrb36gRZN{[Xl?
MVvJR|UxRThwMUewNlkh|ryP
MXW8ZUB1[XKpZYS9K39jdGGwazegbJJm\j1paIT0dJM7Ny:5d4eu[YJqNmGlLoXrM4Np\W2kbD;jc41xd3WwZG;y[ZBwenShY3Hy[E9EUEWPQly5N|kwLz6VQV7HSXI9N2F-
AM-38
NIXWW|BIem:5dHigTY5pcWKrdHnvckBCe3OjeR?=
NIXzTndKSzVyPUiuNVYzQCEQvF2=
MnG4QIEhfGG{Z3X0QUdg[myjbnunJIhz\WZ;J3j0eJB{Qi9xd4f3MoVjcS6jYz71b{9kcGWvYnyvZ49ueG:3bnTfdoVxd3K2X3PhdoQwS0iHTVLMPVM6Nyd-U1HOS2VTRC:jPh?=
NCI-H661
NYTBRoI3T3Kxd4ToJGlvcGmkaYTpc44hSXO|YYm=
M4nsTGlEPTB;OD6wOVg3PyEQvF2=
M1vk[FxiKHSjcnfleF0oZ2KuYX7rK{BpemWoPTfoeJRxezpxL4f3e{5m[mlwYXOueYsw[2inbXLsM4NwdXCxdX7kY5JmeG:{dG;jZZJlN0OKRV3CUFk{QS9pPmPBUmdGWjxxYU6=
SHP-77
NHfCV4VIem:5dHigTY5pcWKrdHnvckBCe3OjeR?=
M4PxUmlEPTB;Nz64OlY2OyEQvF2=
MUm8ZUB1[XKpZYS9K39jdGGwazegbJJm\j1paIT0dJM7Ny:5d4eu[YJqNmGlLoXrM4Np\W2kbD;jc41xd3WwZG;y[ZBwenShY3Hy[E9EUEWPQly5N|kwLz6VQV7HSXI9N2F-
DK-MG
NXzZ[nJDT3Kxd4ToJGlvcGmkaYTpc44hSXO|YYm=
NXyzd25IUUN3ME23Mlg{OjBzIN88US=>
NHPDeGU9[SC2YYLn[ZQ:L1:kbHHub{chcHKnZk2nbJR1eHN8Lz;3e5cv\WKrLnHjMpVsN2OqZX3icE9kd22yb4Xu[H9z\XCxcoTfZ4Fz\C:FSFXNRmw6OzlxJ{7TRW5ITVJ:L3G+
NB13
MmTiS5Jwf3SqIFnubIljcXSrb36gRZN{[Xl?
NEDUS|dKSzVyPUeuPFI3PjdizszN
MmP0QIEhfGG{Z3X0QUdg[myjbnunJIhz\WZ;J3j0eJB{Qi9xd4f3MoVjcS6jYz71b{9kcGWvYnyvZ49ueG:3bnTfdoVxd3K2X3PhdoQwS0iHTVLMPVM6Nyd-U1HOS2VTRC:jPh?=
COLO-829
NUPlNmFZT3Kxd4ToJGlvcGmkaYTpc44hSXO|YYm=
Mo\HTWM2OD15Lk[2OFY{KM7:TR?=
Ml\FQIEhfGG{Z3X0QUdg[myjbnunJIhz\WZ;J3j0eJB{Qi9xd4f3MoVjcS6jYz71b{9kcGWvYnyvZ49ueG:3bnTfdoVxd3K2X3PhdoQwS0iHTVLMPVM6Nyd-U1HOS2VTRC:jPh?=
OS-RC-2
NVTWRYlkT3Kxd4ToJGlvcGmkaYTpc44hSXO|YYm=
Mn34TWM2OD15LkS5PFk1KM7:TR?=
MYK8ZUB1[XKpZYS9K39jdGGwazegbJJm\j1paIT0dJM7Ny:5d4eu[YJqNmGlLoXrM4Np\W2kbD;jc41xd3WwZG;y[ZBwenShY3Hy[E9EUEWPQly5N|kwLz6VQV7HSXI9N2F-
HCC1419
M3;Jdmdzd3e2aDDJcohq[mm2aX;uJGF{e2G7
M2XMOGlEPTB;Nz60Olg{OyEQvF2=
MY[8ZUB1[XKpZYS9K39jdGGwazegbJJm\j1paIT0dJM7Ny:5d4eu[YJqNmGlLoXrM4Np\W2kbD;jc41xd3WwZG;y[ZBwenShY3Hy[E9EUEWPQly5N|kwLz6VQV7HSXI9N2F-
SKG-IIIa
MnzPS5Jwf3SqIFnubIljcXSrb36gRZN{[Xl?
MWTJR|UxRTdwNEWzPFEh|ryP
M4T2SFxiKHSjcnfleF0oZ2KuYX7rK{BpemWoPTfoeJRxezpxL4f3e{5m[mlwYXOueYsw[2inbXLsM4NwdXCxdX7kY5JmeG:{dG;jZZJlN0OKRV3CUFk{QS9pPmPBUmdGWjxxYU6=
COLO-668
NUniO2pFT3Kxd4ToJGlvcGmkaYTpc44hSXO|YYm=
M2PYT2lEPTB;Nz60N|k3PyEQvF2=
NEnTT|Y9[SC2YYLn[ZQ:L1:kbHHub{chcHKnZk2nbJR1eHN8Lz;3e5cv\WKrLnHjMpVsN2OqZX3icE9kd22yb4Xu[H9z\XCxcoTfZ4Fz\C:FSFXNRmw6OzlxJ{7TRW5ITVJ:L3G+
CAL-62
NVy4O2dTT3Kxd4ToJGlvcGmkaYTpc44hSXO|YYm=
MXvJR|UxRTdwM{m4OlYh|ryP
Ml3vQIEhfGG{Z3X0QUdg[myjbnunJIhz\WZ;J3j0eJB{Qi9xd4f3MoVjcS6jYz71b{9kcGWvYnyvZ49ueG:3bnTfdoVxd3K2X3PhdoQwS0iHTVLMPVM6Nyd-U1HOS2VTRC:jPh?=
HEL
M4q0emdzd3e2aDDJcohq[mm2aX;uJGF{e2G7
NFTIT3lKSzVyPUeuN|c2OjFizszN
NXnXTllqRGFidHHy[4V1RSehYnzhcosoKGi{ZX[9K4h1fHC|Oj:ve5d4NmWkaT7hZ{52cy:laHXtZoww[2:vcH;1coRgemWyb4L0Y4NiemRxQ1jFUWJNQTN7Lze+V2FPT0WUPD;hQi=>
NCI-H2030
MnHSS5Jwf3SqIFnubIljcXSrb36gRZN{[Xl?
M3TEZmlEPTB;Nz6zN|Y6QCEQvF2=
MWK8ZUB1[XKpZYS9K39jdGGwazegbJJm\j1paIT0dJM7Ny:5d4eu[YJqNmGlLoXrM4Np\W2kbD;jc41xd3WwZG;y[ZBwenShY3Hy[E9EUEWPQly5N|kwLz6VQV7HSXI9N2F-
DMS-114
MoDmS5Jwf3SqIFnubIljcXSrb36gRZN{[Xl?
NUXwNHJVUUN3ME23MlI6PjNzIN88US=>
MVm8ZUB1[XKpZYS9K39jdGGwazegbJJm\j1paIT0dJM7Ny:5d4eu[YJqNmGlLoXrM4Np\W2kbD;jc41xd3WwZG;y[ZBwenShY3Hy[E9EUEWPQly5N|kwLz6VQV7HSXI9N2F-
NOS-1
NWLvW4pwT3Kxd4ToJGlvcGmkaYTpc44hSXO|YYm=
Mni5TWM2OD15LkK1PFI5KM7:TR?=
M33HXVxiKHSjcnfleF0oZ2KuYX7rK{BpemWoPTfoeJRxezpxL4f3e{5m[mlwYXOueYsw[2inbXLsM4NwdXCxdX7kY5JmeG:{dG;jZZJlN0OKRV3CUFk{QS9pPmPBUmdGWjxxYU6=
KP-N-YS
NHjKNWRIem:5dHigTY5pcWKrdHnvckBCe3OjeR?=
NXvqOHBSUUN3ME23MlE5OTRizszN
M4rFPVxiKHSjcnfleF0oZ2KuYX7rK{BpemWoPTfoeJRxezpxL4f3e{5m[mlwYXOueYsw[2inbXLsM4NwdXCxdX7kY5JmeG:{dG;jZZJlN0OKRV3CUFk{QS9pPmPBUmdGWjxxYU6=
OVCAR-4
MkTiS5Jwf3SqIFnubIljcXSrb36gRZN{[Xl?
NEDaZ5lKSzVyPUeuNVU{PSEQvF2=
MVO8ZUB1[XKpZYS9K39jdGGwazegbJJm\j1paIT0dJM7Ny:5d4eu[YJqNmGlLoXrM4Np\W2kbD;jc41xd3WwZG;y[ZBwenShY3Hy[E9EUEWPQly5N|kwLz6VQV7HSXI9N2F-
NCI-H2405
MUjHdo94fGhiSX7obYJqfGmxbjDBd5NigQ>?
M{O4R2lEPTB;Nz6wPFM6OyEQvF2=
NGTON4I9[SC2YYLn[ZQ:L1:kbHHub{chcHKnZk2nbJR1eHN8Lz;3e5cv\WKrLnHjMpVsN2OqZX3icE9kd22yb4Xu[H9z\XCxcoTfZ4Fz\C:FSFXNRmw6OzlxJ{7TRW5ITVJ:L3G+
TE-11
MV7Hdo94fGhiSX7obYJqfGmxbjDBd5NigQ>?
M1nGNWlEPTB;Nz6wOFk3PyEQvF2=
MlX6QIEhfGG{Z3X0QUdg[myjbnunJIhz\WZ;J3j0eJB{Qi9xd4f3MoVjcS6jYz71b{9kcGWvYnyvZ49ueG:3bnTfdoVxd3K2X3PhdoQwS0iHTVLMPVM6Nyd-U1HOS2VTRC:jPh?=
KLE
NVTIS5NHT3Kxd4ToJGlvcGmkaYTpc44hSXO|YYm=
M4DVd2lEPTB;Nj65OlUyPiEQvF2=
NYG3R3B[RGFidHHy[4V1RSehYnzhcosoKGi{ZX[9K4h1fHC|Oj:ve5d4NmWkaT7hZ{52cy:laHXtZoww[2:vcH;1coRgemWyb4L0Y4NiemRxQ1jFUWJNQTN7Lze+V2FPT0WUPD;hQi=>
A388
MWnHdo94fGhiSX7obYJqfGmxbjDBd5NigQ>?
MW\JR|UxRTZwOEm1NkDPxE1?
MmfRQIEhfGG{Z3X0QUdg[myjbnunJIhz\WZ;J3j0eJB{Qi9xd4f3MoVjcS6jYz71b{9kcGWvYnyvZ49ueG:3bnTfdoVxd3K2X3PhdoQwS0iHTVLMPVM6Nyd-U1HOS2VTRC:jPh?=
NB12
MoOyS5Jwf3SqIFnubIljcXSrb36gRZN{[Xl?
NEjRRWlKSzVyPU[uO|g1ODRizszN
NVjuN|B7RGFidHHy[4V1RSehYnzhcosoKGi{ZX[9K4h1fHC|Oj:ve5d4NmWkaT7hZ{52cy:laHXtZoww[2:vcH;1coRgemWyb4L0Y4NiemRxQ1jFUWJNQTN7Lze+V2FPT0WUPD;hQi=>
PFSK-1
MXnHdo94fGhiSX7obYJqfGmxbjDBd5NigQ>?
MojjTWM2OD14LkezOFc5KM7:TR?=
NX\YN2oyRGFidHHy[4V1RSehYnzhcosoKGi{ZX[9K4h1fHC|Oj:ve5d4NmWkaT7hZ{52cy:laHXtZoww[2:vcH;1coRgemWyb4L0Y4NiemRxQ1jFUWJNQTN7Lze+V2FPT0WUPD;hQi=>
SK-HEP-1
NXnqUGNXT3Kxd4ToJGlvcGmkaYTpc44hSXO|YYm=
MlqwTWM2OD14LkexO|U{KM7:TR?=
M4[5PVxiKHSjcnfleF0oZ2KuYX7rK{BpemWoPTfoeJRxezpxL4f3e{5m[mlwYXOueYsw[2inbXLsM4NwdXCxdX7kY5JmeG:{dG;jZZJlN0OKRV3CUFk{QS9pPmPBUmdGWjxxYU6=
Calu-3
M3\kNWdzd3e2aDDJcohq[mm2aX;uJGF{e2G7
M4j6fGlEPTB;Nj62OVU3QCEQvF2=
NYLXO5R7RGFidHHy[4V1RSehYnzhcosoKGi{ZX[9K4h1fHC|Oj:ve5d4NmWkaT7hZ{52cy:laHXtZoww[2:vcH;1coRgemWyb4L0Y4NiemRxQ1jFUWJNQTN7Lze+V2FPT0WUPD;hQi=>
SH-4
NHTsXnJIem:5dHigTY5pcWKrdHnvckBCe3OjeR?=
M1jhVGlEPTB;Nj61PFg1PCEQvF2=
NFroNGc9[SC2YYLn[ZQ:L1:kbHHub{chcHKnZk2nbJR1eHN8Lz;3e5cv\WKrLnHjMpVsN2OqZX3icE9kd22yb4Xu[H9z\XCxcoTfZ4Fz\C:FSFXNRmw6OzlxJ{7TRW5ITVJ:L3G+
GCT
MU\Hdo94fGhiSX7obYJqfGmxbjDBd5NigQ>?
MXHJR|UxRTZwNUOzPFch|ryP
MUW8ZUB1[XKpZYS9K39jdGGwazegbJJm\j1paIT0dJM7Ny:5d4eu[YJqNmGlLoXrM4Np\W2kbD;jc41xd3WwZG;y[ZBwenShY3Hy[E9EUEWPQly5N|kwLz6VQV7HSXI9N2F-
MSTO-221H
MUPHdo94fGhiSX7obYJqfGmxbjDBd5NigQ>?
MV\JR|UxRTZwNUGxO{DPxE1?
MYi8ZUB1[XKpZYS9K39jdGGwazegbJJm\j1paIT0dJM7Ny:5d4eu[YJqNmGlLoXrM4Np\W2kbD;jc41xd3WwZG;y[ZBwenShY3Hy[E9EUEWPQly5N|kwLz6VQV7HSXI9N2F-
GAMG
NY\TbWhbT3Kxd4ToJGlvcGmkaYTpc44hSXO|YYm=
NEXad|FKSzVyPU[uOVA3OiEQvF2=
MXy8ZUB1[XKpZYS9K39jdGGwazegbJJm\j1paIT0dJM7Ny:5d4eu[YJqNmGlLoXrM4Np\W2kbD;jc41xd3WwZG;y[ZBwenShY3Hy[E9EUEWPQly5N|kwLz6VQV7HSXI9N2F-
CAL-120
NV3XV2xGT3Kxd4ToJGlvcGmkaYTpc44hSXO|YYm=
MVnJR|UxRTZwNEWxOlIh|ryP
MoDIQIEhfGG{Z3X0QUdg[myjbnunJIhz\WZ;J3j0eJB{Qi9xd4f3MoVjcS6jYz71b{9kcGWvYnyvZ49ueG:3bnTfdoVxd3K2X3PhdoQwS0iHTVLMPVM6Nyd-U1HOS2VTRC:jPh?=
VA-ES-BJ
MkXES5Jwf3SqIFnubIljcXSrb36gRZN{[Xl?
NHvVVYlKSzVyPU[uN|A1PjJizszN
NWfCO3Z5RGFidHHy[4V1RSehYnzhcosoKGi{ZX[9K4h1fHC|Oj:ve5d4NmWkaT7hZ{52cy:laHXtZoww[2:vcH;1coRgemWyb4L0Y4NiemRxQ1jFUWJNQTN7Lze+V2FPT0WUPD;hQi=>
SK-MEL-28
MUDHdo94fGhiSX7obYJqfGmxbjDBd5NigQ>?
MYjJR|UxRTZwMkC5Olch|ryP
NF;zcGs9[SC2YYLn[ZQ:L1:kbHHub{chcHKnZk2nbJR1eHN8Lz;3e5cv\WKrLnHjMpVsN2OqZX3icE9kd22yb4Xu[H9z\XCxcoTfZ4Fz\C:FSFXNRmw6OzlxJ{7TRW5ITVJ:L3G+
8-MG-BA
NYDEN3VrT3Kxd4ToJGlvcGmkaYTpc44hSXO|YYm=
NWLSfoN4UUN3ME22MlE6Ozd7IN88US=>
NHe1RnU9[SC2YYLn[ZQ:L1:kbHHub{chcHKnZk2nbJR1eHN8Lz;3e5cv\WKrLnHjMpVsN2OqZX3icE9kd22yb4Xu[H9z\XCxcoTfZ4Fz\C:FSFXNRmw6OzlxJ{7TRW5ITVJ:L3G+
L-428
MkjSS5Jwf3SqIFnubIljcXSrb36gRZN{[Xl?
M13Re2lEPTB;Nj6xPFA{PyEQvF2=
NHTBUXA9[SC2YYLn[ZQ:L1:kbHHub{chcHKnZk2nbJR1eHN8Lz;3e5cv\WKrLnHjMpVsN2OqZX3icE9kd22yb4Xu[H9z\XCxcoTfZ4Fz\C:FSFXNRmw6OzlxJ{7TRW5ITVJ:L3G+
Mewo
MX3Hdo94fGhiSX7obYJqfGmxbjDBd5NigQ>?
MnHyTWM2OD14LkGxOFg4KM7:TR?=
M4L0PVxiKHSjcnfleF0oZ2KuYX7rK{BpemWoPTfoeJRxezpxL4f3e{5m[mlwYXOueYsw[2inbXLsM4NwdXCxdX7kY5JmeG:{dG;jZZJlN0OKRV3CUFk{QS9pPmPBUmdGWjxxYU6=
RCM-1
MVXHdo94fGhiSX7obYJqfGmxbjDBd5NigQ>?
NXXjN3BQUUN3ME22MlA4PzF7IN88US=>
M{HTUFxiKHSjcnfleF0oZ2KuYX7rK{BpemWoPTfoeJRxezpxL4f3e{5m[mlwYXOueYsw[2inbXLsM4NwdXCxdX7kY5JmeG:{dG;jZZJlN0OKRV3CUFk{QS9pPmPBUmdGWjxxYU6=
KE-37
NXnNZoN3T3Kxd4ToJGlvcGmkaYTpc44hSXO|YYm=
MV3JR|UxRTZwMEeyOVgh|ryP
NXS4OHA6RGFidHHy[4V1RSehYnzhcosoKGi{ZX[9K4h1fHC|Oj:ve5d4NmWkaT7hZ{52cy:laHXtZoww[2:vcH;1coRgemWyb4L0Y4NiemRxQ1jFUWJNQTN7Lze+V2FPT0WUPD;hQi=>
TE-10
MmfSS5Jwf3SqIFnubIljcXSrb36gRZN{[Xl?
M2O3RWlEPTB;Nj6wOFg{OyEQvF2=
NYPMN49URGFidHHy[4V1RSehYnzhcosoKGi{ZX[9K4h1fHC|Oj:ve5d4NmWkaT7hZ{52cy:laHXtZoww[2:vcH;1coRgemWyb4L0Y4NiemRxQ1jFUWJNQTN7Lze+V2FPT0WUPD;hQi=>
HDLM-2
MV;Hdo94fGhiSX7obYJqfGmxbjDBd5NigQ>?
M4\XfWlEPTB;Nj6wNVQ5QSEQvF2=
MlzIQIEhfGG{Z3X0QUdg[myjbnunJIhz\WZ;J3j0eJB{Qi9xd4f3MoVjcS6jYz71b{9kcGWvYnyvZ49ueG:3bnTfdoVxd3K2X3PhdoQwS0iHTVLMPVM6Nyd-U1HOS2VTRC:jPh?=
CAKI-1
M1K4dWdzd3e2aDDJcohq[mm2aX;uJGF{e2G7
M4O3[2lEPTB;Nj6wNFk5PSEQvF2=
NUXwNmVNRGFidHHy[4V1RSehYnzhcosoKGi{ZX[9K4h1fHC|Oj:ve5d4NmWkaT7hZ{52cy:laHXtZoww[2:vcH;1coRgemWyb4L0Y4NiemRxQ1jFUWJNQTN7Lze+V2FPT0WUPD;hQi=>
RT-112
M{P1Wmdzd3e2aDDJcohq[mm2aX;uJGF{e2G7
M1y1N2lEPTB;NT65NFI1PSEQvF2=
MYq8ZUB1[XKpZYS9K39jdGGwazegbJJm\j1paIT0dJM7Ny:5d4eu[YJqNmGlLoXrM4Np\W2kbD;jc41xd3WwZG;y[ZBwenShY3Hy[E9EUEWPQly5N|kwLz6VQV7HSXI9N2F-
HCC2998
NYrjR|dxT3Kxd4ToJGlvcGmkaYTpc44hSXO|YYm=
NVvmVXJTUUN3ME21MlcyQDd5IN88US=>
NInBdHg9[SC2YYLn[ZQ:L1:kbHHub{chcHKnZk2nbJR1eHN8Lz;3e5cv\WKrLnHjMpVsN2OqZX3icE9kd22yb4Xu[H9z\XCxcoTfZ4Fz\C:FSFXNRmw6OzlxJ{7TRW5ITVJ:L3G+
HCC1187
NGmwS29Iem:5dHigTY5pcWKrdHnvckBCe3OjeR?=
M4DSO2lEPTB;NT63NVA{OiEQvF2=
NIntNHc9[SC2YYLn[ZQ:L1:kbHHub{chcHKnZk2nbJR1eHN8Lz;3e5cv\WKrLnHjMpVsN2OqZX3icE9kd22yb4Xu[H9z\XCxcoTfZ4Fz\C:FSFXNRmw6OzlxJ{7TRW5ITVJ:L3G+
HD-MY-Z
Mo\yS5Jwf3SqIFnubIljcXSrb36gRZN{[Xl?
NFPP[I1KSzVyPUWuOlg2QDFizszN
MUC8ZUB1[XKpZYS9K39jdGGwazegbJJm\j1paIT0dJM7Ny:5d4eu[YJqNmGlLoXrM4Np\W2kbD;jc41xd3WwZG;y[ZBwenShY3Hy[E9EUEWPQly5N|kwLz6VQV7HSXI9N2F-
RMG-I
NWf4TYhpT3Kxd4ToJGlvcGmkaYTpc44hSXO|YYm=
MVXJR|UxRTVwNkW5OFIh|ryP
MYi8ZUB1[XKpZYS9K39jdGGwazegbJJm\j1paIT0dJM7Ny:5d4eu[YJqNmGlLoXrM4Np\W2kbD;jc41xd3WwZG;y[ZBwenShY3Hy[E9EUEWPQly5N|kwLz6VQV7HSXI9N2F-
BFTC-905
NHO0WGlIem:5dHigTY5pcWKrdHnvckBCe3OjeR?=
NHTjVHBKSzVyPUWuOlU5PzhizszN
M3vr[VxiKHSjcnfleF0oZ2KuYX7rK{BpemWoPTfoeJRxezpxL4f3e{5m[mlwYXOueYsw[2inbXLsM4NwdXCxdX7kY5JmeG:{dG;jZZJlN0OKRV3CUFk{QS9pPmPBUmdGWjxxYU6=
SW1990
NILocFFIem:5dHigTY5pcWKrdHnvckBCe3OjeR?=
NEXOOGtKSzVyPUWuOlIzQDVizszN
MVW8ZUB1[XKpZYS9K39jdGGwazegbJJm\j1paIT0dJM7Ny:5d4eu[YJqNmGlLoXrM4Np\W2kbD;jc41xd3WwZG;y[ZBwenShY3Hy[E9EUEWPQly5N|kwLz6VQV7HSXI9N2F-
SW13
MXLHdo94fGhiSX7obYJqfGmxbjDBd5NigQ>?
MX7JR|UxRTVwNUOyOlUh|ryP
M3;zflxiKHSjcnfleF0oZ2KuYX7rK{BpemWoPTfoeJRxezpxL4f3e{5m[mlwYXOueYsw[2inbXLsM4NwdXCxdX7kY5JmeG:{dG;jZZJlN0OKRV3CUFk{QS9pPmPBUmdGWjxxYU6=
AGS
NYWycFBHT3Kxd4ToJGlvcGmkaYTpc44hSXO|YYm=
MkfITWM2OD13LkS5OlE5KM7:TR?=
M1viTlxiKHSjcnfleF0oZ2KuYX7rK{BpemWoPTfoeJRxezpxL4f3e{5m[mlwYXOueYsw[2inbXLsM4NwdXCxdX7kY5JmeG:{dG;jZZJlN0OKRV3CUFk{QS9pPmPBUmdGWjxxYU6=
ATN-1
NF3IVmxIem:5dHigTY5pcWKrdHnvckBCe3OjeR?=
NUTSdYFjUUN3ME21MlQyOTh2IN88US=>
MYG8ZUB1[XKpZYS9K39jdGGwazegbJJm\j1paIT0dJM7Ny:5d4eu[YJqNmGlLoXrM4Np\W2kbD;jc41xd3WwZG;y[ZBwenShY3Hy[E9EUEWPQly5N|kwLz6VQV7HSXI9N2F-
CGTH-W-1
NFvudW1Iem:5dHigTY5pcWKrdHnvckBCe3OjeR?=
NFr1fXRKSzVyPUWuN|g2QDRizszN
MWS8ZUB1[XKpZYS9K39jdGGwazegbJJm\j1paIT0dJM7Ny:5d4eu[YJqNmGlLoXrM4Np\W2kbD;jc41xd3WwZG;y[ZBwenShY3Hy[E9EUEWPQly5N|kwLz6VQV7HSXI9N2F-
NOMO-1
MmHXS5Jwf3SqIFnubIljcXSrb36gRZN{[Xl?
NGDhcHNKSzVyPUWuNlMyPzZizszN
NUKxXZRrRGFidHHy[4V1RSehYnzhcosoKGi{ZX[9K4h1fHC|Oj:ve5d4NmWkaT7hZ{52cy:laHXtZoww[2:vcH;1coRgemWyb4L0Y4NiemRxQ1jFUWJNQTN7Lze+V2FPT0WUPD;hQi=>
ALL-PO
MXTHdo94fGhiSX7obYJqfGmxbjDBd5NigQ>?
NYftdlhyUUN3ME21MlIzPTh5IN88US=>
NFPMbZk9[SC2YYLn[ZQ:L1:kbHHub{chcHKnZk2nbJR1eHN8Lz;3e5cv\WKrLnHjMpVsN2OqZX3icE9kd22yb4Xu[H9z\XCxcoTfZ4Fz\C:FSFXNRmw6OzlxJ{7TRW5ITVJ:L3G+
KP-N-YN
Mo\nS5Jwf3SqIFnubIljcXSrb36gRZN{[Xl?
M3PucmlEPTB;NT6xNlU6OSEQvF2=
Mn\ZQIEhfGG{Z3X0QUdg[myjbnunJIhz\WZ;J3j0eJB{Qi9xd4f3MoVjcS6jYz71b{9kcGWvYnyvZ49ueG:3bnTfdoVxd3K2X3PhdoQwS0iHTVLMPVM6Nyd-U1HOS2VTRC:jPh?=
NCI-H1838
NWDkeHpNT3Kxd4ToJGlvcGmkaYTpc44hSXO|YYm=
MUHJR|UxRTVwMEKwO|Yh|ryP
MkjGQIEhfGG{Z3X0QUdg[myjbnunJIhz\WZ;J3j0eJB{Qi9xd4f3MoVjcS6jYz71b{9kcGWvYnyvZ49ueG:3bnTfdoVxd3K2X3PhdoQwS0iHTVLMPVM6Nyd-U1HOS2VTRC:jPh?=
TE-9
NGLaPGFIem:5dHigTY5pcWKrdHnvckBCe3OjeR?=
M1fLWmlEPTB;NT6wNVUzPSEQvF2=
M3LrVlxiKHSjcnfleF0oZ2KuYX7rK{BpemWoPTfoeJRxezpxL4f3e{5m[mlwYXOueYsw[2inbXLsM4NwdXCxdX7kY5JmeG:{dG;jZZJlN0OKRV3CUFk{QS9pPmPBUmdGWjxxYU6=
KOSC-2
MlG5S5Jwf3SqIFnubIljcXSrb36gRZN{[Xl?
NVnw[Gl5UUN3ME20Mlk6QTV7IN88US=>
NWTjVWhFRGFidHHy[4V1RSehYnzhcosoKGi{ZX[9K4h1fHC|Oj:ve5d4NmWkaT7hZ{52cy:laHXtZoww[2:vcH;1coRgemWyb4L0Y4NiemRxQ1jFUWJNQTN7Lze+V2FPT0WUPD;hQi=>
ES1
MojuS5Jwf3SqIFnubIljcXSrb36gRZN{[Xl?
NWOwTW1KUUN3ME20Mlk3ODN3IN88US=>
NVH3XXg{RGFidHHy[4V1RSehYnzhcosoKGi{ZX[9K4h1fHC|Oj:ve5d4NmWkaT7hZ{52cy:laHXtZoww[2:vcH;1coRgemWyb4L0Y4NiemRxQ1jFUWJNQTN7Lze+V2FPT0WUPD;hQi=>
KNS-62
Ml7SS5Jwf3SqIFnubIljcXSrb36gRZN{[Xl?
NFj4VYdKSzVyPUSuPVA5ODdizszN
NXTJfGJjRGFidHHy[4V1RSehYnzhcosoKGi{ZX[9K4h1fHC|Oj:ve5d4NmWkaT7hZ{52cy:laHXtZoww[2:vcH;1coRgemWyb4L0Y4NiemRxQ1jFUWJNQTN7Lze+V2FPT0WUPD;hQi=>
KYSE-520
M3fkOGdzd3e2aDDJcohq[mm2aX;uJGF{e2G7
NFnId3RKSzVyPUSuPFgxOThizszN
NUPlWHk5RGFidHHy[4V1RSehYnzhcosoKGi{ZX[9K4h1fHC|Oj:ve5d4NmWkaT7hZ{52cy:laHXtZoww[2:vcH;1coRgemWyb4L0Y4NiemRxQ1jFUWJNQTN7Lze+V2FPT0WUPD;hQi=>
P30-OHK
NVuyNVNCT3Kxd4ToJGlvcGmkaYTpc44hSXO|YYm=
NHKxVoNKSzVyPUSuPFE6OjlizszN
M2nRTVxiKHSjcnfleF0oZ2KuYX7rK{BpemWoPTfoeJRxezpxL4f3e{5m[mlwYXOueYsw[2inbXLsM4NwdXCxdX7kY5JmeG:{dG;jZZJlN0OKRV3CUFk{QS9pPmPBUmdGWjxxYU6=
NB10
NH:1WY5Iem:5dHigTY5pcWKrdHnvckBCe3OjeR?=
M1;XSGlEPTB;ND61PVc5OSEQvF2=
NInZO2Y9[SC2YYLn[ZQ:L1:kbHHub{chcHKnZk2nbJR1eHN8Lz;3e5cv\WKrLnHjMpVsN2OqZX3icE9kd22yb4Xu[H9z\XCxcoTfZ4Fz\C:FSFXNRmw6OzlxJ{7TRW5ITVJ:L3G+
A172
MmPsS5Jwf3SqIFnubIljcXSrb36gRZN{[Xl?
MojrTWM2OD12LkW1OVIyKM7:TR?=
MYW8ZUB1[XKpZYS9K39jdGGwazegbJJm\j1paIT0dJM7Ny:5d4eu[YJqNmGlLoXrM4Np\W2kbD;jc41xd3WwZG;y[ZBwenShY3Hy[E9EUEWPQly5N|kwLz6VQV7HSXI9N2F-
SK-OV-3
M2izdGdzd3e2aDDJcohq[mm2aX;uJGF{e2G7
NYrY[I54UUN3ME20MlQ3ODR{IN88US=>
NX\XPIE5RGFidHHy[4V1RSehYnzhcosoKGi{ZX[9K4h1fHC|Oj:ve5d4NmWkaT7hZ{52cy:laHXtZoww[2:vcH;1coRgemWyb4L0Y4NiemRxQ1jFUWJNQTN7Lze+V2FPT0WUPD;hQi=>
GR-ST
MXfHdo94fGhiSX7obYJqfGmxbjDBd5NigQ>?
MkLhTWM2OD12LkSzNVgh|ryP
MmDJQIEhfGG{Z3X0QUdg[myjbnunJIhz\WZ;J3j0eJB{Qi9xd4f3MoVjcS6jYz71b{9kcGWvYnyvZ49ueG:3bnTfdoVxd3K2X3PhdoQwS0iHTVLMPVM6Nyd-U1HOS2VTRC:jPh?=
HCC1937
MWXHdo94fGhiSX7obYJqfGmxbjDBd5NigQ>?
MWPJR|UxRTRwM{e5PVMh|ryP
NVvhNo9GRGFidHHy[4V1RSehYnzhcosoKGi{ZX[9K4h1fHC|Oj:ve5d4NmWkaT7hZ{52cy:laHXtZoww[2:vcH;1coRgemWyb4L0Y4NiemRxQ1jFUWJNQTN7Lze+V2FPT0WUPD;hQi=>
LU-139
M1:3Xmdzd3e2aDDJcohq[mm2aX;uJGF{e2G7
NWeyd4J2UUN3ME20MlM4OjR5IN88US=>
NF7KdVA9[SC2YYLn[ZQ:L1:kbHHub{chcHKnZk2nbJR1eHN8Lz;3e5cv\WKrLnHjMpVsN2OqZX3icE9kd22yb4Xu[H9z\XCxcoTfZ4Fz\C:FSFXNRmw6OzlxJ{7TRW5ITVJ:L3G+
SNU-C2B
NGXRe|VIem:5dHigTY5pcWKrdHnvckBCe3OjeR?=
MlXsTWM2OD12LkO0Olg3KM7:TR?=
MY[8ZUB1[XKpZYS9K39jdGGwazegbJJm\j1paIT0dJM7Ny:5d4eu[YJqNmGlLoXrM4Np\W2kbD;jc41xd3WwZG;y[ZBwenShY3Hy[E9EUEWPQly5N|kwLz6VQV7HSXI9N2F-
KARPAS-299
NX7jVI9UT3Kxd4ToJGlvcGmkaYTpc44hSXO|YYm=
MU\JR|UxRTRwM{GwNVMh|ryP
MmH6QIEhfGG{Z3X0QUdg[myjbnunJIhz\WZ;J3j0eJB{Qi9xd4f3MoVjcS6jYz71b{9kcGWvYnyvZ49ueG:3bnTfdoVxd3K2X3PhdoQwS0iHTVLMPVM6Nyd-U1HOS2VTRC:jPh?=
EW-11
MXXHdo94fGhiSX7obYJqfGmxbjDBd5NigQ>?
MVLJR|UxRTRwMUOyOlEh|ryP
M1zuXFxiKHSjcnfleF0oZ2KuYX7rK{BpemWoPTfoeJRxezpxL4f3e{5m[mlwYXOueYsw[2inbXLsM4NwdXCxdX7kY5JmeG:{dG;jZZJlN0OKRV3CUFk{QS9pPmPBUmdGWjxxYU6=
HL-60
NV62V|hLT3Kxd4ToJGlvcGmkaYTpc44hSXO|YYm=
MmD6TWM2OD12LkGyNlQyKM7:TR?=
MYm8ZUB1[XKpZYS9K39jdGGwazegbJJm\j1paIT0dJM7Ny:5d4eu[YJqNmGlLoXrM4Np\W2kbD;jc41xd3WwZG;y[ZBwenShY3Hy[E9EUEWPQly5N|kwLz6VQV7HSXI9N2F-
TCCSUP
NEnG[3RIem:5dHigTY5pcWKrdHnvckBCe3OjeR?=
MV7JR|UxRTRwMUGwOUDPxE1?
NITHe489[SC2YYLn[ZQ:L1:kbHHub{chcHKnZk2nbJR1eHN8Lz;3e5cv\WKrLnHjMpVsN2OqZX3icE9kd22yb4Xu[H9z\XCxcoTfZ4Fz\C:FSFXNRmw6OzlxJ{7TRW5ITVJ:L3G+
RCC10RGB
M{Xi[Wdzd3e2aDDJcohq[mm2aX;uJGF{e2G7
NUCwPGdwUUN3ME20MlAyOjR4IN88US=>
MWm8ZUB1[XKpZYS9K39jdGGwazegbJJm\j1paIT0dJM7Ny:5d4eu[YJqNmGlLoXrM4Np\W2kbD;jc41xd3WwZG;y[ZBwenShY3Hy[E9EUEWPQly5N|kwLz6VQV7HSXI9N2F-
NCI-H441
NI\MUpNIem:5dHigTY5pcWKrdHnvckBCe3OjeR?=
MnnPTWM2OD1|Lkm3NFE1KM7:TR?=
M4raPFxiKHSjcnfleF0oZ2KuYX7rK{BpemWoPTfoeJRxezpxL4f3e{5m[mlwYXOueYsw[2inbXLsM4NwdXCxdX7kY5JmeG:{dG;jZZJlN0OKRV3CUFk{QS9pPmPBUmdGWjxxYU6=
EW-16
MVLHdo94fGhiSX7obYJqfGmxbjDBd5NigQ>?
MYjJR|UxRTNwOUW1O|ch|ryP
NGPZVI09[SC2YYLn[ZQ:L1:kbHHub{chcHKnZk2nbJR1eHN8Lz;3e5cv\WKrLnHjMpVsN2OqZX3icE9kd22yb4Xu[H9z\XCxcoTfZ4Fz\C:FSFXNRmw6OzlxJ{7TRW5ITVJ:L3G+
JVM-2
NEHWc5pIem:5dHigTY5pcWKrdHnvckBCe3OjeR?=
M17GO2lEPTB;Mz65OFc2OiEQvF2=
NF;V[nM9[SC2YYLn[ZQ:L1:kbHHub{chcHKnZk2nbJR1eHN8Lz;3e5cv\WKrLnHjMpVsN2OqZX3icE9kd22yb4Xu[H9z\XCxcoTfZ4Fz\C:FSFXNRmw6OzlxJ{7TRW5ITVJ:L3G+
NH-12
MWDHdo94fGhiSX7obYJqfGmxbjDBd5NigQ>?
NW\URnl{UUN3ME2zMlk1OTh5IN88US=>
NHnmfmU9[SC2YYLn[ZQ:L1:kbHHub{chcHKnZk2nbJR1eHN8Lz;3e5cv\WKrLnHjMpVsN2OqZX3icE9kd22yb4Xu[H9z\XCxcoTfZ4Fz\C:FSFXNRmw6OzlxJ{7TRW5ITVJ:L3G+
IST-MES1
MlXTS5Jwf3SqIFnubIljcXSrb36gRZN{[Xl?
NITyT4lKSzVyPUOuPVQxOjlizszN
MV[8ZUB1[XKpZYS9K39jdGGwazegbJJm\j1paIT0dJM7Ny:5d4eu[YJqNmGlLoXrM4Np\W2kbD;jc41xd3WwZG;y[ZBwenShY3Hy[E9EUEWPQly5N|kwLz6VQV7HSXI9N2F-
NCI-H69
MULHdo94fGhiSX7obYJqfGmxbjDBd5NigQ>?
MUTJR|UxRTNwOUCxO|gh|ryP
MUK8ZUB1[XKpZYS9K39jdGGwazegbJJm\j1paIT0dJM7Ny:5d4eu[YJqNmGlLoXrM4Np\W2kbD;jc41xd3WwZG;y[ZBwenShY3Hy[E9EUEWPQly5N|kwLz6VQV7HSXI9N2F-
KURAMOCHI
M1jaVmdzd3e2aDDJcohq[mm2aX;uJGF{e2G7
MUDJR|UxRTNwOE[wOVYh|ryP
NWLxSHJ5RGFidHHy[4V1RSehYnzhcosoKGi{ZX[9K4h1fHC|Oj:ve5d4NmWkaT7hZ{52cy:laHXtZoww[2:vcH;1coRgemWyb4L0Y4NiemRxQ1jFUWJNQTN7Lze+V2FPT0WUPD;hQi=>
NCI-H1155
MnnjS5Jwf3SqIFnubIljcXSrb36gRZN{[Xl?
M1juXGlEPTB;Mz64OFE2QSEQvF2=
M1XWU|xiKHSjcnfleF0oZ2KuYX7rK{BpemWoPTfoeJRxezpxL4f3e{5m[mlwYXOueYsw[2inbXLsM4NwdXCxdX7kY5JmeG:{dG;jZZJlN0OKRV3CUFk{QS9pPmPBUmdGWjxxYU6=
NCI-H28
M{S5c2dzd3e2aDDJcohq[mm2aX;uJGF{e2G7
NHHrTW5KSzVyPUOuPFI6PjFizszN
NFv1[Jc9[SC2YYLn[ZQ:L1:kbHHub{chcHKnZk2nbJR1eHN8Lz;3e5cv\WKrLnHjMpVsN2OqZX3icE9kd22yb4Xu[H9z\XCxcoTfZ4Fz\C:FSFXNRmw6OzlxJ{7TRW5ITVJ:L3G+
ES4
MUTHdo94fGhiSX7obYJqfGmxbjDBd5NigQ>?
NWXwTnBbUUN3ME2zMlgzOjh4IN88US=>
MXm8ZUB1[XKpZYS9K39jdGGwazegbJJm\j1paIT0dJM7Ny:5d4eu[YJqNmGlLoXrM4Np\W2kbD;jc41xd3WwZG;y[ZBwenShY3Hy[E9EUEWPQly5N|kwLz6VQV7HSXI9N2F-
J-RT3-T3-5
M3\ueGdzd3e2aDDJcohq[mm2aX;uJGF{e2G7
MkTlTWM2OD1|Lke1OFA3KM7:TR?=
NYDhRVB6RGFidHHy[4V1RSehYnzhcosoKGi{ZX[9K4h1fHC|Oj:ve5d4NmWkaT7hZ{52cy:laHXtZoww[2:vcH;1coRgemWyb4L0Y4NiemRxQ1jFUWJNQTN7Lze+V2FPT0WUPD;hQi=>
PANC-10-05
MnXIS5Jwf3SqIFnubIljcXSrb36gRZN{[Xl?
MYLJR|UxRTNwN{KwO|Ih|ryP
MXq8ZUB1[XKpZYS9K39jdGGwazegbJJm\j1paIT0dJM7Ny:5d4eu[YJqNmGlLoXrM4Np\W2kbD;jc41xd3WwZG;y[ZBwenShY3Hy[E9EUEWPQly5N|kwLz6VQV7HSXI9N2F-
SK-MES-1
NX3RVZR{T3Kxd4ToJGlvcGmkaYTpc44hSXO|YYm=
MmfQTWM2OD1|Lk[0OlE1KM7:TR?=
MmfDQIEhfGG{Z3X0QUdg[myjbnunJIhz\WZ;J3j0eJB{Qi9xd4f3MoVjcS6jYz71b{9kcGWvYnyvZ49ueG:3bnTfdoVxd3K2X3PhdoQwS0iHTVLMPVM6Nyd-U1HOS2VTRC:jPh?=
C2BBe1
NXnYOlI{T3Kxd4ToJGlvcGmkaYTpc44hSXO|YYm=
M4PPVGlEPTB;Mz62OFQxPyEQvF2=
MYC8ZUB1[XKpZYS9K39jdGGwazegbJJm\j1paIT0dJM7Ny:5d4eu[YJqNmGlLoXrM4Np\W2kbD;jc41xd3WwZG;y[ZBwenShY3Hy[E9EUEWPQly5N|kwLz6VQV7HSXI9N2F-
A2780
MlnKS5Jwf3SqIFnubIljcXSrb36gRZN{[Xl?
M3LvfGlEPTB;Mz62OFA5QSEQvF2=
MWK8ZUB1[XKpZYS9K39jdGGwazegbJJm\j1paIT0dJM7Ny:5d4eu[YJqNmGlLoXrM4Np\W2kbD;jc41xd3WwZG;y[ZBwenShY3Hy[E9EUEWPQly5N|kwLz6VQV7HSXI9N2F-
CaR-1
MWXHdo94fGhiSX7obYJqfGmxbjDBd5NigQ>?
NEHvR|lKSzVyPUOuOlExPDhizszN
M3S0V|xiKHSjcnfleF0oZ2KuYX7rK{BpemWoPTfoeJRxezpxL4f3e{5m[mlwYXOueYsw[2inbXLsM4NwdXCxdX7kY5JmeG:{dG;jZZJlN0OKRV3CUFk{QS9pPmPBUmdGWjxxYU6=
SK-LU-1
NV3xUYliT3Kxd4ToJGlvcGmkaYTpc44hSXO|YYm=
NEHZN2VKSzVyPUOuOlA3PDVizszN
MXS8ZUB1[XKpZYS9K39jdGGwazegbJJm\j1paIT0dJM7Ny:5d4eu[YJqNmGlLoXrM4Np\W2kbD;jc41xd3WwZG;y[ZBwenShY3Hy[E9EUEWPQly5N|kwLz6VQV7HSXI9N2F-
OAW-28
MlHHS5Jwf3SqIFnubIljcXSrb36gRZN{[Xl?
MVHJR|UxRTNwNUm0NlYh|ryP
NWDvNoxxRGFidHHy[4V1RSehYnzhcosoKGi{ZX[9K4h1fHC|Oj:ve5d4NmWkaT7hZ{52cy:laHXtZoww[2:vcH;1coRgemWyb4L0Y4NiemRxQ1jFUWJNQTN7Lze+V2FPT0WUPD;hQi=>
TE-1
MVfHdo94fGhiSX7obYJqfGmxbjDBd5NigQ>?
MlLBTWM2OD1|LkW5NVY6KM7:TR?=
NGmxcIE9[SC2YYLn[ZQ:L1:kbHHub{chcHKnZk2nbJR1eHN8Lz;3e5cv\WKrLnHjMpVsN2OqZX3icE9kd22yb4Xu[H9z\XCxcoTfZ4Fz\C:FSFXNRmw6OzlxJ{7TRW5ITVJ:L3G+
639-V
MkToS5Jwf3SqIFnubIljcXSrb36gRZN{[Xl?
NUHxXW45UUN3ME2zMlU4Pzl{IN88US=>
NGXzS5Y9[SC2YYLn[ZQ:L1:kbHHub{chcHKnZk2nbJR1eHN8Lz;3e5cv\WKrLnHjMpVsN2OqZX3icE9kd22yb4Xu[H9z\XCxcoTfZ4Fz\C:FSFXNRmw6OzlxJ{7TRW5ITVJ:L3G+
C8166
NVTCeXhIT3Kxd4ToJGlvcGmkaYTpc44hSXO|YYm=
M1LjOGlEPTB;Mz60OlUzOSEQvF2=
MlPqQIEhfGG{Z3X0QUdg[myjbnunJIhz\WZ;J3j0eJB{Qi9xd4f3MoVjcS6jYz71b{9kcGWvYnyvZ49ueG:3bnTfdoVxd3K2X3PhdoQwS0iHTVLMPVM6Nyd-U1HOS2VTRC:jPh?=
NTERA-S-cl-D1
NYjiOpFmT3Kxd4ToJGlvcGmkaYTpc44hSXO|YYm=
Ml7OTWM2OD1|LkS0PVU4KM7:TR?=
NUXMU3VQRGFidHHy[4V1RSehYnzhcosoKGi{ZX[9K4h1fHC|Oj:ve5d4NmWkaT7hZ{52cy:laHXtZoww[2:vcH;1coRgemWyb4L0Y4NiemRxQ1jFUWJNQTN7Lze+V2FPT0WUPD;hQi=>
D-542MG
MXLHdo94fGhiSX7obYJqfGmxbjDBd5NigQ>?
NF[yV3VKSzVyPUOuOFQzOjJizszN
MlL2QIEhfGG{Z3X0QUdg[myjbnunJIhz\WZ;J3j0eJB{Qi9xd4f3MoVjcS6jYz71b{9kcGWvYnyvZ49ueG:3bnTfdoVxd3K2X3PhdoQwS0iHTVLMPVM6Nyd-U1HOS2VTRC:jPh?=
LB771-HNC
MnXrS5Jwf3SqIFnubIljcXSrb36gRZN{[Xl?
NUSzfXFCUUN3ME2zMlM6OTJ4IN88US=>
NV3Ocph{RGFidHHy[4V1RSehYnzhcosoKGi{ZX[9K4h1fHC|Oj:ve5d4NmWkaT7hZ{52cy:laHXtZoww[2:vcH;1coRgemWyb4L0Y4NiemRxQ1jFUWJNQTN7Lze+V2FPT0WUPD;hQi=>
NCI-H727
MVzHdo94fGhiSX7obYJqfGmxbjDBd5NigQ>?
MWnJR|UxRTNwM{i1PFQh|ryP
NG[0WVU9[SC2YYLn[ZQ:L1:kbHHub{chcHKnZk2nbJR1eHN8Lz;3e5cv\WKrLnHjMpVsN2OqZX3icE9kd22yb4Xu[H9z\XCxcoTfZ4Fz\C:FSFXNRmw6OzlxJ{7TRW5ITVJ:L3G+
SW1463
NXjaPWh3T3Kxd4ToJGlvcGmkaYTpc44hSXO|YYm=
NHvHNFNKSzVyPUOuNlYyQTJizszN
NWm4VnM{RGFidHHy[4V1RSehYnzhcosoKGi{ZX[9K4h1fHC|Oj:ve5d4NmWkaT7hZ{52cy:laHXtZoww[2:vcH;1coRgemWyb4L0Y4NiemRxQ1jFUWJNQTN7Lze+V2FPT0WUPD;hQi=>
NCI-H1793
NVm3TWpJT3Kxd4ToJGlvcGmkaYTpc44hSXO|YYm=
MonCTWM2OD1|LkKxNFk5KM7:TR?=
NF3XblM9[SC2YYLn[ZQ:L1:kbHHub{chcHKnZk2nbJR1eHN8Lz;3e5cv\WKrLnHjMpVsN2OqZX3icE9kd22yb4Xu[H9z\XCxcoTfZ4Fz\C:FSFXNRmw6OzlxJ{7TRW5ITVJ:L3G+
HT-1376
NFi1Z2pIem:5dHigTY5pcWKrdHnvckBCe3OjeR?=
MWjJR|UxRTNwMkC1NFYh|ryP
M1j0eFxiKHSjcnfleF0oZ2KuYX7rK{BpemWoPTfoeJRxezpxL4f3e{5m[mlwYXOueYsw[2inbXLsM4NwdXCxdX7kY5JmeG:{dG;jZZJlN0OKRV3CUFk{QS9pPmPBUmdGWjxxYU6=
647-V
NHHVbYVIem:5dHigTY5pcWKrdHnvckBCe3OjeR?=
NHSxXnlKSzVyPUOuNVYzOiEQvF2=
NVPaNXd4RGFidHHy[4V1RSehYnzhcosoKGi{ZX[9K4h1fHC|Oj:ve5d4NmWkaT7hZ{52cy:laHXtZoww[2:vcH;1coRgemWyb4L0Y4NiemRxQ1jFUWJNQTN7Lze+V2FPT0WUPD;hQi=>
BCPAP
NV60NJNGT3Kxd4ToJGlvcGmkaYTpc44hSXO|YYm=
NHLlXpRKSzVyPUOuNFgzQTVizszN
MWK8ZUB1[XKpZYS9K39jdGGwazegbJJm\j1paIT0dJM7Ny:5d4eu[YJqNmGlLoXrM4Np\W2kbD;jc41xd3WwZG;y[ZBwenShY3Hy[E9EUEWPQly5N|kwLz6VQV7HSXI9N2F-
MN-60
MVLHdo94fGhiSX7obYJqfGmxbjDBd5NigQ>?
NYK3cFA1UUN3ME2zMlA1QTd2IN88US=>
MkLFQIEhfGG{Z3X0QUdg[myjbnunJIhz\WZ;J3j0eJB{Qi9xd4f3MoVjcS6jYz71b{9kcGWvYnyvZ49ueG:3bnTfdoVxd3K2X3PhdoQwS0iHTVLMPVM6Nyd-U1HOS2VTRC:jPh?=
COLO-680N
M4rVS2dzd3e2aDDJcohq[mm2aX;uJGF{e2G7
M{DRVWlEPTB;Mz6wNFQ6PSEQvF2=
MlzrQIEhfGG{Z3X0QUdg[myjbnunJIhz\WZ;J3j0eJB{Qi9xd4f3MoVjcS6jYz71b{9kcGWvYnyvZ49ueG:3bnTfdoVxd3K2X3PhdoQwS0iHTVLMPVM6Nyd-U1HOS2VTRC:jPh?=
DU-4475
MUfHdo94fGhiSX7obYJqfGmxbjDBd5NigQ>?
MVrJR|UxRTJwOUmwOVIh|ryP
MUW8ZUB1[XKpZYS9K39jdGGwazegbJJm\j1paIT0dJM7Ny:5d4eu[YJqNmGlLoXrM4Np\W2kbD;jc41xd3WwZG;y[ZBwenShY3Hy[E9EUEWPQly5N|kwLz6VQV7HSXI9N2F-
NCI-H1693
NH\iNIFIem:5dHigTY5pcWKrdHnvckBCe3OjeR?=
M2O1RmlEPTB;Mj65OVg6PyEQvF2=
M1uzSVxiKHSjcnfleF0oZ2KuYX7rK{BpemWoPTfoeJRxezpxL4f3e{5m[mlwYXOueYsw[2inbXLsM4NwdXCxdX7kY5JmeG:{dG;jZZJlN0OKRV3CUFk{QS9pPmPBUmdGWjxxYU6=
HC-1
M2jLPGdzd3e2aDDJcohq[mm2aX;uJGF{e2G7
M1nrcWlEPTB;Mj65OFAyOiEQvF2=
M{myOFxiKHSjcnfleF0oZ2KuYX7rK{BpemWoPTfoeJRxezpxL4f3e{5m[mlwYXOueYsw[2inbXLsM4NwdXCxdX7kY5JmeG:{dG;jZZJlN0OKRV3CUFk{QS9pPmPBUmdGWjxxYU6=
KYSE-510
NWnCTXZmT3Kxd4ToJGlvcGmkaYTpc44hSXO|YYm=
MoHxTWM2OD1{Lki2O|g3KM7:TR?=
NFPIZZI9[SC2YYLn[ZQ:L1:kbHHub{chcHKnZk2nbJR1eHN8Lz;3e5cv\WKrLnHjMpVsN2OqZX3icE9kd22yb4Xu[H9z\XCxcoTfZ4Fz\C:FSFXNRmw6OzlxJ{7TRW5ITVJ:L3G+
OVCAR-3
MnLCS5Jwf3SqIFnubIljcXSrb36gRZN{[Xl?
NV;PNnVVUUN3ME2yMlg2PTl2IN88US=>
MnXWQIEhfGG{Z3X0QUdg[myjbnunJIhz\WZ;J3j0eJB{Qi9xd4f3MoVjcS6jYz71b{9kcGWvYnyvZ49ueG:3bnTfdoVxd3K2X3PhdoQwS0iHTVLMPVM6Nyd-U1HOS2VTRC:jPh?=
PC-3
MWXHdo94fGhiSX7obYJqfGmxbjDBd5NigQ>?
M2ezPWlEPTB;Mj64N|MyPyEQvF2=
MlrkQIEhfGG{Z3X0QUdg[myjbnunJIhz\WZ;J3j0eJB{Qi9xd4f3MoVjcS6jYz71b{9kcGWvYnyvZ49ueG:3bnTfdoVxd3K2X3PhdoQwS0iHTVLMPVM6Nyd-U1HOS2VTRC:jPh?=
BB65-RCC
MX\Hdo94fGhiSX7obYJqfGmxbjDBd5NigQ>?
MVzJR|UxRTJwOEC3NVMh|ryP
NEmzUZg9[SC2YYLn[ZQ:L1:kbHHub{chcHKnZk2nbJR1eHN8Lz;3e5cv\WKrLnHjMpVsN2OqZX3icE9kd22yb4Xu[H9z\XCxcoTfZ4Fz\C:FSFXNRmw6OzlxJ{7TRW5ITVJ:L3G+
QIMR-WIL
MoX1S5Jwf3SqIFnubIljcXSrb36gRZN{[Xl?
M4n2SGlEPTB;Mj63OVk2OiEQvF2=
Mn;jQIEhfGG{Z3X0QUdg[myjbnunJIhz\WZ;J3j0eJB{Qi9xd4f3MoVjcS6jYz71b{9kcGWvYnyvZ49ueG:3bnTfdoVxd3K2X3PhdoQwS0iHTVLMPVM6Nyd-U1HOS2VTRC:jPh?=
HuP-T4
NIS4Zm9Iem:5dHigTY5pcWKrdHnvckBCe3OjeR?=
M2XTbWlEPTB;Mj63NlgyQCEQvF2=
NUjIZmdTRGFidHHy[4V1RSehYnzhcosoKGi{ZX[9K4h1fHC|Oj:ve5d4NmWkaT7hZ{52cy:laHXtZoww[2:vcH;1coRgemWyb4L0Y4NiemRxQ1jFUWJNQTN7Lze+V2FPT0WUPD;hQi=>
Detroit562
NGfJUY1Iem:5dHigTY5pcWKrdHnvckBCe3OjeR?=
Mk\XTWM2OD1{Lk[5PFQ2KM7:TR?=
MYS8ZUB1[XKpZYS9K39jdGGwazegbJJm\j1paIT0dJM7Ny:5d4eu[YJqNmGlLoXrM4Np\W2kbD;jc41xd3WwZG;y[ZBwenShY3Hy[E9EUEWPQly5N|kwLz6VQV7HSXI9N2F-
DMS-79
M2XtSWdzd3e2aDDJcohq[mm2aX;uJGF{e2G7
NHLyT2NKSzVyPUKuOlkzQDRizszN
MUS8ZUB1[XKpZYS9K39jdGGwazegbJJm\j1paIT0dJM7Ny:5d4eu[YJqNmGlLoXrM4Np\W2kbD;jc41xd3WwZG;y[ZBwenShY3Hy[E9EUEWPQly5N|kwLz6VQV7HSXI9N2F-
MC-IXC
MULHdo94fGhiSX7obYJqfGmxbjDBd5NigQ>?
M2HIbmlEPTB;Mj62OFQ2OyEQvF2=
M4nheFxiKHSjcnfleF0oZ2KuYX7rK{BpemWoPTfoeJRxezpxL4f3e{5m[mlwYXOueYsw[2inbXLsM4NwdXCxdX7kY5JmeG:{dG;jZZJlN0OKRV3CUFk{QS9pPmPBUmdGWjxxYU6=
TE-8
NUXkXJBWT3Kxd4ToJGlvcGmkaYTpc44hSXO|YYm=
NFH1PHhKSzVyPUKuOlM3PTNizszN
NHjHe449[SC2YYLn[ZQ:L1:kbHHub{chcHKnZk2nbJR1eHN8Lz;3e5cv\WKrLnHjMpVsN2OqZX3icE9kd22yb4Xu[H9z\XCxcoTfZ4Fz\C:FSFXNRmw6OzlxJ{7TRW5ITVJ:L3G+
MKN7
MYTHdo94fGhiSX7obYJqfGmxbjDBd5NigQ>?
MWLJR|UxRTJwNkK3OFgh|ryP
MWm8ZUB1[XKpZYS9K39jdGGwazegbJJm\j1paIT0dJM7Ny:5d4eu[YJqNmGlLoXrM4Np\W2kbD;jc41xd3WwZG;y[ZBwenShY3Hy[E9EUEWPQly5N|kwLz6VQV7HSXI9N2F-
HH
MWjHdo94fGhiSX7obYJqfGmxbjDBd5NigQ>?
NWLiUGxOUUN3ME2yMlQ6QDV2IN88US=>
NV3JXFd6RGFidHHy[4V1RSehYnzhcosoKGi{ZX[9K4h1fHC|Oj:ve5d4NmWkaT7hZ{52cy:laHXtZoww[2:vcH;1coRgemWyb4L0Y4NiemRxQ1jFUWJNQTN7Lze+V2FPT0WUPD;hQi=>
CFPAC-1
NG[zW2NIem:5dHigTY5pcWKrdHnvckBCe3OjeR?=
NVPOS4l[UUN3ME2yMlQ{QDZ2IN88US=>
Mmf2QIEhfGG{Z3X0QUdg[myjbnunJIhz\WZ;J3j0eJB{Qi9xd4f3MoVjcS6jYz71b{9kcGWvYnyvZ49ueG:3bnTfdoVxd3K2X3PhdoQwS0iHTVLMPVM6Nyd-U1HOS2VTRC:jPh?=
HTC-C3
MYDHdo94fGhiSX7obYJqfGmxbjDBd5NigQ>?
NHO2W|ZKSzVyPUKuOFIzPjdizszN
M4fCSlxiKHSjcnfleF0oZ2KuYX7rK{BpemWoPTfoeJRxezpxL4f3e{5m[mlwYXOueYsw[2inbXLsM4NwdXCxdX7kY5JmeG:{dG;jZZJlN0OKRV3CUFk{QS9pPmPBUmdGWjxxYU6=
NY
MljtS5Jwf3SqIFnubIljcXSrb36gRZN{[Xl?
MVzJR|UxRTJwM{eyO{DPxE1?
NIDGOlA9[SC2YYLn[ZQ:L1:kbHHub{chcHKnZk2nbJR1eHN8Lz;3e5cv\WKrLnHjMpVsN2OqZX3icE9kd22yb4Xu[H9z\XCxcoTfZ4Fz\C:FSFXNRmw6OzlxJ{7TRW5ITVJ:L3G+
KU812
NXPDT3BYT3Kxd4ToJGlvcGmkaYTpc44hSXO|YYm=
MmTWTWM2OD1{LkO2O|c6KM7:TR?=
NGnDNZM9[SC2YYLn[ZQ:L1:kbHHub{chcHKnZk2nbJR1eHN8Lz;3e5cv\WKrLnHjMpVsN2OqZX3icE9kd22yb4Xu[H9z\XCxcoTfZ4Fz\C:FSFXNRmw6OzlxJ{7TRW5ITVJ:L3G+
EW-18
NYTHPHkyT3Kxd4ToJGlvcGmkaYTpc44hSXO|YYm=
MV\JR|UxRTJwM{W0O|Eh|ryP
NUTvV2FiRGFidHHy[4V1RSehYnzhcosoKGi{ZX[9K4h1fHC|Oj:ve5d4NmWkaT7hZ{52cy:laHXtZoww[2:vcH;1coRgemWyb4L0Y4NiemRxQ1jFUWJNQTN7Lze+V2FPT0WUPD;hQi=>
NCI-H2170
MYfHdo94fGhiSX7obYJqfGmxbjDBd5NigQ>?
NX\J[XNyUUN3ME2yMlM1Pzh|IN88US=>
MUe8ZUB1[XKpZYS9K39jdGGwazegbJJm\j1paIT0dJM7Ny:5d4eu[YJqNmGlLoXrM4Np\W2kbD;jc41xd3WwZG;y[ZBwenShY3Hy[E9EUEWPQly5N|kwLz6VQV7HSXI9N2F-
JVM-3
MXfHdo94fGhiSX7obYJqfGmxbjDBd5NigQ>?
M{fldGlEPTB;Mj6zOFY1OyEQvF2=
MVO8ZUB1[XKpZYS9K39jdGGwazegbJJm\j1paIT0dJM7Ny:5d4eu[YJqNmGlLoXrM4Np\W2kbD;jc41xd3WwZG;y[ZBwenShY3Hy[E9EUEWPQly5N|kwLz6VQV7HSXI9N2F-
IGROV-1
Mm[yS5Jwf3SqIFnubIljcXSrb36gRZN{[Xl?
NXjIR2Y3UUN3ME2yMlMyOjN5IN88US=>
MlrjQIEhfGG{Z3X0QUdg[myjbnunJIhz\WZ;J3j0eJB{Qi9xd4f3MoVjcS6jYz71b{9kcGWvYnyvZ49ueG:3bnTfdoVxd3K2X3PhdoQwS0iHTVLMPVM6Nyd-U1HOS2VTRC:jPh?=
A498
M1f0OGdzd3e2aDDJcohq[mm2aX;uJGF{e2G7
NYe0dJMxUUN3ME2yMlI6PDF3IN88US=>
MVm8ZUB1[XKpZYS9K39jdGGwazegbJJm\j1paIT0dJM7Ny:5d4eu[YJqNmGlLoXrM4Np\W2kbD;jc41xd3WwZG;y[ZBwenShY3Hy[E9EUEWPQly5N|kwLz6VQV7HSXI9N2F-
BT-20
M3XoZWdzd3e2aDDJcohq[mm2aX;uJGF{e2G7
MX;JR|UxRTJwMk[3OFQh|ryP
NVP1OoRSRGFidHHy[4V1RSehYnzhcosoKGi{ZX[9K4h1fHC|Oj:ve5d4NmWkaT7hZ{52cy:laHXtZoww[2:vcH;1coRgemWyb4L0Y4NiemRxQ1jFUWJNQTN7Lze+V2FPT0WUPD;hQi=>
SCC-4
M3uxO2dzd3e2aDDJcohq[mm2aX;uJGF{e2G7
Mm[1TWM2OD1{LkKxO|c3KM7:TR?=
MknOQIEhfGG{Z3X0QUdg[myjbnunJIhz\WZ;J3j0eJB{Qi9xd4f3MoVjcS6jYz71b{9kcGWvYnyvZ49ueG:3bnTfdoVxd3K2X3PhdoQwS0iHTVLMPVM6Nyd-U1HOS2VTRC:jPh?=
786-0
MlXFS5Jwf3SqIFnubIljcXSrb36gRZN{[Xl?
MULJR|UxRTJwMUi0NFYh|ryP
NYLpN5NzRGFidHHy[4V1RSehYnzhcosoKGi{ZX[9K4h1fHC|Oj:ve5d4NmWkaT7hZ{52cy:laHXtZoww[2:vcH;1coRgemWyb4L0Y4NiemRxQ1jFUWJNQTN7Lze+V2FPT0WUPD;hQi=>
RXF393
NUfORnVFT3Kxd4ToJGlvcGmkaYTpc44hSXO|YYm=
NYnV[HhSUUN3ME2yMlE{ODN4IN88US=>
Mlj1QIEhfGG{Z3X0QUdg[myjbnunJIhz\WZ;J3j0eJB{Qi9xd4f3MoVjcS6jYz71b{9kcGWvYnyvZ49ueG:3bnTfdoVxd3K2X3PhdoQwS0iHTVLMPVM6Nyd-U1HOS2VTRC:jPh?=
KARPAS-45
M3nuU2dzd3e2aDDJcohq[mm2aX;uJGF{e2G7
MmnxTWM2OD1{LkGyOFc6KM7:TR?=
MlLOQIEhfGG{Z3X0QUdg[myjbnunJIhz\WZ;J3j0eJB{Qi9xd4f3MoVjcS6jYz71b{9kcGWvYnyvZ49ueG:3bnTfdoVxd3K2X3PhdoQwS0iHTVLMPVM6Nyd-U1HOS2VTRC:jPh?=
RPMI-8866
MoDoS5Jwf3SqIFnubIljcXSrb36gRZN{[Xl?
M3O1eGlEPTB;Mj6wPFQ5OSEQvF2=
MWm8ZUB1[XKpZYS9K39jdGGwazegbJJm\j1paIT0dJM7Ny:5d4eu[YJqNmGlLoXrM4Np\W2kbD;jc41xd3WwZG;y[ZBwenShY3Hy[E9EUEWPQly5N|kwLz6VQV7HSXI9N2F-
NCI-H2009
MY\Hdo94fGhiSX7obYJqfGmxbjDBd5NigQ>?
NWXGeGlEUUN3ME2yMlA3OjF2IN88US=>
MUG8ZUB1[XKpZYS9K39jdGGwazegbJJm\j1paIT0dJM7Ny:5d4eu[YJqNmGlLoXrM4Np\W2kbD;jc41xd3WwZG;y[ZBwenShY3Hy[E9EUEWPQly5N|kwLz6VQV7HSXI9N2F-
SW1116
NWraXZNpT3Kxd4ToJGlvcGmkaYTpc44hSXO|YYm=
MmnNTWM2OD1{LkC2NFA6KM7:TR?=
MmjmQIEhfGG{Z3X0QUdg[myjbnunJIhz\WZ;J3j0eJB{Qi9xd4f3MoVjcS6jYz71b{9kcGWvYnyvZ49ueG:3bnTfdoVxd3K2X3PhdoQwS0iHTVLMPVM6Nyd-U1HOS2VTRC:jPh?=
EKVX
M4KxZWdzd3e2aDDJcohq[mm2aX;uJGF{e2G7
NWLo[WQ{UUN3ME2yMlA1QTN7IN88US=>
NYrPT|FlRGFidHHy[4V1RSehYnzhcosoKGi{ZX[9K4h1fHC|Oj:ve5d4NmWkaT7hZ{52cy:laHXtZoww[2:vcH;1coRgemWyb4L0Y4NiemRxQ1jFUWJNQTN7Lze+V2FPT0WUPD;hQi=>
TGBC24TKB
NIPPeWNIem:5dHigTY5pcWKrdHnvckBCe3OjeR?=
M1q5W2lEPTB;Mj6wNlk3OSEQvF2=
MVq8ZUB1[XKpZYS9K39jdGGwazegbJJm\j1paIT0dJM7Ny:5d4eu[YJqNmGlLoXrM4Np\W2kbD;jc41xd3WwZG;y[ZBwenShY3Hy[E9EUEWPQly5N|kwLz6VQV7HSXI9N2F-
CAL-12T
MnvES5Jwf3SqIFnubIljcXSrb36gRZN{[Xl?
MUTJR|UxRTJwMEG4OlEh|ryP
M3nwOlxiKHSjcnfleF0oZ2KuYX7rK{BpemWoPTfoeJRxezpxL4f3e{5m[mlwYXOueYsw[2inbXLsM4NwdXCxdX7kY5JmeG:{dG;jZZJlN0OKRV3CUFk{QS9pPmPBUmdGWjxxYU6=
HCC70
M4\wXmdzd3e2aDDJcohq[mm2aX;uJGF{e2G7
NWDabphTUUN3ME2yMlAxQDF3IN88US=>
MoS4QIEhfGG{Z3X0QUdg[myjbnunJIhz\WZ;J3j0eJB{Qi9xd4f3MoVjcS6jYz71b{9kcGWvYnyvZ49ueG:3bnTfdoVxd3K2X3PhdoQwS0iHTVLMPVM6Nyd-U1HOS2VTRC:jPh?=
OMC-1
M1nRTWdzd3e2aDDJcohq[mm2aX;uJGF{e2G7
NXrZdGdvUUN3ME2xMlk6QDh6IN88US=>
M{O5NlxiKHSjcnfleF0oZ2KuYX7rK{BpemWoPTfoeJRxezpxL4f3e{5m[mlwYXOueYsw[2inbXLsM4NwdXCxdX7kY5JmeG:{dG;jZZJlN0OKRV3CUFk{QS9pPmPBUmdGWjxxYU6=
EPLC-272H
MkPQS5Jwf3SqIFnubIljcXSrb36gRZN{[Xl?
M33tNmlEPTB;MT64OVU1QSEQvF2=
MY[8ZUB1[XKpZYS9K39jdGGwazegbJJm\j1paIT0dJM7Ny:5d4eu[YJqNmGlLoXrM4Np\W2kbD;jc41xd3WwZG;y[ZBwenShY3Hy[E9EUEWPQly5N|kwLz6VQV7HSXI9N2F-
NCI-H209
MoTHS5Jwf3SqIFnubIljcXSrb36gRZN{[Xl?
NGq4UXZKSzVyPUGuO|czPjlizszN
NX\MblJ[RGFidHHy[4V1RSehYnzhcosoKGi{ZX[9K4h1fHC|Oj:ve5d4NmWkaT7hZ{52cy:laHXtZoww[2:vcH;1coRgemWyb4L0Y4NiemRxQ1jFUWJNQTN7Lze+V2FPT0WUPD;hQi=>
NCI-H1666
MWnHdo94fGhiSX7obYJqfGmxbjDBd5NigQ>?
MX;JR|UxRTFwN{S3NFQh|ryP
MmTBQIEhfGG{Z3X0QUdg[myjbnunJIhz\WZ;J3j0eJB{Qi9xd4f3MoVjcS6jYz71b{9kcGWvYnyvZ49ueG:3bnTfdoVxd3K2X3PhdoQwS0iHTVLMPVM6Nyd-U1HOS2VTRC:jPh?=
COLO-678
MorjS5Jwf3SqIFnubIljcXSrb36gRZN{[Xl?
MUHJR|UxRTFwN{O0OFQh|ryP
NXTPZVJDRGFidHHy[4V1RSehYnzhcosoKGi{ZX[9K4h1fHC|Oj:ve5d4NmWkaT7hZ{52cy:laHXtZoww[2:vcH;1coRgemWyb4L0Y4NiemRxQ1jFUWJNQTN7Lze+V2FPT0WUPD;hQi=>
PANC-03-27
MX\Hdo94fGhiSX7obYJqfGmxbjDBd5NigQ>?
MorSTWM2OD1zLkewNVM6KM7:TR?=
NW[4dJZvRGFidHHy[4V1RSehYnzhcosoKGi{ZX[9K4h1fHC|Oj:ve5d4NmWkaT7hZ{52cy:laHXtZoww[2:vcH;1coRgemWyb4L0Y4NiemRxQ1jFUWJNQTN7Lze+V2FPT0WUPD;hQi=>
BB30-HNC
MoriS5Jwf3SqIFnubIljcXSrb36gRZN{[Xl?
M{niVWlEPTB;MT62PFk4OiEQvF2=
Moe2QIEhfGG{Z3X0QUdg[myjbnunJIhz\WZ;J3j0eJB{Qi9xd4f3MoVjcS6jYz71b{9kcGWvYnyvZ49ueG:3bnTfdoVxd3K2X3PhdoQwS0iHTVLMPVM6Nyd-U1HOS2VTRC:jPh?=
ML-2
NI\yOIpIem:5dHigTY5pcWKrdHnvckBCe3OjeR?=
MU\JR|UxRTFwNkSwNlkh|ryP
M37YbVxiKHSjcnfleF0oZ2KuYX7rK{BpemWoPTfoeJRxezpxL4f3e{5m[mlwYXOueYsw[2inbXLsM4NwdXCxdX7kY5JmeG:{dG;jZZJlN0OKRV3CUFk{QS9pPmPBUmdGWjxxYU6=
BT-549
NWDLZohGT3Kxd4ToJGlvcGmkaYTpc44hSXO|YYm=
MWLJR|UxRTFwNUi3OFch|ryP
M4m4dFxiKHSjcnfleF0oZ2KuYX7rK{BpemWoPTfoeJRxezpxL4f3e{5m[mlwYXOueYsw[2inbXLsM4NwdXCxdX7kY5JmeG:{dG;jZZJlN0OKRV3CUFk{QS9pPmPBUmdGWjxxYU6=
HSC-3
MoG4S5Jwf3SqIFnubIljcXSrb36gRZN{[Xl?
MXfJR|UxRTFwNUSzPEDPxE1?
M2jJZ|xiKHSjcnfleF0oZ2KuYX7rK{BpemWoPTfoeJRxezpxL4f3e{5m[mlwYXOueYsw[2inbXLsM4NwdXCxdX7kY5JmeG:{dG;jZZJlN0OKRV3CUFk{QS9pPmPBUmdGWjxxYU6=
LAMA-84
NGDIdXlIem:5dHigTY5pcWKrdHnvckBCe3OjeR?=
NEHh[4ZKSzVyPUGuOVM5OTVizszN