Divalproex Sodium
製品コードS1703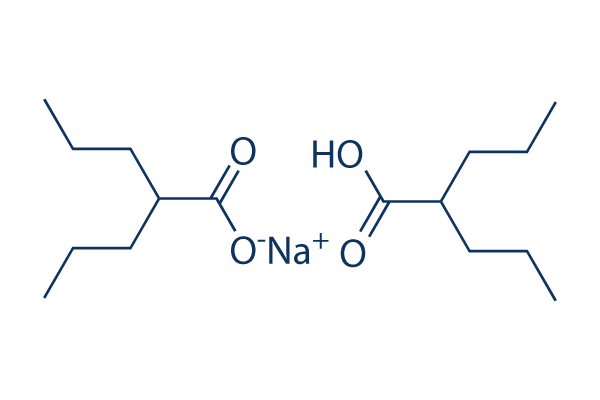 分子量(MW):310.41
Divalproex Sodium, consisting of a compound of sodium valproate and valproic acid in a 1:1 molar relationship in an enteric coated form, is a HDAC inhibitor, used in the treatment for epilepsy.
カスタマーフィードバック(1)
Divalproex sodium increases the level of acetylated histone H3 level in ataxin-3-transfected HEK293 cells. Normal (15CAG) or expanded (77CAG) ataxin-3-transfected cells were treated with divalproex sodium (Selleck chemical, 0.3 mmol/L in DMSO, (+)) or with DMSO alone (−) 48 h after transfection. The cells were treated with divalproex sodium or DMSO over 6, 12, and 24 h. The Western blot was probed with antiacetylated histone H3, antihistone H3, and antiataxin-3. Antibodies include antihistone H3 and antiataxin-3 are used as controls. The x-axis shows the different treatment group. The y-axis represents the acetylated histone H3 values normalized to histone H3. Error bars represent the standard error of the mean. Data represent three independent experiments (n = 3). The data with a normal distribution were analyzed with Student's t-test. *P < 0.05

CNS Neurosci Ther, 2018, 24(5):404-411. Divalproex Sodium purchased from Selleck.
生物活性
| | |
| --- | --- |
| 製品説明 | Divalproex Sodium, consisting of a compound of sodium valproate and valproic acid in a 1:1 molar relationship in an enteric coated form, is a HDAC inhibitor, used in the treatment for epilepsy. |
| 体外試験 | Divalproex sodium enhances IM-induced cell growth inhibition, apoptosis and cell cycle arrest in K562-S and K562-G cells. Divalproex sodium enhances the inhibitory effects of IM on SIRT1 expression in K562-S and K562-G cells. Divalproex sodium enhances the effect of IM on apoptosis in K562-G cells partly through SIRT1. [1] Divalproex (500 mg/kg) significantly increases dopamine (DA) and acetylcholine (ACh) efflux in the rat hippocampus, and DA, but not ACh, efflux in the rat medial prefrontal cortex (mPFC), whereas a lower dose of Divalproex, 50 mg/kg, has no effect on DA or ACh in either region. Divalproex (50 mg/kg) combined with the atypical APDs Olanzapine (1.0 mg/kg) or Aripiprazole (0.3 mg/kg) significantly potentiates the effect of both antipsychotic drugs (APDs) on DA, but not ACh efflux in the HIP and mPFC. [2] |
溶解度 (25°C)
体外
DMSO
62 mg/mL (199.73 mM)
Water
62 mg/mL (199.73 mM)
Ethanol
62 mg/mL (199.73 mM)
* 溶解度測定はSelleck技術部門によって行われており、その他文献に示されている溶解度と差異がある可能性がありますが、同一ロットの生産工程で起きる正常な現象ですからご安心ください。
化学情報
分子量
310.41
化学式

C8H16O2.C8H15O2.Na

CAS No.
76584-70-8
保管
粉
in solvent
別名
N/A
便利ツール
モル濃度計算器
モル濃度計算器
求めたい質量、体積または濃度を計算してください。
質量 (g) = 濃度 (mol/L) x 体積 (L) x 分子量 (g/mol)
モル濃度計算器方程式
*貯蔵液を準備するとき、常に、オンであるとわかる製品のバッチに特有の分子量を使って、を通してラベルとMSDS/COA(製品ページで利用可能な)。
希釈計算器
希釈計算器
貯蔵液を準備するために必要な希釈率を計算してください。Selleck希釈計算器は、以下の方程式に基づきます:
開始濃度 x 開始体積 = 最終濃度 x 最終体積
希釈の計算式
この方程式は、一般に略語を使われます:C1V1 = C2V2 ( 入力 出力 )
常に貯蔵液を準備するとき、小びんラベルとMSDS/COA(オンラインで利用できる)で見つかる製品のバッチに特有の分子量を使ってください。
分子量計算器
分子量计算器
そのモル質量と元素組成を計算するために、合成物の化学式を入力してください:
チップス: 化学式は大文字と小文字の区別ができます。C10H16N2O2 c10h16n2o2
モル濃度計算器
臨床試験
| NCT Number | Recruitment | Conditions | Sponsor/Collaborators | Start Date | Phases |
| --- | --- | --- | --- | --- | --- |
| NCT02707965 | Completed | Epilepsy | Food and Drug Administration (FDA)|University of Maryland | June 8 2017 | Phase 4 |
| NCT02707965 | Completed | Epilepsy | Food and Drug Administration (FDA)|University of Maryland | June 8 2017 | Phase 4 |
| NCT03012815 | Recruiting | Alcohol Withdrawal Syndrome | Mayo Clinic | February 1 2017 | Phase 4 |
| NCT03012815 | Recruiting | Alcohol Withdrawal Syndrome | Mayo Clinic | February 1 2017 | Phase 4 |
| NCT02166229 | Withdrawn | Scleroderma|Systemic Sclerosis | Yale University | June 2014 | Phase 1|Phase 2 |
| NCT02166229 | Withdrawn | Scleroderma|Systemic Sclerosis | Yale University | June 2014 | Phase 1|Phase 2 |
技術サポート
ストックの作り方、阻害剤の保管方法、細胞実験や動物実験の際に注意すべき点など、製品を取扱う時に問い合わせが多かった質問に対しては取扱説明書でお答えしています。
他に質問がある場合は、お気軽にお問い合わせください。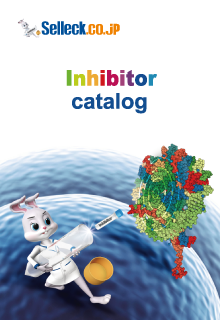 相関HDAC製品