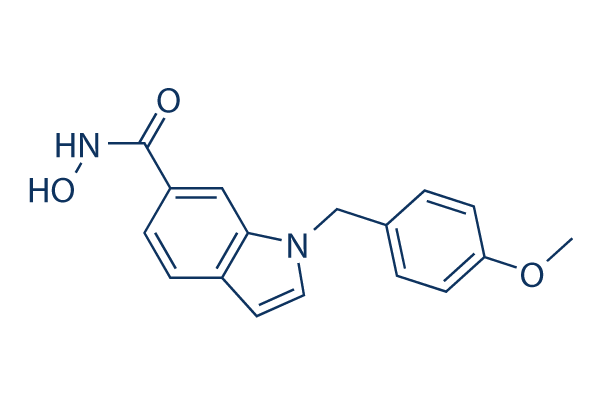 分子量(MW):296.32
PCI-34051 is a potent and specific HDAC8 inhibitor with IC50 of 10 nM in a cell-free assay. It has greater than 200-fold selectivity over HDAC1 and 6, more than 1000-fold selectivity over HDAC2, 3, and 10.
カスタマーフィードバック(1)
(d) Effects of HDAC8 activity on ISO-induced augmentation of apoptosis and TIPRL expression. H1299 cells were sequentially treated with 10 μm PCI-34051 for 24 h, ISO for 30 min and 50 μM cisplatin for 48 h before the western blot analysis.

Exp Mol Med, 2017, 49(2):e297. PCI-34051 purchased from Selleck.
生物活性
製品説明
PCI-34051 is a potent and specific HDAC8 inhibitor with IC50 of 10 nM in a cell-free assay. It has greater than 200-fold selectivity over HDAC1 and 6, more than 1000-fold selectivity over HDAC2, 3, and 10.
ターゲット

HDAC8 [1]
(Cell-free assay)
10 nM

体外試験

PCI-34051 possesses promising potency for HDAC8 with a Ki of 10 nM. PCI-34051 has high selectivity (approximately fivefold) for HDAC8 relative to the other class I HDACs including HDAC1. PCI-34051 reveals greater than 200-fold selectivity over HDAC1 and HDAC6, and greater than 1000-fold selectivity over HDAC2, HDAC3 and HDAC10. PCI-34051 inhibits ovarian tumor line OVCAR-3 with a GI50 of 6 μM and 15% cell death. Neither significant tubulin nor histone acetylation is observed in the sensitive cell lines treated with PCI-34051 at concentrations less than 25 μM at 24 hours nor at earlier timepoints. PCI-34051 induces a selective cytotoxic effect in cell lines derived only from T-cell malignancies. PCI-34051 induces caspase-dependent apoptosis. When caspase-3 activity is measured at various times after treatment with 5 μM PCI-34051, increasing levels of activity are observed from 12 to 24 to 48 hours, another hallmark of apoptosis, consistent with the higher levels of caspase activity at this timepoint. PCI-34051 does not stimulate Bid cleavage, a characteristic effect of the extrinsic apoptotic pathway. While P116 and J.RT3-T.5 are sensitive to PCI-34051, the PLCγ1-deficient J.gamma1 line reveals a marked decrease in the extent of PCI-34051-induced apoptosis. In addition, steady-state calcium levels strongly influence the apoptosis induced by PCI-34051. PCI-34051 induces cytochrome c release from mitochondria.[1]

細胞データ

| Cell Lines | Assay Type | Concentration | Incubation Time | Formulation | Activity Description | PMID |
| --- | --- | --- | --- | --- | --- | --- |
| human Huh7 cells | MVTGeY5kfGmxbjDhd5NigQ>? | | NGrUcoQ{KGSjeYO= | | MYHBcpRqfmm{YXygZYN1cX[rdImgZYdicW6|dDDIR3Yh\2Wwb4T5dIUhOWJiaX7m[YN1\WRiaX6gbJVu[W5iSIXoO{Bk\WyuczDh[pRmeiB|IHThfZMh[nlibIXjbYZmemG|ZTDy[ZBwenSncjDn[Y5mKGG|c3H5MEBGSzVyPUGuPEDPxE1? | NFLQbJMzPTR7MEewNC=> |
| human Jurkat cells | Ml7nS5Jwf3SqIHnubIljcXSrb36gZZN{[Xl? | | NXj4WYd2PzJiaB?= | | NHXlXIdIem:5dHigbY5pcWKrdHnvckBw\iCqdX3hckBLfXKtYYSgZ4VtdHNiaX7jeYJifGWmIH\vdkA4OiCqcoOgZpkhVVSVIHHzd4F6NCCJSUWwQVEyKM7:TR?= | MUGyN|EyPjF2Nx?= |
| human NB-1 cells | NF7ieW1Iem:5dHigbY5pcWKrdHnvckBie3OjeR?= | | NVzNbpA4PzJiaB?= | | M1exW2dzd3e2aDDpcohq[mm2aX;uJI9nKGi3bXHuJG5DNTFiY3XscJMhcW6ldXLheIVlKG[xcjC3NkBpenNiYomgUXRUKGG|c3H5MEBIUTVyPUG0JO69VQ>? | MnzCNlMyOTZzNEe= |
| human MT2 cells | NXi2cI5MT3Kxd4ToJIlvcGmkaYTpc44h[XO|YYm= | | MWe3NkBp | | NVf1SotVT3Kxd4ToJIlvcGmkaYTpc44hd2ZiaIXtZY4hVVR{IHPlcIx{KGmwY4XiZZRm\CCob4KgO|IhcHK|IHL5JG1VWyCjc4PhfUwhT0l3ME2xOUDPxE1? | MXmyN|EyPjF2Nx?= |
| human MT4 cells | NYDOSYJ2T3Kxd4ToJIlvcGmkaYTpc44h[XO|YYm= | | MmL5O|IhcA>? | | M1zhRWdzd3e2aDDpcohq[mm2aX;uJI9nKGi3bXHuJG1VPCClZXzsd{BqdmO3YnH0[YQh\m:{IEeyJIhzeyCkeTDNWHMh[XO|YYmsJGdKPTB;MkWg{txO | MonkNlMyOTZzNEe= |
お薦めの試験操作(参考用のみ)
キナーゼ試験:[1]

+ 展開

Histone deacetylase activity:

For PCI-34051 characterization, measurements are perfomed in a reaction volume of 100 μL using 96-well assay plates in a fluorescence plate reader. For each isozyme. The HDAC protein in reaction buffer (50 mM HEPES, 100 mM KCl, 0.001% Tween-20, 5% dimethyl sulfoxide, pH7.4, supplemented with bovine serum albumin at concentrations of 0-0.05%) is mixed with PCI-34051 at various concentrations and allowed to incubate for 15 min. Trysin is added to a final concentration of 50 nM, and acetyl-gly-Ala-(N-acetyl-Lys)-amino-4-methylcoumarin is added to a final concentration of 25-100 μM to initiate the reaction. After a 30 min lag time, the fluorescence is measured over a 30 min time frame using an excitation wavelength of 335 nm and a detection wavelength of 460 nm. The increase in fluorescence wih time is used as the measure of the reaction rate.

細胞試験: [1]

+ 展開

細胞株: A549 cell line, Ovcar-3 cell line
濃度: 5 μM
反応時間: 24 hours
実験の流れ: Tumor cell lines and human umbilical vein endothelial cells are cultured for at least two doubling times, and growth is monitored at the end of PCI-34051 exposure using an Alamar Blue fluorometric cell proliferation assay as recommended by the manufacturer. PCI-34051 is assayed in triplicate wells in 96-well plates. The concentration required to inhibit cell growth by 50% (GI50) and 95% confidence intervals are estimated from nonlinear regression using a four-parameter logistic equation.


(参考用のみ)
溶解度 (25°C)
体外
DMSO
59 mg/mL (199.1 mM)
Water
Insoluble
Ethanol
Insoluble
体内
左から(NMPから)右の順に溶剤を製品に加えます(文献ではなく、Selleckの実験によるデータ):
30% PEG400+0.5% Tween80+5% propylene glycol
混合させたのち直ちに使用することを推奨します。
30 mg/mL
* 溶解度測定はSelleck技術部門によって行われており、その他文献に示されている溶解度と差異がある可能性がありますが、同一ロットの生産工程で起きる正常な現象ですからご安心ください。
化学情報
分子量
296.32
化学式

C17H16N2O3

CAS No.
950762-95-5
保管
粉
in solvent
別名
N/A
便利ツール
モル濃度計算器
モル濃度計算器
求めたい質量、体積または濃度を計算してください。
質量 (g) = 濃度 (mol/L) x 体積 (L) x 分子量 (g/mol)
モル濃度計算器方程式
*貯蔵液を準備するとき、常に、オンであるとわかる製品のバッチに特有の分子量を使って、を通してラベルとMSDS/COA(製品ページで利用可能な)。
希釈計算器
希釈計算器
貯蔵液を準備するために必要な希釈率を計算してください。Selleck希釈計算器は、以下の方程式に基づきます:
開始濃度 x 開始体積 = 最終濃度 x 最終体積
希釈の計算式
この方程式は、一般に略語を使われます:C1V1 = C2V2 ( 入力 出力 )
常に貯蔵液を準備するとき、小びんラベルとMSDS/COA(オンラインで利用できる)で見つかる製品のバッチに特有の分子量を使ってください。
分子量計算器
分子量计算器
そのモル質量と元素組成を計算するために、合成物の化学式を入力してください:
チップス: 化学式は大文字と小文字の区別ができます。C10H16N2O2 c10h16n2o2
モル濃度計算器
技術サポート
ストックの作り方、阻害剤の保管方法、細胞実験や動物実験の際に注意すべき点など、製品を取扱う時に問い合わせが多かった質問に対しては取扱説明書でお答えしています。
他に質問がある場合は、お気軽にお問い合わせください。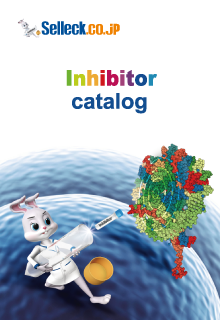 HDAC Inhibitors with Unique Features
相関HDAC製品